I cycled in the Chilterns not too long ago for the Bucks Bumps sportive, and I jumped at the prospect of being able to ride in the area again. As soon as a member from my club (Islington CC) mentioned that he had a spare seat in his car, heading to the Wiggle Chiltern Classic, I didn't hesitate a second. And my gut feelings were correct.
Once again, cycling in the Chilterns was magnificent: sunny day, not too hot, very little traffic, and the little traffic that we had was friendly... We've even got encouraged at the bottom of Dolesden Lane climb by a bunch of lads driving up the hill. Cheeky!
The route
Wiggle Chiltern Classic offered three routes: short (45 miles), standard (80) and epic (100). Due to some serious lack of training, and a very hot Surrey Hill preparation on the Thursday ahead of the sportive, I chickened out at the last minute and went for the standard route, rather than the epic!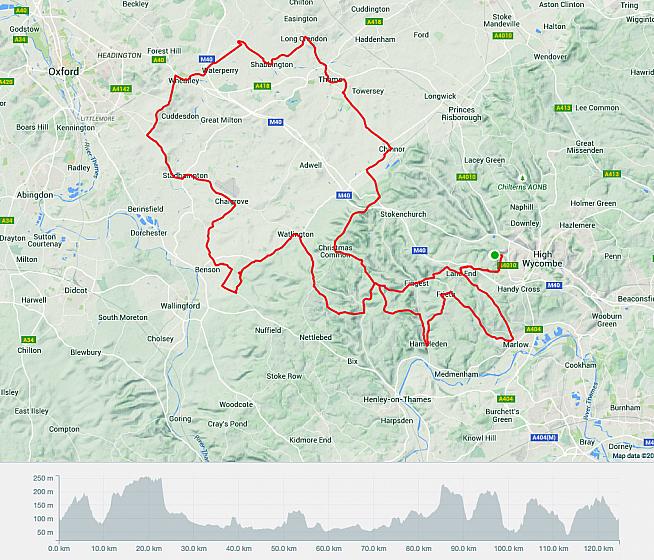 Apart from Dolesden Lane, the first 50 miles were pretty much rolling, with no overly demanding climbs. The last 30 miles of hills are a very different experience from the Bucks Bumps. With fewer categorised climbs, this sportive is accessible and enjoyable for a wider range of participants.
Out from Wycombe
What I have noticed lately is that taking it easy in the first 15-20km of my ride, hence allowing my body to warm up without too much stress, allows me then to really keep it up along endurance rides. This is particularly relevant to this course as leaving High Wycombe always involves a bit of a climb. As gentle as these short climbs might look, the body is just starting fresh and pushing through the first dozen kilometres might not exactly be the best strategy.
I actually overheard a few lads at the end of the race admitting that they had pushed too much at the beginning and, hence, suffered (unnecessarily!) too much towards the end.
Friendly drafting towards the hills
Dolesden Lane was the only demanding climb of the first 80km. All the three routes included this climb, as well as the final hilly stretch. The only difference between the short, medium and epic routes is, therefore, a longer rolling section in between the hills. In retrospect, this might be one of those rare occasions where the short route is more demanding of the rest of them, the climbs being compacted all together!
The intermediate section, from 30km to 80km, was very pleasant. I cycled the first 30km mainly drafting behind a friendly chap who didn't seem to mind me (as I openly admitted to him I was drafting maybe?!). In fact he actually was a bit disappointed when I took the left turn to the standard route, as he might have realised that he was then to face - solo - a few miles of the epic route.
All you can eat
The food stops were very well placed. Already at event HQ I was really surprised at how much sport nutrition was handed out by the organisers. We received a PowerBar water bottle filled with the brand's energy bar, power gel shots, gels, and possibly more. The first feed station arrived soon after the standard route split from the epic, in Worminghall, at about 45km in. Here, there were some more PowerBar treats to bring away (Power bite and Energy waffles), nuts, the usual flapjacks and fig rolls (they're becoming my favourite), energy drinks, water, etc.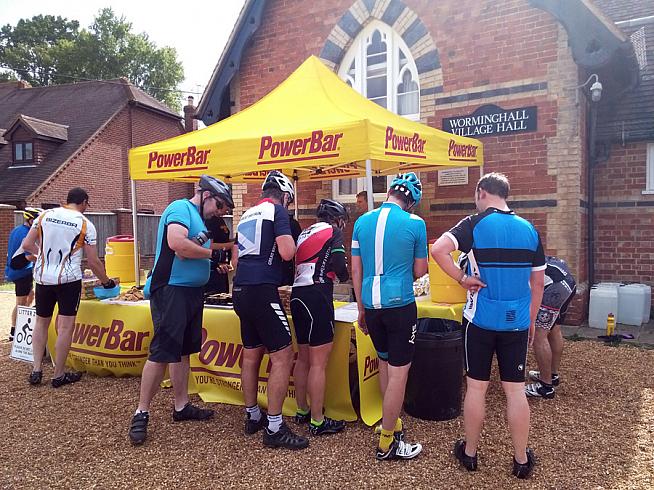 Aylesbury and the Chilterns: beauties
After the first food stop we resumed with a rolling ride through some very pleasant scenery. We passed through Aylesbury too, where I spotted a road sign proudly indicating that we were crossing the Vale where the Paralympics sports originated!
It was also refreshing to cycle around the Chilterns as they are never too over-exposed and we found ourselves pedalling in a few spots protected by the fresh(-er) shadows of the trees.
I have to say that , despite not talking too much to other cyclists, there was kind of a mutual agreement that drafting wasn't so bad after all. In fact, I found a German guy with whom I shared the hard work along a few kms. And then a group of three friends that seemed to be smashing through the flats, but had to slow down on one of the first climbs as one of them was running low on energy by the look of it!
Going up, into Hambleden & Marlow
The last 40km involved a few longer climbs, but all of them more than achievable by all types of cyclists. The first hilly encounter was at Watlington: a gentle 3.5km (4%) climb of Howe Hill with a few challenging metres at 13% towards the end.
Balhams Lane is another gentle but slightly shorter section, leading towards the stunning village of Hambleden. This place is one of those beautiful postcard-style scenes. I was so, so close to just stopping there and breathing its beauty (but I didn't!!).The surrounding area does not give your legs a chance to recover, as it is here that you will also find the (7%) climb of Danger Grove.
The last memorable ride is the road climb into Marlow. Not much if you check it out on Strava, you may think (6km at 2% average incline); but believe you me, after 100+ kilometres in your legs even the peak at 4% is actually a good challenge for your legs and speed. Not a killer, but a test of your ability to maintain speed under endurance - for sure! (No red kites spotted though.)
The finishing line
At the end we've got handed some goodies from PowerBar food (a protein/recovery bar), a medal and a Wiggle Super Series t-shirt. At times I felt so spoilt on the sportive; you paid a bit of money to do it - but you go home richer (and more 'energy food' loaded) than when you left in the morning!
The facilities at the end were also really nice. A bar was available for refreshments, teas and coffee. I also saw a few people devouring lasagnas, and there was plenty of space for everybody to sit at round tables and without having to fight for seats or shade.
Beautiful!
0 Comments