What a ride! The Bucks Bumps is a sportive designed to make your legs burn. Its course was laid perfectly for me as it seems like a mini hilly Granfondo: a perfect test for my Alpine challenge next month.
This is certainly a unique sportive, like I have not done before. The feedback from the other participants I spoke to at the finishing line was similar to mine: a great ride, not hard because of the distance but because it's rare to find such a hilly route in this country!
The long route takes 143km with 1,700 metres climbing (that's 88 miles / 5,600 feet). Its highlight is the 'bumps' in the title: the sportive has 11 categorised climbs (plus many others), only two of which are in the first 95km! From the second feed station, the 'leg burner' loop starts and it will take you up and down the Chilterns for about 35 km. You can start breathing again only when back at the Bledlow Ridge's feed station. From there, it's just a 15 km ride to the finishing line.
Let's start
I rode Ware's Cambridge? not too long ago, and I like how the guys at SportiveUK organise their rides. At this particular event, they had really friendly staff at the start. This is not a small detail, rest assured, as when the morning of the ride comes you are not exactly calm (certainly I wasn't) - all you can think about is the 11 categorised climbs ahead! So every little helps. We drove to Wycombe, to the Cressex School HQ: it was easy to find from the M40, with a good car park and very clean and good facilities inside. In fact, I love the fact that I could refresh myself and get changed after the long ride.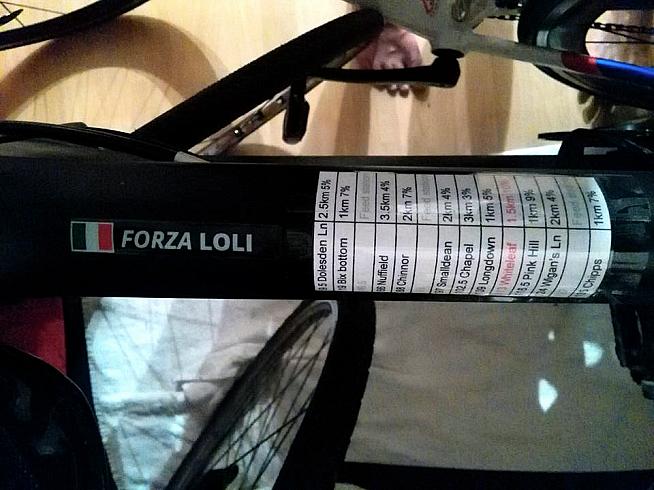 We kicked off shortly after 8:30am. We were the second group to start. Jeremy from SportiveUK gave us a really good briefing and a few smiles to get us pumped up. The sign posts along the route are really good. I like the fact that turns and intersections where well placed, and not just a few meters ahead of the turn/junction itself as it often happens on other sportive. Pink arrows on the tarmac also helped along the course so I wasn't taken by surprise even once, and I didn't go down the wrong road all day: that's certainly a PB!
Dolesden Lane, Nuffield and Chinnor Hills
This is the hidden secret to take away from my experience. If you want to survive the ride with grace: do not force it! Find your tempo in the first 90km. I am easily tempted to just follow the wheels of my stronger friends, and although speed is always a mind boosting pleasure it does not help you get to the hilly loop with enough power left in your legs. Lactic acid is not your friend, so take this simple suggestion and pace yourself in order to have a chance to arrive as fresh as possible to the 'legs burner' bit of the course.
At just 10 km into the ride comes Dolesden Lane (cat 4 climb), a beautiful ride up in the Buckinghamshire countryside. The distracting beauty of the scenery is helpful because the narrow lane goes up and up and up for more than 2km, its highest gradient being a staggering 9%.
The sportive carries on through rolling landscape up until the first feed stop at about 47km. We didn't pause. It is somehow premature for the long ride, but I can see how it would make more sense for participants on the short and medium routes to have a feed stop this early into the ride.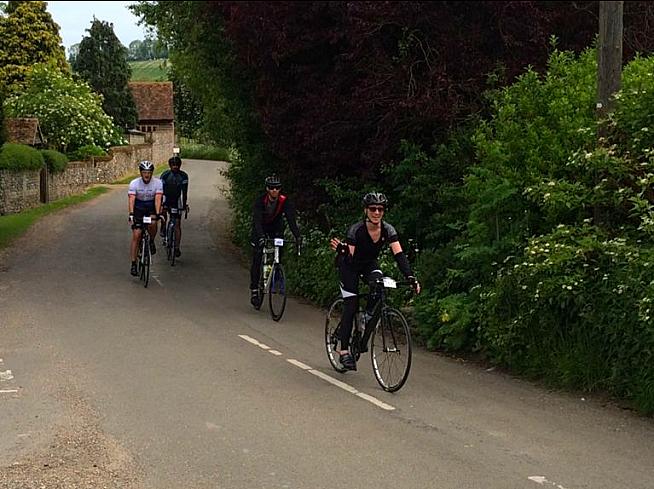 We are not short of 70km and Nuffield Hill (cat 4) is only the second categorised hill of the route, but it doesn't feel as such in your legs. My friends kept saying that I must have miscalculated as they felt like we climbed already four or five big hills and not just two! Ah, the tricks that the mind plays on us are unknown.
Now, here's the first killer of the so nervously awaited climbs. Chinnor Hill is just one step above what you have done so far. At almost 2km of pain and with an average gradient of 8% the leafy road to Chinnor is not for the weak minds! Strava segments tell me that some out-of-their-mind cyclists actually still have steam for an attack at the end of this climb, but truthfully I was just glad to get to the top celebrating the fact that my first and only feed stop wasn't too far away.
A killer loop and 6 iconic climbs
At Bledlow Ridge's feed station say goodbye to the fairly flattish part of your ride. Now the real cycling power test begins, across the curvy and breathtaking (and I'm not talking about the beauty of the region here) Chilterns. What kept me going was the constant thought that for each up there would have been a down, and I do love downhills!! So, let the fun take over. The 35km loop took in six out of the 11 categorised climbs, including the mighty Whiteleaf and Pink Hill.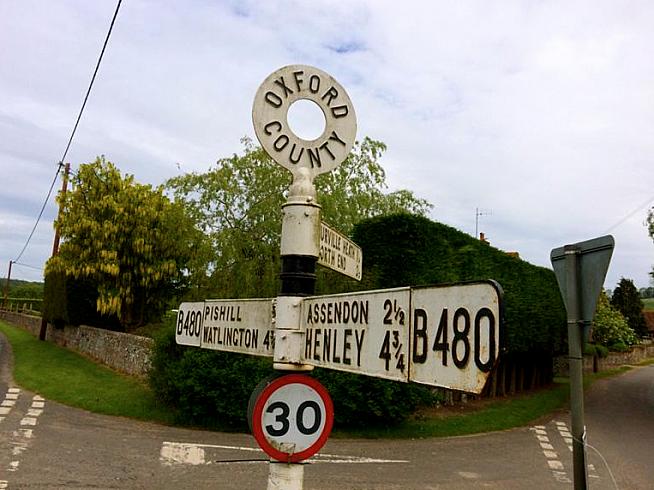 Smalldean Lane was somehow a strange one for me. I was expecting a long but easy way up as the segment gradient is just 4%. Instead, when I reached the steep part of the lane I was taken aback and struggled my way through it in my lowest gear. A poor woman next to me even got off the bike and started pushing it up as the gradient really jumps up.
Chapel Hill (cat 4) comes straight after Smalldean Lane. No break here! I was possibly just trying to regain consciousness from my previous effort, as I do not remember a great deal about Chapel Hill unfortunately. Strava tells me though that it's a climb just short of 3km with a gentle gradient of 3%.
Whiteleaf and Pink Hill
Before you get to (100 greatest climb) Whiteleaf you bump into Longdown, which is nothing too scary as it's a short 1km effort. On Whiteleaf you feel like you are riding the Giro. You are now deep in the forest, with a nice turn that puts your leg under a good effort. You can see the bends from afar and slowly and excruciatingly approaching!
I have been riding quite a lot in the past year, and it's only been at Whiteleaf (cat 4) that after such a long time I actually had a few drops of sweat coming down to cover my face. It hasn't been happening for ages. I felt good, I felt like it was the moment when I could finally go over my known limit and (as bad as it might sound) I was really happy that the hill was testing my average fitness. Basically, I was happy to sweat and very satisfied about my slow but constant pace to the top of the monster hill.
Little I knew that after a short but fun, fast descent down Kopp Hill, and a few drops of rain to refresh my body and spirit, I had to face Pink Hill (cat 4). Pink Hill, aka 'Wardrobes' on Strava, reaches a painful 10% and even the strongest legs might struggle to reach a decent pace up here.
From Wigans Lane to the finishing line
Wigans Lane (cat 4) comes at 20km from the end of the long route and it's the last categorised hill of the killer loop. It's strategically placed to burn your will to the ground. It's not hard. Think about it, just a 4% gradient. Five hours ago you would have smashed to the top of it. But now, now it is a different story. Again, keeping a constant effort up the hill is what helped me through it. And as in my last sportive ride, spotting a rider ahead of me and try my best to slowly catch up is what made me really go for it. So, on my last super climb of the day, I managed to overtake a couple of other participants and, sorry to say, but it really helped to go through the last 20km. It was like a boost of confidence that I could still pedal.
In fact, from Wigans Lane begins the nice flat stretch of road that brings you back to the final feed station. This time I did not stop as it really didn't make too much sense to stop 15km ahead of the finishing line. So I kept going to the end.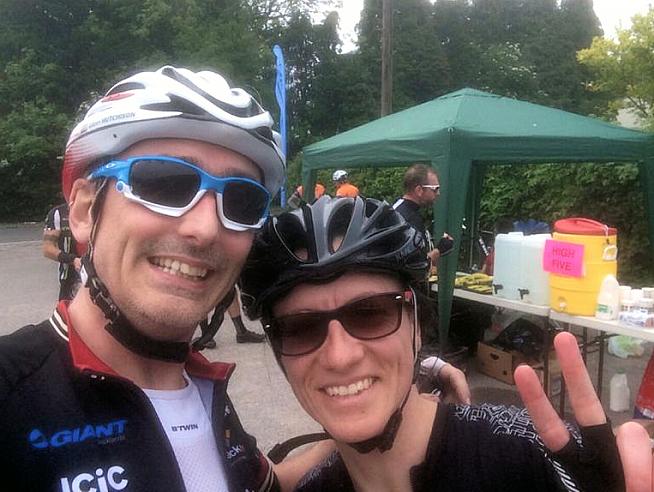 Conclusion
As my friend Glenn summarised on the Bucks Bumps Facebook page: "Great day, great set up, great route, great signage, well done guys, awesome stuff". We were blessed with great weather conditions in the morning, a peaceful course and no traffic for the whole 143km, and a very nice feeling and environments at the HQ. There were even cake, coffee and tea waiting for us after the ride. Great finale!
For a taste of the course, check out this short edit that my boyfriend Ray filmed on the day:
0 Comments