While Storm Dennis was busy wrecking sportive plans in the UK, Saturday saw 200 riders set off from Marrakesh in 27C sunshine for the first edition of the Atlas Mountain Race.

Sportive.com reporter Eoghan McHugh is among the racers tackling the 1145km trek, and it's been a gripping few days of dot-watching here at Sportive HQ.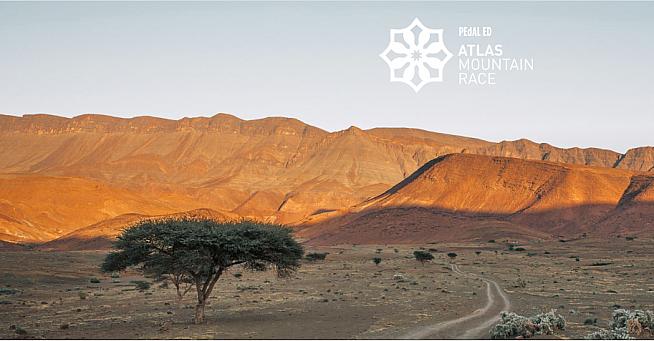 The Atlas Mountain Race is a fixed route, unsupported, single-stage cycling race in Morocco. The race starts in Marrakesh, and sees riders cross the Moroccan Atlas mountains before traversing the Anti-Atlas and on to the resort town of Agadir on the Atlantic coast.
As with similiar ultra endurance races like the Transcontinental, the clock does not stop and there are no prizes. As the website puts it:
"The route follows gravel, single and double track and old colonial pistes that have long been forgotten and fallen into disrepair. There is very little tarmac. There is some walking, and at times there is great distances between resupply points."
At time of writing Sofiane Sehili has the lead from the UK's James Hayden. These are two racers with pedigree - Sehili won last year's Inca Divide and Italy Divide, while Hayden is a two-time winner of the Transcontinental.
It's difficult to do justice to the effort these elite racers are putting in; Sofiane, a bike messenger from France, has been spending more than 23 hours a day on the move, racing through the night over rubble-strewn mountain passes.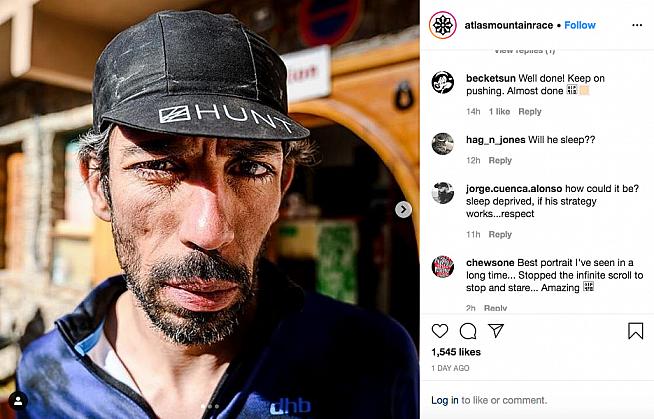 And what of our man Eoghan? Riding a Ribble Adventure Ti that we collected on our visit to Ribble HQ in Preston a couple of weeks ago, Eoghan is approaching the 500km mark.
It's fair to say Eoghan's experience is more road based, so this is a major step out of his comfort zone. The bike is also new to him, and after scoping out the course Ribble's mechanic Darren opted for a drastic rethink of the spec - replacing the drop bars with Ribble's own Level flat touring bars, and extra wide tubeless tyres to cope with the fist-sized rocks that scatter the gravel pistes.
Stolen Goat have supplied Eoghan with kit from their gravel range to wear on the ride, while the excellent Ortlieb bikepacking bags he used on last year's Trans Alba Race have been dusted off for a new adventure.
> Review: Ortlieb bikepacking bags - Pack light, ride far >
The route involves frequent "hike a bike" sections requiring racers to walk and/or carry their bikes where the surface is unrideable, so we're keen to hear how Eoghan gets on with his RockRider ST 500 mountain bike shoes from Decathlon. They look like normal trainers, but have fittings for SPD cleats on the sole - hopefully providing decent comfort when the going gets tough underfoot.
Decathlon have also provided Eoghan with sunglasses and a hydration pack - we'll catch up with him after the race for a debrief on what did and didn't work from his kit list.
Despite limited time to test his race rig (and, we're guessing, few opportunities to refuel on his preferred energy food of haggis), Eoghan is making steady progress. The route is remote by nature and his social feed has gone quiet since the start in Marrakesh - likely a combination of conserving battery for navigation - he's using a Hammerhead Karoo cycling computer - and lack of mobile reception.
But following the race through the tracker, it looks like Eoghan's in good company. The last day or so he's been keeping pace with Markus Stitz. The founder of Bikepacking Scotland, Markus was the first person to ride around the world on a singlespeed - and he's dusted off his trusty Surly Ogre once more for the Atlas Mountain Race.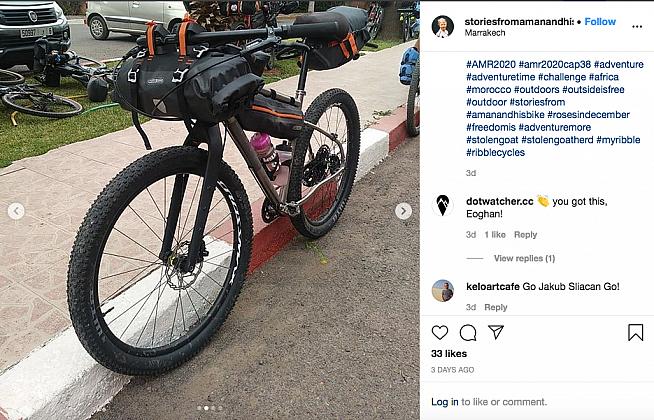 While Sehili, Hayden and a small group of chasers look likely to finish in the next 36 hours, the main bunch face another four or five gruelling days on the trail.
Until then we'll be cheering on Eoghan and the rest while enjoying race coverage on the event's various social feeds.
What better cure for the winter blues than a steady stream of photos of sunburnt riders shredding across the Moroccan desert?
Race tracker: atlasmountainrace.cc
Follow the race on Instagram:
Atlas Mountain Race: www.instagram.com/atlasmountainrace
Eoghan: www.instagram.com/storiesfromamanandhisbike
Sofiane Sehili: www.instagram.com/sofianeshl
0 Comments