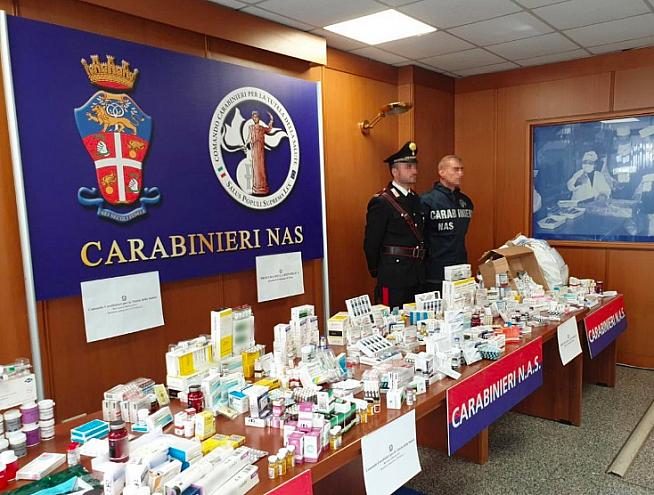 A major anti-doping investigation led by Italian authorities has investigated over 1,300 professional and amateur athletes and jailed 233 people for supplying doping products. Operation Viribus was conducted by Europol over the space of eight months and was mainly concerned with the explosive growth of steroids sold over the Internet.
The list of 1,357 athletes included many amateur and semi-professional cyclists, who were looking to improve their performance, even though in many cases there was no tangible reward for doing so. Information on the athletes concerned are being passed to the national bodies in each of the 33 countries where customers of the online suppliers were identified.
It comes as organisers of sportives and gran fondos around the world are increasingly concerned that competitors are using performance enhancing drugs to improve their results. Very few events test riders, mainly because of the expense involved, but in June the Gran Fondo New York found two riders who tested positive for EPO.
The huge Europol investigation is a reminder to all athletes that buying doping products online leaves an electronic footprint that one day is likely to catch up with them.
The Italian NAS Carabinieri and the Financial Unit of the Hellenic Police (Ελληνική Αστυνομία) led the the investigation, which is the largest of its kind ever carried out. They identified nine underground labs which have now been shut down and 24 tons of raw steroid powder were seized during raids on the labs. 17 different criminal gangs were targeted.
839 judicial cases have now been opened against both those who produced, sold and used the doping products. 3.8 million illicit doping substances and counterfeit medicines were seized, including steroids, dietary supplements, medicines and sport and food supplements.
A spokesman for Europol said: "Athletes use anabolic-androgenic steroids and/or substances to improve endurance and performance, to reduce body fat and stimulate muscle growth. However, these substances can severely damage human health. They increase the risk of heart attacks and arteriosclerosis, damage the reproductive system, the liver and the kidneys and increase the risk of cancer."
World Anti-Doping Agency's (WADA) Director of Intelligence and Investigations, Gunter Younger said: "We would like to congratulate all member states and other organizations that contributed to this successful operation. This is the sort of multi-party collaboration that produces real results and can make a significant impact on the availability of counterfeit and illegal drugs used by some athletes globally.
"WADA I&I is pleased to have been involved in Operation Viribus and we stand ready to continue this sort of role in any ongoing operations in what is a collaborative fight against sport fraud across the continent. Outside of this, we continue to forge partnerships with law enforcement agencies in Europe and throughout the world."
0 Comments