Every sportive cyclist needs at least one summer showstopper - a focal point, a training target, preferably one with "epic overreach" scrawled all over it.
Step forward the Trans Alba Race: a brand new, thousand-mile bikepacking tour around Scotland, featuring all the lumpy, midgey bits and a few island bits.
Who could resist that?
Not me, and not Sportive.com team-mate Eoghan. We've entered as a pair, and hope to finish in a week or so, covering 1721km and 20,770m of climbing along the way.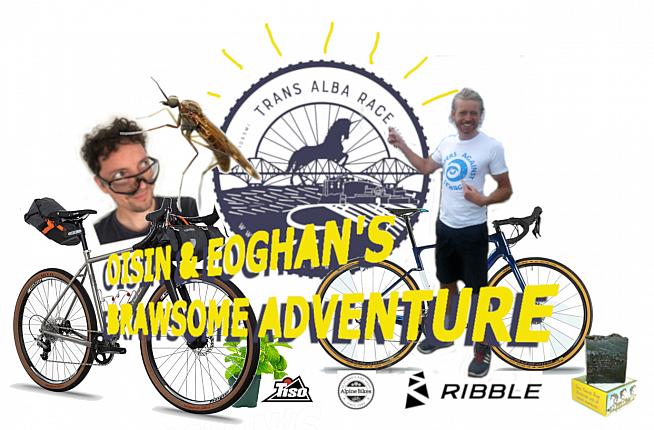 There are only seven rules in the Trans Alba Race, which will be familiar to devotees of similar races like the Transcontinental or Transatlantic Way:
Racers must ride from start to finish following the Trans Alba Race GPX route
No third party support, resupply or lodgings*
No drafting (Not applicable to pairs or team entries)**
All forward travel must be self powered
All riders must maintain evidence of their ride
All riders must know, understand and obey local traffic laws
Ride in the spirit of self-reliance & equal opportunity

*All food, drink and equipment must be carried or acquired at commercially available services or services available to all riders
** pairs/teams may draft however limited to their own partner/teammates only
What could be simpler!
With the start now just a few days away, it's time for a quick look at our preparation so far and some early thoughts on what lies in store.
Why, and why not
A cycling safari through the wilds of Scotland requires no further justification, but we each have our own agenda.
Eoghan is treating it as a preparatory ride for a planned spin to visit his brother in Singapore next year. So he says, anyway - I suspect his main motivation is to sample some BBQ haggis. It's just a gut feeling (no pun intended), he talks about it more than is healthy. I've made it clear that I'd rather BBQ a bar of tar soap (more on that below).
For me, the Hollywood voiceover would style this as a shot at personal redemption. My last multi-day ride ended sub optimally, in an Italian hospital after I broke my arm on day three of last year's Veneto Trail.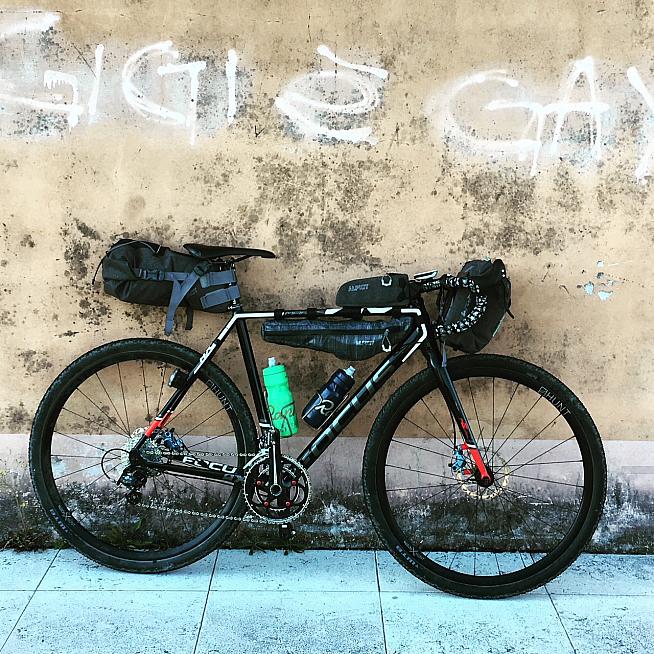 One year on, and it's been a long road to recovery. The arm's still a bit sore sometimes - although, annoyingly, not in a "Ooh it's about to rain" sort of magical-useful way. But I think it's time to get back on the road. And what better way to make a comeback than tackling an even tougher ride, with minimal training?
Fail to prepare, prepare to triumph
When I first mentioned the TALBARONE (that's Trans ALBA Race: ONE) to Eoghan back in January he was all over the idea. I had little real thought of riding it myself, but the organisers kindly offered us a team entry anyway. At the time I was anticipating another round of surgery on my arm, and expected to be finding Eoghan a different team mate. But, when the surgery was shelved in March, suddenly I was in.
Eoghan's put in plenty of training miles over the months. Me, not so much. I headed over to Mallorca for the 312 in April, but ended up bailing onto the 167km short course instead. I got back to the hotel mid afternoon and fell fast asleep. That's been by far my longest ride of the year... not exactly confidence-inspiring. The idea of riding double that distance in a day, every day for a week, is ridiculous really. But I'm hoping I can somehow trundle along at low speed interminably.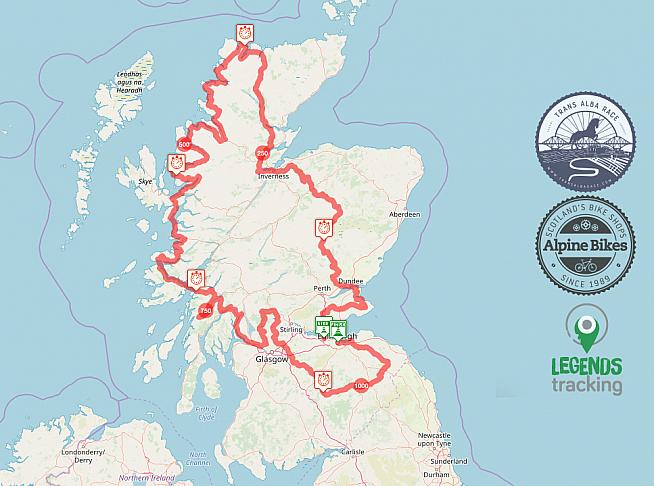 As an ultra-endurance event, it's not so much about riding fast as simply keeping rolling. Smashing it in a 6-hour sportive is one thing, but we'll be riding for days on end - different challenge, different strategy. Not over-stressing any part of the body and possibly provoking an injury will be key. Of course, with upwards of 14 hours a day on the bike, fatigue is guaranteed and injury is a real possibility. We'll see.
Eoghan has put in more miles than me and is starting from a considerably higher fitness base. Bit awkward that, but Eoghan is a gent. He has even charitably floated the idea of using the small ring to give me a chance (he normally crunches along in just 3-4 gears on the big ring, regardless of terrain).
Team dynamics will play a big part, and we'll be looking to motivate each other and keep that PMA riding high. Although Eoghan's been writing for Sportive.com for a while now, we've only actually met twice. So the Trans Alba promises to be the start of a beautiful, haggis-and-energy-gel-themed friendship.
It's all about the bikes
We have a bike sponsor! The folks at Ribble were good enough to donate (that is, lend) us two test models: a CGR SL for Eoghan and the CGR Ti for me.
CGR stands for Cow Goat Rabbit (*checks notes*) sorry I mean Cross, Gravel, Road, and this bike is the Swiss multipurpose weapon of Ribble's highly impressive new range. It comes in steel, alloy, carbon and titanium flavours, all disc brake equipped and capable of running 700c or 650B wheels with plenty of room for wide tyres.
Eoghan's CGR SL boasts a carbon frame and is specced with a Shimano 105 hydraulic brake groupset. It's a lovely bike; so nice, in fact, that someone took a shine to it and nicked it from outside Eoghan's work on Tuesday.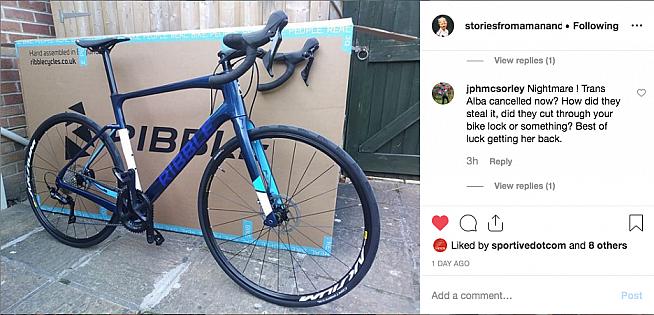 So, if you see a barely used Ribble CGR SL for sale please drop us a line.
This little setback means Eoghan will be taking his faithful steed, Grace, up to Scotland instead. Last spotted carrying Eoghan from John O'Groats to Lands End on a handful of broken spokes, Grace is possibly getting too old for this shit. But, like a grizzled LAPD detective just days from retirement, she's wincing and strapping on her service revolver for one last case.
If Eoghan's bike prep isn't quite going to plan, I'm not much further ahead. Ribble sent me their CGR Ti frameset for testing: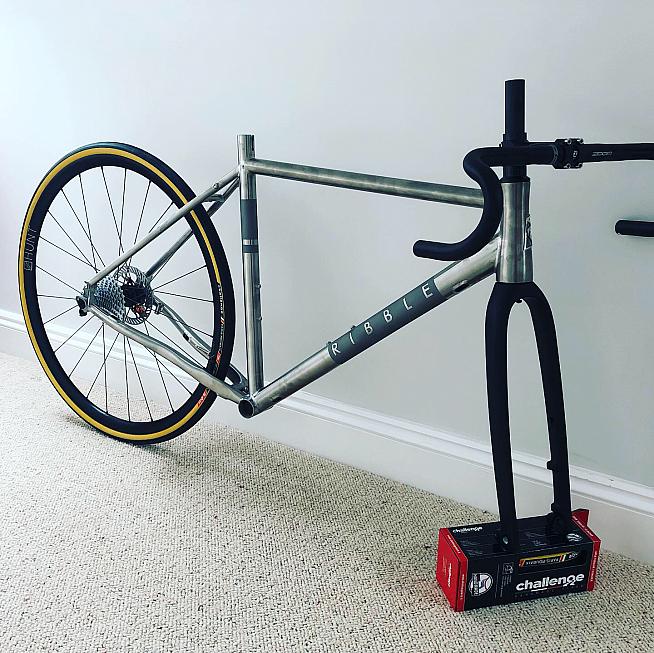 It's a thing of beauty, but I haven't ridden it yet - still need to set up the disc brakes, a new skill for me. I'll hopefully get that sorted later today, with the aid of multiple viewings of Campagnolo's tech videos.
Oh, and I'm also shy one dynamo hub front wheel. The punks (I mean that nicely) at Hunt sent me out a 650B instead of the 700c I'd ordered. If the replacement isn't ready by the weekend, I guess we'll be making a few more recharging stops at petrol stations than originally planned.
Bikepacking kit
We've managed to scavenge some fantastic kit thanks to kindly benefactors.
Eoghan will be testing Ortlieb's bikepacking bags, while I'll be using a set of bags from Woho (not Wahoo - Woho!). Look out for a full review on the site afterwards.
For tyres, I'll be rolling on some rather lovely looking 27c Challenge Paris-Roubaix Pro clinchers. Thanks to Rory at Upgrade Bikes for sorting these out. I took care to give the tyres a thorough check for sabotage before fitting, because Rory's colleague Rupert is also racing the Trans Alba as a pair. His team mate, Caven O'Hara, is another Sportive.com contributor - small world.
I've seen the training miles those guys have logged, we'll not be seeing them for dust once the flag lifts on the race - but I look forward to catching up for some BBQ haggis at the finish line.
When it comes to overnight arrangements, no fancy pants hotels for us. We'll sleep where we fall. I'm bringing an Alpkit bivvy bag, and I gather Eoghan is packing a tarp. Or did he say harp? Either way, we're busking it.
Finally, by way of a team mascot we'll be bringing a couple bars of this soap:
If you thought Lush peddled the most pungent cosmetics known to humanity, think again. Purchased as a random stocking filler from Planet X and stinking out the house ever since, this stuff smells like it's made from melted roads.
Apparently it also has antibacterial qualities, but more interesting is its potential as a chemical weapon. After a few days washing in roadside streams with this, riders downwind of Eoghan and myself won't know what hit their nostrils.
Road Triiiiiiip
The Trans Alba Race starts in Edinburgh on Monday 1 July, and we'll be heading up first thing Sunday morning to be there for registration and rider briefing.
In case you thought we'd exhausted the list of things that could possibly go wrong, our vehicle of choice is a geriatric Mazda Bongo - aka the Sportivemobile. The drive to Edinburgh could be a tall order for her old engine, but join the queue - we all have our personal battles to fight.
Once the race starts, you can follow our progress at the live tracking site here: talbarone.legendstracking.com. Alternatively, if you see weather reports of localised clouds of pine tar fug, we'll be somewhere underneath that. Having the time of our lives.
I'll also try to keep our social feeds updated, so do drop in and see how we're going:
Instagram
Oisin: https://www.instagram.com/oisinsands/
Eoghan: https://www.instagram.com/storiesfromamanandhisbike/
Twitter
Sportive.com: https://twitter.com/SportiveCom
0 Comments