If you're planning a long ride in the dark then there's only so much you can get out of most battery powered lights. Even with the hefty frame-mounted separate battery pack on my Magicshine I wouldn't expect it to give me more than around 6 hours of decent illumination.
So, taking a tip from those who ride audaxes on a regular basis, I started looking at a hub dynamo for the winter months. Top of the tree in the dynamo world is the Schmidt SON range, but at nearly £200 they were a little out of my league. Shimano, thankfully, produce some more reasonably priced versions and the DH-3N80 was going for around £70 on most UK bike websites and for around ten quid less on a German site. Available in 32 or 36 hole versions, this front hub weighs 481g and comes complete with quick-release skewer, a connector and over-voltage protection.
Next I needed the light to run off the dynamo, and here Busch & Müller seemed to be the market leader. Their Cyo is a long-running model and at 60 lux produces a nice bright beam. Ordered from the same German website as the dynamo, this cost £45.
Before any of this would work though I had to get a wheel built up around the dynamo, and I did this as part of an upgrade to a pair of handbuilt wheels I'd already been planning. The hubs are laced to H Plus Son Archetype rims with the build carried out by Sheffield wheelbuilders Just Riding Along. I simply added a third wheel to the order to match the others. I may have got a bit of a discount ordering in this way, but the cost was about £80. So, for a fairly modest hub dynamo set-up I was in for about £200 in total.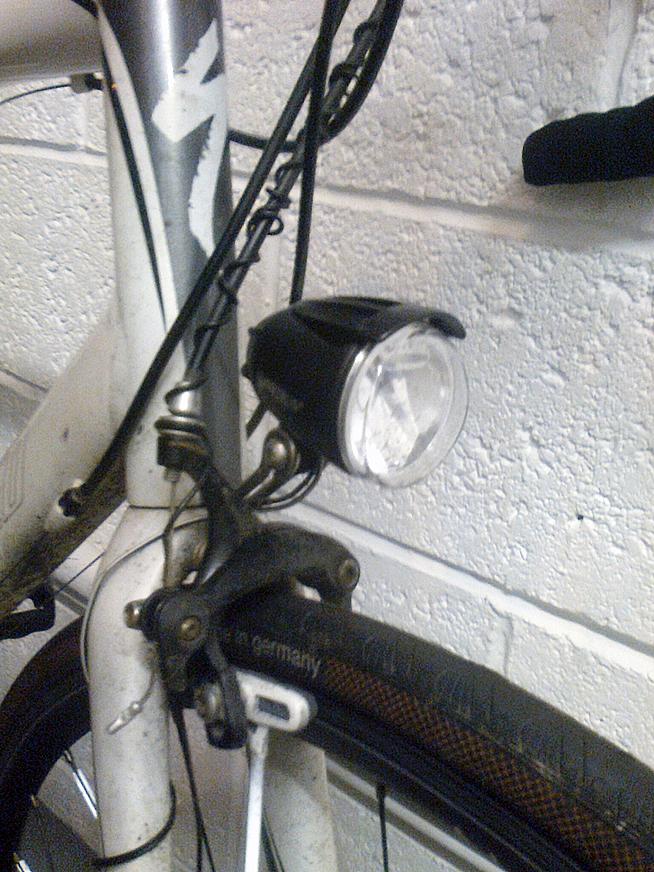 The other thing to bear in mind with this sort of arrangement is the time it takes to get it all up and running. The delivery time from Germany was amazingly quick but I was still waiting a couple of weeks for the wheel build due to the workshop's backlog. So, this is never going to be a straight-out-of-the-box solution.
Sat in my garage with the parts it was a bit of a mystery getting everything in place and working. Firstly, the dynamo did not come with any sort of instructions and I ended up having to download them, print them at work and start again the following evening. Secondly, the light bolts to the forks and the mounting bracket sits just behind the brake callipers which have to be detached to get it in place. This means you have to re-adjust your brakes afterwards as they are now about 5mm further forward than before.
The location of the light is much less convenient than the more usual bar-mounted battery lights. It makes it hard to switch the light on or off as you're riding, due to having to lean down so far. I found this particularly dangerous at any speed over 15mph.
Having got everything set up I went out for a test ride around my estate. Apart from getting the angle of the beam right (a simple loosening and retightening of the bolt on the mounting bracket) the other issue I had was adjusting to how much illumination dynamo lights actually produce. They tend to have a much more focused beam to make the most of the available power, meaning the amount of tarmac being illuminated by it is less than usual. Under normal street lighting this can create the impression that the light is either faulty or really underpowered, but once you're on unlit roads the benefits of the focused beam become apparent. The spread is good but no light is "wasted" by being spilt over the grass verge or further to the sides of the road and I felt confident at speeds of 30mph+ given the length of tarmac ahead of me that was illuminated.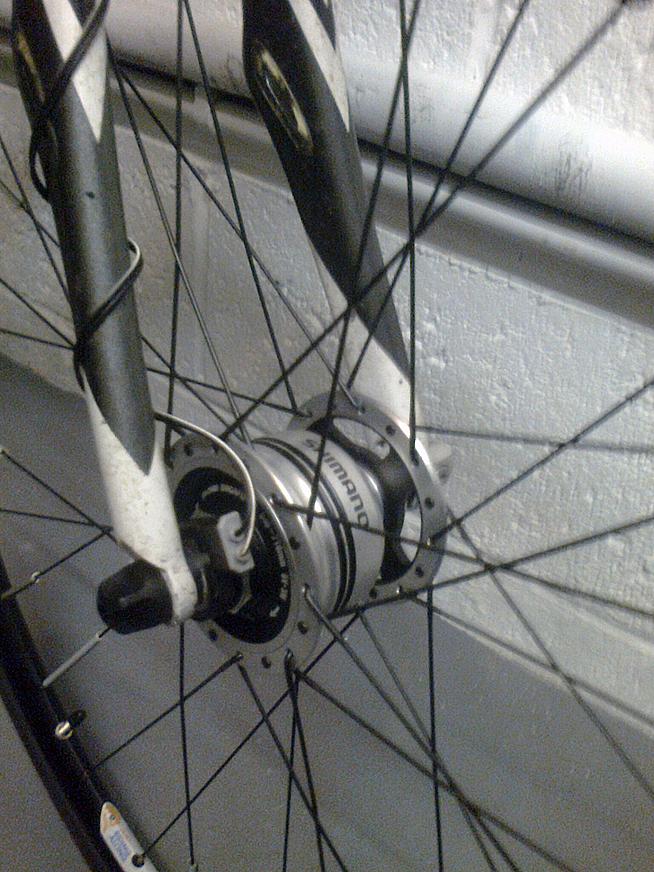 The Cyo takes account of the need to stop and not be immediately plunged into darkness by charging a small condenser as you ride. This gives up to ten minutes of light if you have to pause at the side of the road but at a much lower level of output. This is useful for seeing what you're about to set off into when you get going again but is pretty useless for reading maps etc by, particularly due to the low level of the light itself. I used a separate battery light on the bars for that sort of thing and as a flashing light as I rode. The Cyo runs on an on/off basis only and doesn't allow for any flashing function, which may be a disappointment for commuters.
Having used this set-up on a ride that involved 15 hours of darkness I found it to be pretty much bulletproof. The costs are high to start with but the returns are unlimited light and no more worries over battery life etc. The only downsides are that it takes a little time to get properly installed, while the fixed location of the light means it is only really any good for seeing the road ahead. It's early days yet, but on first impressions I would highly recommend this lighting set-up.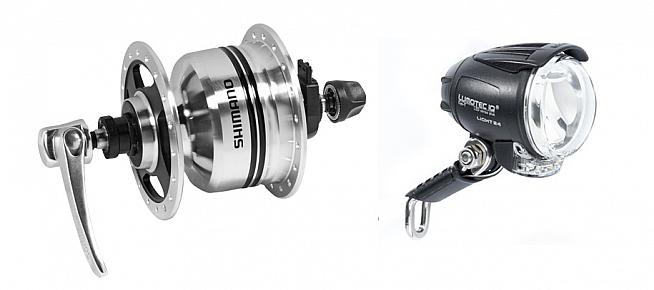 0 Comments