Back in October we featured a Q&A session with Dr Garry Palmer, a cycling coach, athlete and exercise physiologist, who was hosting a seminar covering a number of topics to help us all achieve better training and sportive outcomes. The event was being held in Stafford, so if you lived outside that sort of area it was probably a bit of a no-go situation.
All is not lost though, as the article provided a link to Dr Palmer's Sportstest website, where we get a fascinating look at the services on offer at Sportstest's West Midlands sports lab, or a venue of your choice for that matter.
I've no doubt you will have seen countless pro athletes being put through their paces on a turbo trainer whilst breathing through what looks like a mask of mass torture but is actually a device used to carry out very precise oxygen and CO2 measurements, I think.
This is part of Garry's individual cyclist's sports test, whereby you spend some time being measured, questioned about your sporting ambitions and desires, and then tested to establish a base level for Garry to work from. The results give you a scientific analysis of your body composition and physical condition, which can then be used to give accurate details of heart rate and power zones to tailor a more personalised and focused training programme for future sportives, actual races or TTs you may want to take part in.
The whole process looks amazing, and it would be great to have such an accurate insight into where you and your body are and how you can develop it in a much smarter manner.
There is the option on the Sportstest site to book such a test, but I shied away from clicking the link because, although I think I'd love to take part in such an evaluation, could I warrant the cost (even though I have no idea what that would be) at my age?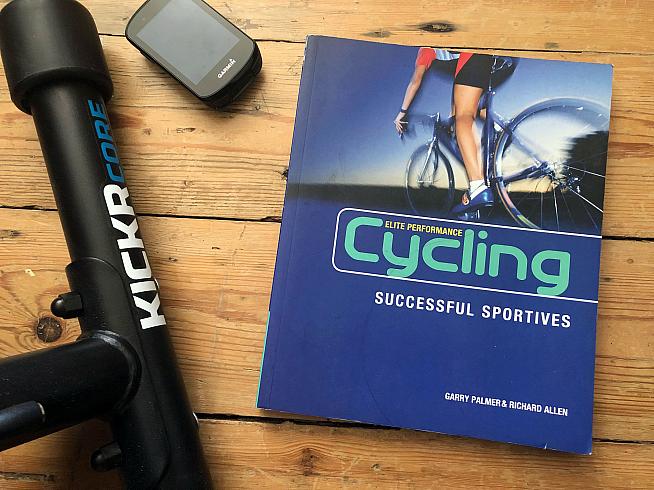 If I were forty years younger I could say it'd be a no-brainer, because I would gain so much more from having such information at hand to assist my training. But as a 'nearly' OAP, would it be cost effective? Of course it would, I suspect; but thankfully Dr Palmer and his co-author Richard Allen came to my rescue with an aptly titled book, 'Elite Performance: Cycling: Successful Sportives'.
I decided I wasn't going to add it to my Christmas shopping list and wait to see if a family member would pick it up, instead I ordered it straightaway. All the reviews were good, so I thought that if I couldn't do the testing I could at least read the book.
Successful Sportives
The book is split into four sections, each one subdivided into smaller more 'digestible' chunks.
The first section introduces the history of sportives and highlights some of the major events that are available to us to take part in different parts of the world. The Tour of Flanders, Amstel Gold, the Fred Whitton Challenge... regular sportive cyclists will nod with recognition throughout this section.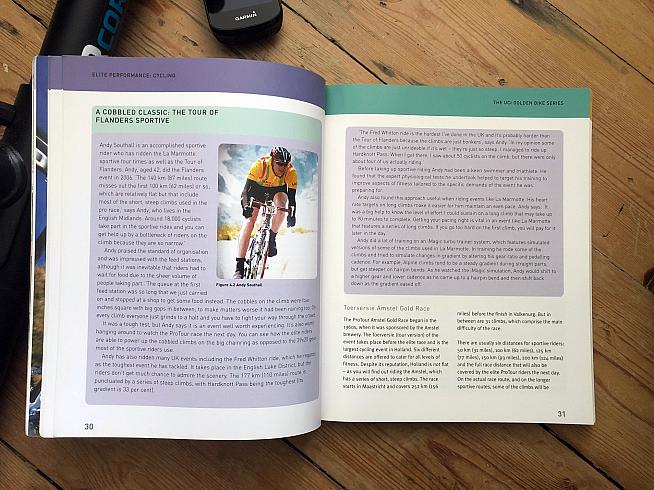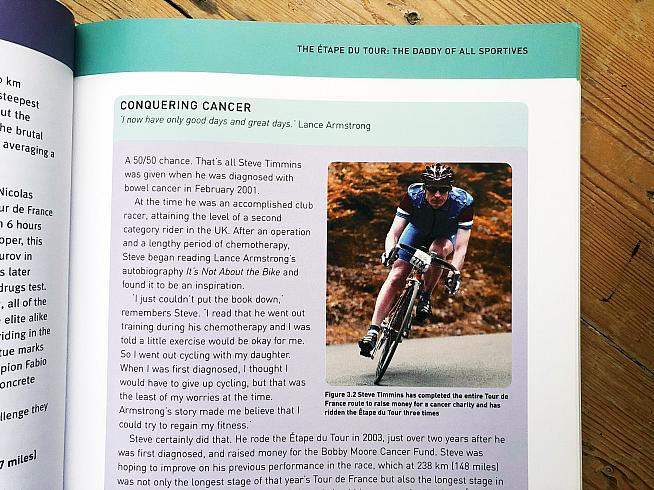 In some reviews I read, comments were made about Garry's constant reference to the Etape Du Tour - the amateur's opportunity to ride a stage of the Tour de France - which he describes as the "daddy of all sportives".
There is no denying that the Etape crops up as a reference point throughout the book, but Garry offers an insight to other challenges too. Although I'll probably never be in a position to enter the Etape, I would suggest that the advice given throughout the book would be of equal value to us all, whatever sportive, and even for the one that I consider the daddy of them all, Coast to Coast in a Day.
The whole purpose of the book is to help us prepare the best we can, and if the Etape is referred to as an example of what is required, so be it.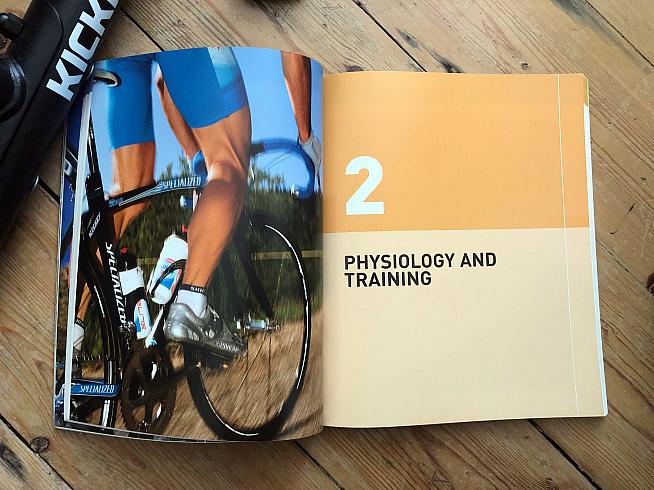 As we move on to the second part of the book we learn about physiology and training, but do not be put off by the title. Everything is presented in a very readable manner, and although there were a couple of areas where I chose to re-read a section it was more for clarity than a lack of understanding.
The section starts with a comparison of the cost of reducing a bike's weight as opposed to reducing the weight of a cyclist. A table sets out the weight and cost of standard components - seat post, saddle, stem, bottle cage and quick release, set against the weight and typical price of upgrades from brands like Campagnolo, Tune and Syntace. The upgrades save 347g, but at an extra cost of £432. Seeing it in hard cash terms is very interesting indeed.
Experienced riders may feel that they don't need to read about the basics of riding a bike, but there's no harm in getting another view point on a subject. There is always something to learn with regards to increasing your knowledge and skill levels, plus the book is written in such a manner that the reader can pop in and out and review whatever it is that piques their interest.
Training plans to suit your goals
Moving further into part two and we start delving into the nitty gritty of training: its benefits, the downsides of overtraining, recovery, and discovering what type of training would suit the type of event you wish to take part in. The book also describes how to measure the different suggested parameters, and includes training plans for the different levels of cyclist (novice, experienced and advanced).
Things get a little more technical in this section, but I could understand it so I'm sure you will. There are some graphs to look at, but they are all adequately explained and the whole section is an eye-opener and quite inspirational. I have always used my turbo trainer and training DVDs during winter, feeling that by pushing myself I'm improving myself. This is partially true, but now I've read this book I think I can plan to make things a little more structured and gain a little bit more for my efforts.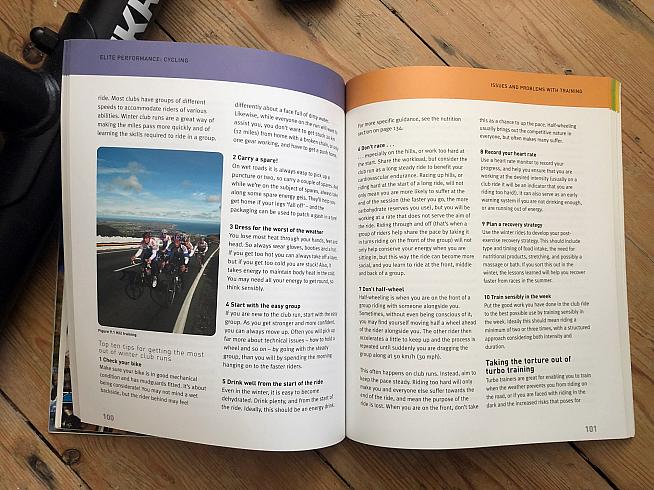 One important aspect of sportive cycling is nutrition, which is covered in the third part of the book. I've read a few books on nutrition to try and get a grip of the subject and although I've yet to read a bad one I liked the way Garry covered the subject here.
The 'normal' subjects were covered: carbs, fats and protein, along with vitamins, minerals and our basic needs and requirements, but from there Garry breaks it down into a sort of intake timetable leading up to an event, riding through the event and then recovering from the exertions of the event. The sort of stuff we have all done, but with a bit more of a scientific spin to it all. Certainly food for thought!
Preparing for event day
The final section revolves about the targeted event: how to prep yourself and your bike for the big day, how to get there, what to take with you, and putting all you've taken from the book to make your day a success. This section includes a 10-point guide on how to guarantee that you won't finish your chosen sportive - but, by the time you've got this far, it should be quite clear that you understand the errors therein.
One point that is emphasised a few times throughout the book is the importance of record-keeping: a training diary, a resting heart rate diary and a diet diary. This is something you may already do, but I have to hold my hand up and admit that although I'm good at starting this sort of record I tend to drop off the edge and start falling behind to such an extent that it's pointless trying to catch up. I tell myself I'm doing all the good stuff, but I can't quantify it and I know full well that I'm kidding myself. How does it go? 'The older I get the better I was'!
The book was first published in 2008 and my reprinted copy is from 2010, so may I suggest that cycling tech has moved on a little and there are ways we can diarise things with our tech?
Like most cyclists, I use Strava to to record and review all my rides. The Strava app gives me a breakdown of the miles I've pedalled, top speed, average speed, heart rate max and average and, if you are so equipped, power ratings.
In addition, my Fitbit records resting heart rate, calories burnt during the day, water intake and, now that Garry has prompted me, a food diary with a breakdown of the constituent parts of my daily diet, ie carbs, fats and protein. Furthermore if I want to create a calorie deficiency to help me lose some timber I can adjust my daily calorie allowance accordingly: what's not to like?
Now before you start shouting at me, let me offer some sort of disclaimer. I know that the figures on my Fitbit are not totally accurate, and I would never submit the figures for a medical evaluation or hold them up against Garry's measured body composition figures. But it's quite easy to see if your body weight is heading in the right direction, and as long as it's going down we don't mind.
I also have the kind of scales that 'measure' my body fat which, once again, may be considered a bit hit and miss. But, as Garry says in his book, they can be inaccurate so long as they are consistently inaccurate: "even if the body fat figure is out, it will always be out". So, once again, I will suggest it's the trend that we should be looking at when using these devices.
I'll admit that relying on apps is a lazy man's approach to diary-keeping, but it's also easier and offers a readily digestible graphic interpretation of the information that's submitted. If anything, the availability of apps and gadgets to track activity and fitness make it easier to follow the training programmes advocated in books like this, and that's a good thing.
Bring on the next sportive!
This is a good book that I feel will offer useful information to any sportive cyclist looking to improve their fitness and performance - and ultimately, their enjoyment - of their sportive challenges.
I enjoyed reading it, and spent the best part of a 'man flu' day reading it. The information is easily digestible, easy to understand, inspirational and aimed at all levels, offering good advice to one and all. I have no doubt that most, if not all, readers will get something out of it.
From the reviews I've read, some people have followed Garry's recommendations from within the book and gone on to complete the Etape du Tour and other sportives by following his advice.
I like what I've read, and will try to incorporate some of the teachings into my winter turbo-ing in an effort to make sure I'm ready for my planned sportives next year.
I'm more than happy to recommend the book - and who knows, having done so you may well take the next step and visit Garry for the full Sportstest'analysis.
But in the meantime, grab the book, settle down and plan for the upcoming winter of dark evenings in your suffercave.
Cycling Successful Sportives by Dr Garry Palmer & Richard Allen - £11.99 from www.sportstest.co.uk.
0 Comments