My first "grown up" bike was a mountain bike.
It was the Very Early 90s at the time and I had just won the school raffle. The prize was a shiny, red Diamondback with 14 (14!) gears.
Now, close to 30 years after I last spent any time on two wheels off road, I'm being handed a Scott Spark 745 and led to a rutted singletrack down the side of an Alp.
Not so much pushed in at the deep end, as pushed into it from the top of the 10-metre board.
It's fair to say sportives weren't the best preparation.
So - on the off chance you might like to give mountain biking a try too, here are the five biggest lessons this roadie learnt to give you a head start.
1. There are far more buttons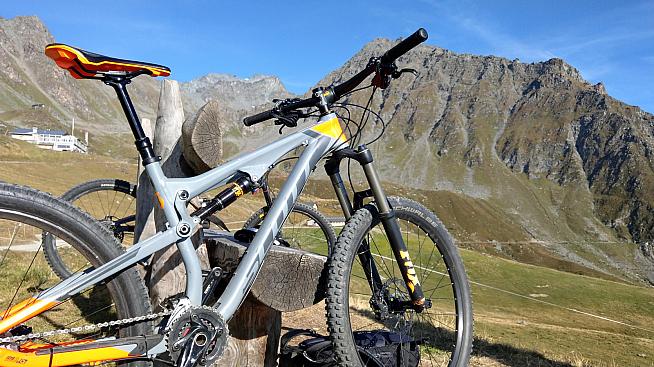 Left hand - brake, front derailleur. Right hand - brake, back derailleur. That's it on my road bike.
The Scott has more.
Left hand now had brake, front derailleur, three-position front shock lock, three position rear shock lock.
Right hand has brake, rear derailleur and seat post dropper. Yup, if you press that one by mistake your saddle plunges 15cm. You probably won't do it twice.
2. Descending is more important than climbing
After being handed my bike in Verbier, we went to the ski lift. They even had money off for cyclists staying in the area.
That's because while riding up mountains fast wins you grand tours, mountain bikers win championships downhill.
More than that, as my guide/coach/saviour José from Pure Biking Verbier explained - with mountain biking it's about finding the most fun, the most rewarding route down a mountain - not getting from A to B in the shortest time possible.
Then he rode up the side of a dirt wall, kicked his rear tyre in the air and jumped a small river.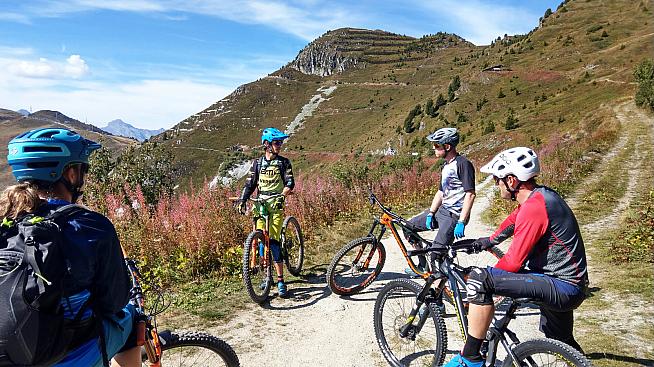 3. Weight matters less, backpacks are fine
I don't ride with a saddle bag on the road, it feels like pointless weight when I can fit what I need in my back pockets.
My skewers are made of titanium - and hollow.
All in - with Garmin mount, Garmin, bidon cages and pedals attached - my road bike tips the scales at a fraction under 7.5kg.
The Scott was double that. The Scott eGenius 730 I was handed mid-way through my second day weighed in at 23kgs.
In a world where going uphill matters less than having fun coming down it, having more kit with you and a hydration pack is just the sensible choice.
And if - like me - you're somewhat prone to falling off it means a lot less chance of smashing your phone and ending up with a dead leg where it digs into your pockets.
I also learnt that e-bikes have barely any of the stigma attached to them in the MTB world that they do in the Road one.
Something that gets you uphill faster, and lets you ride more interesting descents as a result, is seen as a good thing.
Oh, and being able to ride up a 45% dirt slope is just fun.
4. Do NOT use the front brake
I've raced the setting sun down the face of Mont Ventoux. I descended the Tourmalet on 23mm slicks in driving rain and 15 metre visibility - hands almost too cold to brake.
Basically, I'm no stranger to coming down a mountain on a bike.
I fell off the Scott three times in the first hour.
Eventually, the lovely Tracy Moseley - 2010 World Downhill Champion, three-times World Enduro champion and seven-time British downhill champion - pointed out I was using my front brake a lot.
Now, on a road bike, on the drops or not, 80% of your weight goes through the front wheel while you're descending. That makes the front brake key.
On a mountain bike, standing up on far steeper gradients, using it sees the bike rise up, slap you in the back and knock you over.
Back brake first and foremost on the trails. Front just for a bit of extra control.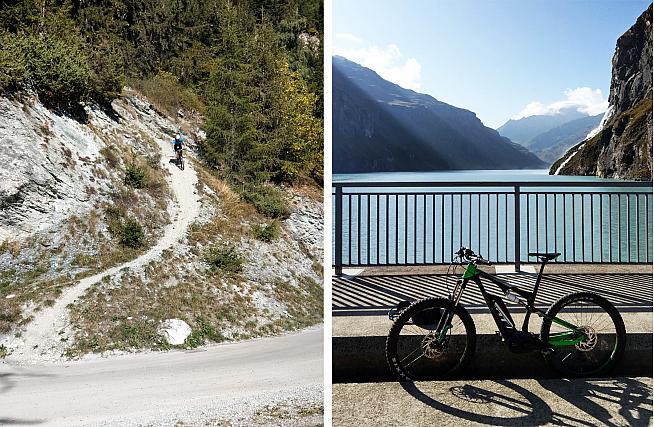 5. Trust the bike
A full-sus, modern mountain bike will ride over rocks the size of tennis balls without the slightest problem.
It will shrug off tree roots across the track and keep you upright as you slam into bumps, banks and kerbs (although it will thank you it you hop the front end and move your weight backwards first).
The tyres will grip and stay predictable on mud, dirt, gravel, dust and more.
Your job is to ride it.
And by ride it, I don't mean like a road bike where you sit planted driving it forward.
The bike doesn't want to crash, and is designed to stay vertical on rough terrain, it's the rider's hesitation that sees you off more often than not.
So drop the saddle, keep the pedals level, stand up, look ahead and ride it almost like a surfboard - with a huge grin on your face as you tear through a sun-dappled forrest with no other traffic and the only noise your whoops of joy.
James was visiting Switzerland as a guest of the Verbier resort, with equipment supplied by Mountain Air, staying at Hotel La Vallée and flying with Swiss Air.
>>> Tempted to take your bike off-road? Check out our guide to 12 of the best UK gravel and off-road sportives >>>
0 Comments