Whether you're a competitive or recreational road cyclist, chances are you're often on the lookout for tips and tricks that will improve your speed and endurance. This tip may surprise you, though. It's not your traditional cycling hack, but taking up mountain biking (MTB) will certainly improve your performance on the road. Biking off-road emphasises endurance, bike handling skills, and pure nerve. These five next tips will make you a more effective rider on the road.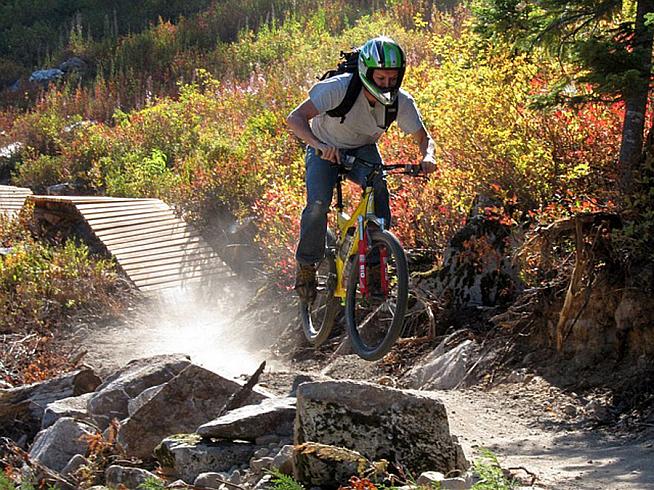 1. MTB improves bike-handling skills
With the exception of the occasional pothole or bit of road debris, the surface you ride on when road cycling is reasonably flat. Riding off-road, on the other hand, requires you to develop sophisticated bike-handling skills. Many of these skills translate well to riding on the road. For instance, Lynda Wallenfels of Training Peaks explains that the cornering skills so crucial to a successful MTB ride can help road cyclists win criteriums.
Plus, mastering the bunny hop (which may be slightly easier to learn on a mountain bike) makes avoiding those potholes and road debris much easier. Being able to handle an MTB while navigating the intricacies of off-road terrain will help you improve your bike handling-skills, as well as your confidence in them.
If you need convincing, just look at road cycling World Champion Peter Sagan. Noted as one of the best bike handlers in the pro peloton, he honed his skills as a top-level mountain biker before switching disciplines.
2. MTB requires endurance
When you are working to improve speed, strength and endurance on the bike, programming is crucial. Your training programme may include gradually longer rides as your endurance develops, but including off-road riding will also dramatically improve your ability to stay strong on long rides. Riding on rough terrain poses unique challenges in the way of strength and balance, so building your endurance while riding off-road will pay off next time you hop on the road bike.
Ideally, training off-road in the off-season will give you the time you need to build the endurance needed for long sportives when the season resumes. Whether you choose cyclocross or mountain biking, it doesn't have to cost a fortune, either - there are many cheap mountain bikes that give a powerful riding performance. Many MTB trails are free to access as well. And since variety in programming will generally make you a more versatile rider, dedicating some time to MTB riding may help you become more well-rounded as a cyclist.
3. MTB gives you a needed mental break
Burnout is a concern in virtually any sport. Many cyclists have their own tips for both avoiding and treating burnout. Some of these tips include taking easy rides and rest days and maintaining your perspective on why you began cycling in the first place. One way to help avoid burnout (or treat it if you already have it) is to mix up your training.
Taking a MTB ride (or several) is a great way to do this. It lets you ride on different terrain, away from the stress of road traffic, where you can focus on different skills than you do on the road. If you're a sociable type who prefers to ride in groups to meet other cyclists, many areas have mountain bike rides that meet on a regular basis. If you prefer to relax and recharge while riding solo, you can easily do this as well.
Because focus and drive is key to success when training for road cycling, adding in some MTB rides for variety allows you to maintain the mental component you need to keep training at a high level.
4. MTB requires a good bit of nerve
Many road cyclists struggle with steep alpine descents, and understandably so - we don't get much chance to practise them in the UK. Riding downhill at speed and often around sharp turns can intimidate even the most seasoned rider. However, once you've mastered a few MTB downhill runs, no road descent will scare you - you'll be able to execute them without continually pulling on your brakes or wobbling.
Descending on a MTB hones your reflexes to react to roots, sharp turns, and other trail hazards. Developing your reflexes and handling skills specific to off-road descents will build the skills and the confidence necessary to master descents on the smooth hairpins of Mallorca and the Alps.
5. And finally... Wheelies!
Sure, you might not need a wheelie in your next road race - but this skill is great for impressing your friends and for celebrating a win or a personal best time.
Cyclist Hans Rey notes that the wheelie is a challenging trick to master and outlines the steps involved to pull one on a bike. MTB geometry and wider tyres mean it's often easier to learn wheelies on a MTB first and then do one on a road bike.
Once you've managed to easily get the front wheel of a mountain bike off the ground, you can switch to a road bike. You'll be impressing everyone with your Sagan-esque sportive victory celebrations in no time...
Conclusion
In many sports, intelligent cross-training has the capacity to greatly improve performance in an athlete's main sport, and this holds true for road cycling and mountain biking. If you use your off-season wisely and get out on the trail, you'll be well-equipped, both physically and mentally, to handle even the most challenging long rides when the season resumes.
0 Comments