Autumn is here, and we're all benefitting from a season of cycling and a wonderful Indian summer. Like me, you'll be trying to squeeze in your last big rides on the beautiful bright, crisp autumn days before the weather turns really grim. I love this time of year - it's all about reflecting back on the season's rides and anticipating the next, while just enjoying being out on the bike for the sheer joy of it.
So which events have you chosen for 2016? Me, I'm going to ride the last five stages of the Tour de France route as part of the Tour de Force. The trip will take me from Bern in Switzerland, to Paris including the eye-wateringly epic Etape du Tour stage 20. Gulp.
Why have I chosen this event, over all the others out there? Well, I have to be honest - I help to run it every year, so it's a perk of the job. But this year is different. 2016 is going to be special because it marks 10 years since the very first Tour de Force, and 20 years since the death of William Wates. In Will's memory, his family set up the William Wates Memorial Trust (WWMT) to support charities working with the UK's most disadvantaged young people, helping them to keep away from a life of crime and violence. The Tour de Force cycling event was created as their principal fundraiser.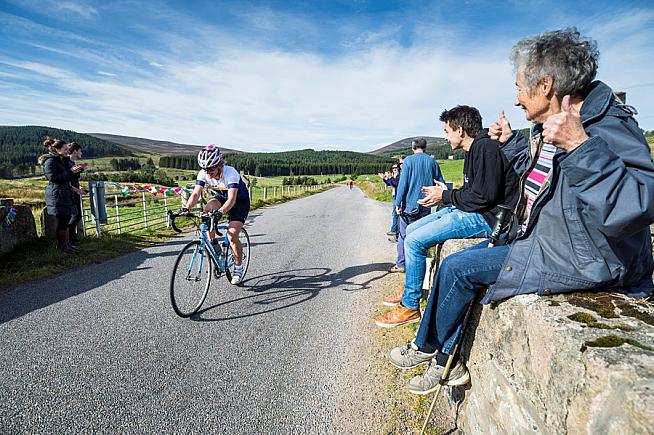 I have worked with the Wates family and the Tour de Force since the event opened to the general public (rather than just friends and family of the Wates) in 2011/12. I deal with all sorts of jobs - we're a small team - but a key part is coordinating the fundraising. So this year, I decided to lead from the front by both cycling and fundraising, just like any other rider. This means a minimum fundraising amount of £1,200 (it's a bit less for fewer stages, and more for riders taking on 10+ stages).
So - first up - the cycling. I'm not a bad cyclist - I'm pretty fit, but I'm also a busy, middle-aged working mum with not much in the way of spare time. It's the same for most of us, right? So I'm going to have to be very clever about my training - it has to be effective, focused and time-efficient.
Right now, that means maintaining the fitness I've gained over the summer by continuing to commute on the school run by bike (tugging my 5 year old son behind me, occasionally hollering at him to 'put his back into it'!). I'm also going to keep up my trail running (very time-efficient: a big trail run is about 2 hours, whereas a big bike ride is 5+), stretch regularly (back to the pilates studio once a week for me) and get out on the bike whenever I can.
As the weather gets colder and wetter, this is definitely going to mean dusting off my mountain bike. Luckily I live close enough to ride regularly at Glentress in the Scottish Borders, where I can get my lungs burning within 5 minutes of the car park. This will see me through to Christmas when I will try (and no doubt fail) to resist calorie-loaded temptations in readiness for the hard work starting in January.
I'm also going to set up my turbo-trainer. This dread machine was donated to me by a well-meaning past Tour de Force rider who could see I needed to use it! Not only am I going to set it up - I'm actually going to climb onto the wretched thing and pedal.
I absolutely hate, with a passion reserved normally only for oysters and bigots (not necessarily at the same time, but I suppose it's possible), turbo trainers. The thought of sitting in my dimly-lit garage fills me with a deep gloom. BUT it is cheap and time efficient in the way that a spinning gym is not. Plus, I choose my own music and no one will shout at me - always a bonus.
To make my turbo sessions more bearable I'm going to be using a special Tour de Force DVD training bundle from Success Cycling, as well as some thumping tunes to accompany my entire photo collection on a loop and the occasional podcast (I'm a sucker for Desert Island Discs - but it could play havoc with my cadence!).
So - that's my training sorted until the New Year when things will start to get serious. But now, what about my fundraising? I know, from the last 5 years of working on this event, that the fundraising can be a daunting prospect. But I also know that the vast majority of our riders absolutely SMASH their target, and while they might not have signed up out of a desire to raise funds for WWMT, they remain loyal and committed to the event and the Trust long after taking part (evident in the rate of returning riders and our active alumni group).
They also tell us that knowing how their money was going to be spent, through meeting members of Will's family as well as one or two of the kids we support, left them humbled, inspired and moved by the experience. It positively enhanced their tour. The lesson to learn from this is to get acquainted with your chosen charity; visit their projects and meet the people who are benefitting from your fundraising - it will become a LOT more meaningful.
So to help new riders to embrace the fundraising aspect of the Tour de Force, I have decided to set myself a challenge (because cycling five stages of the Tour and raising £1,200 isn't enough!). Knowing how hard fundraising can be for those of us who either don't have corporate contacts with deep pockets, or who have exhausted all avenues with friends and family on other fundraising events over the years, I've decided to set myself the challenge of fundraising without actually asking anyone for simply a cash donation. Which is not to say that I wouldn't accept one - I'd be mad not to (and anyway, for some folk, this is the easiest way for them to support me). Instead, I'm asking for support in time, or skills, or unwanted goods etc. Each month I will try a different method of fundraising and report back via my blog. I've started my fundraising already - mostly because there are some key opportunities in the lead up to Christmas that I want to take full advantage of. Here's how it's going so far:
First up - I set up my online fundraising page. There are several you can choose from, but for the Tour de Force, all our riders are asked to use Virgin Money Giving. Sites like this are highly sophisticated these days with masses of tools, advice, proven methods and more. I strongly recommend spending some time setting up a really good fundraising page using plenty of images and making use of the advice they have to offer - they really do know what they're talking about when it comes to fundraising!
In October I held a car boot sale and raised over £270. I did this by asking friends and school mums/dads to have a good clear out and give me their unwanted goods for sale. They were delighted to de-clutter while supporting me, and I got to make money for WWMT. Everyone's a winner. Car boot sales aren't going to make really big bucks, but this is a damn good start!
I have also set myself up on www.easyfundraising.org.uk. I've created a page and asked friends to link up with it and download the toolbar reminder so that every time they make an online purchase, they stand to raise a small contribution from the retailer towards their fundraising, at no additional cost or inconvenience to themselves. With the amount of online Christmas shopping about to take place, this is a no-brainer.
Secondly, for the month of November I have decided to sell Christmas cards. I've taken a chance and invested my own money in getting some special ones printed and will be selling 100 packs to friends, family and all of my son's school year in order to raise a clear profit of £200. Again, not a vast amount of money, but it's all starting to add up.
In fact, despite not asking anyone simply for cash and simply by including a link in all my personal emails, I have received over £300 in donations to my Virgin Money Giving page already. This is a huge and pleasant surprise. In addition, a family member who had a charity 'pot' through a scheme run by their employer to encourage charitable efforts, has decided to empty it for me! So that was an additional, amazing and unexpected £200. I entered into this thinking I didn't know anyone who was likely to want to just sponsor me with cash, but I've been proven wonderfully wrong. Perhaps you will be too!?
To my utter amazement, just 2 months into this fundraising effort, I am already over £800 and by the end of November (after I've sold my Christmas Cards) should be over an incredible £1,000. I'm going to need to increase my target already! It seems that with just a bit of good planning and creative ideas (ok, and generous supporters too) I'm going to smash my target in the same way that most of our riders do each year.
I've got some really fun ideas I'm trying to make happen for December and January, and I'll report on these (and how they went) as well as my training so far in my next article in February.
Until then, whatever events you decide to sign up to for 2016, I encourage you to embrace them wholeheartedly and you will reap the benefits. Start your training and any fundraising sooner rather than later - and above all, stay safe on the roads and enjoy the ride!
Interested in riding the Tour de Force?
You can follow Tracy's blog here: https://www.tourdeforce.org.uk/tracys-2016-blog/
Sales for the Tour de Force 2016 open at 9am on Wednesday 11th November. Register your interest here for priority booking code: https://www.tourdeforce.org.uk/register-your-interest/
You can contact Tour de Force on 0131 3000796 or visit www.tourdeforce.org.uk
Learn more about the William Wates Memorial Trust here: www.wwmt.org
You can support Tracy by making a donation here (not that she'd ask you herself!): http://uk.virginmoneygiving.com/fundraiser-web/fundraiser/showFundraiserPage.action?userUrl=TracyNorrisTDF&faId=633005&isTeam=false
0 Comments