It's hard to escape the buzz around gravel cycling in recent years; you only need to look back a few days, where the hype surrounding the UCI Gravel World Championships almost overshadowed the road race taking place on the same weekend - despite that race being Il Lombardia, one of cycling's five Monuments.
Of course it helps that one of the sport's icons, Wout van Aert, was racing on gravel...and it says something for the growing strength of the discipline that van Aert, after a crash and mechanical issues, had to settle for 8th place.
While the terminology and events may be relatively new, the practice of riding drop-bar bikes off-road is as old as the bicycle itself. In the latter half of the twentieth century it was called 'rough stuff'; the Rough-Stuff Fellowship was founded (in a pub, of course; IPA may or may not have been served) in the UK in 1955 laying claim to being the world's first off-road cycling club.
And despite the spreading tentacles of tarmac, and the emergence of that young upstart mountain-biking, it turns out we still like a bit of rough: gravel cycling has returned with a vengeance.
Cyclists in the UK are fortunate to have a vast network of unpaved tracks and trails at their disposal. From bridleways and towpaths to drovers' trails, gravel forestry tracks, farm lanes and byways, there's thousands of miles ripe for exploration by bike.
The tricky part can be finding those routes, and that's where a book like Great British Gravel Rides from Vertebrate Publishing comes in.
Written and curated by Markus Stitz, a cycling explorer, author/film maker and adventurer based in Scotland, the book is a bumper collection of 26 off-road cycling routes crammed into a hefty 244-page guide.
There are routes in England, Scotland and Wales, mostly ranging from around 30-80km - perfect for a day's riding. Each of the routes has been chosen by a cyclist local to the area, making use of their inside knowledge to bring the best ride experience possible.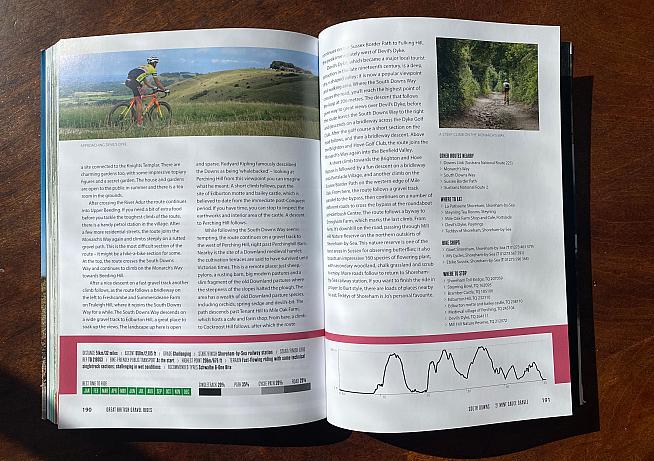 Crucially to the book's success, these contributors are all highly experienced cyclists with extensive knowledge of their local patch.
One of my more embarrassing memories is being asked to contribute a cycling route in Northern Ireland to an article in the Reader's Digest. I'd been living in London for over a decade at the time, and hadn't cycled in Ireland since childhood, but I submitted a choice of two routes anyway: one scenic but hilly, the other flat and easy but largely running along a busy road.
Of course the editors went with the dud; I still cringe at the idea that of all the stunning cycling routes in the Mournes, I sent readers to play with the lorries on the Newry-Warrenpoint dual carriageway.
Anyway, readers of Great British Gravel Rides need have no such fears. Markus has assembled an impressive list of experts: the roster reads like a who's who of the UK gravel scene. From Sussex we have Rory Hitchens and Jo Burt (of MBUK Mint Sauce fame); round-the-world cyclist Jenny Graham contributes a route in the Scottish section; ultra racer Josh Ibbett describes a route near Cambridge; Katherine Moore explores Devon and Dalila Lecky finds gravel on the capital's doorstep with a London route.
Up north, Emma Osenton (whose curry I did not try to steal on the Rapha Pennine Rally) and Olly Townsend of Gravel Union take up the reins, while round-the-world record holder and GBDURO winner Mark Beaumont goes predictably long with a 169km loop of East Lothian out of Edinburgh.
The result is fantastic, with the reader treated to a personal tour of the favourite local loops of some of the UK's most experienced cyclists.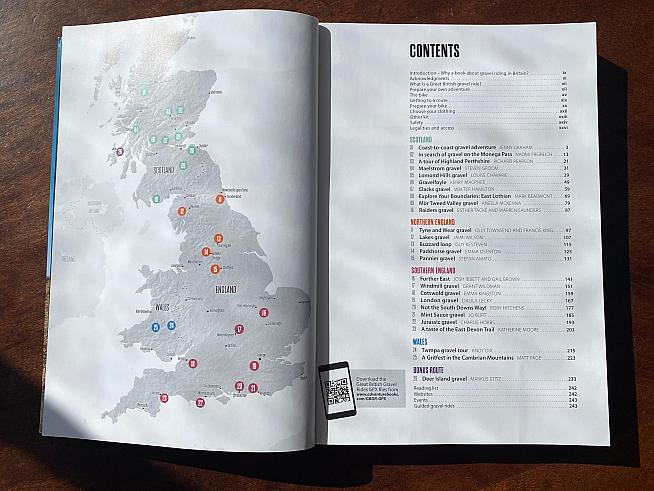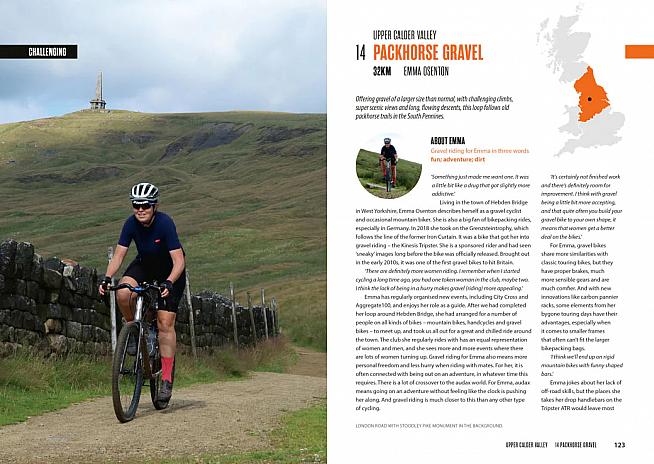 Each chapter includes a map and a route description, along with highlights, suggestions for eating and tips on other nearby routes, bike shops and general info of interest to a touring cyclist. If for example there is an excellent cake stop or a whisky distillery near the route, rest assured this book will let you know about it - and most likely include a detour to get you there.
The book is lavishly illustrated with photographs throughout, and there's a GPX file for each route too so you can upload it to your Garmin or cycling computer of choice and set out for your ride with turn-by-turn navigation on your handlebars.
There's also an interesting look at the history of 'gravel' or rough stuff riding, which as Markus shows pre-dates even the Rough Stuff Fellowship by many decades.
The book includes a useful section on bike choice and equipment complete with kit lists, and you're in the hands of a seasoned pro here: Stitz has not only ridden around the world, but completed some of cycling's toughest ultra challenges including the Atlas Mountain Race and the Silk Road, alongside organising events like the Dunoon Dirt Dash.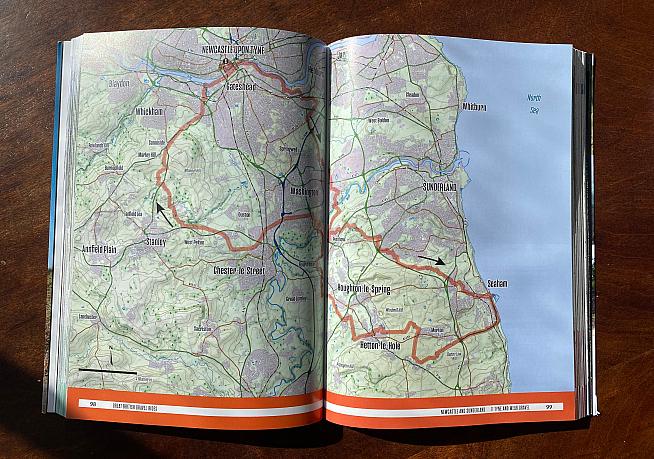 In short, the book is jam-packed with well-informed and wonderfully readable advice for anyone keen to escape the traffic and explore the beautiful countryside that lies just off the beaten track all across Britain.
It doesn't claim to be a comprehensive list of every great gravel ride in the UK - some may feel that Wales, for example, is under-represented with just two routes.
But even here, the two rides are crackers with Matt Page (organiser of Gritfest gravel festival) leading readers on a 59km loop through the Cambrian Mountains, while Andy Dix prefaces his 76km all-terrain route with the story of how he came to launch Twmpa, the UK's first wooden gravel bike company.
It's a fascinating read, and typifies the eclectic mix of knowledge and experience that Markus has brought together in these pages. Whether you're an old hand at the rough stuff or a gravel-curious newcomer, you'll find a wealth of inspiration in Great British Gravel Rides.
Never mind gravel, this book is a real gem: highly recommended.
Great British Gravel Rides: Cycling the Wild Trails of England, Scotland & Wales - £25 from www.adventurebooks.com
0 Comments