The Rapha Pennine Rally returns for a second edition next week, which reminds me that I hadn't yet posted a report on last year's inaugural event.
A lengthy write-up follows below, but for anyone interested I'd simply say skip the read, grab your gravel bike and do the ride - it is an absolute treat of a route.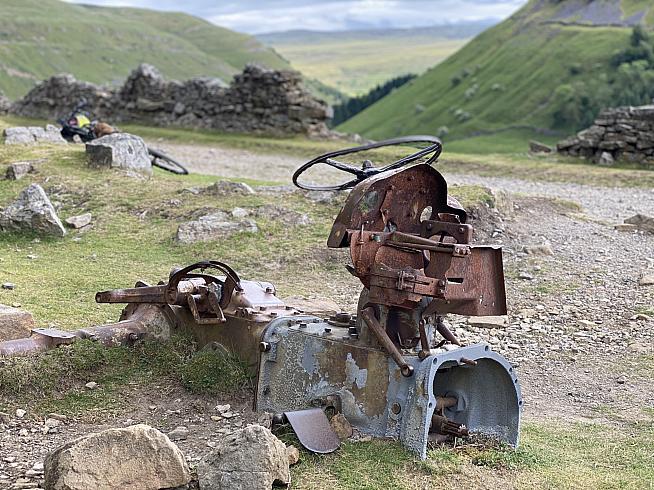 So what exactly is a rally, you might be wondering, and how does it differ from a sportive, or a cycle tour, an audax, or a stage race?
Rapha have dabbled in all of the above formats over the years, but The Pennine Rally is their first foray into bikepacking events. And as opening moves go, it's a strong play.
The 520km route, created with the guys at Outdoor Provisions, sets out from Edinburgh, heading south through the Pentland Hills, Yorkshire Dales, over the Pennines, and finally across the Moors before dropping down to the finish at Rapha's headquarters in Manchester.
Designed for gravel bikes, the route is split 50/50 road and off-road, with terrain encompassing everything from leafy canal towpaths, bridleways and drover trails to ancient Roman military roads and MTB singletrack through forest and moorland - a tasting menu of the Great British landscape.
There's even some gravel along the way, as the route dips through Kielder Forest - home of probably the UK's best known gravel sportive, The Dirty Reiver (remember: i before e except after "dirty").
Riders follow a set route and carry GPS trackers, like in an ultra cycling race, but the Rally is not a competitive event. There are three checkpoints along the route but no feed stations, signage or other support.
In short, it's an adventure - and the Rally certainly delivered for the 74 riders mustered at Edinburgh's Gamma Transport Division early last June.

I arrived in town the day before, cruising over on the ferry from Belfast before a slightly stressful 65km bike sprint to catch the train from Girvan. I made it with less than a minute to spare, but after that taking my bike on the train was easier than expected: plenty of room, no need to prebook, zero eyebrows raised.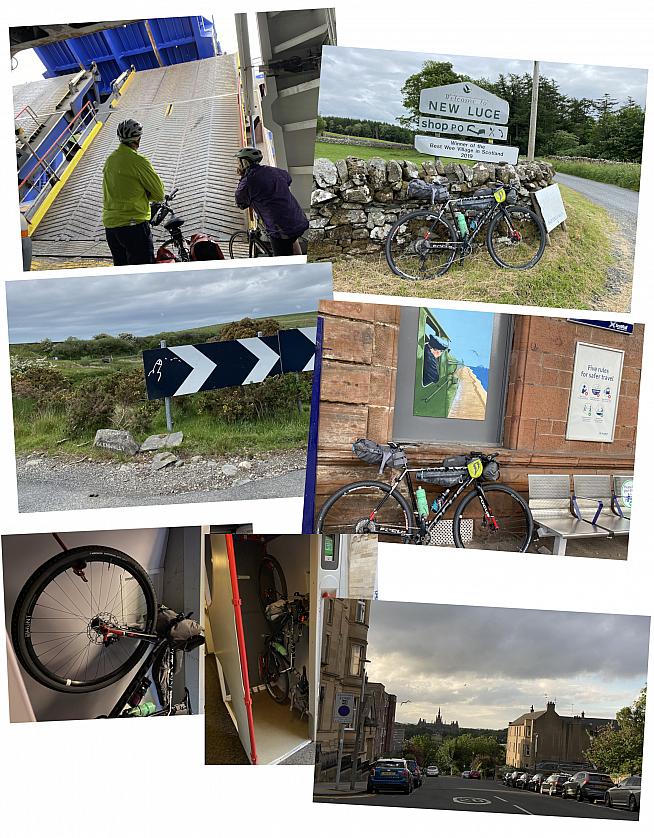 Safely in Edinburgh, I checked into my Travelodge then raided Tesco for breakfast and Rally snacks before stopping by West Side Scran (highly recommend) for a takeaway.

Dinner was kebab and a covid test in the hotel room while watching the last few mins of Spain vs Sweden in the Euros - the latter (Covid test, not football) a requirement by Rapha to ensure safety as we ride out the pandemic.
0-0 by the way, and the test came back negative too.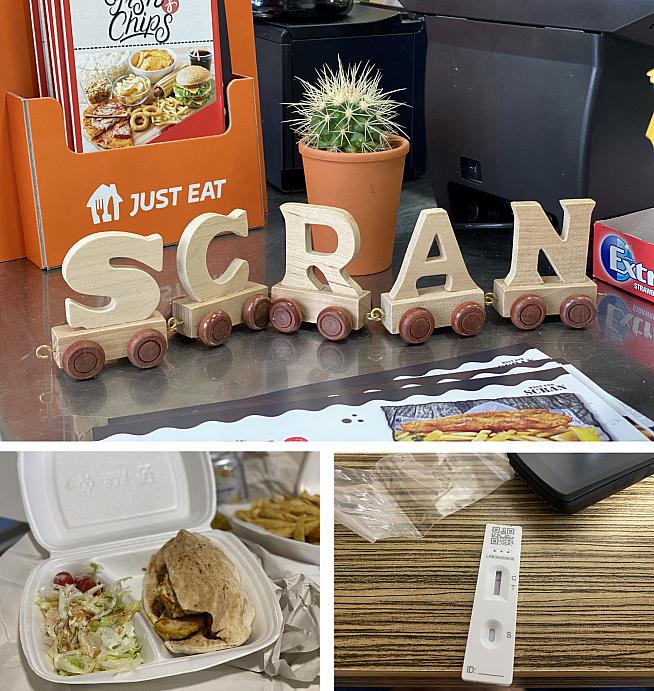 The next morning dawned bright and sunny, and after a quick bit of admin on my phone - working from a hotel bed, I've never felt so virtuous - I set out.
Finding the start location at Gamma Transport Division turned out to be one of the tougher navigational challenges of the ride. I stumbled upon another equally puzzled bikepacker and we wandered the streets cluelessly until a passing driver came to the rescue, directing us through his rolled down window.
Gamma was abuzz with anticipation. Riders had set off in waves starting around 7am. I was in the second to last wave, set for 9am.
The pre ride briefing was entertaining, with Louis from Rapha underscoring the need to stock up in Peebles, and on no account attempt to ride the cut-through at Craik ("You WILL end up in the ditch!").
It was pushing 9:30 by the time we rolled out. A few riders in the final wave were just arriving, and I caught sight of a familiar face - it was Emily Chappell, author, Transcontinental winner and all-round ultra cycling royalty. There was just the most fleeting of smiley hellos as we passed, and we were off.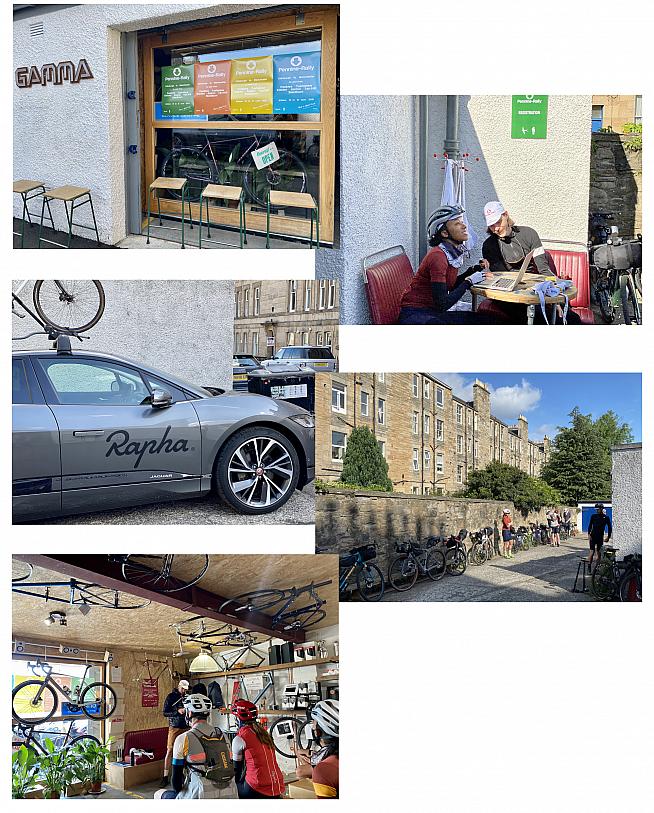 Day 1: Edinburgh - Kielder Water
182km / 3216m / 11hr 47m moving time (13hr 52m total)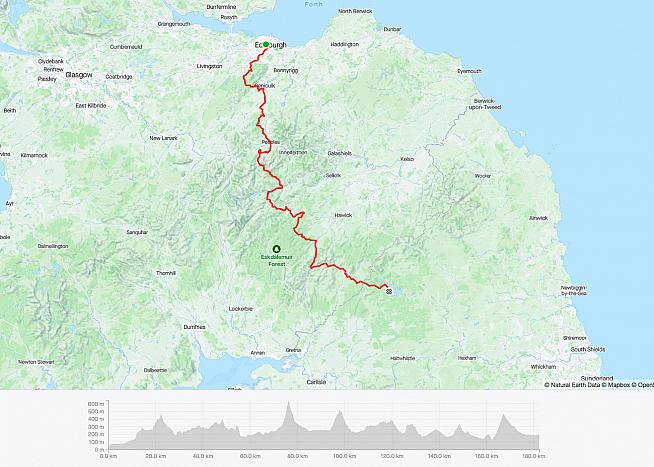 Rolling out of Gamma, I quickly fell in with another Northern Irish rider, Edinburgh-based David Cunningham. His local knowledge proved handy as we negotiated the first mile or two through the city streets.
Before long we were on a delightful towpath following the Union Canal out of the city. The sun was shining, conditions were perfect and after weeks of fretting and fettling it was a relief to finally be on the way.
The first gnarly section was Poets Glen, a rocky little snicket leading uphill that jolted loose a yoghurt I'd strapped to my saddle bag with elastic cord. It hadn't smashed in the fall, a good omen? I slurped it from the pot while clip-clopping up the lane, wondering who its poet was.
Sip ae ma tea went down the wrang way an ma life flashed afore ma eyes...
It wis jist wan lang montage ae me drinking other cups ae tea.

If you're visiting Scotland, Miss PunnyPennie's twitter feed is a handy primer on the language.
Rejoining David we formed a small group skirting Threipmuir Reservoir and heading for the hills, but when he pulled over to sort an issue with his tracker I carried on up the long, smoothly paved and very steep avenue climbing to Bavelaw Castle.
Only an hour in but the pattern was set: I was going to take this Rally slow and steady.
I'd set the bike up with gearing nicked from my MTB - a 34T chainring with 11-45T cassette out the back. Just right for winching up climbs in the saddle, safe in the comfort of zones 2-3 (endurance-tempo). In other words, all-day party pace.

Speaking of parties, I passed two large groups of fellow rallyists paused by the wayside. Just chilling, chatting, catching a breath. I rolled on, enjoying the ride.

Down one little descent I passed my bike twin and her pal, sitting in a ditch eating lunch. I pulled over for a quick hello. "Are your brakes rubbish as well?" she asked, casting a disparaging glance at the cable-pull calipers on her Focus Mares.

They declined my offer of some snack bars, which I'd promised to everyone who'd sent me a photo for a pre-ride "Bikes of the Pennine Rally" roundup. I was doing slow trade in these bars, a cause of some concern. I had about 20 of them stuffed in a musette around my neck, and was hoping to have lightened the load by now. As it turned out, I'd be wearing that musette until the strap broke the following day, at which point I replaced it with another and wore it to the finish.

The trail was still busy with small groups of riders at this point. Shortly afterwards I was with one bunch when a rider toppled off her bike at low speed on a rutted section - a timely reminder that loaded bikes are inclined to handle a lot like a wheelbarrow of bricks.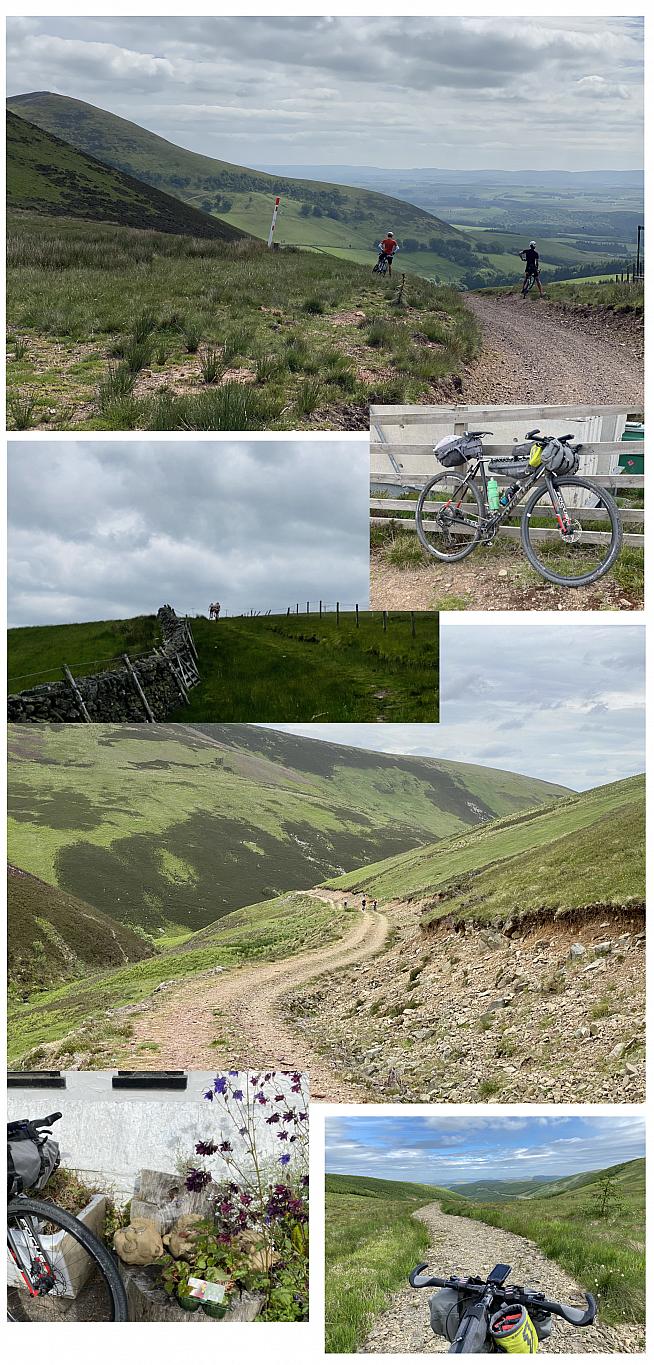 Just shy of four hours into the ride we hit Peebles. With Louis' warnings ringing in my ears, I pulled over in search of a coffee.
It looked like everyone else had the same idea, the streets were busy with bikepackers flitting in all directions. I saw a laden Kinesis hardtail parked outside Costa and pulled up alongside. Sipping my latte by the door, its rider Emma Osenton and I fell into conversation.
Sometimes you need the voice of reason on an escapade like this, and Emma was absolutely the perfect companion. I was deliberating whether to buy some "proper" food to supplement my musette full of bars, but as she bluntly pointed out: "You have loads of food you're not eating; it's all calories!"
A third rider, Rob joined us at the cafe, and rolling out of Peebles 30 minutes later we fell into a group together on the road.
Rob, it emerged, was a 24hr time triallist. Unless I misheard, the weekend previous he'd knocked out 500 miles in a TT, with his cyclist partner (9 months after giving birth) handing up alternate sweet and savoury feeds at a roundabout. It was an incomprehensible effort to my mind, but it turned out Emma had a similarly impressive palmares.
We got talking about how long we expected to take for the Rally, and someone mentioned that the early group were setting a fast pace. Liam Yates was in front among that small group, he was a rider I was keeping an eye on after spotting his rig for the rally: a Canyon Grizl with what seemed a ridiculously skimpy pack list.
It was a lean set-up and, rally or not, clearly Liam wasn't planning on whiling away leisurely evenings around a campfire. Sure enough, having set off in the first wave, he was already approaching Kielder Forest as we left Peebles.
Rob reckoned most of the riders he'd spoken to were aiming to complete in four days, with Kielder mentioned as a destination for the end of day 1. That was roughly in line with my own loose plans: 180km seemed a decent mark, but without much idea of the terrain to come I was happy to keep all options open.
We settled into a paceline, Emma doing the lioness's share on the front as we sped along a well surfaced road.
Before long we hit a rocky climb, one of the toughest of the entire route on a rocky track that wound up and over a pretty significant peak of some 670m. I engaged lowest gear as the track climbed around the side of the mountain, before dismounting for a final ramp of loose rocks.
Looking behind, I saw Emma was also pushing - but two riders were still spinning up. As they passed I recognised Nikul and another guy I'd spotted earlier, both strong, lithe looking figures riding at pace.
"I can't pick a line," said Nikul, deftly piloting his bike among the rocks and past me. I saw him join his buddy at the mast that marked the summit.
I waited a minute at the top to gather myself, then launched down the rocky descent after them.
At the bottom, by a fork in the road I spotted a lad on a quad bike pulling a couple of cones across what the GPS said was our route. I called after him; it turned out the track led past his farmhouse, but that the road to the right would take us onto the main road in just 100 metres or so.
I explained that another 50 or so riders would be passing through shortly, following their GPX maps.
"Do you think the cones will stop them?" he asked.
To ease the incoming blow, I headed off down the alternative route as requested - and a few seconds later reached the gate that led onto the road we were to follow.
Emma pulled up in a cloud of gravel dust, wreathed in grins after the descent. She waited a minute while I had my lunch - a roll I'd been carrying since Edinburgh. As I wiped the last crumbs from my chin, Rob rolled in with a cheery "Didn't think I'd be seeing you again!"
We set off again along the road (still into headwinds, as there would be for most of that first day), skirting another loch before the route jinked us off road again.
Another gravel climb. This one started with an ominous pitch, but after the first few hundred metres the gradient eased off and even - miracle - turned out of the wind so that the breeze for once provided a boost. Halfway up I was startled to see an elderly woman, taking the evening sunshine in the verge overlooking an expanse of open mountain; she smiled hello as I passed.
With Rob and Emma a little way back, I began the descent on a wide forested track. The sun was shining, a lovely warm afternoon now and alone on a wooded hillside I was in my happy place.
Around a corner on the descent I saw another cyclist stopped by the side of the track, talking through the open window of a forestry jeep. I slowed to get a sense of what was up. It didn't seem cause for concern so I rolled on.
A few minutes later the track reached a dead end and I realised I'd come to the infamous cut through at Craik. A highlight of Louis' briefing, this section required a brief hike through woodland to rejoin the road.
But where was the cut through?
With my GPS pointing to the right, I scouted around and spotted a gap in the trees. I hauled my bike up the verge and along an overgrown grassy embankment. Behind me I heard a sound and spotted the cyclist I'd seen pulled over a few minutes earlier.
We got talking as we pushed our way through the dense trees and it turned out that Sinead, who I'd thought was American from her accent as I passed, was in fact Irish. The driver of the jeep - apparently culling deer - had been wondering what all the cyclists were doing in his forest.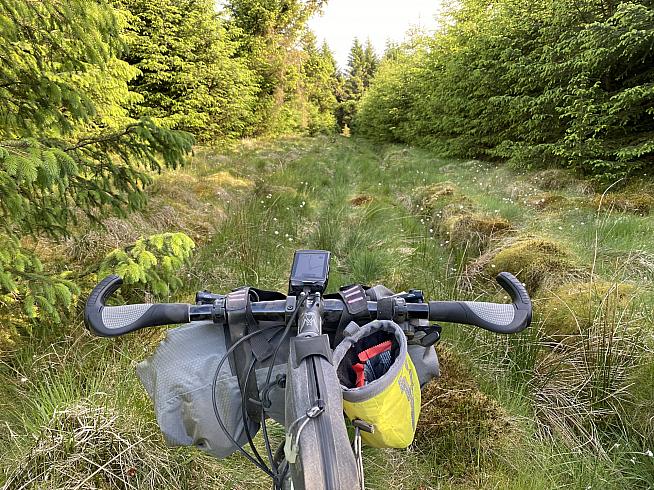 Sinead spotted a path through the trees to our left to make the going a little easier than my bushwhacker's route, and after a few minutes we found ourselves at the ditch of legend, aka Louis' Leap. It was almost six feet high and a steep drop, definitely worthy of the warning. Ever the gent, I let Sinead go first to demonstrate the technique.
Back on the trail, we rode together a few miles chatting. Sinead is a card-carrying Ironman - although I think by Connemara standards that's considered basic fitness - and clearly a strong road rider, but this was her first foray into bikepacking. She said she'd already fallen off five times that day (I would imagine not helped by her skinny, slick tyres). But she seemed in high spirits and was on the lookout for somewhere to camp that night.
At around the 130km mark - some 9.5 hours into the ride - I felt myself fading fast and pulled over for an urgent rest and refuel. We were on a smooth tarmac road, warm evening sun, with nothing in the way of footpath, but I sat down in the undergrowth by the verge while Sinead patiently waited.
"This is the first time I've sat down since Edinburgh," I noted with a thrill.
"Really! I sat down for about 40 minutes in Peebles. I love a good sit down..." mused Sinead, not sitting down.
We traded high quality chat and snacks - my dry-roasted peanuts and jelly babies for her hydration tablets - for a few minutes, then a sudden buzz of big tyres announced the arrival of Emma.
"What are you doing stopped," she called as she rode past; "a rest?" She tutted in mock disgust.
We saddled up and set off in pursuit. Soon the three of us were rolling along in regal convoy, accompanied by the Scottish airforce in the form of a dense cloud of winged insects. They didn't seem to be biting, but the constant pitter-patter as they thudded into my helmet and alighted on my jersey was an irritant.
Sinead dropped back as we climbed gently through a gorgeous green valley, scoping out roadside camp options.
Emma and I rolled on through remote but bucolic countryside in the general vicinity of the Scottish border. We were running short of water, and stopped at a lone house by the roadside. A barn on the opposite side housed some antiquated farming contraptions that had Emma cooing in delight.
We rapped the door and stepped back, mindful these were plague times. A fresh-faced couple, maybe in their 60s, answered and we stayed to chat while they filled our bottles.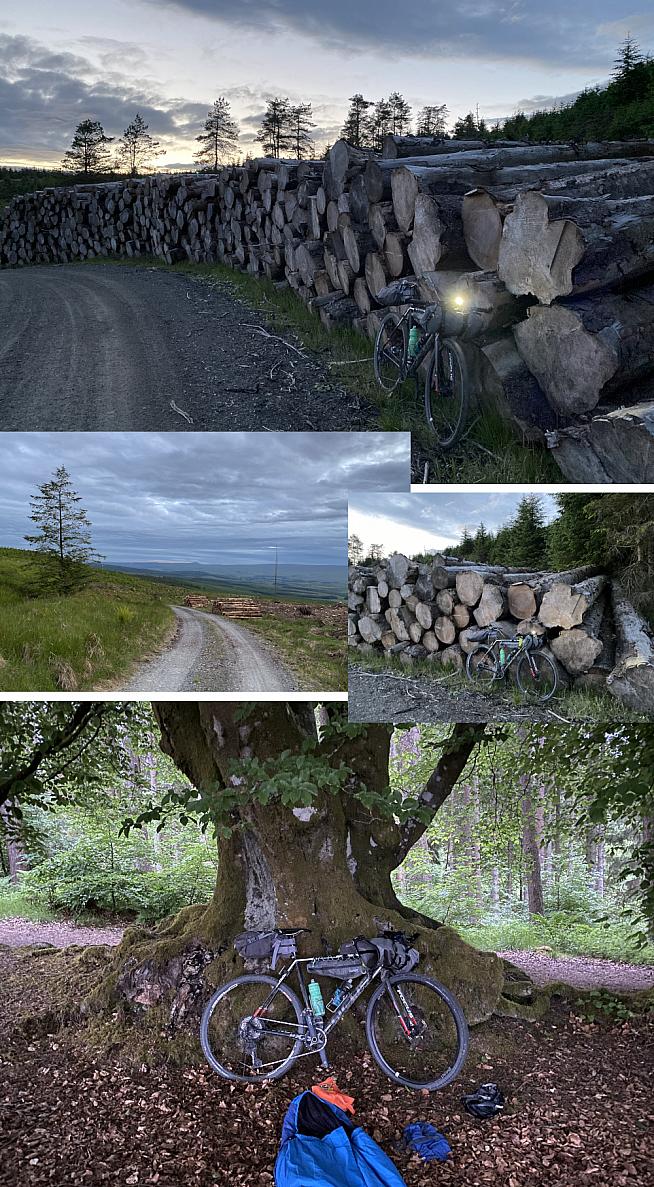 Back on the trail, the fine gravel road seemed to be heading uphill into pine forest. It was 9:30pm, the light was fading, and all of a sudden Emma announced she was stopping; freshly supplied with water, she was going to cook up her curry and bivvy for the night.
I didn't realise until I read her post-ride report on GravelUnion that she was worried I had intentions on her dinner! She was quite safe, I still had two dozen of Lidl's finest fruit and nut bars to munch through.
Alone in the woods, I turned on my headlight and zipped up my down jacket. It turned out Emma had timed her stop well; a 5km climb followed through stands of pine and neatly stacked piles of lumber. But the reward was a descent twice as long, across the English border and into Kielder.
After the past few hours of wilderness I was glad to reach the shores of Kielder Water. I rolled a slow loop through the car park of the Forest Bar and Kitchen looking for signs of life - maybe even the chance of a late supper - but the lights were off and the place seemed deserted.
When I spotted a treeline by a lawn near the water's edge, I decided to set up camp. I leaned my bike against the gnarled, mossy trunk of an ancient beech and kicked around in the leaf litter to make sure I wasn't nesting on anything smellier than myself, then lay down in my fully zipped bivvy bag and braced myself for the inevitable midge onslaught.
Day 2: Kielder Water - Ribblehead Viaduct
191km / 3438m / 13hr 51m moving time (18hr 29m total)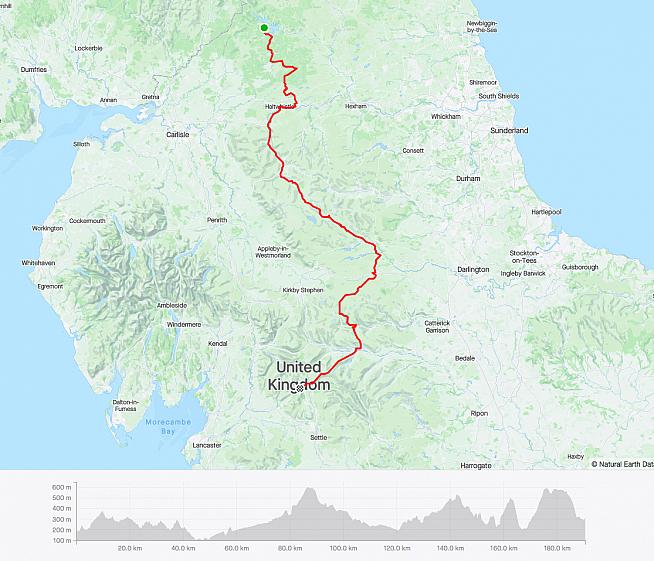 I woke up at 5am in a clammy bag and struck camp as fast as humanly possible amid a cloud of midges.
It felt good to be rolling again. Destination was now breakfast - but where would I find it?
There was first the small matter of Kielder Forest to negotiate. I think I read somewhere that Kielder is northern Europe's largest forest; well it's also Europe's most tedious forest. I found myself drifting grumpily through endless miles of what felt like a cloned landscape of cut & paste trees and grey gravel track.
It might've been my pre-coffee doldrums, and the dull weather wasn't a help, but I was relieved some three hours and 35km later to finally get out of the woods.
At the top of a hill I paused by a pulled over jeep: some sort of forest rangers maybe. Any chance of breakfast around here? They sounded doubtful. I could see a long white building in the valley below that they thought might be a pub, but I wouldn't get food there.
I rolled down the hill; the building was in fact Once Brewed, mentioned in Rapha's route notes as a place worth a look. If you find yourself in the area in need of hospitality, it's located on the Military road, which runs roughly east-west between Greenhead and Chollerford; or, panning out, on the imaginary line between Carlisle in the west and Newcastle upon Tyne.
I leaned my bike against the wall and checked the time: bang on 8:00am. I pushed open the front door; a woman was hoovering the floor of a deserted dining area.
Had I booked breakfast? she enquired. No I had not. "Wait there and I'll check with the kitchen..."
After 30 seconds of visceral suspense, she reappeared. "It's fine, come on in and take a seat."
The platter that appeared a few minutes later was quite genuinely one of the highlights of my year: the definitive cooked breakfast, and absolutely worth spending a night under a tree for. They even swapped the black pudding for an extra sausage.
I could quite happily have ordered a second, but settled for sharing a photo on the Rally WhatsApp group. Sinead pinged back immediately, demanding to know where I'd found it.
By the time I'd taken advantage of the plumbing for a quick wash, a luxurious hour had passed. I click-clacked outside to my bike, and hit the trail again feeling refreshed and set for the day.

By now I was entering stage 3 of Rapha's suggested 5 day schedule. Highlights to look forward to included Tan Hill - home to Britain's highest pub - and riding the actual Pennines.
My 'slowly-slowly' strategy was paying off to the extent that I felt absolutely fine - no aches, pains or fatigue. Looking at the tracker, I could see that Liam was well past the halfway point with another couple of guys, Adam and Alex, trailing in his wake. And then me, in fourth. It seemed that most of the other riders had stopped for the night well before Kielder, although I was pleased to see Emma, Sinead, Rob and a couple of others weren't far behind me.
Fully expecting to be caught up shortly, and looking forward to the company, I rolled off.
About half an hour later I was stopping again, this time in the town of Haltwhistle on the South Tyne river. I resupplied at a supermarket on the main street, picking up a sandwich for lunch later, and headed off again, crossing the river and quickly leaving the road as the course struck southwest along a bridleway.
In Slaggyford I lost the plot briefly, taking a wrong course through a field before realising the route was on the left side of the train tracks. The trail followed the railway line for the next few miles, rising gently all the way to Alston. It was a nice fast-rolling path, but progress was hampered by the countless gates along the way, each one requiring a dismount, grappling with the latch and awkwardly manhandling the bike through before remounting and rolling on.
And all this for what, sheep? I lamb-ented inwardly.
In the context of the Rapha Pennine Rally, Alston's main claim to fame is the Crossing Cafe at the railway station. I stopped for a quick coffee, and it looked like a decent lunch prospect but I wasn't ready for that yet. After exchanging a bit of superstitious coronavirus chat with the ladies behind the counter, I hit the trail again.
I was now approaching one of the biggest climbs of the day, at least in terms of the summit. Strava suggests it's Yad Moss, or (the obviously preferable) Burnhope Seat; either way, it's a long but steady road climb up the treeless flanks of rolling Pennine landscape. Familiar scenes to a Mourne man or woman's eye, and familiar weather too; the day had turned cooler now and a threat of rain hung in the overcast sky as the road climbed into the mist.
I was looking forward to a fast road descent on the other side, but it wasn't to be: right at the summit the course veered off road. I had to do a double-take, the proferred path plunged down the side of a valley along a rough trail that demanded due care and attention.
I clattered downhill one foot unclipped ready to bail, but it wasn't long before the trail rejoined a paved road that rose up the valley side. I pulled over at what seemed to be an abandoned farmhouse decorated with scaffolding, and ate my supermarket sandwich in the shelter of its stone walls.
My morale was at a low ebb just then, and when I saw Langdon Beck Hotel standing alone at a junction I decided to investigate hot lunch options. I was now approaching 9hrs into the day's ride, and just short of 100km covered: not a massive amount but I hadn't seen another rider since parting ways with Emma the evening previous, and was starting to feel the solitude.
I ordered soup and a toastie - my go-to comfort meal on chilly days out - and settled back in a chair. Two couples were chatting at the next table, and I gathered they were from down south, not far from where I used to live in Worthing. It was nice to hear the familiar accent and I wondered what they were doing up here so far from Sussex.
I could see from the tracker that a loosely strung posse of riders were just a few km behind me nearing the climb up Burnhope. My inclination for company was now being edged out by a misplaced instinct to stay ahead; I decided not to wait, and after polishing off my second lunch I was back on the road.
Of course I didn't realise it at the time, but this was a turning point in the Rally: the group behind would be caught in the rain I'd narrowly missed and, wet and seeking shelter, they fell off the pace; I wouldn't see them again.
The trail crossed the river Tees heading south east, and followed the river along a valley for a few km. It was quiet, scarcely populated countryside - green fields stretched either side, and still a sense of trying to keep ahead of the rainclouds.
But only a little further east the weather seemed to lift, along with my mood, as the route joined the Tees Railway Walk. Progress was faster along this picturesque and well surfaced gravel path and I breezed past Romaldkirk and over the River Balder without pause - other than the inevitable 1000-gate challenge.
Close to Cotherstone I heard a crunch of gravel behind me, and spotted a lone rider hot on my heels. Two gates later he caught me up, and passed by in a flash - one of the Rally riders, but clearly on a mission with no time to chat.
This, I discovered when I checked the tracker, was cap 24: Alex Windett, one of the early departers who'd set out fast along with Liam.
I later found out how I'd come to be ahead of Alex, and also the reason for his hurry; his Wahoo GPS had failed, and without means of navigation he'd taken a train into Newcastle, where he bought a replacement Wahoo. He'd then taken a train back and rejoined the course. A frustrating day: no wonder he wasn't in the mood for socialising.

At the time I didn't know any of this, and the sight of him disappearing up the trail ahead in a cloud of dust seemed a bit... not rude exactly, but anti-rally? It piqued my competitive spirit. I decided to see could I catch him. He was obviously a faster rider - but could he keep that up for another 220km?
With no sign of my new-found buddies from day one, a little race would give me something to focus on and I pressed on, once catching sight of Alex in the distance ahead when the road straightened out.

But just a few miles later, on the outskirts of Bowes my plodding pursuit was sidetracked by a weird encounter.
I was riding past a pair of quaint cottages when: "Will you help me?" a quavering voice called out.
Forgetting all my hard-won London survival skills, I paused instinctively and looked back; an elderly lady was watching me over her garden gate. I wheeled the bike over. She was a tall, gaunt figure, wearing a heavy wool cardigan over a shirt and trousers, and plucking at the sleeves seemingly in some distress. It was late afternoon and warm now, the sun beating down - a far cry from the rain laden clouds of a few hours earlier. I asked if she was ok, and she asked again for help but from the searching, desperate look in her eyes I realised there wasn't much help I could offer.
Excusing myself for a moment, I left the bike and knocked on her neighbour's door. No answer. I went back and asked the lady if she might be more comfortable going inside, or at least sitting in the shade? I debated internally whether to call an ambulance. In the meantime, she was struggling with the sleeves of her cardigan again and repeatedly asking for help.
Thinking she was too hot, I asked if she would like help taking off the cardigan. She said yes, so I reached over the gate - bolted, I now noticed, presumably to prevent her from wandering into the road - and held one sleeve so she could pull her arm free.
But the next moment she seemed to entirely forget the context; it was as if her mind reset, erasing the past five minutes from her memory, and she found herself suddenly grappling with a stranger.
"What are you doing?" she demanded, fixing me with a glare of understandable suspicion.
I saw myself as it must appear to anyone watching: a cyclist in mud-spattered lycra, attempting to undress a confused elderly woman over her garden gate, and didn't know whether to laugh, cry or run away. I've seldom felt so completely out of my depth.
To my relief the neighbour's car arrived and pulled in behind the house. I ran over and explained the situation to the young woman driving. She cheerfully said she would call her neighbour's carer.
This solution, when I explained it to the old lady, didn't seem to give her any reassurance - she muttered darkly about the carer's intentions. But what could I do? Some 15 minutes had passed and I was all too aware I wasn't helping in the slightest. Feeling guilty and useless I got back on the bike and rode away, waving goodbye to the poor lady in her garden.
Almost immediately the route hit the climb of Tan Hill, one of the route highlights - literally - and now a welcome distraction from the thoughts swirling in my head.
A long gravel road wound upwards, nothing too technical and easy to spin up. After a few km of this the track joined a tarmac road, and soon I heard a cyclist catching up behind me. A roadie in Rapha Canyon/SRAM jersey, he was out on his local loop and heading for Buttertubs. We chatted for a few minutes until reaching the Tan Hill Inn.
This is billed as England's highest pub, and made headlines last winter when guests were marooned there for a few days by heavy snow.
I was tempted to stop - a pint at the Inn had been on my to-do list - but I was feeling fresh, and didn't fancy the faff of hanging around in a bar on a sunny evening. So instead, I found myself pedalling past the inn and followed the other rider down what turned out to be the best descent of the entire Rally as the road swooped through the dales.
I was enjoying the descent so much that I missed a turn-off near the bottom, and had to turn around and retrace my steps up a short 25% ramp before exiting through yet another gate onto the gravel trail.

This was a stunning section though, picking a path along Swaledale, a river valley between Kisdon and Black Hill. It was the golden hour - at a time of year when the golden hour lasts about four hours - and I was alone in the most beautiful Yorkshire countryside.
I say beautiful, but it was also a bit creepy - something about it felt a bit Royston Vasey; the sort of place where the rusted chassis of a tractor left to slowly disintegrate by the side of the trail commands top billing on TripAdvisor.
Also, I couldn't help noticing a phenomenal amount of rabbit carcasses on the trail; many more than could feasibly be attributed to the predation of natural foes. My suspicions turned to the sheep. Look at them, daintily nibbling at the grass - but was it all for show?
Another thought: surely not... Liam?
The story of Mick "Iron Man" Murphy, the fire-eating renegade of Irish cycling who drank cows' blood for energy and trained on home-made weights made of concrete, sprang to mind.
I imagined Liam snatching up unsuspecting bunnies as he raced past, furry little bodies sucked dry and cast aside like spent bidons as he hurtled through the night. The peaceful valley suddenly took on a more menacing aspect, and with the sun lowering in the sky I sought an escape.
Unfortunately the emergency exit from Swaledale is via Oxnop Scar, a horrific climb that starts off at "a very Yorkshire 25%" as the route guide drily notes, before easing off into something a little more comfortable - but not much.
I paused at the foot of the climb, gathering myself for the battle. I have Simon Warren's hill climbs app on my phone, and I read through his notes for the climb while munching from my endless stash of bars.
"Almost unrideable..." Simon enthuses. Uh-huh...
"Eases into a joy"... OK. Well I do like joy, I suppose.
I decided, in the absence of any choice in the matter, to take Simon's word for it.
Creaking around the second vertiginous hairpin, bent forward over the bars to prevent my bike toppling backwards into the void (a recurring dream from my childhood), I was mentally making revisions to that guide. From the garden of a house on the left, two women witnessed my struggle.
"Looks like the midges are out tonight."
"Ooh yes, it's a night for them..."

The climb does indeed ease off, but it sort of has no option other than turning into an actual wall. I must categorically disagree with Simon's description of it as a pleasure.

Then again, who's to say what counts as fun? On the sheer slopes of the valley to the left, someone once apparently thought it would be fun to build a pointless drystone wall just for the hell of it.
There is, I note from the maps, a hamlet named Crackpot just a mile or so east. "You don't have to be mad to live here, but it helps", presumably; I guess that explains the wall.
I huffed and puffed, wedged firmly in my lowest gear. There had to be something really f**cking good on the other side of that hill, I surmised, to motivate the crackpot denizens of rabbit carcass valley to build a road over it.
At the risk of spoiling the surprise for any readers, that good thing turned out to be the quaint town of Askrigg - or "Asscrack", as it shall henceforth be known in honour of a local publican.
By now it was a balmy evening, and I pulled over by a bustling pub with a view to dine.
Queueing at the bar, I quickly realised that the ratio of staff to punter meant I'd be stuck there for at least an hour if I ordered a meal. At the last minute I changed my mind and requested a pint of coke and some crisps instead. I asked the barman if he'd mind filling my water bottles too - an imposition which, from the look on his face, saw me quickly promoted to the top of that day's leaderboard of "bastard bloody tourists".
I sipped my coke in the deserted beer garden out back, texting home and resisting the temptation to polish off someone's abandoned glass of white wine.
Instead, I turned my mind to tactics. It was late enough in the evening now, I'd been on the road 15 hours with 166km to show for it. The same distance in half the time would be a leisurely road ride, but on the parcours Rapha had devised it felt like respectable progress.
I mulled whether to push on and make the most of the remaining light, as I presumed my rival, Alex would be doing.
What did the route guide say? I checked my phone and saw it advised taking a break in Hawes. This, I could see from my phone map, was the next town along. It was just a few miles down the road, so I decided to push on and take stock at Hawes over dinner.
What I didn't realise, but discovered too late, is that the route did not in fact pass through Hawes at all. I'm guessing the guide meant to say Bainbridge, a small town a couple of km along the route from Askrigg - and the last outpost of civilisation for quite a few miles...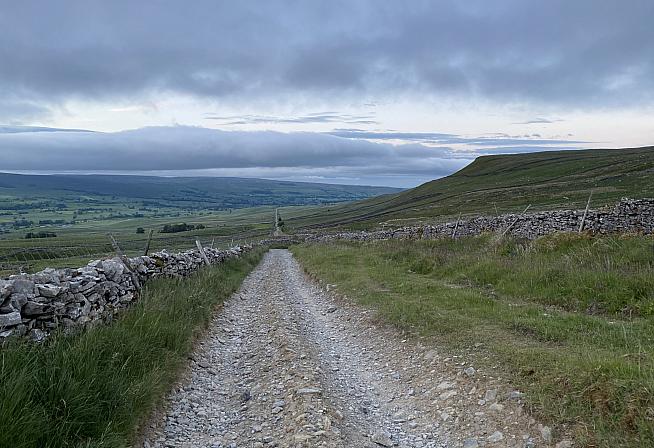 Blissfully unaware, I sailed through Bainbridge and set off up a rough rocky climb into the fading light of the day. The arrow-straight track climbed steadily up a hillside with expansive views to the right. And climbed. And climbed some more.

After about half an hour I got suspicious, and pulled over to check the map again. There was Hawes, way down below in a valley to the north. And here I was, at 570m elevation, on the Cam High Road.
An old Roman military route, the Cam High Road is a spectacular gravel track leading over the Pennines to the Ribble Valley. It's a lovely place, but very remote, very rocky, and probably not the sort of road you'd ordinarily head up at nightfall, if you knew what lay ahead.
I didn't know what lay ahead, and turning around wasn't an option either, so I pulled on my jacket and trundled slowly upwards; the sun sank equally slowly over the hills; I turned on my lights and imagined how many chariot axles those shonky cobbles must have smashed in their day, as wreaths of cold mist began to swirl in the beam.
Soon I was riding through darkness, sheep looming out of the grassy verges on the edge of my little tunnel of light.
I considered bivvying in the shelter of a stone wall that ran alongside the track, possibly knitting some sheep together into a makeshift bed for warmth. By now it was 11pm. Stuck up a remote hillside in the dark, with no prospect of a bed or any real plan other than 'follow the route', there was just the faintest sense of peril - but over-ridingly a sense of adventure. I was having a fantastic time.
At last I reached the summit, where my helmet strap chose that less than ideal moment to detach from its clasp. After struggling to feed the frayed end of the strap back into the buckle, I took out my phone to consider options and spotted that Ribblehead viaduct was a) not too far ahead, and b) downhill.
I decided to aim for the train station there, hoping for shelter and more hospitable conditions at lower altitude.
The trail by this point had - as far as I could tell in the dark - upgraded into a smooth asphalt path, and in daylight it would have made for a rapid descent. My progress was slower, every so often having to weave around sheep on the path who by this evidence were nocturnal and enjoying a more active nightlife scene than anyone else within a 150 mile radius.
Still, it was an exhilarating descent and a mild night with a red glow on the horizon: either the last embers of the sunset, or the bright lights of Kirkby Lonsdale to the west.

At last, after almost two hours - and some 20km up and down - the Cam High Road rejoined a tarmac road. Ten minutes later I pulled up at Ribblehead rail station.
The station was deserted, being midnight, but the platform was illuminated by a few night lights in the waiting room.
The doors were locked. I settled down for supper on the platform - a pepperami, stuffed in a breadroll I'd pocketed at lunch - unrolled my sleeping bag, and was asleep in seconds.
Day 3: Ribblehead - Manchester
153km / 2800m / 10hr 49m moving time (12:05 elapsed)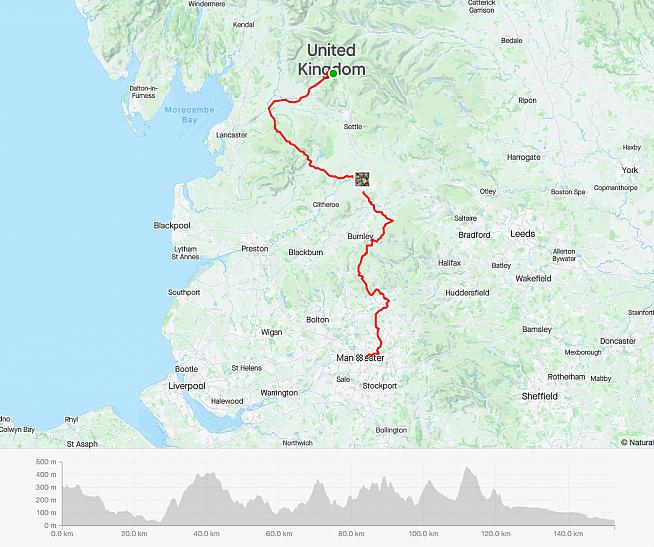 The rumble of the first train of the day, passing through the station a few feet from my head, woke me. I checked the time: just gone 4am.
This is not a time of day I'm used to seeing, but the darkness was already lifting from the moors and my makeshift bed on the hard platform wasn't the sort that invited lying in.
And anyway, I was in a race...
Gradually over the course of the previous day, the sociable rally had taken on a more competitive aspect in my mind: it was me against Alex, the guy who'd blazed past me on the bridleway on Wednesday afternoon.
I was careful to give myself a get-out - "it's a rally not a race"; enjoy the ride... But the truth was, I really wanted to come in the first three. When else would I get the chance?
Liam was already finished, and the rider in second place, Adam Sherlock, was some six hours ahead and beyond catching. The rest of the pack, meanwhile, was rolling along at party pace well behind, leaving Alex and I alone in pursuit of that podium finish.
I don't know if there are security cameras at Ribblehead station but if so they'll have caught me doing a demented dance on the platform as I tried to untangle myself and my inflatable mat from my bivvy and sleeping bags without falling onto the tracks. A few minutes later I was back on the bike.
I rode along the narrow walking path beneath the towering arches of the Ribble Viaduct in the grey dawn light, turning over the calculations.
According to the tracker I had overtaken Alex the previous evening, when he stopped near Bainbridge for the night. That meant I had a lead of about 2 hours.
With a little over 150km to the finish, I reckoned there was another 10 hours of riding ahead of me, not counting any stops.
Alex was clearly a faster rider, and I knew from the way he'd passed me yesterday that he wasn't here for the scenery. He was another rabbit eater, like Liam. I guessed he would gain, what, about 10 minutes on me every hour?
I decided to keep any stoppages to the bare minimum, and see how long I could keep in front.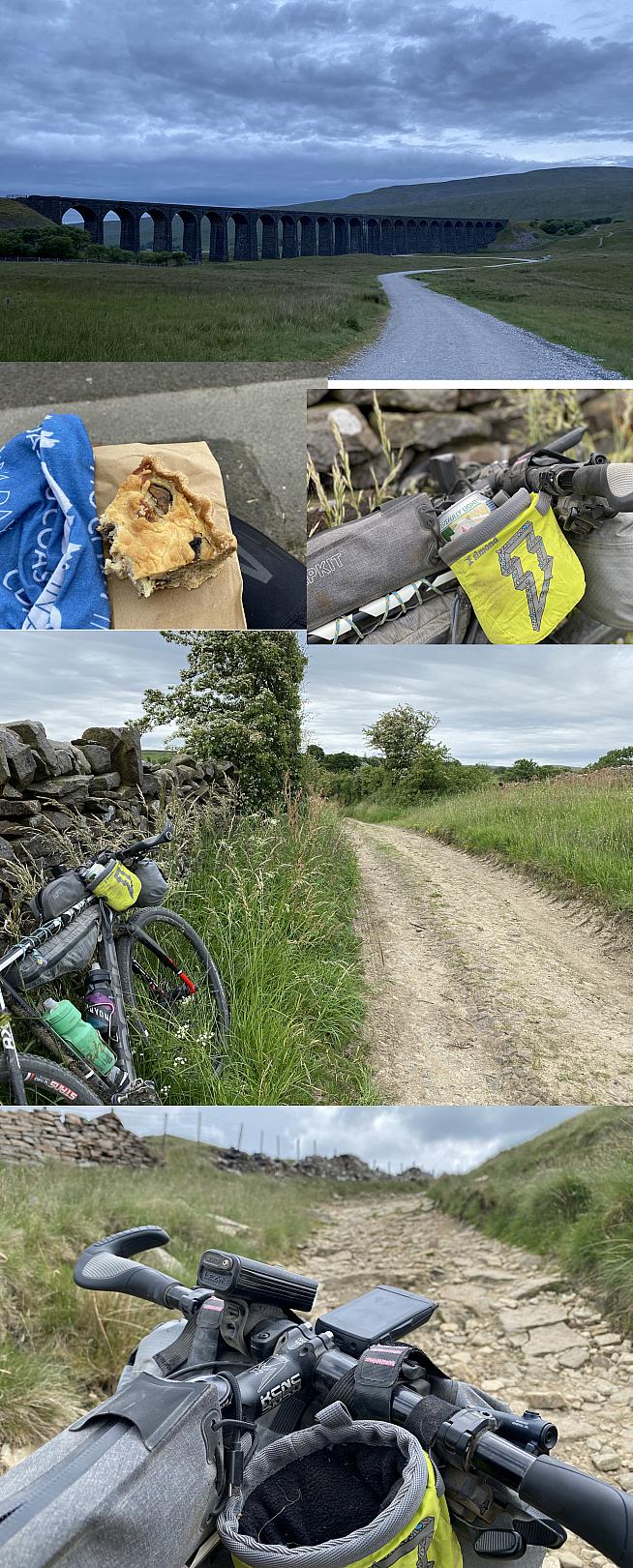 I slowly warmed up as the route led through a remote hillside with just a few hundred sleepy sheep for company. After 25 minutes the route rejoined the road, and I enjoyed zipping along tarmac through Chapel-le-Dale and down the valley to Ingleton.
It was still just 5:30am so I'd have to wait a bit longer for hot coffee. But decent roads, the sense of having stolen a march on a rival, and the generally downhill demeanour of the route meant I was in high spirits all the way to Hornby.
This marked the beginning of the day's climbing, and the trail grew progressively more remote as it joined the rocky road up and over Salter Fell. I was riding along in a semi dream state amid total isolation, and can remember little of it now other than a sense of crawling like an ant across a vast green tablecloth of the moors.
By the three-hour point I was on the rocky descent into Slaidburn, and I pushed on through leafy lanes - this, as far as I could tell, was the Forest of Bowland - until I reached the small town of Gisburn.
It was 9am now, but emanating lunchtime vibes, and the sight of the Delicious Deli & Cafe on the corner of Main Street was too much to resist. I sat on a wall outside in the morning sunshine waiting for my coffee to cool, resenting the delay even as I demolished a quiche.
I checked my phone, where was Alex? Hunting me down, it turned out: he'd made an early start too, and had already polished off the Cam High Road.
I blew a little harder on my coffee. The Cam High Road was a tough start to the day. But on the other hand, he would make up time with a faster descent in daylight. In this rally turned pretend race, the pressure was on.
I stowed a can of San Pellegrino in my stem bag as a treat for later and swung my leg over the bike once again.
"Coal pit lane" turned out to be more appealing than it sounded. The trail climbed through almost suffocatingly dense greenery in the warmth of the morning and soon I was pausing to crack open the emergency fizz.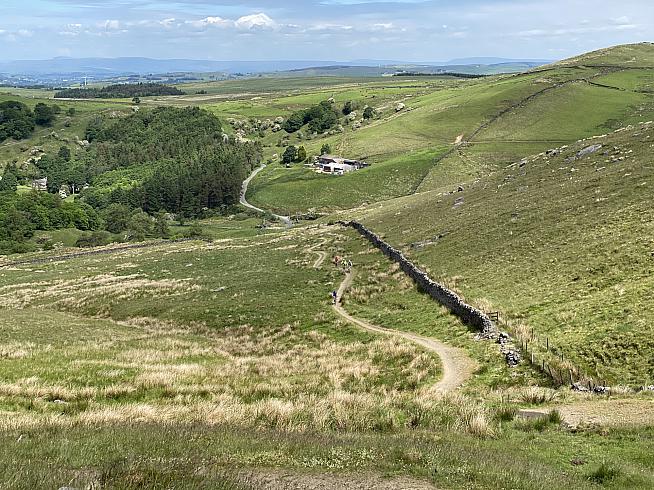 Another remote rocky climb, Weets Hill, and this time a treat at the top: dot-watcher @Nashielad had seen me coming via the tracking site, and was waiting at the top for a quick chat.
This was a pleasant surprise - even though he caught me pushing my bike. Morale was flagging here, with the realisation that I'd at least another 6 hours of these relentless climbs to go. The sight of a cheerful face was a real boost.
I briefly renewed acquaintances with civilisation as the route passed through Colne. A lovely section of bridleway followed, with switchbacks leading up and over pastures of cows - one of whom inconveniently parked herself directly across the trail and refused to budge for what felt like a long, hot minute.
There were mountain bikers here, enjoying the June sunshine, and not for the first time I was thankful that the weather had been kind. I've toured in June in the far north of Scotland amid torrential rain and high winds on the Trans Alba Race, with riders dropping like flies to hypothermia; ordeals like that make you appreciative for the good times.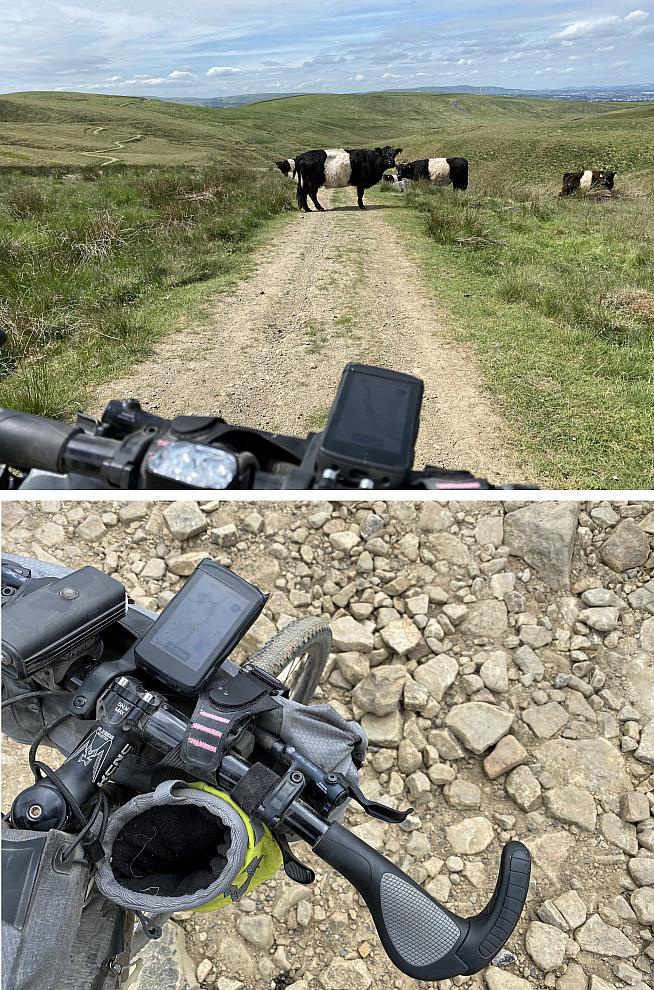 Oh yes, time...how are we doing for time?
I could think of little else. Seven hours into the day's riding, and with 60km left I was behind the 15kph schedule I'd set myself. But with the guide promising an easy 40km spin along a canal towpath to finish, I was beginning to feel like the end was in sight.
This turned out to be lies, or at least a slight exaggeration: the final 30km are mostly along towpath, but the punishment continues right up to the end with some serious climbs including the mind-blowing Rooley Moor: a cobbled track over the hills within sight of the smoking metropolis of Rochdale.
The start was barely rideable, a steep ramp of loose rocks and I found myself not for the first time trudging up on foot. I got over Rooley, only to find yet another awkward little gnome of a climb where I was expecting canal-side relief.
At last the promised towpath appeared, but this was not the genteel waterside promenade of our Edinburgh prologue: this towpath felt like a forgotten urban wilderness, dark with derelict menace. Even the swans looked up for a scrap.
I'd been riding - or racing, albeit in slow motion - for 10 hours, and it was now that part of the early afternoon where my energy levels dip and time seems to drag. After the remote expansive beauty of the past two and a half days, the chaotic mess of densely concentrated humanity and the realisation that the adventure was coming to an end combined to suffuse those final miles with a sense of melancholy.
Although, looking back, I probably just needed a slice of cake and a fix of coffee.
Navigation was trickier now than at any previous point of the route, and every pause by a canal bridge junction was lent extra tension by my expectation of hearing that familiar scrunch of tyres on gravel behind me and Alex sprinting past to pip me at the last.
That final run-in to Manchester took almost two hours, and felt by far the longest stretch of the entire ride, an endless succession of towpath intervals with no end in sight.
Right at the end I had to divert off course when I found the towpath along Ashton Canal, by Philips Park, blocked off for building work. Just 3km from the finish, I rerouted through busy city streets dodging traffic until finally, euphoric, I turned into St Anne's Square and found myself outside Rapha Manchester.
I don't know what reception I was expecting at the finish line - cheering crowds, at the very least Simon Mottram in hotpants holding a bouquet of flowers - but the end was hilariously anti-climactic. In fact, no one was there other than a few Thursday afternoon shoppers strolling past, who didn't waste a second glance at the bedraggled cyclist pulling up.
I stopped my computer, left my bike leaning against a stand outside the shop and took a seat at some outdoor tables belonging to a bar on the corner of the square. I ordered a pint and sipped it while looking up somewhere to get a curry. Checking my messages, I grinned to find that my wife had passed on a tracker link to some friends via our Whatsapp group; they had been cheering me on throughout the day.
I was just finishing my drink when a dust-caked cyclist on a bikepacking rig raced into the square and literally skidded to a halt outside the Rapha store. It was Alex; I watched as he stonily registered my abandoned bike before quickly disappearing inside.
I wandered over to say hello, and found not only Alex but also the winner Liam, still there despite having finished the Rally at blistering pace the day before.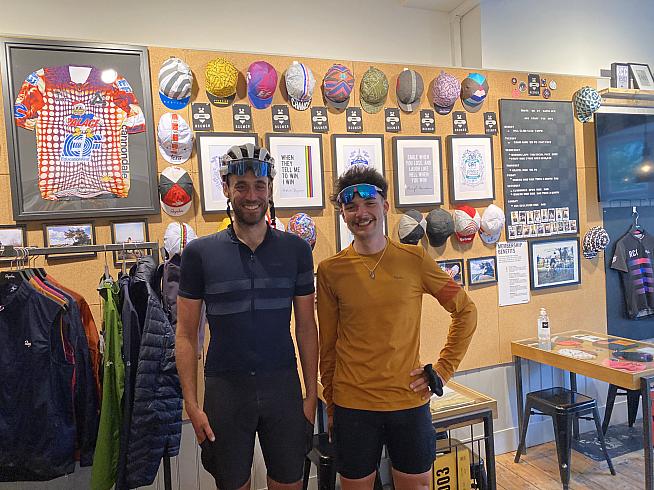 We sat down for a chat over drinks courtesy of the store manager. Alex and Liam have crossed paths before and sat like old sailors exchanging yarns of ultra rides past, while Alex - who by the way turned out to be a genuinely friendly guy, in stark contrast to the mental image I'd constructed over the previous 24 hours - also told the story of his Wahoo mishap, and the forced diversion to Newcastle that had cost him so much time on the second day.
Liam, I discovered, not only races and is a bundle of happy energy, but runs his own gravel event in Sussex, the SSX Mystery Tour.
The shop was closing up, so we said our goodbyes. Out on the street I had a chat with a lovely Rapha customer who was looking to get into bikepacking; he told me about the cycling enterprise he runs, every last detail of which I have now forgotten (my mind was wandering towards food at the time) except that it sounded like a highly worthwhile cause.
And so the Rally came to an end. I never did get my curry, but hopped on a train to Liverpool for an epic pizza reunion with a dear ol' friend instead - an excellent finale to a magical few days.
And I still had a good half dozen bars left too.
Epilogue
It's been a year now since the Rapha Pennine Rally: the second edition starts on Tuesday 21 June 2022, and I heartily envy everyone taking to the start line.
I think what Rapha have created here is about as close to perfect as you'll find: not only for the route itself, which is fantastic, but the provision of just the right level of support in terms of course notes, live tracking, checkpoints (not that I'm 100% certain these existed), event comms, the works.
It's all pitched perfectly to reassure and encourage riders for whom 500km of unsupported touring might be new or daunting, while maintaining a laidback, roam-as-you-will atmosphere.
And, coming smack in the middle of two very weird years indeed, roaming free through stunning scenery in the sociably distanced company of splendid humans was a soul-nourishing treat that even a thousand gates and a million midges couldn't diminish.
Rallying the spirits; maybe that's what Rapha meant?
Either way, I really think this sort of thing could catch on.


0 Comments