I enjoy off-road cycling and I like a lightweight shoe, so I had high hopes for Quoc's gravel offering the Escape Off-Road.
Weighing in at 314g apiece (size EU43, sans cleat hardware), they're a treat for the feet - but are these dainty slippers robust enough to withstand a summer on the trails?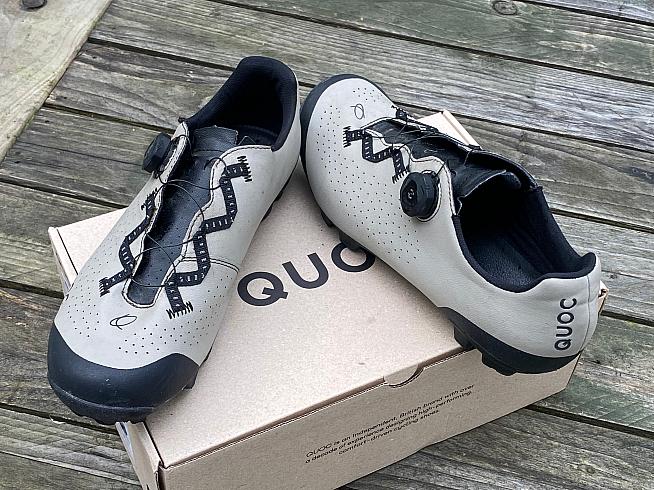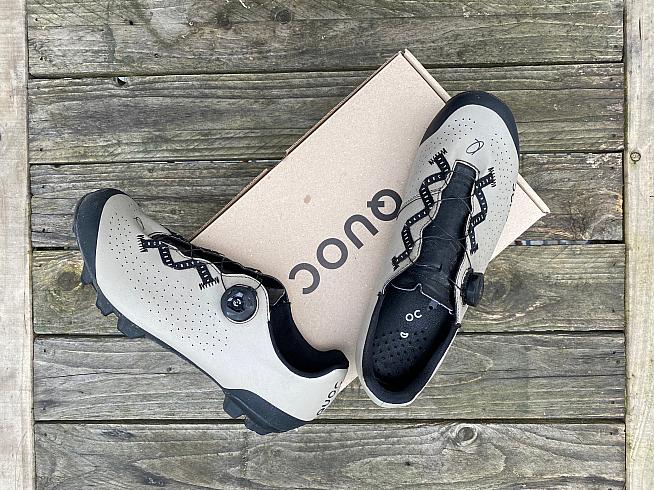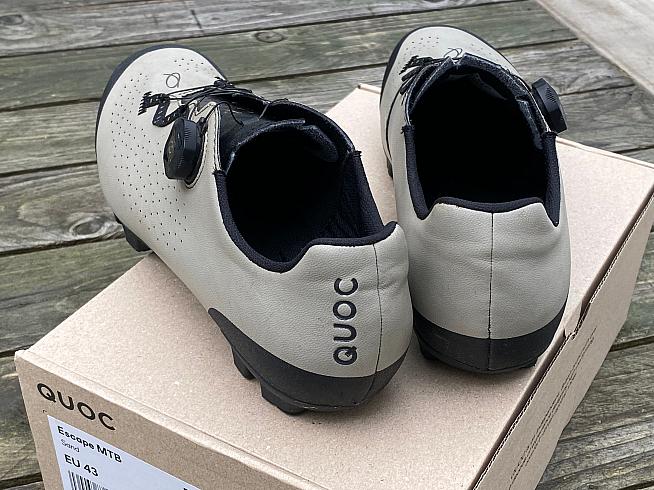 The Escapes feature a Glass fibre/Nylon composite outsole with TPU tread, with toe spikes and some decent lugs on the tread to aid grip when scrambling up loose rock or muddy trails.
The shoes are tightened and adjusted via what Quoc call a "single dial closure system"; it's similar to Boa but the release mechanism is slightly different. It takes a few rides to relearn but it works fine - I mean I've yet to be trapped in them.
And despite the low weight, they have stood up well to gravel rides this year, including some long ones - the 215km Ekoi Stone Circle, 222km on the South Downs Way - and some MTB ones, like the Cooley Thriller.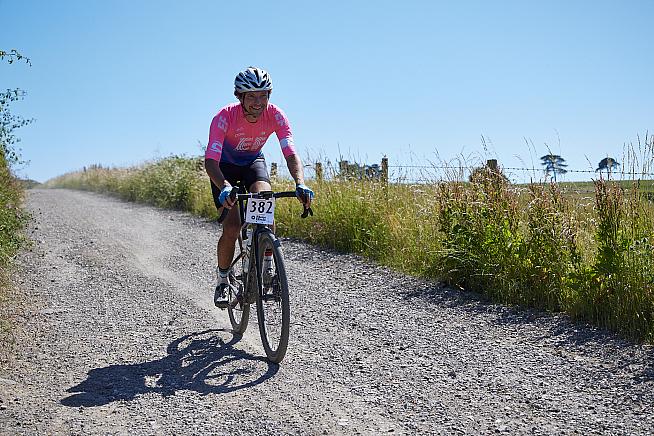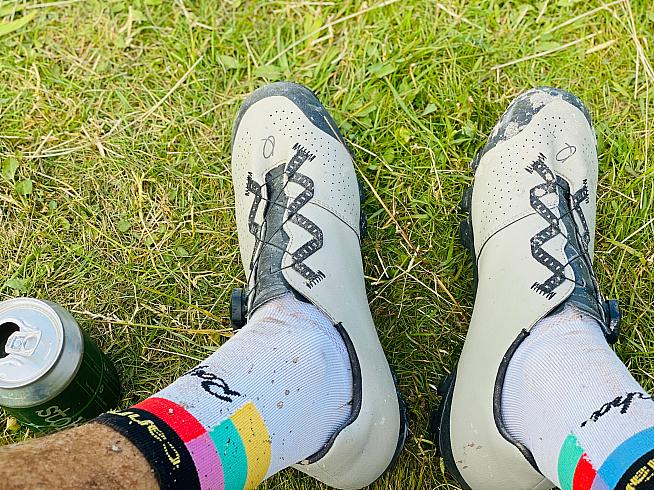 On the durability front, I'm impressed: the soles are bearing up well despite a fair amount of hike-a-bike scrambles over rocky terrain. The toe on my previous feathery go-to shoe, the Shimano RX8, was almost destroyed by a couple of bikepacking adventures last year so the Quocs are ahead on that score.
Off the bike they are pretty good too, thanks in part to those two removeable studs - or spikes - at the toe. A note of caution here, these are only finger tight out of the box so get a spanner on them before you ride or you'll likely lose a stud or two.
Discovering this the hard way, I was relieved to find that Quoc sell replacement spikes on their site at a reasonable £15 for a pack of eight in two lengths.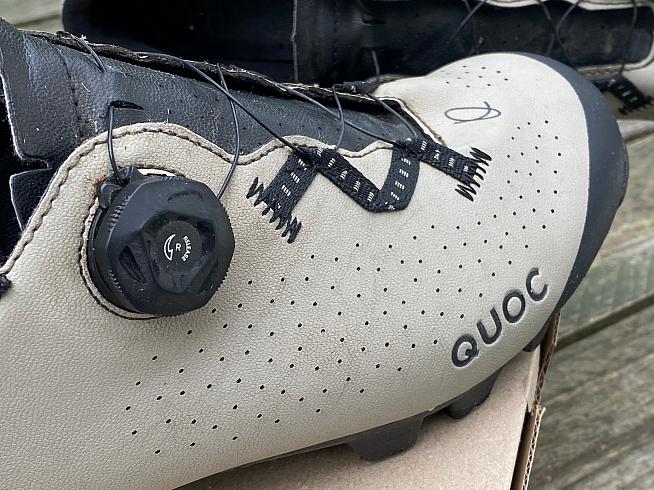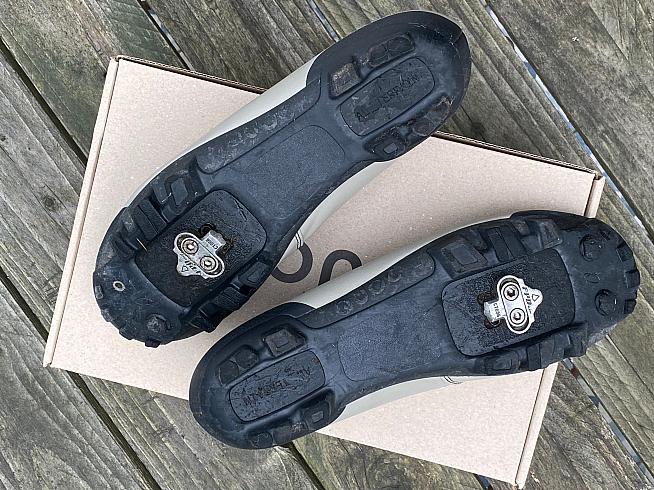 The shoes look good, with a streamlined, minimalist aesthetic that also makes them easier to clean after a ride. A quick wipe with a damp cloth does the job, with dirt sliding easily off the textured PU upper.
Comfort wise, the fit works well for me. My only issue has been a bit of chaffing around the ankle which I think is a combination of two things: first the sides of the shoe are unpadded - presumably to save weight - meaning there's a quite rigid lip around the top.
This would be all right, but I also found my foot lifting slightly out of the shoe the longer a ride went on; eventually I realised I hadn't tightened the dial enough to start with so that although it felt tight, there was still some slack in the bottom of the lace. Over the course of a ride this slack would work its way up the cord loosening the shoe and resulting in the chaffing, especially in out-of-the-saddle efforts.
I now pay a bit more attention when putting on the shoes, tugging the cord a bit to make sure everything's nice and snug, and with my foot firmly bedded in there are no more issues.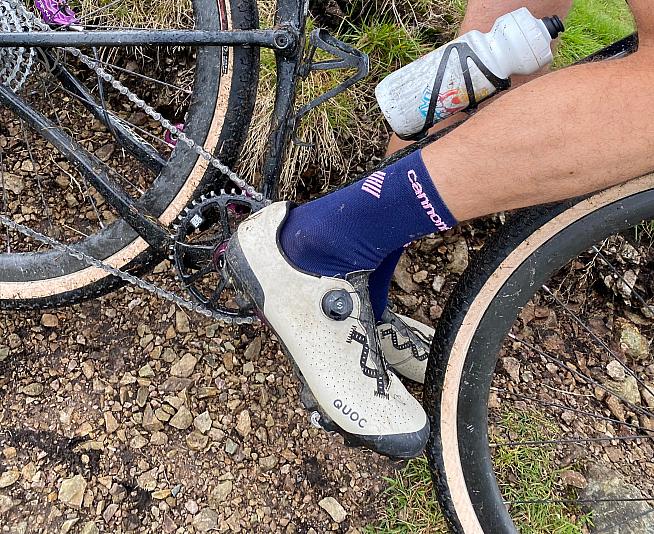 Over all, I think the Escape Off-Road is a well designed, high-quality shoe that I would happily recommend. The lack of bulk is noticeable, but it's also a robust shoe that will stand up to a beating on the trails - just don't expect much in the way of protection for your feet or ankles if you strike a tree or rock with that lightweight upper.
It's worth noting that if your gravel bike spends some or even most of its time on the road, then this is exactly the sort of shoe you want; its low weight and streamlined looks compare well to dedicated road shoes, but with the bonus of fully recessed SPD cleats and a hint of flex in the sole for easy walkability at the coffee stop.
Comfort is adequate, too, but if you plan to stray into all-day territory and beyond then something with a little more padding might be preferable - take a look at Quoc's Gran Tourer XC for example, which is a similar shape but offers a second dial and padded heel cushioning for an even snugger fit with only a small weight penalty.
Bottom line: the Escape is an impressively lightweight shoe for fleet-footed adventures both on and off the trail.
Quoc Escape Off-Road, £150 from quoc.cc
0 Comments