This review can be summed up in three words - Buy This Bike.
The following may just be a 'Dear John' to the rest of my bikes, I kid you not.
There are quite a few reviews of the Fara F/All-Road out there. Mostly it has been lauded and praised in technical terms about its spec, its ride, and its character.
If you want some details about the geometry, the head angles, the BB clearance, and the like, then the following paragraphs are not for you: all these details can be found on the Fara website, but I'm going to focus on the ride behind the numbers.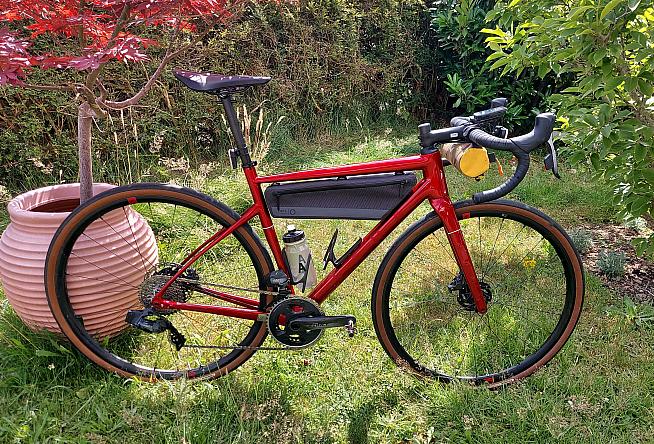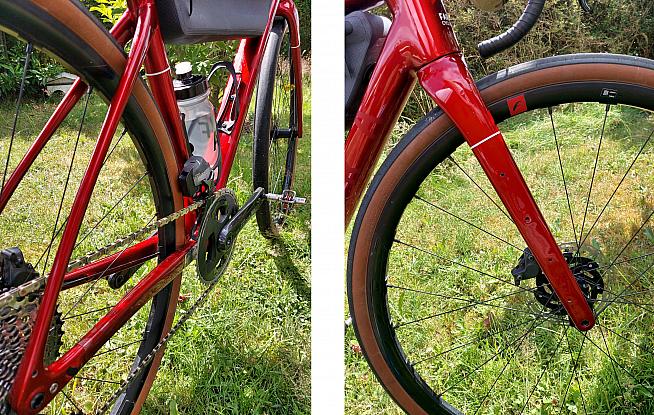 These past six weeks I have been riding my daily commute on what can best be described as my cycling Nirvana. I have never before sat on a bike (and I have sat on a few), and been this in awe of it. Right from the first ride, it didn't just feel good, it felt 'right'. I'm not going to do lazy cliches about being like a middle-aged divorcee finding their soulmate in someone much younger, and I'm not going to compare this to a mid-life crisis where I go off to Ibiza with my pension fund and addiction to hangovers and penicillin.
First of all, I should address some factual elements. Fara Cycling is a relatively new, premium bike brand from Oslo, Norway. Their range comprises three models - all full carbon with disc brakes - focused on road, gravel and everything in between; this latter is the F/All-Road.
Fara say the bike is designed "as the ideal bike for the cycling eco-system around our hometown of Oslo, a place where city streets and forest paths mesh to create a boundary-less playground for cycling."
As such it's furnished with a full range of mudguard and luggage mounts with clearance for 700x38 tyres.
There are many combinations of build that you can specify with most major groupset and finishing kit combinations possible. My test ride was a mid-level Series 2, equipped with 2x12-speed SRAM Force AXS, but with the base model's Fulcrum Rapid Red wheels rather than the list's higher spec Fulcrum Airbeat 400 carbon wheels.
The finishing kit was a combo of Fara's own range, 3T, and Fizik for the excellent Tempo Argo R3 saddle. Tyres were a pair of 35C Panaracer's slick Gravel Kings, which I swapped out for a pair of slightly larger Specialized Pathfinder Pros that had more off-road grip.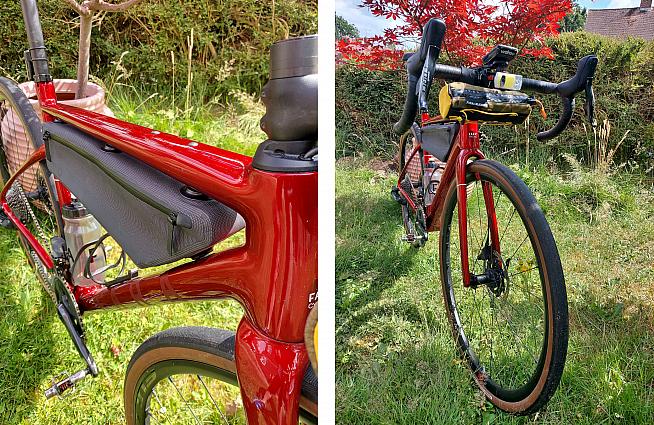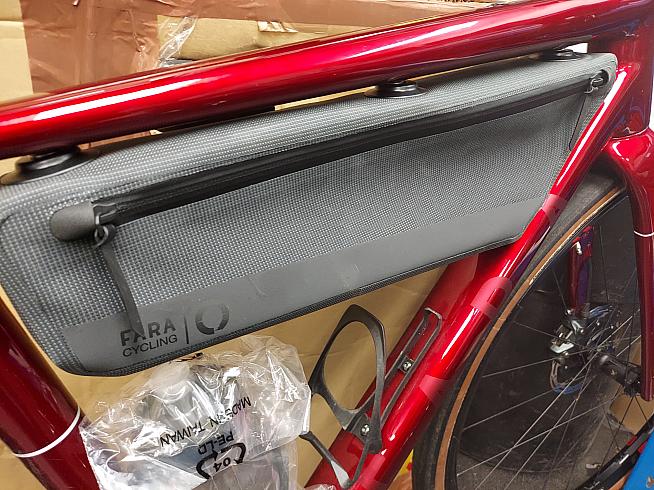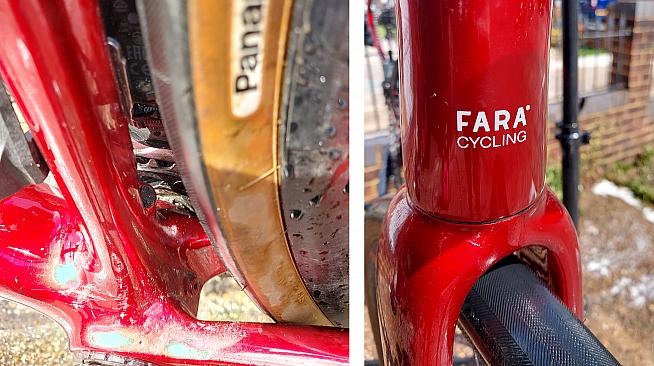 A couple of reviewers have bemoaned the fact that the bike didn't come set up for tubeless but this wasn't a significant point for me - if the F/All is to be a one-size-fits-all, then it should be relatively easy to change tyres should the need arise. Add to this, the variety of mounts on fork and frame for bespoke luggage, featuring FidLock magnetic mounts, and it is indeed a highly versatile platform.
Price-wise, builds start at NOK 39,990 (£3100) for SRAM Rival AXS with Fulcrum rapid Red wheels, while the Series 2 with carbon wheels comes in at NOK 56,990 (£4,400). You could pay that much for a roughly equivalent frameset from some brands, and not even get the SRAM AXS goodies.
I'm a big fan of SRAM's AXS system - the integration across all disciplines, from MTB to Road, means that you could swap drivetrain components around with relative ease armed with nothing more than a chain quick link. I have run an XO rear mech with Force shifters for a couple of years and both a Rival Xplr and GX rear mech with Rival shifters with absolutely zero issues.
I have been riding steel-framed bikes almost without exception for the last two years, and being back on carbon filled me with paranoia for the first few rides. The creaks and squeaks I was hearing I interpreted as BB issues or things going on below my hefty rear end where it came into contact with the saddle making it sound like a guinea pig talking in Morse code.
A quick bit of adjustment to the seat post collar, the saddle rail clamp, and the rear thru-axle eliminated 99% of annoyance but none of the embarrassment I felt for not tightening everything correctly before my maiden voyage. Now that the bike no longer sounded like an analogue modem connection, I could take it out for a few rides.
First off, a bit of bridleway and roads - I found almost immediately that the slick tyres were being compromised by anything moister than a Victoria sponge cake, hence the swap out for the Pathfinders - and had to pick any off-road lines carefully. The SRAM 2-by worked effortlessly, giving a wide variety of ratios for all occasions and helping to maintain a good cadence, something which I struggle to do on my 1-by bikes.
The 3T bars, clad in comfy Fizik Microcush tape, work well with the feel of the bike both on the road, and when things get a little sketchy.
The Force shifter hoods have been changed recently, making them more ergonomic than the ones on my gravel bike, and didn't cause any numbness or fatigue despite the lumps and bumps on this or any subsequent adventures. Any fears I had of the frame not being able to withstand the impacts of uneven ground, potholes, and rooty bridleways were quckly allayed.
The last few days of my allowance were spent in the New Forest and over on the Isle of Wight, the latter being a circumnavigation of the island by road. I'd ridden the island clockwise a few years ago at a leisurely pace on a road bike and all I recall was the long slog up to Blackgang Chine from Ventnor and the ferocious headwind along the Military Road towards the Needles.
This time, I was going anti-clockwise, hoping to push on and beat the forecast inclemency. First impressions were great - along the smooth roads out of Yarmouth I settled into what I felt was a brisk tempo but was aware that my Wahoo said I had a total of 23 climbs on my route, so I had to keep some effort back for what was to come.
There were a few 'unclassified' climbs to get over as well, and away from the flatter west side of the island the road began to undulate more than the ferry had on the choppy crossing on the Solent.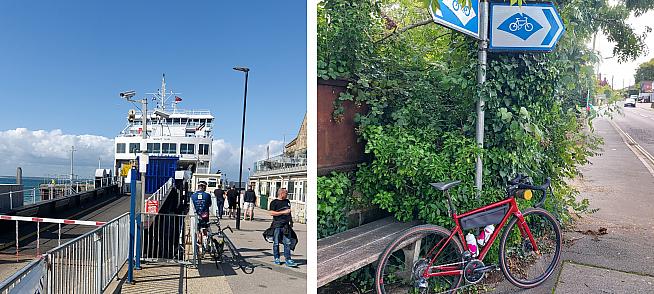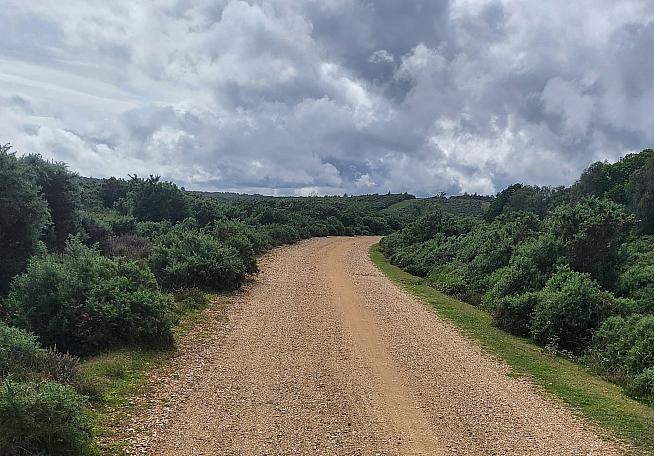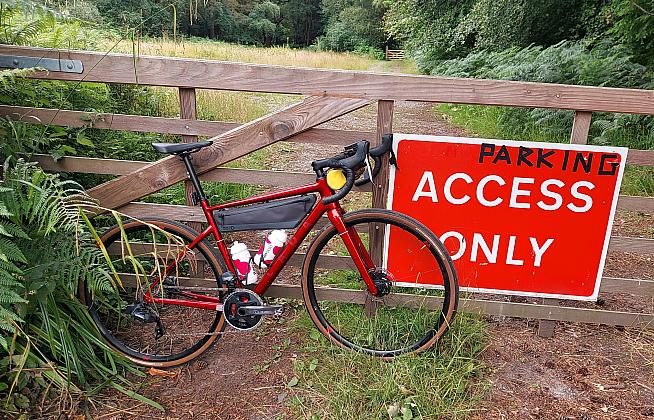 My first real trundle of the day was the steeper approach to Ventnor which felt comfortable without being rapid, standard practice for my climbing these days. Over the top and fast towards Niton where the gradient eased back towards 0, the bike felt stable and sure-footed, and the only time in the entire day I felt uncomfortable going downhill was trying to get down the steps on the ferry to the vehicle deck.
The story was the same throughout the day, even when I caught the infamous IOW headwind along the esplanade at Guntham and the steep climb back out of Cowes the ride felt, if not comfortable, then possible for me.
By the time I hit the 100km mark, I was grateful for the smoothness of the ride and the lighter weight of the bike compared to my other, more sedentary rides. I was thankful to reach the ferry in time for the 16:50 sailing back to the mainland and a couple of 'recreational' fermented recovery drinks.
By the time I was back to my base, north of Lymington, I began to realise why the bike felt so familiar to me - much of the running gear is the same as I have on my other rides, but the real difference is the frameset.
Aside from the practical features like the luggage and hidden mudguard mounts, this was nothing like I'd expected it to be. A well-balanced frame, even when subjected to the kind of shearing forces a drunk-puncheur like me puts a bike through, it felt like it easily shrugged off any imperfections from below or above, and just waited for it all to happen again. My mediocre efforts never compromised the ride, and the feedback through the bars and the rear stays kept me and my medical insurance provider happy.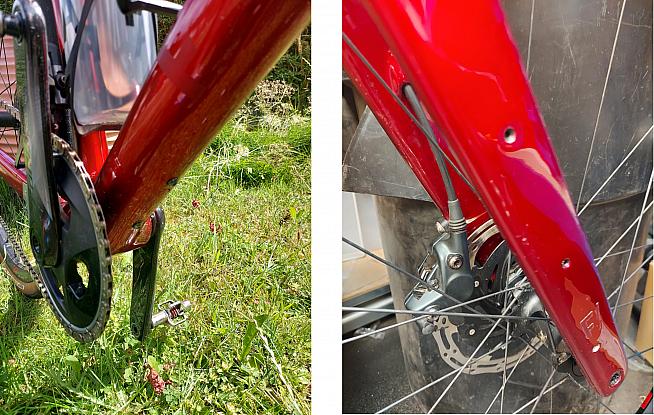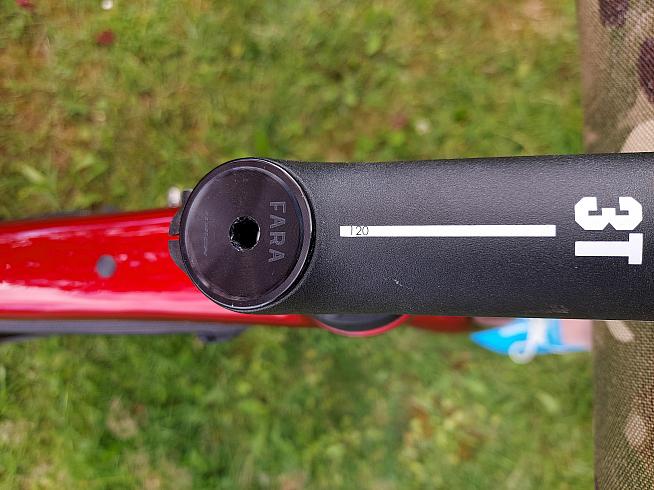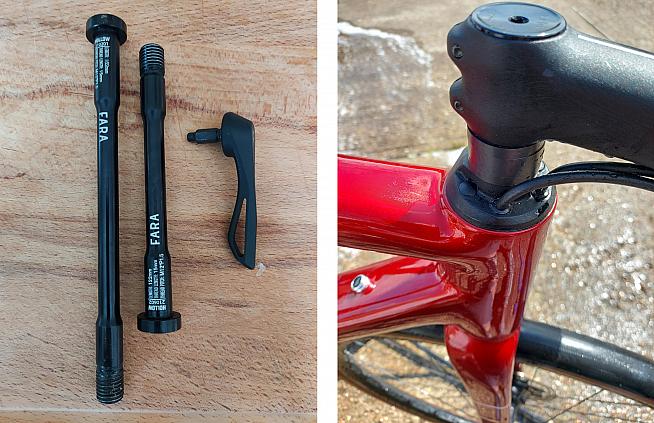 You could just buy this bike, but if you're not fond of the wireless SRAM set-up there are numerous different configuration options available on Fara's website to soothe or stretch the bank balance.
Whatever the finishing kit, so long as you have Fara's excellent frameset, you'll hopefully get a bike that exceeds all of your expectations, be that on- or off-road, bike-packing, or traveling light.
I've had to send the F/All-Road back and it's breaking my heart. I think I need to buy some flowers and chocolates for my other bikes and maybe plan a few long rides out to say sorry.
Fara F/All-Road, from £3,100 at faracycling.com
0 Comments