There's opportunity everywhere, if we could only see it: we've all heard that old adage about making lemonade.
Of course, sometimes there's no sugar: which is why I prefer David Shrigley's doctrine...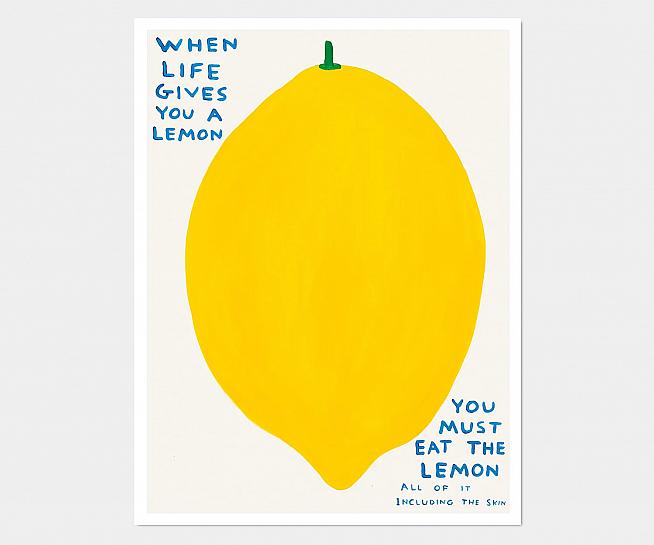 And so it follows that when life sends you to Sussex for a few weeks, you must ride the South Downs Way (all of it) and you must also visit Mason Cycles.
Tucked away in a centuries-old stone barn just a flint's throw from the South Downs Way, Dom Mason has been steadily knapping away at the cycling biz since 2015, unleashing a succession of meticulously designed bicycles destined to be ridden fast, or far, or both fast and far.
The Mason Bokeh has recently seen a revamp and I was keen to see v3 of the popular gravel/adventure bike. Unfortunately there were no demo bikes available when I got in touch. But when Mason's James Bloomfield offered a spin on the SLR, Mason's "Modern SuperTourer" instead, I was happy to make lemonade.
Resolution, Definition, Bokeh, Aspect - all of Mason's bikes are named after photography terms. The SLR in this case stands for Super Long-Range, reflecting the bike's intentions as a modern, luxury long-distance tourer.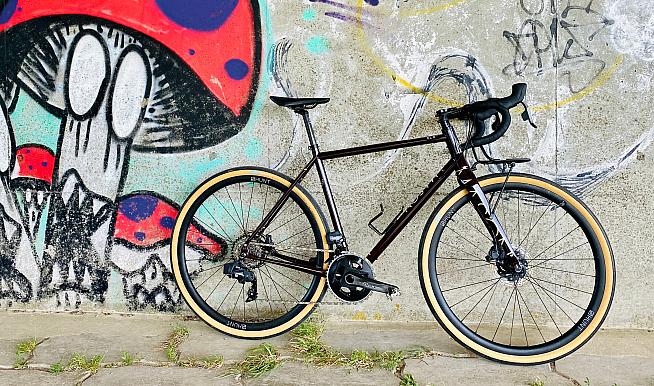 You don't need to spend long in Dom's company to appreciate his passion and attention to detail, and the evidence is everywhere in the SLR.
The frame is made in Italy of custom Dedacciai steel tubing, while the Rangefinder AR fork is made to Mason's own designs: full carbon, with 45mm tyre clearance, rack mounts and internal routing for dynamo cable. The frame also has internal routing for a rear dynamo light, just one of many typically thorough furnishings that you can read about in more detail on the Mason website.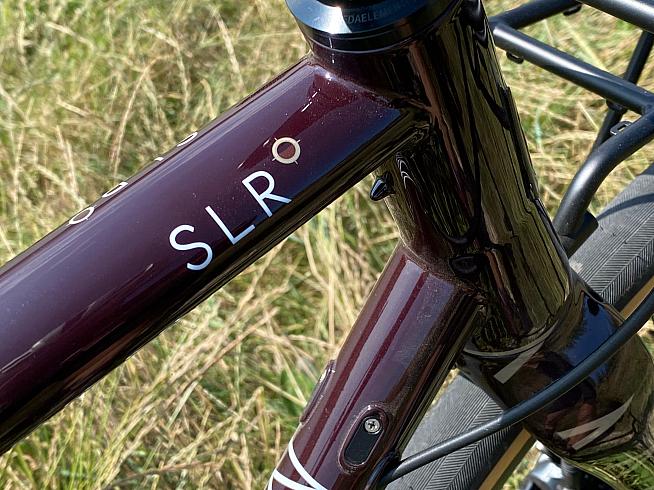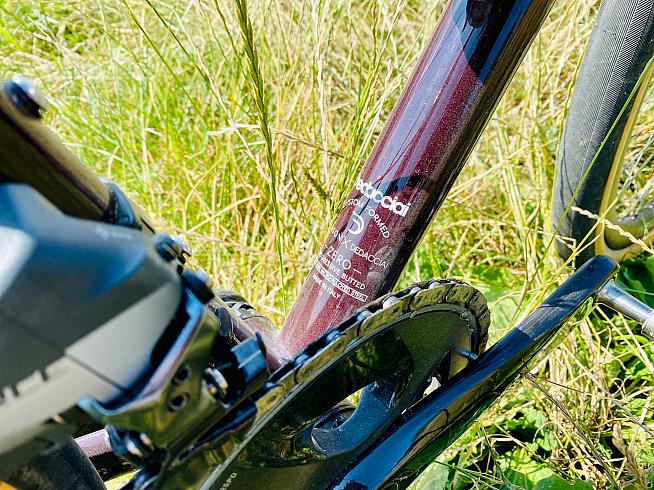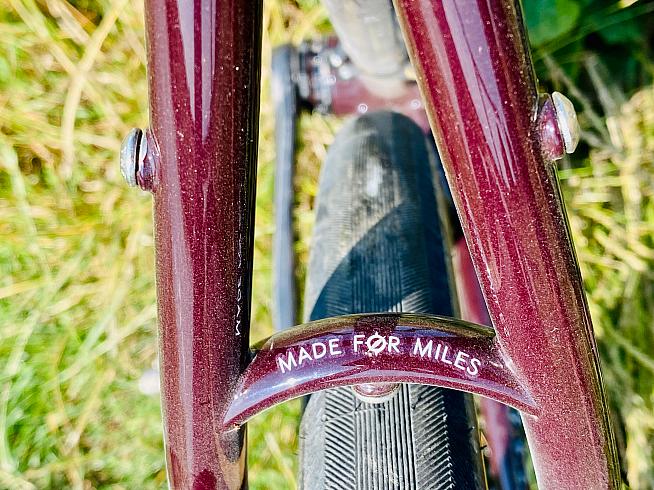 The SLR is available as a frameset (£2,150) or in a range of builds including Shimano GRX (£4100), Campagnolo Ekar (£4,375) and SRAM Force AXS (£5,200).
The test model waiting for me outside the barn was the top spec SRAM Force AXS build, equipped with SRAM's wireless 2x12 speed groupset and Hunt wheels shod in Rene Herse Barlow Pass 700x38 tyres.
After a quick circuit of the yard and tweak to adjust the saddle height, I rolled down the hill into the Sussex lanes for a test ride eager to get a feel for the SLR's handling over a super short loop.
The first thing that struck me was the ride feel: an uncanny combination of smoothness and surprising agility.
Mason state a frame weight of 2kg for the SLR in size 54g. That's not light by any stretch, even for steel, but the SLR is a good case for not letting bare numbers put you off - once up to speed, the bike feels and behaves a lot more agile than the weight would suggest.
Out of the saddle in particular, it danced under the pedals - in surprising contrast to the Cannondale Topstone on 700x47 gravel tyres I'd ridden out to Mason.
That's not to say it's a feathery climbing machine; I ducked out of my intended climb of Devil's Dyke (time limits, and legs still feeling the effects of an overnight ride a few days earlier) but on smaller bumps and dips of the Sussex lanes the SLR cruised along happily.
The overall feeling is very much in line with Mason's description of a luxury long-distance tourer: it's not a bike that invites repeated accelerations, but settle into a cadence, switch on your mental cruise control and enjoy the miles hum by in comfort under those plush tyres.
There's something almost retro feeling about the SLR, not only the frame material and details like the chain pip and frame pump peg, but in spirit too. It's like a classic tourer or randonneur, but updated with every mod con you could imagine: a Dawes Super Galaxy for the 21st century.
It may seem incongruous to see such a frame hung with SRAM's wireless groupset, but it's an excellent group and chimes with the SLR's progressive outlook. Shifting was flawless, and the gear range offered by the 48/35 double chainset and 10-33 cassette is adequate, although for loaded touring a lower bottom gear would be preferable.
I'm a convert to 1x, riding Campagnolo Ekar on my road/gravel bike and Shimano XT on my hardtail, but on roads there's still a place for a front derailleur and I think the sub compact crankset is a practical spec that will suit most riders.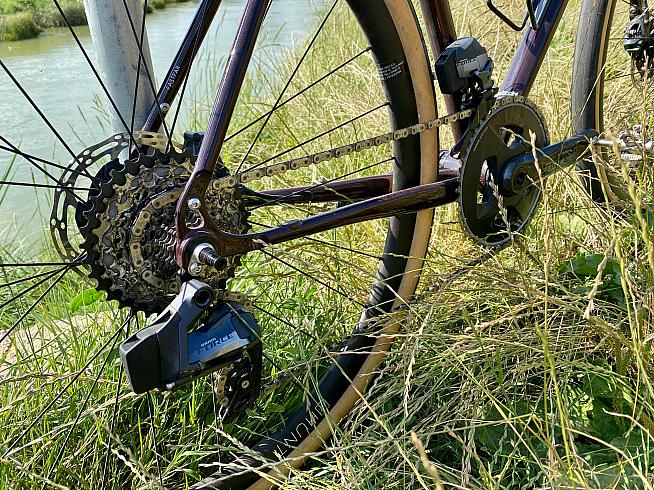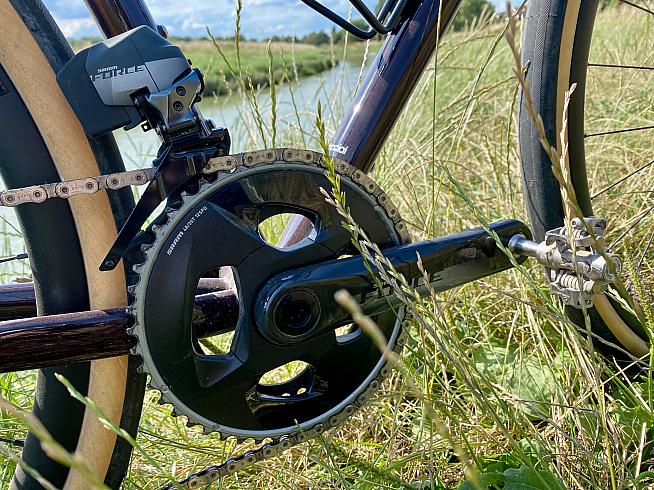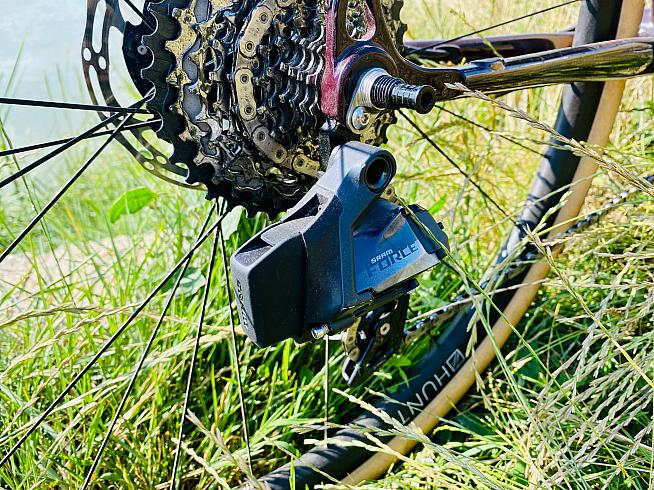 Groupset aside, the rest of the build is solid, good quality components: the wheels are Hunt 4Season, bar and stem from Deda, while the seatpost is Mason's own Penta carbon.
The saddle is an interesting choice, Fizik's Vento Argo R3 (RRP £120) is a more upmarket stock saddle than you'd typically find, and moreover has an unusual shape being short with wide wings and a pronounced wide channel down the middle. It took a few minutes to adjust to, but I found it comfortable on the short test ride.
The Rene Herse tyres, meanwhile - an optional upgrade on this build - are several notches above the stock rubber you'll find fitted on any mainstream bike. Retailing at around £90 per tyre they have a quasi-mythical status; I'd never tried them personally, the cost is too much to stomach for a consumable that could be shredded in a momentary altercation with a flint, but those who do speak highly of them.
On this test ride they no doubt contributed to the plush feeling of the ride and felt rapid on tarmac and grit alike.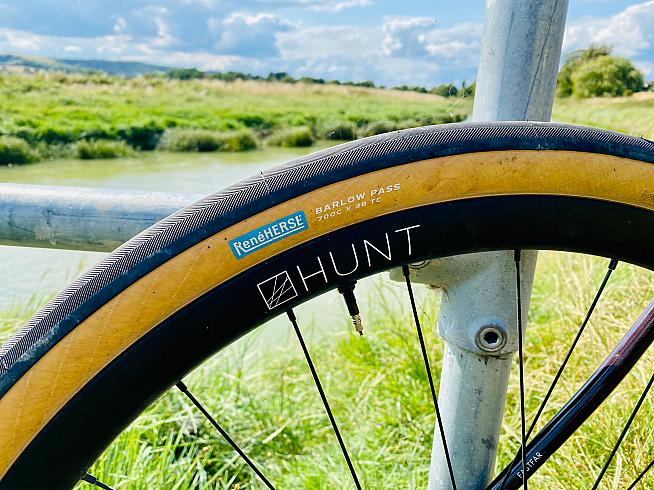 The frame has capacity for 700x40 tyres, and 700x45 up front - and that's with space for mudguards - but 700x38 is a good compromise for fast rolling on tarmac.
Not that speed is everything... Mason's demo bike is fitted with a rando-style front rack, and just the sight of it altered my entire approach to the ride; why try to chase a Strava PB when you've practically got a picnic basket on the front?
Instead, I found myself easing off the gas a touch, relaxing and taking in the views. When I saw a roadside stall offering local honey, cut herbs and handmade soap I stopped for a photo, instead of racing past... the SLR inspires a different sort of mindset to a ride.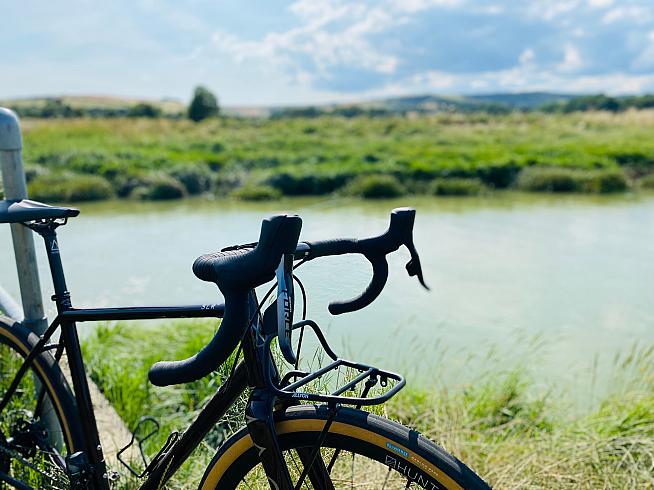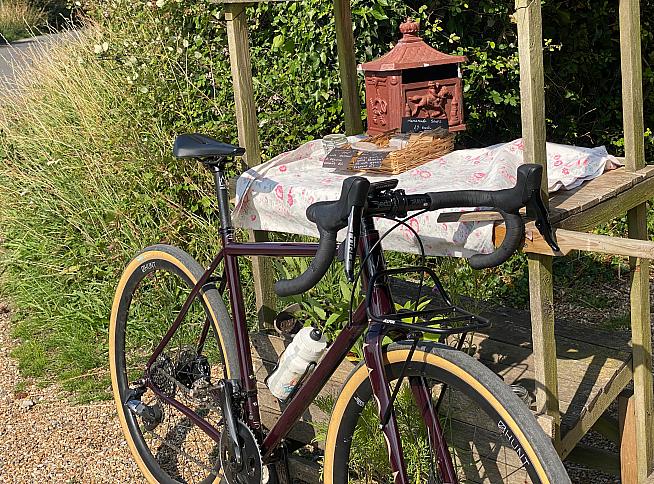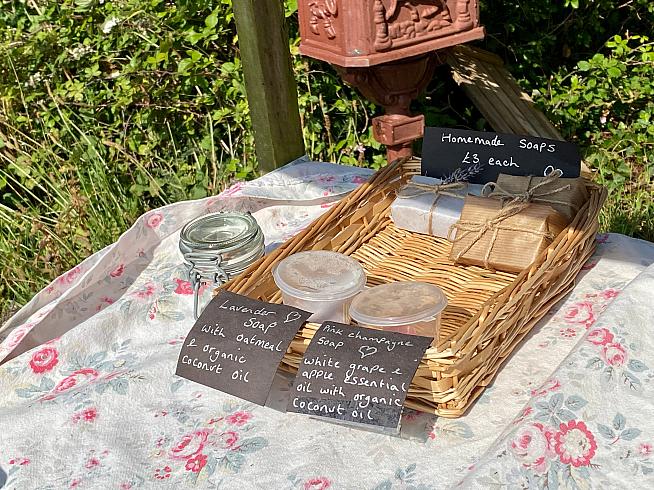 That's not to say it couldn't cover ground rapidly if you wanted. Being a test bike, the fit wasn't quite dialled for me: there was about 25mm of spacers under the stem, to start, meaning that cruising on the hoods or even in the drops felt quite upright compared to my usual position. But with a little tweaking to fit, I can easily imagine the SLR zinging along at a fair lick. As I mentioned already, it is a surprisingly nimble feeling rig once you get it rolling.
I was soon convinced of the SLR's capabilities on tarmac, but decided to take it off piste for a little light gravel action to see how it fared. I headed for the southern section of the Downslink, a finely gritted path running from Shoreham up towards the north Downs, and here the SLR was more than happy crunching along the firm surface.
Still, I had to take it too far... Around Bramber the trail by the river Adur goes wilder, and when I piloted the SLR along this narrow and increasingly overgrown ribbon of compacted earth both bike and rider quickly found ourselves shaken out of our comfort zone.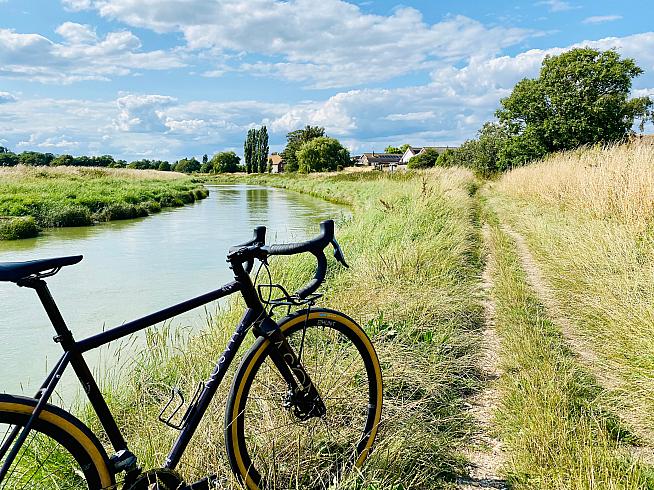 The SLR is no gravel grinder in a roadie disguise; if that's what you're after, look to the Bokeh. The SLR's geometry and large main triangle offers generous room for frame bags and a welcome sense of stability on the road, but confronted with an unmade surface it felt like a handful; I struggled to control the bike, even with handlebars a good 4cm wider than I'm used to, and was relieved to return to a more groomed grit path and then paved road.
Quite likely some wider tyres, a slammed stem or smaller 52cm frame (to bring the geometry closer to my own bike) and my preferred bar width would have ameliorated the experience to a large degree, but my impression is the SLR is best reserved for its intended use: paved roads and the occasional light grit or towpath cameo.
I spun my way up the short hill that leads to Mason's hideaway - two whole seconds faster than I'd done it on my carbon bike earlier that day, whatever that tells you - and leaned the SLR back against the flint wall of the barn where another Masonite, Mark, was waiting for a cheery debrief and good chat about all things cycling.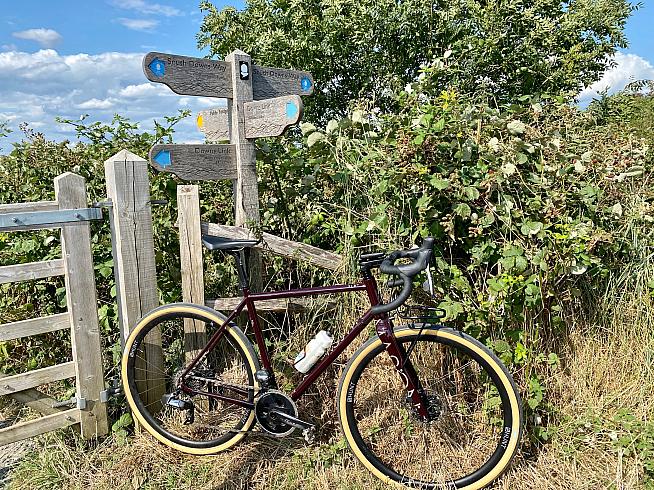 The SLR is a highly tempting proposition for a particular sort of cyclist. The sort of cyclist who might think nothing of a 200km audax, for example; or who seeks a dependable, handsome companion for picnics, loaded touring, PBP and maybe more...
If that's you, then the SLR brings a lot to the picnic. Good looks, impeccable build quality, all the features you could want in a long-term companion.
It's not a "one bike to do it all" - but if you like the rough stuff, of course Mason can offer you something suitable in that direction too. In fact, I couldn't resist slinging a leg over their steel hardtail, the Raw, that was sitting out in the sunshine next to the SLR... but that's a test for another occasion.
A quick note on sizes and pricing: the SLR is available in eight sizes ranging from 48cm to 62cm in 2cm intervals. That's an impressively wide range and allows for an almost custom-built level of fit according to individual preferences. As you might expect from Mason, full geometry details are available on their website, and they are also happy to talk through sizing and spec options to ensure you come away with the best possible fit.
For each of the three offered builds - Shimano, Campagnolo and SRAM - you can also configure details like handlebar and stem size, tyre choice, wheels, dynamo lighting etc before purchase by selecting from a handy menu of options.
Incidentally, if you're happy to shop around for components and do your own build, then the frameset at £2,150 looks like the best value option. Mason's build prices are, understandably, not reflective of currently available discounting on groupsets and components from online retailers like Merlin Cycles; you could for example quite easily save £500 on the Ekar build and well over £1,000 on the SRAM Force AXS build by taking a DIY approach.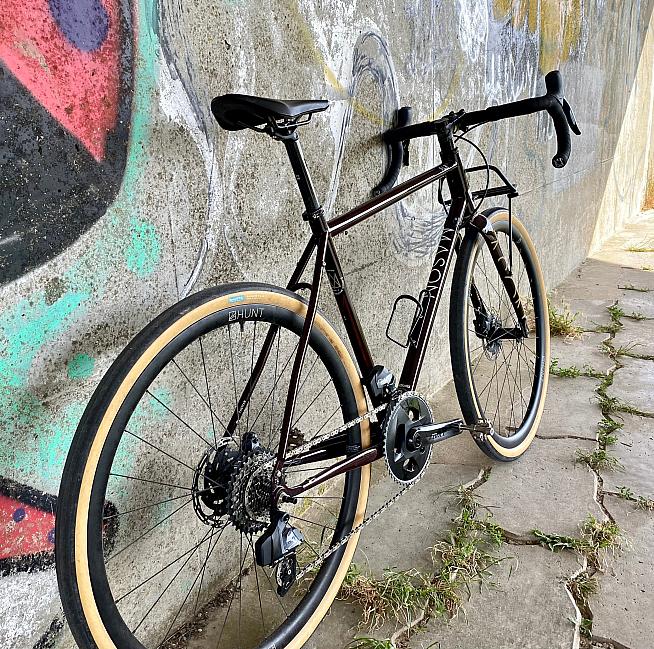 One thing you can't buy, unfortunately, is the stunning SLR raw steel frame pictured on the website. This unpainted pre-production frame with gold detailing and just a light coat of beeswax would make for a dream build; the unpainted frame really highlights the impeccable quality of the construction.
That said, the ModeRed and Black painted finishes are perhaps a little more durable than beeswax and are both classy looking in an understated way.
You could say the same about the SLR. If you're looking for a long-distance road companion, a visit to Mason Cycles would be time well spent.
Mason SLR, from £2,150 at masoncycles.cc.
0 Comments