Australian brand MAAP launched their Alt_Road collection in October last year with a range of jerseys, shorts and accessories designed for gravel and all-terrain cycling.
We've been testing the Alt_Road 1/2 Zip Jersey, described by MAAP as "the perfect companion for your next epic ride or overnighter".
The jersey uses NATURALMATCH, a merino wool blend, for the main panels with stretch woven ripstop side body and pocket panels.
The benefits of merino wool are well known, with its soft touch, breathability and excellent wicking properties lending itself well to cycling kit. The fabric used here is 47% merino wool and it's a medium weight jersey at 150g/m2 - the same as Rapha's classic range of merino blend jerseys for example.
It's noticeably thicker to the touch than a typical summer cycling jersey, but still light enough for warm weather rides here in the UK.
And I love the fabric, it's spot on. For how warm it feels, it keeps you so cool in the hot weather. A summer's day like we had recently, going purely by the feel of the jersey's fabric, you would never put it on - but it actually breathes so well.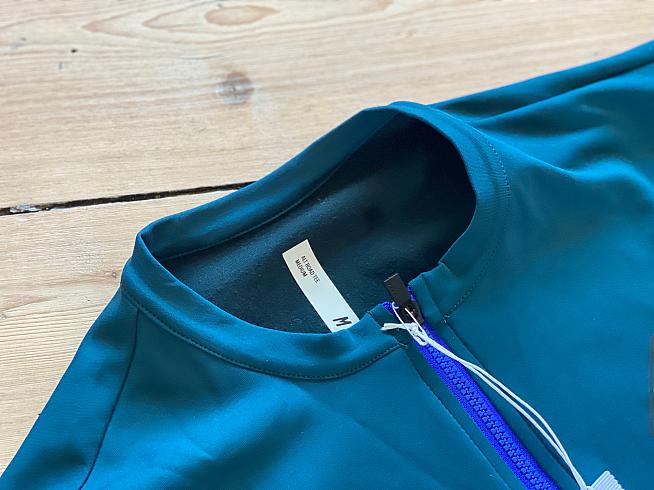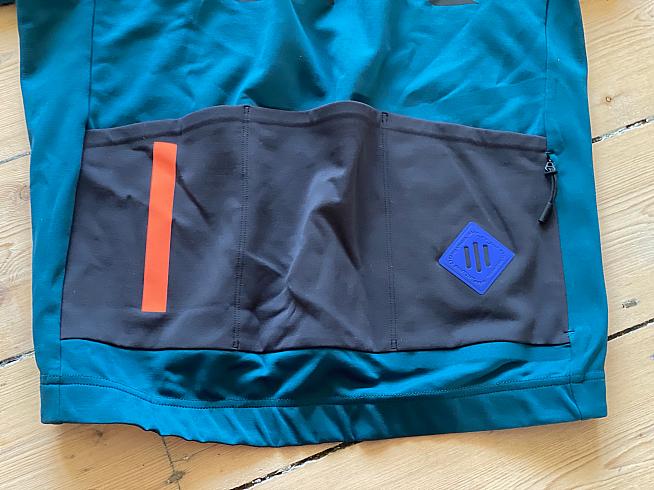 The styling is really appealing, from the teal colour to the little details like the reflective checked print on the chest which shines under car lights. There's a high-vis orange strip on the back too.
Half zip jerseys are fairly unusual, but I like the casual look and I don't miss a full zip. It's handy when you need to get a bit of air flowing after an effort on a warm day, for example.
Personally I would like the sleeves a bit shorter so I lift them up, but that's just how I like it. The fit is nice, it's fairly close fitting but not skin tight. After a few washes I think it's stretched a bit.
The fabric on the pockets has also relaxed a bit, and this brings me to the only real flaw with this jersey: the pockets are just not secure enough. On my very first ride I took the gravel bike onto a singletrack descent and lost my phone when it bounced straight out of the back pocket.
The phone was fine, it was a soft landing, but that's never happened to me before and if you look at the pockets you can see why.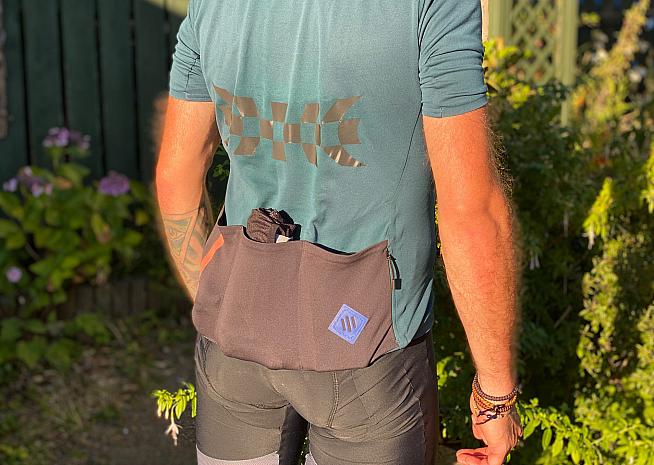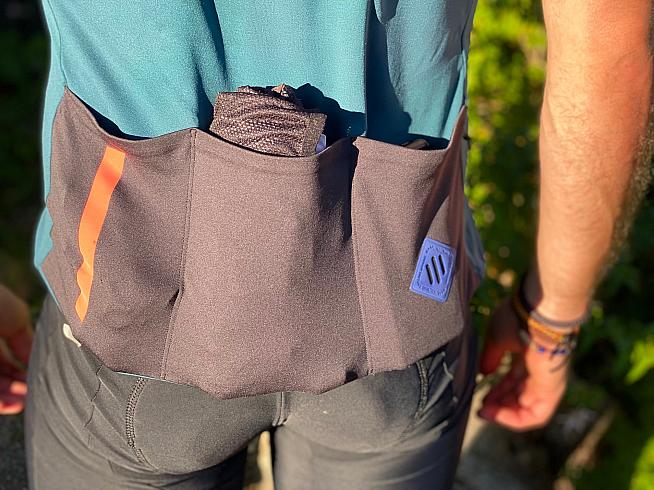 Most cycling jerseys have an elasticated strip at the mouth of the pockets to help keep contents secure, but on this jersey there's nothing, they're loose at the top. It's not such a problem on road rides, but for a jersey designed for off-road riding where you're going to get bumped around, I think that's an issue.
I pack my pockets with bulky stuff in the middle - I like to have my phone in my right hand pocket to hand for taking photos, and my food in the other side. But once you load these pockets in any way they stretch open at the top and the first jump, the phone's gone.
For me it's not a deal breaker though, there is a zipped pocket too for stowing your valuables. The overall quality of the jersey has kept it in firm rotation over the summer. I wear it off-road and obviously you get into your bramble thorns and stuff like that, but the fabric hasn't pulled. It's excellent.
In summary, this is an attractive jersey for riding from spring through autumn. Just take care how you pack those pockets if you're going to get jiggy with it.
MAAP Alt_Road 1/2 Zip Jersey, £155 from maap.cc
0 Comments