I've got a confession... I've just got back from a dirty weekend. The thing is, I've been riding another man's bike - and I loved it!
Before I go any further, I should explain: the weekend was the launch of the L'Enfer du Nord, a brand new gravel bike by 1816 Cycles.
And what a weekend it was. Organised by 1816 along with new apparel brand GRVL, we spent two days doing all the things I love doing the most: hanging out around campfires, having a laugh with a good bunch, eating, drinking, generally fooling about on bikes and letting the dust of the day stay firmly stuck to my sweaty legs for as long as possible.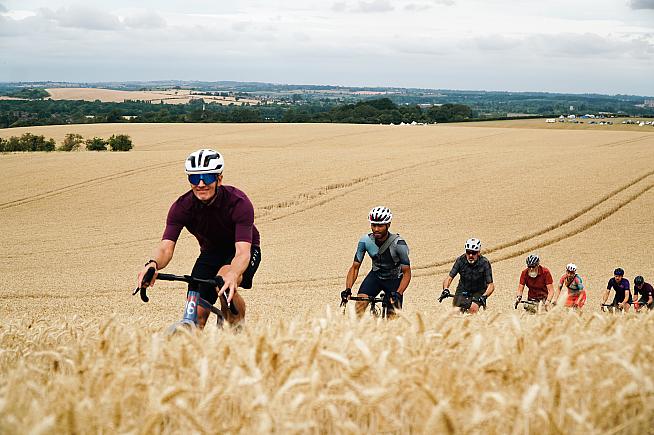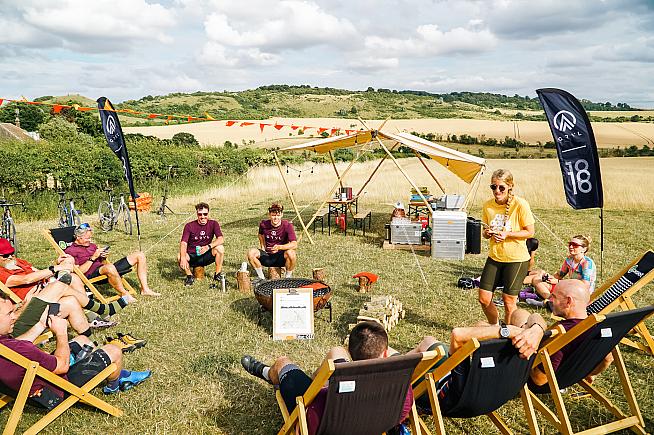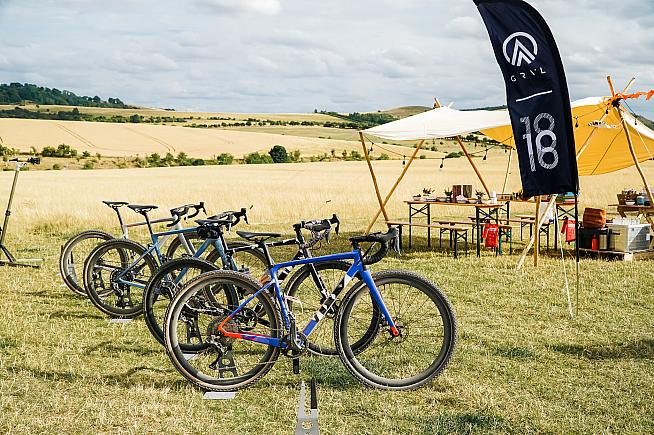 Wild Cycles provided terrific accommodation in bell tents, super tasty sustenance via an Ooni pizza oven and Veloforte energy bars. Plus, they produced some fantastic routes in the heart of the Chilterns for us to follow. 1816 provided the bikes. My perfect dirty weekend!
The highlight was definitely the bikes... I'll get to that. I first need to tell you a little about the 1816 troika. Stuart, Jonty and Tinks are three guys that are set on the task of growing their new bike brand. It won't be hard, the bikes speak for themselves.
The idea behind 1816 was born out of a need identified by Jonty and Tinks a few years back. With their obvious skills at product development (they're also dab hands on the tools) they set about creating a bike that would bridge the burgeoning gap between road and trail.
Stuart, formerly of premium cycling and running brand Ashmei, came onboard a little later with clear commercial thinking and refined aesthetic values to complete the skill set. Between them, they have spent considerable time in the test and tweak process with the only goal stated as "build the best".
Have they achieved this goal? Let's find out...
L'Enfer du Nord launch weekend
A big bunch of cycling press and pals have turned up at 1816's invitation for this weekend. We're sharing bikes, and I'm feeling super lucky to ride Tink's personal machine.
Tink and I are about the same size so there's no adjustments needed: the bike fits me perfectly and I immediately feel comfortable in its company. It's a solid performing machine and we are delighted with each other's companionable silence as we wind our way through the dusty trails to the top of the Ivinghoe Beacon in the beautiful Chilterns.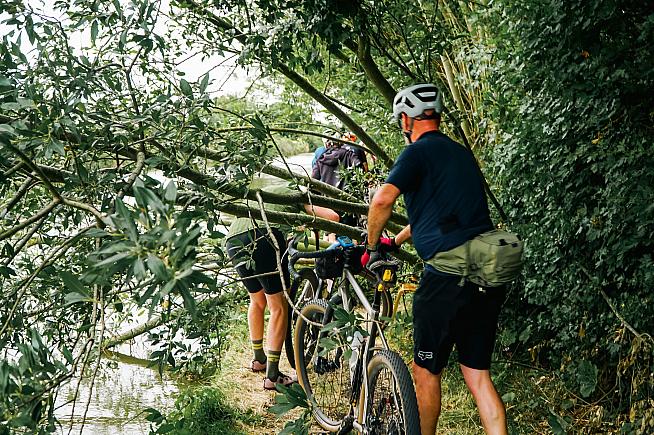 The bike is kitted out with a 1x Sram Red eTap, running Zipp 303 wheels and Panaracer Gravelking SK tyres. It's a sound combination but Tink builds the bikes to pretty much any spec including 2x configurations in Shimano.
You can specify the bike how you like to perfectly suit your riding goals. However for convenience, 1816 have specified three standard builds to choose from: a Shimano GRX Di2 build at £6,000, SRAM AXS Mullet at £6,800, and the GRVL Collaboration build with SRAM Red eTap at £10,400.
These are all top-end configurations, with price tags that set expectations...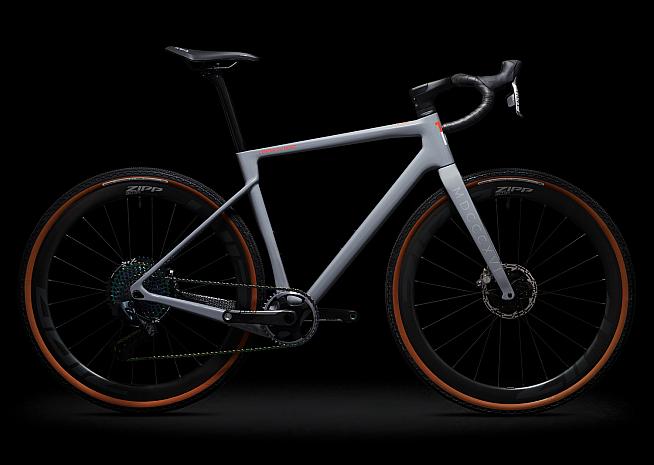 The frames are manufactured from a blend of Toray T700 and T800 carbon fibres and finished in muted pastel colours - a blue or a grey - that really helps them stand out among a sea of customisable and short run paint options available on the market right now. There's plenty of tyre clearance too, so you'll be able to get anything up to 650b x 2.1" tyres on it if that is your wish.
The beautifully engineered cockpit has integrated cabling which combines with flush fitting thru axles to produce a clean, unfussy look and feel. There is also enough cable stowed away to easily remove the cockpit to fit a travel box. A trick that I know other manufacturers are struggling with.
So what's it like to actually ride? Well this is a bike that feels so natural that the rider can transcend the traditional act of riding a bike in which you can often find yourself thinking about the limitations. Instead, you think about the possibilities and quickly relax into the ethereal experience of simply moving through the landscape allowing you to fully enjoy the sensory feedback that follows.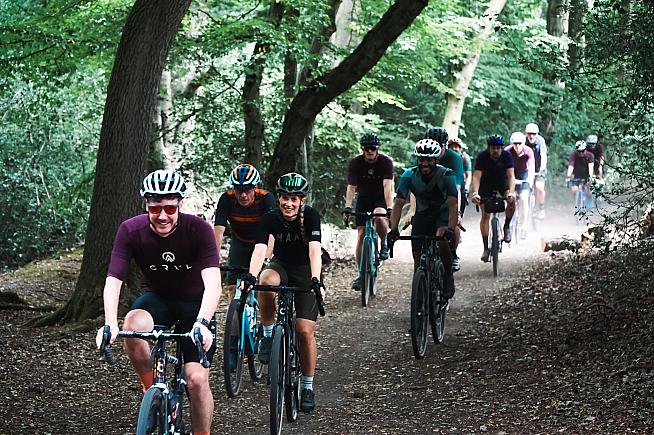 This is what cycling should be like. It's way too easy to obsess about all the stuff that doesn't matter such as, are my brakes working properly or did I pack a spare tube? I don't worry about any of this stuff because the bike's quiet unassuming confidence sends me the subliminal signals to just relax. Enjoy the ride.
Performance is razor-sharp as you would expect, engaging more difficult trails at speed brings no fear - only excitement as the bike does exactly what you ask it to do.
Named after the famous Paris-Roubaix nickname which translates to the "Hell of the North", you get a real sense that it will handle anything you throw it at, whether bombing across jutting tree roots or through heavily rutted single track or indeed the famously rough cobblestones of the Paris-Roubaix. The bike just behaves and gets on with the job at hand.
The frame is rigid with little flex thanks to the flattened seat stays. They join the seat tube just below the top tube, and this area is strengthened to offer a wider seat stay approach, to accommodate wide rubber. The dropped chainstay also facilitates this goal with seemingly no compromise on stiffness. The tyres take the shock while even the lightest force on the pedals gets immediately delivered to the back wheel, effortlessly propelling you forward.
The forks are set at just the right rake for trails, not too sharp but sharp enough to give you a heightened sense of control. I'd be comfortable with a narrow set of handebars here to push the frame to its limits but the flared set it comes fitted with are comfortable too.
The L'Enfer du Nord is also remarkably light: feathery enough to charge up steep climbs, no sweat. In fact, I got my first KOM in years on the steepest ascent of the day without even trying. Ironically, Tink gets the exact same 5th place KOM on his Mark 1 version of the bike and so our love triangle is complete!
On the subject of triangles, the shape of this bike will definitely please any geometry connoisseur: they're perfectly proportioned and they will have the rider dreaming of fractals before the first coffee stop!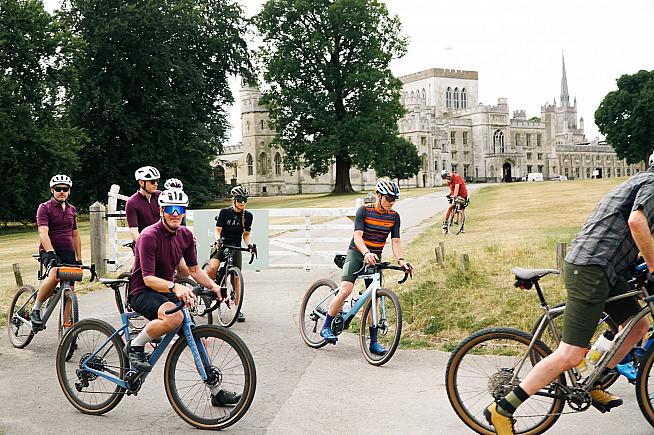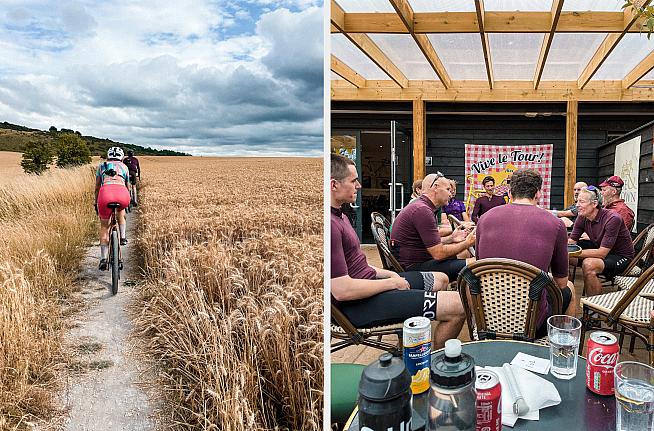 Our ride takes us through the grounds of the historic Ashridge House and then onto Chiltern Velo for a light lunch. Before long, we're off and riding again, buzzing with the pure joy that only riding bikes can bring.
As we ride, Jonty explains to me that 1816 was the year the bicycle was invented and this fact encourages me to marvel at man's achievements. In little over 200 years, the bicycle has come such a long way. Our fascination for human-powered machinery has driven no end of improvement.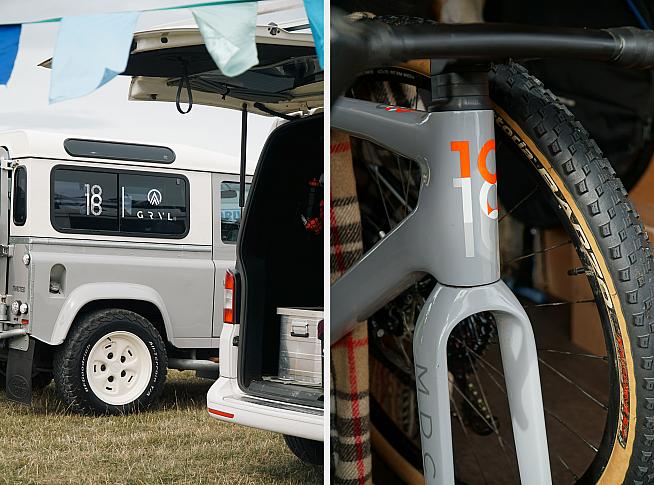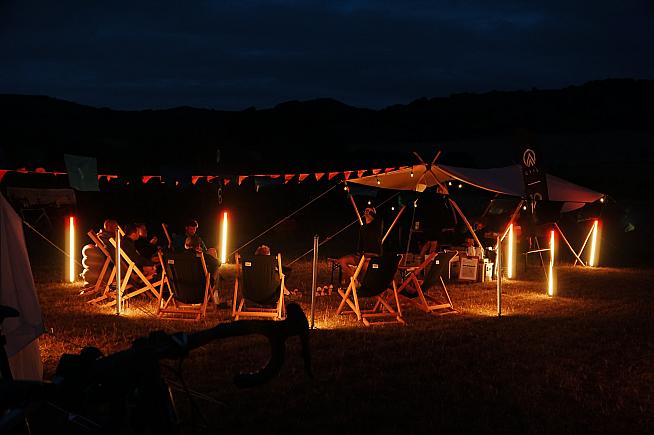 Back at camp we can relax in deck chairs around a fire while Hotchilli ride leader and pro-level funny guy, "the Captain'' provides us awesome entertainment with his hilarious dad jokes. Nobody is bothered with washing and it's not long before I'm fast asleep excited by the idea that tomorrow, we get to do it again!
Sunday fun day
The morning breaks and breakfast warrants a special thank you to Wild Cycles, who did a fantastic job with homemade Bircher muesli and freshly made sourdough bread. I can highly recommend these guys - I think I've found my next cycling break!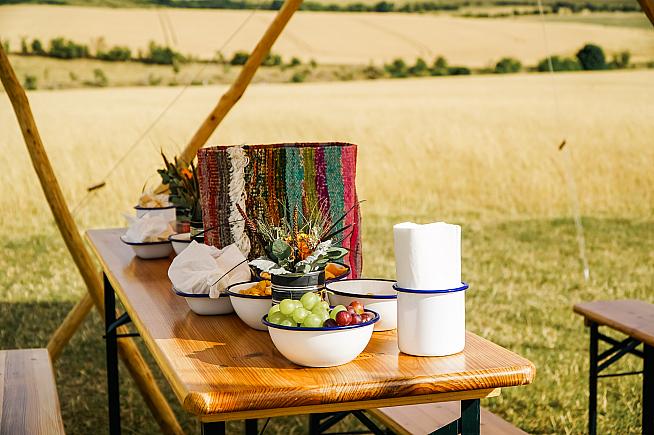 Day two and I'm delighted to be bombing along canal tow paths in the jersey and bib shorts supplied by emerging gravel apparel brand GRVL - co-hosts of the weekend.
I can't say much about the GRVL gear at the moment becasue it's not released until later in September when I'll get to tell you more, but I can say this... I will be wearing the jersey for some time to come!
The reason is that it is made of natural fibres that are breathable and have the same properties as merino wool. It keeps you warm when you're cold and cool when you're hot.
Combine this with great colours and a truly innovative design, specifically for the needs of the gravel rider and I feel sure it's going to be a hit.
We also squeezed in a cheeky pastry and coffee stop at the home of cycling photographer, Simon Gill. A treat in itself, but this also gives me the opportunity to reflect on how the junction between art and science is such a delicate and ever present balance in everything that humans create and how the bicycle is no exception.
We might just have functional bikes but we don't, we have an enormous choice of bicycles, simply by taking the science to the paint shop and letting the creatives loose.
Getting this balance right is different for everyone, but it's a real treasure when a team gets it as well balanced as the 1816 team have with the L'Enfer du Nord.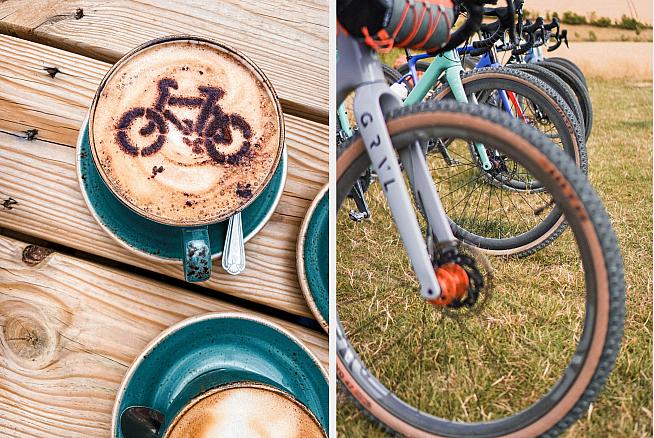 Day two comes to a well earned end and our dirty weekend is over, it's time for me to give you my summary on the bike.
1816 set out to "build the best" and they must have come jolly close. This is a great way to sum up the weekend, too: one of the best!
If you are in the market for a premium gravel bike, you would do well to find out more about these bikes at 1816cycles.com.
And if you're thinking of a cycling getaway, check out Wild Cycles here: www.wildcycles.co.uk.
0 Comments