They say that most car journeys in big towns are less than five miles, which is an ideal commute, even for people with a relaxed attitude to cycling.
Any old clunker should be able to do that kind of a journey without self-destructing, and when I say 'clunker' I mean the bike and not the rider...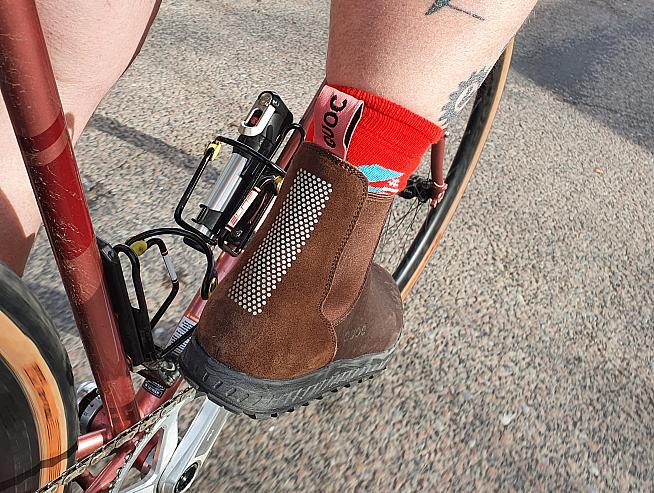 The problem with cyclists like me is that all my rides are set up the way I like them most, and what I like most are clipless pedals, particularly Crank Brothers ones. While many cycling shoes are clipless, they are designed with that function - cycling while clipped into SPD pedals - in mind.
There are a few exceptions, of course, but they tend to compromise heavily on the side of cycling and not walking, or indeed blending in. Shimano makes a pair of touring sandals with SPD soles but, much as I'd like to wear them, I could not do sandals with socks. My standards may be low, but they are still above that.
I don't try to compromise on my road bike and the shoes I use are pedal specific, but with my MTB and my gravel bike I need shoes that will work well when I am (often) pushing up steep inclines, righting myself after disembarking into a muddy puddle or nearby shrubs, or just walking around the brewery shop I happened upon on my totally not-planned ride.
I have found that many shoes I have worn over the years are a tad shallow on the recess for the cleats meaning potential damage to polished wooden floors, potential damage to knees, elbows, and bottoms on concrete or flag-stoned floors, and in all cases sounding like a Bob Fosse Jazz freestyle tap routine.
All of these shoes fall into two distinct style categories - stiff-soled, pseudo race shoes with a nodding acquaintance with grip or skate-influenced board shoes which have rubber that seems barely set.
There are also extremes of fastening systems - from basic lace-up, through hook and loop, ratchet straps, wire loops, and then back to laces again - all of which have their merits, but they all ignore one thing: my basic laziness, combined with aging, arthritic fingers.
This probably explains the appeal of Crocs, and when they manufacture a pair of cycling shoes, I'll be one of the first in the queue. Slip-ons are the way forward for the time- and enthusiasm- challenged cyclist - not the enthusiasm for cycling, but for the ritual of getting ready. You have to weigh the time getting kit on against the length of your cycle ride. I also have a habit of leaving a little bit too late for work some mornings.
I was asked to check out some new boots from the lovely people at Quoc Pham and I couldn't have been happier. Their Chelsea Cycling Boot fits into their 'Alternative' range of shoes and they are premium casual wear in their own right - stylish, practical, weather-resistant, comfortable, and dare I say, trendy.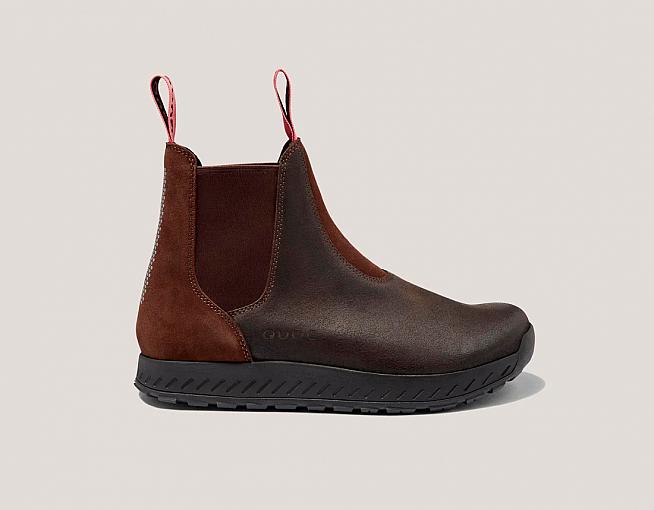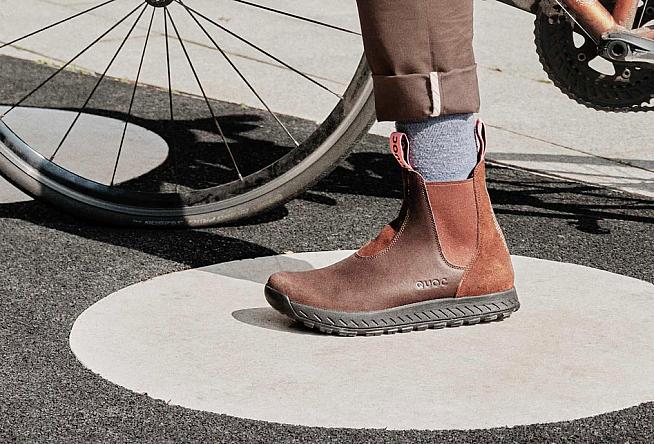 They also come with a removable two-bolt cleat cover for clipless-obsessed senior hipsters like me: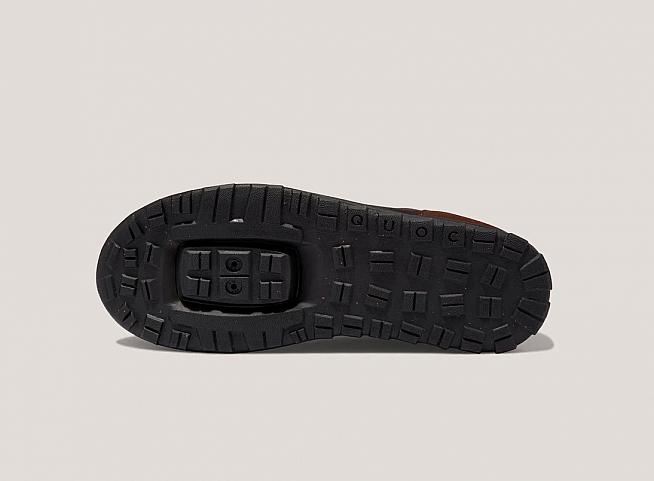 Made from sturdy, rough leather and brushed suede with elasticated gussets and a flat, grippy rugged sole they look the part wearing shorts, chinos, or (I'm told) a skirt.
There's a signature pink loop fore and aft to aid pulling them on, and the contrast makes them look like you have a pair of derping kittens peeping out of the top, tongues poked out in mid-lick.
The boot is finished off with 3M dotty reflectiveness down the back that lights up quicker than a scaffolder on a smoking break when illuminated, but just provides a subtle contrast in ordinary conditions.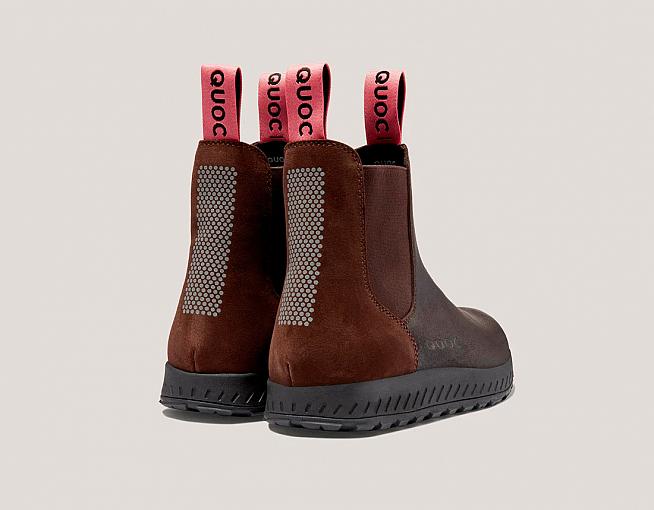 From new, I was concerned that the size of the opening was not big enough for my toes, let alone my whole foot but the laws of cartoon physics prevailed. Once on, the size 44s were a reassuringly snug fit, although the effort of getting my foot in resulted in me having a prolonged sit down as I waited for the vein on my head to stop throbbing.
Later, when I tried again with slightly thinner socks and a more robust technique, the risk of an aneurysm was greatly reduced, but it still takes me and a tug-o-war team to get them off my odd feet. Which is probably why, once on they don't come off very often. Not that this causes a problem as they are supremely comfortable and supportive and have elicited some favourable comments from colleagues at work, especially when I reveal their two-bolt clippiness.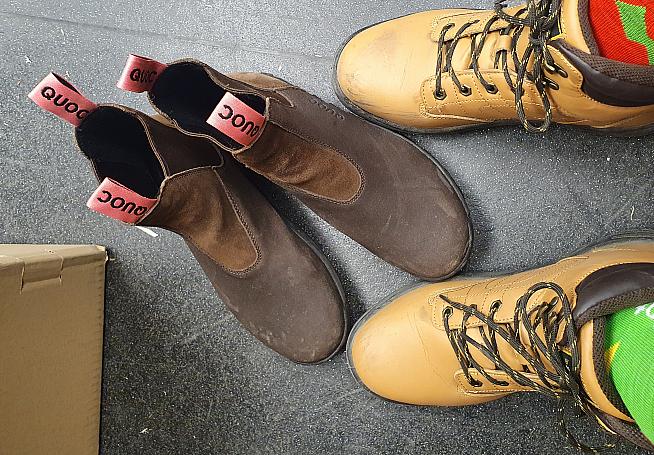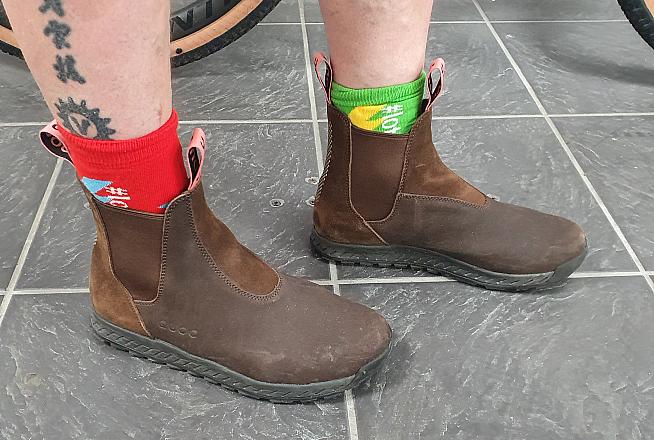 On the bike, they cradle the feet giving me the warm and dry ankles that I have been hankering for all winter, without the faff of overshoes. They shrugged off the rain and road splashes with ease when I got caught out having prematurely removed my winter mudguards, the only water ingress coming down my shins and calves to soak my socks.
I've done a bit of abrasive damage around the heel as I try to push one boot off with the other, but frequent scrapes from toe-overlap and gap misjudgment have buffed out easily, leaving no apparent lasting damage. Despite their indestructible aura, they are comparatively light weighing about the same as my annoyingly complicated winter Northwaves, and looking ten times better.
I anticipate wearing these all year round on short to medium cycles where I'm not looking to ruin my day, or my attire, with an involuntary dismount.
It's not the done thing to turn up to the pub honking of second-hand cattle feed or that rainbow-surfaced standing water you get around farmyards. My only fear is wearing wooly socks and having to sleep in them until I can find someone with a tractor and a winch to pull me free.
A Chelsea tractor, naturally.
Quoc Chelsea Cycling Boot, £180 from quoc.cc
0 Comments