I realise I might begin to sound like a groupie or a stalker with regards to Galibier products but, as I said in the review of the Mistral Pro 2 jacket, when folk buy clothing from Galibier they soon become followers/fans.
That's exactly where I'm at, and for good reason. Have a look at their site and pick any item of cycle clothing and you'll find that nearly all the reviews are glowing and those that have a gripe are generally sizing issues.
I was asked if there was any other Galibier kit I fancied reviewing and, as I browsed the site, I felt like one of my grandkids looking at a toy catalogue and putting a virtual ring around most of what was there, spoilt for choice.
Fire Feet 2 Socks
I was delighted to receive a pair of Galibier's Fire Feet 2 socks to test - an item that, with winter weather firmly established, was certainly on my wish list.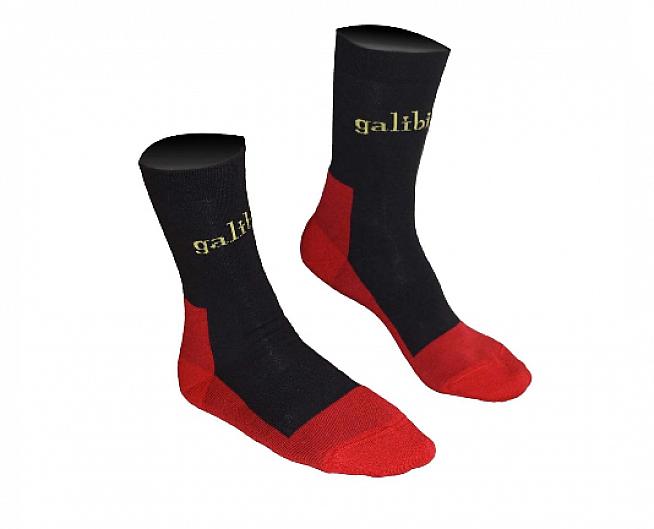 The Fire Feet 2 socks come in three sizes, S, M and L/XL, and cost less than £10 - a point worth stressing because I have winter socks that are almost double the cost and, it must be said, they are twice the thickness of the Fire Feet.
I don't know about the makeup of the thicker socks, but the Fire Feet are made up of wool and acrylic with Merino wool in the mix to aid warmth when out on the road.
My socks were L/XL and at first they appeared to be a little on the large size. But once I got the toe and heel portions in the correct place they went into my cycle shoes with no bother, no wrinkles, no excess material or discomfort.
The socks are thin, no doubt, but once suited and over booted I was off to try out the Fire Feet. The temperature was, according to Strava, 3C feeling like 1C; normally I would have a foot warmer pad inside my socks to ensure that I could maintain some warmth in my feet - nothing worse than cold feet - but on this ride I went without... oh boy!
I was out for six hours, and the only time I gave the socks any thought was about three or four hours in when I realised that I'd forgotten about the socks and I wasn't experiencing cold and numb toes.
The socks work, and did so throughout the rest of the ride - what more can I say?
Don't be deceived by their thin appearance; they certainly lived up to the task so they're a winner in my book. So much so I ordered a pair as a Christmas pressie for my cycling buddy. Sorted.
Galibier Fire Feet 2 Socks, £9.77 - www.galibier.cc
Barrier Base Layer
It seemed to make sense that if I was going to be ordering kit, I ought to make the most of the P&P costs.
I looked at what was next on my shopping list and added a 'Barrier Base Layer' to the order. It gets good reviews and it'll go well with my Mistral Pro 2, I reasoned.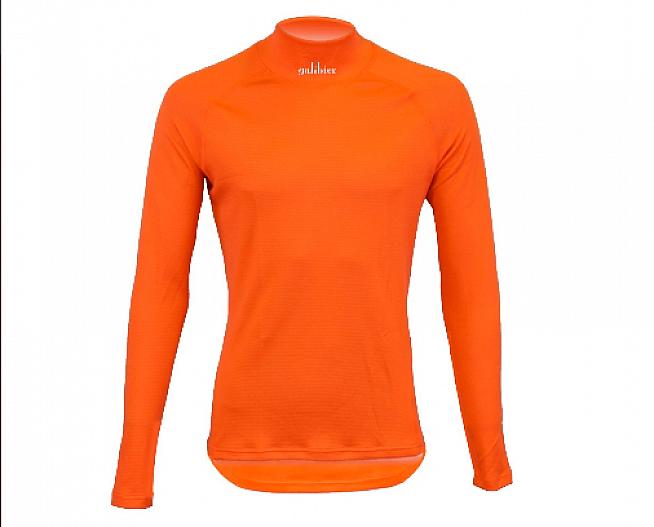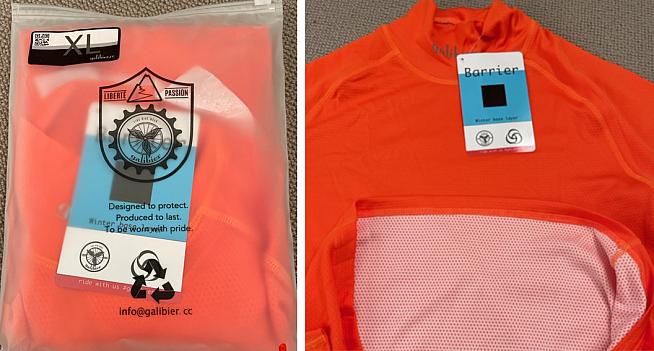 The base layer is orange so when I have the whole ensemble on it looks like, depending on your age group, that I've either been Tango'ed (you'll have to Google it), or defected to the Dutch cycling fraternity, but it's neither and the whole purpose of it is to complement the Mistral jacket and keep me even toastier when I'm out on winter rides.
The base layer comes neatly packaged with a little handwritten note wishing me happy cycling, a personal touch from the team at Galibier.
The bright orange colour is striking, and the material feels velvety smooth both inside and out, which is a good point really bearing in mind that it is designed to be a close fit and worn next to the skin.
Whilst it feels like it is made from a single piece of material the construction is actually a two-part process, the inner part being akin to a minutely thin string vest that is magically melded to the inner part of the garment. Clearly it is designed in such a manner that despite being so thin the inner layer facilitates an air gap between the base layer and the skin to allow for wicking away any sweat that builds up.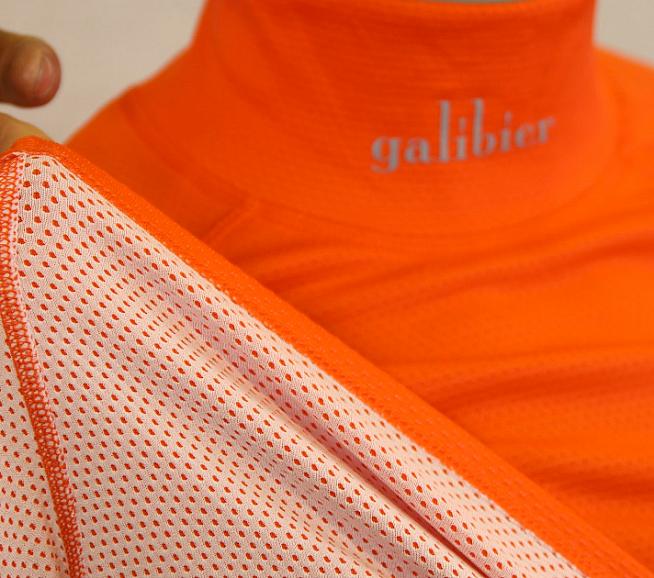 It's certainly a close fit but once again, taking note of the Galibier sizing guide ensured I ordered the correct size.
On first try on I thought that it could probably do with being a bit longer to help cover my 'delicate' frontal bits, but once on the bike there were no worries: everything fit into place and was covered, and the high neckline was going to add to the protection from any adverse winds.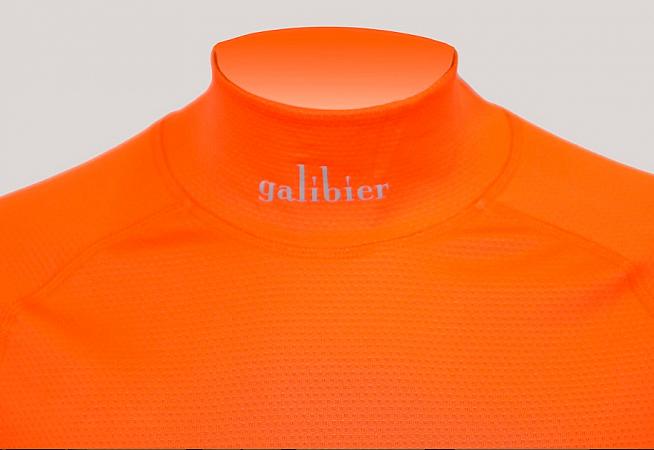 The weather on the day of my ride confused me, totally. All my weather apps were telling me that we were at 12C, not bad for this time of year, with a 'feels like' 8C to 10C, depending which app you took notice of. Looking out of the window it was grey, overcast and quite windy, but I'd already made my mind up and I was off.
Unfortunately, the temperature was around 15C, according to post ride Strava, but the wind was the kind that if it couldn't force you backwards when head on it would try and knock you off when it was a cross wind. Basically, it was a bit of a struggle, but I'm led to believe it's a good training tool. Whatever, I cut my ride short and called it a day after twenty-five miles.
The wind chill factor didn't really exist, so the base layer had no real issues with keeping me at a comfortable level - perhaps, a little warmer than cool. And the barrier base has continued to do so on subsequent rides.
In all honesty I was probably a bit overdressed for the conditions as the layer was fairly sweaty after that ride, but a quick 30-degree wash, using the favoured Halo sports wash, got it ready for its next outing.
A good looking, comfortable, well-engineered and functional bit of kit - yet another big tick for Galibier.
Galibier Barrier Base Layer, £29 - www.galibier.cc
Barrier Merino Head Set
The message about my liking of Galibier kit must have been getting across to my family - or was it the heavy hints that I was dropping about possible Christmas presents - because one of my daughters got Father Christmas to bring me the Barrier Merino 'Head Set'.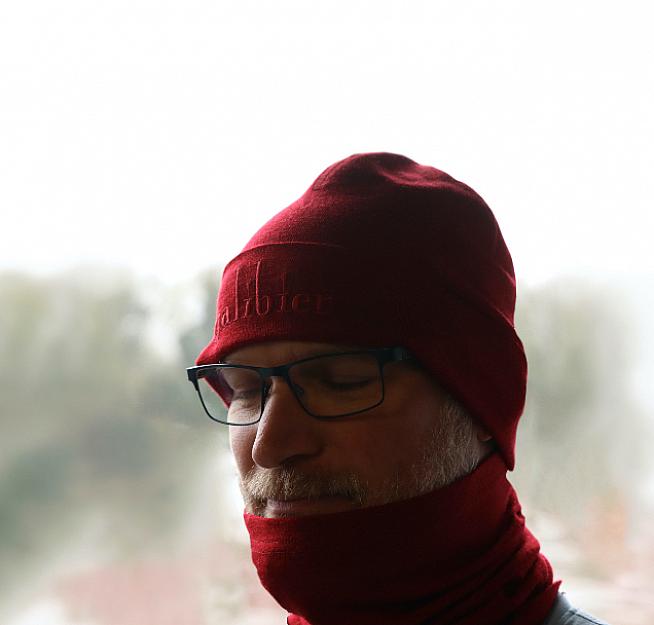 The set consists of a merino wool beanie hat with Galibier embroidered on the front face, and a tubular scarf in my favoured colour choice, Navy - other colours are available.
The Head Set came in a classy looking box, ideal for wrapping up as a present, and my daughter was quite chuffed with the Galibier "happy cycling" message she got, considering she doesn't ride.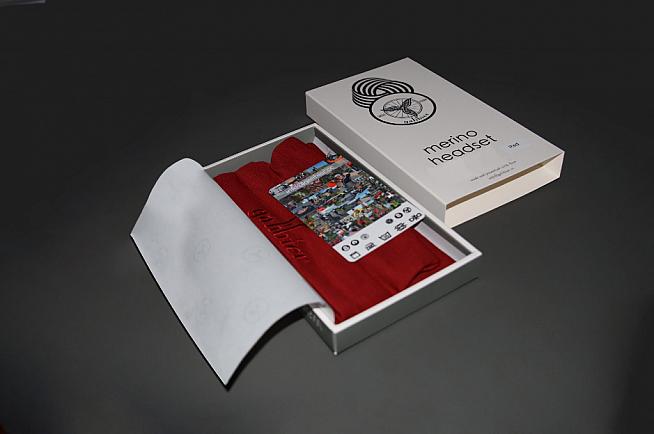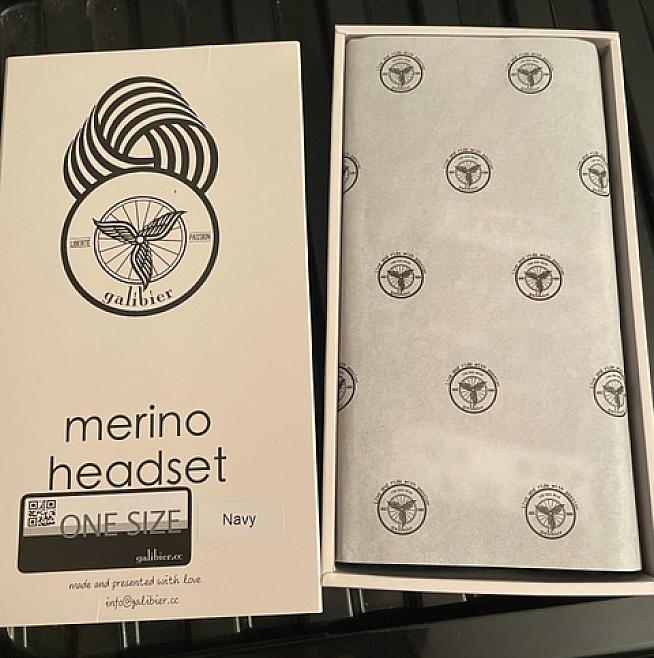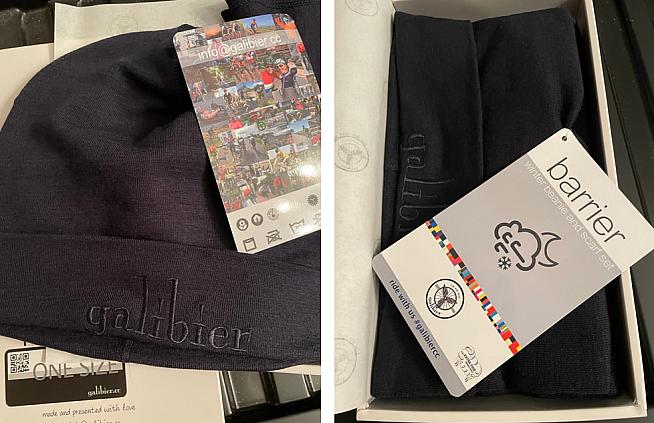 I wasn't totally sure if this kit was designed to be a combination to be worn off the bike, to make you look cool when out shopping, or an addition to the "keeping warm" arsenal for when out riding.
At first wearing, a trip to the local supermarket, I wasn't too keen on wearing the neck buff as a scarf so decided to wear just the beanie hat. It certainly kept the brain cells warm, and I decided to take the hat and buff combo out for a trip out on the bike.
Boy, did it work. The scarf was comfortable, not itchy as I thought it might be, and the hat fitted well under the helmet.
I tried all this out on the same day as the initial ride with the base layer etc so I was more than warm, almost overheating, on such a mixed-up weather day.
I have every confidence that the 'Head Set' will look after me when the temperatures really drop. Bring it on!
Galibier Barrier Merino 'Head Set', £28.25 - www.galibier.cc
Low profile, high value
Post-Christmas we were, once again, in the local supermarket and whilst the missus was attending to the needs of this visit, I looked at a cycle magazine that had an article comparing different winter cycling jackets.
They'd tested quite a few, and in some respects I was surprised to see that the Galibier Mistral Pro 2 didn't get a mention - but then again, maybe not too shocked. When these kinds of reviews come out it's usually the big hitters - the more well known, in most cases more expensive - brands that get trialled.
That's a bit of a shame really, because not only are the reviewers missing out but so are their readership - the very people the reviews are intended to help. I cannot offer an alternative scope of reviews, but I wouldn't mind guessing that my Galibier kit will stand up against any of the excessively more expensive brands that are out there.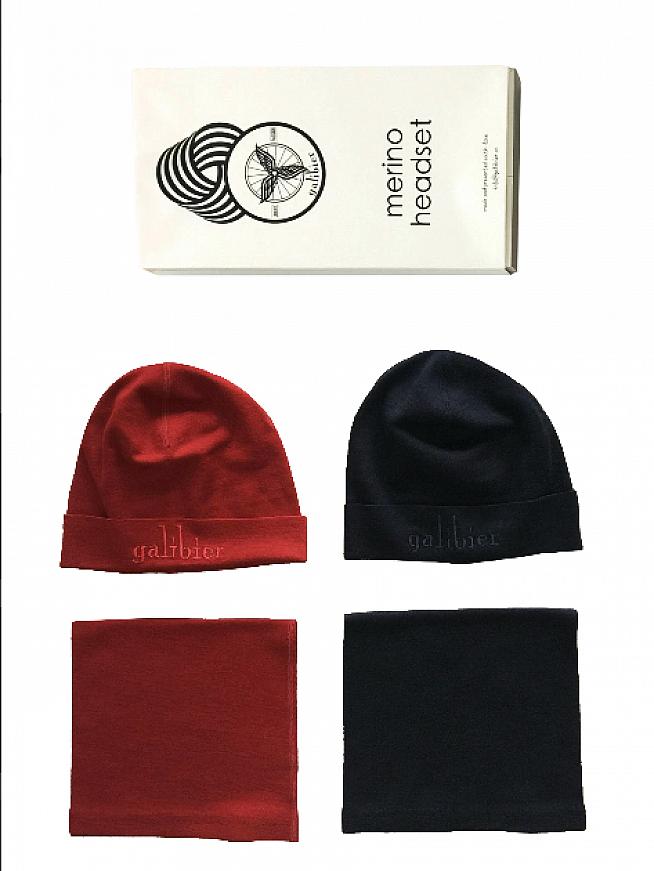 I've written a couple of pieces now on the Galibier range, but I ought to stress that I am not employed by Galibier and have no affiliation to the company, other than being a very satisfied customer.
Based on the items I have bought, and worn whilst out on the bike, I often wonder what the Galibier research and development programme must be like and how many iterations, and potentially failures, they must go through to offer the value for money, quality garments that are available to us cyclists?
Obviously, we all have the choice to buy and wear whatever kit suits our needs, pockets and, maybe even, our egos - but I know where my first-stop shop is for sure.
Happy New Year to one and all, and here's to a 'happier' cycling year. Keep safe.
0 Comments