As the weekend temperatures appeared to have dropped somewhat, it was clearly time to start getting the winter kit out to stay on the warmer side of cool when out on the bike.
Unfortunately my first attempt was a bit of a fail so, perhaps, some new cold weather kit was required - or at least that was my excuse.
One piece of clothing that I regularly turn to is my Galibier gilet, so I visited their site to see if there was anything available that might suit my needs and, bingo, there it was: the Mistral Pro 2 Jacket.
Galibier may not be one of the better-known cycling clothing companies, but I think it would be fair to say that customers quickly become return customers and followers of their products.
Based in Northern Ireland, Galibier have been in the cycle clothing arena for over twenty years, involved in cycling even longer, and have increased their clothing portfolio steadily over that time.
Another strength of the Galibier brand is that they sell direct and, as you will see if you visit their site, their prices are gobsmakingly good, especially when compared to other providers. Because of this they rarely do sales, offers or gimmicks, just good honest value for money.
Like all good cycle clothing providers Galibier offer advice on clothing care which I would advise checking out because it applies to all our clothing, whatever make, but one piece of advice they offer makes me smile and that is, 'Always wave at passing cyclists, it will make the cycling garments glow happy'. Love it!
So back to the jacket. I chose the orange version, also available in black, as it appears to be the 'in' colour now but more importantly, it should aid visibility when out on the roads during the winter season.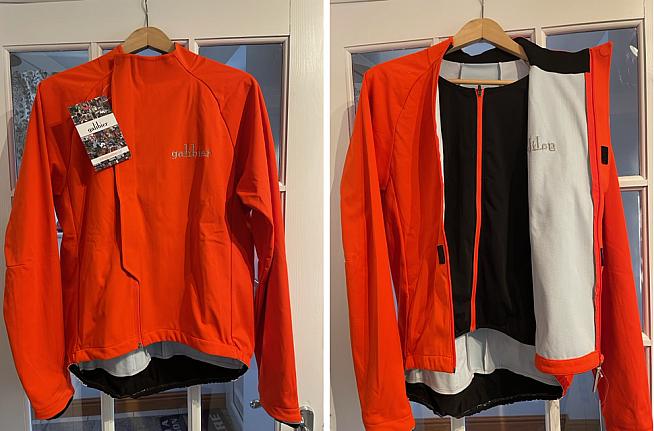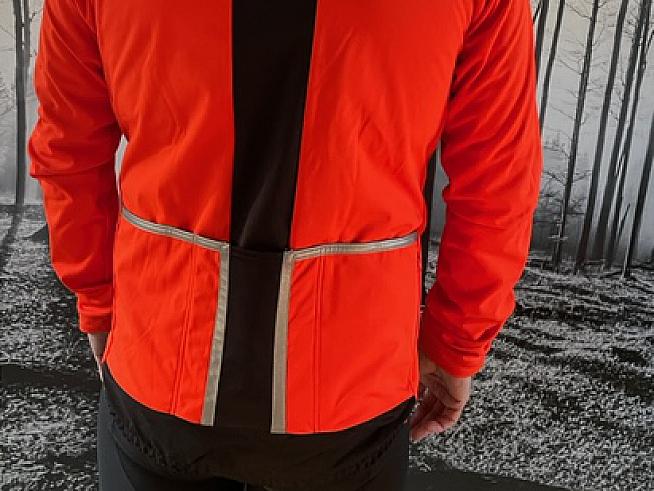 The main principle of the jacket is that it is dual layer. An inner layer, which is constantly zipped up, keeps you warm and the outer layer, which can be zipped or unzipped, adds extra protection in the cold but also provides protection against rain and extreme weather, should you have the desire to venture out in the more severe weather conditions.
Galibier offer a sizing guide and fortunately my size drops straight into the XL size category, but the advice goes on to say that as the jacket is designed to be neat fitting and only requires a base layer next to the skin. That is a brave statement to make but, reading the reviews, it seems quite clear that riders have tried it and it works.
With a price tag of pennies over £89 and with absolutely glowing reviews from every purchaser, except one owner who had sizing issues, it was a no brainer and the order was placed. I actually ordered it on a Tuesday morning and when I arrived home from work the following day my new jacket was there waiting for me, what a result!
I was obviously eager to have a look at my new jacket and try it on. Having opened the packaging and removed the jacket from its zip closed bag the quality of the material was obvious - it oozes quality.
Trying it on was the next task and it fits perfect, nice and snug without being tight.
The inner part of the jacket has a vertical zip whilst the outer jacket closes over the inner zip and fastens on the right hand side of the body, which clearly shields the inner zip area.
The neck/collar area is a little higher than my other jackets and should create a little more protection against the elements.
Whether the outer jacket is closed or open there is a hidden magnet inside the edge of the collar which holds it in place to prevent any unwanted flapping about.
With three large rear pockets and a zipped waterproof valuables pocket it's all set up for guarding against the elements. It has to be said the jacket is an absolute piece of art, it is beautiful, but the proof of the pudding has to be taking it out for a ride so that's where I've got to go next.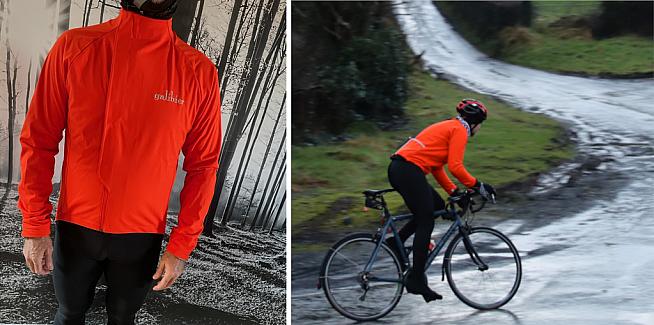 It just so happened that the coming weekend was billed as a prelude to winter with Storm Arwen hitting the country, so game on.
A quick check of the weather forecast indicated that Saturday was gale force winds, heavy rain and not much fun, so Sunday it was. I found it hard to believe that I was looking forward, nay excited, about going out on a day with such a poor forecast. On days like these, I tend to do a turbo ride but I really wanted to see how the Mistral jacket would fare in such conditions.
So the winter bike was checked and prepped and it was then I noticed the frozen snow on top of our wheelie bins which, if I hadn't already noticed, proved it was going to be wheelie cold (sorry I couldn't resist the pun). I could see my breath lingering in the air so it was going to be a real test for the Mistral, and me.
I have to admit to having a wee bit of trepidation once I'd got dressed because I didn't feel as bulked out as I would for a ride in these sort of conditions. Could it be true that all I needed under the jacket was a base layer? Despite the claims I put my gilet, a Galibier one as it happens, in my back pocket just as a little bit of a back up if things got too cold.
The three rear pockets appeared to be deeper than normal jacket pockets and I was quite pleased that the extra zip pocket accommodated my phone without any stretching to force it in.
Once I got started, I began to question my own sanity. The roads were glistening with frost, the puddles were iced over and I wondered if I was just pushing things a little too far. I had a route in mind that, should things get too uncomfortable, I can turn off and cut the ride short but, in the end, it wasn't necessary.
Post-ride my Strava report told me that the temperature was -1C feeling like -7C which, according to the Galibier info chart, was lower than the temperature range for the Mistral.
Obviously I didn't know that at the time, but at least it was going to be a good test of the jacket.
Strava also told me that the wind speed was 16.7 miles per hour and no matter where you ride in the Fens you can be sure that you are going to be hit with a full headwind, as well as a tailwind of course, throughout the ride. Another great test for the jacket.
It was cold but I didn't feel cold. I am not suggesting for one minute that I was riding round feeling toasty and akin to sitting on a beach in Barbados sipping a Pina Colada, but neither was I tensing up trying to warm myself up. I did feel the chill but not the cold, if that makes sense. I've always been told that to be comfortable in cold weather you need to feel just on the positive side of cool, and I was. With a high, secure, neck fastening and the double layer fabrics coupled with the lower back being suitably covered, the jacket kept the wind out and my body was able to maintain a regulated temperature throughout.
In a few of the glowing reviews on the Galibier Mistral site, other riders mentioned that wearing a merino wool base layer with the jacket enabled them to keep warm. Unfortunately, I don't have a merino wool one but my base layer was an Aldi special and it seemed to do the trick. I'm not sure if a merino one would have made that much difference, but I can live with what I've got for now.
I cannot comment on the waterproof abilities of the Mistral because, thankfully, it didn't rain on the day and I cannot really pass any comment on the effect of opening the outer layer to help with cooling down - the day was cool enough, honest.
What I can comment though is what turned out to be quite a stern test, in my eyes, of the Galibier Mistral Pro 2 jacket.
The day I chose to ride was below the expected spec of the jacket, temperature wise, and throughout the 32 mile ride I did not feel compromised and was comfortable enough to carry on riding. There was no build up of sweat or excessive body heat indicating that the jacket vents well enough to help maintain a good body temperature.
As previously stated the Mistral is a thing of beauty to look at to feel and to wear; one of my mates has already ordered a jacket just on the strength of seeing mine.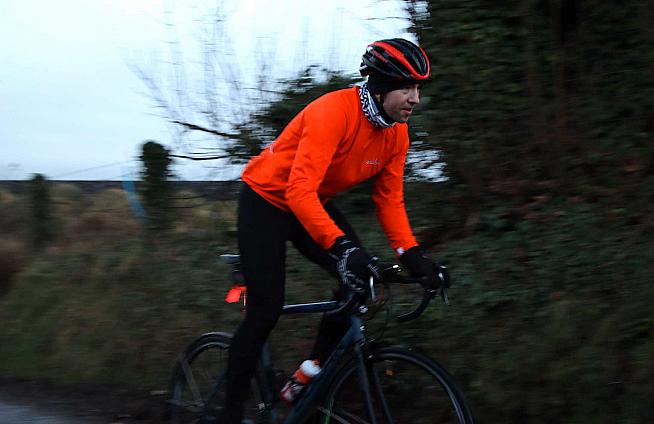 I wouldn't suggest that I'm a fair weather biker, but any bad weather limits I may have had have now been shifted thanks to this jacket. I can honestly say that for me it really is a game changer and I'm not the only one, just read through the reviews on the Galibier site.
Dare I suggest that the Mistral Pro 2 does what it claims to do and more. Love it!
If you're in the market for a new winter jacket I can wholeheartedly recommend the Galibier Mistral Pro 2. And, if you're quick enough, the white bearded fella with the red suit might even be able to fit one on his sleigh for you.
Galibier Mistral Pro 2 Jacket - £89.22 from www.galibier.cc/product
0 Comments