There are three things critical to every bike-packing adventure: food, water and power.
Halo's Vapour GXC 29" wheelset with Shutter Precision PL-7 dynamo hub brings the power. You gotta take care of the picnic.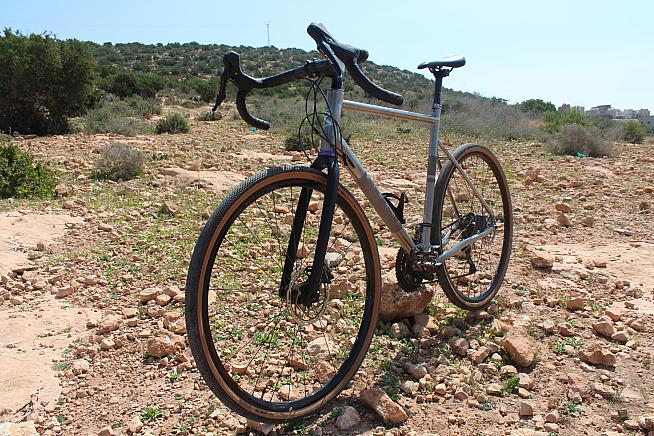 Overall, the Vapour GXC are great wheels to ride. They are lightweight, durable, and have the flexibility to be used on road(ish), gravel, and light mountain-biking.
Design-wise, Halo has kept abreast of design trends with disc brakes and thru-axles.
All in all, they're a great, competitively-priced addition to a bikepacking or even commuting set-up that will serve for years.
About Halo
Halo are a UK-based wheels company that first got rolling in 2000.
According to the brand, they got started because they were frustrated with being able to only buy crap equipment. So, Halo made it their mission from day one to continuously up the stakes on quality.
They do so by hand-building all of their wheels guaranteeing attention to detail. They work with a range of riders from different disciplines riding all over the world. The riders provide feedback on what they like and what could be changed further improving design and quality.
About the Halo Vapour range
Halo offers their Vapour Dynamo wheel in five different variants:
Vapour GXC Dyno Tour 29″ Front Wheel
Vapour GXC 29″ Dyno Front Wheel
Vapour GXC Dyno 27.5″ / 650b Front Wheel
Vapour GXC Dyno Tour 27.5″ Front Wheel
Vapour Dyno 29″ Front Wheel
I tested the Vapour GXC 29" / 700c Wheels as a set front and rear. I'll focus on this pair in this review. But, just know there is a range of options from Halo dependent on your needs!
The Vapour GXC wheels are designed for off-road rides ranging from the longest-distance gravel races to lightly loaded touring and even cross country MTB action. These wheels are touted to be the lightest in the Vapour range.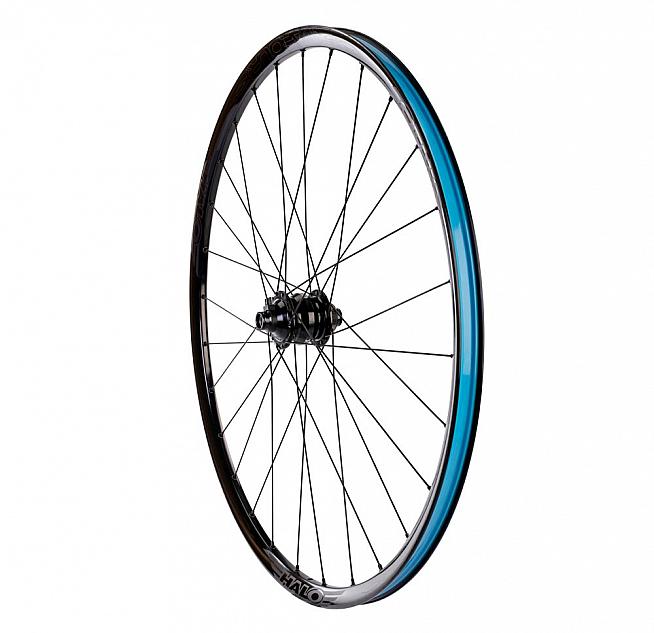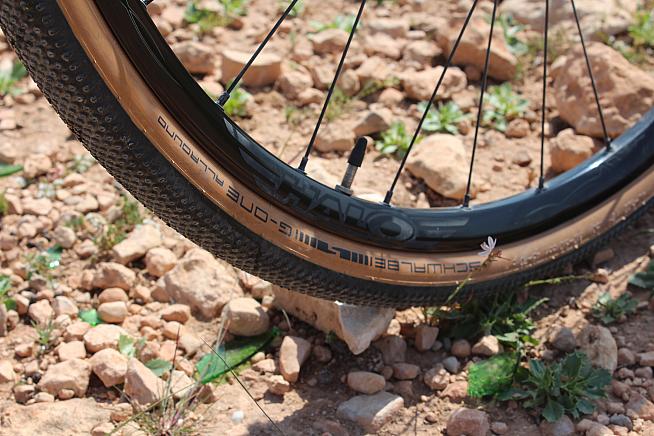 They feature thru axles, sealed bearings, wide-spaced flanges for increased stiffness, a centre lock disc mount, and come pre-taped and are tubeless-ready straight from the box. The J-bend spokes are non-proprietary, so if a spoke is broken on your travels it should be easy to source a replacement.
Further specifications shared by both wheels are the rims used (Vapour), the rim depth (22.5 mm), the internal width (21 mm) and the external width (26 mm).
The front wheel weight starts at 780g, but the wheel I got was fitted with an SP PL-7 dynamo hub for 12mm thru axle for a total claimed weight of 1050g.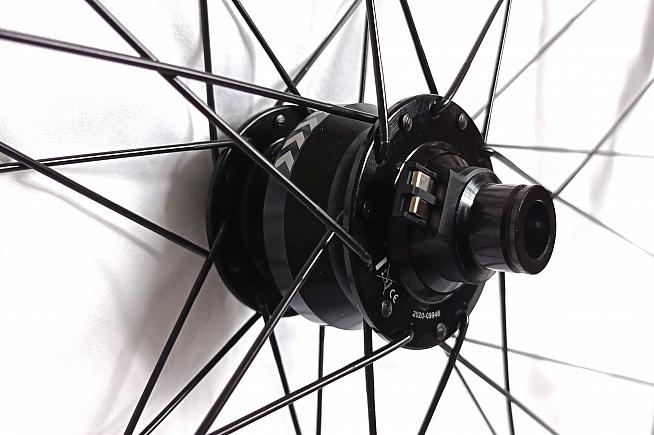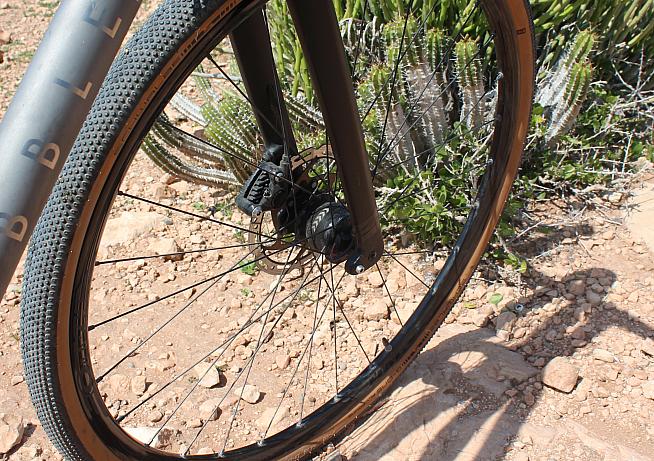 The dynamo hub used in the front wheel is made by Shutter Precision (SP). They are a Taiwanese company and they've been producing dynamo hubs that are in high demand with audaxing and ultra-distance cyclists.
The SP Dyno's PL-7 hub is built using precision 6V3W dynamo. Halo build the wheel with the more contemporary 12mm thru-axle, or a 9mm quick release. They also offer the option of a 15mm thru-axle, if needed.
The Vapour GXC 29 rear wheel weighs from 1025g.
The rear wheel is built using a GXC Supadrive hub. Specifications on the GXC include:
Drillings 32H
Bearings Hub - 2 x 6902. Freehub - 1 x 6802 and 1 x 15267
Axle 135 x QR5/10mm and 142 x 12mm Cr-mo thru
Disc Mount Centerlock (optional 6 bolt adaptor available aftermarket)
Freehub Shimano Road 11 HG or Sram XDR or Campag options
Drive System Supadrive- 120 engagement points (3 degrees), 3 wedge pawls
Spoke Hole Circle Diameter (PCD) Left 45mm Right 52mm
Centre to Flange C-L 33mm C-R 19mm
From 285g
Test Conditions
I've been testing these wheels on a bike tour from the UK to Morocco. My original plan was to cycle down through France and Spain into Morocco and then wander widely.
Doing the journey was an awesome opportunity to schlep around a mobile power plant via the dynamo hub.
But, alas, the same forces which enabled a long-term bike-pack also laughed at my efforts. I cycled through a bit of France and flew to Marrakech to cycle around Morocco.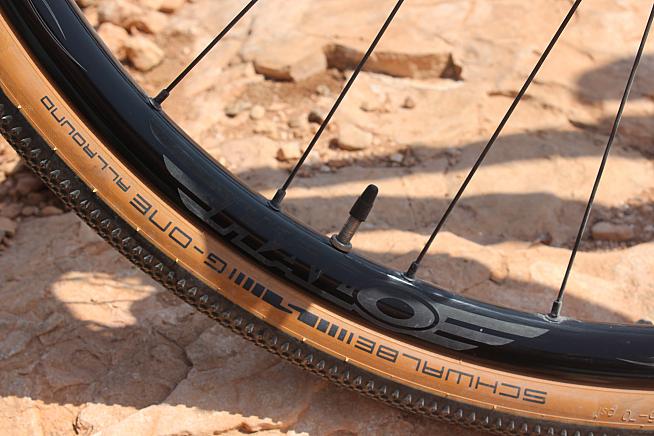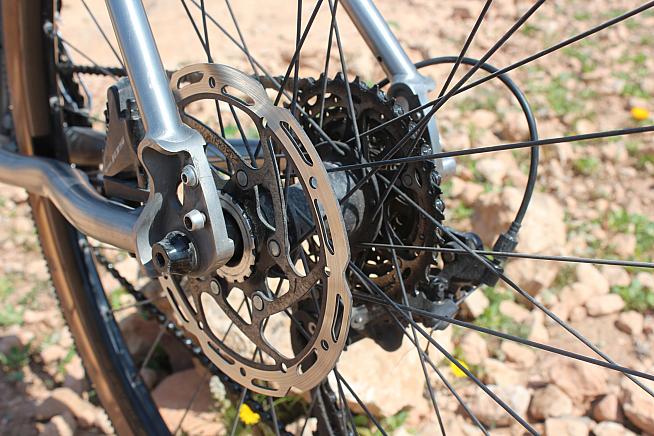 I didn't ride as much as intended, but I've certainly ridden on the Vapour GXC enough to get a decent feel for how they perform. I've ridden these wheels through crappy weather, good weather, good road surfaces, off-road and through dust and sand.
To do all this riding, I strapped some 700 x 40c Schwalbe G-One tyres with tubes onto the wheels. The frameset is a lovely new Ribble CGR Titanium which Oisin tested in its original guise back in 2019.
< Ribble CGR Ti review: Titanium flavoured go-anywhere adventure bike >

Review
One morning I got a text that the delivery driver was out front - and, like a kid on Christmas, I squealed at the news!
The wheels were delivered well packaged. Out of the box they looked lovely, with the black finish and discreet branding on the rims.
Not having the tools or knowledge to get the wheels properly set up with cassette, disc brake rotors and the like, I dropped 'em off with a guy. Thirty minutes later, they were ready. He had the bike fully set up. And, away I went!
While riding, the front wheel didn't feel like there was any difference from a normal hub. There was no notchiness or noticeable resistance.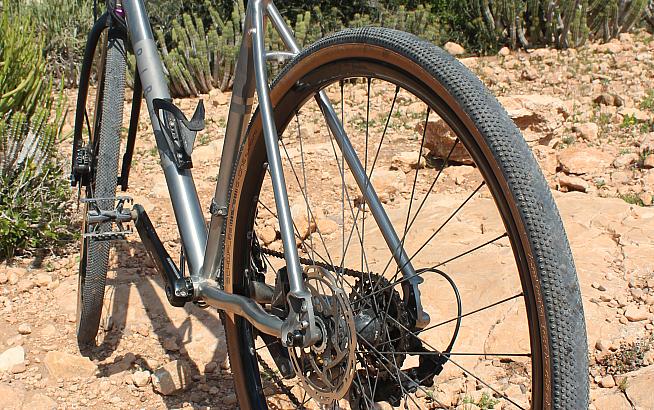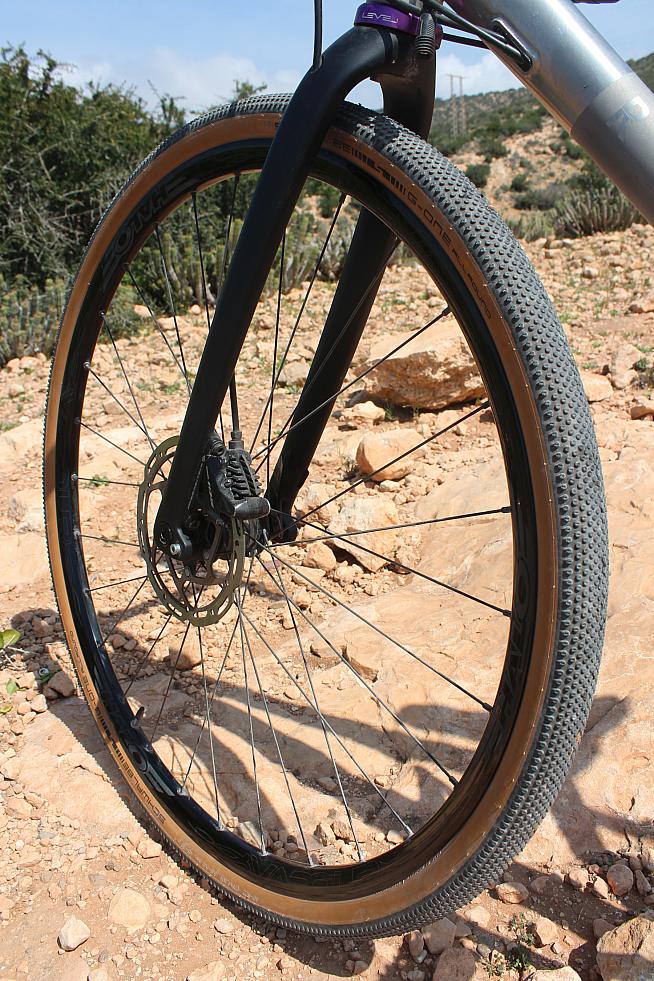 I hooked up the hub to a Velocharger adapter, which has a USB port allowing me to charge a battery pack, or my phone, head unit, etc. It's also possible of course to run a dynamo headlight directly off the hub, if you have one.
The hub and VeloCharger set-up has worked fantastically well, and I've not had to worry about charging my devices while on the move. You can read a full review of the Velocharger here:
> VeloCharger review: Dynamo-powered charging on the go >
So much for the electronics. As for the rest of the wheelset, these are some tough wheels.
Most of my riding has been with a fairly heavily loaded rear; I had a pannier rack, pannier bags, sleeping bag, and tent adding extra weight and strain to the rear wheel. It has fared remarkably well with no sign of strain or buckling despite its obvious suffering!
While loaded touring would be within the design remit of these wheels, they can stand up to cruel and unusual punishment too. While I was riding in Marrakech, some kids on a scooter accidentally rammed straight into the back wheel of my bike unbelievably, there was no damage to the wheel! I repeat, no damage! Not even a loose spoke or having to tweak the gear indexing!
Hundreds of miles later, the wheels are still rolling smooth and true and I've every confidence they'll see me home - when I'm finally allowed to travel freely again that is.
Summary
The Halo Vapour GXC 29" wheelset is ideal for a distance foray, especially, with SP Dyno's PL-7 hub installed on the front wheel.
The wheelset gives uber confidence while riding, they are resilient to wear, and the power-plant front hub eliminates a major barrier of long-distance cycling.
Not only are the wheels well-made, they're very competitively priced too - £219.99 for a dynamo hub front wheel looks like a bargain. For comparison, a Hunt dynamo wheel (using the more expensive Son 28 dynamo hub) will set you back over £400.
If you're looking for a no-nonsense, tough wheelset that can handle your power needs and put up with a bit of abuse along the way, the Halo Vapour are a solid proposition.
Halo Vapour GXC 29″ / 700c front wheel with SP PL-7 dynamo hub - £220 from www.halowheels.com.
Halo Vapour GXC 29" Wheelset (non-dynamo) - £460 from www.halowheels.com.

0 Comments