On a long-distance, multi-day cycling tour, dead batteries are a certainty. It's going to happen.
But, there's no need to fret. There is a solution, and that solution is both affordable and easy: become a rolling power station!
How? The answer is a dynamo hub that generates power as you ride along.
Fantastic as dynamo hubs are, they push out an unstable AC charge. You can connect them directly to a front light, but if you want to use them for charging battery powered devices like a smartphone or GPS cycling computer, you're going to need an interface.
Again, no need to fret because there are a variety of solutions for this problem too - and one of them is VeloCharger.
The VeloCharger USB charging system converts device-frying AC into a more stable DC current. Simply hook it up to your dynamo hub, plug in your battery powered device, and voila: you now have a phone/Garmin/battery pack-charging cycling set-up, saving pennies and reaping jealous stares all round!
About VeloCharger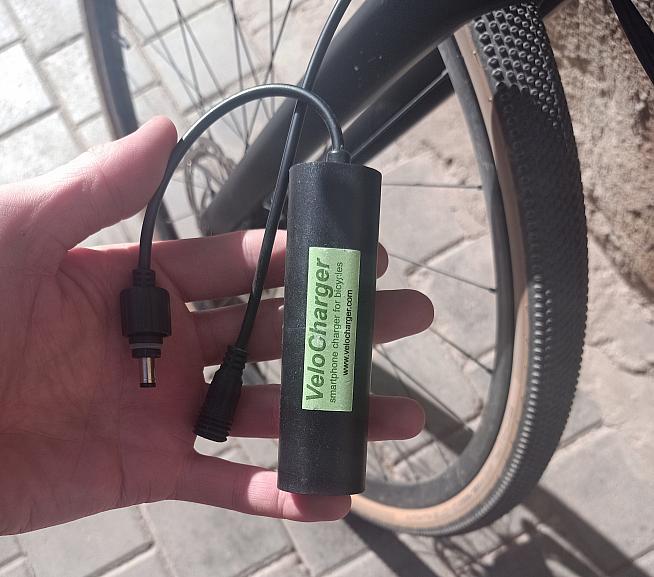 The VeloCharger is produced by Adept Electronics in Beckenham, Kent. They launched the VeloCharger Classic in 2015, originally for use with bottle dynamos, while the more recent VeloCharger Hub model reviewed here is designed for use with the increased power output of hub dynamos.
In the handful of years since launch, the VeloCharger has established itself as one of the most powerful and reliable chargers available.
In a nutshell, the current that is generated from a dynamo hub is AC; the VeloCharger converts this to a stable 5 volt DC supply that makes it safe to charge devices.
The VeloCharger hub provides an output of up to 1.5 Amps. According to Adept Electronics' website, this is enough to charge phones, navigation devices and lights - even an iPad.
The device can provide the same power as a standard mains wall charger, say Adept - providing long-distance bikepackers with the assurance that there's a way to charge USB navigational devices, phones, lights and battery packs.
Black box of tricks
The VeloCharger comes complete with 850mm dynamo lead, cable ties and Velcro straps to secure it to your bike.
The unit itself is a relatively compact, lightweight black plastic cylinder measuring 32mm x 25mm x 106.5mm. It weighs a feathery 52g and fits nicely into the palm of your hand. Your USB charger attaches to a socket at one end, while at the other end is a 160mm lead and plug that will hook up to your dynamo lead.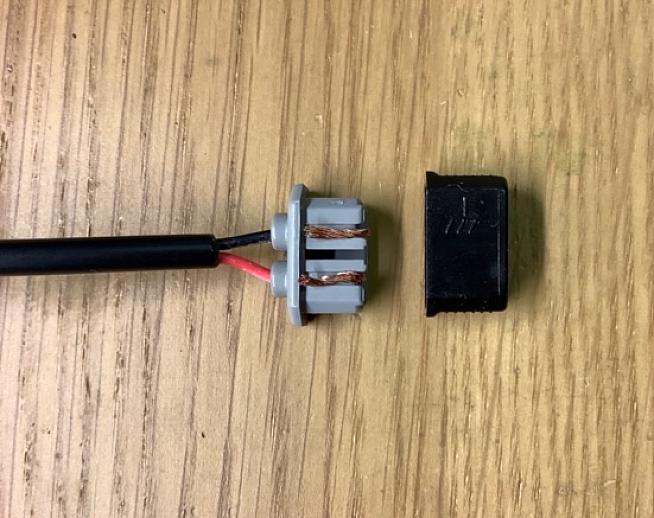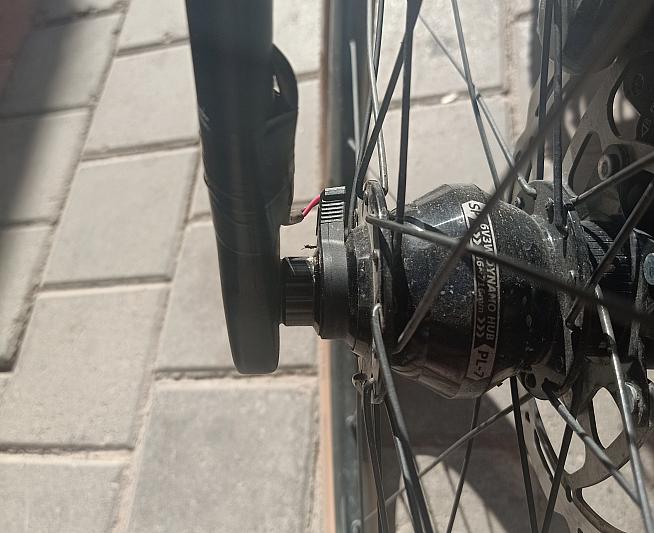 It is waterproof apart from the USB socket, which is inset for protection, so Adept recommend mounting it on the downtube of the bike with the socket facing to the rear and downwards.
Adept say they don't get any water damaged returns, so are confident about the design of their product. They even offer a lifetime warranty. However, they note that some people do choose to keep them in bar bags for extra protection from the elements.
Having ridden through torrential rain that saw the charging port on a rubber-sealed Garmin head unit rust over in a matter of days, we would advise erring on the side of caution!
I've been carrying it in a frame bag, which keeps it protected along with whatever devices I'm charging on the move.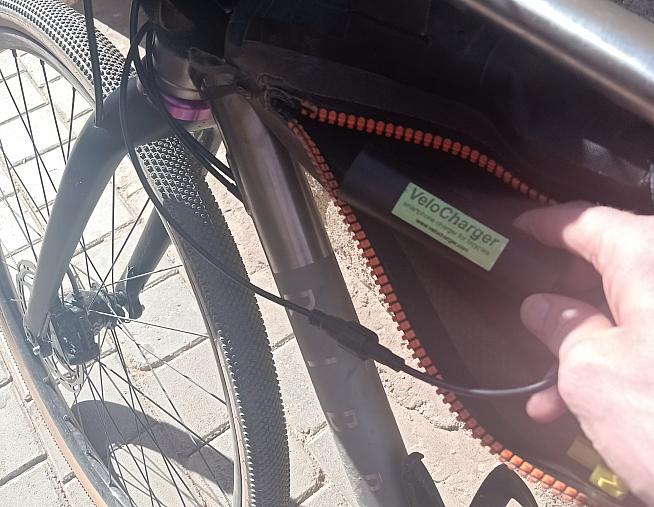 If you do attach it to the bike frame, the Velcro straps mean it can be easily removed when leaving the bike unattended or for storing between rides.
Priced around £70, the VeloCharger Hub is available from a number of retailers including eBay, Amazon, Spa Cycles and Bike Bag Warehouse.
Test conditions
I'm curently plodding around north Africa (Morocco, Algeria and Tunisia) for the winter time.
The plan was to cycle from the UK through France and Spain and ferry into Morocco. Covid had other ideas.
But, I'm in Morocco now and am happily touring around. I'm calling this trip the North Africa Coddiwomple! Coddiwomple means 'to travel purposefully toward an as-yet-unknown destination'.
Cycling from the UK to Morocco and beyond, I needed to charge devices!
I didn't fancy the cost of accommodation or huddling in some cafe whiling away precious daylight hours to charge my devices. Being self-sufficient was the answer.
Wiring the VeloCharger to the dynamo hub on my bike wasn't too tricky. Strip back the rubber outers to expose enough copper cable and make contact with the contact points. There are no positive or negative wires. But, it is important not to make contact between both wires when the wires are connected to the contact points on the dynamo hub. Being sloppy with wire contact can fry your dynamo.
I will say, the instructions provided are clear on how to wire. They are definitely worth reading and having on hand when wiring up the device.
I was running a waterproof top-tube bag, so I ran the USB charger into the bag as mentioned above.
Once wired up, it was time to see how off-grid I could get!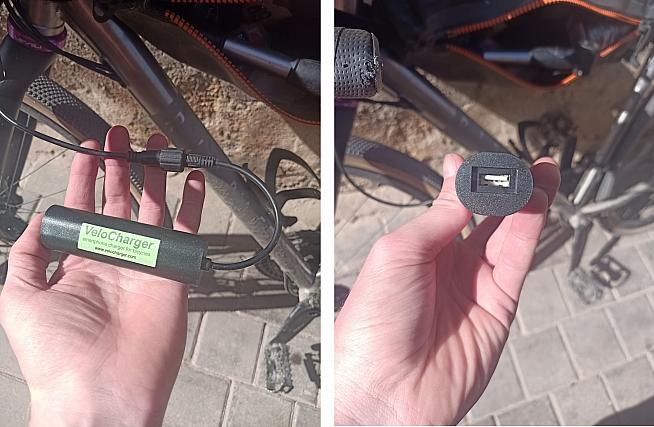 It worked!
I tested the VeloCharger using a Halo Vapour GXC 29" (700c) front wheel built on an SP dynamo hub. A road-plus disc wheel designed for long-distance gravel races, ultra-distance adventure riding, XC racing and lightly loaded touring, it's proven ideal for my requirements on this trip.
Different sized wheels can generate a minimum charge while cycling different speeds. Roughly, though, charging starts at approximately 8mph (13km/h) and will cut off at speeds exceeding 30mph (48km/h). The topping out at 30+ mph is to protect the device's circuitry.
And so I cycled. I forgot about the dynamo, the VeloCharger and my devices. I forgot because I no longer needed to worry. I was able to enjoy the ride. If my phone (i.e. primary navigation unit) was showing a 15% charge and I had a 6-hour cycle ahead of me, I didn't fret. I knew I could still use the phone and charge it.
Better still, that applied to all devices. I was able to charge my phone and both my front and rear lights (all of which are USB charged) over the course of a day's riding.
The answer to power-hungry cyclists' prayers
Charging devices is a must, especially when it's a long (even multi-day) cycle.
In my experience the VeloCharger USB charging device from Adept Electronics is the answer. Attach to a dynamo hub, regulate currents and charge devices while cycling - it's that simple!
The VeloCharger is very straightforward to set up and use with the instructions provided. You don't need to power lights or devices directly, either; another option would be to use the VeloCharger to top up a powerbank, and use that to charge your devices.
Being a rolling power station takes away any anxiety caused by the prospect of dead batteries. And, without anxiety, it's possible to focus on other things. Like, enjoying the ride and company you're with. You know, the important parts of riding!
VeloCharger Hub - £70 from www.spacycles.co.uk
Want to follow my adventures on the North Africa Coddiwomple? Follow me on Instagram and Strava.
0 Comments