You may already know that British cycling brand Orro manufacture a range of road, urban and gravel bikes; you may also know they sponsor a sportive - the Orro Sussex Downs Classic.
But did you know that they also produce their own range of cycling clothing, as well as selling some other well-known brands?
I discovered this after collecting my new Orro Gold endurance bike from the Sussex-based brand late last year. It seemed only fitting to team my shiny new bike - review below - with some new kit, and I was really impressed with the range on offer from Orro.
> Orro Gold STC Disc Review: Gold-standard endurance and sportive bike >
The Orro-branded kit is of course a great match if you're riding an Orro bike, but the branding is discreet enough not to clash with your other, ahem, sponsors.
Here's a selection from their range, hand-picked to match and complement their bikes.
Orro Gold Luxe 2.0 Jersey
Let's start at the top with Orro's Gold Luxe 2.0 Jersey. Designed for style, comfort and breathability, say Orro, it has three generous pockets and an additional zip pocket - but how does it hold up on the rigours of a hundred-miler?
The jersey has a stylish look and feel, with a single-colour body contrasted nicely by Orro's signature colour. The gold zip, cuffs and embroidered logos all add a touch of luxury, adding panache to your ride as well as elegance at the coffee stop.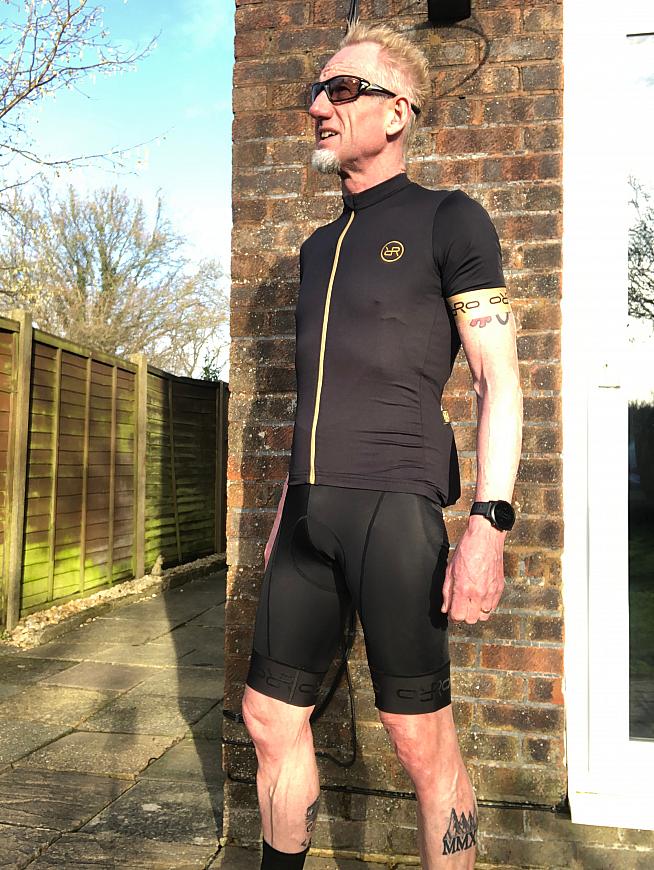 That's a tick in the all-important looks box; tick-boxes two and three are comfort and capacity. Capacity (aka how much can I stuff in my pockets?) is a criterion often overlooked in jersey reviews, but as a regular centurion deep pockets are essential for equipment and nutritional needs.
All three pockets are super-stretchy and a generous 16cm deep, with the outer two being 9cm wide and the larger middle pocket 11cm. This makes more sense than the traditional three equally sized pockets, as you're more likely to stash your jacket or gilet centrally.
My day's food stockpile of three malt-loaf slices, two energy bars and five energy gels were safely tucked alongside my smartphone and waterproof jacket, leaving enough room for my arm warmers, should they become redundant. The zip-pocket, measuring 10cm across and deep, has enough room for keys, ID, wallet or even a small phone.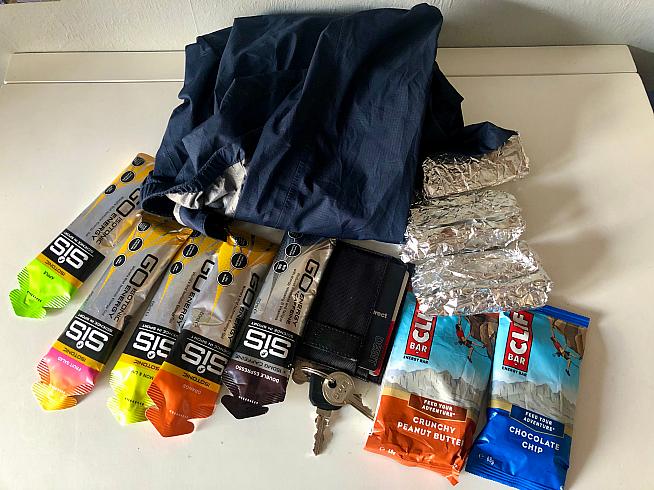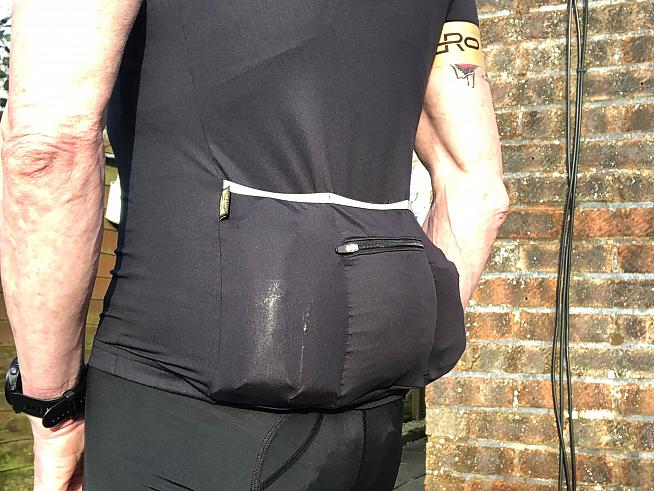 Other jerseys I've worn (and there's been many of them) either fail to cope with my quantitative needs or sag and droop under the pressure. No-one likes a saggy jersey, especially when you ride out of saddle with your lunch swinging like a pendulum. Fortunately, Orro don't do saggy, the elastic at the top of the pockets does a great job of keeping everything fine and dandy.
As for comfort, these jerseys are made from a Nair fabric which has a pleasant softness and luxurious feel as it sits on your skin. The jersey (a super-light 200g) sits tight on your body and allows a full range of unrestricted movement.
The top of the zip has a 'garage' at the neck to avoid abrasion, the elasticated cuffs sit comfortably on your arms without gripping too tightly, and the silicone waist sits snug on your hips without riding up.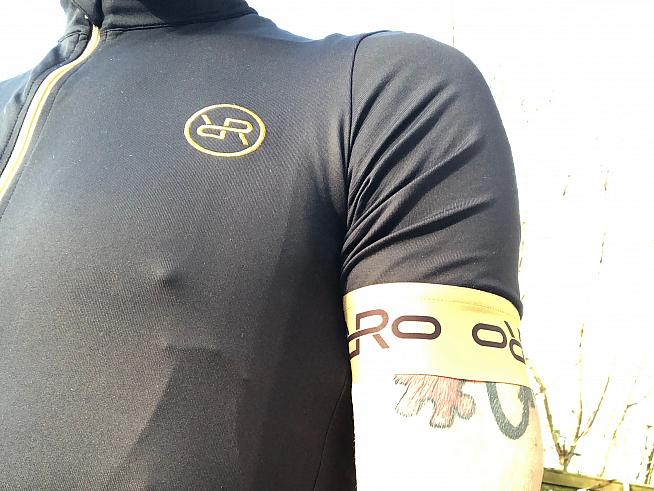 On my hundred-miler test ride, the comfort of this jersey took my mind off the ordeal. No tightness, no chaffing, all my nutrition easily accessed, consumed and all wrappings re-stowed with ease; I looked good and felt great. Consider all my boxes duly ticked.
The Orro Gold Luxe jersey is available in four colourways - blue, navy, black or crimson combining with Orro gold - and in six sizes ranging from XS to XXL for £99.99.
www.orrobikes.com/shop/gold-lux-2-0-jersey
Orro Gold Line Bib Shorts
The main body of Orro's Gold Line bib shorts is made from Boost fabric, a mixture of polyamide and elastane, and offers a considerable amount of stretch and compression.
The fabric is pre-dyed to retain a lifetime stealthy black and has a sun protection factor of 40+. They have laser-cut elasticated grippers, subtly festooned with black on black ORRO logos and are bejewelled with gold reflective strips highlighting your style when visibility is low.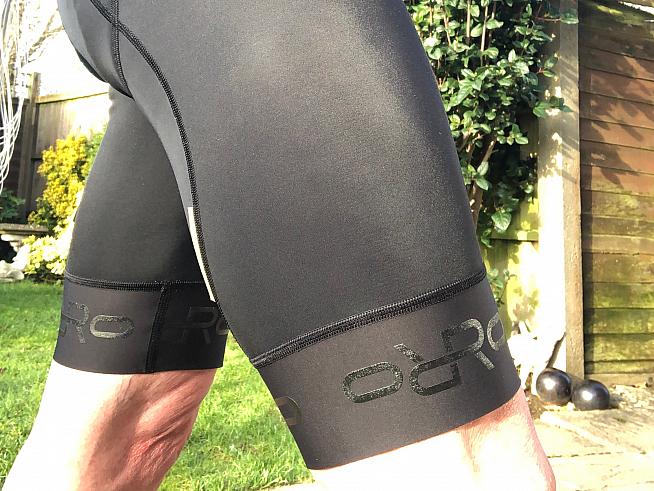 The Unico 90 chamois pad, which uses state-of-the-art foam shaping technology, measures (on this small pair) a substantial 20cms at its widest with a centre length of 29cms. As well as a high breathability layer, they also boast a medium-density comfort foam layer at 30kg/m³ and if that wasn't enough, a high-density performance foam layer at 70kg/m³.
The white straps have been finished using soft fabric for supreme comfort and are multi-structured for reduced pressure points. The whole package weighs in at a lightweight 175g.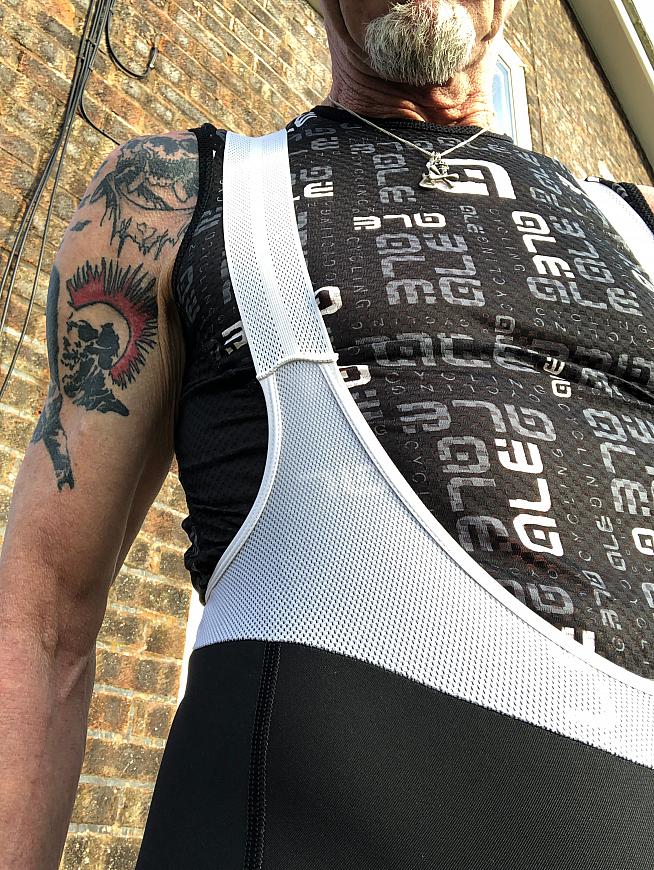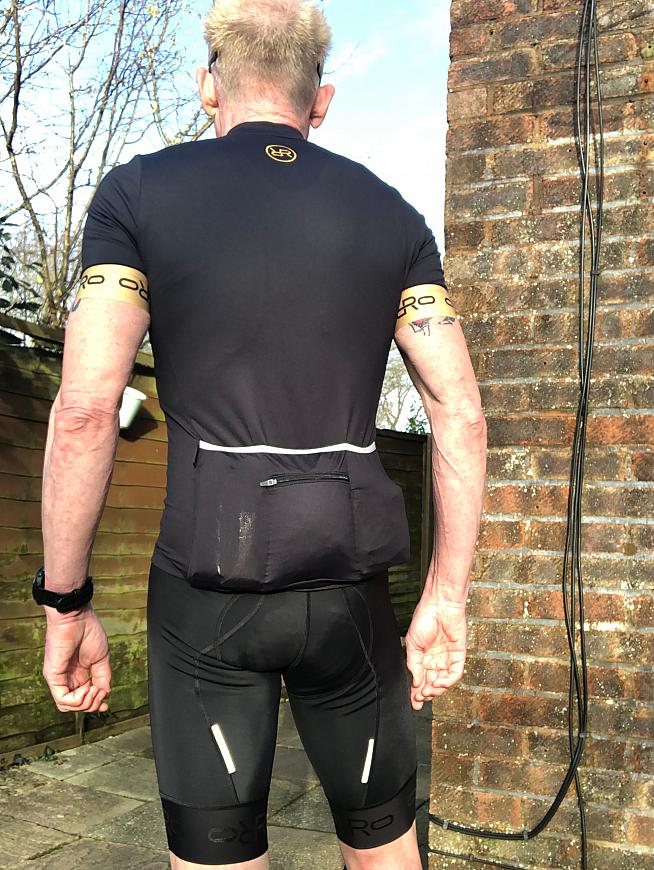 That's a lot of technology packed into a pair of shorts, but how did they cope with that century ride?
My quads were not screaming to the levels they usually aspire to, instead revelling in the improved blood flow provided by the advanced compression of these bibbies. And that usual unmentionable soreness experienced down below, was kept satisfyingly at bay by the sofa-esque comfort from the chamois pad's foam shaping technology.
These were so comfortable that I decided to put them through a subsequent test. A quadruple Sufferfest: four back-to-back sessions on the indoor trainer.
Three hours of chamois-shredding suffering later, I may have melted into a puddle on my garage floor but the shorts withstood the torment, breathing and compressing to the pre-advertised standard with absolutely no chamois shredding in sight.
At a penny short of a ton, these are not cheap shorts, but there's a hell of a lot of features packed into them. They excel on endurance rides and can handle any amount of indoor riding you wish to throw at them. Buy these and you won't need another pair.
The Orro Gold Line Bibshorts are available in black (why would you want any other colour?) and in six sizes ranging from XS to XXL for £99.99.
www.orrobikes.com/shop/orro-gold-line-bibshorts
Defeet Socks
You can't always keep it local, but a pair of socks made from North Carolinian recycled water bottles certainly ticks the environment friendly box. These eco-warriors are available in one colour: black, but blend perfectly with the Orro kit as well whatever shoes you decide to pair them with.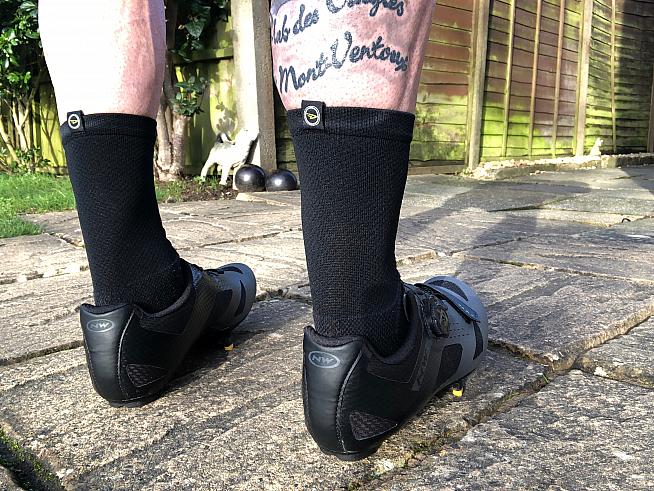 A unique feature of these socks is the 'meta-pad' which sits underneath the ball of your foot to mitigate vibrations. They feel luxurious when you pull them on, and my hundred-mile test ride confirmed that the comfort levels can survive an endurance ride with no complaints whatsoever in the metatarsal department.
I also put them through the same Sufferfest ordeal as the shorts and found that the manufacturer's boast of 'breathable and moisture wicking' is in fact true, as the beads of sweat building up on my legs was in contrast to the dry skin below the socks.
Orro have a variety of socks available on their accessories page ranging from the £9.99 Aireators to their top of the range Orro X Defeet merino wool socks at £26.99.
www.orrobikes.com/shop/aireator-socks
Come for the bikes, stay for the kit
These are a just a selection of the gems available on Orro's website. As well as their own-brand cycling clothing they also sell Fox Wilson urban clothing, Northwave cycling shoes, tyres by Continental and Vredestein, Fulcrum wheels and various other cycling brands such as Green Oil, SeaSucker and Token.
Find out more at www.orrobikes.com.
0 Comments