My eyes lit up when I was offered the chance to review the new Proviz Classic Endurance Cycling Jersey.
For a while now I've marvelled at the popular grey Proviz jackets that light up the wearer like some radioactive pearly queen at night, whilst managing to look spectacularly modest in the daytime. Using millions of teeny, highly reflective glass beads, the 'R360' material made by Proviz seems to defy common-sense and physical laws - harvesting and multiplying the light that strikes it, to take reflectivity to a new level.
In the ongoing arms race between commuting cyclists and the vocal minority of angry entitled motorists out there, wearing a Proviz jacket is the nuclear option. It screams 'HEY! YOU SEE ME NOW RIGHT?' at Clarkson-clones who may otherwise be relying on the 'SMIDSY defence' if one of their 'punishment-passes' somehow results in prosecution. No surprises that Proviz has won a range of industry awards for their products.
Proviz aren't the only sportswear makers to use such a highly reflective material in their products. But, describing themselves as a 'premium British lifestyle brand', they set the standard that others seem to follow.
That said, the fact that similar materials are used on Deliveroo riders' coats, as well as on clothing worn by the emergency services and many outside workers, means that the shock value impact of ultra-hi-viz is becoming somewhat diluted.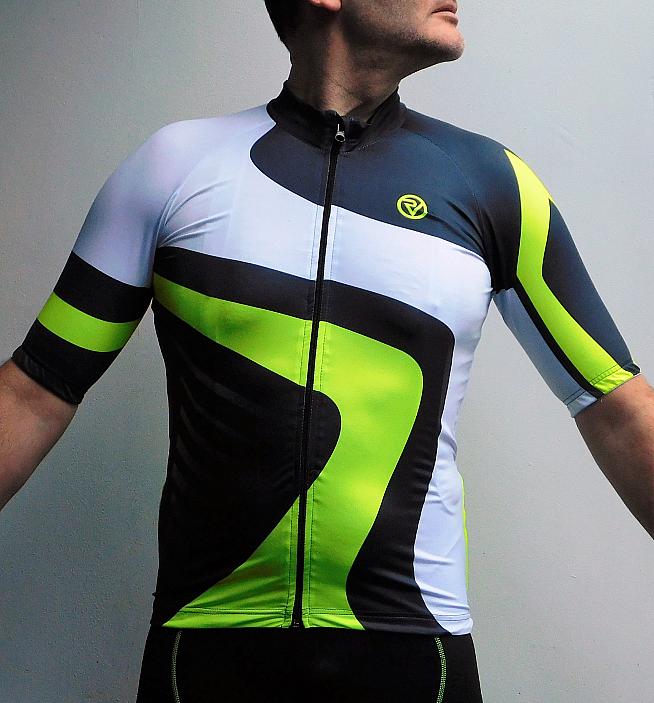 Maybe aware that their innovative materials are losing their sheen a little now that the technology is a few years old, and that cheaper, paler imitations have entered the market, Proviz have diversified their clothing range in an effort to stay one step ahead of copycat competitors. Hoodies, leggings, gilets, beanies, caps, backpacks, down jackets, gloves, overshoes and dog jackets are just some of the items the bright sparks at Proviz have started selling which feature their futuristic fabrics.
So, like I said, I was really looking forward to seeing what shiny magic Proviz had weaved into their Endurance Jerseys.
Most manufacturers are pretty measly when it comes to adding reflectiveness to their clothing, with the occasional blobs appearing on rear pockets, hems or logos. I've always imagined that this was because the stuff was so expensive to make. Was it some kind of NASA off-shoot that required the blending of rare metals and chemicals in steaming vats in a pristine research facility?
In my head, I picture Repo-man sales reps delivering the glowing grey gloop in a suitcase to various sports clothing research labs all over the world. But where other brands seemed to ration out this magic moon-dust on their clothes, Proviz products are caked in the stuff.
So when I opened the package and took a good look at the jersey in the kitchen, with the lights off and my torch on, I was a little confused and left - literally - in the dark.
No blingy blobs...
No hyperbright hems...
No lit-up logos!
What there was, instead, was a few broad sweeps of fluoro-yellow across the body of the jersey, the arms and the three rear pockets. I felt somewhat cheated to be honest, but consoled myself with the fact that the fluorescent yellow design would still make this short-sleeved top the sensible choice to wear on those glorious dusk-lit evening rides in the summer, when it's still warm enough to wear nothing more than bib-shorts and jersey.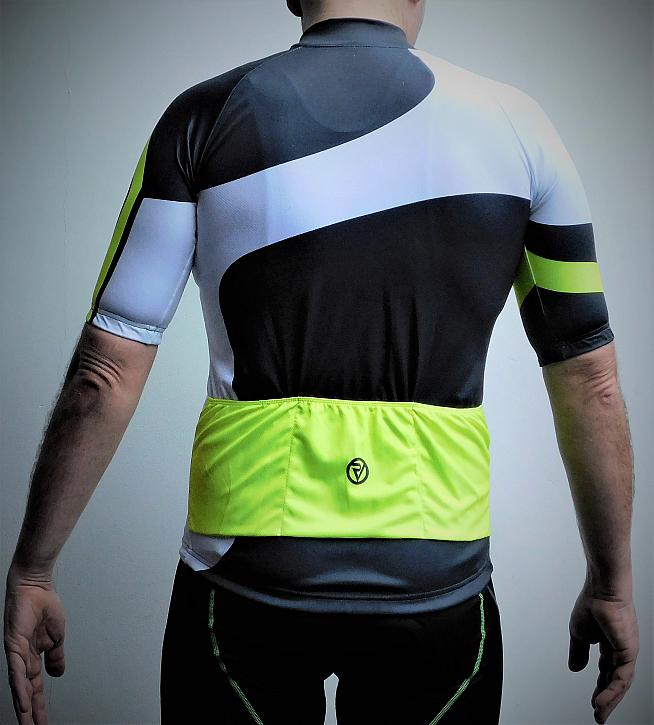 To be fair to Proviz, fluoro-gaudiness is definitely a 'thing' right now in cycling. More and more brands are getting the highlighter pens out and jazzing up their designs.
EF Education First's special edition 'duck' outfits had cycling hipsters purring in the autumn, with reports that the limited edition jerseys are selling for over £600 on eBay. Even Rapha, who made their reputation selling sensible-looking clothing to the well-heeled older cyclist, have been drinking the Kool-Aid recently. God knows how many Acid-jazzualties from the 1990s there are out there who will buy and wear their belisha-beacon-orange-Aran-sweater-hybrid windbreaker.
The trendsetting Brighton-based Morvelo clothing company have been using hi-viz colours throughout their clothing range for several years now, so Proviz are certainly not carving out a new market here. But, they do have the advantage of being the first or only brand many cyclists think of when it comes to being seen safely.
Proviz may have missed a trick by not sprinkling their jerseys with the reflective magic fairy-dust they built their reputation on, but they do offer a decent range of short and long sleeved fluoro designs in blue and yellow (in a men's cut) or pink and purple (in a women's cut) made from a variety of technical fabrics.
At 5'10'' and a weight that fluctuates around the 78kg mark, I've always managed to squeeze into large size jerseys from most manufacturers - except the Italian ones of course. The jerseys I usually buy however are dark, sombre looking things - black, navy blue or maroon - which help me blend in with the other mamils on the road.
Such colours also help to smooth out the various lumps and bumps that appear in my body after one too many cake stops on a ride. Needless to say, fluoro yellow on a mainly white background has a much less flattering effect - giving me the appearance of an aging sausage-dog on Pride weekend that has reluctantly been dressed up in an acieeeeeed-yellow moob-tube. Note to self - when buying fluoro garments next time, go one size up.
Never mind, I thought, an Endurance Jersey that retails at £69.99 must be a keeper. It should last the best part of a lifetime with care, and will definitely fit me much better by next summer when I should be closer to my racing weight of 75kg.
The only other jerseys I have in that price range (from the brands Campagnolo, Castelli, Kalas and DHB) are quality items that have been well worth the money - lasting ride after ride, wash after wash, year after year. Unfortunately, I'm not convinced by the quality of the finish on the Proviz jersey. There seems to be quite a lot of loose or broken threads at the hems, and the silicon grippers used on the arms and rear of the waist are beginning to degrade after just a few washes. These are small things, and not something that I'd ever bother returning an item for, but they are the kind of thing that would annoy me if I'd paid full price for the top.
Usually, when you buy premium priced clothing such as this, half the weight of the packaging is taken up with all the little booklets that are carefully attached to the garment somewhere. These tell you all about the amazing technology that the manufacturer has used, with little diagrams showing in detail things like how tiny beads of sweat can be cleverly wicked away by this fabric, or how the use of antibacterial threads in the armpit areas will keep you smelling fresh as daisies.
We all know it's marketing gumpf, but I love reading this stuff, and love it even more when I catch myself repeating all this nonsense when I'm trying to convince friends, family or even myself why £70 for a jersey actually represents "good value for money".
The only label that came with my Proviz top was a simple tag with the product name on, stating that it was Made in China - a bit odd, as the washing instructions inside the jersey say Made in Serbia.
A quick search online tells me that the jersey is made from an 'extremely high spec premium softshell performance fabric' called '8V-Optimum'. This is further described as a 'High stretch 140gsm soft touch polyester fabric which offers exceptional wicking so it disperses heat quickly to keep you dry and comfortable'.
Well, my belly can vouch for the stretchability of the fabric. On the turbo trainer, I can sweat off a kilo in an hour, and I can confirm that the thinner mesh fabric on the back did a good job of wicking away the sweat - no better than any of my other jerseys mind, but certainly no worse.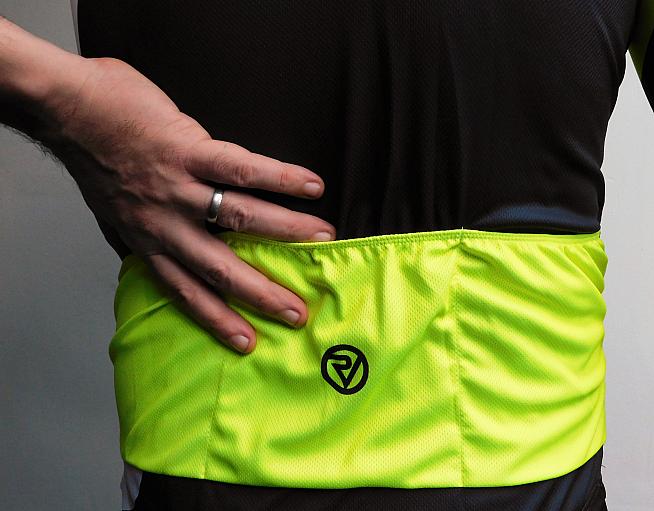 Out in the real world, wearing the jersey on top of a thick, long-sleeved base layer on some frigid November rides, I was reassured by the extra visibility the top gave me. I have a 100% record of not being killed by a motorist since I started wearing this top.
I was also impressed by the old-school depth of the three rear pockets that easily held all the extra bits and pieces needed in the winter months. But again, I was a little surprised not to find a zipped compartment for safely stashing my phone - a feature on similarly priced jerseys like Rapha's Core range, for example.
This is a funky looking jersey, that is very much in line with current trends and bright enough to alert drivers to your presence in dim conditions. It's just a pity that none of Proviz's high-tech glass-bead reflective fabric is used, and that the distinctly non-premium finish left me wondering whether the jersey would last as long as the wacky-fluoro trend that inspired it.
Is the Proviz a brilliant jersey or not? It remains to be seen... time will tell.
Classic Men's Short Sleeve Endurance Cycling Jersey - £69.99 from www.provizsports.com
0 Comments