I'm sitting at my laptop ordering a pair of SunGod Vulcans sunglasses, when a scene from Pulp Fiction pops into my head.
It's the bit where Mia orders the "Martin and Lewis" milkshake, prompting Vince - John Travolta - to ask "Did you just order a five dollar shake?"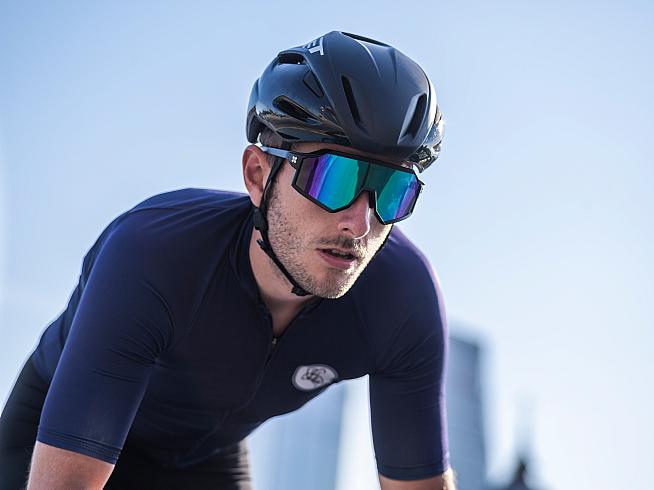 Leap forward a few years, and back to the SunGod website. In my basket is a pair of Vulcans cycling glasses, pimped to the max with photochromic lens and a frame conversion kit, whipped cream, chocolate sprinkles and a cherry on top.
They look incredible, I hit "checkout".
Hang on a minute... Did I just order a pair of £210 shades?
In fairness, these top-drawer sunglasses are by no means crazy money. The Vulcans, from SunGod's Pace Series, start at £100 for a clear lens with a range of tints available at £125.
Even the "standard" lenses are anything but; SunGod describe their 8KO optics as "the most advanced lens technology on the planet".
Apparently both lighter and optically superior to the industry-standard polycarbonate lenses you'll find on most cycling sunnies, SunGod offer a choice of 8KO lenses in eight different tints.
I've opted for one of their two "Iris" photochromic lenses. These change tint in response to ambient light conditions, which I've figured is a convenient feature in typical UK weather conditions.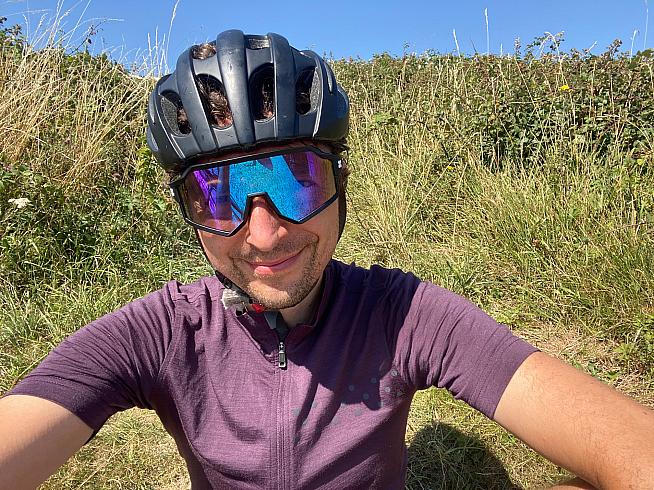 On all-day rides - which obviously includes longer sportives - conditions can range from sunshine to shade to rain, and back again. Often a ride will start in the early morning,  continue through the midday glare and finish as the sun is setting. It makes sense to have a pair of glasses that can cope with a wide range of lighting conditions, if only to save the faff of carrying around multiple lenses.
Besides, a good pair of shades is essential for any cyclist - and you'll wear them on every ride, so why cut corners?
I'd barely finished rationalising the Vulcans when the package arrived on the doormat. The glasses sat nestled in a lovely embossed box, complete with carry pouch, conversion kit and spare nose pieces.
If you're wondering what a pair of £210 sunglasses looks like, here they are: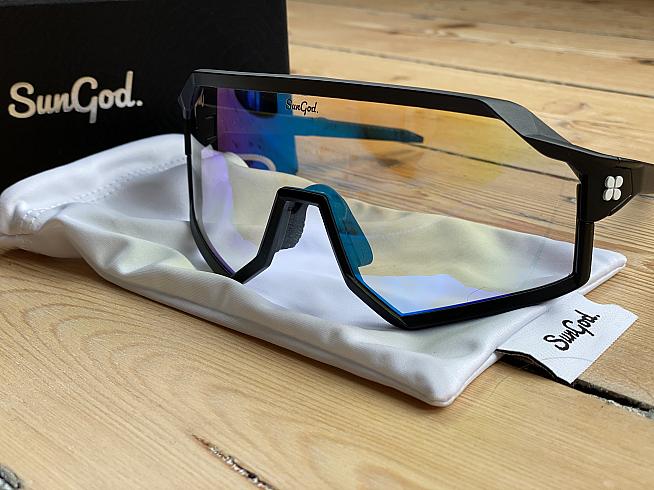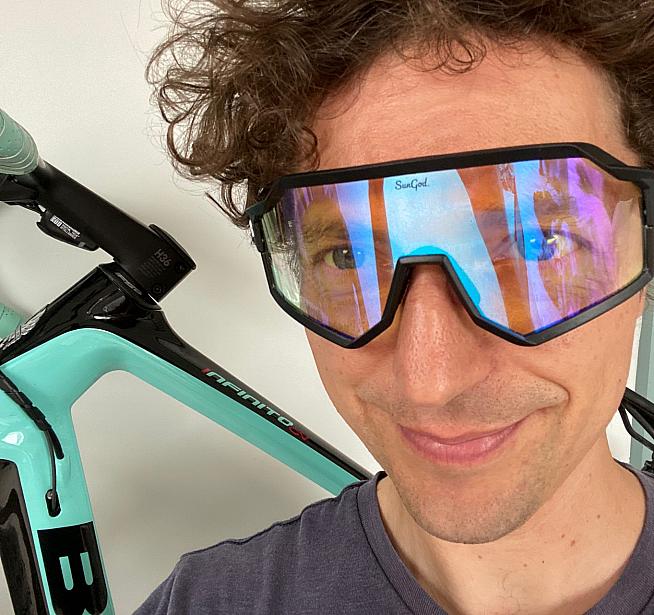 The full frame gives off strong mad professor vibes, which I like. But if lab geek chic is a bit OTT for your taste (or face), SunGod also offer the Velans - very similar in appearance, but a touch smaller.
Other than the magical unicorn lenses, I went for a fairly restrained choice of customisation - vanilla, to continue the milkshake theme - but you can push the boat out if you like. The frame (top and bottom), ear socks and logo are all available in a range of colours to match your team kit, your bike or even your motorcycle - sorry, chopper.
I was tempted to go for a celeste frame to match my Bianchi, and although I chickened out SunGod have recently announced a deal to supply the Bianchi Dama women's team.
It's always reassuring to see a pro team put their faith in a product, and in use the Vulcans quickly start to feel like a wise investment.
Light in weight (just 29g), and with a comfortable fit, they have accompanied me on a few long rides through the recent heatwave and into the tail end of summer.
I've been especially impressed with the photochromic lenses. While they don't offer quite the same shade as a darker lens in extremely bright sunshine (as I discovered when riding directly into an August sunrise), for the great majority of conditions they adapt to the ambient light perfectly.
Riding the local Sussex lanes, I was grateful more than once on shady descents to be able to spot, and avoid, potholes I'd likely have missed in full tint lenses. Clarity is top notch, and the tint change is fast and imperceptible.
Field of vision is also impressive. As with any full-frame glasses I've tried, there's a slight restriction on peripheral vision - for example, when glancing over your shoulder. But it's minimal - and with the conversion kit, it's easy to remove the lower half of the frame to give a slightly enhanced viewing angle.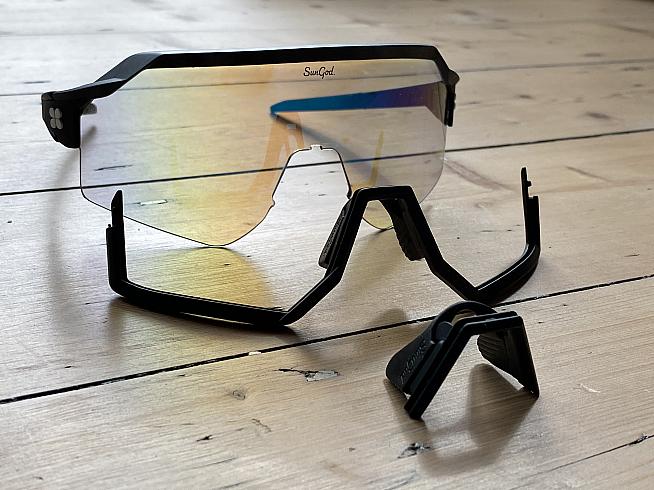 The conversion kit, available as an extra for £20, is simply a nose piece which you can swap in place of the lower frame. The instructions on the SunGod website are a bit glitchy (most likely fixed by the time you read this) but the procedure is straightforward: simply press out the lower frame, and pop in the nosepiece.
In half frame mode, or TF as SunGod put it, the Vulcans feel even lighter while offering completely unrestricted field of vision. Ultimately it may come down to which look you prefer, but the frame conversion kit basically gives you a choice of two quite different styles for just a small additional outlay.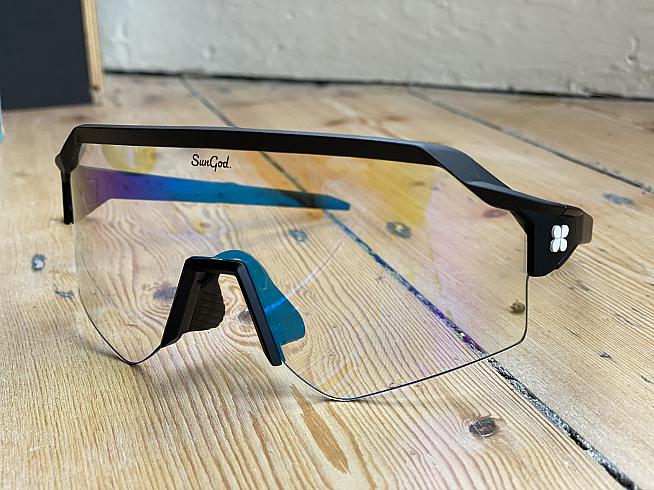 The lens also boasts an oil and water-repellant coating. I've found that, like any glasses, they're still prone to picking up fingerprints if you accidentally touch them, and in rain my preference is to tuck the glasses into my helmet or jersey collar.
SunGod recommend using the provided microfibre pouch to wipe the lens clean. I've found this doesn't always do the trick to remove smudges, but gentle use of a wet wipe sees them come up good as new.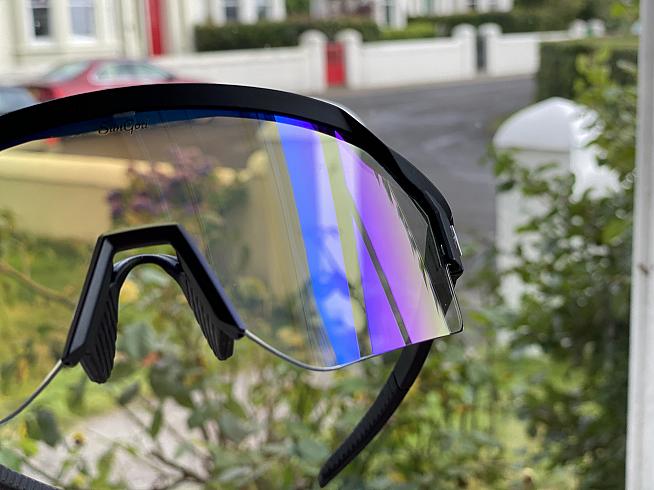 Overall, I'm delighted with the Vulcans.
Yes, you can get cheaper sunglasses. But SunGod have gone in strong here, pitching the Vulcans against the best of the competition and coming up trumps.
As our thrifty gangster friend Vince might say: I don't know if they're worth £210, but they're pretty ******* good...
SunGod Vulcans, from £100 at www.sungod.co/shop/sunglasses/vulcans.
0 Comments