When I was asked to look at the cycling navigation app Komoot, I thought "What's the point?"
I already had Strava, with over ten years of rides, friends, achievements, kudos, and comments on it - what did I need a replacement for? I was initially reluctant, but I thought I should give it a go.
I've been happy with Strava and Strava's been happy with me, but the truth is the app has recently started to make me feel uncomfortable, like an old friend who has moved on to a different social group and is no longer interested in what I'm doing.
Sure, we still went out together, we did the same runs and rides, but the post-exercise conversations weren't the same - Strava didn't seem to want to tell me how fab I was anymore, how I smashed my local segments and who had been down my way recently.
Then Strava started asking for money, presumably to go gallivanting about with its new mates while I stayed home and planned our outings. But that was OK, as I usually said that I didn't have any change on me, and Strava said "No worries - I'll get by on what I have."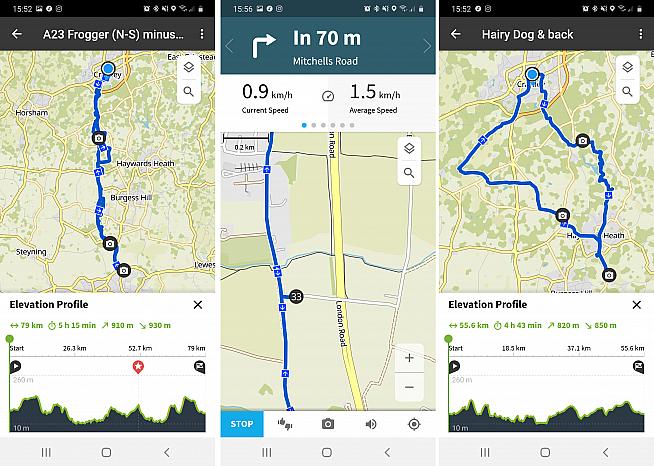 One night, while I was channelling my obsession with mapping out a route hopping a couple of main roads and trying to plan in a way that would mean traversing each bridge and underpass, Strava dropped the 'Dear John' I'd been dreading.
"Andy, we can't go on like this - I have features to fund for all my other friends. Our indulgent, solo rides can't be free any more. I'm having to pull the plug on some of my more sassy moves..."
The strange thing is, I didn't really mind. It was almost like I wasn't obsessive about segments, KOMs, power and kudos any more. I'd taken to riding my own way across the local countryside, using Strava merely as a planning tool to help me not get lost.
I guess that it's true - you don't always realise that a break-up is the fault of both parties. I'd certainly lost interest in many things that Strava did that used to delight me, back in the day. The snazzy calendar of achievements, the rankings on meaningless strips of road that someone had hilariously named 'Bus Wankers', the periodic videos...
The random follow requests had begun to irritate me, the challenges became more fatuous, and the lockdown proliferation of turbo achievements a chore to give a thumbs up to.
I needed a new imaginary friend, and Komoot came along at just the right time.
It's more than a change of scenery, the delight of the new, the mid-life crisis soft-top sports car. My needs have evolved as my approach to cycling has changed, starting last year when I was on holiday in Slovenia. Loading my cycle-holiday routes into the Wahoo took some of the stress of navigation out of my daily adventures, but there were still times when a better turn-by-turn option would've been appreciated (especially when you have barely a nodding acquaintance with the local language).
I'd been using Strava's mapping to provide me with some semblance of navigation since then, but still found the interface a bit clumsy and limited, eschewing routes I'd ridden many times in my attempts to fix an A to B journey because it couldn't connect the virtual dots. When it up and left and got custody of the kids (ie my ten years of data), I thought I'd go back to what I'd used a decade before - Endomondo.
Sadly, like that girl I fancied at school who I then followed on social media with horror as she happily donned MAGA hats in her new life in the Mid West, the memory didn't tally with the present-day disappointment.
Then I remembered the Komoot assignment, and gleefully installed it on my phone and signed up on my Chromebook. Much to my relief, there was no hint of orange (unlike Strava or my schoolboy crush). Komoot looked and felt clean, uncomplicated, well laid out, yet offering a depth of detail should I want it.
I hit the keyboard and bigger screen of my HP and I dived straight into the mapping portion, gleefully and effortlessly plotting my first short route, happy to see a drag and drop option and a 'best route' function.
After arguing a bit about the best way to cross a footbridge (yes, I'm THAT guy), we decided on an adventure that was mutually acceptable. Once I'd linked my Wahoo and Komoot ids, the route we'd planned magically appeared in my Wahoo ELEMNT app - all I had to do was load it up to the Roam head unit and press GO.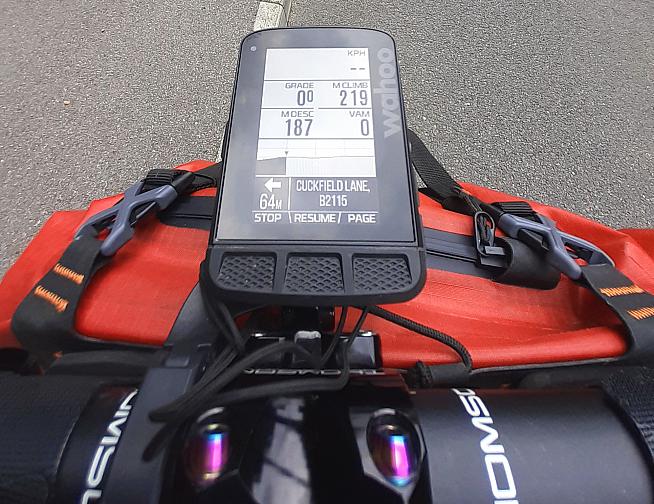 Rather than grunting and pointing, as my clumsy collaborations with Strava had done, the ELEMNT seemed replete with pleasant hints and tips, like 'distance to' cues, the direction of next turn and, especially nice, road names.
I'd not noticed before that my previous companion on my journeys had essentially been a recalcitrant teenager, along for the ride to get a lift to the park so they could hang out with their mates. In Komoot, I now had a ride buddy with pre-programmed politeness and local knowledge; a companion that didn't need prompting to look up from the phone just to say "Whut?"
The more I explored Komoot's route builder, the more complex I found I could make the instructions, joining up previously unconnected pathways that were deemed impassable. When finished and saved, an analysis was immediately available, classifying my new journey and advising how much of it was on- or off-road, how hard it was likely to be (from the gradients and surfaces encountered).
And - a real bonus - Komoot offers an effortless way of sharing my new route with anyone (or no one) who was also using Komoot.
Because what's the point of finding new byways to travel if you cannot share them with like-minded adventurers? I've shared my routes more with people in the lockdown trial of this app than I believe I have in the last dozen years of my relationship with Strava: a true achievement for a misanthrope like me.
So, goodbye Strava. We'll stay in touch for the sake of the kids. But for plotting my bike rides, it's Komoot and me off into the sunset, along with my Crocs and craft beer addiction.
Find out more at www.komoot.com.
0 Comments