Sometimes I like to get lost. I'll get to a junction and decide to turn away from home rather than towards it. I generally credit myself with a good sense of direction and a good memory for the roads and trails I've ridden. Any doubts or wrong turns have been dismissed as lapses in confidence or extra miles chalked up as stupidity tax.
Sometimes I don't like to get lost. When I want to get somewhere before the darkness descends, or I'm out with friends and I *should* know where I'm going and don't have the luxury of not giving a toss.
Having a Y chromosome often dissuades me from asking directions or checking the route, either by map or (more commonly these days) on Google Maps. I also know that the majority of roadside oracles couldn't find their fingers on a gloved hand, and the faff of getting the phone out, only to find you are, as suspected, nowhere near the place you thought you were smacks of defeatism and a potentially embarrassing admission of fallibility. I do also have form for following the wrong signs on a sign-posted event.
If only there were some kind of compass, clearly warning me of upcoming waypoints that I could easily attach to my handlebar...
Step forward the Beeline Velo, a cycling computer that is designed to be a subtle and powerful ride guide, without all of the extra and (to some) unnecessary and/or confusing data that gets thrown at you by prosumer devices from Garmin or Wahoo.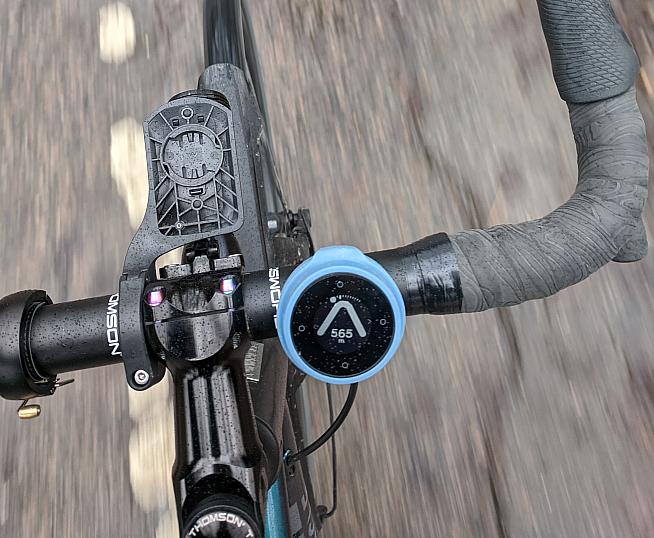 Put simply, the Beeline is a bar-mounted dial that displays an arrow pointing you in the right direction at every turn.
It attaches conveniently and simply using the weather-proof case, and it damn well stays put. The clear and concise display indicates the direction and distance to your destination, or a deviation from your current heading. Miss a turn, and the Beeline will get a bit angsty; the arrow will turn black to indicate you're off course, and and point to where you should be headed, along with the distance to that point.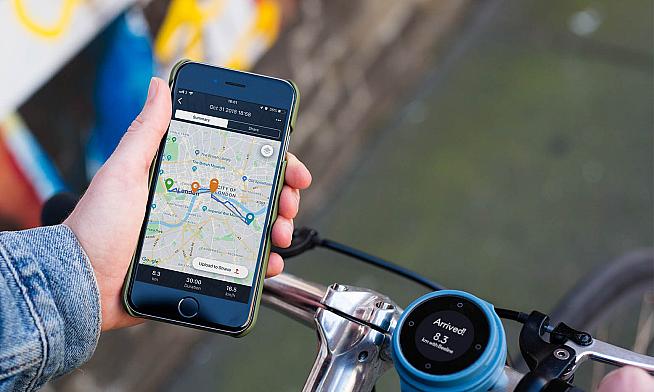 How does it know where to go? Unsurprisingly, there is an app that connects your smartphone to the Beeline via Bluetooth. Using the app, you can either pre-programme a route you've ridden or are following, or simply specify where you'd like to get to (and by what kind of route).
In the latter mode, the app does the best it can to get you from A to B the most sensible way - but if, like me, you'd rather visit more letters of the alphabet, you can add in waypoints en route to your destination. Pop your phone back in your pocket, and the Beeline will direct you along your chosen route.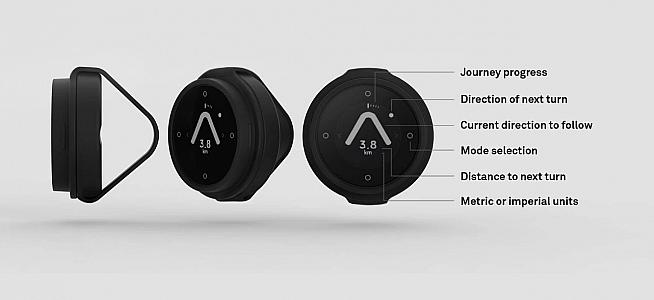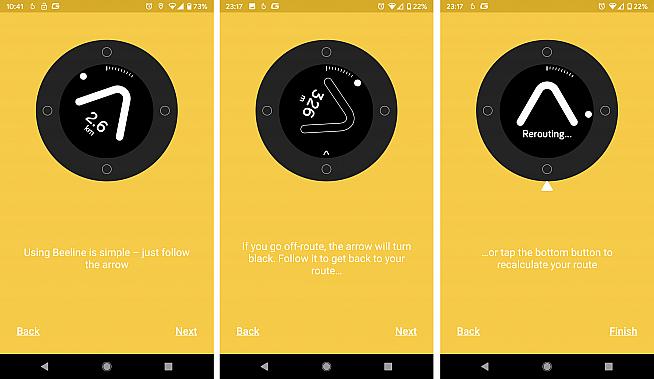 You can also choose to follow an existing route, for example a GPX file of a sportive or other ride that you've downloaded from an event website, Strava, or one of the other online cycle mapping websites.
This is what I did for the Doom Cross off-road ride back in January. I occasionally got separated from my ride companions as we traversed the South Downs, but was assured that I was still riding in the right direction by my pointy friend.
I must confess that I'd previously tried this on a solo ride, using my GPX file from last year's Evans Gravel Cross sportive, but connection problems with my Android phone caused me to lose my breadcrumb trail.
No such issues on this occasion, though - least not for the first hour of the ride, which took us along roads, gravel tracks, footpaths and bridleways across the Downs north of Brighton. At a T-junction, however, there was some confusion as we met up with some chap who was heading back to the nearest town to change his tyres and we lost our bearings.
One of our group had loaded the ride on to his phone and was following prompts via Komoot which took us 180 degrees away from the route Beeline was attempting to send us. That slight doubt in my mind about my phone's connectivity surfaced again, so we followed the cyber-voiced commands coming from the back pocket of Oisin's jersey.
Meanwhile, Beeline pointed behind me, folding its arms and stamping its feet for the next 5km stubbornly declaring it knew best. I half expected steam to come pouring out of it at one stage.
When looking at the official route later on the Beeline App, it showed that we followed the correct pathway. I'm not sure what cause the Beeline's strop - maybe we were supposed to notice its new haircut, or had forgotten to say 'thank you' - but either way, it refused to talk to me for the rest of the ride. The app did however continue to record my progress, ready to load the ride to Strava as a massive 'I told you so' at the end of the day.
Of course, I should have RTFI - I could have saved my embarrassment had I only checked the user guide before embarking on a long journey. A simple swipe of the finger would have put the Beeline into redirect mode and everything would have been more like a blissful frolic through the countryside, and less like the frosty uncomfortable silence you get when forgetting an anniversary.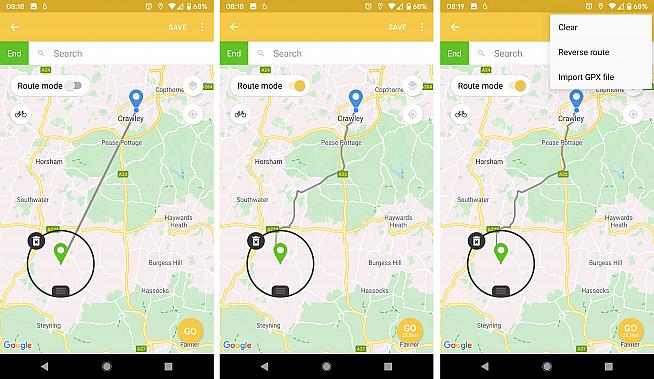 After that early learning curve, I've found the Beeline has performed faultlessly. I have a short commute to work each day and I've set it to plot me a route. I try to throw it off its stride by taking a few wrong turns, but it has always guided me back and got me going in the right direction without having to plough through assorted back gardens or on to the slip road of the motorway.
Apart from navigation, the screen can display current speed, distance to finish, ride time and even your cumulative elevation, thanks to a built-in odometer. It even has an auto backlight for when the light starts to fade - which might come in handy, given the claimed battery life is a mightily impressive 30 hours.
It does slightly drain the battery on the phone, but no more than having my Wahoo connected, and certainly less than when I used to run a Garmin Edge.
I really do like the simplicity of the Beeline. The ease of set-up, simple connection and route plotting and the clear and concise direction arrow all make it a pleasure to use.
The division of labour between the app and the head unit is particularly clever; no one enjoys poking at a tiny screen to plot a route, so outsourcing this to your smartphone makes perfect sense, and leaves the Beeline free to focus on pointing the way forward.
I can usually find my way around along the lanes close to home, but following a route in unfamiliar territory, the Beeline would be a godsend. If I'd had this on last year's cycling holiday in Slovenia, or even when trying to navigate to my sister's in northern France, I certainly would have cycled less unnecessary miles and saved myself the ignominy of admitting to my wife we were, if not lost, then ten miles west of where we were supposed to be in blisteringly hot sun at the end of an all-day effort.
All told, the Beeline Velo is an impressive package and appealingly priced at £99. If you're a smartphone user looking for a bike computer that can handle navigation, display essential ride data and sync with Strava, it may be exactly what you're looking for.
Beeline Velo, £99 from beeline.co/pages/beeline-velo.
0 Comments