We were treated to a glimpse of the See.Sense lights in part 1 of Oisin's review of what's up and coming at the recent Cycle Show at the NEC, and by coincidence I've just purchased a front and rear set of their ACE lights.
Having had a very very bad experience with some very very expensive lights, I'd started looking for an alternative set, and with so many to choose from it was getting quite confusing. Fortunately my membership renewal with British Cycling came through with a 30% discount voucher for See.Sense lights so it was straight to their website and it was a case of job done, lights ordered and raring to go.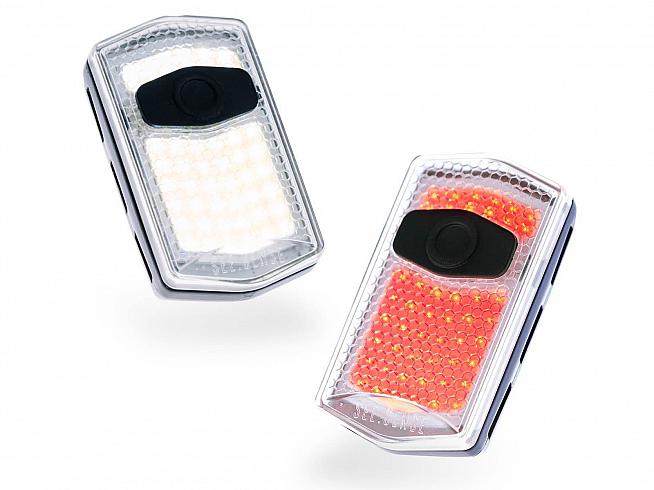 A quick look through the Sportive.com archives reveals a review of the original See.Sense light from December 2014, but with the present range of models it might be time for a bit of an update.
I ought to state that I'm not a night rider. It's not that I'm frightened of the dark but the roads around where I live, in the depths of the Cambridgeshire Fens, are dodgy, even on the best of clear and bright days; and I'm not just talking of potholes but also roads collapsing and decaying so night rides are not a good idea.
The main reason for searching is that I like to ride with 'day runner' lights in an effort to make me more visible. It's quite comforting seeing an oncoming car that's just about to overtake another pull back in after seeing the flash of my front lights and, hopefully, the rear light lets drivers know I'm just ahead of them.
See.Sense was started in 2013 by a husband and wife team, Philip and Irene, with a mission statement of trying to use the technology incorporated within their lights to make cycling safer, more convenient and enjoyable in a hope it becomes more appealing to more people. Quite a bold, maybe ambitious, statement you may think, but the technology certainly does seem to offer something new.
By connecting to the See.Sense app, and joining the See.Sense community, every time you ride your lights collect information, known as 'Ride Insights'. This information is then shared with See.Sense and their partners to assist with planning and infrastructure to increase cycling safety, as per the above illustration - I have a feeling that the roads in my immediate area would certainly be fully blocked out in red.
As previously mentioned I purchased a set of the ACE lights but there are other options including, if you are a night rider, one called BEAM. This appears to do exactly what the name suggests, but having mentioned it I'll go no further as I haven't used one.
All of the lights have similar functions that aid our safety in one way or another.
My 'ACE' lights were delivered quite quickly and came in a deceptively small padded envelope with all that was needed in the small box within.
Inside the box is all you need to get the lights charged and mounted, whether it be on your bike or your person, the choice is yours.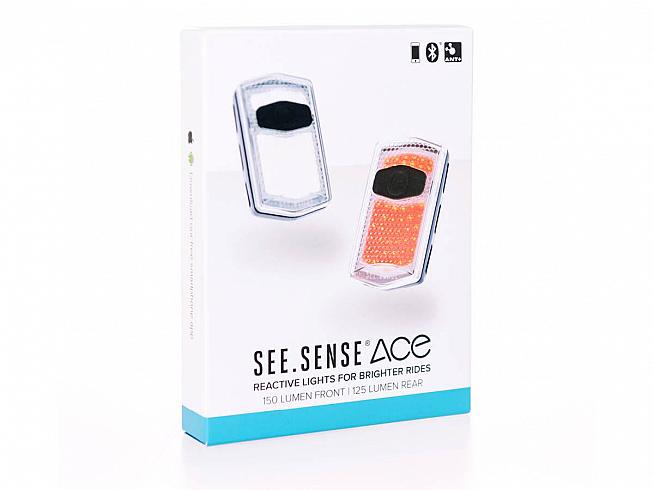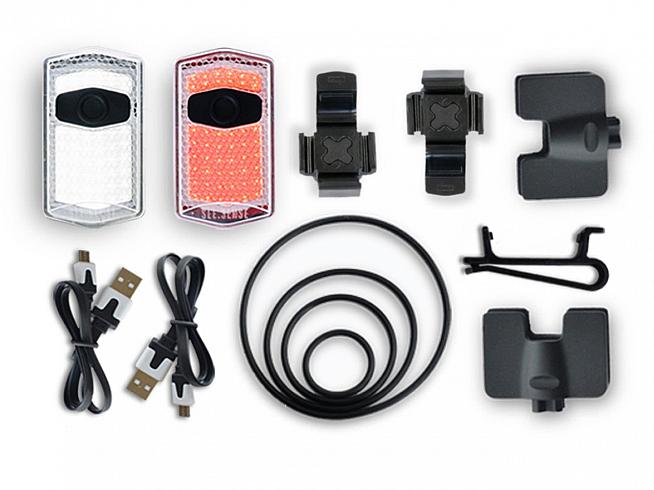 To mount the lights on your handlebars or frame you need to attach the mounting clips using the ubiquitous rubber bands, unfortunately I snapped the first one I used but I think that was down to me selecting a band that was too small for the job.
The mounting bracket uses a cross shape locator which allows the light to be mounted in a vertical or horizontal manner and the light just clips into place. It feels fairly secure and, as yet, I've had no issues with the fitting.
The lights have different modes, flashing or steady, but, whatever setting you choose the lights detect when you are approaching roundabouts, junctions, slowing down, and automatically start to flash brighter and faster, thereby increasing your visibility when it matters most. Another great feature is that the rear light increases in intensity when the brakes are applied so as to alert any following drivers that we are slowing down and, maybe, coming to a standstill.
Select settings - there's an app for that
That's the good news about seeing and being seen, but there's still more. By connecting with the See.Sense app the lights will notify you if anyone is tampering with your bike whilst you're sat having an obligatory coffee stop and, perhaps even more importantly, should you have a spill the lights alert anyone that you have nominated of the occurrence.
These two features were easy to test. I asked my better half to go out and lift the front end of the bike; immediately I received an alert to say someone was tampering with my bike, but I let her off in the name of science.
I then went out and lent the bike over, rather abruptly, and my other half received a notification that I'd had a crash and received a Google maps image of where I was, spot on; how useful is that?
That said, the lights won't be able to differentiate between the bike going over a cliff or the bike being upturned to sort out a puncture, so there might be a need to make a quick call to settle any upsets.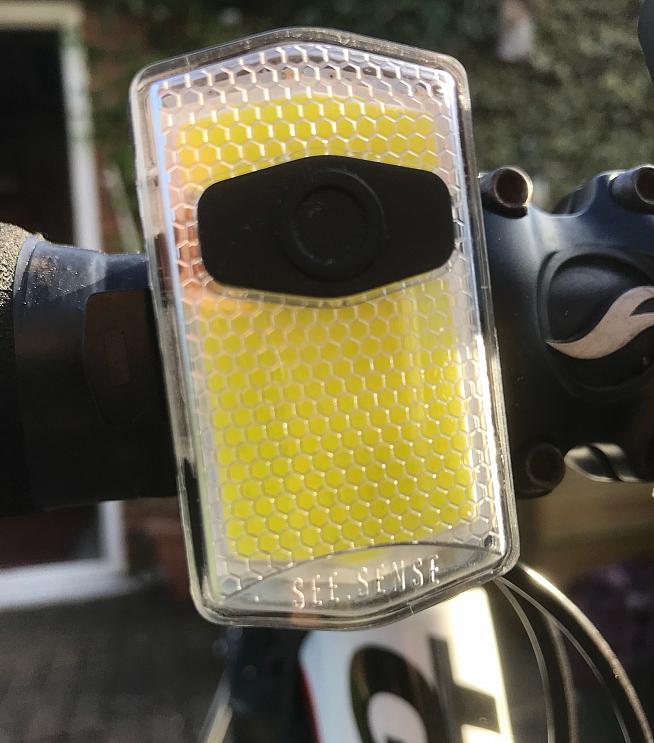 Another feature that I was able to test out was the fact that the lights can be controlled directly from the app: on and off, the flash modes, on permanent, and even the brightness levels. I had great fun discovering the variations available without getting out of my seat. The lights can still be switched on by using the button on the front of each, but at this point it was more fun using the app.
Having set the lights up I was more than happy with them and locked the bike away ready for the next day's trip out. Unfortunately that is where I came across my first issue.
Battling Bluetooth battery drain
The lights do all their magic by being connected via Bluetooth, the connectivity displayed by a flashing blue LED at the top left of each unit. I'd locked the bike away at about 2pm and wasn't going out until 7.30am the following morning, but by the time I fetched my bike I found the batteries had drained, so no lights at all.
It would appear that whether the lights are being used or not they are still connected, and therefore using battery power, even if it is just a slight trickle, so they will drain. Fortunately I had another set of lights, so I put the ACE back on charge and pedalled away.
Once the lights were fully charged I put them back into their box, put the box into a zipped wallet and then placed the whole package into a drawer to avoid any direct link to Bluetooth. Having been unable to ride for more than a week, for various reasons, I checked the app to see what the battery state of the lights was but the app couldn't see the lights so that was a good start.
Once I'd retrieved the lights from my own local 'Fort Knox' I was able to see that the battery power was down to 70% - so the Bluetooth connection search is a constant and will therefore use battery power.
I'm not sure if this link can be turned off on the lights, but now that I'm aware of it I can make sure that if I prepping for a ride I have enough useful charge in the lights, up to ten hours available from a full charge. The good news is that See.Sense are aware of the issue and are working on a fix, happy days.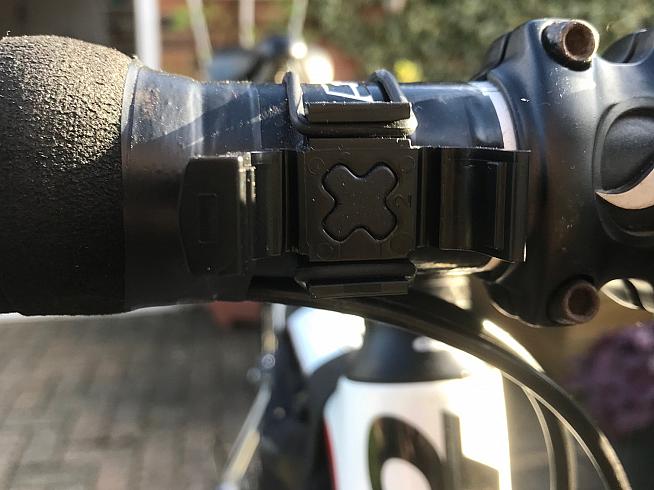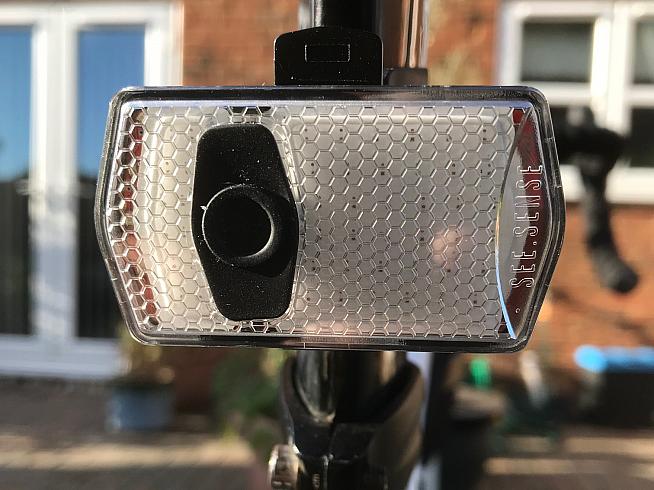 The only other 'issue' I could have with the lights is the on-ride security of the lights. As yet I've had no problems with the way the lights are clipped in place, but I would have liked to see a method of fixing a security lanyard to each unit so that, should the clip fail or in the event of the light not being clipped in correctly, there is a last line of defence to stop the light departing and breaking up on the road, especially the rear unit.
Having spoken to See.Sense about this issue though they, quite proudly, pointed me to the following link:
...and it clearly speaks for itself.
Finally, it might be worth mentioning that the ACE lights only weigh 35 grams apiece so I don't think they'll be affecting my hill climbing efforts - or weighing down Santa's sack, if you get what I mean.
See.Sense ACE front and rear set, £79.99 at seesense.cc.
0 Comments