I work in cycling retail, so I've seen all kinds of claims made by manufacturers (some justified, others not) about the efficacy of their products, and what to use - and when.
Mostly, I have found frequent application of a dry lube has kept the screeching banshee squeals away from my drivetrain while keeping it from looking like the sludge puddle of a mid-November dairy farm cattle yard.
Wet lube is all well and good, but it sticks to your doings like like an auditor, picking up all kinds of nasties in the dry to use as grist to grind your gears. It is also the major contributory factor in the tragic sight of a 3rd Cat tattoo, that chainring impression you get on your right calf when you put your foot down waiting at the traffic lights.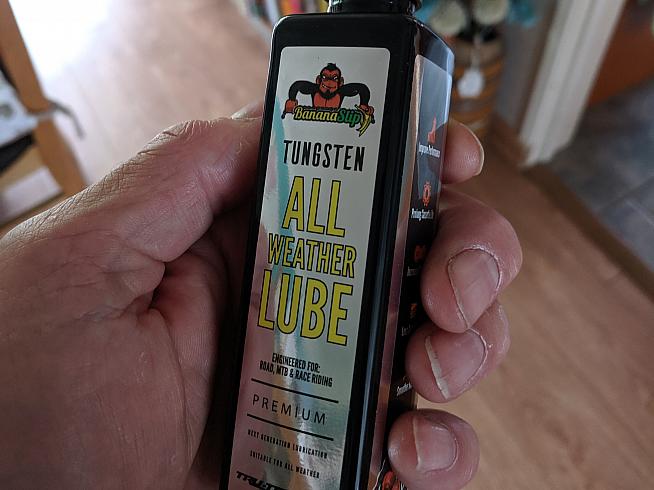 Like most men, I'm intrinsically lazy. Today, however, I cleaned and lubed my chain. This most basic of cycle maintenance activities had been put off for eons and was done grudgingly due to a recent ride home from work in rain of biblical plague proportions. Up until then, my chain had been kept silent and running smooth for over a month by a single application of Tru-Tension's Banana Slip tungsten all weather lube.
Tungsten, eh? My last contact with this metal was in the 1980s, when the world admired the likes of Eric Bristow and John Lowe and if you turned up to a pub darts match with anything but tungsten barrelled darts, you were laughed out of the public bar to the saloon and compelled to drink Campari & soda for the rest of the evening. Other than that, I cannot recall anything in the intervening 40 years being made from it, except in drill bits.
So, it's hard, I'm guessing - meaning that if applied in an emulsion to your drivetrain, that durability gets transferred?
Well yes - and it's slippy too, as Tru-Tension explain:
"Tungsten smooths out the surface of the metal to minimise surface imperfections, resulting in up to 40% less friction than Ceramics, up to 50% less than Teflon, and up to 60% less than Graphite. Not only is it faster, but it's also more durable, creating an atomic layer on the surface of the chain to reduce wear of the drivetrain and protect moving components."
The past six weeks seem to suggest it's true, if the state of the chain on my gravel bike is anything to go by. Several dusty off-road adventures and it shrugged off any trace of particle deposit when even 'dry' lube would have turned into expensive grinding paste.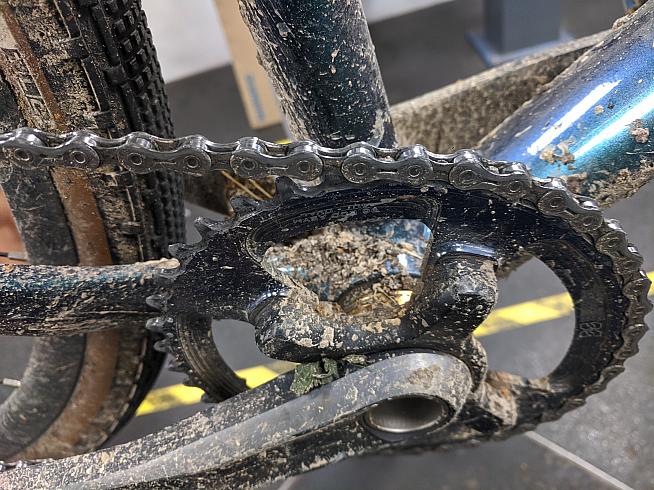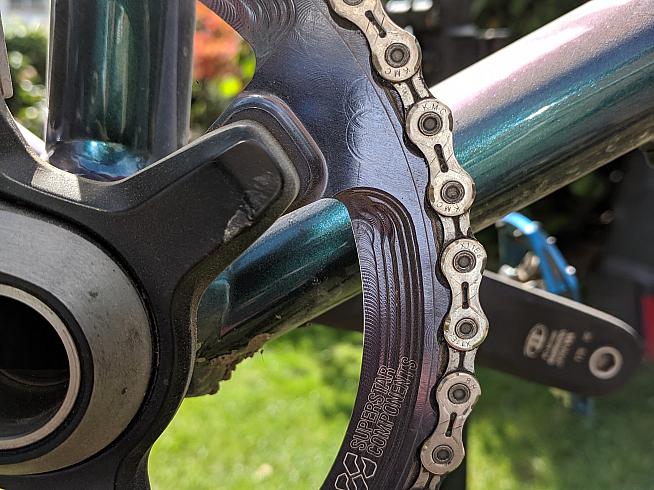 With the British weather being as it is, it would only be a matter of time before the thin shield of wolfram was washed away, but for weeks it regally dismissed moisture like Jocky Wilson would a side salad and a slimline tonic. Only the aforementioned jet wash on my work commute succeeded in bringing back the tell-tale squeal of poorly oiled pinions against oxidised steel.
In the degreaser went the chain to remove any old traces of detritus, and after vigorous shaking the lube was reapplied.
It does pay to shake it like a Polaroid picture, as my first application was disappointingly like the vinegary dribble out of a service station tomato-shaped ketchup bottle. This stuff needs a good wrist shake to get it going - I'd recommend holding it in your hand while listening to Piers Morgan pontificating about vegan sausage rolls or International Women's Day on a loop for 10 minutes - that kind of hand action...
My only gripe is that it doesn't really smell of bananas - some other rival manufacturers have adorned their products with a cornucopia of bouquets to make the job of cleaning the ol' steed a bit more of a fragrance sensation.
Seriously, though - I could do without this distraction if it means I could use the time I'd otherwise be using on lube application on other less arduous activities, so BananaSlip gets my vote while I try and throw Mentos mints into an open bottle of cola, just for the shits and giggles.
BananaSlip Tungsten All Weather Lube, £10 (50ml) at www.tru-tension.co.uk.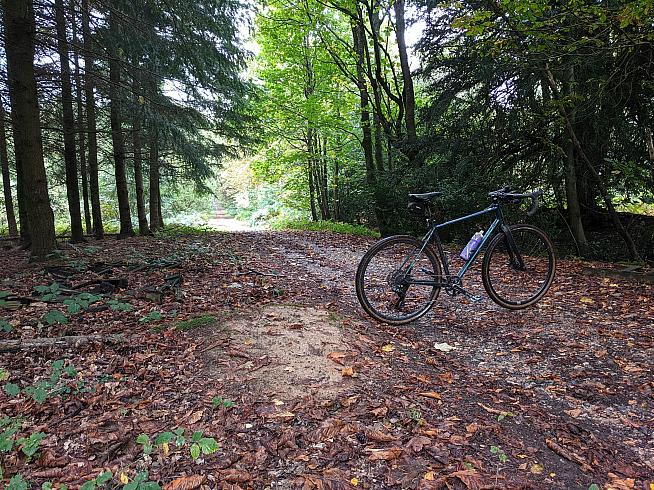 0 Comments