The delivery driver let out a huge sigh of relief as I opened my front door a couple of weeks ago and took delivery of a large cardboard box from him.
"Didn't want to put that back on the van," he said, as he shoved the 118cm x 97cm x38cm cardboard cave into my lounge then added, "New bike?"
"No," I replied, "New bike box."
"Ah, that's nice. What's the name please?" - then he was back on the van and gone.
The humble bike box is, without doubt, either the best friend or the worst enemy of a travelling cyclist. It goes to places where the sun doesn't shine (aeroplane holds) and feels the loving caress of burly baggage handlers. It sees things that you really don't want to see yourself!
So, with great anticipation I carefully opened the box to let my SCICON Aerotech Evolution X TSA Bike Travel Case see the light of day.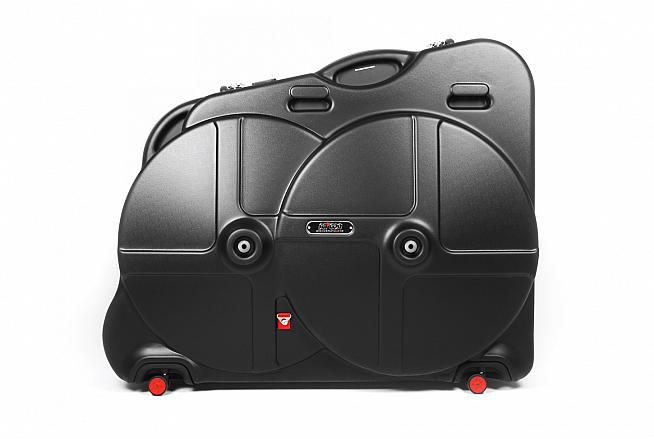 With the Evolution X lying flat, I hunted in and around the cardboard box for instructions on how to open it. With no paperwork to be found, I started to fiddle with the four retaining clasps, finding that they all need just a quick anticlockwise turn to loosen the clamping system, then the clasps can be opened.
I opened the Evolution X to the full extent and found the opening instructions inside! Fortunately, the TSA clasps are actually really simple to operate, but to the newbie owner afraid of causing damage, especially one that has purchased the case over the internet rather than in a shop, it would be very helpful if SCICON were to include instructions in a packing slip outside of the case!
My interest moved on to the additional bag in the centre of the case, opening it excitedly to see what lay within. QR skewers - yep, understand them. Two padded things (19cm x 13cm) with Velcro straps - nope, not a clue. Two plastic lugs (5cm) - not a clue either. Extra Velcro strap - huh?
It seemed clear to me that SCICON must have a purpose for these items, so I hunted for the packing guide. Nope, nowhere to be found! As with most things these days, YouTube is your friend and I was soon watching a slick production that gave me most of the basic advice that I needed to know.
I may be something of a luddite, but I do think that it would be useful for a printed summary of the packing approach to be included in the box, just in case a new owner does not have an internet connection at the first time of packing.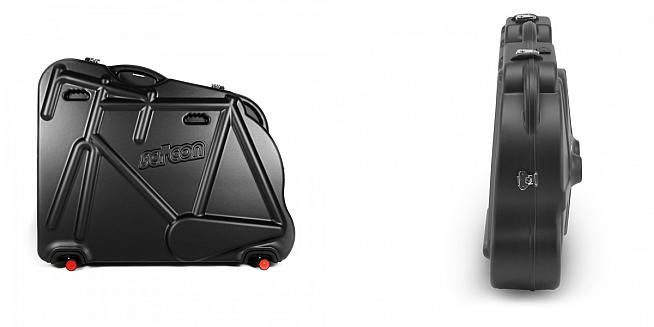 Removal of the rear derailleur hanger is not shown in the video and it is always a subject of concern - especially if, like me, you've previously snapped yours.
Replacements can be a nightmare to source so I always have a spare with me, but that doesn't help you decide if you should remove it, or not. Comments on the video from SCICON reveal that rear derailleur removal is sometimes required, sometimes not, which isn't really that helpful so I decided to remove mine and wrap it in bubble wrap.
The stages to preparing your bike for fitting in to the Evolution X are remarkably straightforward - remove seatpost with saddle; remove wheels, deflate tyres; remove QR skewers; remove left pedal; loosen handlebar and turn it to the right.
That's it - extremely simple in principle, and very stylishly animated in the YouTube video.
Reality, however, is not always so kind and I was soon falling at the first hurdle - my seatpost simply would not come out of the frame. After deciding against cutting my perching post out, I simply removed the saddle and found that it fitted perfectly.
The Evolution X is designed to be compatible with integrated seatpost extensions, and this was my saviour. Admittedly, my trusty nine-year-old, 56cm Trek Madone doesn't have an integrated seatpost, but the vice-like bond between downtube and seatpost amounted to the same thing. Fortunately, it now fitted in to the Evolution X like a glove!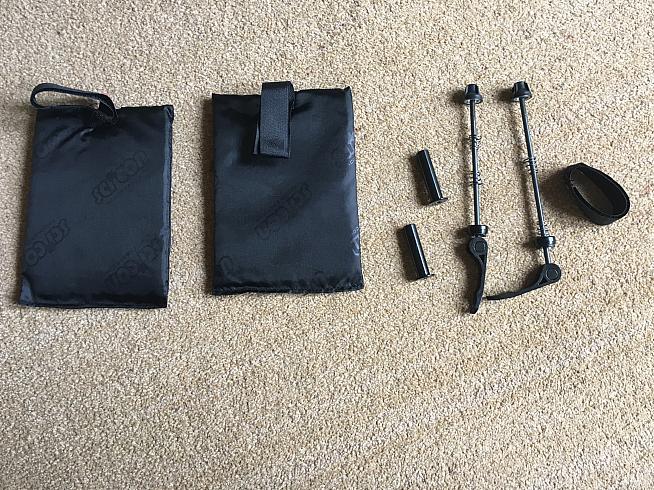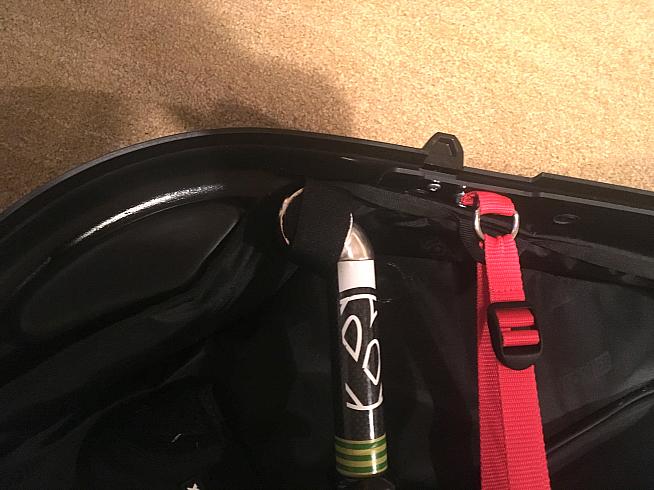 I then turned my attention to securing my bike in the box before adding the wheels. Hmmm, I thought, the video animation shows two red straps being secured but my Evolution X has a third one down near the rear derailleur.
It's just a minor point as it's relatively clear that the third Velcro strap must locate around the chainstays, but it would be nice if the video was more accurate here and gave better guidance.
At this point, it's a simple process to fix your wheels in the wheel-shaped recesses in the case - no need for extra advice there - then close the lid and begone to your chosen destination. As with most travellers though, I have seen how baggage handlers always treat luggage with the utmost respect, so I added a few optional insurances to the Evolution X.
This is all personal choice and not meant to be critical of SCICON in any way. Moreover, it is actually a compliment because the dimensions of the box are generous enough for you to add your own little extra bits of packing.
My additional packing included:
Bubble wrap over and under chainset
Bubble wrap around front and rear brakes
Bubble wrap underneath handlebar drops
Chain wrapped in rag to prevent excessive soiling on the case
Heavy-duty wheel bag placed under bike and another on top for extra padding
Bottle cages removed
Waterproof overshoes wrapped around brakes - I was travelling to Norway so the need for overshoes was quite high!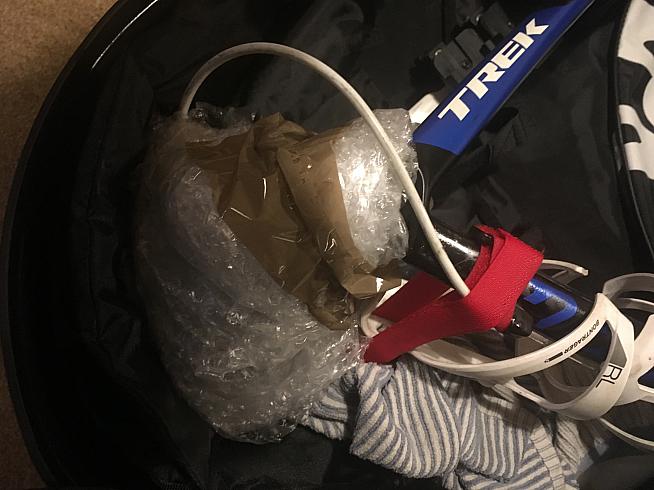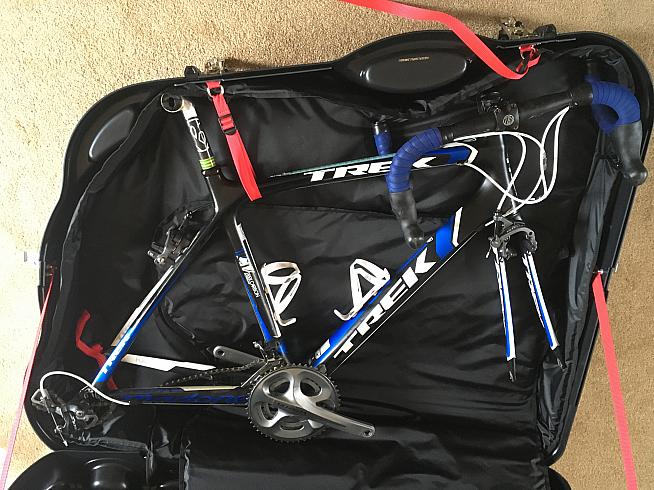 With helmet, shoes, saddle bag and frame bag also squirreled away inside the Evolution X, I was mildly hesitant as to whether it would close and lock.
I need not have worried at all - the wheel side closes down in to a couple of runner 'guides' so, as long as you check the alignment there, the locks will also neatly line up. Occasionally, I found that the red closure straps would stick out from the side of the case, but that's a real nit-pick and easily managed with a bit of care when you close the lid.
All in all, the entire process from start of bike preparation to final lid closure took around two hours (excluding watching videos on how to remove stuck seat posts) which was quite acceptable as a first-time effort. I have no doubt the time would reduce significantly with practice.
Having manhandled the now heavy case into the upright position, I attached the provided red strap which I assume is to enable you pull the Evolution X along. The location of this attaching point is not mentioned in the video and, in my opinion, is frankly daft. It needs to be placed high and to the front of the box, not low and to the side. Please SCICON, can you reconsider the location of the attachment point in future iterations of the design?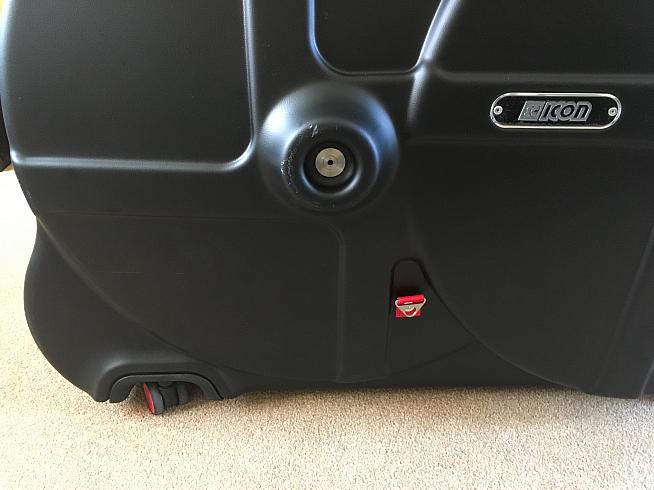 Manoeuvring the Evolution X by hand pushing - i.e. without the strap I have just mentioned - is very easy as all of the casters rotate through 360 degrees, thereby avoiding the need for the shopping trolley dance.
We've all had one of those at Tesco, Sainsbury's, Morrisons etc, where the front wheels are locked and you 'drive' from the rear, right? I was initially very impressed with the manoeuvrability of the case, but that was before it had been to Stavanger - more about that later in this review.
The next thing you realise, as you attempt to load the packed Evolution X into a convenient estate car, is that there aren't any real handles on it. Well, there are shapes on the box that look like handles but they miss the essential feature of being able to put your hand through them.
This, of course, means you can't really get any grip or purchase on it. So, unless you have the wingspan of an albatross, it is very, very, difficult to lift a packed Evolution X on your own.
I managed it, just, but I'd like to see more usable handles to make the case a little more manageable - especially for solo cyclists. We have to lift heavy packed bike case more times than you may have thought about - e.g. getting on/off airport shuttle buses; getting in/out of cars/taxis and lifting it on/off the hotel bed for packing/unpacking!
On the subject of lifting, "How much does it weigh?" is probably on your mind. The official weight from SCICON is 12kg but my flight scales suggest the Aerotech is a little bit heavier at 13.11kg.
With packing, transfer to Gatwick and self check-in all now taken care of, I waved goodbye to my Evolution X through the oversized baggage scanner and started to dream of three days' bike riding at the Haute Route Norway event in Stavanger.
Depending on when you are reading this, I will have also written a report on that event - or, at the very least, am currently doing so. (Check back later on Sportive.com, or drop me an email - [email protected] - and tell me to hurry up. If you do that and take a training plan as well, then ask me for a 10% discount.)
Individual airport procedures for oversize baggage handling do vary, and there is a little gotcha that the Evolution X can fall foul of. At the top of the case is a very handy slot through which you slide your baggage tag before sticking the ends together.
On the face of it, it's a perfect design feature thought out for your convenience. Unfortunately, it can be quite the opposite.
At Stavanger airport - and no doubt many others - the procedure is that bike boxes have to be opened for a visual security inspection. Unfortunately, the baggage tag, once threaded through the slot, is effectively locking the box sides together so you have to remove it to open the Evolution X.
Darn, that perfect design feature is now a perfect pain, as you rip off the old baggage tag and hope the security staff will help you print a new one. The solution here is to wait until the case has been inspected - if required - before fitting the baggage tag. Otherwise, it could be a long trek back to the check-in desk for a replacement tag.
Forty-five minutes after landing in Stavanger, I'm reunited with the Evolution X and steering it with a light touch towards the waiting mini-bus. It's 1.30am by the time I get to my hotel and I just want a quiet, quick, check-in before crashing out on my bed.
Stavanger has other ideas though - a lot of the paths in the old town where I am staying are cobbled. They're not cobbles as in Paris-Roubaix try-to-kill-you cobbles, but they are cobbles nonetheless.
Bike box wheels don't like cobbles, tired cyclists don't like bike boxes on cobbles, and no one likes to hear bike boxes on cobbles at 1.30am in the morning. You can't really lift the Evolution X up and carry it over the cobbles, so there is no choice but to bang, bang, bang your way over them.
After pushing my Evolution X over about 200m of cobbles, twice, I found that it had developed the shopping trolley dance. Instead of guiding with a light touch and steering in a straight line, I was having to push hard to control and steering at an angle across my forward path. This characteristic was being displayed before my return flight but not immediately after the outward flight, so my only conclusion is that it has been caused by pushing over cobbles.
I may pushing my luck here, but SCICON maybe you could consider a pavé-ready "Spring Classics" edition of the Aerotech - perhaps with built-in suspension?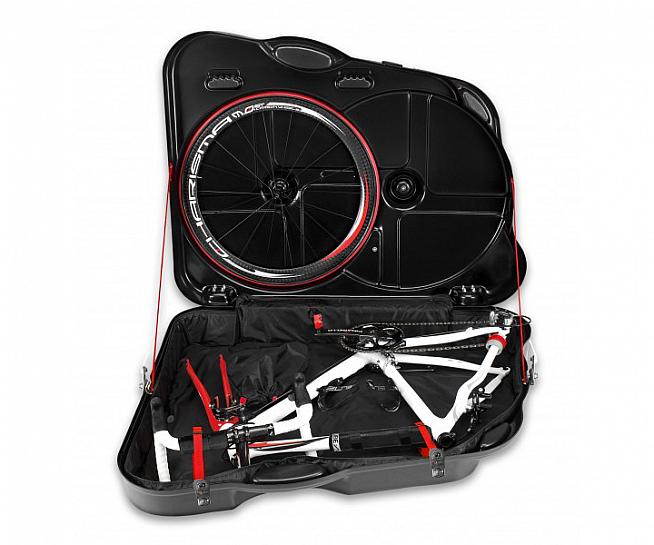 Three days later, Haute Route Norway is over and I'm packing up to go home. With better knowledge of bike preparation, the packing routine and addition of my extras, the whole process takes me just 90 minutes.
I think a 25% reduction in time is not too shabby and quite reflective of what is, overall, a very well thought out design. (One customer on a retail website reports being able to pack the case in just 20 minutes - a target to aim for!
Summary
SCICON's reputation is built on the quality of their bike cases, and the Aerotech Evolution X is packed with feaures that testify to the brand's many years of experience mollycoddling valuable and fragile race bikes.
The case has a lot to recommend it:
Easy to pack - no need to remove handlebars
Responsive and easy to steer (notwithstanding cobbles)
Integrated seat post compatibility
Intuitive locking mechanisms
Guides to help correctly place the top lid ensure that the external locks line up
Generous capacity for extras
It looks good!
Set against these plus points are a few minor quibbles:
Internal padding sheet is relatively thin
Packing instructions are online only, and the video is slick but gives guidance rather than details
Pull along attachment point is poorly located
Luggage tag is effectively another lock - can cause issues at airport check-in
"Handles" are difficult to grip
On balance, the positive points far outweigh the negatives. It's a sturdy, well-built case that inspires trust, and this was borne out by my experience flying to and from Norway - the bike returned home without a scratch.
Finally, the price. The Aerotech Evolution X has a recommended retail price of £699, which is a big investment for a plastic box. However, set against this is the value that it brings in protecting a steed that could be 10 times as expensive.
Fortunately you can also pick up the case at a hefty discount from online retailers - for example, Probikekit currently offer it at £399, which makes it much better value.
Overall, I would be happy to recommend the SCICON Aerotech Evolution to sportive riders looking for a reliable, well-made case to protect their bikes when flying.
Scicon Aerotech Evolution X TSA Bike Travel Case, RRP £699 - uk.sciconbags.com.
Currently available for £399 at probikekit.co.uk.

0 Comments