Juin Tech may not be a household name - even in cycling households - but they have carved out something of a niche for themselves in striving to perfect what is arguably an endangered technology: the cable-pull disc brake.
The Juin Tech R1 isn't a straightforward mechanical disc brake though, it's a hybrid or cable-operated hydraulic. This means you can use them with just about any standard MTB or road-style integrated shifters - SRAM, Shimano or Campagnolo - even ones designed for use with rim brakes.
It's an appealing solution for anyone looking to gain some of the much vaunted advantages of hydraulic braking - increased power and better modulation - without needing to replace an entire groupset. Sounds good in theory; how do they work on the trail?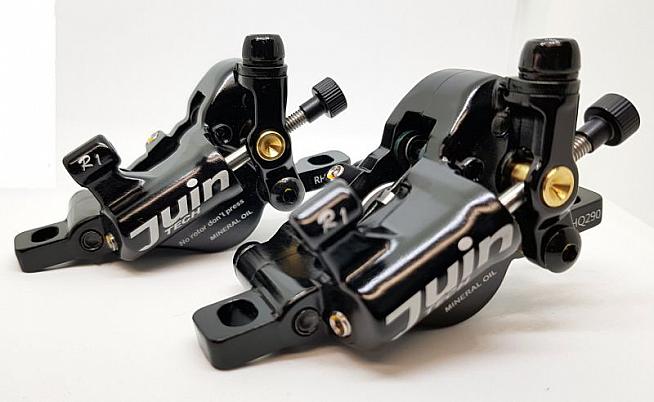 I fitted the Juin Tech R1s to my Focus Mares cyclocross bike, which I bought second hand as a winter project last year. I stripped out the bike's stock Shimano Tiagra/105 shifters, crankset and mechs to be replaced with a mixture of Campagnolo Chorus and Athena 11 speed. I'm a bit of a Campy fanboy and this was shortly before they launched their new 2018 disc brake groupsets, but in any case, for a dabbler in cyclocross the cost of a Campagnolo hydraulic disc brake group would have been a deterrent.
At around £150 a set, the Juin Techs are a much more affordable alternative. While you wouldn't expect performance to be at the same level as a full hydraulic system, I was interested to see how performance compared to my usual road rim brakes and to mechanical discs.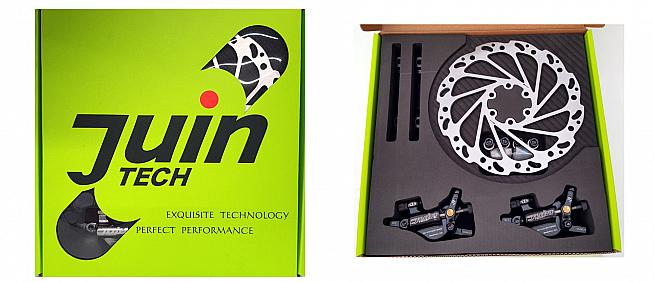 The first thing you notice out of the box is that the R1s are very attractive looking brakes, with a choice of anodised colours - mine coming in blue. They're lightweight too, at just 142g each (some 30g less than the Shimano mechanical units I swapped them for).
Set up was fairly easy using the instructions provided, even for a disc first-timer. In the box you get the front and rear units (with pads already fitted), a pair of 160mm rotors, and all the bolts needed to mount both brakes and rotors to either post- or flat-mount frames.
I fitted the brakes using Powercordz compressionless housing for the cables, which promises to enhance performance by eliminating the slightly vague, squishy feel that can result when standard cable housing flexes and compresses when you pull the brakes. I like my brakes to bite almost immediately with a short lever pull from the hoods, and was able to achieve a fast, responsive feel with the combination of Campagnolo Athena shifters and Powercordz cable housings.
After a brief test run of the local church's gravel car park and lawn (well, it is a "cross" bike) I was satisfied with the setup and took the bike along to the Crossbones Gravelcross sportive.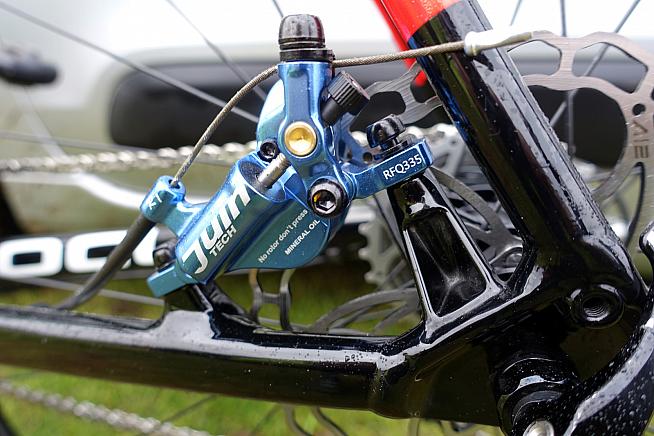 Talk about baptisms of fire; this was more like a baptism of mud and the extreme conditions on the South Downs proved a bit much for the organic pads fitted as stock with the Juin Tech brakes. After just 10km slogging through hub-deep mud, chalk silt and leaf mulch i grabbed the brakes to find I was clutching at thin air: they'd lost all stopping capacity. A nerve-wracking moment. Fortunately i was descending a shallow grassy bank rather than a road at the time and was able to trundle to a halt at the bottom with much shouting to alert fellow riders to my unstoppable progress. A few moments fiddling with the adjuster knob on each unit and i was able to wind the pads in sufficiently to bite again.
>>> Here's mud in your eye: Crossbones Gravelcross report >>>
I had to carry out this adjustment three or four times in the course of the 30km ride, and it's fair to say the experience did little to change my prejudice against disc brakes. But after a little research - and a long spell off the cross bike - I decided to try swapping the pads for harder-wearing sintered brake pads ahead of the bike's next big outing, the Veneto Trail.
And this change, it turned out, made all the difference. The stock brake pads when I removed them were well worn despite less than 100km of use: a rate of wear the likes of which I've only previously experienced with rim brakes when descending in the Alps on Campagnolo Shamal Mille wheels (these have a milled rim, similar to Mavic's Exalith braking surface, which seems to chew through brake pads far quicker than normal rims).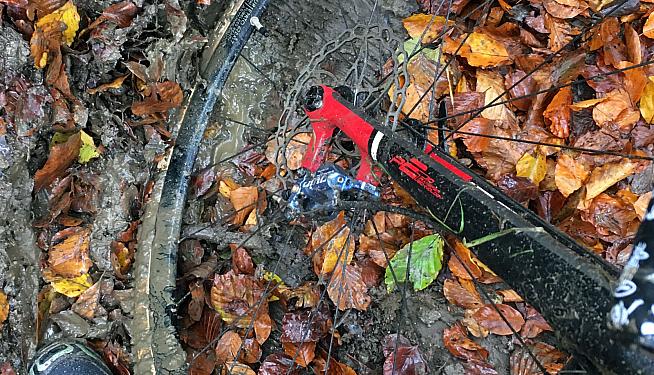 Over to Italy for a bikepacking adventure then, and the R1s with new brake pads worked a treat. Admittedly conditions were dry, but there were plenty of vertiginous descents - on tarmac and gravel, forest trails, single track, you name it - and the R1 brakes provided reliable, surefooted braking power throughout. I also found they needed much less frequent adjustment, just one slight tweak of the barrel adjuster over 280km of riding, which I guess you could put down to a combination of more durable pads and less abrasive riding conditions in an Italian summer compared with a British winter.
For total transparency I should probably note that my Veneto Trail was brought to a premature end when I crashed into a wall. This was entirely down to operator error, and no reflection on the brakes (in fact, I don't recall even trying to brake; I was too focused on trying to swerve an unexpected obstacle).
The bottom line is that since the test ride in Italy, I've grown to really appreciate the R1 brakes and would not hesitate to recommend them for anyone looking to bring a little hydraulic stardust to their road or cross bike. Apart from their impressive performance, their versatility in being compatible with just about any groupset is a real advantage. Throw in the premium looks and finish and light weight and you have a really compelling proposition for anyone looking to spec a custom disc brake build, or upgrade their mechanical disc setup at a reasonable cost.
The only caveat concerns choice of pads. Juin Tech and their UK distributors Edge Sports recommend organic pads, and I'm in no position to argue - they know their product. But I would suggest considering sintered pads when conditions get really filthy, just to extend your riding time between adjustments and indeed the overall lifespan of the pads.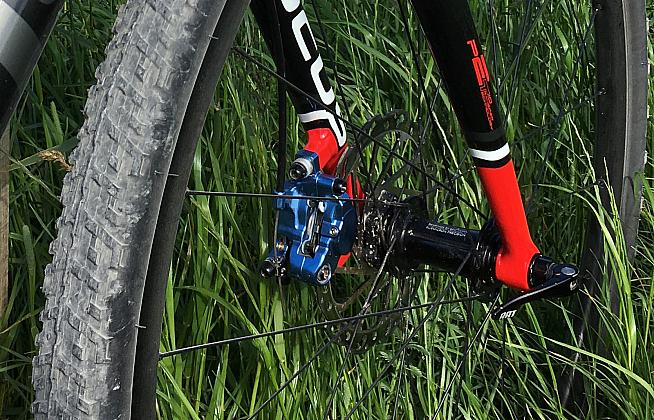 Finally, If you're tempted by the Juin Tech R1 for your road bike then we've just heard that Juin Tech have launched the GT, a road-specific version of the R1. The GT is a four-pot brake, which basically means it has two pairs of pistons acting on the brake pads instead of one, for increased braking power and improved heat dissipation at the higher speeds typically encountered on road descents.
The GT will be available soon on the Edge Sports website. In the meantime though, the R1 is well worth a look if you're upgrading your disc setup ahead of the cross season, or even for your do-anything, go-anywhere adventure/gravel bike.
Juin Tech R1 Hydraulic Cable Pull Disc Brake Set, £149.99 - www.edgesportsuk.com
0 Comments