Location: somewhere on the South Downs. The horizon is shrouded in mist, but we can't miss the three-strand electric fence to our right because it's within touching distance; one tumble and we're zapped. To our left, the narrow brown ribbon of churned up mud that we're struggling along is bordered by a bramble hedgerow, plucked by the wind to its jersey-ripping bones.
Panting, we thread a precarious path between the thorns and emerge onto the open hillside. The mist closes in; it starts to rain. It's a cyclocross sportive, and - somehow - we're loving it.
"Come on," deadpans James, "let's do another 500 metres..."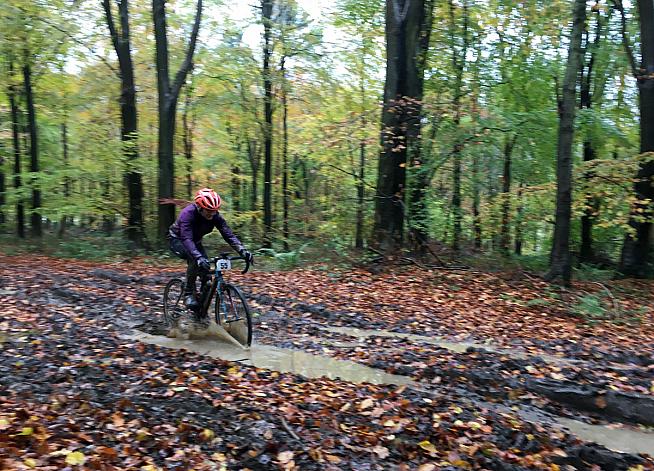 The Crossbones is part of the Kinesis UK Gravelcross Series of mixed-terrain sportives. While the series is billed as featuring on average 60% road, with the rest made up of bridleways, fields and whatnot, the Crossbones seems to have been cooked up to a different recipe.
Since ducking onto a hiking trail a few minutes after leaving event HQ near Arundel, we've bounced and sloshed across pretty much everything except tarmac, with just a bare 2km of paved road.
That's no bad thing, as the course leads a merry chase through off piste terrain that's the stuff of roadie nightmares. Gloop a foot deep squelches almost pornographically under our tyres. My 'cross bike, hastily assembled only the night before, lasts all of 3km before I'm forced to pull over by a heap of felled trees with a flat front tyre and a saddle that has twisted around 30 degrees on its post.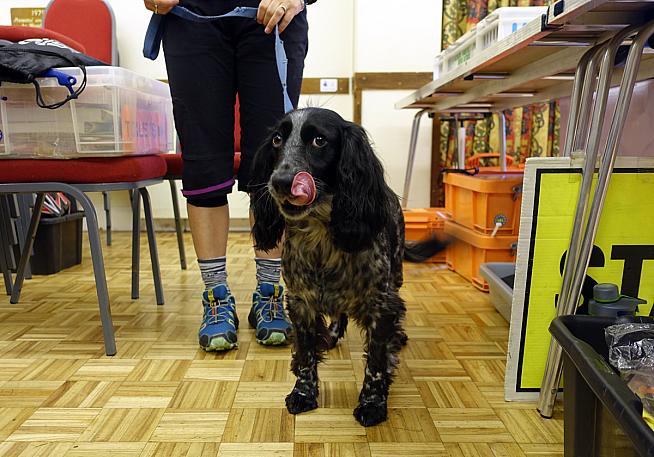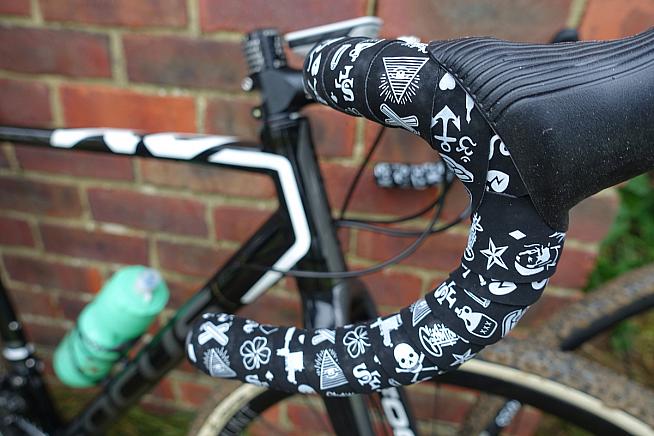 The seatpost is a quick fix with the multitool, the front tyre takes longer as I fumble to get the already filthy tyre off the rim. So much for tubeless; I slosh a cupful of sealant into the undergrowth and whip in an inner tube.
Couldn't ask for a prettier spot to puncture though. The trees rise tall all around us, clinging to their last green leaves while fallen bronze comrades litter the forest floor.
Speaking of bronze... With half an hour gone we've covered less than three miles; the realisation dawns that we'll struggle to break the minimum speed limit advertised for the Crossbones.
Plans for riding the 75km long route are swiftly downgraded to medium. As we roll off through the woods to the next challenge, it's not long before we agree to settle for the short course.
And then, as the wind, the rain, terrain and tumbles take their toll, to simply surviving. This is a sportive, but not as we know it.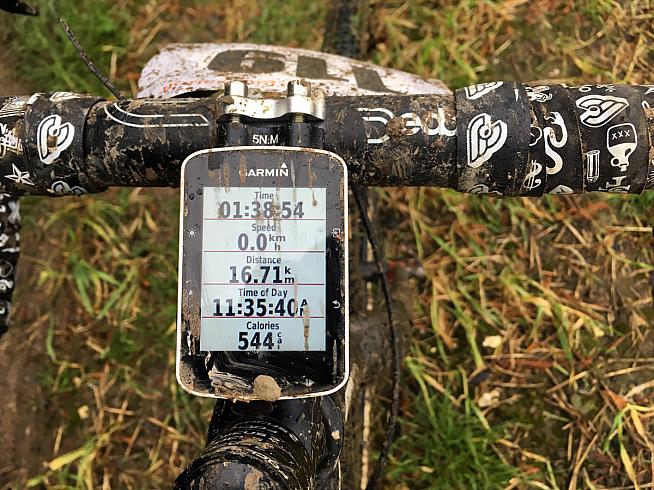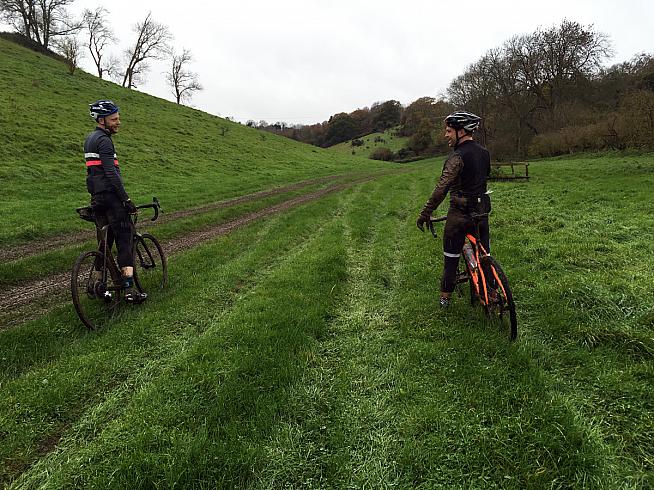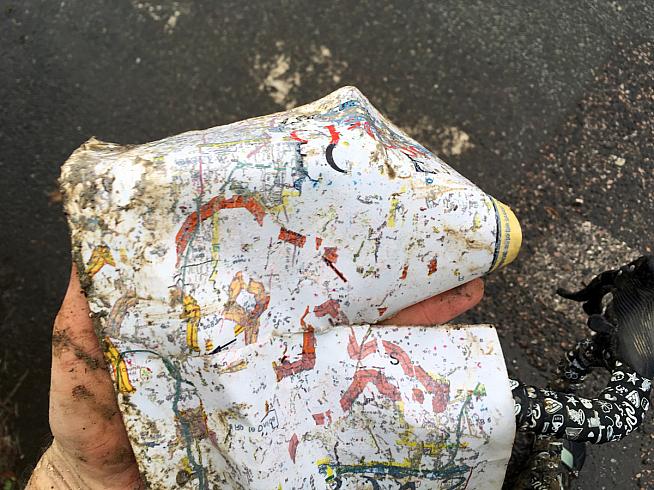 Deep in the Downs, the only sounds are the occasional honk of a disc brake and our regular bitter laughs of disbelief as we see what we're about to ride next.
Chalk tracks scattered with flint, packed hard and slippery as ice; twisting, root-snarled mud chutes that would test a full-suss 29er; desolate fields, where the wet grass slaps your legs and wraps around your front mech... yet we're still, inexplicably, having a blast.
Away from the main roads, traffic fades into irrelevance; the challenge here is a simpler one; just stay upright, as your back wheel spins and your bike fishtails through a medley of nature's finest surface dressings.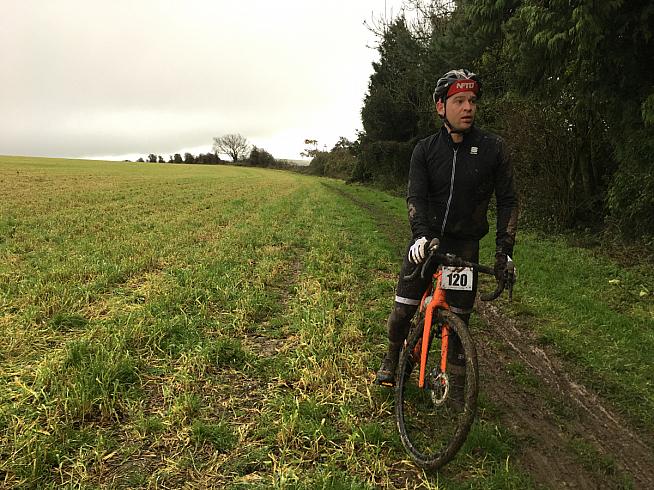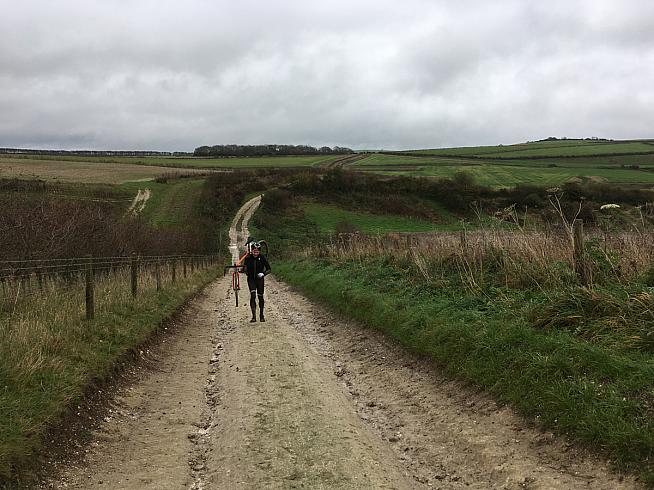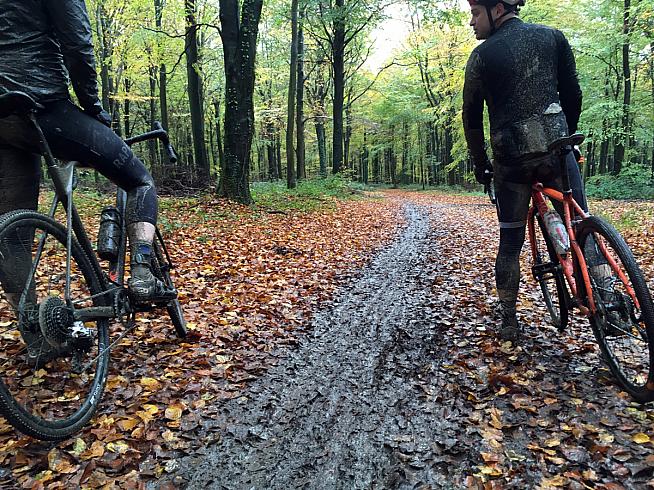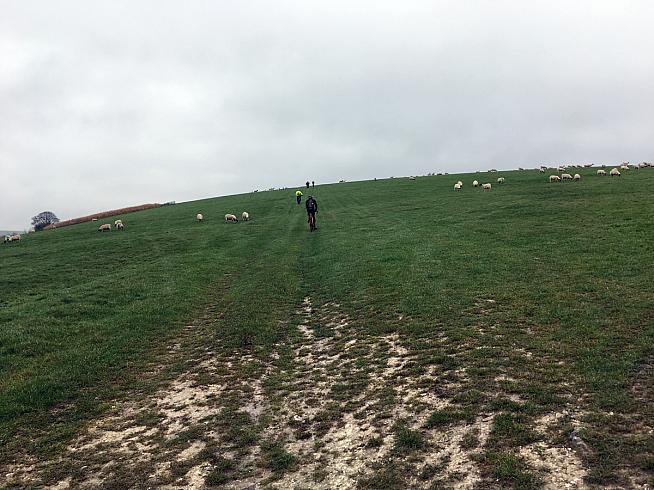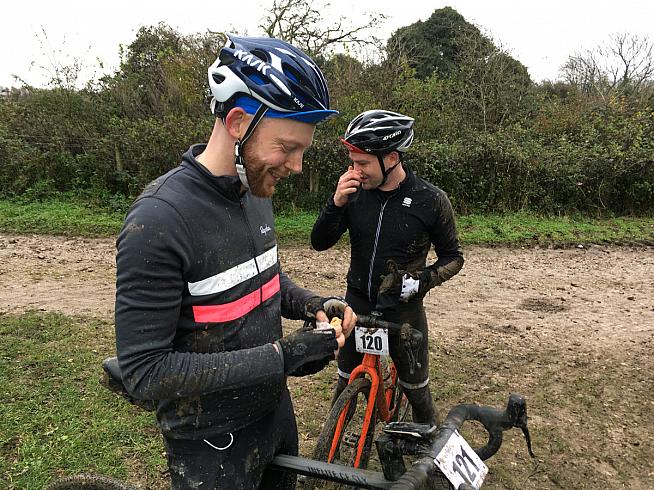 Speaking of bikes, my ride buddies - the two Jameses - have a couple of crackers here. James D is riding a Canyon Inflite CF SLX, while James A is piloting a Mason Bokeh that I picked up the day before from Mason Cycles HQ, just a few miles away across the fields.
>> Performance art: Mason Bokeh Ultegra Hydro review >>
The Bokeh is a beauty, its flare orange paintwork blazing like a cheery hearth fire on this dank autumn day. It's fitted with an Ultegra hydro groupset and Hunt Mason wheels, the perfect gravel setup - but on flat pedals and with semi-slick tyres, it's underdressed for some sections of this particular parcours.
The Canyon Inflite on the other hand, with Schwalbe cross tyres and running SRAM 1X, is in its element. James is moved to proclaim his love on more than one occasion.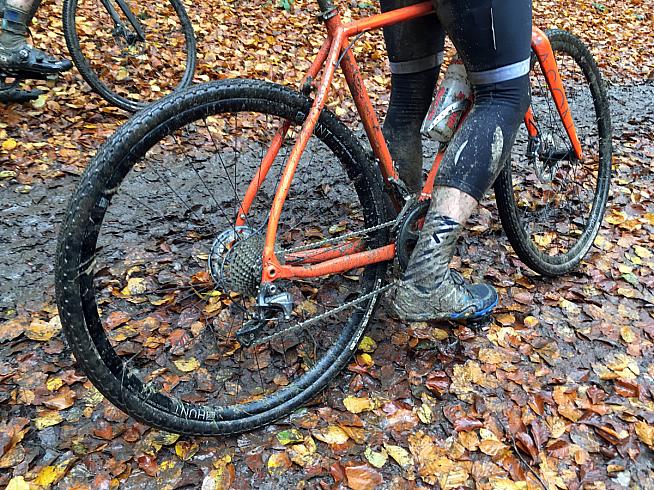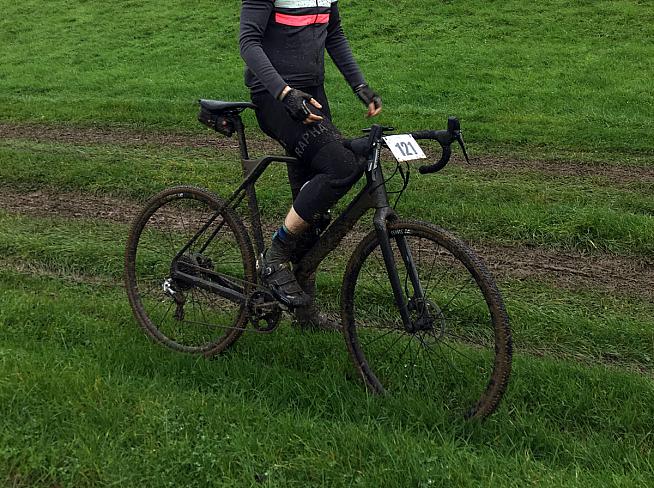 While the Jameses flaunt their fancy test bikes, I'm riding an eBay find - a two-seasons-old Focus Mares AX. I've tarted it up a bit, swapping out the Shimano Tiagra/105 mix for a Campagnolo groupset and some new Hunt wheels, dropping about 2kg in weight. But I only fitted the brakes - a set of Juin Tech R1 cable-hydraulics - the night before.
Baptising a new build on a ride like this is a gamble, but as we pull up to the feed stop I'm just about breaking even. Even if the braking is just a little bit dicey.
I've seen a lot of sportive feed stops, but the Crossbones' effort deserves some sort of medal for cheer in the face of adversity. The food is the classic sportive roll call - fig rolls, flapjacks, jelly beans and babies, bananas, and it's served on a rickety table beneath a bright orange marquee plopped in a small patch of chalk and grass with nothing but mist on four sides.
The sight of the event photographer, huddled under a massive umbrella 50 yards down the path pointing his lens into the white nothingness of space completes the scene. Feed station at the end of the universe...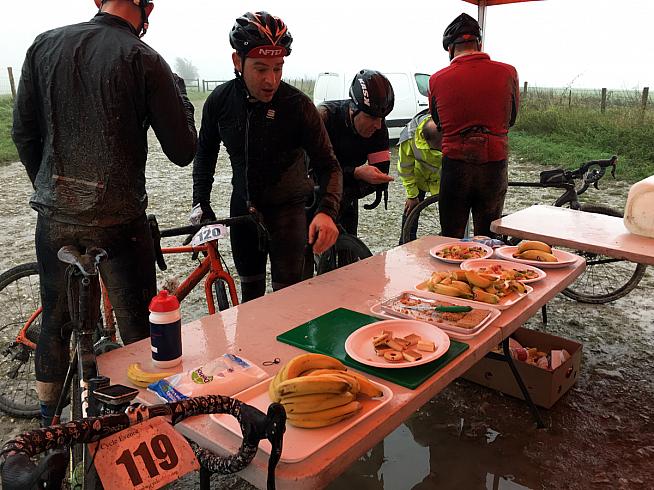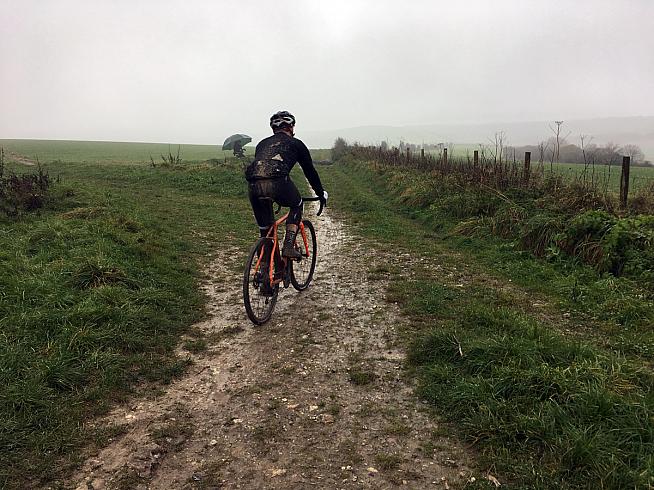 Stopping for a chat with the feed staff, it turns out our progress to this point has been so leisurely that the route signage is already being removed ahead of us - the ultimate ignominy. We look at each other, entirely failing to feign either surprise or disappointment. The prospect of riding the 14km back to HQ is an easy sell.
We point our bikes in what we're assured is the general direction of home. But as the orange Bokeh disappears into the mist ahead of us James pulls up his Canyon alongside the photographer. Puncture.
We walk back to the shelter of the feed stop. As James is fixing the flat, another rider is having his bike seen to by the mechanic. His derailleur has snapped, leaving him to ride a single speed back to base.
Shortly afterwards, another cyclist pulls in with a report from further up the course. A gamekeeper is kicking off, apparently the sportive has crossed paths with a shoot. Threats of buckshot and the law are being bandied about. It's not just the riders who're being subjected to unusual trials on this sportive, the organisers have to contend with a few surprises too - a fact that gives me some small comfort as we set off again for the home stretch.
On a normal sportive, unless it's in the Alps or something, 14km to the finish would be ticked off fairly rapidly but not today: we have fields of sheep to ride through, barred gates to open and close, photogenic log piles to pose next to, and muddy puddles to pratfall into.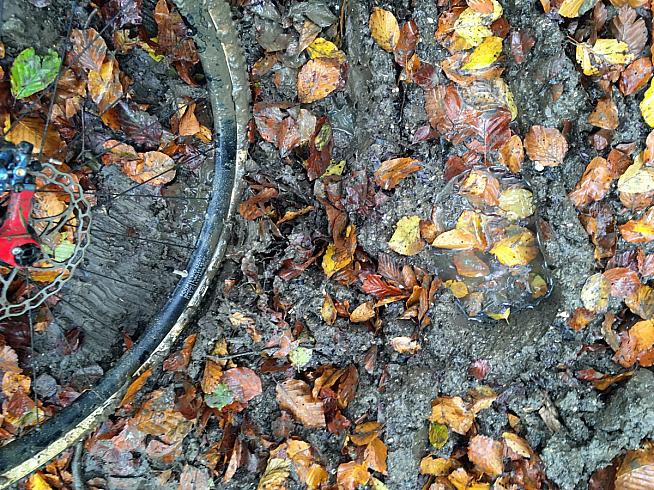 At long last we make it back to the village hall and join the queue for the powerhose. It may be the shortest and slowest sportive effort we've ever ridden, and we've never been filthier, but the verdict is unanimous: that was brilliant!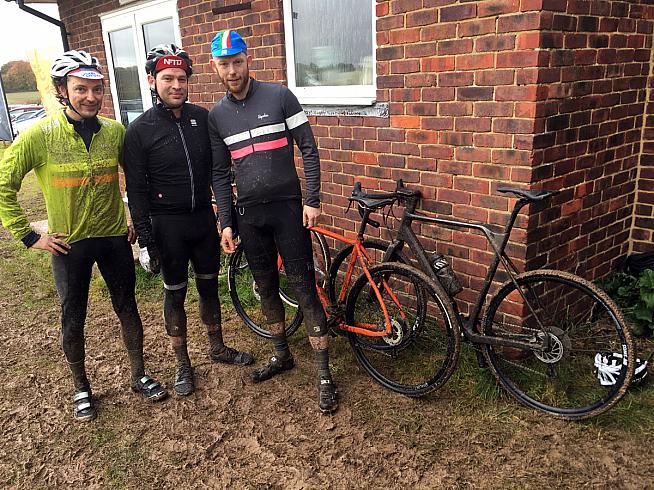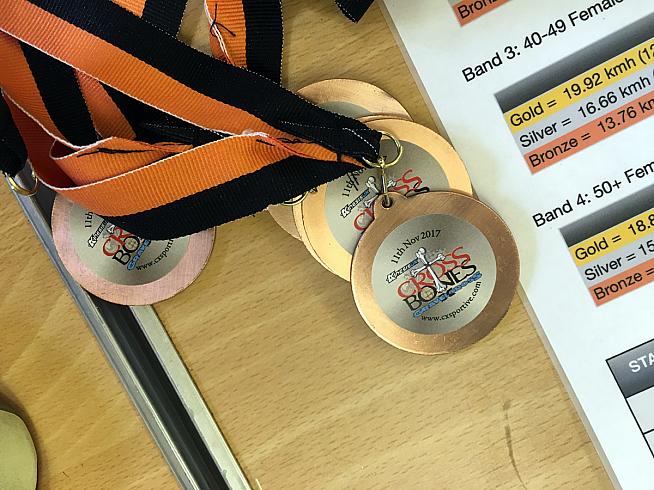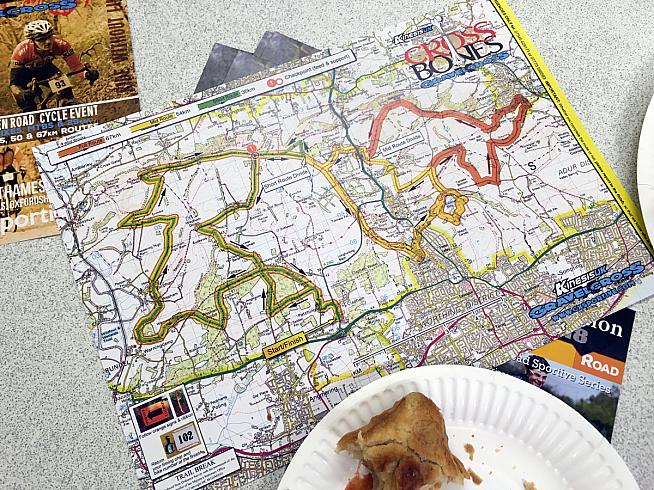 Over hot pasties and tea in the warmth of the hall, we're already plotting our next gravel cross ride. It's been an eye-opener. I live 15 minutes away and have logged thousands of miles on local roads - but when it comes to the landscape beyond that white line, clueless. And it's actually pretty special. For that reason alone, a 'cross sportive (and an off-road bike) more than repay whatever discomfort you may encounter 'in the wild'.
Meanwhile, bedraggled riders traipse in from the longer routes, caked in mud and wreathed in grins. Martin, the organiser, is there to greet them; no one has managed a gold time yet, he tells one group.
Maybe not, but - with the possible exception of our friend with the broken derailleur - everyone has managed a good time.
Sportive cross, gravelcross, whatever it is, try it. You'll never take tarmac for granted again.
The Kinesis UK Gravelcross Series continues with the Badlands sportive in Henley-on-Thames on 26 November. For details and to enter visit www.cxsportive.com.
0 Comments