They say you should try something new every day - I say why stop at one new thing?
That was, roughly, the logic that saw me arrive in a muddy field behind the Clapham & Patching Village Hall getting ready to ride my first cyclocross event.
But as excited as I was at recreating all the joys of the winter school cross country run - but on a bike and without a PE teacher shouting at me for slacking/walking/trying to take a shortcut - there was a better new thing to try.
The £3,100 Mason Bokeh adventure bike.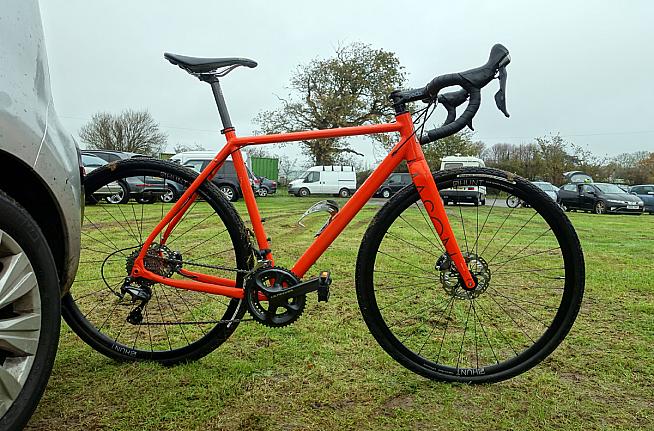 This stunner is designed as the ultimate do-anything bike - good to go with strong components straight out of the box, from Hunt wheels to a custom Fabric Scoop saddle. And designed to do it fast.
Guy Kesteven of Cycling Plus called it the "ultimate all-rounder and a very rare five out of five".
Paul Hudson at the Telegraph said "it could well be the only bike you need".
And I was about to point it at a cyclocross sportive to see what happened.
Specs
The Bokeh I got my hands on was the Ultegra Hydro build in 'Flare Orange' colourway. Complete with Hunt 700c GravelDisc wheels shod with 35mm Panaracer GravelKing SK tyres, the full bike weighs in at 9.2kg.
The groupset includes Shimano's Ultegra R8000 11-speed drivetrain, with compact 50/34 chainrings on the front and a generous 11/34 on the back. Braking is taken care of with the Japanese brand's Ultegra-level Hydraulic F160/R140 disc brakes.
The star is the frame though - custom formed, triple-butted aluminium, with Mason Parallax full carbon fork.
Pictures don't do it justice: the welds are so smooth you could swear it was carbon, the lines stunning and the colour brilliant. I was a little bit in love.
Of course, when given a piece of - effectively - art, the sensible thing to do is throw mud at it.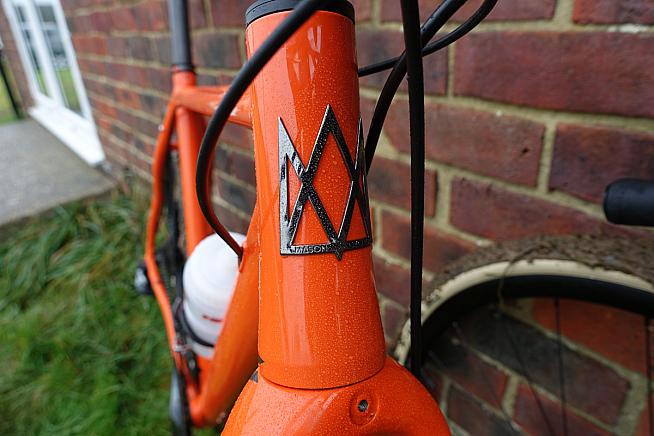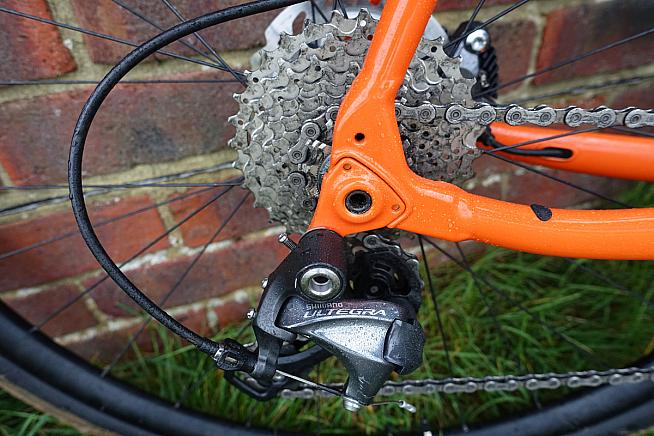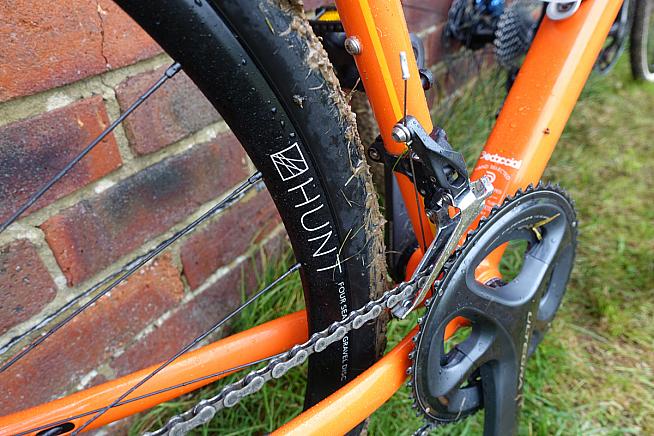 An off road adventure
The Crossbones sportive is part of the Kinesis UK Gravelcross series; events described as 60% road, 25% fast tracks (fire road/farm track), 10% bridleway, 5% singletrack.
>> Here's mud in your eye: Crossbones Gravelcross report >>
This seemed perfect to test the "do anything" claims of the Bokeh and as a way to experience my first cross event.
Then it rained.
Now, rain in November isn't something that should shock us, there's even a song about it. But what it did to the course was far from ideal.
The organisers let slip that the conditions had deteriorated to the point that no one got gold times and incredibly few even managed silver.
I was a cross newbie, without mountain biking experience, who thanks to - um - organisational issues was riding flats, on an adventure bike.
Time to see what happened.
Mud, glorious mud
We started on the road, the bike was incredibly smooth.
The Shimano Ultegra drivetrain was like silk, brakes reliable and powerful, the frame and 35mm tyres smothered road buzz and it was all rolling very nearly as well as a road bike.
Then we turned off the road.
The sportive headed through fields of wet grass, then into the woods. And the mud.
I was distanced, fast, by the two people riding with me on cross bikes. On the flat as well as the uphills.
The back wheel slipped, sideways as well as under power. I changed down - trying to find a speed it would grip at.
I learnt to anticipate when the back wheel would move sideways. My wheels were frequently facing different directions while I pedaled, and neither of them moving the way they were pointed.
In all, it felt like my back wheel covered about 30k more than my front as it spun for traction.
Not being clipped in meant feet slipping on muddy pedals at best, and one or both feet jumping off them entirely at worst.
Obviously I came off. More than once, but never dangerously.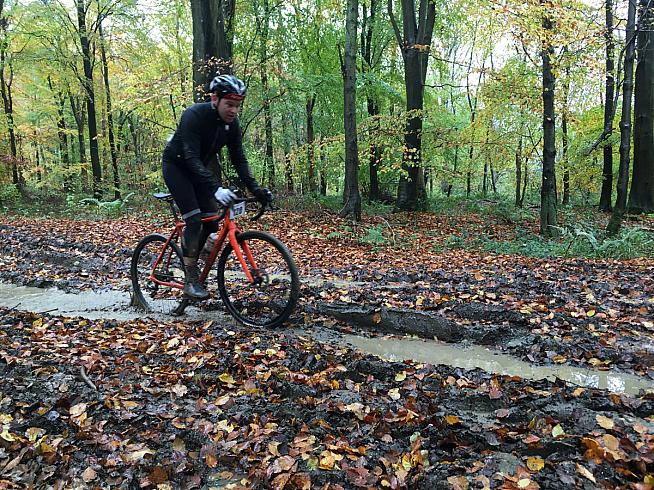 The thing is, I can't really blame the Bokeh for any of this. Because it's not a cross bike, it had gravel tyres on - not cross ones. And, fundamentally, I'm new at this.
But while there was a lot more mud than even the organisers anticipated, it wasn't all 20cm-deep sludge.
Gravel and chalk
Towards the end of the ride the mud let off - we transitioned onto chalk tracks, before a gravel descent.
The bike flew.
Soaking up the rutted chalk, it was precise under handling (even in flats), and incredibly comfortable considering the road surface.
On the gravel? Sublime. I raced, and caught, riders ahead of me as I flowed to 55kph on one curving gravel descent.
The Bokeh was as predictable on the gravel as my road bike on smooth, dry tarmac.
Comfortably outpacing the people I was riding with, I turned around at the bottom and rode up the slope I'd just descended. The Bokeh was just as sure-footed on the way up as down.
Then it was back to fast road to the finish (with a brief mud interlude).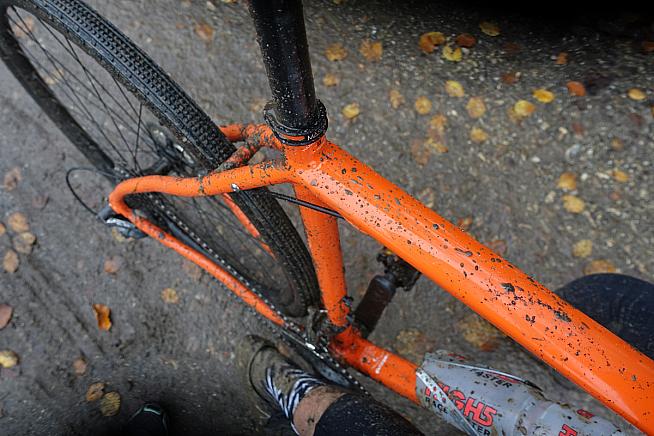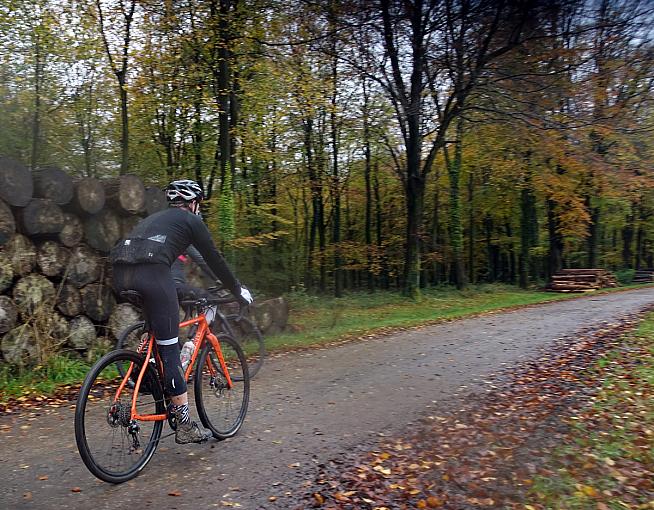 Conclusions
This was far from a fair test of the Mason Bokeh. An all-rounder asked to do a specialist's job in the hands of a novice, in conditions that even specialists struggled.
What I can tell you is that it's incredibly comfortable on tarmac, the shifting smooth and handling precise.
On a rutted track it's predictable and soaks up a huge amount of the surface irregularities, I'd love to try it on pavé.
On gravel it's simply stunning.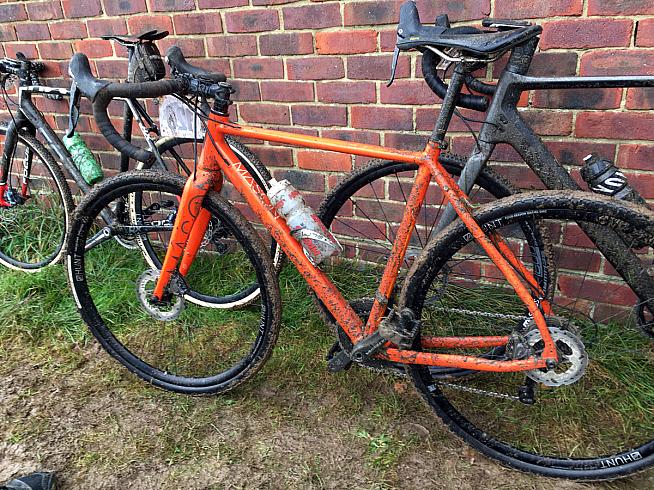 And, well, even with all the other limiting factors, it coped. It coped with 45-degree single track descents.
It coped with 20cm deep mud. It coped being ridden through 60cm puddles. It coped with jarring chalk tracks and tree roots.
It got me up every hill that could be ridden and across every field.
Even with the front mech invisible under 18 layers of mud, grass wrapped around the bottom of both cranks, everything still worked. The worst outcome was a squeaky chain.
If you're looking for a pure 'cross bike, this isn't it - or at least, not in this set up.
But it's nothing a change of tyres couldn't fix. And, if you want a bike that genuinely can do everything - some of it so well it took my breath away - then I can't imagine better than Bokeh.
Bokeh Ultegra Hydro, £3100 from masoncycles.cc
2 Comments