With summer on the wane and cyclocross (not to mention rainy commutes) on the horizon, cyclists' thoughts may be turning to disc brakes.
If you're looking to make the leap to disc braking, but have a perfectly fine rim groupset you'd like to transfer to a disc frame, Juin Tech have the solution.
The GT hybrid hydraulic disc brakes offer the stopping power and modulation of hydraulic disc brakes, but are cable-actuated, which means they are compatible with your existing rim brake shifters and groupset.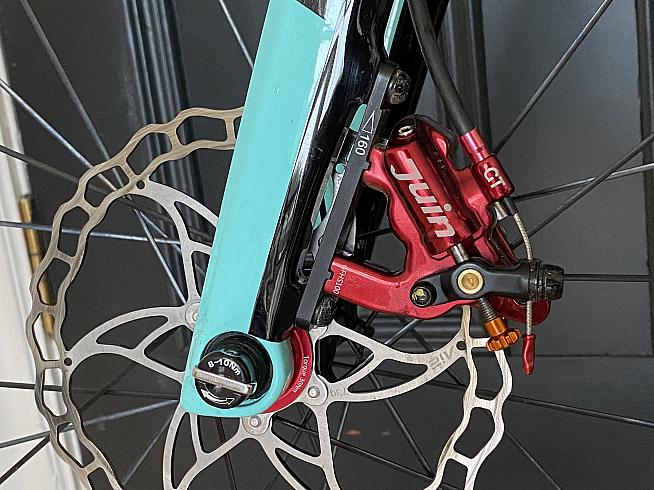 We previously tested Juin Tech's R1 brakes (you can read the review here) so were keen to take a look at their latest offering.
The GT are basically an upgrade to the R1, packing four pistons into each caliper compared with two in the R1.
The result, in theory, is increased stopping power in a lightweight package. GT stands for Grand Tour, and these brakes are designed to offer high performance on road bikes - but they're equally suited to gravel or cyclocross duties.
Two versions are available, GT-F for flat-mount bikes and the GT-P for post-mount.
I've been testing the GT-F on Bianchi's endurance focused bike, the Infinito CV Disc.
I was keen to hang onto the electronic shifting of my rim-braked Campagnolo Record EPS groupset, but the cost of Campagnolo's current 12-speed EPS hydraulic groupset is nearly £3000.
So I turned again to Juin Tech. The GT-F brakes cost a relatively modest £210 - and, as it turns out, they are a perfect partner for Campagnolo's electronic groupset.
In the box, you get a set of brake calipers in a choice of bling anodized finishes: JuinTech sent us the red.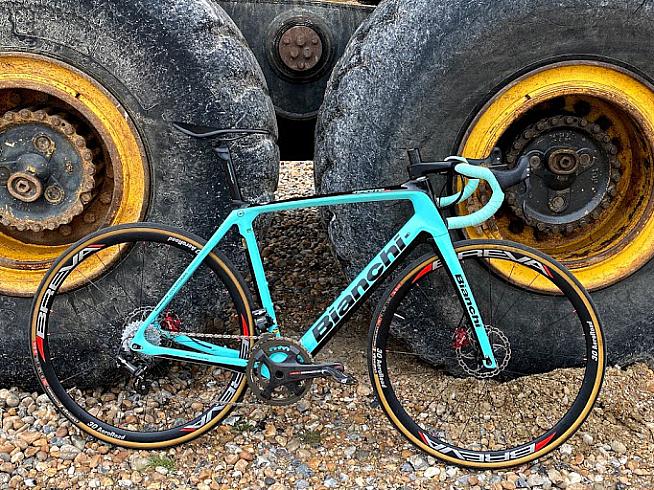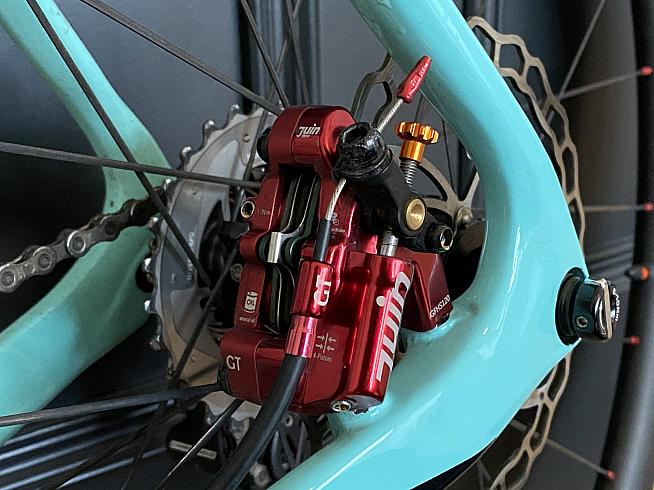 Two sets of brake pads are included, along with mounting bolts. Four pairs of bolts in varying lengths are provided for the rear caliper, to suit a range of chainstay depths - a nice touch, some brands make you purchase these separately.
Set up could hardly be easier. The brake calipers mount to the frame and forks using the provided bolts, pads are pre-fitted and the calipers connected to shifters using regular brake cables.
The hydraulics are sealed units, so there's no messing about with syringes and brake fluid; no need to bleed the system, trim hoses, fit olives or any of the faff associated with setting up full hydraulic brakes. If you can fit a set of rim brakes, you can fit these; it's certainly within the capability of a reasonably competent home mechanic.
As with the Juin Tech R1, you can fine tune how closely the pads sit to the rotor using the barrel adjuster on the caliper unit. As the brake pads wear out over time, the caliper will need occasional adjustment to bring the pads in closer to the rotor. This, really, is the sole disadvantage of the GT-F over a full hydraulic set-up, in which the pads automatically maintain position as they wear.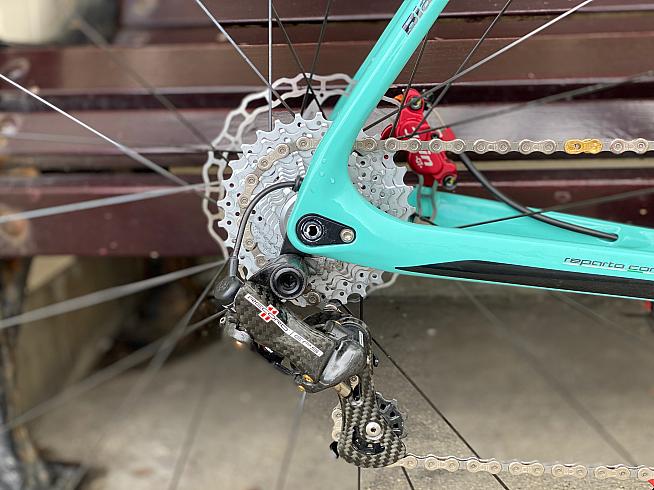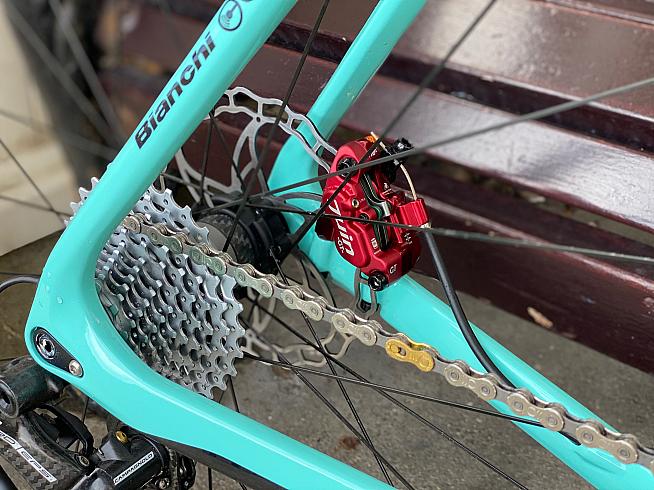 Ease of set-up is welcome, but how do they perform?
I've been genuinely impressed with the GT-F braking. The feel at the levers is excellent; good initial bite, and plenty of modulation when you need to feather the brakes on a long descent.
I got caught in a summer shower - downpour might be more accurate - on the bike's maiden run, which gave me a good chance to test the brakes. All was well; on wet descents they scrubbed off speed smoothly and noticeably quicker than my rim brakes on carbon rims.
I've ridden Campagnolo's (excellent) full hydraulic brakes extensively, and would be hard pressed to tell the difference. Perhaps Campag's hydraulic shifters just shade it on lever feel, but in terms of performance the Juin Tech GT-F are every bit as good.
It's important to use good quality compressionless housing, so that force applied at the lever is transmitted efficiently along the length of the cable to the caliper; I opted for Jagwire's Road Pro brake kit.
Whereas the R1 were supplied with a pair of 160mm rotors, the GT-F are supplied without. Juin Tech advise using 160mm rotors, and I've been satisfied with the performance of the lightweight Ashima Ai2 rotors I'm running.
My only gripe is the occasional ear-splitting honking noises when braking in the wet... but it seems that's par for the course with disc brakes. A hard squeeze on the brakes to clear water and road grime from the rotors usually sorts it out quickly.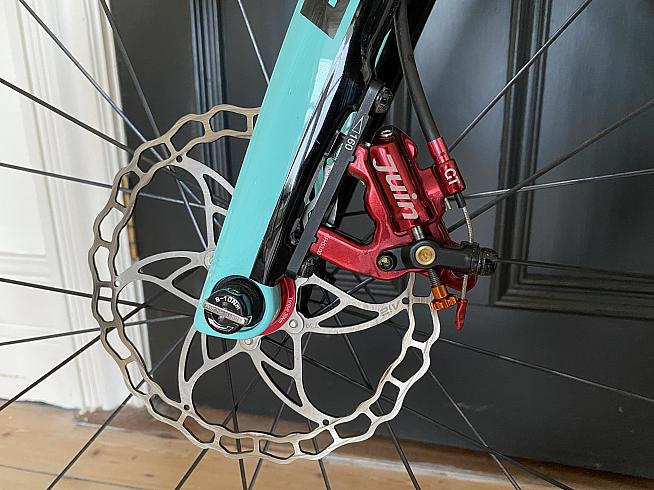 Juin Tech's UK distributors are Edge Sports, and from the reviews on their website it seems quite a few people are, like myself, happily marrying Juin Tech brakes with Campagnolo systems on their road and gravel bikes.
The GT-F are compatible with Shimano and SRAM too though, and I can imagine would be an attractive proposition for anyone looking to port their high-end Di2 or eTAP groupset to a new disc brake frame.
Retaining your existing system is not only an economical solution, but the slimmer hoods of rim brake shifters feel and (to me at least) look preferable to the chunkier horns on a typical hydraulic shifter.
And when the brakes excel like these GT-Fs, there's no need to feel like you're missing out.
Personally, I'm delighted with my hydroelectric mash-up. Uncompromising performance, ease-of-use, and great looks to boot - the Juin Tech GT-F brakes tick all the boxes.
Juin Tech GT-F hybrid hydraulic disc brakes, £210 from edgesportsuk.com.
0 Comments