Tubular tyres: nostalgic dinosaur-tech that should be consigned to the dustbin of cycling history, or pinnacle of pneumatic evolution, trusted by pros since time immemorial? Discuss...
Tubular tyres (aka "tubbies" or "tubs"), are still used by the majority of pro teams, but for amateur cyclists - with the exception of some diehard road and cyclocross racers - they've long since been supplanted by clinchers and, more recently, tubeless setups.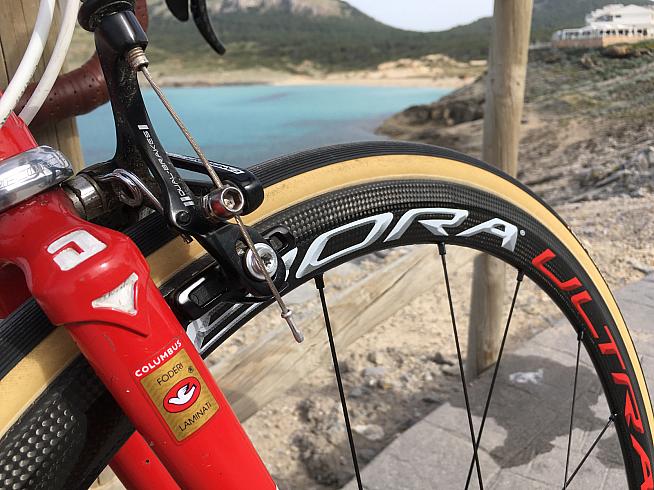 There's no mystery behind the popularity of clincher tyres. Top quality modern clinchers offer comparable ride feel and performance to tubular tyres, and they're relatively easy to repair when you get a flat. Carrying a couple of spare inner tubes isn't a big deal, and since the vast majority of bikes are fitted with clinchers it's all that most cyclists know.
In fact, tubulars are so rare that a certain esoteric mystery hangs around them, even a faint whiff of menace (or is that glue...). But are tubular tyres really that difficult to deal with? How much easier or harder are they to run than "normal" clinchers?
Prompted by the spirit of discovery - and an irresistible deal on a Campagnolo Bora wheelset - I decided to make the switch to tubulars and see for myself.
I started with a box fresh pair of Campagnolo Bora Ultra wheels. The tubular version are exceptionally light at 1170g the pair, saving a couple of hundred grams over the clincher version - and you can usually find them priced considerably cheaper than the clincher versions too.
For the tyres, it had to be something equally premium: a set of Vittoria Corsa G+ 4C tubulars in 25c width, kindly supplied by Vittoria's UK distributors ZyroFisher.
Totally Glueless
When it comes to fitting tubular tyres you've got two options, cement (glue) or tape. As in every aspect of cycling kit, there are passionate advocates of each method. Traditional types in particular, swear by the old-school method of building up layers of glue to ensure secure adhesion of the tyre to the rim.
That all sounded a bit messy to me though, so I opted for tubular tape which promises a cleaner, quicker installation. At least in the hands of a competent practitioner... We'd see about that.
First Fit
I'll admit to some first-time nerves as I assembled the ingredients and set about mounting the tyres for the first time. I actually carried out the first fit on the balcony of a rented apartment where I was staying for the Mallorca 312 sportive; no pressure to get it right then...
I'd fitted the tyres onto the new rims without any adhesive for the flight over. This is generally recommended to help stretch the tyres, but the Corsas popped on and off the rims easily; so far so good.
It turned out that fitting the tape was just as easy: starting at the valve hole, simply run the tape all the way around the rim bed, being careful to keep it centred, until you've got a nice run of tape all the way around the wheel.
Next, mount the tyre. The tape I used is Effetto Mariposa Carogna, which has a removable glossy paper backing sticker on it. The instructions advise you unpeel an inch or two of this backing from one end and fold it over so you've got a handy tab to grab hold of once the tyre is fitted.
Fit the tyre on the rim, making sure it's sitting nice and straight, and give it a couple of blasts of air from the pump. Then grab hold of that tab you folded over, and begin unpeeling the backing tape.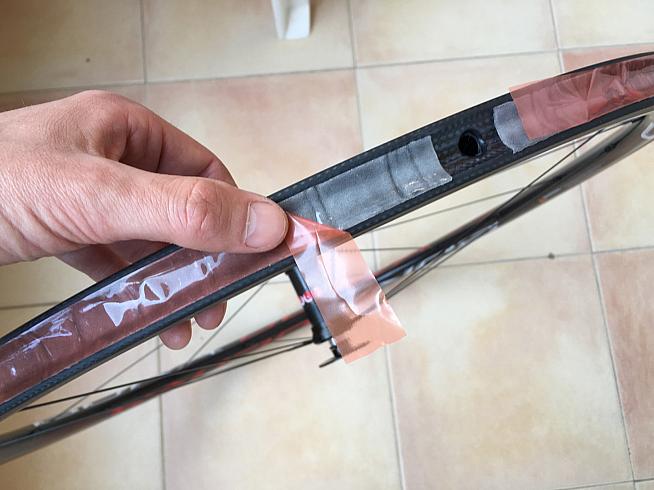 This was the only part of the process that caused the slightest bit of a challenge initially: the pressure from the tyre on the backing tape meant that it began to tear as I was pulling it out. However, I quickly worked out that by slightly lifting the tyre away from the rim with one hand, while pulling the tape with the other, the whole thing could be done quickly and easily.
Armed with my learnings from the first wheel, the second took less than five minutes to set up. I inflated both tyres as hard as I could, and left them to sit for 24 hours to allow the adhesive to cure.
Here's a pleasant surprise: the entire procedure was quicker and easier than fitting clinchers. No unseemly grappling to seat the last bit of bead over the rim, and no fear of pinching the inner tube in the process either.
As for the comparison with fitting tubeless, let's just say this: if you've ever spent two hours coating your floor and clothes in liquid latex while trying to get a tubeless tyre to sit sealed on a stubborn rim, you'll find fitting tubs a delightful treat in contrast.
Speaking of sealant, you can use sealant with tubular tyres to help minimise the risk of small punctures, in the same way as you would with a tubeless setup. Just make sure to use either a tubular-specific sealant for the job, or a multi purpose product like Joe's No Flats Eco Sealant.
I brought some sealant with me as insurance for the Mallorca 312, but in the event I didn't get round to using it. Fortunately I had no flats on the day. In fact, I still haven't added any sealant and I've now put over 1000km on the tyres. So how are they holding up?
Tubular tyres: the first 1000km
I did a couple of test rides on the wheels in the days leading up to Mallorca 312 just to make sure I hadn't made a catastrophic cock up somewhere.
First impressions were that the Corsas roll beautifully. They have a supple quality that is hard to describe without recourse to the Cycling Media Thesaurus of Marketing BS, so let's just keep it objective: riding Vittoria Corsa G+ is like rolling downhill on fluffy clouds while angels with tiny golden bellows propel you along with a personal tailwind...
Honestly, nice as they are, I suspect I'd be hard pushed to tell the difference in ride feel between these and an equivalent quality set of "open tubular" clinchers. I know, heresy... I don't deserve to run nice tubs. But the Corsas do feel extremely good, and if you treat them to a nice smooth stretch of tarmac they really do hum along a treat.
The tyres sport a minimal, linear tread and grip is excellent, certainly in the mainly dry conditions I've been riding in. More impressively, they have survived without any nicks or cuts to speak of despite seeing plenty of miles on less than perfect road surfaces.
I've been running them at 90/95 psi front/rear, which is well below the recommended pressure of 100-175psi but feels right at my relatively light weight. I don't know whether the lower pressure has helped the tyres deform around the various potholes I've inadvertently steered them into, or if their resilience can be attributed to Vittoria's "G+" innovation which sees an atom-thick layer of Graphene stirred into the mix. Whatever the reason, the rubber compound Vittoria are using seems to be fairly resistant to cutting up.
The tyres look great too, at least if you're a fan of the traditional tan sidewall look - a stealthy all-black version is also available.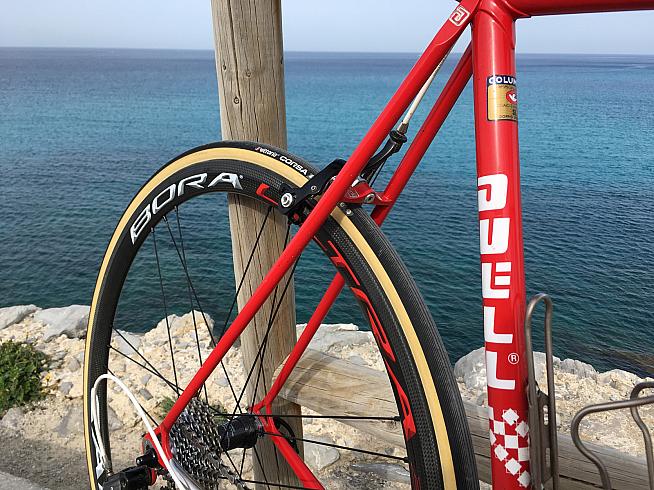 The big question of course is practicality: are tubular tyres suitable for day-to-day riding? And what happens when you get a puncture?
To the first question, I would say why not - although perhaps not a top-level race tyre like the Corsa G+, unless you're blessed with perfect road surfaces.
Over the past couple of months I've managed to put 1200km on these tyres without a flat - including some fairly heinous Hampshire road surfaces on the recent Wiggle Sussex Gran Fondo - so it's a thumbs up for reliability so far.
But the Corsa G+ are expensive tyres designed for speed and, punctures aside, they will wear out faster than a more heavy duty tyre. The rubber on my test tyres is already showing slight signs of smoothing off along the centre. Nothing outrageous, but it's a reminder that these aren't intended as year-round tyres so don't expect the longevity you'd find with heavy duty all-seaason tyres.
As for what happens when you get a puncture, well that remains to be seen. I haven't been carrying a spare tub with me but no doubt my luck will run out eventually, even with sealant. I'm considering strapping a spare tyre under my saddle for that eventuality. I'll revisit this article with an update when it happens; maybe everyone loves tubs until they get their first puncture?
That said, removing a taped tubular tyre isn't as difficult as you might think (or not as hard as it ought to be, the cement brigade would say). It's just a matter of rolling the tyre from side to side to work a section loose, and then once you can get a tyre lever or a hand underneath it the rest will peel off quickly. But you'll probably still be looking at a minimum of 20 minutes lost should you flat on a sportive.
Unless you've pre-glued your spare tyre, you'll be relying on the residue or remnants of the original tape - whatever doesn't get peeled off along with the punctured tyre - to hold the new tyre in place until you get home. This perhaps isn't ideal if you're halfway through a mountainous sportive like the Etape or Marmotte. There is anecdotal evidence on the web that even an unglued tyre is rideable (the air pressure will hold it on the rim), but it's not a theory I'd like to test personally so pre-gluing your spare is probably the way to go.
A more palatable solution might be the use of sealant combined with something like Caffélatex Zot! Nano. Coming in a tiny pocket-sized bottle, this stuff is designed to work as a catalyst with Caffélatex sealant and, it's claimed, can repair cuts of up to 10mm in size. If it works as described, it could be a game changer. I ordered some but unfortunately the bottle exploded in transit; I'll have to get hold of some more and give it a field test.
Tubby or not tubby?
So that's my experience of tubulars; so far it's been entirely positive, helped no doubt by the fact I've been running premium tyres in the Vittoria Corsas, and have managed to dodge the puncture fairy.
It's worth mentioning the cost; tubular tyres generally cost a bit more than clinchers, and with an RRP of £95 the Corsa tubs are pricier than most. That said, you can usually pick them up at a discount if you shop around - they're currently on offer at £59 from Wiggle, which saves you a decent wedge to spend on sealant.
Ultimately it comes down to where you stand on the trade-off between the undoubted quality of the tubular experience versus the potentially increased hassle should you get a flat. But if you've been put off simply by fear of fitting tubulars, don't be - tub tape explodes that argument for good, and arguably makes fitting tubulars easier than any alternative tyre system.
As for roadside repairs should you get a puncture, sure, it won't be fun. But then again, it might never happen...
I will still switch back to my trusty alloy clincher rims once the leaves start falling in autumn, for economic reasons as well as the increased chance of flats once road surfaces start their annual disintegration. But for fair weather rides and summer sportives, it's tubular all the way with the excellent Vittoria Corsa G+.
Vittoria Corsa G+ Tubular Tyres, £94.99 - www.zyrofisher.co.uk
0 Comments