The Pinnacle Pyrolite adventure bike is new for 2018, replacing a previous carbon-framed road bike of the same name as the gravel bike boom gathers momentum. This rugged reboot combines a number of details that ensure it's more than just a road bike with added tyre clearance or a cyclocross bike with rack mounts.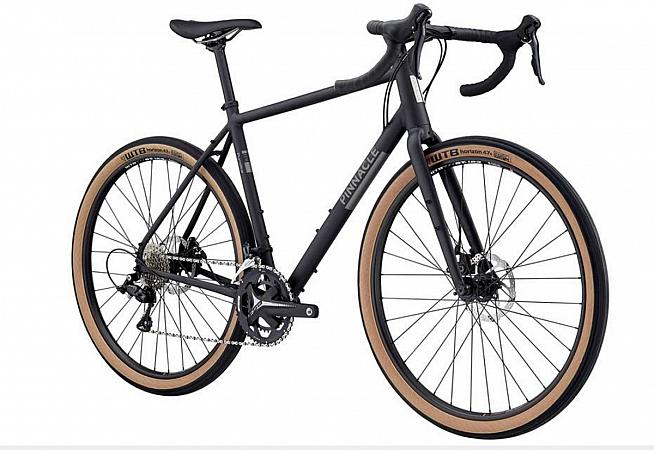 The first thing you notice is the wheels. Shod in massive 47c WTB Horizons are a pair of tubeless-ready 650b hoops, their diameter and tyre size perfectly mimicking a 700 x 25c set up.
Much of what is left is unashamedly aimed at versatility; a road geometry frame, workmanlike alloy front forks sporting mudguard and rack mounts, a budget-conscious Shimano Sora groupset, and a sub-compact FSA Gossamer crankset.
The stopping power is provided by TRP's Spyre brakes allied with gorgeous-looking TRP discs.
What this delivers, so the marketing folk say, is a jack of all trades: a bike that's equally at home both when the surface is as smooth as an estate agent's sales patter or as rough as an emergency plumber's call out bill.
I tested the Pyrolite on the recent Evans Gatwick Sportive Cross event, taking advantage of a largely off-road route close to my home in the wilds of greater Crawley.
The first section of rough stuff, in the shape of singletrack ankle deep in churned up mud, came not far from the start, and I was immediately relieved that I'd swapped out the stock tyres for a set of narrow MTB knobbly tyres with better traction.
Once back on solid ground, my average speed climbed up, helped by the fast spin up of the smaller wheels and the wide range of the 9-speed Sora rear drive with its 11-32 cassette. Had I been carrying much more weight though, e.g. bikepacking, my uphill progress would have been reduced to glacial pace.
For touring duties you may want to fit an even wider range cassette, coupled with more potent stoppers. The cable discs, I felt on this initial ride, were at their limit and I definitely missed the power and modulation of hydraulic anchors.
But minor quibbles aside, the Pyrolite got me around the course with barely a hiccup in conditions that I wouldn't dream of subjecting my road bike to.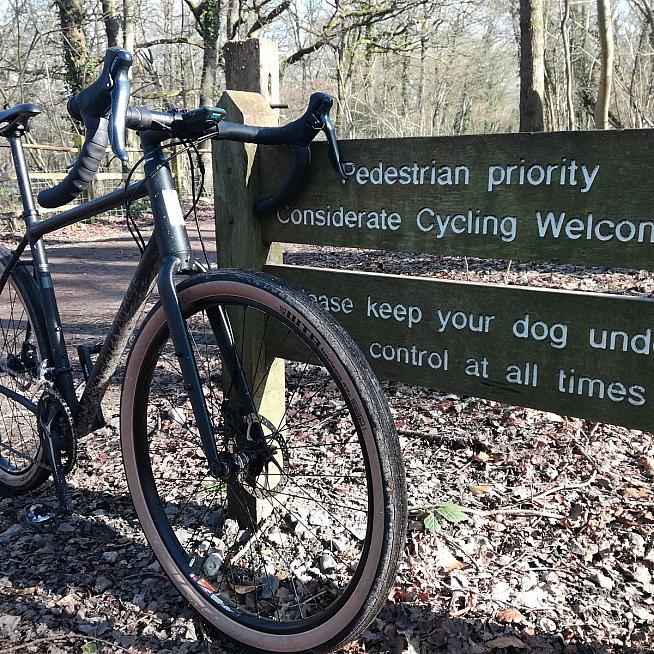 I really wanted to test the Pyrolite shod in the stock WTB Horizons, and a few days later I got the chance. Taking in a combination of local country roads and gravel routes, I managed to blast through nearly 30km of fat-tyred fabulousness. I feel I owe the Horizons an apology as, although the routes weren't as deeply mired as during the sportive, I made a point of trying to push them to their limits of grip through the rough stuff and they barely broke away.
The sub-compact 48/32 chainset kept the cadence high all along the Worth Way, and frequent decelerations for dog walkers and sundry joggers turned it into a sort of interval session. Each time I slowed, I could pick up the speed super easy, in or out of the saddle.
The Spyre brakes, with their dual piston cable-operated calipers, seemed more responsive than when I first had to use them in anger as well. Perhaps changing to a better pad compound would improve them even better.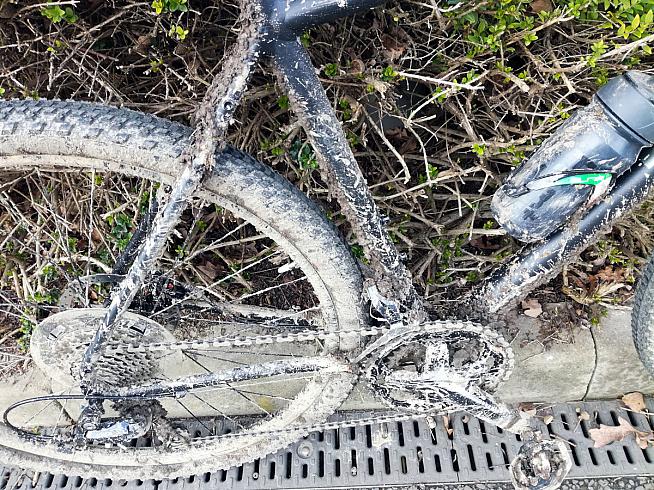 With an RRP of £950, Evans Cycles have priced this bike at the limit of most cycle to work schemes. It more than fits the bill in all departments; whether your commute is on smooth roads, urban concrete slabs or bridleways and poorly maintained cyclepaths, the Pyrolite is ideal in every way.
The large volume WTB tyres amply cushion whatever evilly neglected country lanes or lorry-bashed urban side streets can throw up. The forks, with their robust stanctions tied with a thru-axle, stay as straight as you dare point them.
It's also a bike that is screaming out for upgrades and will happily take 700c wheels instead of the 650bs - so long as you don't expect to run super massive tyres.
Evans have no plans to bring out any other version of the Pyrolite in the near future, but it may be nice to get hold of a frame and spec one out yourself. Based on what I've experienced while perched on the saddle, it's going to become as popular as the ubiquitous Arkose as a winter trainer.
I'm even tempted to see if it's possible to move the Ultegra gear from my Kenesis Racelight over and take it to the Gent-Wevelgem sportive in a few weeks. From everyday commuter to dirty weekender, the Pyrolite is just my kind of bike.
Pinnacle Pyrolite Adventure Bike, £950 from www.evanscycles.com
0 Comments