What's the best road bike in the world?
There's a strong argument for the Dogma F10. Trek's top-of-the-line Émonda weighs less than a grape, although the Canyon Ultimate Evo 10 goes lighter again. And that's without going near the Colnago C60.
And then there's the Heroïn.
Hand-made, a French design with carbon laid in Italy by experts from F1 and aeronautics, this bike spent years in the wind tunnel before it went near a road. It's light - illegally light if you're a pro rider - and has frame and wheel details you simply won't find anywhere else.
And I got to play with one.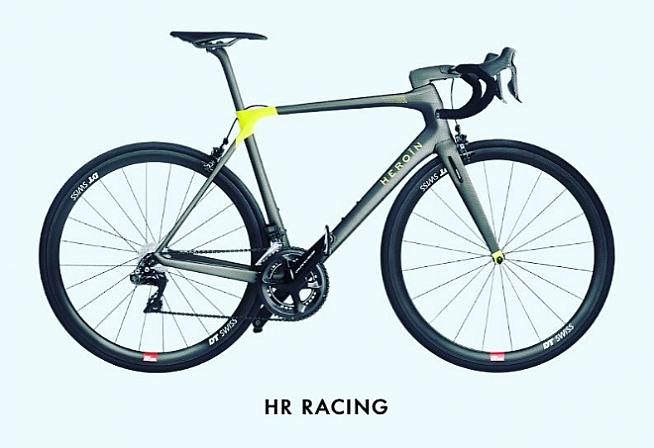 Sampling Heroïn in Richmond Park
I first heard of Heroïn when a foil-wrapped magazine dropped through my letterbox earlier this year. It looked like someone had sent me porn, but the label on the outside suggested it came from Haute Route, whose mailing list I'm still on two years after I signed up for Haute Route Dolomites.
I opened it to find - well - porn.
It was the official brochure for Haute Route's latest partner, Heroïn Bikes, with frankly indecent shots of their bikes in artful poses alongside mouth-watering descriptions.
I gazed lovingly at them, but put the magazine out with the recycling.
Then, a few months later, I got an email telling me they'd be in Richmond Park for some test rides. I barely read it, and didn't give it another thought until this weekend.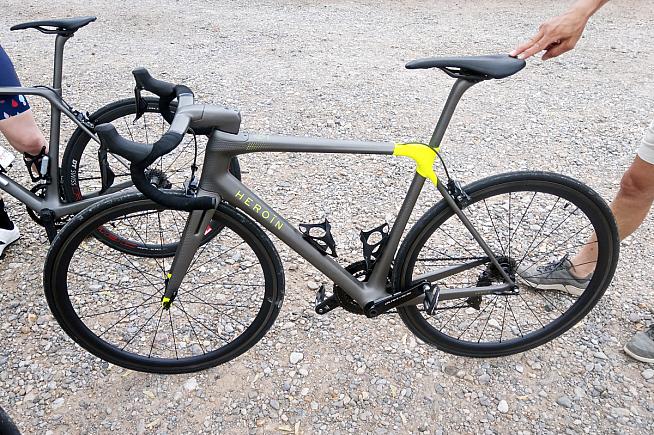 On Saturday, I was heading out for some base miles (I'm officially tapering for RideLondon-Surrey 100, except for the fact I've got nothing to taper from), I saw the van and something clicked in my head. Heroïn was there, and I had no idea if I had to book, when they were starting or if the rides were still on.
"C'est fini?" I asked an impossibly French-looking man who was either putting out or or putting away one of about six bikes there.
"Non," he replied.
As we'd exhausted my French at this point we switched to English - the bikes were not just still available, but Nicolas Roux was out on one taking someone around.
He asked my pedal make, measured my bike, then found a Heroïn the right size and proceeded to set it up for me - and I was there, about to be handed a superbike for the first time in my life.
The bike
I was riding the Heroïn HR Edition. HR stands for Haute Route, and the Heroïn HR model has been designed for cyclists riding the famously mountainous series of multi-day sportives that now includes trips to Ventoux and Alpe D'Huez as well as week-long rides across France, Switzerland, Italy, the Rockies, and soon Norway.
The Heroïn HR is designed to help you climb those mountains a bit more easily - but it also does a lot more than that.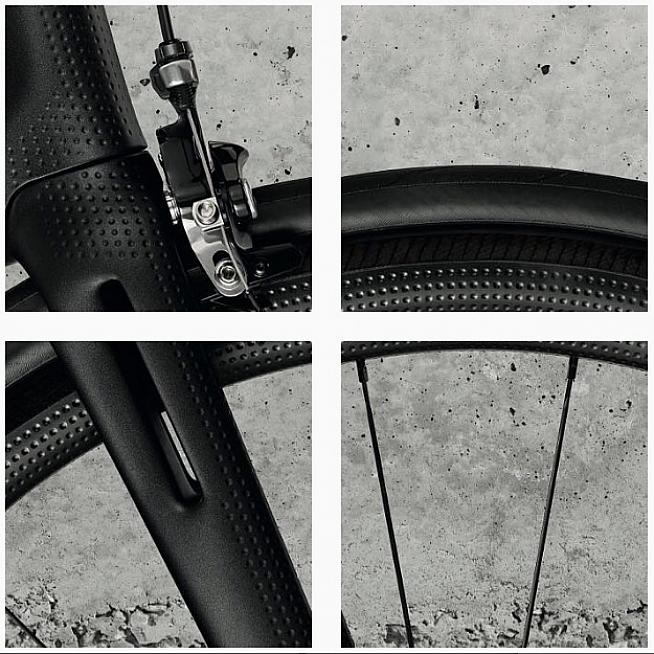 First there's the hand-made carbon forks and frames, and the option of 38mm deep hand-made carbon wheels (although DT Swiss versions are standard on this model).
The drive-train is the latest Dura-Ace Di2, with an 11-28 tooth cassette on the back and a 50-36 ratio on the cranks.
The thing that stands out the most about the bike, though, is its dimples. On the wheel rims, the head tube, the downtube and, basically, anything facing the wind, the Heroïn's carbon surface is dimpled like a golf ball. The fork also has a gap, to let air from the rims escape more easily.
Heroïn claim their research shows that these innovations have a big aerodynamic effect, cutting drag by as much as 10% even at 20kph (12mph). Handy for the hills.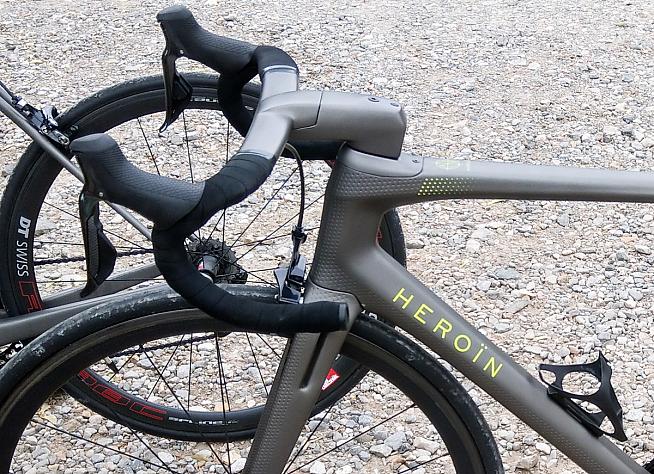 It took a lot of effort to build the Heroïn, with two years of R&D to find a way to lay the carbon to keep it light, stiff and shaped so distinctively - followed by time in the wind tunnel to perfect it.
The culmination of all that research is a bike that not only looks strikingly unique, but weighs in at a miserly 6.3kg for the HR edition.
The ride
With the bike set up and after a quick warning that the brakes were set up Euro-style - left lever for the front brake, right for rear - I clipped in and headed off for a test ride. I've ridden that loop of Richmond Park probably 50 times or more, so in terms of terrain I knew exactly what to expect.
What I couldn't anticipate was how the Heroïn would perform. The bike was fast; really fast.
It might have been my imagination, but it seemed less effort to hold speed, a fair bit less effort. And then there's the power transfer.
You'd expect it in a superbike, but this thing just goes. The slightest extra pressure on the pedals and the rear end reacts instantly, with incredible directness - the power seemingly flowing straight into the tarmac.
It wasn't uncomfortable either; I found the seatpost and carbon handlebars killing a lot of the road buzz. Don't get me wrong, it's no armchair ride, and taking it out for 100+ miles over British roads would be a true test, but the stiffness didn't result in me being shaken to pieces either.
I found a bit of flex in the carbon monocoque handlebars when putting in an effort out of the saddle, but only a bit, and overall they were fine.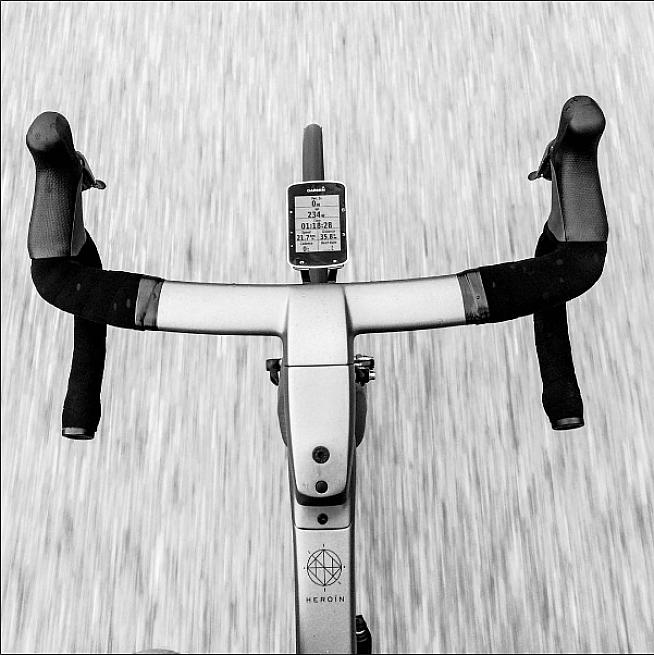 It's not perfect; there was the occasional rattle from the internal cabling and a bit of a judder over the more agricultural secteurs of the road - but that's to be expected. I also found the brakes were squeaky and a bit "grabby", although this might just be the carbon rims and pads being new - these things can take a few miles to bed in.
But, overall, it has to be said, the bike was a blast to ride.
The times
Let's be honest, if you're dropping £10,000 on a bike, you expect it to make you faster. I rode four laps of Richmond park that day - two on my own bike before the Heroïn, one on it, and one after on my own bike again.
The difference in times set was staggering.
Now, let's clarify some things up front: the Heroïn is more than a kilo lighter than my bike (a 2012 Felt F4, Ultegra) which I ride with Fulcrum Racing Zeros (27mm rim depth).
It's also a small sample - I might well have been pushing harder because I was on a nice bike, and I didn't have a power meter to check outputs against speed.
But even putting all of that aside, I was a LOT faster on the Heroïn.
On a 4%, 1.2km hill (it gets far steeper at the end), my times were 4:37, 4:27, 4:32 on the Felt and 3:58 on the Heroïn.
On an uppy-downy-twisty bit my times were 6:35, 6:21, 6:17 on the Felt and 5:28 on the Heroïn.
I knocked a minute off a 2.7km small climb on the French/Italian dimple machine, and a similar amount on a 6km longer stretch including descents and flat bits where I was held up badly by traffic for a distance on the superbike.
That's an astounding set of time gains on the Heroïn, vs a bike that had an RRP of £2,400 and a set of £900 wheels added to it.
It also leads me to perhaps the saddest moment of my cycling life.
Towards the back of the lap there's a glorious descent. Coming off the top of Sawyer's hill, running down to Roehampton Gate is a road that starts you fast (if you're willing to ignore the 20mph limit, I'm told a rider like me can hit 60kph on that descent), then flattens into a 1.4km straight road that's ever so slightly downhill, allowing you to hold your speed for ages.
I was on a superbike. A bike with a unique, aero frame. And dimpled 38mm carbon hoops. It was fast. I'll probably never get to ride it again.
Pushing to come over the top of the hill at an entirely correct 34kph and enter the descent I clicked up a few gears, got on the drops and saw.... a people carrier. Doing 20mph. Far out from the side of the road.
I sat behind it at the speed limit, silently weeping. I was seriously excited to find out what I could achieve on an aero superbike for that segment. And the fact I probably won't ever get the chance to try again broke my heart a little bit.
Which brings us to the elephant in the room. Why did they - unironically - call it Heroïn?
"A pure and rare product, which produces pleasure and you can't give up. What else would you call it?" the man behind it all, Marc Simonicini, told L'Équipe.
And, after a man in a car park gave me my first taste free, I definitely want a second hit of Heroïn. Sadly, the only dealer I know is in Paris.
Heroïn HR Edition, €11,900 from www.heroin-bikes.com.
0 Comments