A new arrival means I haven't squeezed in much cycling since Christmas - but I've done enough to know the weather's turned a bit nippy. When the cars on the street are glazed with frost and the lawn snaps, crackles and pops beneath your feet on the way to the bike shed, it's time to dig out your winter layers.
Cold, leaden legs make for slow miles, so a pair of decent tights is a must for cycling through those months when we're far side of the sun.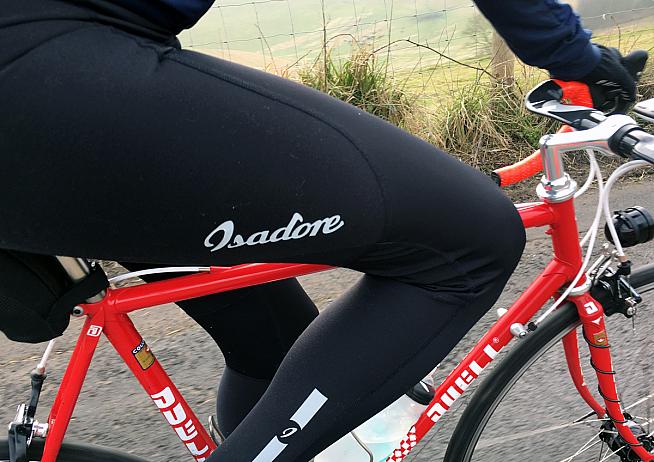 I've been testing a pair of Isadore's Thermoroubaix tights through the winter, and they've really proven their worth - perhaps not surprisingly, from a brand headed up by pro cyclists from a country where winter training means ice, snow, wind - and quite possibly the odd wolf, too.
Isadore are a Slovakian brand set up by brothers Peter and Martin Velits. They're pitched at the higher end of the market - these tights retail at €170. For that sort of money you expect a quality product, and first impressions are reassuring. Effort has been taken over the packaging, with the tights arriving perfectly packed in a glossy gift-grade box.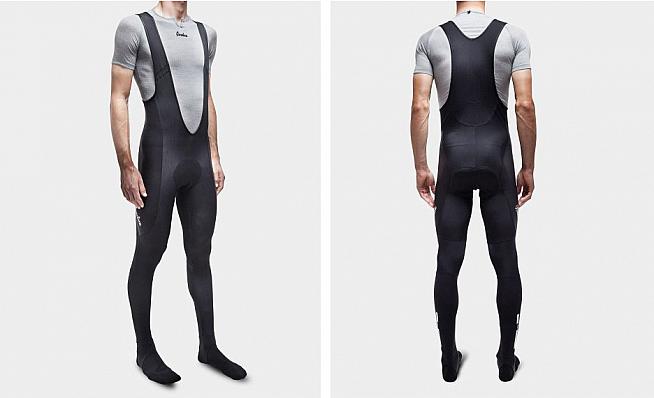 The impression of quality continues through to the appearance and performance of the tights. Aesthetically they are fairly conservative, with a classic, clean design: black all over, with restrained high-vis branding printed on to help you stand out on gloomy winter roads.
The tights are constructed of two types of Italian Roubaix Lycra with soft brushed fleece on the inside. Putting them on is like slipping into a pair of your favourite pyjamas - albeit pyjamas that have shrunk in the wash, and are now skin-tight.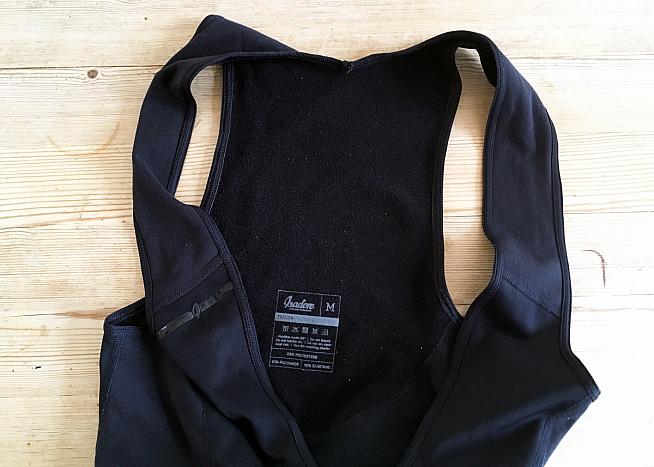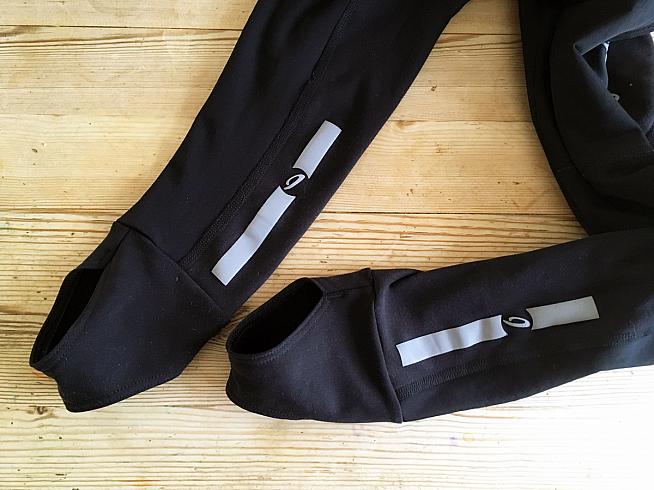 Elasticated stirrups keep the cuffs down around your ankles, and the bibs are broad enough not to dig into your shoulders on the bike. Comfort and construction is top notch.
As for the fit, I tested my usual size M and the tights are snug - in both senses of the word - all over. There's a slight amount of give in the panel behind the knees, which results in a bit of visible creasing when you bend your leg. This may be intended to allow unrestricted movement when pedalling - either that, or it's negative space where my quads should be. Whatever the reason, the tights are supremely comfortable in use.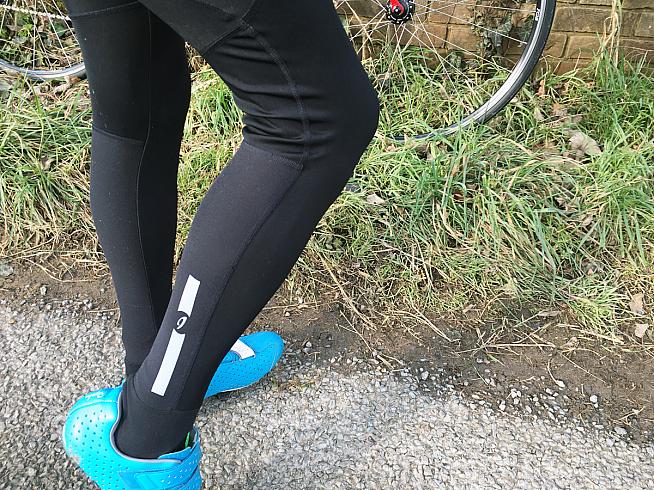 I tested the tights in a range of termperatures. It rarely gets truly freezing on the south coast, but it does get windy. I've worn these tights in temperatures in the low single figures, with windchill knocking at least a few degrees off. For a midweight garment they provide a high level of protection against the cold. Some days I'll return from a ride with chapped knuckles and numb toes, even under two pairs of socks - but my legs have so far enjoyed immunity from the worst a Sussex winter could throw at them.
As for padding, Isadore have specced the tights with an Italian-made TMF Airmesh chamois insert in lemon yellow. It fulfills the remit perfectly, being supportive without feeling bulky.
I know some brands sell winter tights without a pad, requiring use of a second pair of padded shorts underneath. But getting dressed for a ride in winter is enough faff as it is; if you can keep things simple with a single layer then I'm all for it.
What about longevity? At around £150 on today's exchange rates, you'd expect these tights to see out a few winters. I've only had them for a couple of months so it's too early to comment on durability, but so far they're holding up well to being spattered in road grime and repeated wash cycles.
It's worth mentioning Isadore's back story. While Peter and Martin Velits are the face of the brand, and their experience undeniably helps inform Isadore's product design, the company is a closeknit family concern. At least five members of the Velits family are involved in day-to-day operations, and Isadore products are not only designed locally in the Velits brothers' home town, but also produced at the Makyta factory in Puchov, just a short bike ride from their house.
If you're interested in production processes and where your cycling kit actually comes from, then the Isadore story as told on their website is a fascinating one.
Makyta was once the largest textile factory in Czechoslovakia, employing thousands of workers, many from the town of Puchov. Large numbers of those workers were made redundant in recent years, so the Velits brothers approached the factory with the laudable aim of giving something back to their local community - only to find that, as a new and unproven enterprise, they weren't quite greeted as knights on white chargers by Makyta's management.
Since those early days the relationship has blossomed, and Isadore continues to grow while remaining true to an ethos of sustainable, ecologically responsible production. Isadore products are largely hand-made and hand-packed. That classy packaging I mentioned earlier is made of recycled paper, and even the chamois is recyclable - although I wouldn't want to sip from that paper cup in a later life. All of which helps underwrite the brand promise: 'ride with a clean environmental conscience in Isadore Apparel'.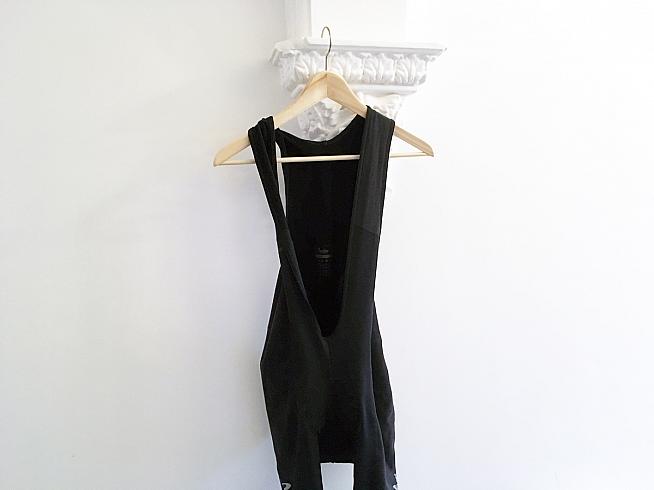 All this effort behind the scenes would count for little if the product itself fell short, but the Thermoroubaix tights are right on the money. A reliable pair of tights is a winter wardrobe staple - cycling's answer to the little black dress - and Isadore have produced an excellent and highly functional garment worthy of its place in your kit bag.
If you're planning on putting in some chilly miles for months and years to come, these Thermoroubaix tights seem a sound investment.
Isadore Thermoroubaix Tights, €170 from www.isadoreapparel.com 
0 Comments