RedWhite Apparel make two styles of bib shorts, The Race and The Bib. That's it - just bibs and only two styles, designed in Singapore and handmade in Europe. So they live and die by them.
The Bib has received some very good reviews since its launch in 2014, and was the winner of a recent road.cc "top bib shorts" reader survey, with reviewers raving about their long-distance comfort. The Race is almost exactly the same, except it has a "slightly lighter chamois for aggressive riding positions" - that's what it says here. I'll confess to being slightly cynical about the benefits of pricey bib shorts for a specific type of riding (both retail for £100 a pair) - can they really be twice as good as the DhB Aeron ones from Wiggle? Admittedly, Wiggle has huge buying power and RedWhite are a niche brand using high-quality materials, but I was intrigued to find out.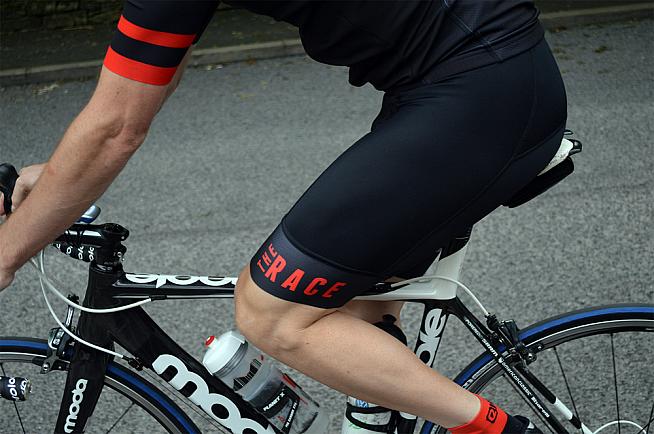 The Race bibs are specifically designed for shorter, aggressive rides - crits, time-trials and the like. Fortunately (or unfortunately, depending on your opinion...) my test shorts arrived a few days before I was due to take part in the ultimate short, intense ride - a hill climb event up in Bradfield, near Sheffield, barely three minutes long but steep and painful all the way.
While you might not get much chance to test the chamois, it did give me the chance to answer the all-important questions: "Do they look good?", "Do they feel good?" and "Was there any reason you'd not use them in such a ride again?". Yes, yes and no. I liked them, a lot more than I expected to. They just felt good.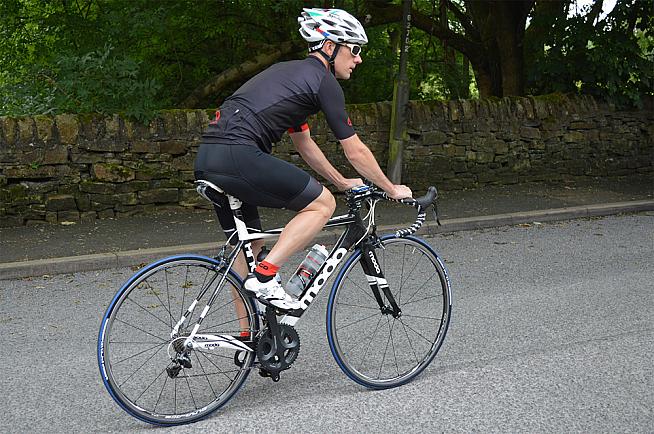 In particular I liked the fit of the Race shorts. I am 5'6" and about 28" waist, and the online size guide suggested Small. When they arrived they looked pretty short, and I had images of wearing them and looking a touch, erm, Euro - you know the way some like to turn up the bottom of shorts to gain a bit of extra tan on the thigh? But once on they stretched quite a lot, though without feeling tight or constricting, and they were the perfect length for me - about two inches above the knee. Any shorter and the all important tan-line progression gets compromised.
The leg gripper is a wide silicone microdot one, which holds them perfectly in place and again offers no tightness while being very secure. The red on black style is very understated and one I really like - but if you're into bright, garish Alé style gear then these might not be the shorts for you.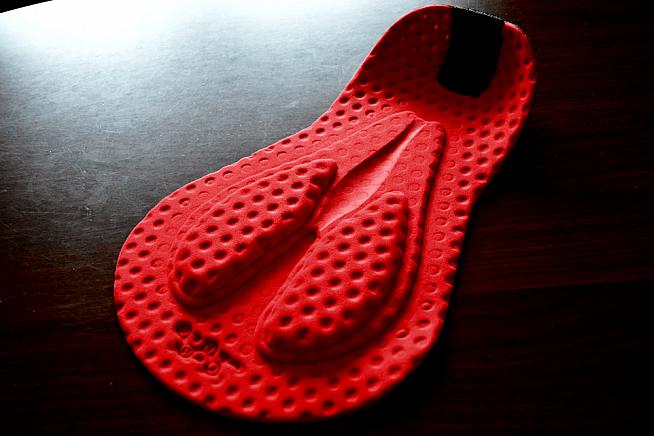 RedWhite say the Race chamois is 30% less dense and 16% thinner than their long distance-orientated chamois found in The Bib. They recommend soaking their bib shorts in cold water overnight before the first use, as the chamois has undergone heat moulding and may be a bit stiff. Soaking softens up the fabrics, though The Race bibs require "less seasoning" (their words, not mine!) so you could opt to skip this step and just try them on as is. I did the soaking thing, though in this not-so-dry summer it took a while for them to dry out - tumble-drying isn't recommended. In order to answer the chamois-comfort question I went out for a swift 90 minutes around my local Peak District hills earlier in the day before heading to Sheffield.
There was a definite softening of the pad once I'd soaked them, and once riding I could barely feel it, though it certainly did its job - I would happily have ridden further as the comfort was spot on. Compared to the aforementioned cheaper options this seems to be the main difference - I can feel a bulkiness in these cheaper shorts' pads (no sniggering at the back) whereas the RedWhite one seems supportive and comfortable while you barely notice it's there. I'd even be tempted to use the word "plush".
RedWhite boast about how the pad disperses heat more effectively than The Race, though as it's July in the UK and barely above 15 degrees working up a sweat wasn't possible (and I've not tried the other ones anyway). In terms of overall fit on the ride, I went from gentle pootling to full-on efforts and the comfort level didn't drop from exceptional. The shorts stayed in place all the way, the silicone gripper really works nicely without irritation. I guess the best compliment is that you almost forget they're there, and I just got on with the business of riding. For a company that only does bibs, I'd say they've nailed it.
Another positive when compared to cheaper bibs was the shoulder straps, which are wide and, again, barely noticeable while doing their job. Cheaper bib tights - and even some premium offerings - often seem to have these straps being either too tight, too narrow or too loose, whereas here they're an integral part of how the bibs fit so well.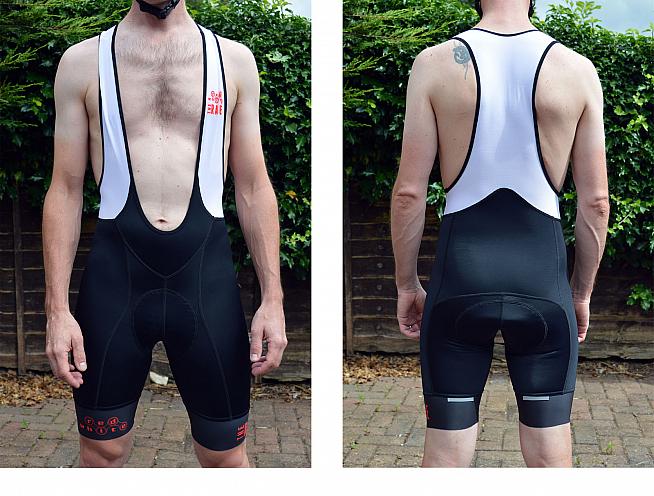 RedWhite offer a crash replacement scheme, so if you tear yours in a crash they will attempt to help you out. They require pictures of the damage, not only to the shorts but also to you, which seems a bit odd, though it's a good idea and one I've not seen on clothing at this price.
I'm not sure I'd spend another £100 on a pair of the other ones specifically for longer rides, but these are already my go-to bibs, I liked them that much. If you choose to treat your backside to one or the other of RedWhite's offerings you will be pretty satisfied. Customer support seems a central part of the brand's premise, too: Yuva was great, and will be happy to answer any questions you have.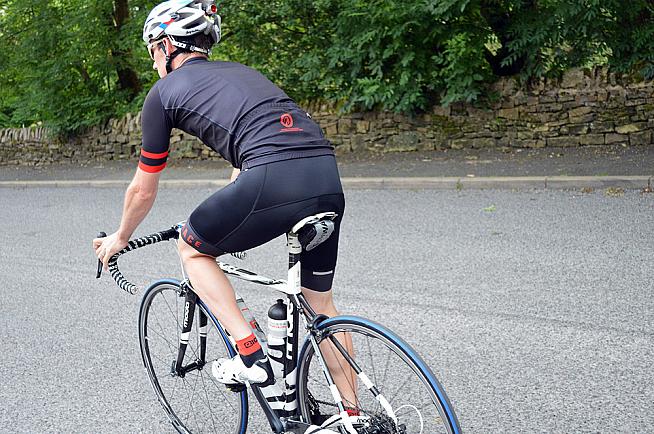 If you're in the UK then you can find RedWhite bibs at Always Riding. If you're elsewhere then head over to the RedWhite website - there's more tech info than you'll ever need about the chamois and lycra used, as well as a list of dealers.
As for the hill climb, well, I won some beer... Maybe the shorts helped?
RedWhite The Race Bib Shorts, £105 from www.alwaysriding.co.uk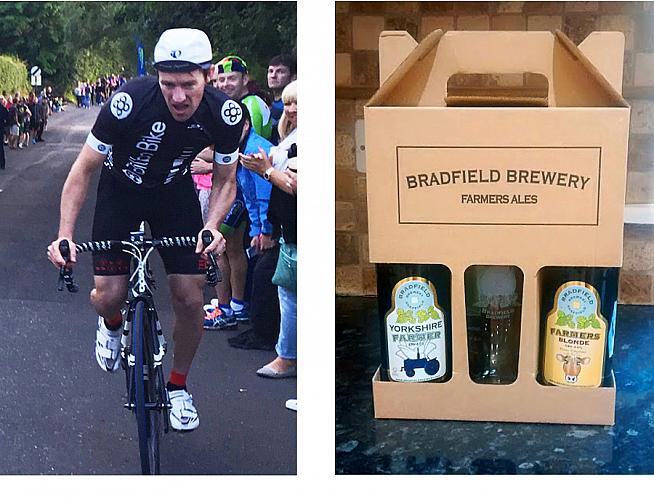 0 Comments