The world of cycling is liberally sprinkled with French terminology. Many of these terms have no direct equivalent in English but sum up the character or style of a rider... rouleur, puncheur etc. When Rapha chose to name one of their collections Souplesse it wasn't so much for its literal translation, but because in cycling 'souplesse' is a term bestowed upon someone with that perfect, effortless riding style; someone who glides with smooth pedal strokes up the fiercest of inclines whilst lesser mortals stamp on their pedals and oscillate wildly. In English we would probably just call this person a git.
The first thing I notice about the Rapha Souplesse Long Sleeve Jersey is the quality of the material and how incredibly soft it is, both inside and out. This jersey is made from a slightly lighter technical performance fabric than the Sportwool used in the Rapha winter jersey. It has lightly brushed fleece on the inside and is designed to fit close to the skin, providing insulation whilst wicking any moisture.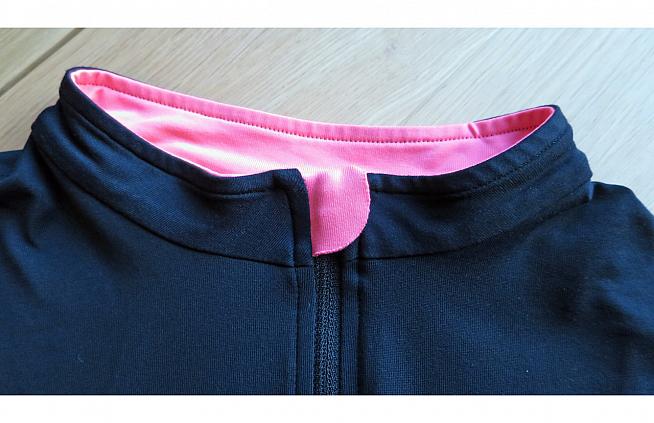 The Rapha marketing people say the Souplesse collection is "for female riders who demand the utmost performance, without compromising on sophisticated style". I can't honestly say that 'sophisticated' is the word that springs to mind when I stand in front of a mirror dressed head to toe in winter lycra, but this jersey is really well cut and does look pretty good. It's described as close-fitting, but I found the tailoring to be quite flattering and the snug fit helps to keep the wind out and trap the heat.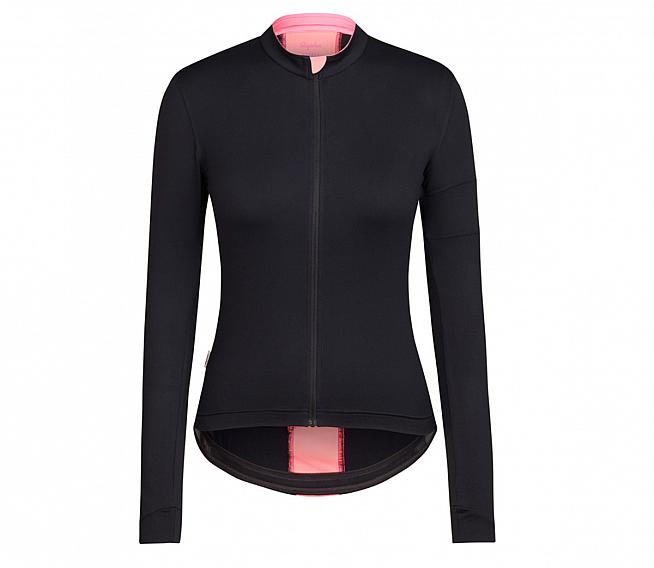 The Souplesse jersey is available in a few colours including blue and chartreuse, which must be a French way of making 'hi-viz' sound sophisticated. I tried out the black version with a contrasting pink stripe down the back. When it comes to cycling kit I'm generally repelled by anything pink, but on a dull, wintry day a little splash of vivid colour suddenly makes sense. There's a small reflective Rapha logo at the bottom of the pink stripe, and for Rapha aficionados the left sleeve subtly includes the trademark Rapha armband.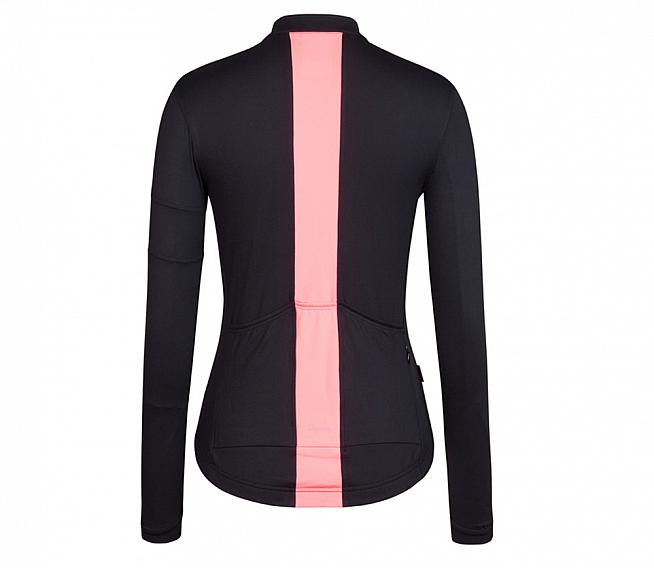 Stylish? Tick. Now what about the performance?
This jersey is designed for all day riding in mild to cool conditions, with a base layer underneath and a jacket or gilet on top. Having found it perfectly warm and cosy on a couple of short rides on mild autumn days, I decided to head north to the Scottish Borders on a chilly late November weekend to see how it performed in 'proper' riding conditions. It was an overcast, blustery day where, according to my Garmin, the temperature hovered between 3.5 and 5 degrees. The headwind was so strong at times that it was necessary to pedal on the descents. I wore a merino base layer under the jersey and a waterproof jacket on top. Over 90 relatively hilly kilometres I was thoroughly impressed. I didn't overheat on the climbs and during several early ride 'faff' stops (for roadside adjustments to my newly fitted winter mudguards) and some long, steep descents into headwinds, I was never cold. The only time I felt a bit chilly was when we stopped for lunch, but I quickly warmed up once back on the bike.
The jersey has three pockets to the rear, plus a small zipped pocket for valuables. On opening the zip I discovered a stitched panel inside the pocket containing cycling facts. There's bound to be a time when I need to know that the Zoncolan made its Grand Tour debut at the 1997 Giro Donne, so, um, I'll just keep that one in my back pocket for now.
The central pocket is actually a pump sleeve, so is narrower than the other two. At first I wasn't sold on this feature. As someone who carries CO2 cartridges in a seat pack, I have no need for a designated pump pocket so for me it doesn't allow the most efficient use of pocket space. After a bit of experimentation however I found that the pump sleeve is the perfect size for my current favourite mid-ride snack, a tube of Wyldsson ProMix, and promptly decided it was a genius design feature.
A test of any kit designed for cooler conditions is how it works with other layers. In my case this means it has to be comfortable with a gilet, jacket (ideally both), and the thickest pair of gloves that can safely operate gear shifters. Here I was really impressed with the Souplesse jersey. Simple things can make a big difference, and one of the features I liked most was the collar. It is cut lower than seems sensible for riding in cool conditions, but this means it works brilliantly with a buff-type neck collar and a jacket, and limits the discomfort that can come with several zips and your helmet buckle competing for space under your chin.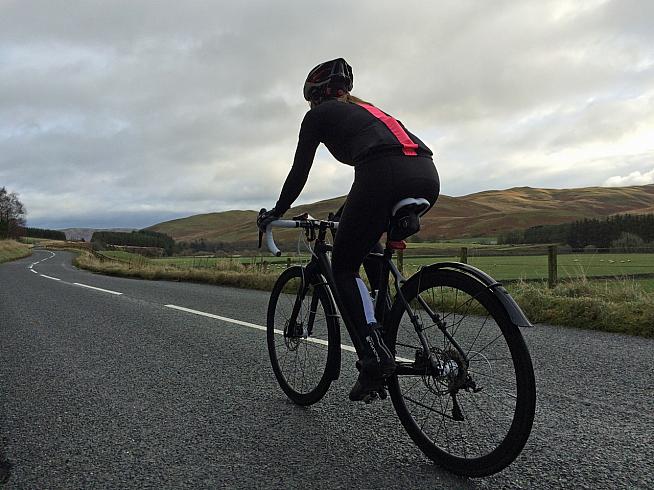 The cuffs of the jersey are elasticated and cut in a streamlined shape, which look nice and more importantly can comfortably be pulled over the cuff of my gloves, keeping out any nasty draughts. At the back the jersey is held in place by a silicone gripper, which also helps to keep draughts at bay.
I like this jersey a lot. It's a very nice looking bit of kit, and whilst I may not quite have glided with effortless souplesse over the tarmac, I was impressed at how warm and comfortable it kept me throughout a long and undulating ride. Definitely a worthy addition to any cyclist's winter wardrobe.
Women's Long Sleeve Souplesse Jersey, £130 from rapha.cc
0 Comments