Having been recently been introduced to the joys of frill-free cycling by the Vilano Rampage, I was intrigued to find out what else Black Dog Bikes could offer that afforded a little more, shall we say, complexity - I hesitate to use the word sophistication, because the single speed bike I now ride makes me even more cool than I thought possible a few short months ago.
All this aching coolness has its limitations - for example, when the road points upwards, it's nice to have a way to get from valley low to mountain high without losing a kilo in sweat and ruining the line of my low crotch trousers. The Vilano Commuter, featuring 21-speed Shimano gearing hung on a glossy aluminium frame, seemed to offer a bit more flexibility for a pocket-friendly price tag of £140.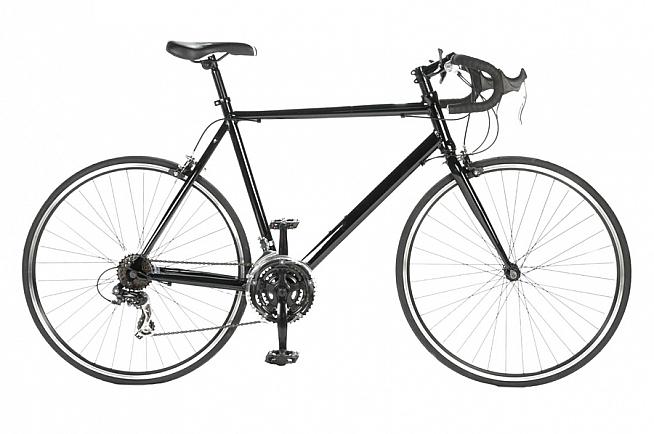 As before, the bike came boxed up and well packaged, with just the bars, saddle and a wheel to attach. A comprehensive multi-tool is supplied to get you up and running in a jiffy, and there was enough protective packaging on the frame for me to start up my own recycling business.
The frame itself is a stunning gloss black, with neat welds and a traditional shape. The tubes, however, are anything but traditional, varying in size and profile to bring stiffness to high stress areas and a bit of flex to the rear stays. The saddle looked basic enough, but I've made the mistake before of imagining cheap equals uncomfortable, so I was happy to leave it on there for the time being.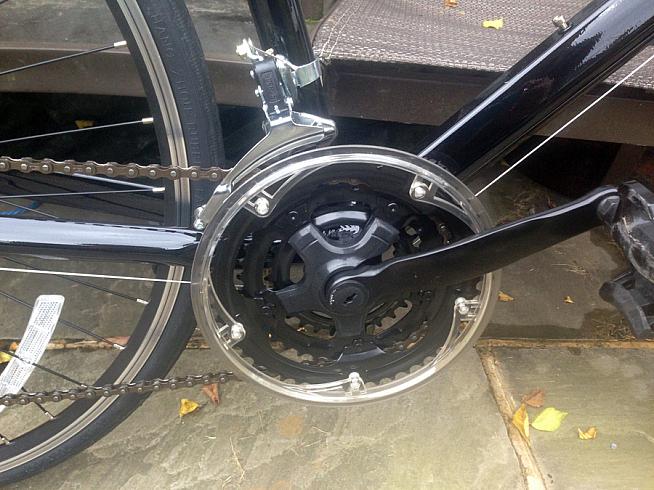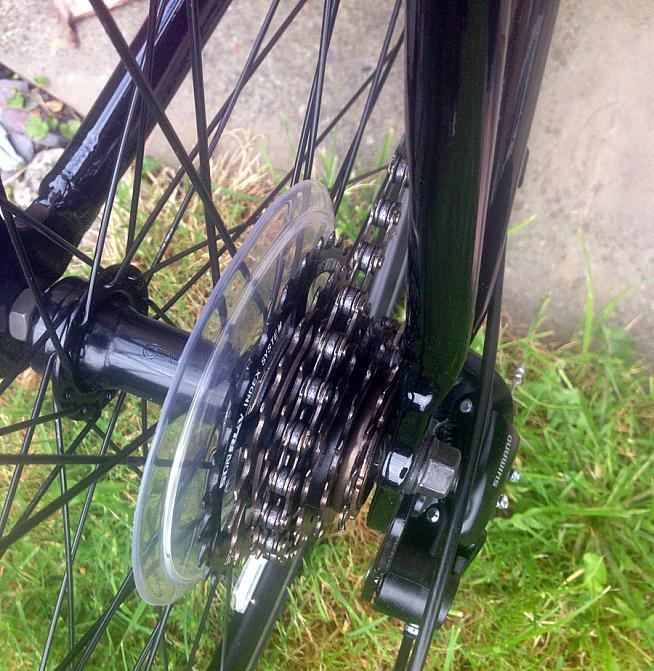 I eschewed the sturdy-looking free pedals for a set of clipless Looks that I had, purely for practical reasons as I wanted to try out my new cycling shoes. The drop handlebars are a standard looking shape wrapped in cushioned tape to match the frame, with chromed brake levers adding a bit of bling. Gear shifting is looked after by a pair of bar-mounted rockers, fitted either side of the handlebar stem - the rear derailleur indexed 1-7 and the front on a friction system.
I hadn't used anything other than STI shifters for quite a while so this maiden voyage with the Shimano A050 thumb shifters was going to be a novel experience. Everything was tightened and trimmed, the wheels on bolted axles rather than quick release and shod in a tough looking commuter tyres with enough tread to disperse any water and keep a good contact with the rough road surfaces around here.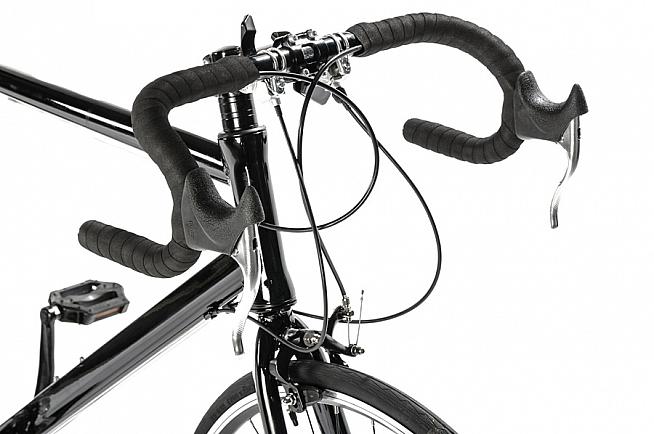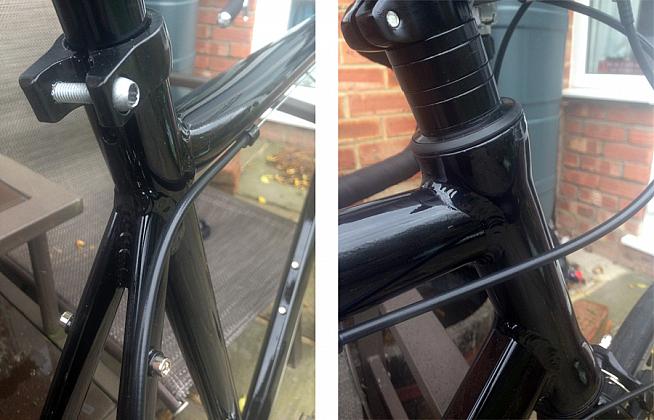 I decided to go and meet my wife who was out on a ride as a leader for the Breeze Network, so I had an idea where she would be. I was hoping it would just be a matter of a few minutes out in the Saturday afternoon sun and then home for lunch. After 20 minutes and more hills than I was expecting to do, I was concerned I hadn't found her (as it turned out, I'd missed her in the first ten minutes) but as I was enjoying myself, I decided to push on.
The bar levers were a bit odd to start with - my normal riding position means I spend a great deal of time on the drops or the hoods - but the position of the brakes made me feel like I was over-reaching. I stopped briefly to raise the surprisingly comfy and supportive saddle and tilt the bars back a bit, which helped, but by then I'd found I was more than happy to ride with my hands spaced either side of the shifters.
The gear selection was spot on, never missing a change, which only goes to show that Shimano don't really scrimp on funtionality at the lowest end of their range. The friction shift for the front rings took some getting used to, but STI shifting is a relatively new thing in the world of cycling. My first bike had friction shifters on the down tube, and that meant giving up control of the bars while faffing about trying to sort out your cadence. I would happily keep these thumb shifters on this bike, and they look relatively simple to service and maintain.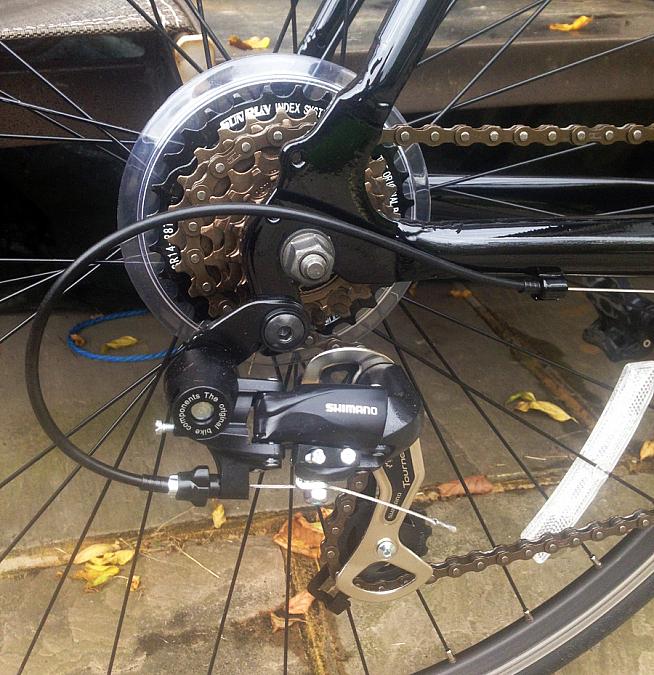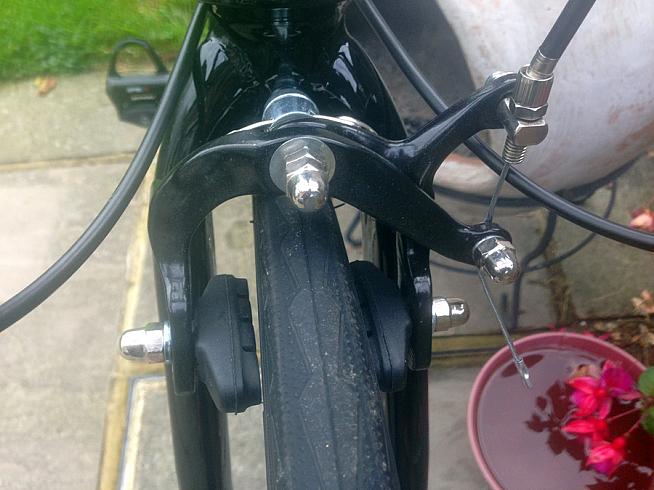 If I could change anything in the contact areas it would be the bars, but not before having a go at moving the brake levers and maybe rewrapping the bar tape with something with a bit more cushion in it.
I ended up doing about 24km, up and down some quite challenging slopes, and never felt like I was in any bother. The wheels ran straight and true, there were no calamities in any of the descents, the cornering was neutral and the handling fuss-free.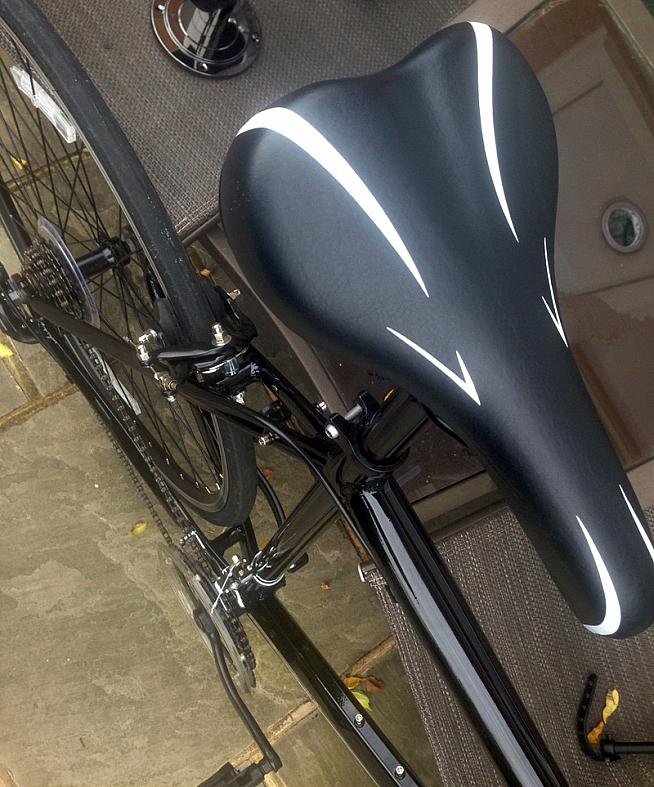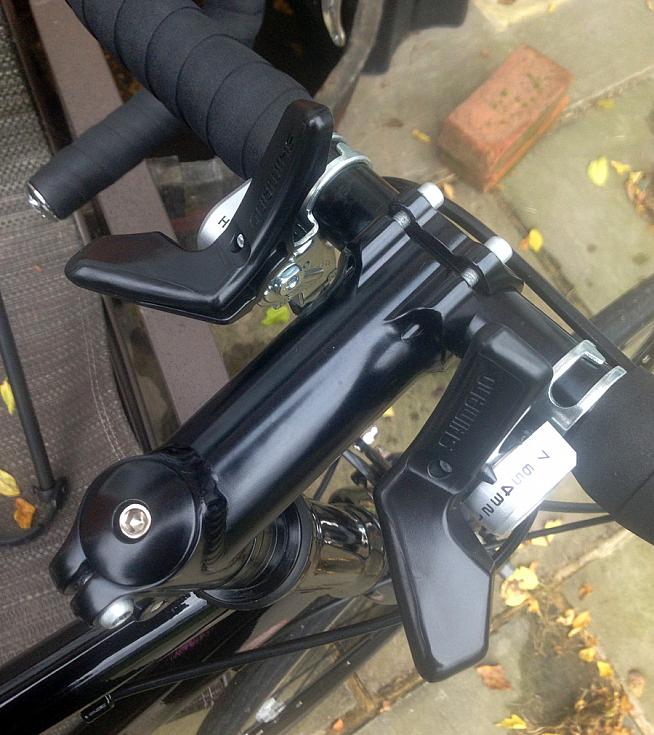 The tyres gripped well but the brakes, either due to their compound or the position of the levers for my hands, I found to be a bit weak. I would like to try a different set of pads before passing any aspersions. Needless to say, they did the job adequately - I just needed a tad more anticipation when approaching hazards or junctions.
I would say that the Vilano Commuter ticks all the boxes for a starter bike; it's a good introduction to drop-bar cycling, and the range of gears will get you, and pretty much anything you're carrying, up all but the steepest urban roads. I'd go so far as saying I'd give it a go on a sportive - I may get some strange looks from the weight weeny, full kit brigade, but it feels like it could go the distance with bikes costing twice or three times its price. At £140 it's not what many would call expensive, and what you get for the price is quite remarkable - the jacket I was wearing during my ride cost more than the bike.
I'd make a few changes, but that's just me. I like the glossy yet understated frame, the shape of the tubes and the comfort of the saddle. A bit of fluoro bar tape and a few centimetres height adjustment to the brake levers would make all the difference. An added bonus is that the frame has mounting points for mudguards and a rear rack, so you can use it year round on all sorts of journeys. At less than the price of a Team Sky Pro Jersey, what's not to like?
Vilano Aluminium Commuter Road Racing Bike 700C 21 Speed, £140 from amazon.co.uk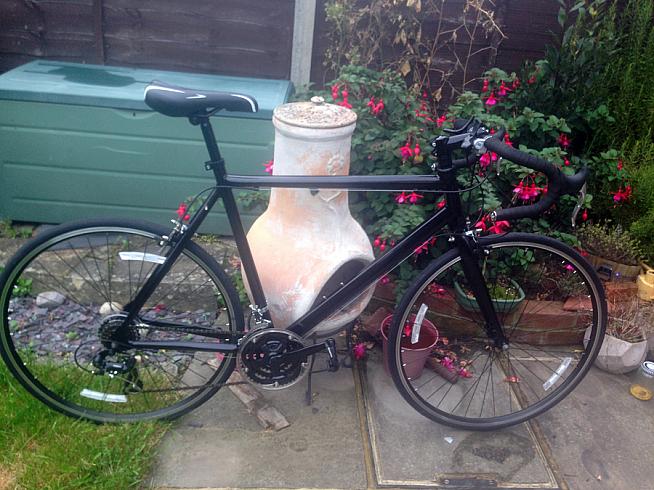 0 Comments