The second edition of GranGuanche Audax Gravel is underway, with 100 hardy bikepackers racing across the Canary Islands.
I rode the launch edition in 2022, and watching the rain beat down on my window on Saturday it was all I could do to resist booking a last-minute flight back for this year's race.
FOMO aside, a small part of me is slightly relieved. Covering 700km of mountainous road and gravel trails in four days, GranGuanche is one of the best things I've done on a bike, but also one of the toughest.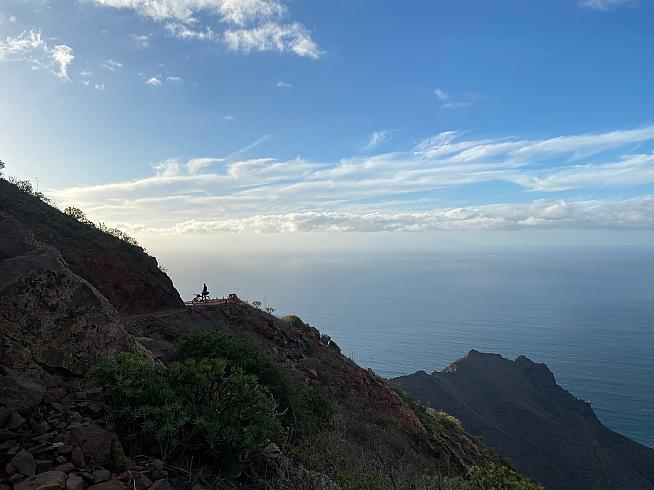 Devised by Matteo Minelli, an Italian who has adopted the volcanic rubble-strewn wasteland of Lanzarote as his part-time home, GranGuanche is a majestic ferry-hopping tour across five of the Canary Islands.
There are three versions of the route: road, MTB and gravel, and while the routes are freely available for anyone to follow at any time, each also has its own annual Audax event.
I rode last year's inaugural Audax Gravel as a duo with Peter Nedelcev, a Slovakian now long-term resident in Northern Ireland. Peter is now a friend but we'd barely met at the time, although his name is a familiar sight atop Strava leaderboards in these parts.
If entering an ultra race with even a close friend is dicing with your relationship, riding with a virtual stranger is probably madness - but more on that later.
The race starts on a Saturday night in Lanzarote, with a 10pm rollout from the small northern town of Orzola. But, with the playful sadism that seems a hallmark of organisers of these sorts of events, Matteo had set registration for the event some 60km away in the resort of Puerto del Carmen on the south end of the island.
There riders assembled by the beach throughout the early part of the day, depositing bike boxes, building up bikes, chatting about the adventure ahead while Matteo flitted about with camera poised. His incredible photographs played a big part in luring many of us to the event, I'm sure, and will entice many more in future.
We'd had a chance to meet Matteo briefly the previous day, at a warm-up ride in Teguise. Peter and I, staying in an hotel on the western outskirts of Puerto del Carmen, had headed out to see a nearby volcano in the late morning and then continued into Teguise, where we waited in the shade of a tree by a picturesque church for Matteo and our fellow riders to arrive.
We were grateful of the chance to explore a bit of Lanzarote in daylight, because we wouldn't be seeing much of it during the overnight race to the first ferry.
Matteo led us to the seaside along some of the singletrack we'd encounter the following evening; we posed for pics on the beach, and bumped into a bunch of surfers whose VW was stuck in the sand.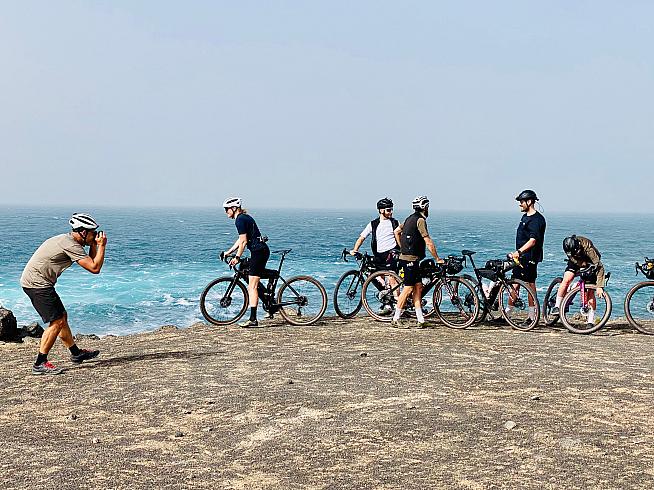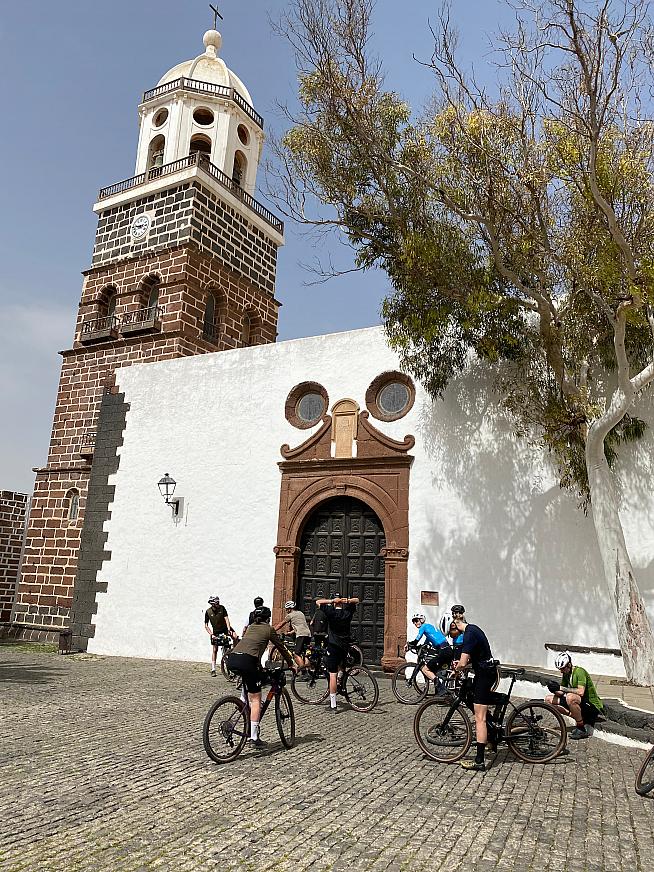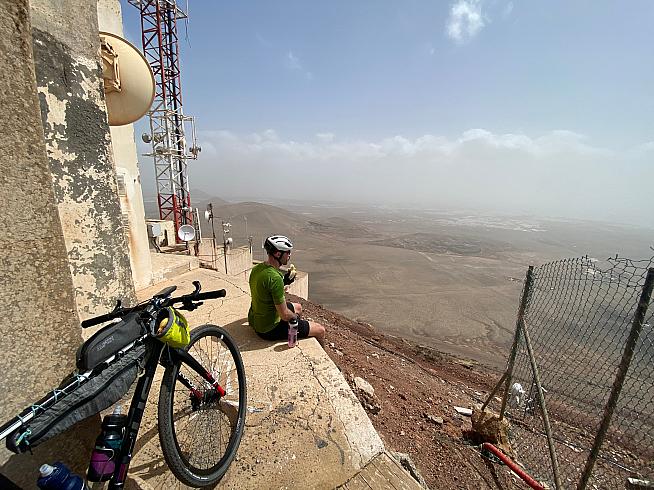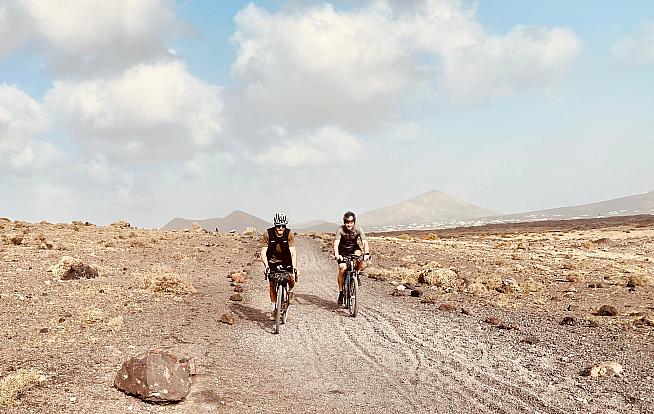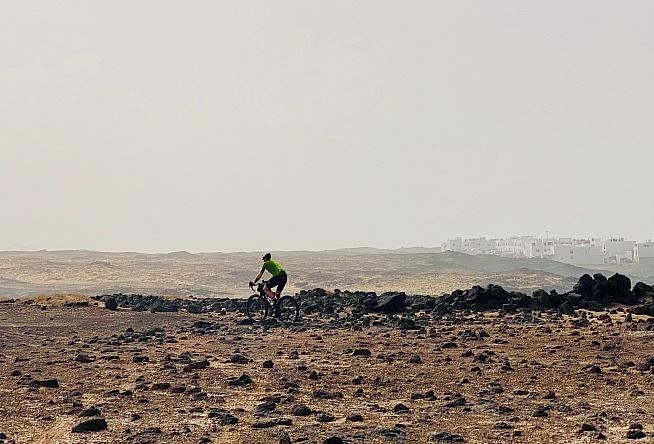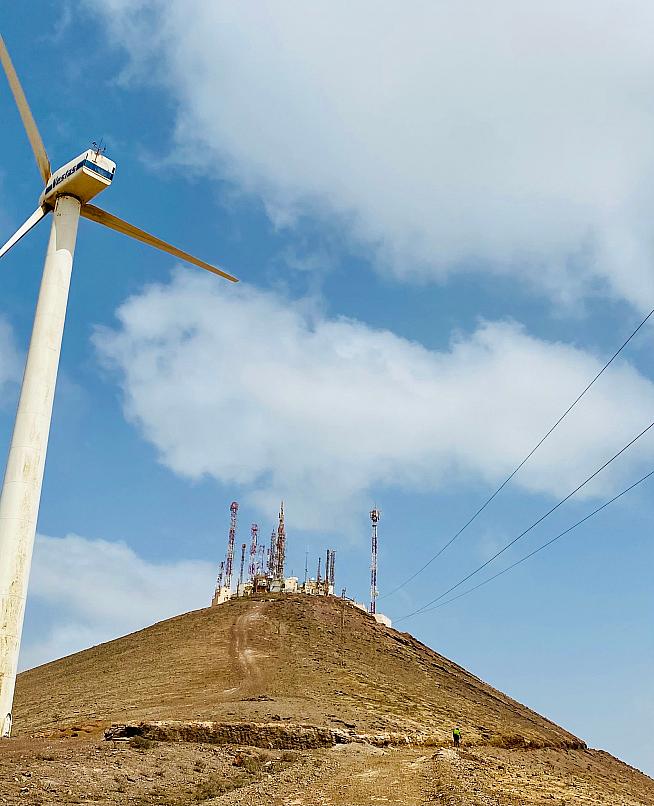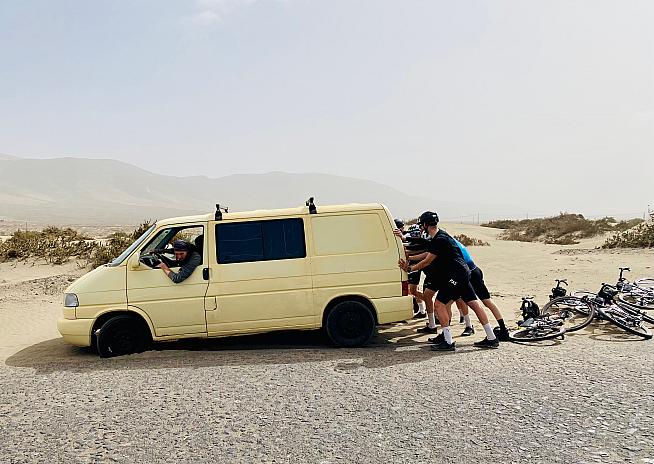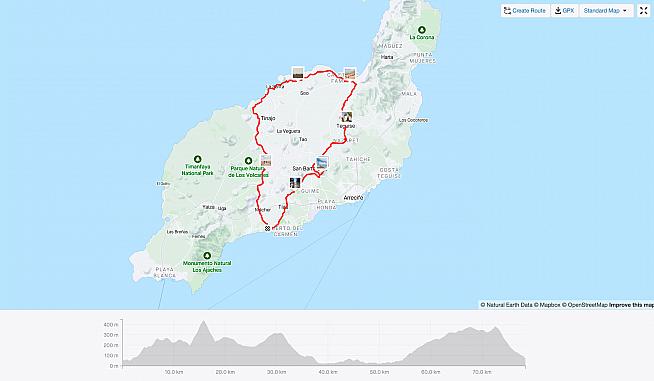 By the time Pete and I got back to our hotel we'd ridden 80km with 1350m climbing - a healthy warmup.
The next day, with registration complete and bikes weighed (15.4kg fully loaded), small groups began forming for the trek to the start point. It was 3pm, still early afternoon. We had a few hours to get there so the plan was to spin up the east coast stopping for lunch somewhere along the way.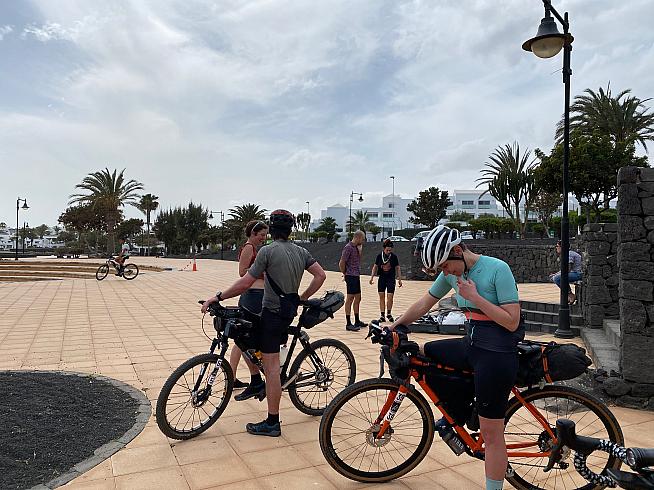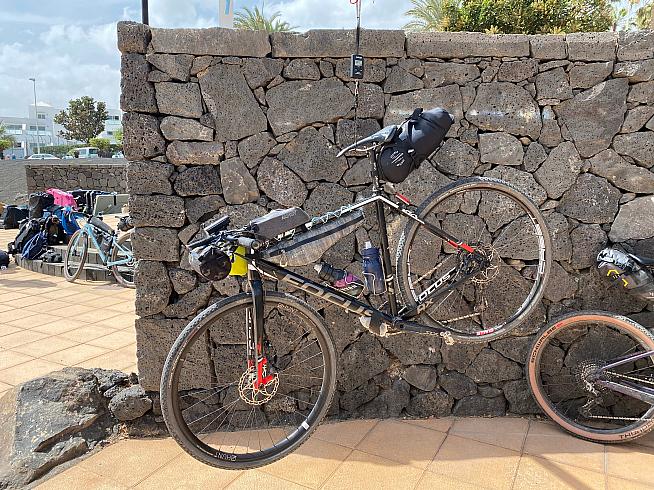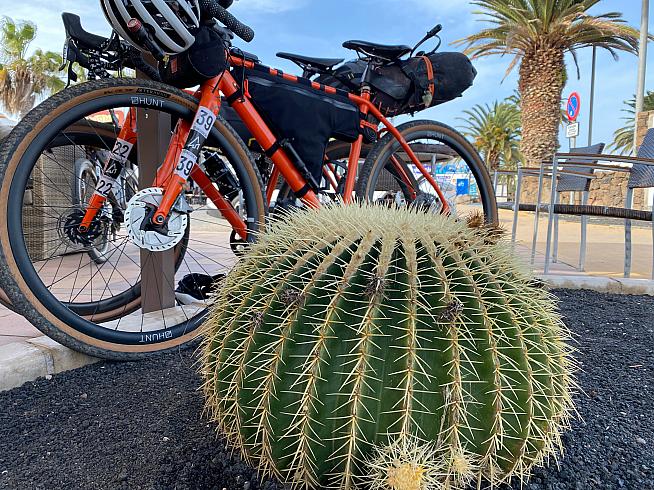 Our ad hoc peloton included a couple of English riders, Martin and Claire, on matching orange Mason Bokeh bikes. There was also a Belgian, Jens van Roost, riding an old-school hardtail MTB, and a Danish chap on perhaps the most boutique and expensively assembled gravel rig on the island. He'd had a stroke of bad luck when his carbon bars broke on the flight over, and was to suffer a few more mechanical issues over the course of coming days.
At one point as we rode along, Jens turned and asked, "So, are you and Peter a couple outside of cycling?"
For a split second I was tempted to say that yes, we were in fact on honeymoon, just to see the look on Peter's face. Then, picturing that look, I chickened out.
We hugged the coast, passing Lanzarote airport and Arecife, before stopping after an hour for lunch in a beachside restaurant at Costa Teguise. This was a good chance to get to know each other over such local delicacies as pasta and chicken kebabs. I discovered Claire was from Worthing - the very same Sussex seaside town I lived in for several years before moving back to Ireland.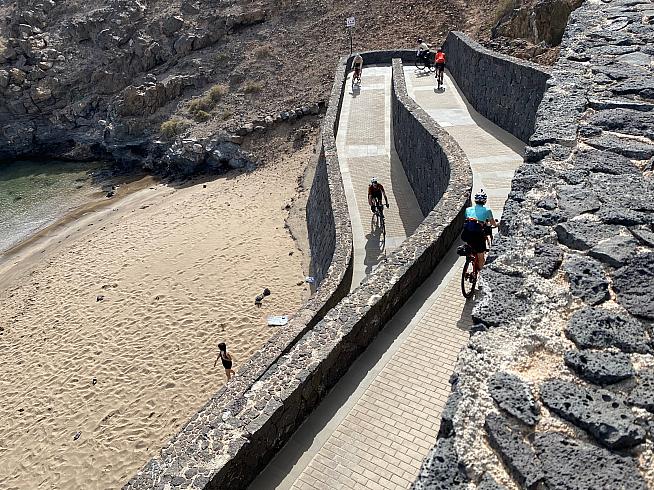 After a relaxing break we saddled up again and headed off along a gravel track which turned out to be more loose sand than gravel, and hard work. We diverted back to the road and decided to crack on as time was ticking away.
Jens and a couple of the others set a fierce pace, and I was quickly doubting the wisdom of riding to the start. The race hadn't even started and, with today's ride stacked on the previous day's outing, the build-up had involved less lounging around than I'd ideally like.
Still, as a veteran of several Dunwich Dynamos I was looking forward to the night start. As the sun set the sense of anticipation rose.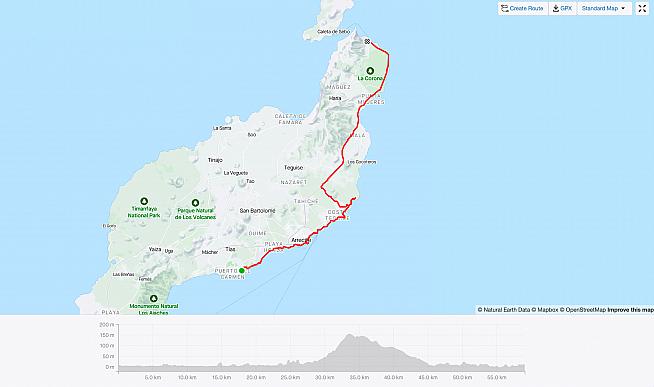 Stage 1: Lanzarote
It was gone 7pm and light was fading by the time we reached Orzola. We resupplied in a small roadside supermarket under the gaze of a few bemused locals, then headed downtown where we discovered our fellow racers had set up camp in a lively cafe.
Indoors and pavement tables were packed with cyclists, working their way through massive plates of food and in some cases, tall glasses of beer. Linda and Philippe were there nursing coffees, and Peter and I pulled up a chair to their table and ordered some food.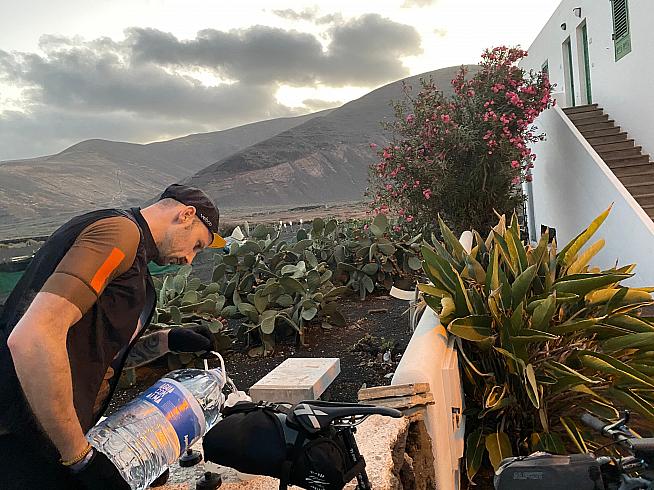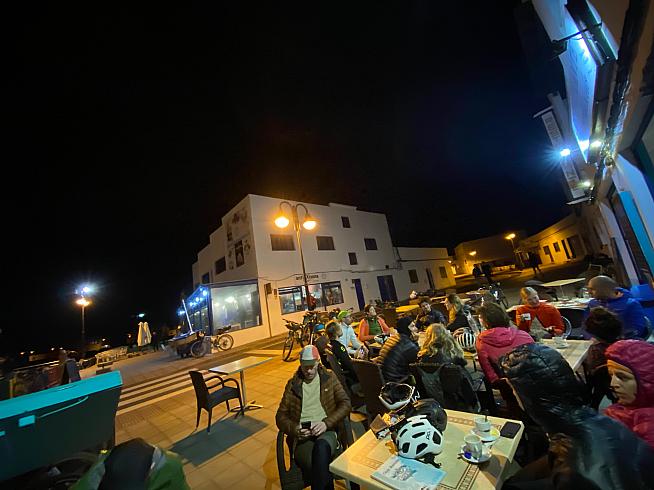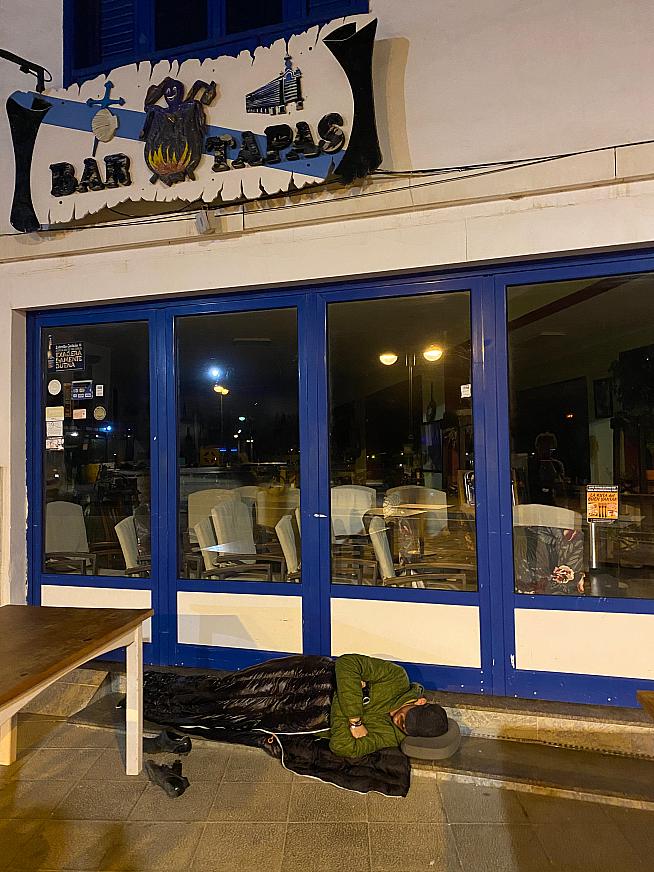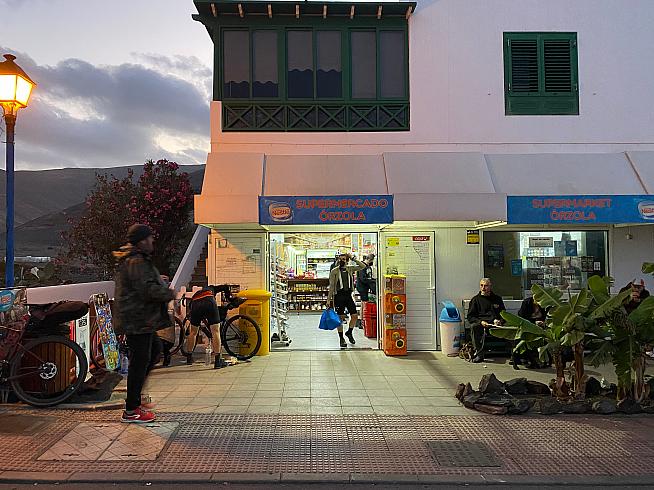 It was dark now, and some riders donned jackets and hoods and rested while the Italians, in particular, chatted excitedly. Peter rolled out his sleeping bag by a shop front and declared his intention to sleep; I sat at the table and listened to Lanzarote's worst karaoke blaring from a bar across the street.
Not long to wait now.
10pm rolled round quickly: time to go. The street filled with riders filing into the night, red lights blinking as we snaked out of the smooth tar road out of Orzola and into the darkness.
Lanzarote is only an appetiser on the GranGuanche, but the parcours would be considered fairly tough in most contexts: 110km with 1900m of climbing. That climbing starts almost immediately with a 450m winding ascent of a rough gravel track.
Amid the mingle of riders I lost contact with Peter almost immediately on this climb; I pulled over, convinced he was behind me, and watched as riders filed slowly past trying to pick him out. After more than five minutes I finally saddled up and continued up the hill, only to find Pete a few minutes later waiting for me - he'd either been ahead the whole time, or I'd missed him as he came by.
Not the most auspicious start, and we exchanged a few reminders on how to keep things running smoothly for future reference.
I should point out here that Peter is a strong rider; certainly stronger than myself. I'd put in what I thought was a reasonable amount of training to complete GranGuanche, and we'd agreed to aim for the four-day pace, but Pete's capacity and expectations were higher. His inclination was to go hard from the start, confident he could maintain a high pace - and from all I've learnt about him since, I've no doubt this strategy would work for him.
By contrast, my approach to a multiday event is to ride with a healthy safety margin built in. I don't want to blow up, and also tend to err on the cautious side on loose terrain after an injury ended my first off-road bikepacking event back in 2018. A week in an Italian hospital and the best part of a year off the bike left me with a healthy respect for the damage that a fall can do.
"You do you" works perfectly well when riding solo, but riding as a team inevitably involves a degree of compromise - something we both realised very early in the ride. I suspect Peter was tempted to throw me into a volcano at times, and I should be grateful he resisted the impulse.
For now though, we rolled through the peace of the Lanzarote night in mostly quiet focus. There were a few minutes of welcome familiarity as we reached Teguise and scooted through the narrow alleys we'd ridden in sunshine the previous day.
Soon we were back on the gritty trails of the north coast, this time washed in moonlight, before diving south along the eastern edge of Timanfaya and the Parque Natural de los Volcanoes.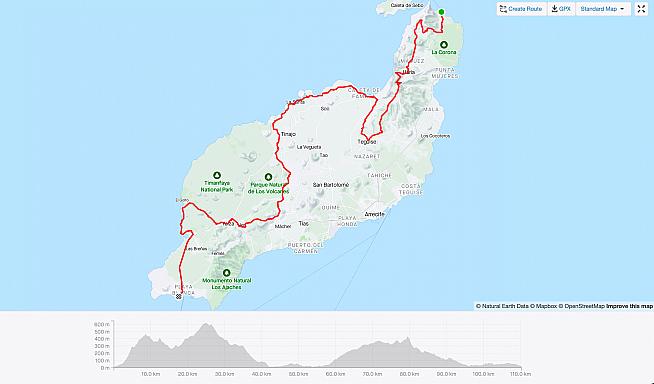 The sky was beginning to lighten as we hit the highway heading south into Playa Blanca, and at last, just shy of 6.5 hours riding, we pulled up by the ferry terminal.
Our boat to Fuerteventura would leave at 07:30am, so we had a couple of hours to grab some sleep.
We unpacked out sleeping mats and bivvy bags and stretched out on the street in front of a closed shop, the Popeye Sports Bar, where I quickly passed out.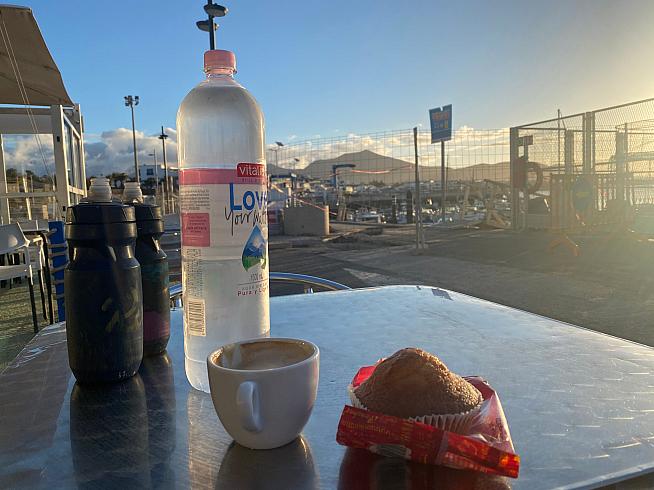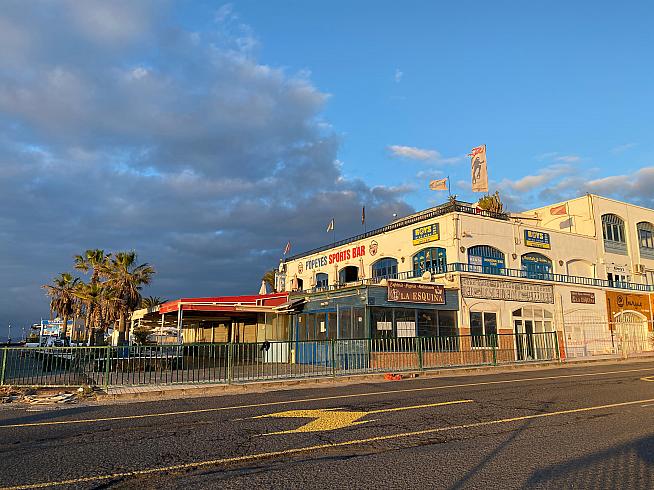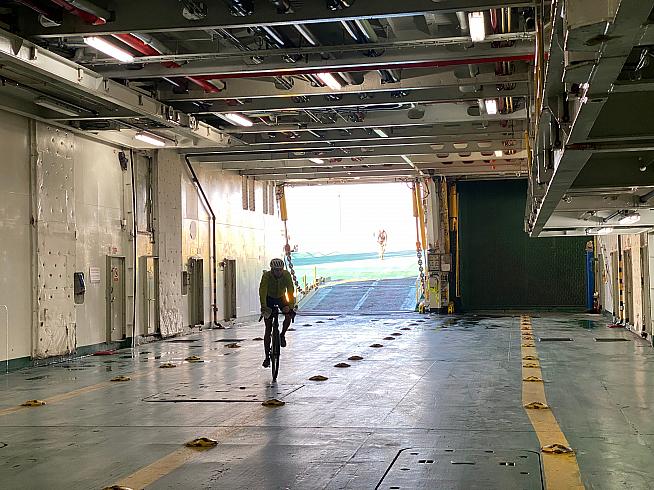 Stage 2: Fuerteventua
In what seemed like minutes we were up again. There's not much time to rest on the GranGuanche, and early starts would become a theme of the race. We packed up the bikes and, bleary eyed, explored a nearby cafe for a quick coffee and dry cake.
The ferries are a key part of the magic of GranGuanche: for the duration of the ride, you will become more obsessed than you thought possible with the intricacies of ferry timetables. The names of Fred Olsen and Naviera Armas will become as familiar to you as those of your own family, and you'll learn how to cross a pitching deck in cleats carrying two coffees and a helmet without so much as spilling a drop.
For those targeting the three-day Audax pace or the four-day pace, you live and die by the timetable; miss a ferry and you're stranded on an island often overnight, or for an entire day until the next one.
Ordinarily being stuck on a beautiful island is no hardship, of course, but if you're racing - or, as in our case, have a flight to catch - then the need to make each boat adds a real sense of urgency to your rides across the islands. Our flight home from Tenerife was on Thursday, so we would either complete in the four-day pace as planned or be forced to cut short the ride.
The morning sailing from Lanzarote to Fuerteventura was scheduled for 8am, allowing 10 hours for the overnight ride. While that was fairly generous, the schedule would get progressively more challenging as islands and fatigue accumulated.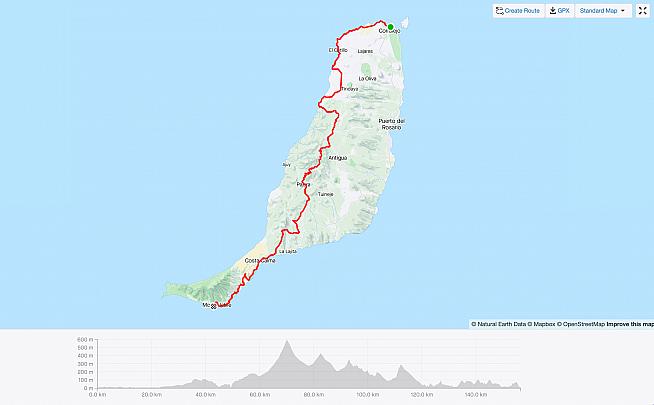 We rolled off the ferry onto Fuerteventura at around 8:45. The short crossing had passed pleasantly, we'd found seats apart for a few moments solitude and I'd even managed to fit in my daily Wordle (that wouldn't last).
After a few minutes on the docks to pack up, we rolled out at 9.
I'll say it right now, Fuerteventura is the worst Canary Island. Or at least, I had the worst day - probably the toughest of the entire ride.
It wasn't the elevation, or the distance - although at 156km and 2379m these were not insignificant. I think it was the combination of coming off an overnight ride, combined with the heat and a landscape that is, to me at least, oppressive in its desolation, that had me at one point in the day pretty much ready to pack in the ride.
That low point came in the early afternoon. We'd ridden through a dusty wilderness of rocks and scrub, alleviated only by a gruelling road climb somewhere in the middle at the top of which I found Pete, some 10 minutes ahead of me, befriending some chipmunks.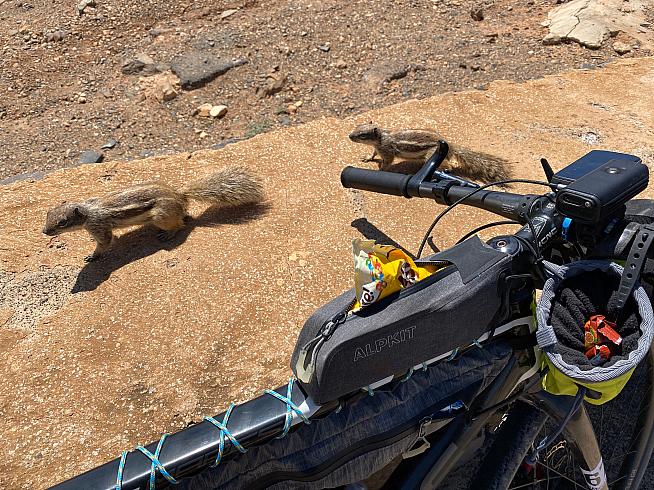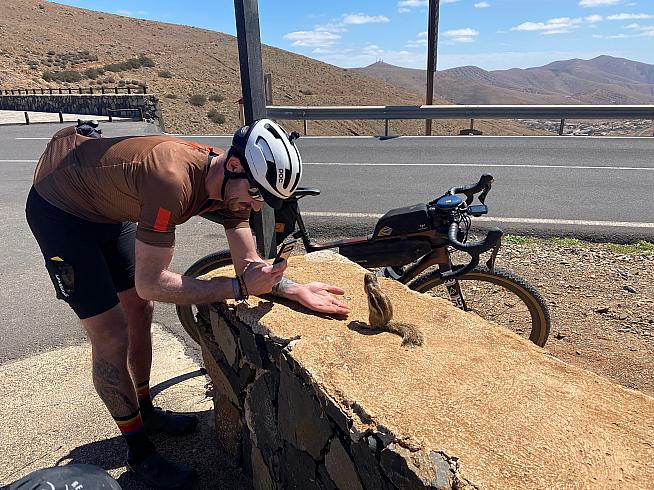 Our targeted crossing was at 6pm, and as we slowly ticked off the km it became increasingly clear to me that we wouldn't make it. At one point, boosted by a tailwind for a few minutes, we picked up the pace to 25kmh across a dusty gravel trail and Pete exclaimed with satisfaction: "This is what we should be riding like all the time."
Unfortunately for him the tailwind dropped and I was soon flagging.
We'd stopped for lunch in a small town of El Cotillo, raiding a deliciously air conditioned supermarket for groceries which Pete swiftly assembled into sandwiches by the shop door.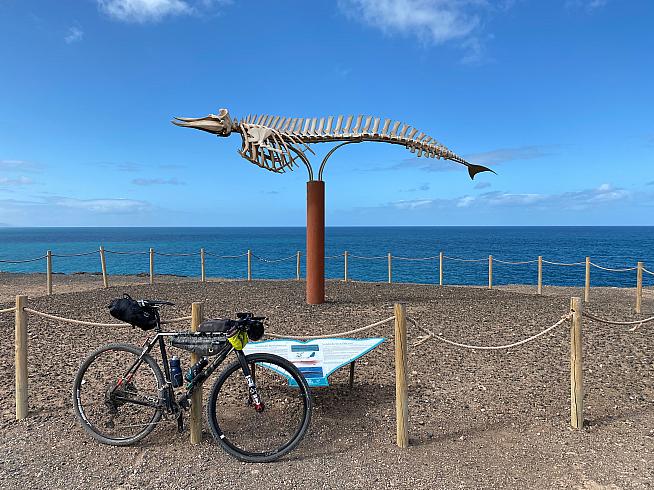 On the outskirts of town I was delighted to see a mounted whale skeleton overlooking the ocean. I remembered seeing it on a family holiday to Fuerteventura many years ago, before I rode bikes - a period I was coming to think of as the good times.
Back in the desert, heat and fatigue took its toll. I'd forgotten to refill my water bottles at the last town, and now focused my irritation on my hydration pack, a new and untested purchase ahead of the trip. It was handy being able to sip water on the move, but the sunlight on my back heated the pack until the water was warm. Sucking mouthfuls of body temperature fluids just wasn't the refreshing hit I needed.
Eventually I decided it had to go, and pulled over to strap it onto my saddle bag. Peter, noting my fumbling, silently took the pack and strapped it onto his own saddle bag instead. Inside it was our shared GPS tracker - a minor detail that would come to our rescue later.
As we trekked along the rocky coastal track Peter took out his phone and video-called his mum back home in Slovakia. They chatted as we rolled along, Pete holding up his phone to show her the views. It was unexpectedly touching, and I found myself revising my preconceptions of my musclebound, tattooed ride mate.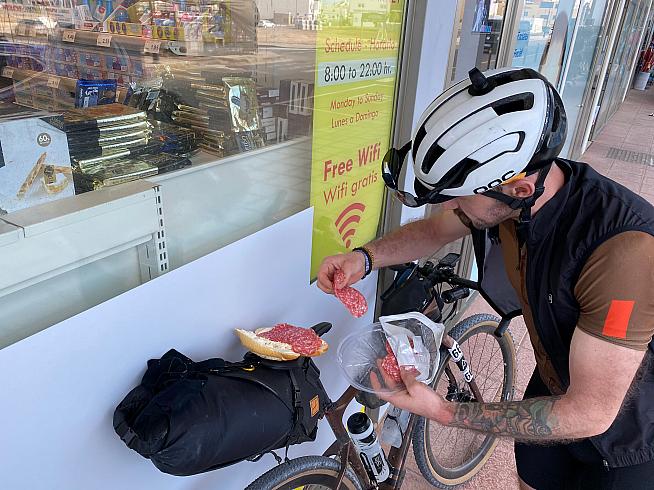 Our next stop was in a tiny beachside cafe at Puertito de Los Molinos that appeared like a mirage or the answer to a prayer after three hours and just 50km progress. But soon after came the main climb of the day, and even those chipmunks and a rapid, breeze-cooled descent couldn't revitalise me.
We stopped for a "burger especial" at a slightly down-at-heel bar in Pajara. My mind was now turning over the options. We still had 65km to go, and about three hours to do it. Our average speed to this point had been 15kmh. I felt the game was up but Pete wasn't having any of it and urged us on.
It was only day one but mentally I was in bits, and as good as resolved to send Peter on ahead of me to complete the ride. I would follow and try to complete as much as I could in the time we had - perhaps another island or even two, but treating it as a holiday. Completing the Granguanche seemed a step too far and I was kicking myself for having attempted a challenge like this without enough training.
On we rolled, gradually reeling in the distance. When we hit the beaches of the southeast coast our speed slowed to walking pace and I think even Peter finally acknowledged we weren't getting this ferry. But still he forged ahead, refusing to leave me behind or hear any talk of quitting.
After a tortuous final hour or so in which the route veered off the beach onto highways and back again, we finally pulled into the ferry terminal at Morro Jable at 7pm. An hour late for the boat.
All was lost... or was it?
I can't remember now exactly when we realised, but by the time we'd retraced up the hill into Morro Jable, found an hotel and were seated at a nearby restaurant with dinner on the way, a new plan was hatched. We could spend the night on Fuerteventura, get some rest, and catch the first ferry to Gran Canaria 6:30am in the morning.
Then, if we could hustle across the island at top speed, it would still be possible to catch the last sailing to Tenerife and save our ride.
This new plan lifted both our moods massively; by the time we'd polished off our burgers, a couple of beers - and randomly, a Japanese seaweed salad - my defeatism and Peter's thunderous mood from from earlier in the day was forgotten.
Stowing our bikes back at the hotel, another good omen: we spotted a pair of dusty orange Mason Bokehs in the luggage room. Our friends from the prologue, Martin and Claire, were here too.
After a hot shower the clean, cool sheets of an hotel bed never felt so good. Alarms were set, then blackout.
Stage 3: Gran Canaria
Ironically, given we were sleeping actually in the port town, the next morning saw us come within a whisker of missing the ferry.
For once, it wasn't my fault. I arrived in the foyer to find the Bokehs already gone. I packed up my bike and was soon ready to roll, but Peter was still up in the hotel room getting his things together.
Minutes passed by and I began looking nervously at the time. It was a good 10 minutes ride to the ferry terminal, and we still had to sort the tickets admin and boarding.
At last he appeared and we darted into the cool morning air. Almost immediately we were separated, Peter taking one turn while I followed my GPS route. My stress levels shot through the roof as I pictured missing this boat, and worse, Peter's reaction if I caused him to miss it too. I pictured my bones mounted above the bay, in similar style to the poor whale we'd passed the previous day, as a warning to others.
I pulled up at the ticket office by the end of the pier with moments to spare and found Pete already inside. It was with a massive sigh of relief that we boarded the ferry, virtually as the ramps were lifting.
The crossing was longer this time, around two hours; 8:50am saw us rolling out of the ferry port in Las Palmas.
Today's route would see us head south roughly halfway down the island, before cutting west and crossing the 1900m mountainous centre of the island and then north up the coast to our escape ferry at Agaete.
Where Fuerteventuera had greeted us with a dusty gravel scramble along a windswept, desolate coastline, Gran Canaria was altogether more welcoming. Las Palmas felt like a big European city with its wide boulevards, and we reacquainted ourselves with riding stop-start through urban traffic until the route ducked into a compacted dirt trail that funnelled us out of the town amid dense, humid greenery.
We'd been steadily gaining altitude since leaving Las Palmas and after a swooping road descent pulled over for food at a roadside shop. A couple of other riders were there, and we chatted while finishing off snacks and bottles of fresh water.
Spirits were high, the sun was shining and after two days amid volcanoes it seemed everyone was pleased by the change of scene.
Still on paved roads, we rode on. Shortly before the 3hour mark we hit the town of Ingenio. This marked the most southerly point of our day's riding; here the route would cut west and gradually north again, traversing the central massif before plunging down to sea level at the finish.
We paused to refuel at a shop in Ingenio. A couple of riders, as ever, were there before us. Daniela Kirchner, an Austrian bikepacker, was casually making up a spaghetti sandwich using the street outside the shop as a worktop.
A Spanish rider clad head to toe in long black sleeves and leggings was clearly finding the March temperatures still a little cool, while Pete and I grabbed any chance of shade we could.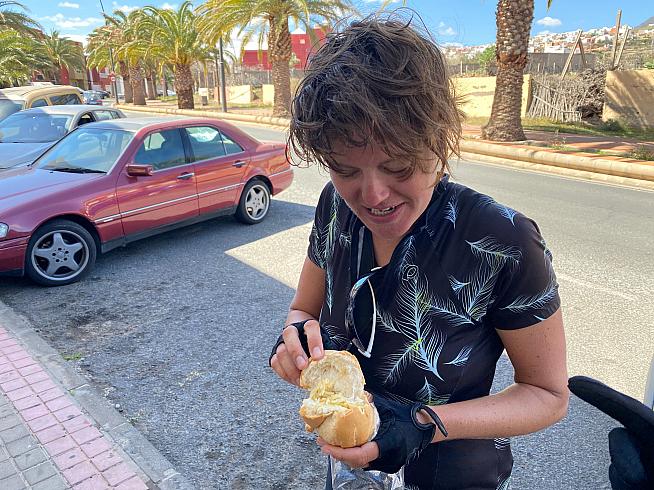 The next section through the mountains was one of the highlights of our GranGuanche adventure. After climbing steadily on smooth tar roads, the trail finally remembered itself and dumped us onto a vertiginous gravel ascent: this is what we'd come for!
High in the mountains, clean air and solitude, gradients veering towards 25%... it was happy times. Pete winched his way manfully up the climbs until finally, briefly being forced to dismount for a short section; I'd been off my bike and pushing long before, with a loaded bike it was nearly as fast as riding.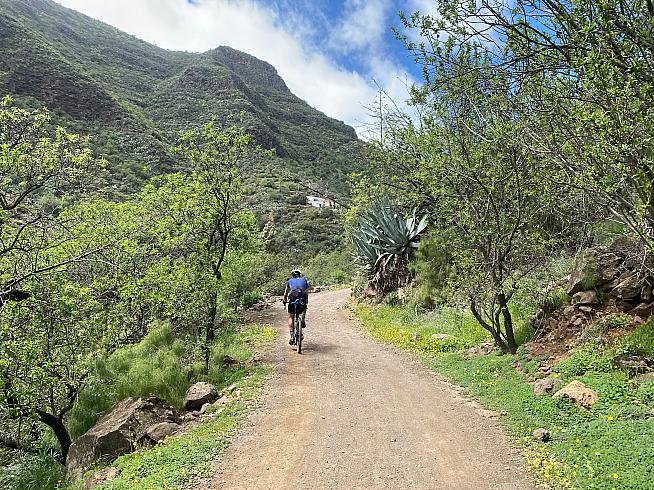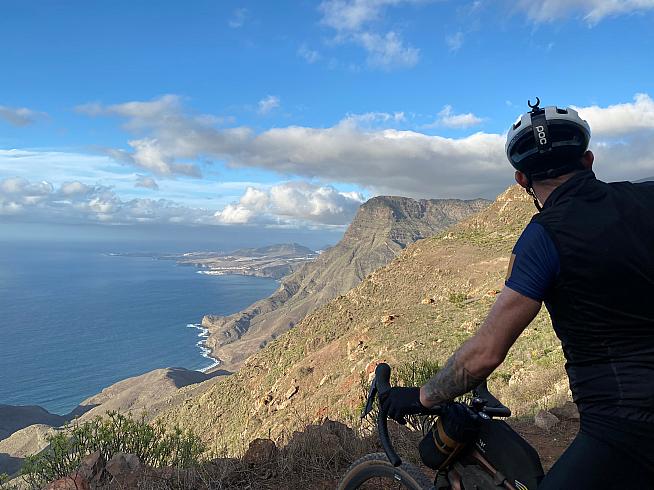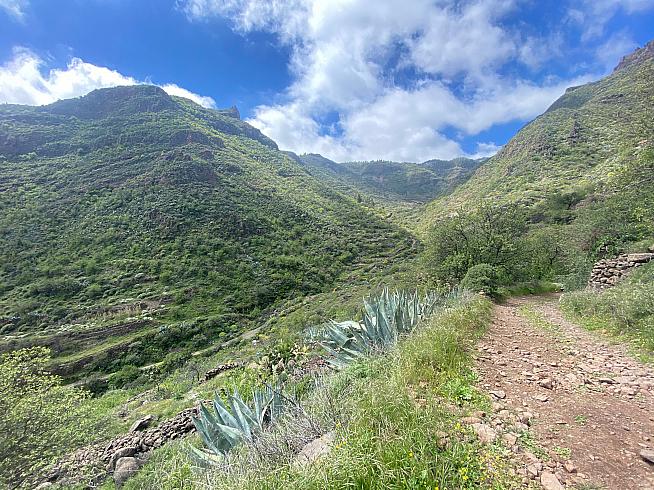 The fun part followed, with an endless seeming descent that ripped and zigzagged gradually down towards the coast, the ocean appearing through the trees occasionally shimmering in the sunlight.
It was paradise, but it wasn't to last. Peter and I had maintained a truce since the night before, but further relationship drama reared its head when we became separated on a descent. After a few minutes with no sign of Peter either ahead or behind, I pulled over by the roadside to wait.
I checked my phone - set to silent, as usual - and realised he'd been trying to call me. I rang him back.
"Oisin. Is your phone on silent again?"
"Hi, where are you Peter?"
"I'm on the track, where are you?"
I opened the tracking app, and zoomed in on our location. I could see our tracker, a little way off the route on what looked like a twisting climb - or descent.
"You've gone off course Peter, I can see you on the tracker."
"How can you see me - you've got the tracker!"
"It's in my backpack, you've got it strapped to your saddle bag..."
Pete finally reappeared 10 minutes later, hot and not in the best of moods. His GPS had sent him down a steep gravel trail, which he'd then had to ride back up again to rejoin the road.
We rolled on, until the next turn appeared. My GPS said turn right, Peter's straight on. A robust debate ensued. Peter refused to believe his mapping could be wrong, but my GPS agreed with the route displayed on the tracker app - as I demonstrated by rolling a few metres down the road in what I believed was the right path.
After a few minutes impasse, I lost patience and announced I was going roll on while he thought about it. Peter exploded. "What, you're just gonna ride on without me?"
The next few km passed in grim silence, Peter stewing over the mystery of his incorrect GPS. Perhaps he had downloaded the slightly different Trail version of the route, or an earlier version?
I had some sympathy; on a ride like this you are completely reliant on your mapping. And of course, the prospect of being dependent on me to navigate our path, shackled by my slower speed, didn't fill Peter with joy.
But there was nothing for it only to roll on.
On the plus side, the remainder of the route was not only free of tricky junctions but absolutely stunning. Bombing down the gravel descents in late afternoon sunlight it was impossible to anything other than ecstatic; we later met a fellow rider, Hari, who said she'd been in tears of joy on this section and that it was the best day's cycling of her life.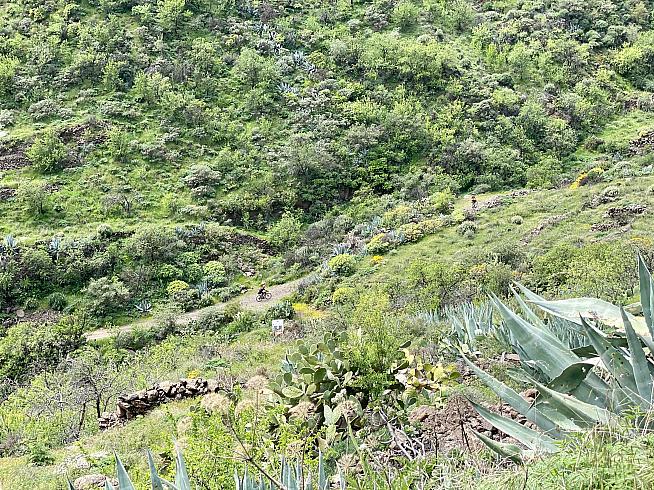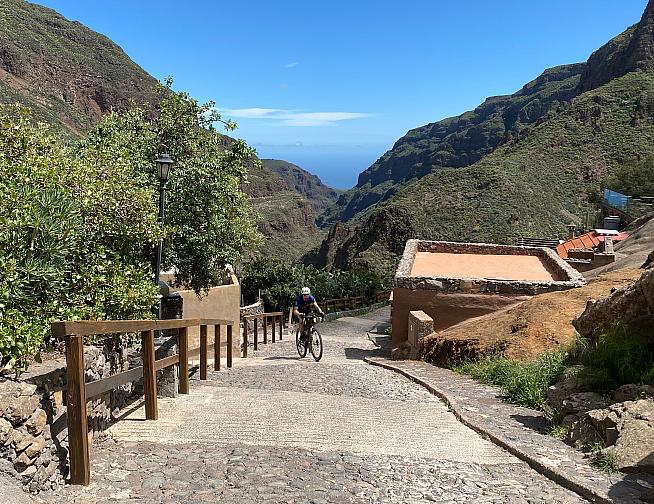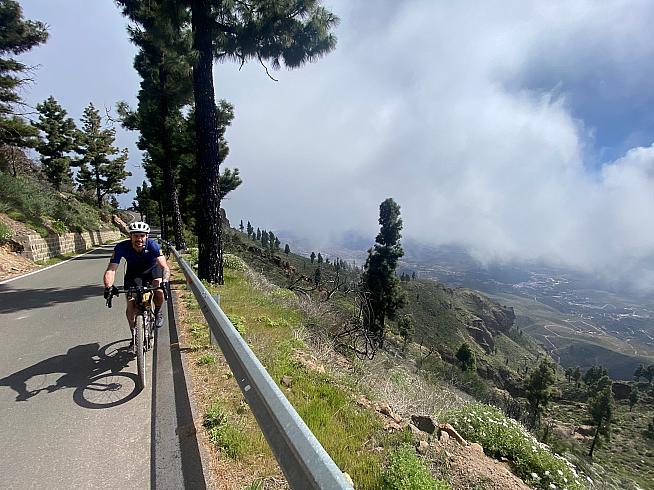 We'd been leapfrogging a pair of older Spanish guys on the descent - one of the few times we met people who descended more cautiously than myself. Shamelessly projecting, I observed to Peter that they were probably fathers.
"Every child you have knocks 10% off your descending speed," I loosely formulated on the fly. Although I still maintain that a baby is the best endurance training possible.
At last the trail hit the coast road, where we fell in with a small group of riders, including Hari and Claire on her orange Bokeh, on the final, swooping stretch to the ferry port in Agaete.
It was approaching 7:30pm, we had half an hour spare for the 8pm ferry. Unheard of luxury!
We filled the time raiding a nearby supermarket for supplies, and clambered aboard the boat laden with snacks.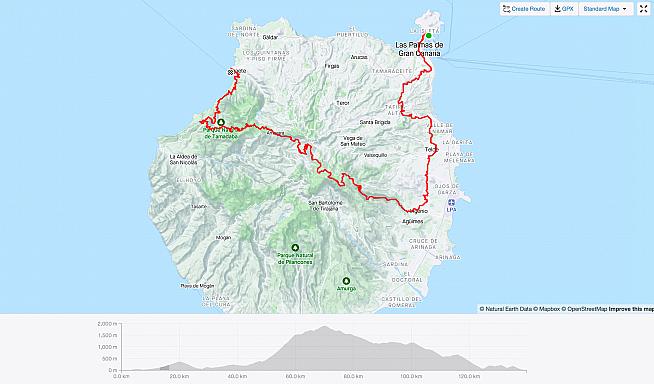 Stage 4: Tenerife
We'd finished Gran Canaria on a high, and there was a tired but upbeat atmosphere on the ferry as riders commandeered a large section of the dining area to eat, snooze and chat.
By the time we reached port at Santa Cruz de Tenerife 80 minutes later, some of the adrenaline was starting to dissipate. The prospect of rolling out into the night for more mileage, with a big day's riding already weighing heavily on the legs, was a daunting prospect.
But not for everyone. Loading our bikes at the harbour, I chatted briefly to Annika, a beaming German rider almost visibly crackling with enthusiasm. Her plan was to ride on for a few hours, then possibly crash at a friend's house for a nap. She gave me a phone number saying we'd be welcome to stop by, then plugged in her earphones and rolled off happily into the night.
Peter and I debated what to do, feeling torn. We were soon joined by Claire who seemed in a similar dilemma. She'd just got off the phone to her partner Jo back in England.
A seasoned ultra rider himself, he'd given her the pep talk - "You've gone all that way to race, why aren't you racing?"
Technically correct, but from the look in Claire's eyes she was open to a second opinion.
After a brief debate with Peter we decided to find an hotel nearby and get a few hours sleep, then make an early start. The ferry from Los Cristianos to the last island, El Hierro, was critical: there was only one crossing per day - at 5:30pm - so we had to make it if we wanted to complete the ride.
But at 179km and over 4000m of climbing, we were conscious that Tenerife was on paper the biggest day of the tour. Luckily we found a vacancy at a nearby hotel, Pete and Claire quickly negotiating a triple room while I kept the bikes company on the quiet street.
Showers and bed, alarms set for something hideous like 3am, sleep.
It was still pitch black when we stumbled out onto the street and set off. Worse, at 3:45am there was nowhere even open to get breakfast; Pete came to the rescue with coffees from a vending machine in the hotel lobby.
The road tracked north along the coast for 8 or 9km before beginning a long, steady climb. We rode along chatting quietly among ourselves, discovering people and places in common with Claire. Her boyfriend is a good friend of Oliver Townsend, formerly a Sportive contributor and now editor at Gravel Union.
I met Olly through his girlfriend Abby when we were both sportive bloggers for British Cycling many years ago, and we catch up occasionally at cycle shows. It's a small world, and a surreal one at times as we rode through the darkness of a Tenerife night chatting bike business and the hot spots of sunny Worthing.
Progress was steady, the night cool and damp. After three hours we'd covered 40km including a climb of over 1000m. We stopped in the town of Saint Cristobal de la Laguna for breakfast, two huge custard donuts and coffees each while the rain fell on the grey streets.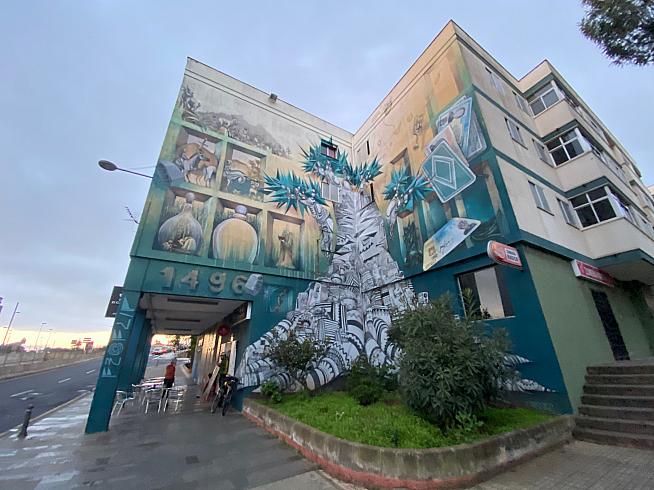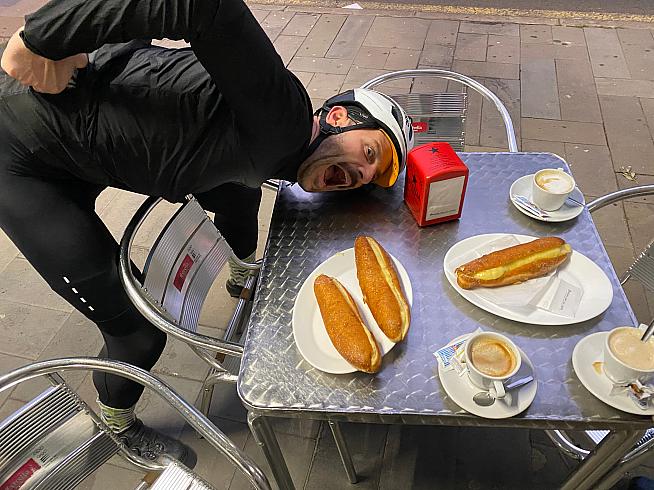 The elephant in the room, or on the island, is Mount Teide. At over 3700m it's the highest mountain in Spain, let alone the Canary Islands. While our route wouldn't take us quite that high, we'd be venturing deep into the national park that encompasses Teide's slopes.
With the prospect of some tough riding in remote, mountainous wilderness ahead we were keen to resupply. No obvious retail opportunities presented themselves and soon we found ourselves in La Esperanza, about to enter the park having just ascended a long, steep street out of town.
We paused at the top of the hill and looked back. The smart thing would've been to find a shop in town; was it too late? Peter volunteered to retrace back and do a group shop, but that was voted down: we'd lose maybe half an hour, in what was already a very tight schedule. In any case we probably had enough food to see us through a few hours.
I spotted a local and, gesticulating like a simpleton, tried to ask him if there was any water in the park. He indicated that there was a tap a few km along the trail. That was good enough.
Peter fired up a bluetooth speaker he'd picked up on the promenade in Lanzarote, and we entered the rainforests of Teide to the soundtrack of Toots and the Maytals.
"54-46, That's my number..." sang Toots. An impressive gear ratio, probably not suitable for the climbs we were about to encounter.
The trails here were leafy and damp earth, tall trees all around. It felt familiar from the sort of Atlantic rainforest found around coastal parts of Ireland, and while we didn't have the sunshine of the previous days it was a relief to ride under cloud cover for a change.
We finally came upon the promised tap along the side of the trail, and Claire - possibly fed up of listening to reggae bangers on repeat - announced that she'd pause for a bit and let us go on ahead.
It probably contravenes every chivalric code to abandon a lady you've just spent the night with in the middle of a mountain wilderness, but Claire was hardly a damsel in distress; she has more bikepacking experience than the two of us put together, and seemed fine.
In truth, we needed her more than she needed us. She'd picked up on the undercurrent of marital tension between Pete and I, and somehow defused it through the art of calm and friendly conversation. Who'd have thought it?!
Now unchaperoned, Pete and I tried to behave ourselves as we rolled on through the forest at a steady pace. Maybe too steady for Pete's liking; at one point he pulled past me with his toothbrush sticking out of his mouth, as much as to say "See how easy this is?"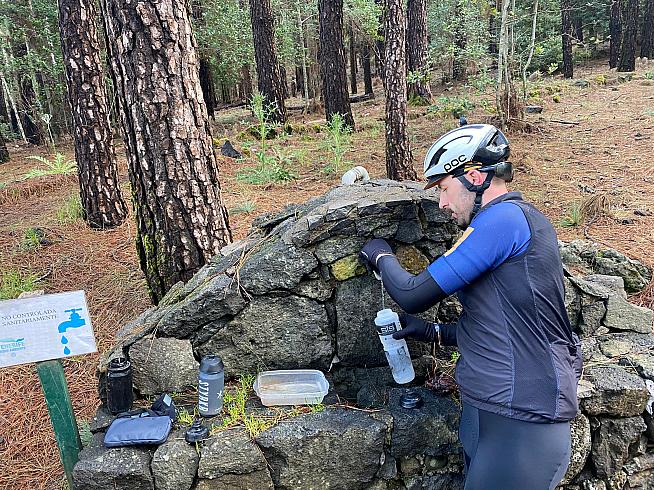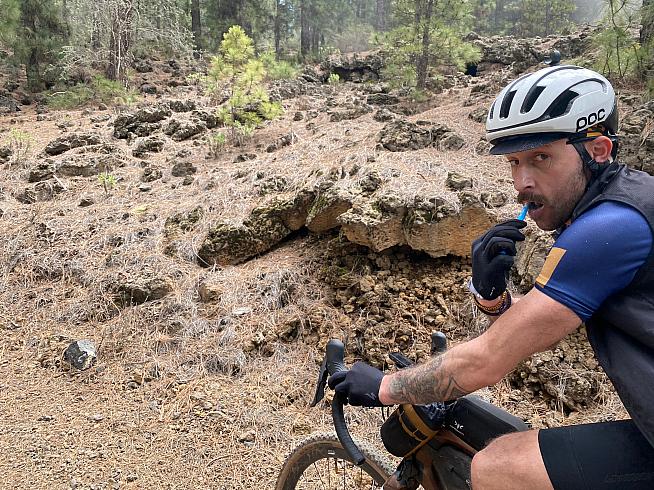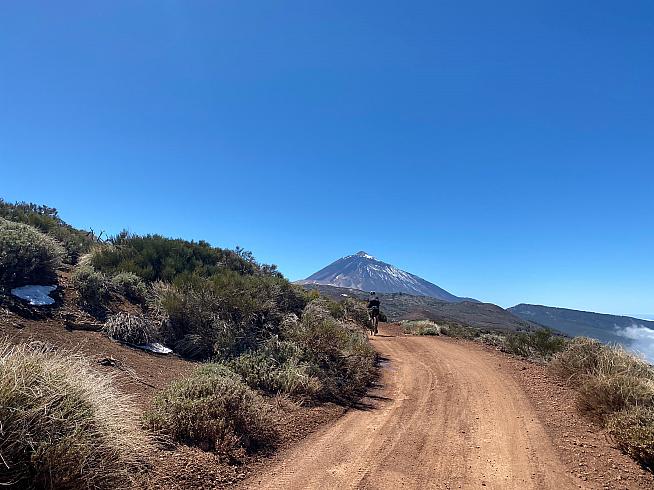 Although not easy, compared to the steep ramps of Gran Canaria the gentler gradient here was a relief despite the cumulative fatigue.
Tenerife is a magical place: at length we found ourselves bursting out of the dripping enchanted forest and onto the open arid trails of Teide's upper slopes. This was an entirely different climate, the air thinner, patches of snow alongside the red dusty doubletrack.
A minor miracle: near the highest point, miles from anywhere, we spotted a can of Pepsi sitting in a small drift of snow. It was unopened. We cracked it and drank in views of Teide's summit, capped in snow, to our right.
We were making fair progress, and once we emerged off the track onto a paved road we were back in the land of day trip coaches and civilisation. With some three hours remaining to the 17:30pm ferry we even had time to stop at a touristy roadside restaurant in Portillo Alto for crisps, drinks and anchovy-stuffed olives.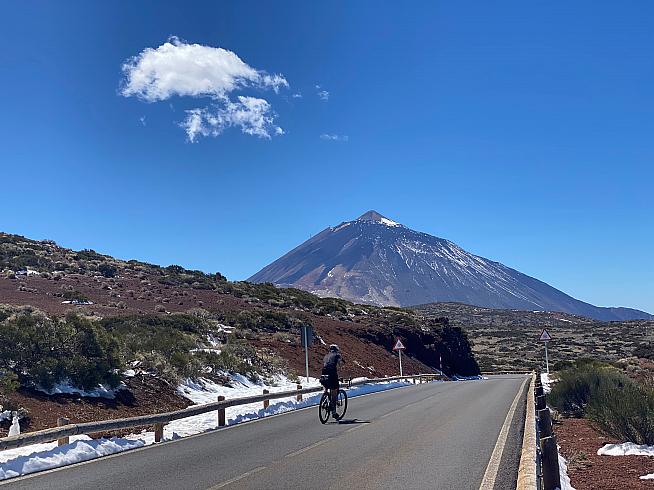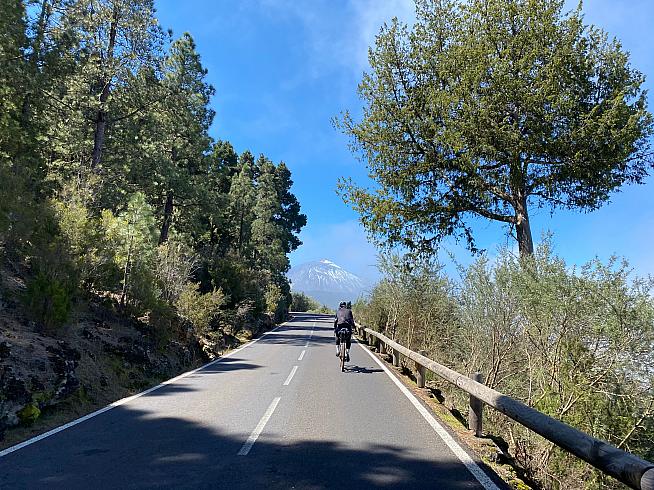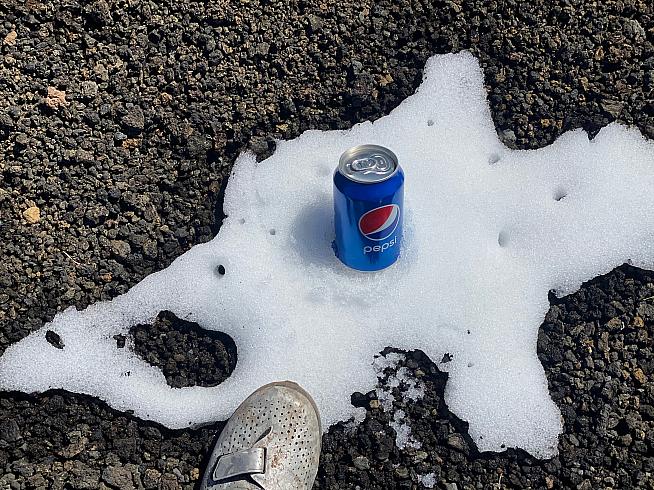 The descent, all on road, was a good one and we zipped into the port town of Los Cristianos on the south coast with about 30 minutes to spare.
Down by the docks we met some Audax pace riders disembarking from the boat. These were the hardcore, who had cut a day off the ride by crossing Gran Canaria in darkness, then catching a 6am ferry to Tenerife. They'd ridden El Hierro earlier that day, starting at 5am, and were now finished.
Among them was Jens van Roost, our Belgian pal from the prologue on his trusty old 26" hardtail with the aero arm rests. He looked fresh as a frosty can of Pepsi.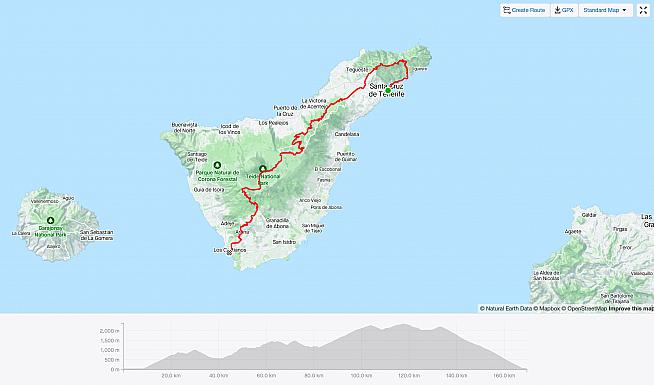 Stage 5: El Hierro
Fuelled with ham and egg sandwiches from a dockside cafe, we boarded the ferry for the evening crossing to the unknown island, El Hierro.
We dropped into seats in the lounge with our fellow riders. I was feeling far from fresh; at one point I awoke in my chair with a start, and spotted a group of Italians - always the Italians! - laughing at the drooling zombie in cycling kit.
Night on El Hierro, the most mysterious of the islands we were to visit. I hadn't even heard of it before signing up for GranGuanche, and had little idea what to expect.
The route was a 110km loop with a formidable amount of climbing; looking back at my Strava now, I see we climbed 3000m in the first 77km, an absolutely ridiculous stat.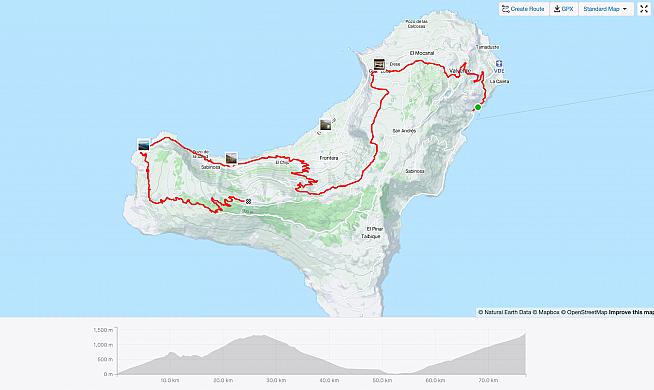 It was 8:20pm and dark when we rolled off the ferry at Puerto de Estaca and into the night. Unlike the bustling ports on Gran Canaria and Tenerife, there was nothing here; the island's capital, Valverde is inland from the sea. We launched straight into a steady 8km climb out of the bay strung out in a line of blinking red lights.
Some of our companions on the ferry had been waiting and resting all day at the port in Tenerife, having in some cases narrowly missed the previous day's crossing. They were now primed for a sprint finish around El Hierro, some of them, we later discovered, even abandoning their luggage to lighten the load.
Peter and myself were in no state to race. Our plan was to complete, the strategy much the same as every other plan we'd hatched on this trip: get some food, keep riding.
But with 18 hours to get around the island in time for the next day's sole return crossing to Tenerife, we figured we'd time to get a couple hours sleep somewhere en route.
The only question was, where? After loading up on picnic supplies from the tiny shop in a late-night garage, we rolled on scoping out roadside bivvy spots. The hardest part would be finding somewhere flat enough to lie down on without rolling into the sea: El Hierro in the dark seemed to be insanely hilly.
At one point we paused by a derelict breeze block outhouse and were set to roll out our mats, until Peter detected a whiff of death about the place and we elected to move on.
A formation of overhanging ledges where the road was cut into a rocky hillside next caught our eye - hey, we could we sleep in a cave! Tempting as it was, the sharp rocky floor looked too much even for dog-tired bike packers to get much rest on. Pete sighed at my fussiness, but on we rolled.
After 16km we hit on the ideal place, a bus shelter in the middle of a small village. Pure luxury. It was 10:40pm. We unrolled our sleeping gear, set alarms for 3am, and passed out.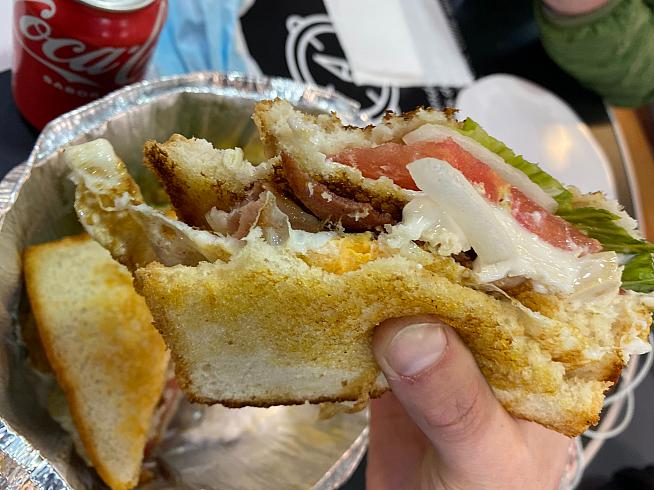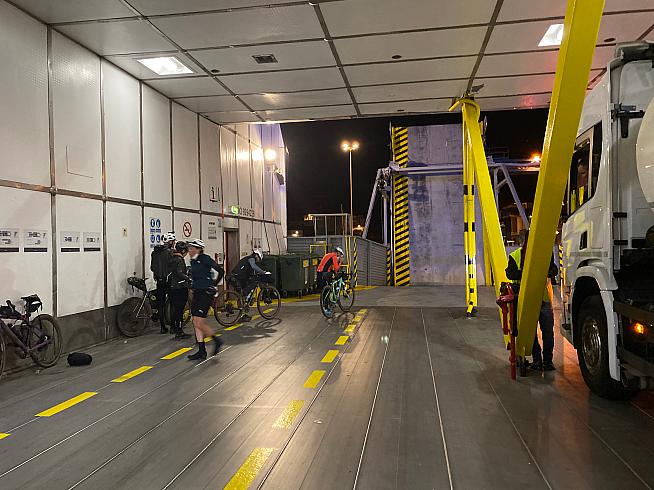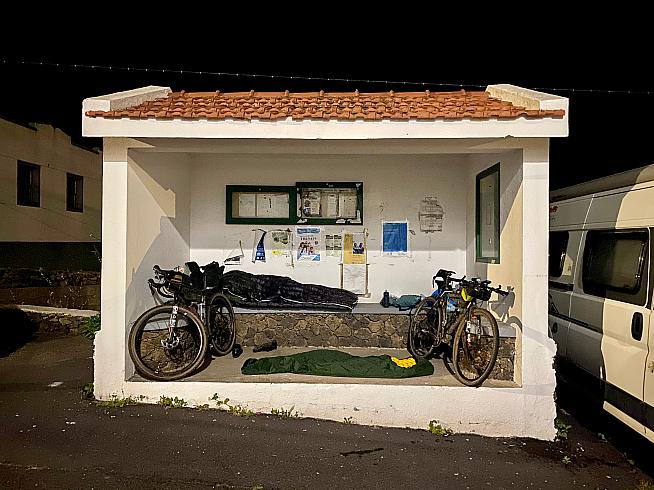 Waking up a few hours later, it was hard to work out if the rest was worth it. We struck camp and rolled on, commenting on a car that had seemed to crawl past our bus shelter at least twice while we dozed. The local police keeping watch over us?
Almost immediately a steady rain began to fall. The road was climbing now - what else would it do on El Hierro - and for the next two hours, grumbling at each other, we made painfully slow and increasingly wet and chilly progress in the pitch-black night.
In the darkness we didn't know we'd reached the top when we got to it, but a vertiginous mud chute marked the beginning of our descent and we slipped and stumbled our way down a muddy agricultural trail until rejoining the road. Here we paused while Peter put on every piece of clothing in his bag. I couldn't be bothered, at this point preferring hypothermia to the faff of undoing a couple of clasps on my bag, and stood shivering with rain streaming down my face while I waited.
Thankfully we soon joined a road, and made relatively rapid progress on the descent. By 6am we were looking out over the island's rugged north coast as the sun rose. With just 60km to the finish line I was slowly drying out, and in high spirits as we bounced along a dirt trail overlooking the sea.
What I hadn't factored in was the 20km, 1500m climb that lay in the way.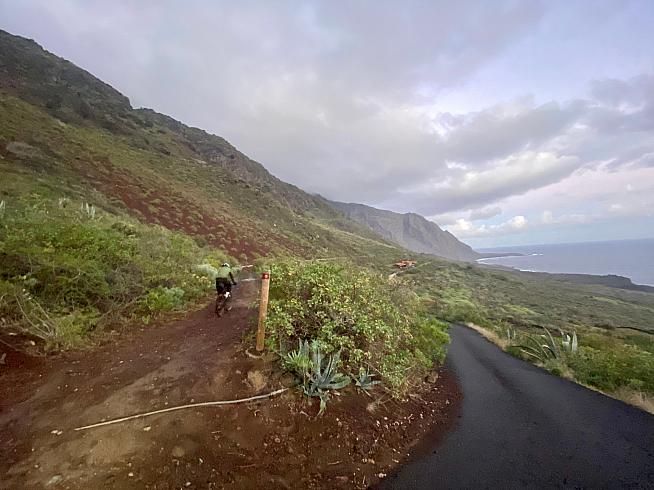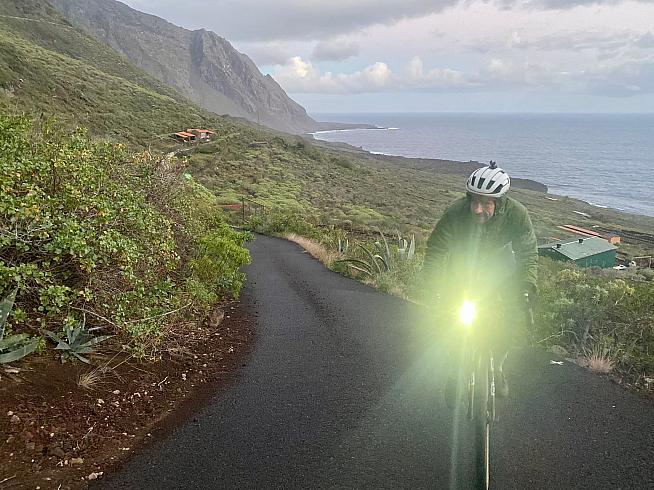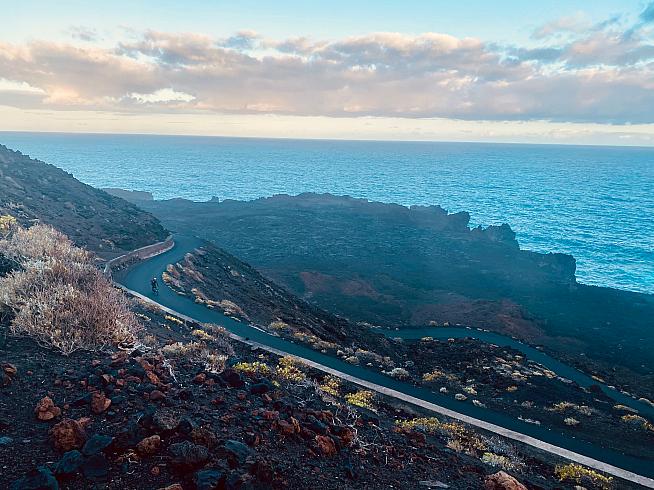 It started gradually, an easy 6% gradient on smooth tarmac. But as time wore on and the road continued upwards, fatigue and monotony set in.
At one point we were caught up and rapidly overtaken by one of the Italians, Emilio, his bike stripped of luggage in full race mode.
"Where's your stuff?" Peter asked as he passed.
"I leave it," answered our friend, waving behind him.
"Clever," retorted Peter.
"What?" said Emilio over his shoulder, then stood on the pedals and danced out of sight around the next hairpin.
There you have it, a pro tip for anyone racing GranGuanche: stash your luggage in Los Cristianos or at the port on El Hierro and collect it on the way back. There's no need to be hauling extra weight around the hills on this island, trust me.
Cold and damp, Pete and I were struggling to enjoy the finale of our adventure. On the one hand, there was the satisfaction of knowing that, having caught the ferry, we were going to complete the mission. But the actual business of finishing it was proving more of a challenge than we expected; El Hierro is a brute, and about as far from a leisurely victory lap as you could get.
We sat at the roadside on this endless climb. I gave Pete a sandwich, the last of our food, and we chewed joylessly, staring out at the cold sea.
Our road climb transitioned into a gravel trail through pine forest, still climbing, and the plot thickened as a mist rolled in. Soon we were drifting through white wreaths of sea fog at 1400m elevation, relying on our GPS to pick out the barely visible trail as it wound over the mountaintop.
Exhausted, cold, wet and hungry, we were at our lowest point. At this moment my Hammerhead Karoo 2 - the trusty GPS computer that had guided us all this way - suddenly died. I'd been charging it from a front dynamo hub throughout the trip, but unwisely had disconnected it to top up my phone battery for a few hours.
I'd since plugged it back in, but unfortunately the glacial speeds we were riding at through the night had not been enough to recharge the Karoo. The battery plummeted from 40% to zero in the course of the climb.
Fortunately I still had my phone, and after the hiccup on Gran Canaria Peter's GPS was working again. I plugged my Karoo into a battery pack and it was working again 20 minutes later - just in time for the descent.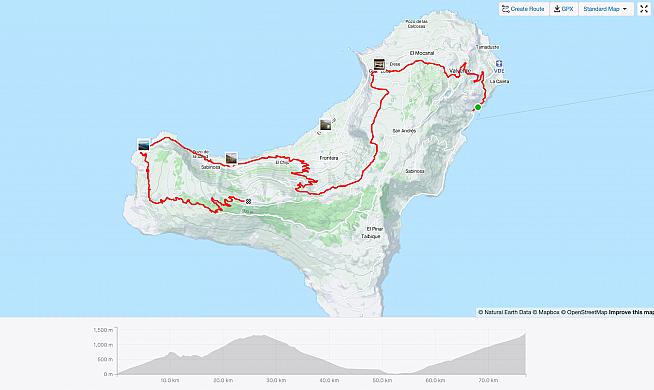 Back in the shelter of the forest and a few hundred metres lower altitude, it was a different world. We ripped along the trails, again familiar from the forest parks of our Mournes stomping ground, and the sun even came out as we emerged onto the green farmland of the south coast.
At El Pinar we stopped 10 minutes for a final snack, from a shop piled with bric-a-brac of such dubious hygiene that we didn't dare risk anything other than a can of soft drink. Mind you, the shop keeper probably had a similar opinion of us - bike packers aren't exactly dream clientele, although Peter with his fuel capacity is a bumper payday for any restaurateur.
Even entering a shop premises was an ordeal by this stage; we were still obliged to wear covid masks, but after four days stuffed in a jersey pocket our masks were filthy with the aggregated dust of five islands, and almost impossible to breathe in.
We were just 18km from the end, but El Hierro wasn't quite done with us yet; a climb touching 15% gradients in parts gave our legs a final workout before at last the road plummeted via a series of switchbacks back down to the coast.
The final 3km were pan flat and we sped in exhausted elation through the deserted village of Timijiraque and back to the ferry terminal at Puerto de la Estaca. It was 13:35; the ferry would depart at 14:30.
We were welcomed with a beer each by one of Matteo's support team, whose birthday it was, and found a bunch of other riders including our Swiss power couple Linda and Philippe.
Apparently our brinksmanship had been the cause of some entertainment among fellow riders over the past few days. "We've been watching you guys catch each ferry at the last minute!" grinned Linda.
And so to the final ferry, back to Los Cristianos, where a hotel and suitably immense dinner awaited.
Our finishing time was 3 Days, 15 Hours and 21 Minutes, placing us 4th in the pairs category. The overall winner was former WorldTour pro turned gravel racer Mattia de Marchi in 2d 12h 59m, with four other solo riders (including Jens Van Roost) making the Audax pace.
Just one pair managed the Audax pace, again former pro road racers Paul Voss and Henning Bommel who finished in 2d 14h 13m.
Our Bokeh pals Claire and Martin reunited and finished together the following day, in time for a celebratory beach BBQ while Peter and I were already on our flight home, looking down on the rugged mountains of Tenerife from a plane window.
A bikepacking epic
As I write this, the second edition of GranGuanche Gravel Audax is well underway. My ride buddy Peter has returned for another crack at the Canaries; and, freed from the shackles of riding with a slower team mate, is smashing it in 8th position. He rode across Gran Canaria overnight, caught the 6am ferry to Tenerife this morning, and is currently somewhere on Mount Teide. If he can find enough food - or even an abandoned Pepsi in the snow - he can make the three-day Audax pace. If not, he will enjoy a day's rest in Los Cristianos giving him a strong chance of a top 10 finish. No bus shelter bivvies this time.
Another Sportive friend is also in the race: Peter Levenspiel is making fantastic progress on his debut. He's currently halfway across Gran Canaria and looking good for the four day pace.
You can follow their progress in real time via the event tracking at granguanche.com.
Dot-watching from home, I'm reliving every km as I recall the highs and lows of an incredible four days with Peter and the gang we met along the way.
GranGuanche is an absolute masterpiece of an event, and all credit must go to Matteo Minelli for conceiving and organising it.
The diversity of landscapes across the five islands, combined with the ferry-chasing format which sees riders regroup much more than on a typical ultra event, make for a unique and unforgettable experience.
The next gravel edition of GranGuanche Audax will be in March 2024, but if you can't wait that long the Trail Audax - for mountain bikes - takes place in early December, while there's a road edition at the end of January 2024.
The routes along with ferry timings and suggested schedules are also freely available on the GranGuanche website, so you can organise your own freelance adventure whenever suits.
Whether you choose to ride it yourself or experience the camaraderie of the Audax events, a treat is in store.
Forget any preconceptions of sun loungers and cerveza: GranGuanche deserves to singlehandedly redefine the Canary Islands as the home of a truly epic adventure.
0 Comments