Once I'd picked up the cycling bug, I found myself looking longingly at cycling holidays with thoughts of "what if" and "how good can they be?"
My wife Chris and I discussed this almost every year, even though Chris is a non-rider. As far as Chris was concerned, I could go and do the cycling and she would come along and just fly and flop, laze about on the beach or poolside and read her book - a bit of a win-win you might say.
Despite all the conversations I always backed down from taking it any further for what some may say is a stupid reason. Let me explain my reasoning. I ride most Tuesday and Thursday evenings, after work, and maybe once or twice at the weekend. On each occasion Chris potters around the house doing whatever magic she does around the home until I get back. So, when it came to holidays, I always thought that it was a bit unfair sticking to the same routine; being on holiday should be more of a time to spend time together, be that right or wrong.
However, when discussing the cycling holiday thing with a work colleague she suggested why not give it a go and if you both enjoy it, brill and if not don't do it again. Quite simple really, so we decided we'd go for it. All I had to do was pick a location that had something to offer both of us.
Prior to the covid pandemic and the restrictions it brought with it there seemed to be a glut of organisations that offered packaged cycling holidays, but it seems that covid caused some of them to disappear, sadly, and thereby reduce the number of opportunities, although there's still lots out there.
With the number of destinations available it seemed a bit mind boggling, but noticing someone's cycling jersey on a YouTube video led me to investigate the Lungomare Bike Hotel in Italy. After comparisons with other opportunities in the region I completed a couple of enquiry forms and waited to see what the results would be.
One hotel replied with a quote of over £3k, which was an immediate showstopper, but for the same week Lungomare came back with a quote for £1432.55, a show winner, and a booking was made for the beginning of September.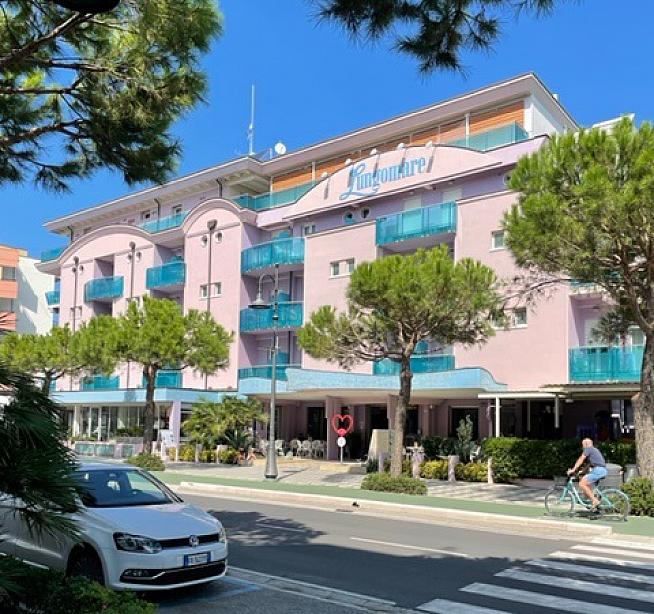 Obviously, it wasn't just down to price.
Hotel Lungomare is located on the Adriatic Coast near to the small harbour town of Cesenatico which, amongst other points of interest, houses the Marco Pantani Museum, surely a must-see.
Directly in front of the hotel is the outdoor saltwater swimming pool, complete with sunbeds and umbrellas and then, a few steps later you are on the beach, again complete with sunbeds and umbrellas. There are no roads to negotiate, it's all direct access. How good is that?
An important factor, for us, was what was available for Chris, my non cyclist? Plenty is the answer. When we are out riding there are trips out to various points of interest and, on Tuesday and Thursday, transport to the local farms where the cyclists are having a lunch stop so that it becomes obvious how hard the cyclists are working/enjoying themselves.
That said, Chris's idea of a holiday is to fly and flop s,o with the excursions being optional, I have a feeling that the weather may dictate how far she moves away from the poolside or beach.
To be honest another big plus point for me was the bike hire. All cycling destinations hire bikes out, but the Lungomare bikes are Pinarellos, enough said. I would say that the Pinarellos are, probably, my 'want' bike and the Dogma F10 seemed to be the pinnacle of the brand when Team Sky were doing their thing. If any of the kids or grandkids asked what I wanted for Christmas or birthdays the answer was always the same, Pinarello Dogma F10 please. (Eventually they stopped asking and cycling socks became their choice of pressie.)
I am fully aware that riding the F10 was not going to elevate me to the performance levels achieved by Sir Brad, G and Froomey, but at least I can scratch the itch of riding such a bike. Incidentally the hotel does say that if you love the bike you ride you can purchase it afterwards. Wonder if there's any chance of getting a Dogma F10 for about £2k? Doubt it.
Once we'd accepted the quote we were introduced to our point of contact, Lucia, who quickly replied to every question I may have had, and her replies were always quickly received and always precise. I often wondered how Lucia felt about the questions I was posing because I have no doubt that she'd probably been asked the same question several times, but she was always happy to respond in a polite manner.
Flights were not included in the package, but we sorted out flights with British Airways to Bologna and although the hotel offer transfers from the hotel, €190, we opted for the train to Cesenatico, bit of an adventure.
So, the whole package is booked, and I could go on and on about what is and isn't included but it might be better if I just leave it to the hotel to let you know what is available on the bike package we signed up for.
The all-inclusive price includes:
Up to 6 daily tours for different levels of training, with expert cycling guides
Large bike room (for over 130 bicycles), safe and video monitored. The bike room is also equipped with washing area, small repairs and compressor.
Rich breakfast and dinner buffet with water and wine on tap with meals and the possibility you will be served the table at no additional cost at 12:00 and 19:00
Unlimited post-workout buffet on return from excursions (from 12.00 to 16.30) with appetizers, hot dishes, pasta, cold cuts, cheeses, vegetables, fruit salads, desserts
Soft drinks in the minibar in the room replenished every day
Excursion with tasting of typical local food and wine products
Snack all in the square in Longiano, a beautiful medieval fortified village
Access to techogym gym with panoramic sea views
Lungomare Bike Hotel cycling jersey
Laundry service for sportswear
Assistance in case of accidents or breakdowns
Water for water bottles
Banana and mineral salts every day
Program for non-cyclist guides including cooking class, shopping tour, museum visits, visits to the villages of the Romagna hinterland
Transfer to reach cyclists during excursions
Outdoor swimming pool heated to 29 ° and salinized (equipped with umbrellas and sunbeds) with whirlpool for adults and children
Access to the wellness center according to the current regulations of use with beach towel and bathrobe available
1 voucher of €20.00 for beauty treatments
 As you can see, it'd be easier to list what's not included - which comes down to tourist tax, bike rental, car parking, airport transfers and insurance.
Plain sailing to Bologna
The day before our flight we headed down to Heathrow Airport and the hotel we had booked for that night because we already knew that we'd have to be up at 4am to be at the BA terminal for our 7:30am flight. On the build-up to our flight there had been several newspaper reports about horrendous queues at the BA terminal, and people missing their flights, which we were keen to try and avoid.
Happily, the queues were insignificant, and it has to said that the whole process of weighing our cases in and going through security was quite a slick procedure and we were through in no time at all, and we had enough time to have a sit-down breakfast before boarding for our flights.
The flight was full of folk heading towards the Moto GP in San Marino but it all went very smoothly and we arrived in Bologna one hour and forty minutes later.
With bags collected we followed the signs directing us to the shuttle to the main railway station in Bologna.
As a precaution I printed off a few translated phrases so that we could try our best to purchase tickets in our best Italian. Fortunately, the phrases were not required. Tickets were purchased from machines with the option to choose the language you wish to use, simples!
Six Euros later we were on our way to the railway station with the ability to purchase our tickets to Gatte a Mare, the closest railway station to Hotel Lungomare, for €10 each, and quickly made our way to platform eleven where our train was waiting for us.
It was a pleasant surprise to see that the train was a double decker, so we took the advantage of taking one of the higher-level seats for a better view on our journey. What we didn't realise was that the train would be stopping at every station on the way to Gatte a Mare and would subsequently take another two hours before we got to our destination.
Unfortunately, we didn't have the presence of mind to grab some snacks and bottles of water for the rail journey, so we were fairly dehydrated and peckish by the time the train dropped us off at our destination.
Hotel Lungomare was just a short walk from the station, and we were soon stood at the reception desk booking in, where we were expected and welcomed to the hotel.
Whilst checking in I was advised that my cycling jersey, part of the booking, had not arrived yet but could I confirm that I'd ordered an XL size, which was correct. Before leaving the reception, we were both given a musette which contained a bidon, which was a fortunate bonus because I'd forgotten to pack mine, and an aluminium, screw top water bottle each that would avoid the use of plastic bottles and could be refilled at any of the water stations throughout the hotel where sparkling, room temperature or chilled water was constantly available.
With key in hand, we took the lift to the second floor for the big reveal of the room that was to be our home for the next week.
The room was fairly compact but more than adequate for our stay; certainly not the Ritz but, also, not a dodgy looking seaside B&B we've seen in the UK. We chose a sea view room, why wouldn't you when you are stopping by the sea? Our balcony was comfortable enough for the two of us and would quickly become the first place we would go in the morning and last thing at night, to take in the view.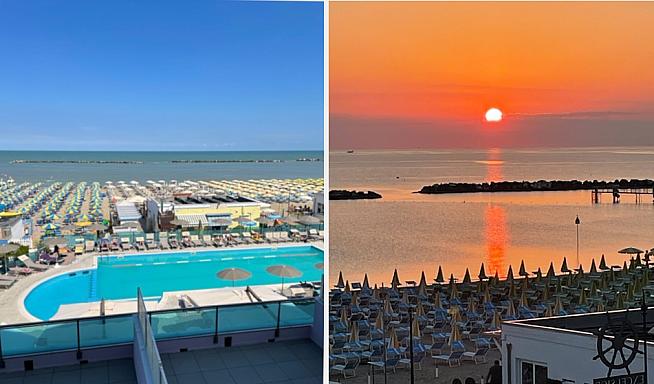 Once we'd unpacked, we were feeling even more peckish and dehydrated so, with time to spare before the evening meal, we popped up to the town for a rehydrating drink, which came with a complimentary bowl of crisps, that would keep us going until dinner time at 7pm.
It will come as no surprise that we were ready for an early night, but it came as a bit of a shock at how hard the mattress and pillows were on the bed. That said we were so tired that we could probably have slept on a kerbside, so it didn't take us long before we were in a recovery sleep.
After breakfast I enquired about my jersey and was happy to see that it had arrived. Once back in our room I tried the jersey on, and it was way too small, minuscule. I couldn't get it on, I was even stretching the arm opening on the sleeve. I doubt if my six-year-old granddaughter would be able to get it on. Clearly it was too small, perhaps that's why I was being constantly asked if I'd ordered an XL. The thing is every bit of kit I have at home is XL, so why should it be any different?
So, I took the jersey back down to reception and they ordered a 2XL for me.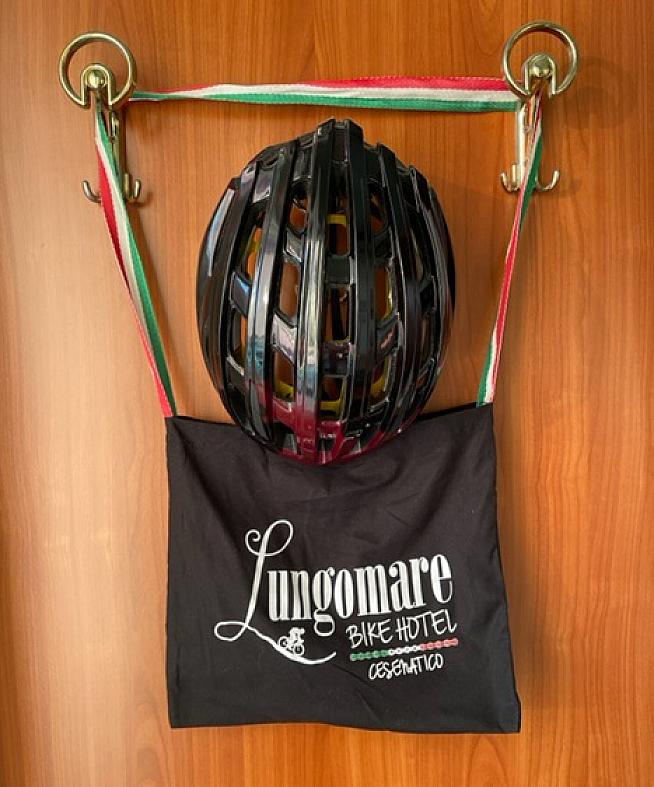 Our first morning, Saturday, was a very relaxed affair with a steady breakfast and a mooch around the hotel, pool, beach and local town to get a bit more of a bearing of our location. The first ride was not until the following day, Sunday.
Gatte a Mare is a wonderful, clean seaside town. It's clearly a firm favourite with Italian families for their holidays. There are a few shops selling the normal holiday tat, to keep the kids quiet, but it was very quiet, relaxed, clean and very spacious. It's clearly a cycling area for all types. Young, old, road bikes, mountain bikes, Dutch style bikes with wide cycle paths and promenades alongside for those that choose to walk.
With us being one stop along the line from Cesenatico, the location of the Marco Pantani Museum, it was a given that we would make our way there to visit the museum and have our lunch at the town's picturesque harbour.
Unbeknown to us most of the area take part in the afternoon siesta, so like the mad dogs and Englishmen we discovered that the next train was not for a couple of hours. So it was straight back to Lungomare for our lunch.
Suitably refreshed we were back at the station purchasing our train tickets, from the multilingual ticket machine to Cesenatico and waiting for the train. Whilst we were waiting there were several announcements, in Italian, that we suspected was announcing some sort of delay. However, the train pulled in on time, so we climbed aboard and quickly realised, after the first stop, that we were on the wrong train and going in the wrong direction. We quickly alighted the train and with the help of a local family at the station soon established that we'd had to wait for another hour for the required train. From this point we established that each train has a route number highlighted on the front of the train and this corresponds to the number on the ticket so this time we knew we were getting the right train.
Cesenatico, the home of Marco Pantani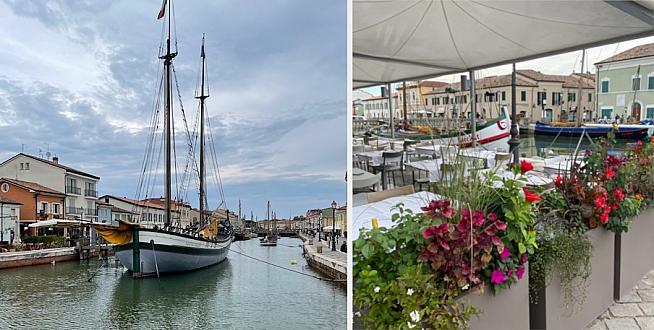 Cesenatico is a truly picturesque harbour town with lots of harbourside restaurants but the main purpose of visiting the town was for the Marco Pantani Museum, which is easy to find as it's on one of the station platforms.
Marco Pantani was born in Cesenatico, not far from the station, and his grave is, apparently, within walking distance of the museum and he is still a hero in the area.
Spazio Pantani, as the museum is called, is split into three areas named after three of the major mountains that he conquered, Sala Mortirolo, Sal Bocchetta and Alpe d'Huez. The exhibition chart's Marco's development, memorabilia, his artwork and, for me, the actual neverending trophy that he won in the Giro d'Italia. That surely has to be the greatest trophy!
Once back at the hotel I met Fillipo, one of the mechanics, who introduced me to my bike, at last. Even though I'd ordered pedals he didn't seem to be aware, but it was easily and quickly sorted. I was even more surprised that he asked me if I knew my measurements because, again, I'd previously sent a completed form with the relevant details. Once I mentioned the fact he raced off and collected the form - and, once he undertook some measurements, it turned out the bike had already been set up for me.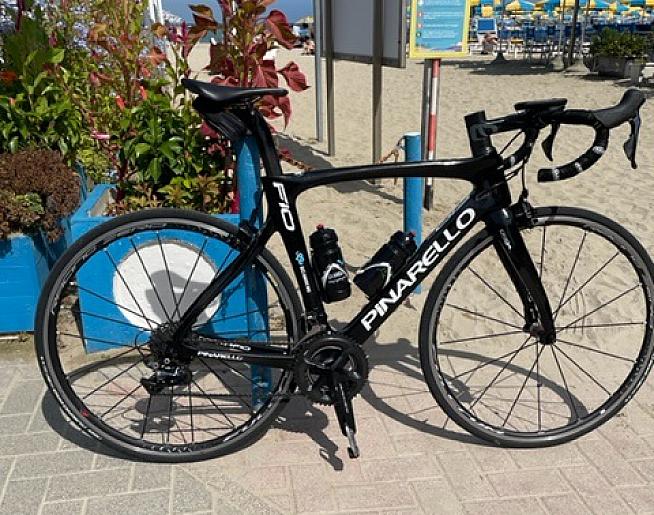 With everything sorted I was shown where my bike would be locked within the enormous bike garage, which is attached to the hotel in the basement area, and how I access the garage each day to pick up my new steed.
Because continental bikes have their brakes opposite to ours, I asked about having the brake levers to be swapped over to the standard that I am used to. But at a cost of €150 I decided against it, making a mental note to be aware of the change when out on the road.
The garage is capable of housing lots of bikes so there's plenty of room for rental bikes and those that riders bring along with them. Within the garage there's a wash station and a collection of tools and bike pumps for everyone's use.
The final task of the evening, before dinner, was to locate the area where each rider puts down their name, before 8pm, for the ride they want to take part in the following day.
As previously mentioned, we were ready for something to eat and there was quite a spread of choices available to us in Loveria, the hotel restaurant.
At each meal there was salad choices, bread, six choices of pasta dishes, alternatives to pasta, fish or meat, vegetables and deserts, cheeses and fruit. Certainly, plenty to choose from. Breakfast was also a delightful array of choices, breads, piadinas (a type of Italian flat bread), fruit, cereals, savoury and sweet croissants, yoghurts, fruit juices and coffees plus, if requested, eggs cooked to your liking.
Unfortunately for Chris, fish featured quite a lot within the pasta dishes and as she has an allergy to fish her choices were a bit limited. There were certainly alternative dishes for her to pick from, but she thought it did get a little repetitive, although she never went hungry. It may be that had we mentioned this issue the hotel may have catered for Chris a little more specifically, but with the wide choices available at each meal it really wasn't necessary.
Make mine a Macchiato
The rides at Lungomare are split into five different groups so that riders can fit into which ever group they feel fits their abilities.
The rides are named after different drinks, the first one being the 'Camomilla', described as the ride for very slow cyclists who are neither trained nor bothered about speed, and just want a relaxing ride. These rides are also suitable for those wishing to use e-bikes, usually covering about 45-65km at an average speed, on the flat, of 20-25km/h and average height gain of approximately 100-500 metres.
The top-level ride is known as the 'Spritz', a long fizzy drink, and, as the name might suggest, is for the most trained cyclists who love the challenge of long and demanding routes. This group covers 90-130km at an average speed of 28-32km/h with average height gains of 1000-2000 metres.
For the trained cyclist, the ones who ride several times a week and are not afraid of climbs and long distances, there's the 'Sagiovese', a strong and typical wine of the Romagna region, that covers 70-110km, averaging 26-30 km/h and gaining between 700-1400 metres.
From the given ride descriptions, I thought I might easily fit into the 'Aqua Gasata', fizzy water, ride that's designed to cater for the occasional cyclist that want to improve their performance and is happy to cover 50-80km at an average speed of 23-27km/h with height gains of 500-900 metres.
That said, because I was hit with the dreaded covid a few weeks prior to the holiday, had been off the bike for a month and do all my riding in the flatland of the Cambridgeshire Fens, I decide to go for the easier 'Latte Macchiato', milky coffee, ride to get my legs going again. This ride level is intended for the leisure cyclist covering 45-65km, averaging 20-25km/h and height gains of 300-700 metres.
Since my booking was made the hotel has added some further rides to accommodate mountain and gravel bikes. For example you can now join an evening ride that sets off at sunset, a MTB and gravel bike ride to Venice and back, and an ongoing challenge known as 'Lungomare 2 Sky' which is a route from the sea up to a point in the Romagna hills.
Having decided which level of ride you want to take part in, it's a simple matter of putting your name on the relevant list, then pitch up the next morning prepped and ready for the off.
The lists are in a small fire escape corridor adjacent to the reception and listed under the appropriate group name with an image of the profile so that you're aware of what you are letting yourself in for.
For my first ride, on the Sunday morning, I chose the Latte Macchiato ride and was happy to see that there was another rider listed on the ride, another Brit by the looks, Clive Marshall. Once breakfast was done, I filled my bottle with the provided mineral salts and picked up a couple of bananas then headed down to the bike garage to pick up my Pinerello.
All groups meet out at the front of the hotel, and it must look quite a spectacle for other holiday makers as there was always people looking and, perhaps, admiring the bikes that were on display.
It was at this point that I realised that the lycra-clad athletic cycling Adonis that I see in the mirror when I'm getting ready to ride is actually a bit of a rotund old geezer that is probably stretching the lycra a bit more than other riders... But I'm not too worried about it because, at the end of the day, I'm out there riding my bike, enjoying it and getting as much pleasure as anyone else so it doesn't really matter.
Finally, I was introduced to my guide for the day, Vittorio, and my fellow rider Clive Marshall. Clive is the founder and owner of Italy Bike Tours. He was down at the Lungomare carrying out some research for some clients that want to do the Italian route of Chase the Sun, riding it over four days instead of one, and as the start of the event is in Cesenatico the Lungomare could be the hotel to start from.
Clive is also fluent in Italian so was able to translate between myself and Vittorio, and help smooth the way. At this point it's worth pointing out that Vittorio is 72 years of age and still a very capable cyclist.
As part of the pre-ride brief I'd ascertained that we were heading to somewhere called Borghi, but once other names were being thrown into the itinerary I gave up trying to remember them all and was happy that I had a local guide with me.
Shortly after setting off Clive was happily chatting between myself and Vittorio, and he advised me that although we will hear vehicles behind giving a short honk on their horns it's more of an alert that they are there as opposed to a threating gesture that we might get here in the UK. As we approached Borghi the road started going upwards and, after a few words with Clive, Vittorio told me to ride at my own pace and he kept watch on me from behind.
Clive had gone ahead of us and when we reached the village of Borghi Vittorio seemed a little confused; it soon became apparent that he'd asked Clive to wait at the top of the climb and we would gather ourselves together there, but Clive was nowhere to be seen.
As we had stopped at a café, already frequented by a few locals, I assumed we were stopping for a coffee break. Vittorio rang the hotel to get Clive's mobile number and gave him a call to find out where he had got to. It would appear that there was some confusion as to where the top of the climb was and Clive was, in this case, at the "wrong" top. With that sorted Clive was making his way back to us, so I nipped off to the men's room. When I returned Vittorio and I jumped on our bikes and went off to reunite with Clive to continue our ride. The thing that amazed me was that the two of us had sat at the café, used the facilities, not bought any drinks or goodies and nobody batted an eyelid: nothing was said, the café owners didn't get upset, wow!
Shortly after we met up again, we started a descent down towards a place called Santarcangelo di Romanga which was to be our coffee stop.
The descent was amazing, nothing like I've experienced before. Steep and winding with a few hairpins thrown into the mix and it was at this point I engaged my brain to remind me that the rear brake was now on the right-hand side. The descent was fairly speedy, and it was easy to feel like a pro whizzing down the hill, as opposed to feeling more like a donkey on the ascent.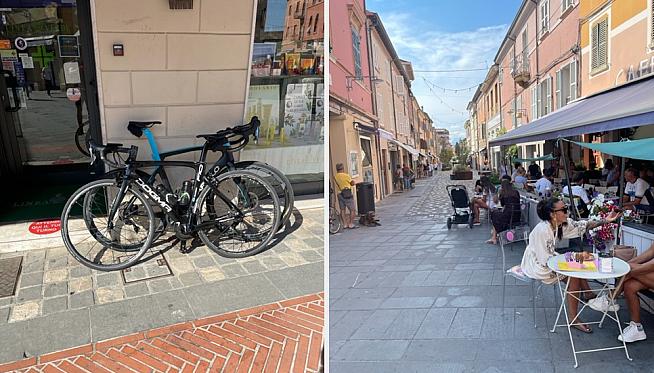 On entering Santarcangelo we made our way into a busy piazza that had a small market going on with loads of people in their Sunday best enjoying a stroll in the sun. When we arrived at the chosen café, we just parked our bikes against the wall, no need to lock them, and sat ourselves at an outside table ready to order a coffee.
The café culture truly exists here. Folk were sitting around chatting, walking and just taking the day at an easy pace, it was great to see.
Once refreshed we started the journey back to the hotel, with a little bit of a detour.
Around Cesenatico Marco Pantani is a hero and very well respected and Vittorio knew him very well, they were good friends and even used to ride together although, Marco was a tad quicker, especially on the hills. So, as part of the detour Vittorio took us back via Marco Pantani's house.
He was telling us about Marco having a small apartment in Cesenatico but, when he started earning decent money, he had this house built and during the period of allegations against him the police had to close the road to stop photographer's journalists and fans from amassing outside the house.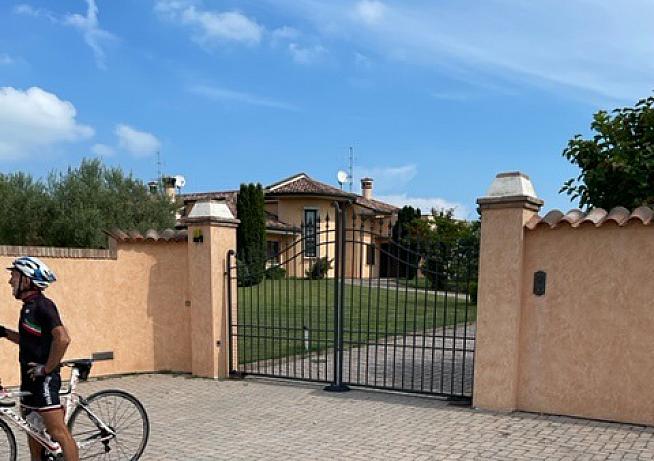 Clive is a big fan of Marco Pantani, so much so that in the northern part of Italy where he has his bike tour business, he started a fund-raising campaign that achieved his ambition of having a statue of Pantani on his bike at the top of one of the mountains in the area where Clive can see it from his own home.
From casa Pantani it was a short pedal back to the hotel, lock the bike up, meet up with Chris by the poolside and go for lunch. What a morning, what a great first day.
Distance covered 34 miles, moving time 2:24:29 Average speed 14.2mph and elevation gained 1280ft.
Post lunch it was great to settle down on a poolside sunbed, have a dip or two in the pool before heading back to our room for a shower, watch the Vuelta on GCN + before heading down for dinner.
The day was finished off with a stroll around Gatte a Mare, getting my name on the ride list for the following day and then bedtime.
As we were going up to our room the ladies at the reception advised me that my 2XL jersey had arrived so there was a little excitement and trepidation as to whether this would be the right size. After showering I tried the jersey on and was crestfallen when I discovered that whilst I could get this one on it was a little bit tight. It resembled a skinsuit rather than a club type jersey so, once again I had to return it and ask for a 3XL.
I was gutted to say the least. All my cycling gear is XL size and fits quite well, but having to own up to being 3XL was a bit demoralising. OK I've already admitted to being a bit lumpier than I thought but 3XL? I could only hope that there must be some different sizing scale for Italian riders in comparison to the UK breed. I suppose it didn't help that when I ordered my jersey the Lungomare photos showed everybody wearing Santini jerseys and my Santini jersey at home is XL, but now they are issuing kit made by Ale, could there really be that much difference? We shall see.
Day Two
Day two and once again I chose to ride the 'Latte Macchiato'. After the first day my legs felt good, I had survived and it seemed like a good level, for now.
This morning there was just me and a different guide, Massimo. Like Vittorio, Massimo's English wasn't great, his words not mine, but it was better than my Italian so although there weren't any long conversations, we were able to get by. As we started, I asked him how to tell me what right and left are in Italian, right = Destra and left = sinistra and every time we came to a turn Massimo would indicate and I would announce the verbal direction. At first, I wasn't quite sure what the word for right was, but it sounded like 'Terpstra' - the pro cyclist -  and that was how I got my head around it.
Today's rides all started at 9am, to avoid the rush hour traffic, so it meant we could have a bit more recovery time in bed.
As the day before, and every day following, it was breakfast, mineral salt powders, bananas, bike and assemble at the front of the hotel ready for the off.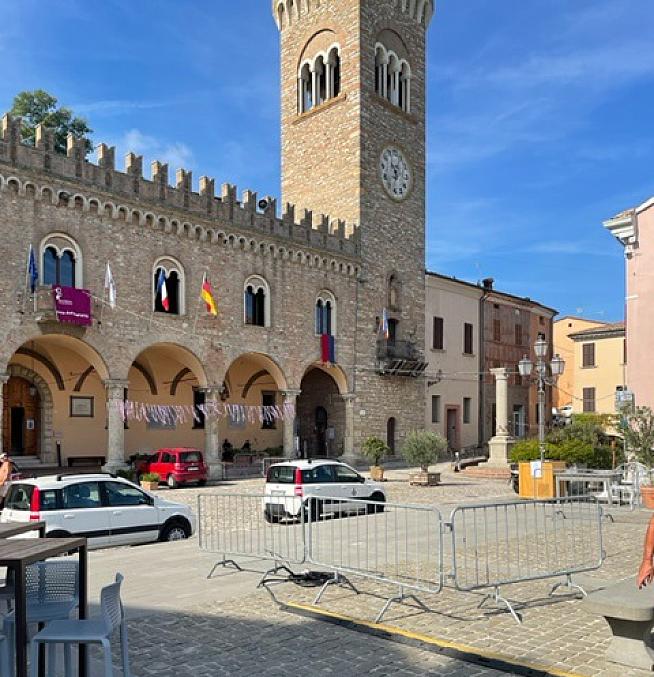 For us we were heading to a place called Bertinoro, a 10th Century citadel with high walls, towers, old houses and a large piazza that offers a bird's eye view of the local area spread out below and as far as the eye can see.
As per normal we set out on the flat roads until we approached the climb that would take us up to the large square in the town centre. I was told that it was a six percent climb for about 4km, gulp, but just after we started the climb, we pulled over to a public watering tap where we topped up our bottles before fully committing to the climb. These public taps are everywhere in Italy and people and cyclists alike can just arrive their and fill up their bottles etc and carry on their merry way, no charge.
I must admit that the climb wasn't as strenuous as I'd envisaged and, in my mind, I managed it quite well. As we got into the town we were faced with a bit of a steeper climb on cobbled roads, more Haworth - Bronte country-type cobbles than Paris-Roubaix, but it was still enough to concentrate the mind a little.
Once at the top we were rewarded with the magnificent view across the region, and it was well worth the effort to get up there.
After we'd taken a few photos, we headed back down the cobbled road to a small café that is a regular with the guides from Lungomare for a quick coffee and nature break before heading off on the return leg.
On leaving the café Massimo advised me that we had to go slowly because we were entering a one-way road, the wrong way, for a short while, something I would never even think about doing here in the UK. The road was all downhill and against the oncoming traffic, but we tucked in nicely at the side of the road and, once again, none of the drivers batted an eyelid, shouted and abuse, offer rude gesticulations or honked their car horns, it seemed a totally acceptable thing to do.
The rest of the ride back to the hotel was straightforward so much so that Massimo got his phone out and took a selfie video of the two of us making our way back. Unbeknownst to me he would later compile a short two-minute video of our trip that he sent to me as a souvenir, grazie Massimo.
Once back at the hotel it was a repeat of the day before. Chris was enjoying the day spent by the pool, reading her book, having a dip in the pool, and just chilling out.
Distance covered 34 miles, moving time 2:51:02, average speed 14.5mph and elevation gain 1004 ft.
Day 3
My 3XL jersey had now arrived and it was the last chance saloon because this is the largest size that they can provide. Unfortunately, Ale, the new supplier, don't supply 3XL so I had to have the previous style, made by Santini. This caused me a little more concern now because, as previously stated, my Santini jersey at home was XL so would this now be more like a parachute than a jersey.
Post shower all was revealed. The jersey fit, relief - it was slightly more generous than I perhaps would have liked, but it fit. With hindsight perhaps I should have taken the tighter fitting 2XL as an encouragement to fight the flab, which has already started and is showing some results, because the Ale jersey is a better design, and it would have been nice to wear it on sportives in this country as a bit of an advertisement for the Lungomare and a a conversation starter out on the road. But 3XL it was, and I'd be wearing it out on the following day's ride.
I'd already made my mind up that I was going to step up a level for day three, so put my name down on the Aqua Gasata ride.
As we gathered outside the hotel, I discovered that, once again, I was the only person on this ride list but, fortunately, it was Massimo that would be leading me again.
Today's ride was to a place called Verucchio, a town known as the castle on the rock, and the rock was a steep one, for sure.
As with all rides we set off at a comfortable pace and headed out towards the hills. Along the route we were caught up with by one of the quicker groups and we both tucked in to get swept along for a while at a faster pace. Just as I was thinking I could hack the pace, the faster squad peeled off to the right and we carried on, reverting to our slightly slower pace. At the time I thought that perhaps I could stick with those guys but as we progressed, I decided I was on the correct pace.
As we were travelling on the scenery was getting even more stunning and Massimo pointed out that the castle-like building we could see high up on our left was San Marino, the small hilltop principality, and just to the right of it, and looking very similar was our destination, Verucchio. It looked stunning but very steep.
Once on the climb, we could have turned left which would have taken us to San Marino, just 12km away, but it was straight on for us. The climb was more testing than the previous two days and, as before, Massimo sat behind me to make sure the effort wasn't too much for me. At one point our climb levelled off and we stopped at a local viewing area and topped up our bottles at the municipal water tap.
As we progressed up the climb the quicker group that we spent some time with appeared from a very steep road to our left, further confirmation that I picked the correct group, and raced on ahead of us.
Eventually we made it to the square in Verucchio where we would be stopping for our coffee break. The fast guys were already there and enjoying their break. Needless to say, they were ready to recommence their ride before us but as we set off shortly after them, we met up with them once more as they stopped for a photo call at the side of the road with stunning views over the countryside way below. To make sure we didn't miss out their ride leader, Andrea, called us into the shot.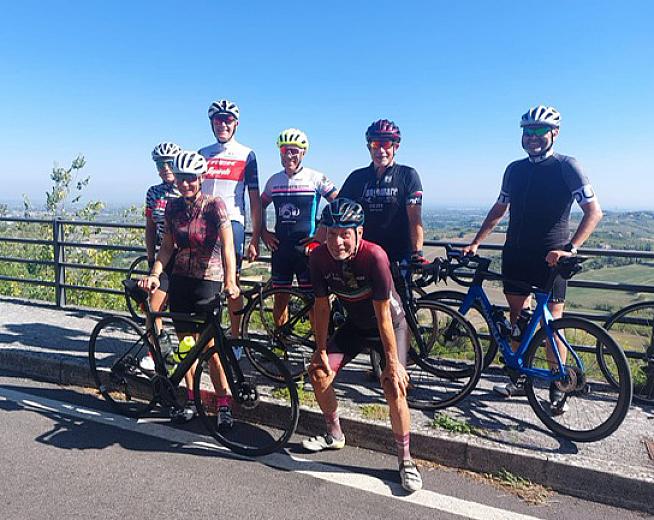 With this being the Tuesday ride, we were all heading in the same direction, the local farm where we would all be stopping for our lunch, taking in fresh local produce.
The route to the farm was a rolling route with up's and downs all the way but not before a steep descent out of Verucchio. Once again, I was conscious of the rear brake being controlled by my right hand and at times it felt like I was gripping on for dear life and worrying that the brake blocks were going to wear out before I got to the flat roads again, which they didn't of course. It was really great descending on roads that contained so many hairpins and some sort of speed control was vital to make sure you didn't suddenly take part in an unscheduled off-road excursion.
We were the last riders to arrive at the farm and just as we got there the partners of some of the riders arrived in the minibus laid on by the hotel. Chris was not among them - we had already discussed the trip, and she was happy sticking to her fly and flop programme and therefore stopped by the hotel pool, totally engrossed in her book.
With a long table set up in front of us we all took our place. Unfortunately, I was the only Brit and the Germans, to my right, were conversing in German, the French to my left were conversing in French and their respective ride leaders were joining in with their conversations so I was a bit like Billy no mates. Fortunately for me there was a rider that joined us, from Abu Dhabi, who had recently been riding with Clive Marshall at Italy Bike Tours up in the Dolomites, so I was able to have a chat with him and find out about his experiences up in the Dolomite region.
The food was nice and very fresh. We started off with bruschetta and various different olive oils, followed by fresh olives, sheep's and cows' cheese with warm piadinas and rounding it all off with some cured meats and bread. Once the meal was all wrapped up the rider's partners jumped on to the minibus back to the hotel and we formed up into our separate groups and headed of on our differing routes back to Gatte a Mare.
It wasn't too long before I recognised that we were entering Santarcangelo di Romagna, the picturesque town where we stopped for coffee on my first ride out. We weren't stopping for coffee this time but as we progressed, I thought I recognised a few more of the roads as we got closer to Gatte a Mare and the hotel.
The ride was great, the climbs testing but I managed them and survived so once I bid farewell to Massimo it was time to catch up with Chris by the pool, compare notes, have lunch, have a dip in the pool before watching the Vuelta and having dinner. Ride, relax, repeat!
Distance covered 47.5 miles, moving time 3:06:56 Average speed 15.2mph and elevation gained 1693 ft.
Day 4
Once again, I'd chosen to go on the Aqua Gasata ride, the next day, and I was quite pleased to see that there were a couple of extra names on the ride list so, after the normal morning faff, we congregated outside the hotel as normal. The ride lead was Massimo, and my two fellow riders were a couple of guys from Israel.
Massimo briefed us that we were heading for a place called San Leo, which has a steeper climb than Verucchio - we would be needing our climbing legs once again. On the way out the two Israeli guys introduced themselves, although I am sorry to say that I have forgotten their names, and it was a nice change to have a chat as we made our way out of town.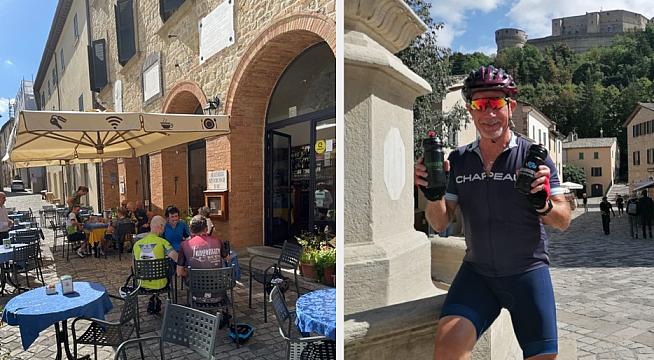 The guys were telling me that they find it really dangerous to cycle in Israel, so much so that one of the lads only cycles on his turbo trainer and looks forward to trips away such as this to do some real road cycling. His colleague said that he does go out on the road but only as a group, and always with a safety car travelling at the rear of the group with flashing hazard lights all the way round their ride. I know we have differences of opinions with some drivers in the UK, but I don't think it's descended to that level yet.
They both found it quite comforting that any cars approaching from the rear give a gentle honk on their horn to let you know they are there and were very impressed with a lorry driver that patiently drove behind us until he got to a part of the road where he could see enough of a gap to overtake us. I have to admit that I have experienced that many a time when I'm out on my local road and, out of courtesy, I always give the driver a wave and thumbs up to show a bit of appreciation.
Once again, we were on the road towards San Marino and Verucchio but we carried on past their respective junctions and headed towards San Leo.
Our new guys were soon getting desperate for a water stop so at a layby next to a busy road we took advantage of the ubiquitous water fountain for a refill. One of the guys was concerned about a strange noise that he thought was emanating from his rear disc brake. Massimo had a look but failed to find anything suspicious so they asked me to see if I could hear or see anything. I came to the same conclusion as Massimo, but I asked if the brakes appeared to be working, which they did, so suggested that he try them out whilst we were on the flat roads and, if all seemed well, ride with it until we got back to the hotel and check with the mechanics there.
Once we reached the start of the climb Massimo told us we could go at our own pace, wait at the top, and let me know that this climb was even steeper than the one we rode yesterday: game on.
We all set off at a steady pace and not long into the ascent a car behind us gave a little toot on his horn to, presumably, let us know he was there. The two guys were just in front of me, and behind Massimo, half wheeling whilst chatting. The horn sounded a couple of more times, and I expected them to drop into a single line but after they failed to do so the horn sounded again, and the car speeded up a little. I think we were a little taken aback when a Carabinieri pulled alongside with his arm gesticulating out of the window and shouting to make sure that whatever he was saying could be heard. Unfortunately, the lads couldn't understand what was being said but understood the meaning. Despite constant apologies the officer continued with his dialogue before moving up to Massimo at the front and making it clear what was meant. The guys dropped into single file, and we carried on, upwards.
It wasn't too long before I got dropped and my three riding buddies were out of sight. Not to worry, I was still pedalling and making progress and beginning to channel my Adam Yates climbing skills, I wish, but getting there slowly.
On climbs in the UK, I've always made a point, when climbing, of not focussing on the top of the climb but more the immediate part of the climb in front of me in an effort to break it down into smaller chunks; but here, that is done for you. The climbs, at least the few I did during these rides, are punctuated with hairpins all the way up the ascent so it appears that it's only small chunks you are dealing with, steep but seemingly small. The only problem is that every hairpin you come to slows you down a little and leads you directly onto yet another chunk to negotiate. I'm sure Massimo said it was a four- or five-kilometre climb, but I felt sure it was going on forever.
Needless to say, I got there in the end and my three teammates were waiting for me when I got there. As I carried on, they all clipped in and after a very short descent we came to some road works with a red traffic light against us. The road works were situated just below the steep entrance to the San Leo fortress gateway and as I was about to get my camera out to take a photograph to try and show the steepness of the entrance the lights changed, and we were off.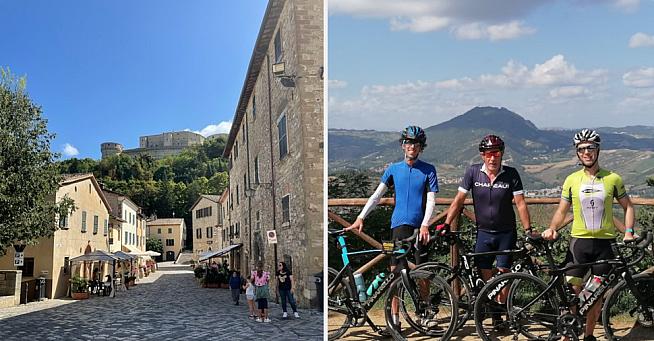 The climb up to the gateway was steep but after that we were onto another steep cobbled climb up to the town square. The cobbles concentrated the mind, and the climb was steep, but short, and we were rewarded with a large, cobbled square and our coffee stop for this ride.
As we ordered our coffees one of the guys was concerned about overheating so the café owner bought him a bowl of ice so that he could start cooling himself down. Fortunately, the climbing was over for the day and once we started riding again, we would be descending down to the flat ride home so some cooling should take place.
As with all the café stops, we made during the rides the atmosphere was very relaxed, the coffee really good and I'm sure we could have sat there for ages without any hassles to buy more coffees etc.
After taking advantage of more photo opportunities around the square we topped our bottles up at the water fountain and pedalled round to another part of the square that, like the previous towns, offered us great panoramic views of the countryside far below.
What goes up must go down and as we left San Leo, we were straight into the descents back down to the flatter part of the area.
All the descents required complete concentration. As per the climbs the roads on the descents were punctuated with hairpin bends and because you couldn't see around the hairpins, until you were on them, it was important to keep on top of your speed and, definitely, your braking. Descending like this is exhilarating and I thoroughly enjoyed it but obviously when we got to the bottom of the descent, it was time to start pedalling again.
Once at the bottom we got our group back together and started our homeward journey and things started warming up again. Along the route a local we were joined by a local rider who decided to take advantage of a drafting opportunity, and why wouldn't you? As we turned off onto one of the minor roads our new buddy gave us a wave and carried on along his way.
It was shortly after this that our Israeli friend started struggling again and dropping off the back of our little bunch. Fortunately, we were just approaching a small town with a car park complete with benches and a water fountain that offered chilled water, so we pulled in there for a rest, water top up and a chance for Massimo to check out how the guy was feeling.
After a short while he was happy to continue, and Massimo insisted that we would take things steady to make the rest of the ride as comfortable as possible for our friend. It wasn't long before we were, once again approaching the town of Santarcangelo di Romagna. Massimo asked if the young fella wanted to stop for another coffee break but he said that he was OK, and happy to continue and suggesting we could pick up the pace a little.
It just so happened that I now started to recognise some of the roads we were on and knew that we weren't too far from home so he wouldn't be struggling too much longer. Massimo moved alongside me and told me to keep the pace at no more than 25km per hour and moved back to stay alongside the fella and keep him company at the back of our now steady group.
We got back to the hotel safely as a group and Massimo advised the guy to take things easy for the rest of the day, get plenty of fluids, rest and eat well if he was wanting to ride the following day - sound advice.
Distance covered 53.24 miles, moving time 3:49 Average speed 13.9 mph and elevation gained 1632 ft.
Day four: rest day
It was another great ride, from my point of view but I had now ridden four days in a row, something I had never done before, experienced climbing like I'd never done before and because my legs needed a bit longer to get going this morning decided I would not be riding the following day, Thursday, which would have been my last day anyway.
Having thanked Massimo for his guidance and for looking after me I bade him farewell and locked the bike away before going poolside and catching up with Chris.
Chris was shocked and surprised that I'd taken the decision not to ride the following day but during lunch we discussed our options for the following day. Although one thought was to make the trip to San Marino, we started concentrating more on our journey home on Friday.
To get to the airport in Bologna we knew we would have to be getting up at 4am to ensure we got to the train station in time for the 5am train, 6am at the very latest, and that would be a repeat of the tiring journey we had to make on the way out here. We therefore made the decision to book Thursday night in the hotel at Bologna airport and would leave Lungomare the following afternoon instead of Friday morning.
At Thursday morning's breakfast I had a quick chat with the Israeli guys. They were both feeling OK but, to be on the safe side, they'd signed up for the 'Latte Macchiato' ride, a little less intense than the previous day's trip. I wished them good luck for the rest of their holiday and after breakfast went to reception to arrange leaving that afternoon.
The reception staff were horrified that we were leaving early and were concerned that the hotel had done something wrong to make us want to leave earlier than planned. We explained our reasoning for the decision but even so, they called for the duty manager to come and see us. The manageress was very understanding, and relieved, that it wasn't a problem with the hotel that brought about the move and more than happy to know that we had thoroughly enjoyed our stay with them.
So, with our bags packed, account settled, and lunch taken we made our way to reception where the manageress came out to thank us for staying at the Lungomare, wished us a safe journey, and hoped to see us again, and that was it we were now on our way, Bologna bound.
After the short walk to the station, we purchased our tickets from the machine that we were now fully conversant with and found a seat to sit and wait for our train. Whilst waiting an announcement was made over the station public address system and we listened intently to see if we could pick out any clues as to what was being said. For the first time since we had been there the message was repeated in English and we were horrified to hear that the Italian train unions had decided to carryout strike action the following day, Friday, and as a result there will be no trains running that day. Oh boy, if we'd have stuck to our original plan, we would have been stood on the platform the following morning waiting for a train that wasn't going to arrive and having to sort out a very quick alternative plan to get to the airport.
Needless to say, we got to our hotel totally stress-free and relaxed. The airport hotel was wonderful, we had a very nice evening meal and discovered that the pillows that we thought were a little too hard, for our liking, at the Lungomare were exactly the same here so it would seem that this type of pillow is the norm for Italian folk, but we still had a good sleep.
We caught the hotel shuttle bus to the airport and the security and passport was straightforward and despite a short delay in our take off time there were no problems at all, and our biking holiday experience had come to an end.
In conclusion it must be said that we both thoroughly enjoyed it. The riding was fantastic, amazing scenery, great roads, testing climbs and descents, a great cycling experience. From Chris's point of view, it was just what she had hoped for; she had a great week relaxing with absolutely nothing to do. I guess the major question is why did it take us so long to try it out?
Would we recommend the Lungomare experience? Without a doubt.
The only advice I would offer is to make sure you provision some sort of snack and drinks for on the train journey and factor in a stay at the airport hotel to negate the need to catch a very early morning train.
Would we do it again? You bet. The question is where do we go?
There are still lots of rides and opportunities at the Lungomare, but what about northern Italy, Spain, Tenerife, Gran Canaria? There are so many choices...but planning a sunny getaway is a pleasant way to spend the winter.
All I would say is do it, don't leave it as long as we did!
0 Comments