Flatout in the Fens was one of my first long distance sportives back in 2013 when it was organised by Kilo 2 Go. I feel sure that the event was about eighty miles, which, at the time, I thought was quite a daring undertaking. The main thing I remember about it though was the weather.
The day was windy, nothing unusual about that in the Fens, but at one point the heavens opened and it quickly became a ride of nightmares. Towards the end of the route, I took a left turn straight into a fierce headwind and razor-sharp rainfall directly into my face. It felt like sharp needles were attacking me. At the time, I had a bike with a granny ring and, despite being in the smallest gear ratio I could muster, I seemed to be going nowhere. I'm sure I was almost in tears questioning my sanity for wanted to do such a stupid thing, but I survived and soon got over it and carried on taking part in various sportives.
So fast forward to 2022 and the Flatout in the Fens has returned under the guidance of Velo29, the team that organise the Dream Bike Giveaway and countless testing, possibly brutal, events designed to push our limits out on the road.
If you've never experienced a Velo29 sportive you will not be aware of the very slick way that they manage your registration and start times.
Firstly, the ride number you've been allocated, and your timing chip will arrive in the post, normally the Tuesday before the event. Once armed with this information you can visit the Velo29 site and complete the pre-event questionnaire and pick your start time. Riders are normally sent out in groups of ten, so even if you miss out on getting your first choice of start an alternative shouldn't be too far off. One question that needs to be answered is the confirmation that you have watched the pre-event video, all the way through. The video stars Richard who goes through a fairly straightforward, comprehensive brief on the 'rules' of the ride; it's nothing onerous but worth watching because of the important details of emergency contacts, which we seriously hope no one needs but, as Richard says we are all riding on open roads and need to keep safe and ride safely.
As the name suggests it is flat, very flat, with the highest point on the three routes on offer being around 30 metres above sea level. The Short is 117.8K (73.19 miles), Medium is 174.8k (108.6 miles) and Long is 245.6K (152.6 miles), with a total of 477m vertical climbing on the long route - that must be taking into account the speed bumps we have in the area.
Despite the lack of climbing do not be fooled into thinking that it'll be a breeze, because the breeze is the challenge, the enemy: the slightest breeze can be a pain, unless it's behind you, and unlike a climbing route the wind doesn't have an end point or descent to help with recovery.
With less than a fortnight to go the weather began to, potentially, threaten proceedings.
Prior to the event weather warmed up significantly in the UK and for the first time in living memory the Met Office issued a Red extreme weather warning, with the possibility of danger to life, due to exceptionally hot weather. Initial warnings were for the weekend before the event, but all indications were that the hot weather may continue for some time after.
Unfortunately another sportive, the Flat 100 South, organised by Sportive HQ, that had been rescheduled for that weekend, had to be postponed because of the warnings. I was due to take part in that event also but appreciate and totally understand why Matt and the team at Sportive HQ made the decision they did.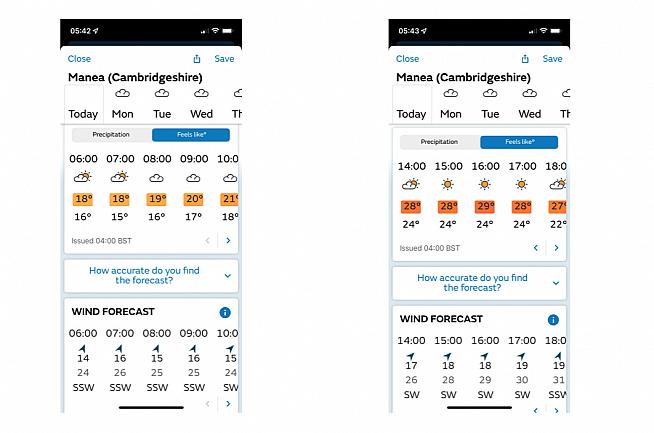 This year Flatout in the Fens started from the sports centre in the town of March, which is quite a bonus for me because it's my local town so there was no major commute required. It's that close I even contemplated riding to the start and back home after completion, but thought that might be pushing it a bit too far - or perhaps not...
Because the start was so local, and the event was routing through the fens it'll come as no surprise that I've previously used 85% of the roads on regular weekend jaunts and the rest have often been involved in previous sportives. That said I'm not fooling myself to think that it'll make the ride any easier but, psychologically, the fact that I'm on familiar roads may have some sort of benefit, maybe.
True to plan on the Tuesday morning before the event all riders received an email with their ride number and booking reference, which was the key to complete the booking process, get access to the rider's manual and book your preferred start time. It was all very straightforward and in no time at all I was fully booked in with my preferred 0700 start time.
Further interesting points in the rider's manual were the extensive menus that are available at each of the feed stops - must make sure I've got my jersey pockets full of willpower at each of the feed stops - and the important time cut-offs.
On the long route there are two cut off points, the first being at the short split (96km - 60 miles), by 1230, and the second one at the medium split (137km - 85 miles), by 1400. Arriving late means you'll be diverted onto the shorter remaining route to make sure all riders are back at HQ by 1900.
Then, finally, the last piece of the jigsaw, my ride number and timing chip, came through the letter box the following day ready to adorn my helmet and bike ready for the big day.
The big day finally arrived and once the alarm had gone off at 5am it was time to get the kettle on ready for a brew with breakfast. Looking out of the kitchen window at the trees over the back of the house gave an indication of what the wind was doing, gusting - not good. A quick check of the weather app said it all, winds at 14mph gusting 25mph, first thing, and increasing to 19mph gusting 30 mph. Not what the cyclist ordered.
To be honest if it was a normal weekend ride I would have looked at that forecast and headed straight for the red brick windbreak, got the turbo set up with a route on BKool and trundled away in the garage for a couple of hours, but today was different. This was the event of the year, for me, something I had been looking forward to, and paid for, so it was a case of man up and get on with it.
After quite a bit of deliberation over the last few days I'd decided I was going to cycle to the start point, eight miles, with the option of cycling back or getting my good lady to pick me up at the finish. So, with plenty of time to spare I took a steady cycle into town, with a fair bit of wind assistance all the way.
The start/finish area was just about set up with a rather Gucci looking coffee barista with his own van providing a large selection of coffees and refreshments.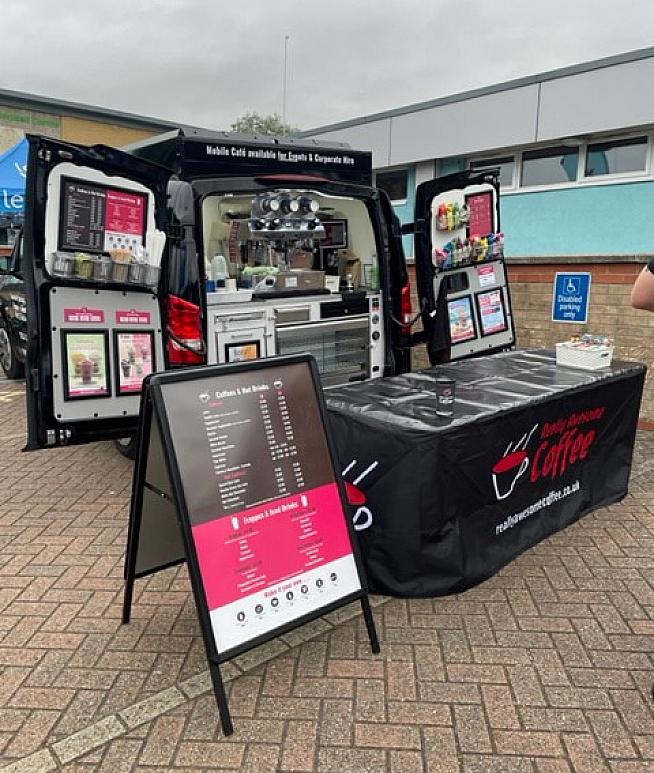 In no time at all it was time for the off and because of the comprehensive pre-brief video and riders manual there was no need for the normal safety brief at the start line so it was just a case of 'good luck', 'keep safe' and we were off.
This ride was a totally solo effort as my normal cycling buddy couldn't make this event so I had already made my mind up that with such a long haul in front of us I was going to stick to my own pace and ignore the temptation to grab onto the back of any group that whips pass in a hope of going quicker and tucking in to save some energy.
Almost immediately a group had formed and were heading off into the distance but I stuck with my plan even though there was a slight temptation. Into the next village a trio of guys on tri bars came whizzing past, and they looked serious. They were on a mission and definitely going for a good effort/time so I subconsciously wished them well and left them to it.
The wind was already making its presence felt but was fairly manageable, neither giving too much or taking too much away.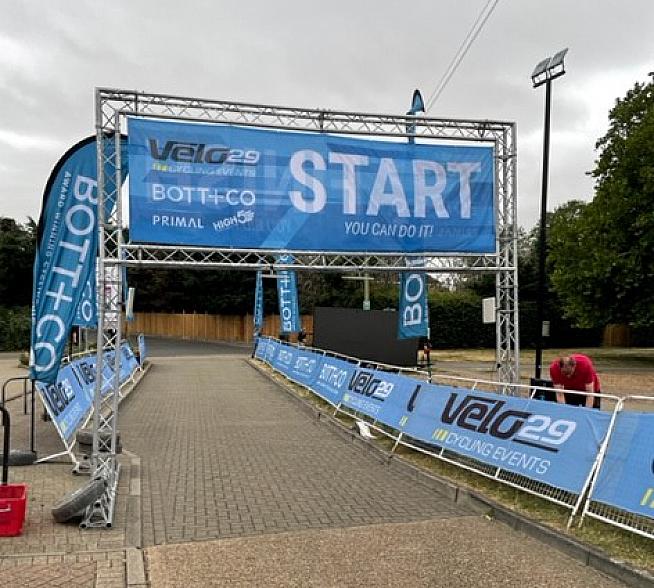 Whether it was the fact that I knew the roads or not it seemed that after no time at all we were at the first feed stop. On Velo29 sportives this is known as the breakfast stop and breakfast it certainly was. I opted for the pain au chocolat and a banana, but there was also Kellogg's breakfast bars and water, tea and coffee available, not forgetting the usual High5 goodies.
Whilst chatting with the young lady, Rachel, that was looking after us at the feed stop I was intrigued to discover that all the staff at today's event had travelled down from Velo29's home turf, Redcar area, to provide the support for the event. Rachel was telling me that she was there the day before, with Paddy, to go round putting the direction signs up, and he went round again at 4am that morning to ensure they were all still in place before going around later to retrieve them all - thanks Paddy.
What was most interesting though was that whilst they were putting the signs up they were approached by a couple of older women asking what they were doing, and when they explained it was for a cycling event the women immediately declared that they don't want loads of cyclist trundling through their village. I immediately had an image of Les Dawson and Roy Barraclough's 'Cissie and Ada' sketches of the two old ladies standing together moaning about whatever was troubling them at the time.
Another part of my sportive plan is not to spend too much time at the feed stops, so that my legs don't seize up, so with a quick thank you I got going again heading for the second feed stop. The feed stops were spaced at about thirty mile intervals so it was fairly easy to split the ride down into psychologically manageable distances.
Shortly after the first stop a left turn gave us the benefit of having a strong tailwind which meant that with a similar cadence you were able to make some easy effort gains, so much so that I gained three PRs on Strava on this part of the route - so there is some benefit to riding on known roads.
The most part of the route to the next feed stop was a crumbling, in places, tarmacked single track road and with a modicum of care, and keeping an eye out for oncoming traffic, it was easily negotiated leading us to our second food destination.
Feed stop two provided enough food for the gluttons amongst us with such delights as pork pies, sausage rolls, sandwiches, flapjacks, tea, coffee and some more of the aforementioned High5 products.
The venue was a small village hall that seemed to be tucked away in a corner at a traffic-lighted cross roads and because I had to stop at the lights I managed to see the sign alerting us to the fact it was there. Unfortunately, I found out at the third stop some guys missed it altogether, which is never a good thing.
I dropped on really lucky because I entered without any other riders around me and the lady, Michelle, who was looking after us there got all my food ready for me and even made me a coffee whilst I visited the men's room to make space for it.
Because I was intrigued by the fact that the whole support team had travelled down to the flatlands from up North I had to ask, 'Is this your job?'
I couldn't have asked a better person because Michelle is the wife of Richard, Mr Velo 29. Michelle was originally a teacher and because Velo 29 got so big she packed in her job and became the admin hub of Velo 29. Richard takes care of the planning and logistics and Michelle takes care of the myriad of admin tasks that are involved in giving us our days out. Michelle said that despite Velo 29's popularity she's still working from the kitchen table and has yet to get a dedicated office.
I had to ask about how they coped with the Covid issues and both Richard and Michelle were worried that what they had built up was going to collapse about them when all the events were closed down during the pandemic. But, because so many riders were quite happy to transfer their bookings to future events, it enabled them to stay afloat and now that Covid is slowly, fingers crossed, declining they are hoping that things will start building up and the number of riders increasing once again.
Importantly, from my point of view, I was now clear of the cut-off point so I could carry on with the planned long route.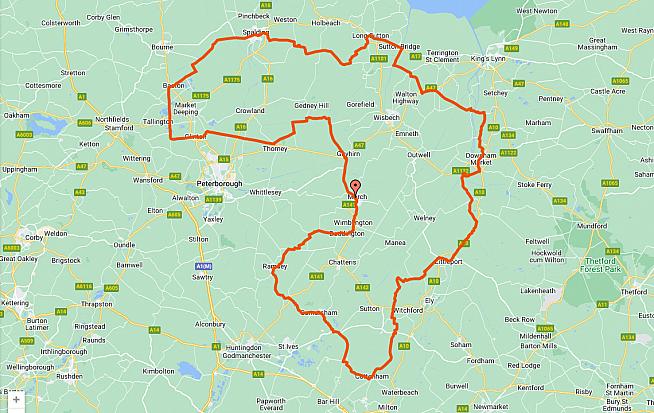 Not long after this point I ran out of the roads that I was familiar with and started riding on roads that were new to me and, ironically, this is where the whole event took a turn for the worse, into wind.
The wind was now taking its revenge for offering some assistance during the first part of the ride and it was now time to channel the inner Wout van Aert in all of us but it was only going to be short-lived.
I got to thinking that if WvA had taken part in this event, based on the sort of speeds he's produced in the Tour, he would ace this in four and a bit hours, got home recovered, had something to eat and still have time to sit and watch himself and his team winning the Tour. Maybe next year Wout if you're looking for a different challenge.
The struggle was now on and it did not seem to matter that whichever way the road turned you were hit with a punishing wind from a frontal angle, or straight in your face.
With a fair amount of struggling I managed to get through to the third feed stop, although I could easily have missed it, just after we came off Sutton Bridge.
This feed stop was the BBQ feed and, as the name suggests, there was all the normal High5 products but also sausages cooking on the BBQ so everybody could get a sausage bun to help see them on their way. The young lady here, whose name I didn't get, originally came to Velo29 as medical support and is now a full time member of the events team. As with all the other staff at the stops she was bright and cheery with encouraging words to keep us all going.
The weather forecast was accurate and, alongside the unpleasant wind, the sun was ever present and the heat of the day was doing its utmost to dehydrate us - and winning.
We are all aware that it's important not to try any new hydration/eating plan on a ride; tried and tested works every time. To this end I'd loaded my bar bag with sachets of my favourite energy and hydration powders in an effort to make sure I got through the day.
I'm sure it wasn't part of the planning but from Sutton Bridge the long route went into the red part of the route and this was the most painful part of the ride, but at least it wasn't raining.
This part was horrible and most definitely a struggle.
My drinks had warmed up and every slurp didn't seem to help and seemed pointless and instead of being refreshing it just stuck to your teeth and became a necessary chore without any benefit.
To make matters worse I started experiencing 'hot foot', something I had seen videos about, and found it was causing an unwanted distraction. Fortunately on the videos I'd seen I was aware that the cause of it all is your feet warming up and swelling within your shoes and a quick relief is to just wind the boa back a click or two to allow for an extra bit of foot expansion. It certainly helped in the short term but as the ride carried on so did the hot foot and it was uncomfortable to say the least. Perhaps a shoe fitting session should be arranged to ensure I've got some more appropriate and better fitting shoes?
With the drinks becoming more unpalatable, the wind increasing and the miles ticking over so very slowly it made you wonder if there was any end to the torture that you've paid to bring upon yourself.
The roads were flat, open and without any roadside foliage to help break up the struggle. I have to admit I was beginning to wonder if the lack of benefit from the drinks was going to cause me to dehydrate before the next feed stop.
None of my energy bars were appetizing enough to make me grab for one but I did have my go to Kendal Mint Cake gels so grabbing the citrus one, which contained caffeine, seemed to make sense. It was warm but did offer some short term refreshment from the now unappetizing choice I had in my bar bag.
With something like desperation kicking in I was begging, nay praying, for the next, and last feed stop to arrive and eventually I saw a sign saying feed stop 1k to go, hallelujah. I tend to work in miles and I know that 1k is less than a mile but it still seemed like a long time before the stop showed up, what a relief.
My first immediate rection was to fill my empty water bottle with water and just drinking it straightaway, feeling the immediate relief and cleansing of my palate. With two bottles on board I filled one with plain water and then used one of the High5 rehydration powders to fill the other one.
Rachel, from the first feed stop, was taking care of us here and it was good to see a smiling face trying to lighten the load. I really couldn't face trying to eat a pork pie, sausage roll or any of the other goodies on offer but, because I had sensed a bit of an onset of cramp, I sat down with a packet of ready salted crisps. Even that was a struggle to eat but I got through most of the packet. Rachel is more of a mountain biker but enjoys the occasional road bike ride, although I'm not sure she would be bothered with such an event.
After a visit to the men's room I bade farewell to Rachel, with a heart felt thank you, and she told me that there was only 50k to go. My mind wasn't capable of trying to work out what that might be in miles, but the miles to go on the computer suggested it was a little bit further and that didn't fill me with much joy.
A few miles down the road offered a little bit of respite from the travails of fighting the wind due to a tailwind element, deep joy, but that soon diminished when my Garmin beeped at me to tell me that I had reached low battery status. Sacre bleu!
I had just short of twenty nine miles to go and I was now confronted with, maybe, not getting the ride onto Strava. Maybe I should get Santa to bring me the new solar Garmin so I never end up in this situation again - other bike computer brands are available - but in the meantime I had to do my best to get back to the finish before the black screen of death descended upon me.
With the slight tailwind component and the thought that I'd saved some energy earlier in the day, and ignoring the hot foot and struggle of getting to this point, I had to push it out as hard as I could whilst talking to my Garmin pleading with it to stay with me just so I could get over the finish point.
Eventually I got to Thorney and some roads that I was slightly familiar with just as I was running out of steam and the route had put us into direct conflict with the wind again.
I was still begging my computer to stay with me as the miles, or yards, seemed to slow down even more. The roads I thought I was familiar with stretched out further than I had envisaged and seemed to go on forever.
Once I'd got to really familiar roads I came to a notoriously known junction on the A47 and was expecting to be held there for some time but it looked like the sportive gods were smiling on me and I got straight out onto an empty road with a clear run to the two or three hundred yards uphill road to the roundabout that would get me onto the final stretch of road back to the finish in March.
There was just over six miles to go but this was into the full on gusting headwind that the weather forecast had promised. I was now pleading with the Garmin to stay with me, not long to go now, but no matter how low I tried to get on the bars my progress seemed negligible.
Incredibly slowly, painfully slowly, I was getting closer to the finish and although the Garmin was still with me I continued to beg it to keep going. As I got closer to the local KFC some kids came along in their little hatchback with a converted dustbin exhaust creating an over the top loud noise and shouted out some sort of abuse, I wouldn't expect it to be words of encouragement or anything complimentary around these parts, but I wasn't too worried because me and the Garmin were getting ever closer to the finish.
Once in the town centre I knew we were almost home but the sight of a red traffic light immediately became an over exaggerated concern; but it played the game in time for me to get through and take the right turn that would lead me to the sports centre and the end of the ride.
The Garmin played its part, even though I was left with just 8% to play with, phew.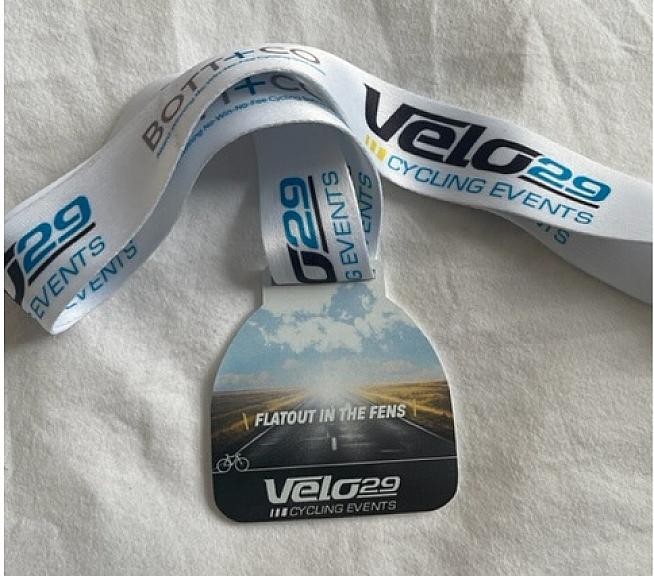 With medal safely in my pocket it was mission completed but any thoughts of cycling the eight miles back home had evaporated a long time ago.
A quick call to Chris and she was on her way to pick me up. With hindsight I should have called from the last feed stop so that she'd be at the sports centre to scoop me up once I'd collected my medal.
Thankfully she arrived with two bottles of water straight out of the fridge, one of which was quickly and gratefully dispatched.
Although it was only a short wait, by the time Chris had arrived I was a bit of a wreck and my voice was rather croaky which was a surprise because the only person I spent any time talking with was myself and I was beginning to feel the effects of sitting in the same position and fighting the wind for so long. It was a relief to get in the car and get home for a shower and getting a fair dollop of Veloskin soothing gel over my legs.
I wasn't sure if I was going to be able to stomach the chilli and rice that my good lady had prepared but, suffice to say, it didn't last long once I got sat in front of it.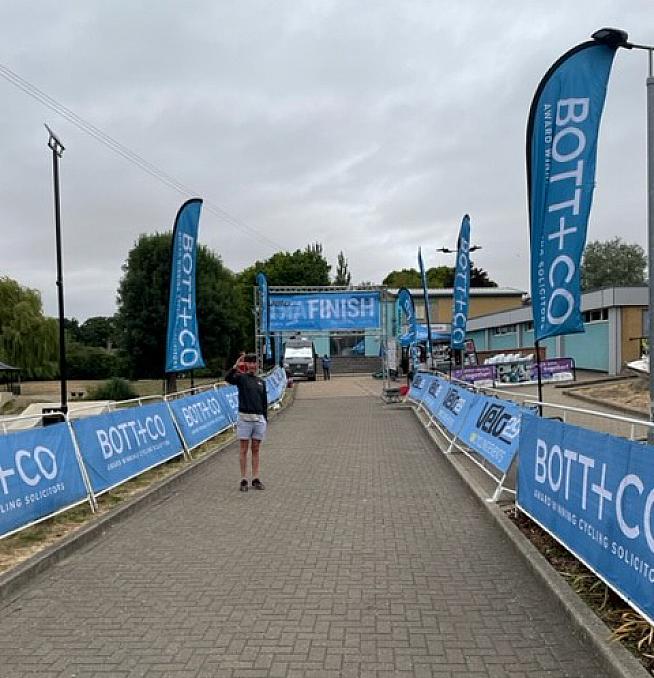 What a day. I was hoping for around ten hours to complete the event and with a start to finish time of 10:23 and a Strava moving time of 9:33 I'm going to declare myself as well chuffed.
It was hard work, it was a struggle and, without a doubt, painful at times.
Would I do it again? Ask me in a few weeks' time when I've had a bit more recovery time cos at the moment I feel like an old man in his 80s rather than a young man in his late 60s.
As with any sportive I've done I'm always grateful to the people that spend their time waiting at feed stops, marking out the routes and then, when we've had our play time, gone round the route again collecting all the signs - thank you Paddy - and clearing everything away.
For me this takes on extra prominence in the Velo29 events because all the staff have come away from home for the weekend to make the event what it is for us, and for that I offer an even bigger thank you to one and all.
I hope I get to see some of you all again next year but, right now, I think I'll be taking the shorter route.
Discover the Velo29 series of sportives at velo29events.com.
0 Comments