In part one of his report on the first King's Cup Gravel Festival, a hard, dry, flat course through the Kings Forest in Suffolk saw elite athletes Alistair Brownlee and Ruth Astle take the wins in the inaugural National Championship Gravel Races.
In part two, Alex finds out how sportive.com contributor Peter ended up in the Mens' 19-34 race photo finish, and speaks to the sportive riders to see if their event was as well received as the race.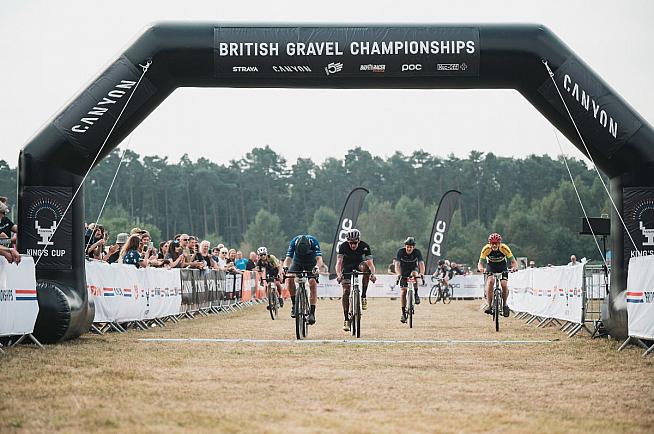 Peter came along to the British Gravel Championships to take photos to accompany this article, but when a last-minute space came up in the actual championship race he put his camera down and signed up.
Having ridden with Pete for a few years now as Sussex Nomads club mates, I know that he's a strong track rider, loves a challenge of any kind and has got a habit of breaking bikes. Not many riders would even consider riding the 200 miles of the King Alfred Way on a cheap old Halfords Carrera road bike with 25mm tyres and loaded rear panniers, but that's exactly what Pete did when his gravel bike was out of action this summer.
To then spend three days riding along some of the toughest, rutted trails in the south without getting a single puncture can only be attributed to fine luck or witchcraft. But when Peter rocked up to the festival on an unmodified Kona Smoke - a 15-year-old steel hybrid bike designed for commuters - even I was a little surprised...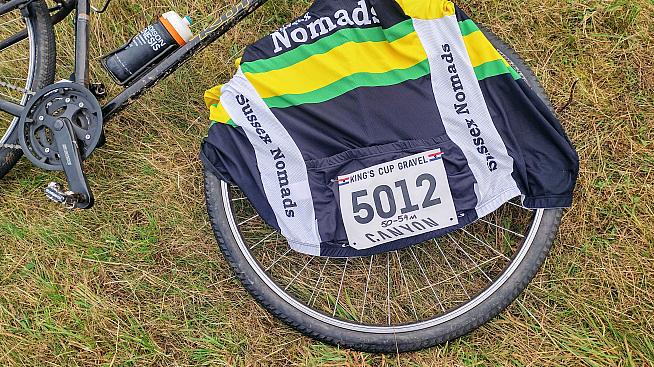 Q - What's with the bike Pete?
"I did think about trying to procure a decent bike but with only a few days' notice, it just didn't happen for me. I bought the Kona hybrid for my son for £80 a few years back. He never rides it and since I have a load of bikes that don't work, I thought I may as well bugger this one up as well.
"It was this or the Carrera road bike with a dodgy rear mech and, to be fair, it probably wouldn't have made much difference if I had ridden a Raleigh Chopper."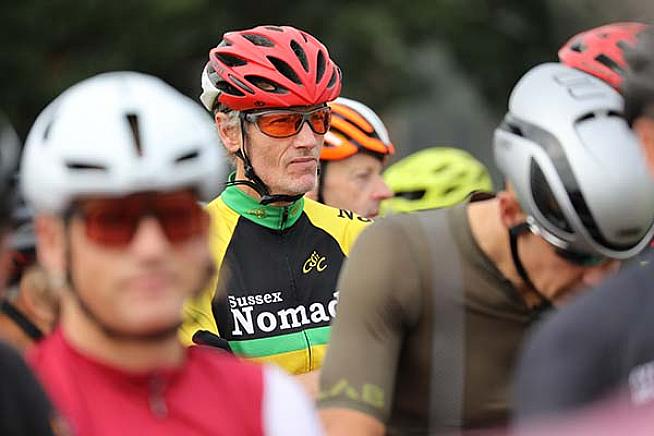 Q - You looked pretty focussed on the start line, or was that nerves?
"I'm usually not phased too much when I'm out of my depth, but I have to say that I did feel like I'd brought a knife to a gun fight... It wouldn't be the first time I got my ass kicked though so I thought I'd hang on for as long as possible and then just stay out of the way.
"When I got to the starting pen I did have a moment... Was this my race? Am I really in the right pen? I did feel like the weakest rider in my group, so I checked the pens behind me for some reassurance... Nope, I was probably the weakest rider in the whole goddamn event!
"The pace was pretty frantic from the off. It felt awesome heading down the first straight with a long lead out of two lines hitting the gravel fast. Dust obscured the view and so I still felt nervous about what was going on up ahead, as, just like in road racing, being at the back is the most dangerous place to be because it's hard to avoid any crashes. This didn't last long though and the distance between riders evened out fairly quickly and visibility was much less of a problem too.
"It was hard to get around slower riders... in a track or road race, you can plan and pick your moment to suit your energy. In this race you got a few overtaking opportunities on the wide gravel paths but if you're not ready and you miss them you've got to wait for the next opportunity which can be few and far between.
"I was surprised at one point to be overtaken very closely by another rider. There would have been a lot more argy-bargy up front, but for me at the back it became more of a fast friendly."
Q - How did you find the course?
"I had only ridden a lap of the course the night before in the dark. In the race it felt every bit as long as in the dark but at least I had an inkling of what to expect. The course was remarkably fast even at night. But on race-day the skinny tyres on the hybrid really were a limiting factor... too much speed on them sent the bike into serious vibrations.
"I thought I was riding a jackhammer through some sections, particularly the first half of the Strava timed section where it was impossible to carry too much speed because the surface was just too bumpy. The sandy bits were worrying at night as they caught us by surprise, but even when I knew where they were, trying to hit them at speed was still a bit treacherous."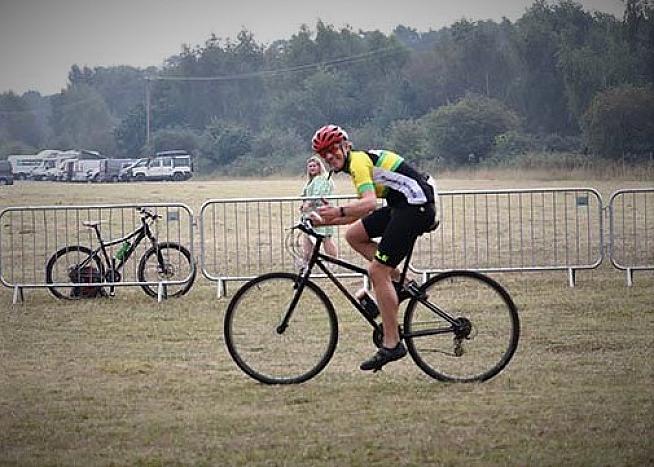 Q - You looked like you were having fun from my position on the start finish line. I know your age-group's race didn't start until about 20 minutes after the Men's 19-34 Race started so I was pretty shocked when I saw you rubbing shoulders with the elite men as they finished their race...what happened?
"When I hit the long straight before the final turn I could hear the commentator going berserk over the PA system. I had no idea what he was saying... I thought someone had slipped some speed into his coffee as he really was going crazy mad.
"It quickly sank in that he wasn't excited about me - he was going mad because the race leaders were nearing... like right behind me!
"I had been wondering if they would catch us up, I knew they had a head start and the pace was incredible across the uneven surface but it was still a whopper gap for them to cover. I was following another back marker and when we realised what was happening we just stayed left - moving right would have risked crossing their paths. But the final corner was a left hander so we were on the racing line but it was just too late to get out of the way.
"Just as the turn was starting I saw the leaders flying around me. Two riders seemed to go straight into the fence on the opposite side of the course. Cameron (Mason) took the brunt of that collision and this let Alistair (Brownlee) through to challenge Ryan (Christensen) for the line.
"Maybe it would have been Cameron's race if we weren't there, but then, maybe if he judged the corner better he could have carried his speed inside the kiwi and bumped him into the wall instead. Who can say? Racing is unforgiving like that."
Q - So, you coming back next year?
"Hell yeah, if I can get in! I'll take a proper bike and give it a really good go. I thought it was brilliantly organised and I loved every minute of it."
Pete's positive reaction to the race was pretty widespread. A few grumbled that the course was too flat, not technical enough, or that there was too much grass and not enough gravel, but most racers I spoke to went away satisfied, and large numbers left the organisers positive ratings and feedback on their website.
The worry that some had that a 'gravel race' would just end up being a longer format cyclo-cross race was unfounded. Nobody would ever choose to ride around a cyclo-cross course for a bit of fun, but, for the Kings Cup festival, the organisers managed to get close to 300 riders to sign up for the post-race sportive on exactly the same course as the championships, over exactly the same distance.
Many camped on the site on the Saturday so that they could enjoy the night-time festivities, watch the championship races on the Sunday morning, and then ride the course for themselves later on the afternoon. Below a few of them share their experiences in their own words.
Festival Faces - The Sportive Riders
Sportive Rider: Jack Sutton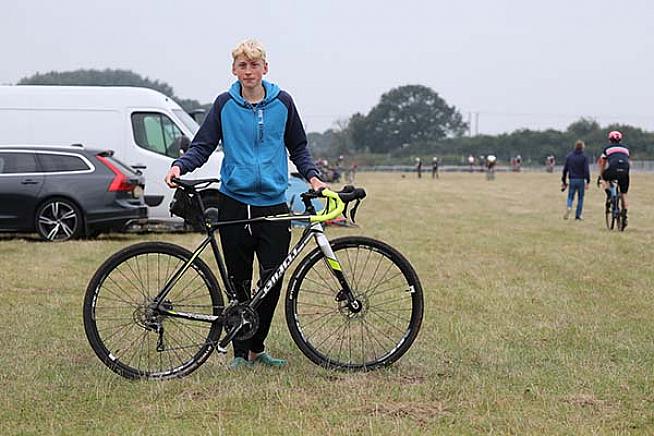 "I've had a go at all sorts of racing - Mountain Bike, Road and CX. To be honest I would have liked to enter the Championship Race but I was told I was too young at just 15.
"I'm disappointed not to be racing but happy I can test myself on the same course as the racers. Next year I hope I'll be allowed to race."
Sportive Rider #2012: Morgan Toy
"This is my first ever sportive. I've entered with my brother (Jamie - below). We chose this event as the course isn't too long so if we do have any problems we won't get stranded..."
Sportive rider #2013: Jamie Toy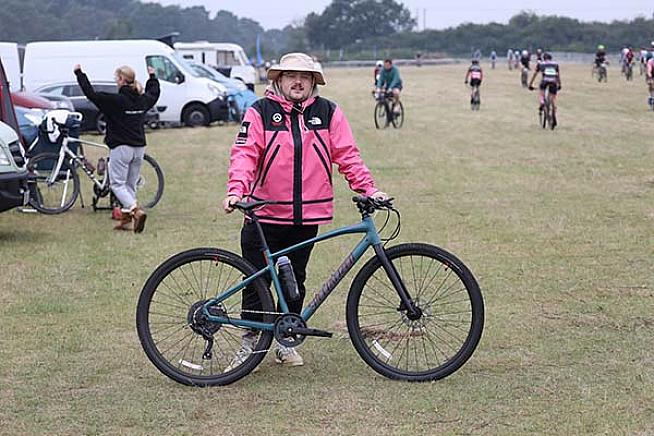 "...and as it's a short course with laps if we get knackered I can duck out early. I'm the chill fat one and Morgan's the sporty one. I'm here for a good time and he's here for a fast time!"
If the organisers' plan was for there to be a seamless transition from the championship races ending at 1pm to the sportive beginning an hour later, the not-so-Great British weather had other ideas.
Whilst the men and women of the various age categories went up two-by-two to collect their jerseys from the podium, the sky opened suddenly and dramatically, and an Old Testament-style deluge hit the site, sending the crowd scattering for shelter.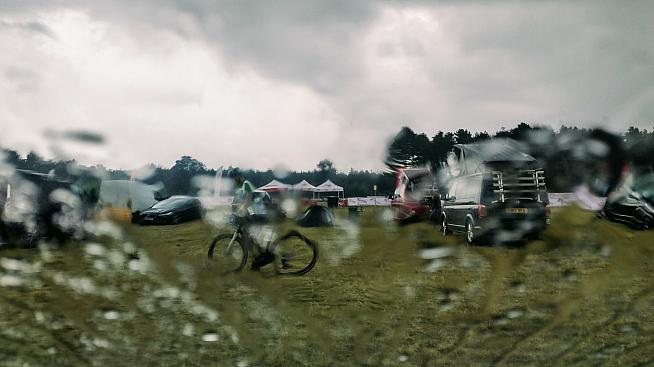 There had been a Yellow Weather Warning from the Met Office, but still the sheer quantity of rain took spectators, competitors and organisers by surprise. If you were too far from shelter it was pointless running, as you were soaked through almost instantly.
It was the kind of rain that makes people go quickly past the grumbling phase and straight into a resigned giddiness. The kind of rain that makes your bones wet.
Understandably, many of the morning's racers who had planned to spend the afternoon hanging around the festival, grabbing some lunch, sharing their experience with fellow competitors and cheering on the afternoon's sportive riders headed home instead. Some cars making an early exit got bogged down in the wet campsite grass, which in turn made even more people decide to cut their losses and head home for an early bath.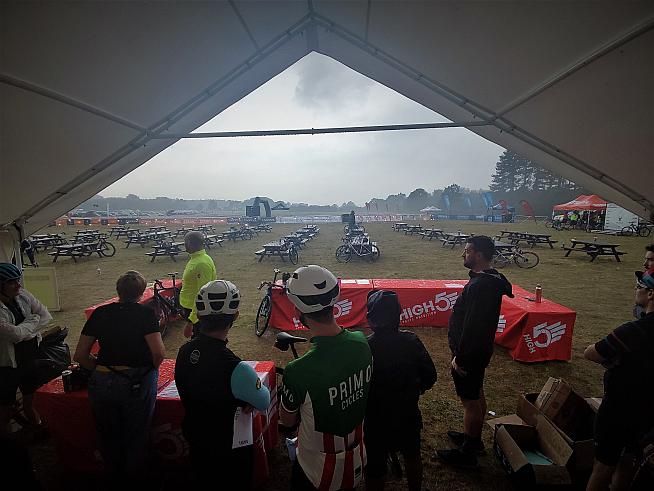 From the shelter of the signing-on marquee, it was clear that the organisers had a dilemma: cancel the event, and disappoint the sportive riders who'd remained despite the weather; or go ahead as planned and risk even more cars getting trapped if more rain came.
By 2pm, the scheduled start time for the sportive, the rain had been falling for an hour. Waiting riders, who were huddled under the various marquee tents around the course start/finish area, were told that a decision would be made by 2:30.
Half an hour later, even though there was now only sporadic drizzle, and the sun had made an ironic appearance, it was no surprise to hear that the sportive had to be cancelled for rider safety reasons. Large parts of the course were water logged; the hard, dry packed soil on the forest trails now had a slick surface that bikes would slide on rather than sink in; and emergency services would struggle to get their vehicles along the access tracks to any riders that came a cropper on the course.
Naturally there was disappointment amongst the assembled riders, but I didn't hear anyone complain about the decision - the severity of the rain had given the organisers little choice.
Before anyone raised the issue of whether there'd be a refund for those that had waited, an olive branch was offered. The organisers pointed out that they couldn't officially stop any of us who still fancied riding around the sodden course as long as we understood we did so at our own risk. If we ended up stranded in the woods, it was no use running to them and complaining that they hadn't been warned.
The organisers did sweeten the medicine by setting up a mass start and promising goodie bags and medals for the finishers, which convinced most who'd waited to take their chances. So, twenty minutes later, about 60 of the 300 riders who had originally signed up for the sportive assembled on the line for the official mass start of the unofficial sportive.
Sportive Rider #2042: Rowan Stevens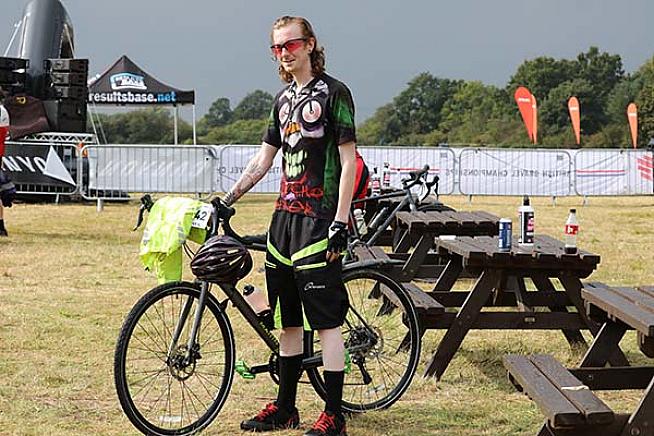 "Most days I commute to work by bike, sometimes as far as 23 miles each way. I decided to enter the event as it was nearby. I'm gutted that's it's been cancelled but determined to come back next year and train even harder."
Rowan ended up being one of only 11 riders to complete three laps - the full distance of the original sportive. With an average speed close to 20mph, he rode at a pace that would have seen him do well in the championship race - an even more impressive effort given the fact that the rain had made many parts of the course treacherous.
Gravel had been washed away along sections of the fire road, forming potholes whose depth was masked by the water that pooled in them. Ruts had opened up forming deep gullies on the sandy sections, exposing fist-sized rocks and broken flint that threated tyres and rims. Tree roots that when dry could be ridden over at speed had to be jumped or picked over when wet. If the rain had made the riders giddy, the state of the course itself left others hysterical, but in all the right ways.
Sportive rider: Elle Linton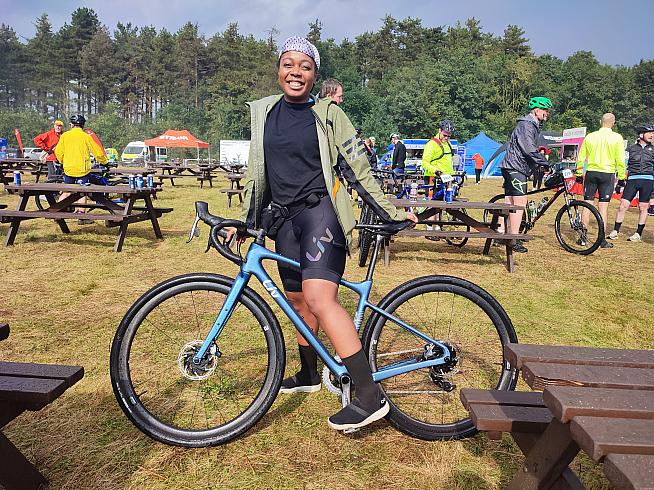 Having spent the weekend filming the championship races for festival sponsors Strava, Elle stayed on for the sportive.
As an ambassador for Liv Cycling UK, a Breeze Ride Champion for British Cycling, a coach with the London-based Women of Colour Cycling Collective, and an award winning sports blogger at keepitsimpelle.com, it's no surprise that Elle used her trip to the festival to encourage other riders to come along and have-a-go, like Lorraine...
Sportive Rider: Lorraine Joseph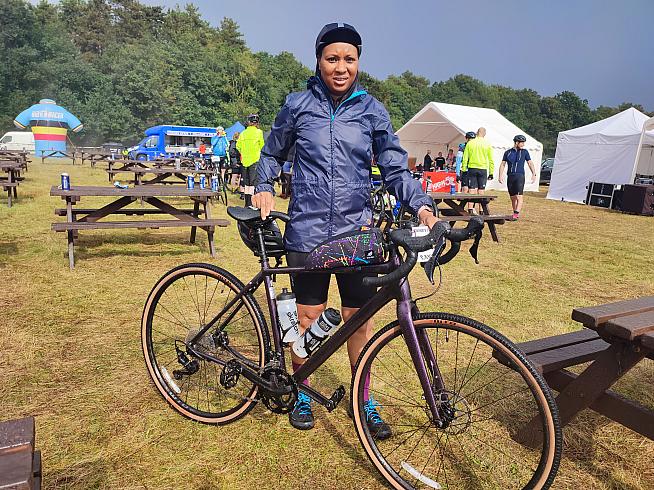 Lorraine: "I saw Elle's shout-out to the members of the 'Women of Colour Cycling Collective', and decided to come along and have a go at my first sportive. When the first lockdown happened, like a lot of people I dusted off an old bike from the shed and started cycling. I enjoyed cycling round my local area but found cycling a bit lonely compared to football, which I used to love before getting injured.
Anyway, after a while I upgraded my old bike, joined the collective and came along today as I wanted to get out of my comfort zone. "
Elle: "We had a whale of a time, laughing, chatting, screaming, riding through various puddles testing how deep they were and rescuing a toddler whose motocross bike engine had stopped. We dodged the rain till the very end. We took it so chilled, not worrying about time and kept safe!"
Lorraine: "The course was nothing like I expected, although thankfully, much flatter than I thought it would be. I had been dreading any hills. There were loads of puddles - some very deep that I watched Elle go through and then sensibly avoided. The scenery was amazing - I wish I had had a camera, to take it all in.
"The event has given me a real taste for gravel riding and I would definitely like to come back next year, hopefully with better weather and a lot more practice. Although even if I do go back, I don't think I will ever forget this year, and for all good reasons. The event organisers were wonderful, we still got our medals - I needed that medal - and some freebies to take home."
Sportives that are linked to professional races have a special appeal. Being able to ride on the same cobbled tracks the day before stars like Peter Sagan or Wout Van Aert take on Paris-Roubaix, for example, is an experience every sportive rider or pro-cycling race fan should grab if they get the chance.
The Kings Cup Festival sportive was different however. Gravel racing isn't well established in the UK, so, with the exception of Jonathan Brownlee and Mark Beaumont - who both made their names racing and riding in other disciplines - there are no established stars associated with the sport.
Nor are there many iconic, must-ride courses that fans might have on their bucket list - although events like Grinduro, Dirty Reiver and GBDuro are fast attaining cult status.
The sport is still finding its feet here, but Olympic champions and lockdown-newbie riders seem equally attracted to the idea of riding their bikes fast in a natural setting without any of the dangers or aggro associated with road riding. Hats off to the organisers of the Kings Cup for doing their best to create a festival atmosphere, with all the trimmings - camping, live music, and good food stalls - more 'fun-do' than fondo.
If the gravel bandwagon continues to gain momentum in the UK, and the organisers can manage to move the event into the spring or summer, they might reduce the chances of the weather from putting a dampener on things, and really have a gravel festival that rocks for years to come.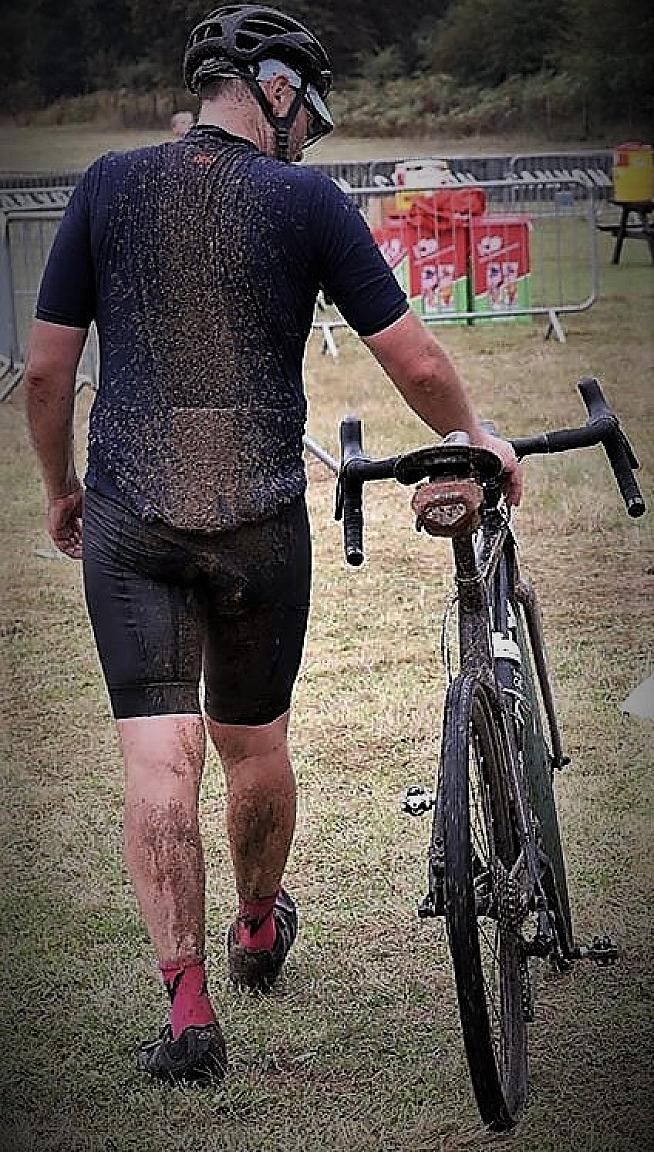 0 Comments