I have to admit I had never heard of Sportive HQ until I saw a piece in Sportive.com that stated they'd been voted the best sportive organisers.
Whilst I'm no expert on sportives, I've taken part in a few and was a little surprised I'd never seen, or even heard of them. I immediately jumped onto Google and found out who/what Sportive HQ was all about. I was interested to discover that they are from my neck of the woods, up there in God's own county, and that they have been involved in organising sportives for about 15 years.
Having searched through their up-and-coming events it was great to see that there was actually an event in my present neighbourhood, Cambridgeshire - Peterborough to be exact - in the form of the Flat 100 South.
I was in, signed up and raring to go. I even paid the extra for the goody bag that could be collected at the end of the ride, but only in the pursuit of research for this article.
I should point out that Sportive HQ's policy is come and ride a well organised sportive at a great value cost, but if you want to collect goodies like a medal or a VIP pack these are optional extras on top of the £35 entry fee. It's a good idea, allowing individuals to tailor their experience and pay only for the trimmings they actually want.

Unfortunately, the dreaded Covid pandemic hit: organisers and riders were stopped in their collective tracks until further, much further, notice.
Sportive HQ were straight on the ball with a message to all their subscribers offering refunds or simply holding your entry until such a time as when we could start pedalling the roads again, which is the option I chose.
Fast forward then to 17 July 2021 and it was game on, the ride was a goer. But, of course it wasn't quite as simple as that.
Once it was decided that the ride could go ahead the communication machine was set into gear and all riders were notified and told to keep an eye on your inbox for further updates.
Because of the type of restrictions that were in place the start process had to be reorganised, maximum of six riders in the start gate at a time with departures two minutes apart.
I don't live too far from the start venue so an 08:02 start time meant I didn't have to get up too early and had a steady drive to the venue. So, it was just a case of sitting back and waiting for the fully updated riders' manual - especially helpful as the online riders' manual was still showing the original start venue as opposed to the new venue we'd been alerted to.
It was at this time my riding buddy, Paul - the coach at our college rowing club - signed up for the same start time for his first 100 mile ride.
As the days ticked nearer to the event it became a bit of a concern waiting for the postal delivery of ride number and regularly checking emails for the latest news. Of course, my 'crisis' wasn't a panic at Sportive HQ because they had everything under control.
With less than a week to go, the ride number arrived and the day before the event, the finalised handbook was available online.
The handbook took on a new importance because of the rules that were required to comply with the Covid safety requirements required for such an event. Most of the requirements were expected, straightforward, and concentrated on the use of the provided hand sanitisers at the feed stations, use of a face covering if using the toilets at the stops, picking up any of the food options available, moving away from the tables, and maintaining social distances.
Unfortunately, tea and coffee would not be available at the stops but there would be plenty of water and, if you wanted to take advantage of the electrolyte powders that were on offer, these would be served by one of the volunteers at the stop.
Feeling the heat
So, finally, the day arrived and the bad weather we'd experienced up to the weekend had been blown away. A dry day was forecast with no significant wind, and the only real 'threat' was that it was going to be full sun. Little did we know that it was going to be listed as the hottest day of the year.
Part of the Covid requirements was that we even had times to arrive for parking, to reduce the amount of time that folk were hanging around before their individual start times. Paul and I duly arrived within a few minutes of our 07:32 parking time. Parking was plentiful and there was enough room to spread out a little.
Once the bikes were prepped, sun tan and chammy cream applied, it was a last call to the portable toilets before moving into the start pen - not forgetting to pick up a wonderful 'Lottie Shaw' flapjack, for the normal pre ride brief. This was delivered by Matt Porter, the CEO of Sportive HQ. It was a friendly brief with all the relevant requirements, details of the relevant coloured arrows to follow depending on which distance you were riding followed by 'have a good ride' - and finally we were off, after such a long wait.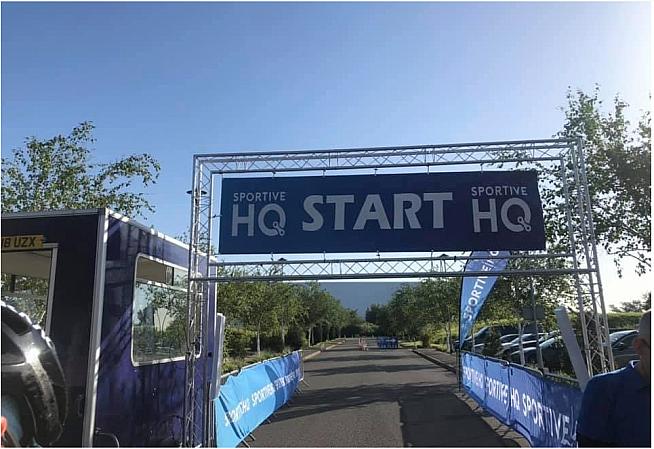 There were three course options on the day, ranging from the 20 mile short course to a 60 mile medium distance and the full 100+ mile route we'd signed up for.
Having looked at the details of the long route there were two feed stations, one at Holbeach St Marks, 48 miles in and the second one at Weston Hills at the 83 mile point. There was also a water stop at Holbeach St Johns at about 22 miles.
Setting out from Peterborough we headed, roughly, north west and the day was warming up,. The empty, flat country roads that we're both used to, living in the Fens, made for good and steady progress and it would have been easy to push a little harder but pacing was the order of the day, so far.
It seemed like no time at all before we arrived at the Holbeach St Johns water stop and took advantage of filling our bidons and the electrolyte powder that was offered. I'm not sure what make the electrolyte was but it was pleasant and sweet enough to keep us going.
At this point I should say a big, big thank you to the volunteers that support the riders at these events. It is great that they take up their day looking after us and even more so with the 'new' restrictions that need to be in place. An even bigger thank you must go to the lady at the water stop who would take note of how many people were using the toilets and, at a certain point, would ask for a hold on the visitors so that she could go and sanitise them for us. It takes a special person to spend their day doing that for the benefit of others and, although I didn't get your name, I thank you and can assure you that your time, effort and care was much appreciated.
Suitably topped up with fluids, Paul and I set off at our chosen, comfortable pace happily turning the pedals and chatting about 'stuff' but about the 30 mile point that all changed. As we were pootling along a train of about ten riders came past, committed to a through and off pace, and as the last rider went past Paul and I looked at each other gave an affirmative nod to each other and jumped on the back of the 'taxi'.
All of a sudden, our pace increased but we were saving energy with being such a group. The group, from a Milton Keynes cycling club, were great, they were ok with us being on the back and continued with their own ride whilst letting us take advantage of the situation. In no time, we passed several riders that had previously overtaken us and we simply told them to get on the back of us. It was great riding in such a bunch and the first feed station came up so much quicker and 'easier'; as we thanked the team they said they were not put out by the hangers on and quite happy to have assisted.
There was plenty on offer at the feed station, Tortilla wraps, homemade cake and the ubiquitous bananas, crisps nuts and fruit as well as plenty of water and the aforementioned electrolyte powders and everybody seemed to be doing their best to stick to the covid requirements. The day was certainly hotting up and, once again, the volunteers were working hard to keep us all going. I thank you.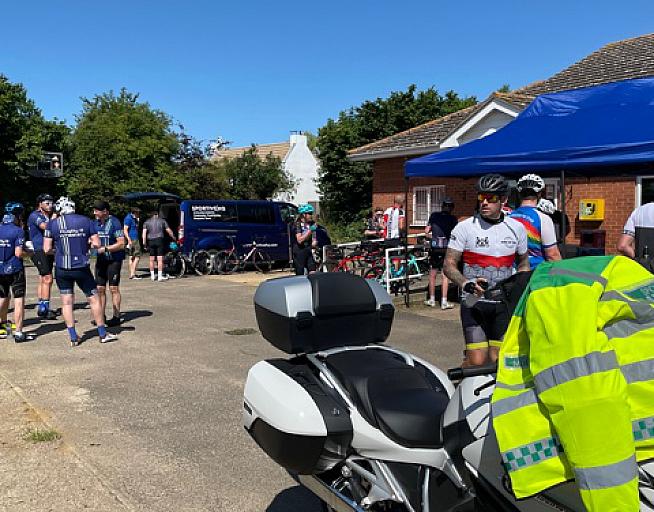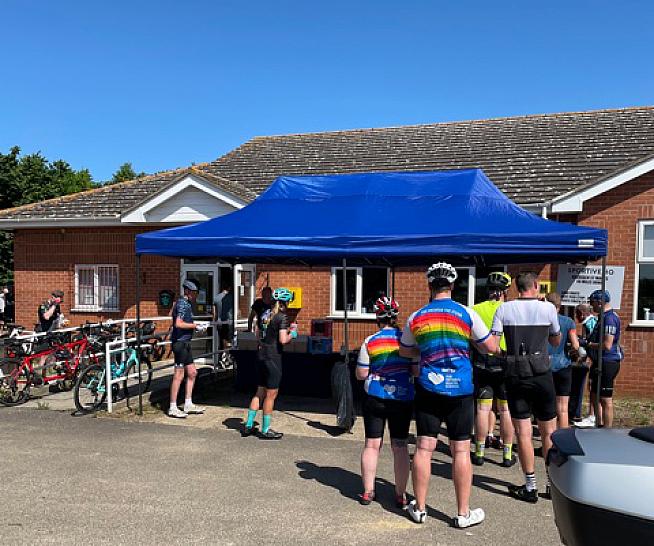 Both Paul and I agreed that we didn't want to spend too much time at the feed station, in an effort to minimise the effect of standing around once we got back on the bikes. After a short stop we decided it might be a good idea to get far enough down the road for the Milton Keynes guys and gals to catch up with us and 'coast us in to the last feed station at the 83 mile point.
We were going well, the day was getting even warmer, but eventually the MK team caught up with us and gave us a call to tag on once again. Unfortunately, neither of us could pick the pace up enough to join them so we had to admit some sort of defeat and watch them carry on without us.
By the time we reached the outskirts of Spalding we were ready for another feed and it was at this point we found the MK team at a stop, fortuitously, under a shaded part of the road due to one of the team having some sort of mechanical issue. We asked if they needed a hand, they said that all was under control and they ushered us on. Phew!
It wasn't too long before they came dashing past us again with some well appreciated banter between us all. It was also around this point that Paul declared that we had now reached the point of his previous longest ride, which was obviously about to change.
Once through the, seemingly, unusual road network of Spalding we met up with a couple of other riders with whom we shared drafting duties to take us into the final feed station. Here we could take on a little more home-made cake and bananas etc to keep us going through the next twenty miles or so to the finish point. We managed to have a chat with one of the MK cyclists and regaled a few stories of previous sportives before they jetted off in the direction of the finish, a great bunch of friendly people.
Paul and I jokingly told each other it was all downhill from here but bearing in mind it was a flat sportive and we were in the Fens that was, obviously, just a figure of speech. Fluids were now the order of the day. It was getting ever warmer, and we'd got to the point where it was a chore to try and eat anything solid. Fortunately, we'd both filled our pockets with Kendal mint cake bars and gels and from here on in that was the major part of the menu until we got through to the end. Because of the heat the bars had become soft and the gels very liquid but that seemed to help with getting them down.
In effect it was plain sailing, or pedalling, back to the HQ venue, although we did get a little concerned when we came to a weed-infested footbridge that had to be negotiated. It would be fair to say that we thought we were off track, but the route on Paul's Wahoo and the presence of the dayglo yellow direction arrow meant that we were in the right place. It was jungle-like coming over the bridge and the overgrown brambles tried their best to attack us but we were soon over and into the final throes of our ride. Before long we heading over the line, job done. Brill.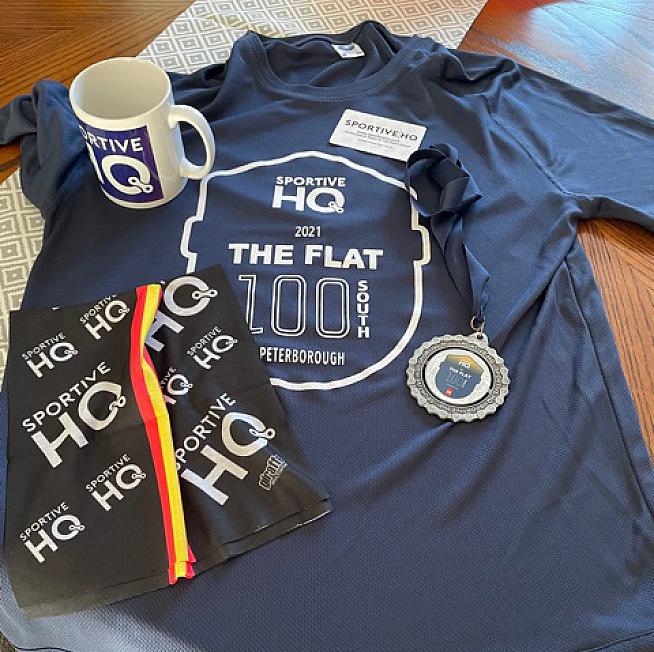 All that remained before I set off home was to pick up my 'goody bag', which contained a smart event T-shirt, a long length snood that will certainly come in handy during the winter months, and of course, my medal. I even splashed out with my emergency fiver to get a Sportive HQ mug.
The route was flat, as advertised. The roads were a little lumpy in places, which is usual for this part of the world, but quiet except for when going through the couple of towns that had to be negotiated. The route was well thought out and researched, pleasant and scenic. A joy to ride.
It was great to take part in a sportive after such a long lay-off, and it was made that much more successful because of the work the team at Sportive HQ must have had to go through to deliver the event under the present restraints. I doff my cap to you all for what you did to get through the hoops you did to get us there on the day, thank you one, and all.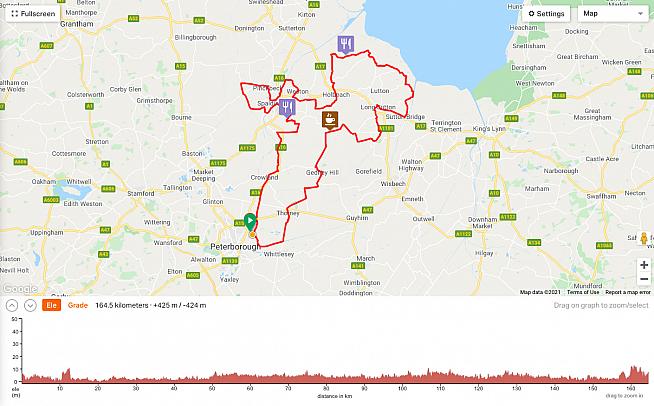 Paul was pleased that he had managed to get through his first century ride although the distance coupled with the unprecedented heat of the day didn't make it the most comfortable 100 miler, if there is such a thing.
We had suggested that, prior to the event; perhaps, we could make good progress and get in under six hours. On completion, our start to finish time was seven hours and one minute, but our riding time was six hours and seven minutes so we were both happy to settle for the latter. It just goes to show how much time you spend at the feed stations.
I enjoyed the day and have already started looking for my next Sportive HQ event. I've spotted one coming up in August, and once we have fully recovered from this ride I'll see if Paul is up for another century ride, although shorter distances are available. One thing for sure, I'll be visiting the Sportive HQ Flat 100 South again next year.
Thanks to Sportive HQ and all of their volunteers, and thanks to the Milton Keynes bunch for upping our average and a fair dose of en-route banter.
Happy days are here again.
Find out more about the Sportive HQ series at sportivehq.com.
0 Comments