The Glorious Gravel team have been busy during lockdown putting together a series of rides up and down the country for 2021. We sent Alex along on one of them to see how he'd cope.
Pictures: James Hedley jameshedley.com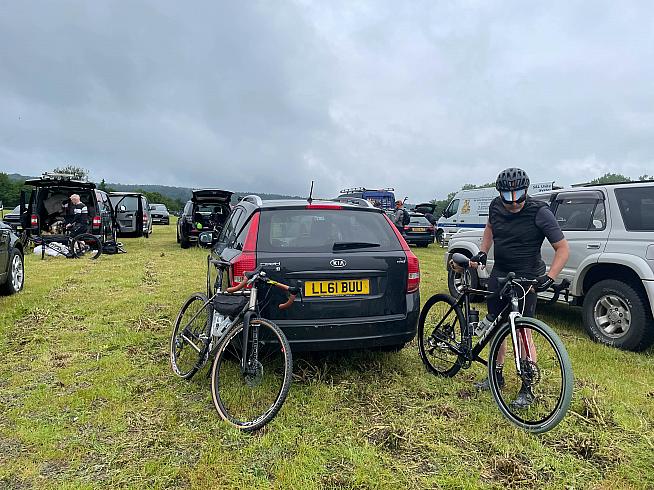 Mile 0: The Start
5:45 in the morning is a rubbish time to have to set an alarm clock. But, at 88 miles, the Leith-Hill - Brighton - Leith Hill gravel sportive is the longest single-day gravel ride of the year put on by the team at 'The Glorious Gravel' and over twice as far I've ever ridden off-road. With the prospect of a whole day's riding ahead of me, and a forecast of rain in the late afternoon, I opted for an early start time of 7:40am, which meant an early alarm.
On the drive up to Surrey, I picked up my friend James, who was joining me on the ride as the photographer. Thankfully he was more awake than me in the car and helpfully pointed out that in my sleepy state I had ignored the sat-nav's instructions to turn off the motorway. Turning up late was thankfully not really a problem as the organisers were keen for people not to linger at the start in an effort to minimise Covid risks.
Random thoughts ~ The last time I was in a field this early in the morning was Glastonbury 2000. Does this single green front tyre make my bike look like Pee-Wee Herman's cruiser?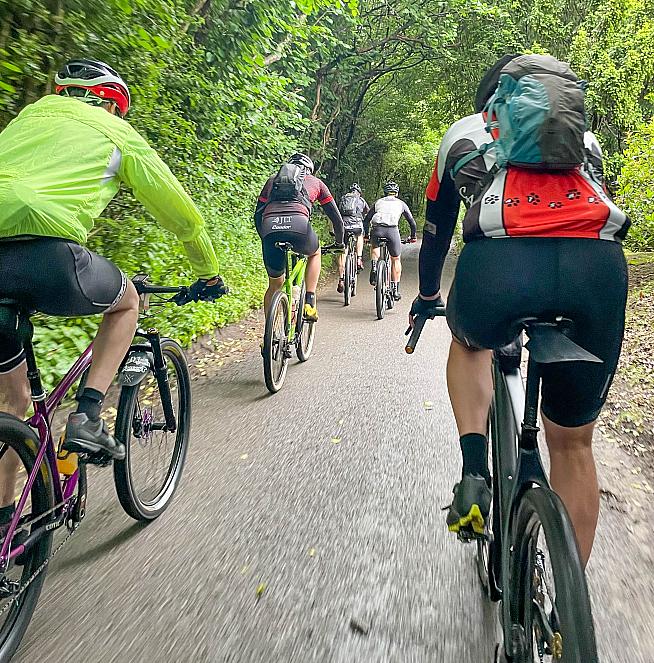 Mile 1: Fools Rush-ing
"Pace yourself."
"Eat little and often."
"Keep your powder dry."
Every rider has heard these sensible rules - but all would be ignored on the day at various times by my bastard inner-chimp. Here's the fresh legged group of strangers we tagged along with from the start. It's fair to say that we were all still in motorway driving mode as we razzed along on the hard gravel trails and slick roads that took us straight up and down Leith Hill at the start.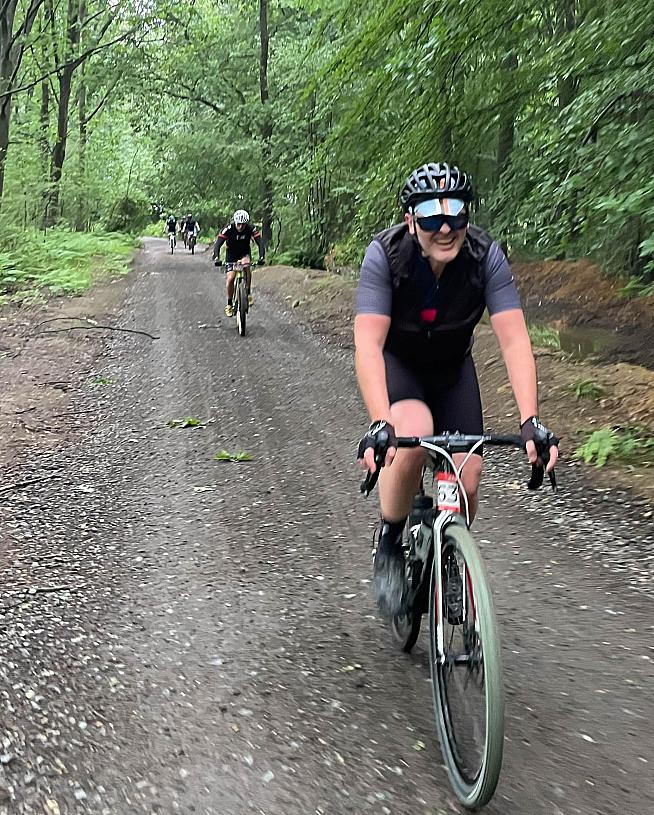 Mile 2: L-B-L? P.o.P!
The long descent off Leith Hill added momentum to the fast start.
Random thoughts ~ This gravel riding stuff is a piece of pee-pee. I'm incredibly awesome. That green tyre was a brilliant purchase.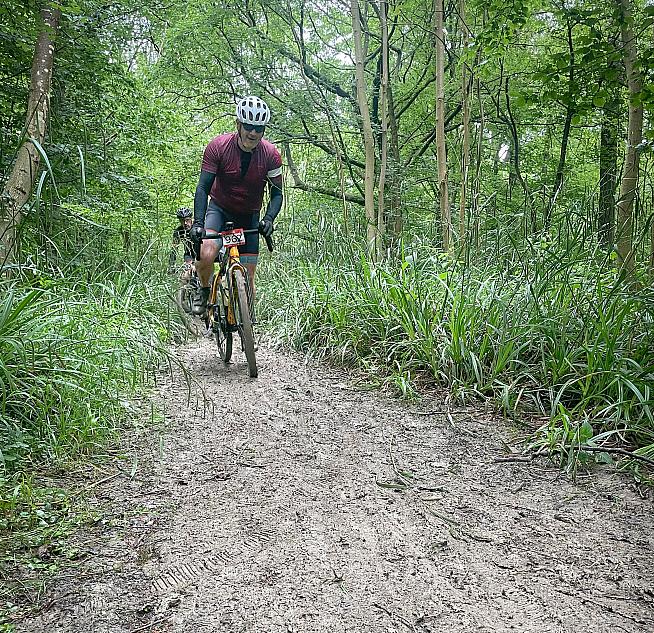 Mile 10: The Horror
Shortly before Ockley we entered an off-road section that took us onto woodland paths. The hard packed dirt trail had been soaked by two days of heavy rain in the week leading up to the ride. Although the surface remained fairly firm, it was coated with an inch thick mixture of slick mud and slip-like clay. The MTB riders who we'd passed in the early fast sections caught up and overtook many of the gravel bike riders here. If you had good bike-handling skills, or mud-specific tyres at the right pressure on your gravel bike you had a chance of riding this whole section...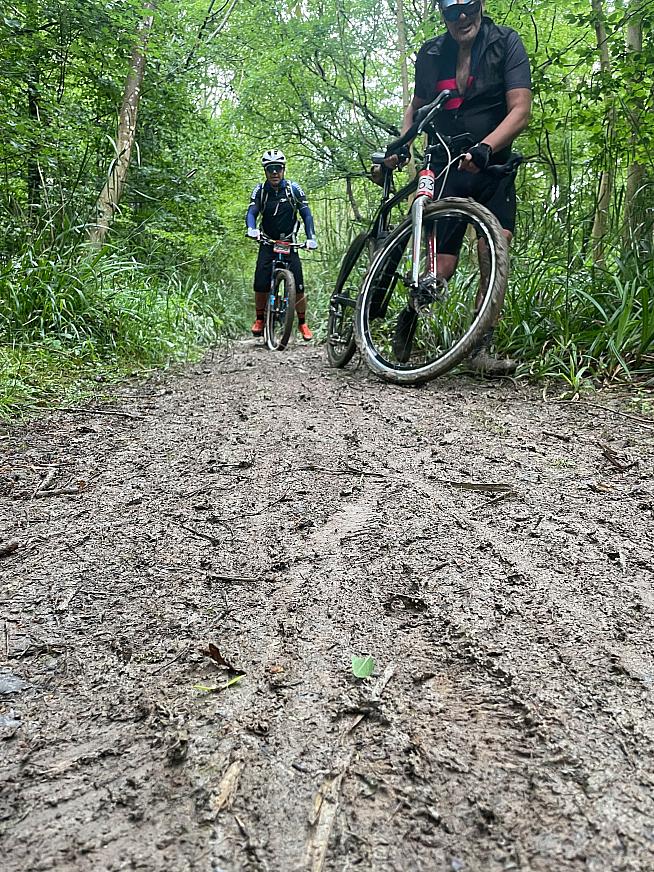 Mile 12: Knobbly Wobbly
...but if, like me, your mud riding skills are limited, the trail soon became un-rideable. Even when I tried to style it out 'CX-styley', with my left foot unclipped and dangling out for balance, I fell off twice in these woods, and took my first 'walk of shame' for the day. There would be many more.
Random thoughts ~ This gravel riding stuff is hard. I'm incredibly awful. That green tyre was a waste of money.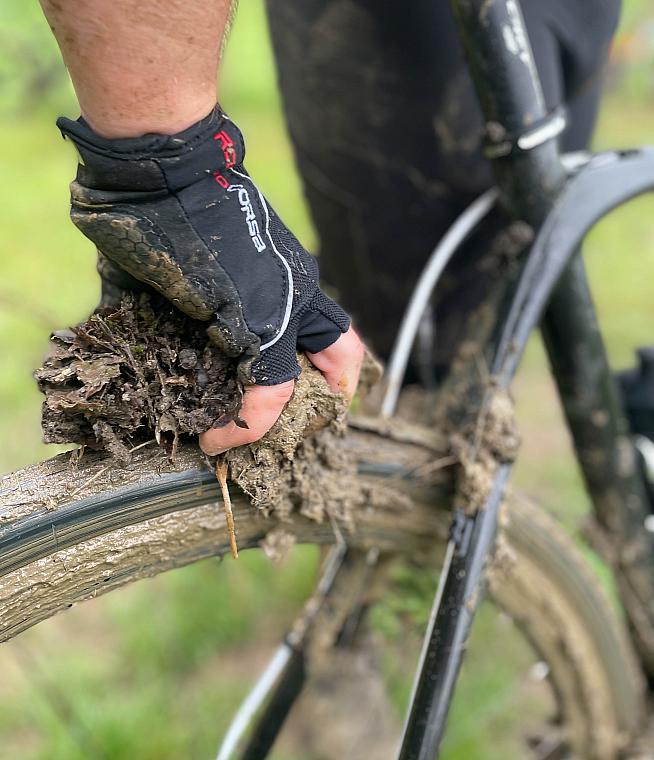 Mile 14: Two Tyred
I was riding 38mm Panaracer Gravelking SK at 40psi on the rear and a 43mm version at 35psi on the front - a green one...did I tell ya? These have a fairly knobbly tread that is ideal on the dry chalky trails that are embedded with flints on the South Downs where I usually ride - strong sidewalls, supple tred, grippy knobs, great tyres...usually.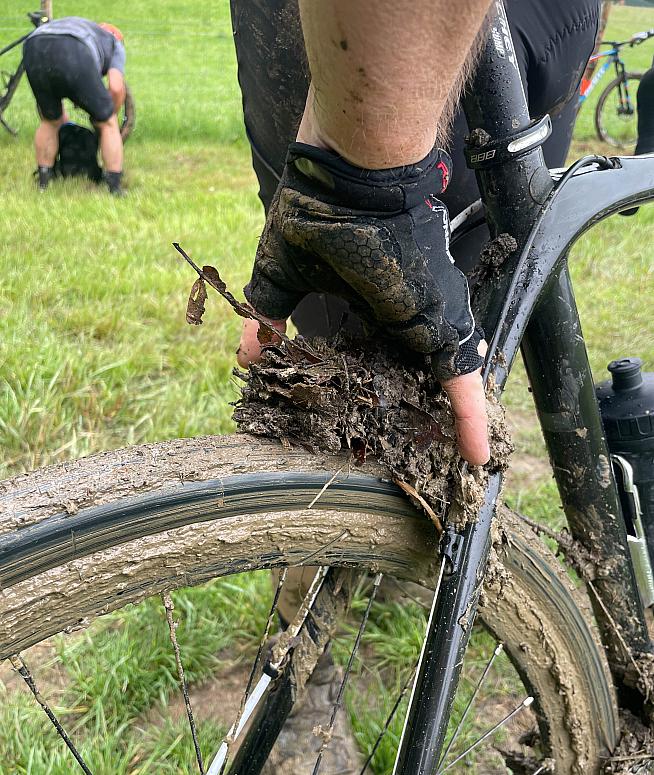 Mile 14: Handy Advice
When clearing crap off your tyres and frame by hand it's a good idea to thoroughly clean your hands afterwards by wiping them on a pre-packed wet-wipe (like the fella in the background), a patch of clean damp grass, or even...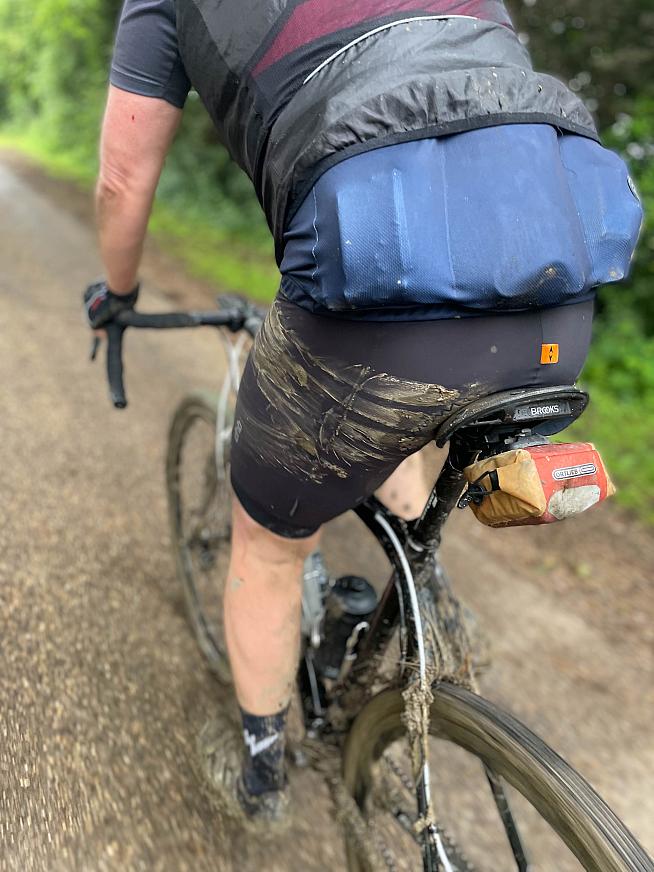 Mile 15: Does my bum look shit in this?
...the back of your bib-shorts. Yes, wiping mud off your hands onto the back of your bib-shorts is absolutely fine. It definitely won't make you look like a grubby, cacky-bottomed berk.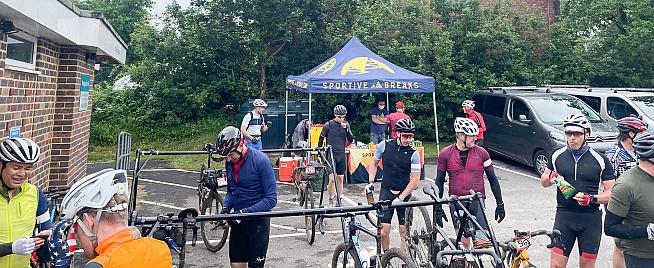 Mile 16: Refuelling and Recalibrating
The first feed-stop at Buck's Green came at the perfect time. The struggles in the mud had really slowed down our progress and taken its toll on my energy stores. I was slightly worried by how long it had taken to ride such a short distance. I really had no idea if there were more slippy, filthy sections ahead of us, as I hadn't really studied the route. Projected end-times were being hastily recalculated as I sat in the village hall carpark eating some crisps.
Random thoughts ~ On the longest day of the year, will I be home before dark? Are cheese and onion crisps isotonic? Is it OK to fill your pockets with expensive looking energy bars when you've been given a free ticket?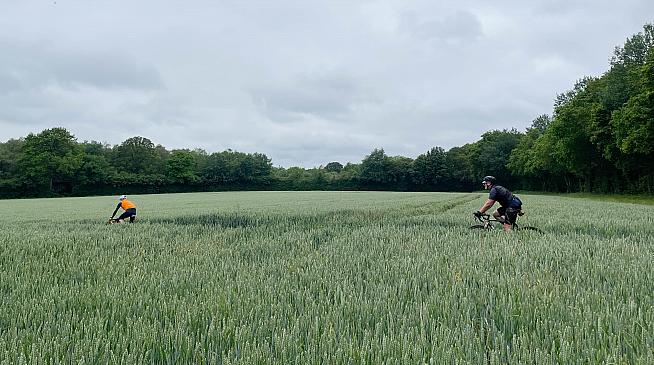 Mile 18: Field of (Day)Dreams
Thankfully, after the food stop, the route took us through the open Sussex Weald. Here the chalkier soil was drier and looser. The average speed headed up again as we passed between fields and along farm tracks.
Random thoughts ~ This is EXACTLY what it must have been like in 'nam if they'd had bicycles instead of helicopters. I wonder if the local residents of Wisborough Green have been infiltrated by the Viet Cong? I'm going to watch Deer Hunter again when I get home.
Shortly after leaving this field, whilst looking over my shoulder to see if James had caught up after taking this photo, I rode into a hedge and fell in some nettles.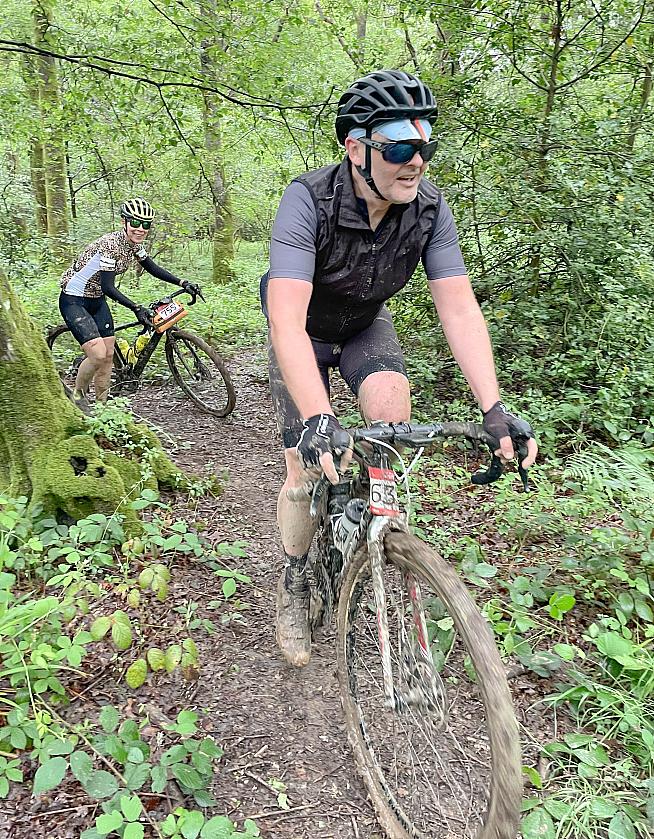 Mile 20: Random lady laughing at my cacky-bum
More woodland trails near Malham. Drier and more manageable.
Random thoughts ~ I am amazing for actually riding this section. God my legs are itchy.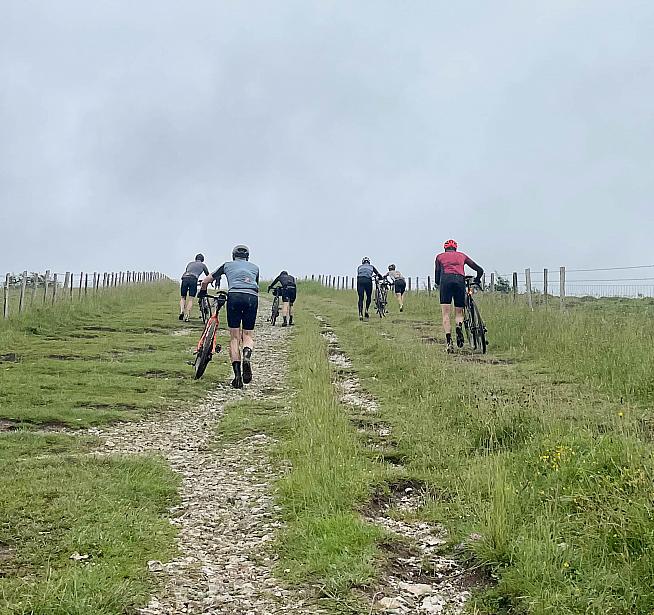 Mile 33: Hambuggered Hill
Ups on The Downs. The meanest climb on the route was at Amberley. Here the trail seemed to take the shortest, most vertical route up the escarpment onto The Downs. Loose flint and rain-carved gulleys in the chalk added to the challenge. I only saw a couple of mountain bikers spinning madly past the long line of dismounted riders who trudged along. The path levelled out briefly at High Titten, and we all remounted, before Rackham Hill, pictured above, forced everyone off their bikes again. No one seemed to be able to ride up this one.
Random thoughts ~ This is EXACTLY what it must be like on the Hillary Step on Everest...except on a bicycle rather than crampons. I have nerves of steel. I'm going to watch Touching the Void again when I get home.
Shortly after this picture was taken, out of courtesy to the walkers that we were sharing the path with, James rang his bicycle bell - ding-a-ling - which somehow caused a Pavlovian response in me. I fell off my bike for the fourth time and landed in another collection of bastard spiky plants.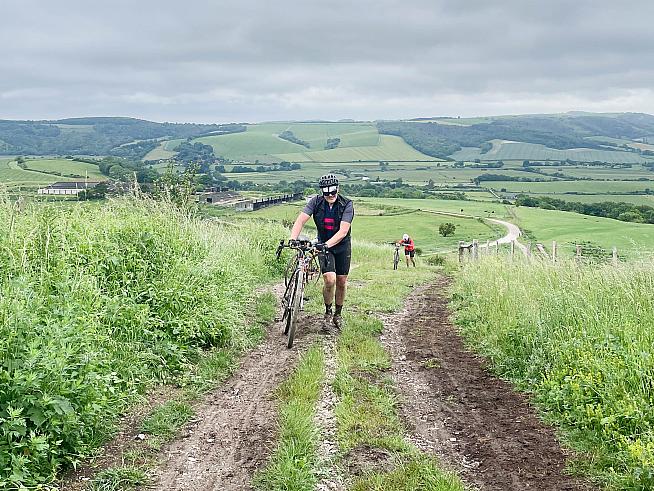 Mile 39: Ring of Fire
The longest, most relentless climb came after we briefly descended off the ridge at Washington. After crossing the road that runs through Findon Valley, the climb back onto The Downs up to Chanctonbury Ring would, under normal circumstances, be hard but ridable. These were not normal circumstances though. This hill broke me. My arse hurt and I was hungry. My legs were filthy, scratched, stung and worn out. James, who remained chipper throughout the day, seemed to manage this climb with ease and got yet another picture of me walking the bike up to the top. Whilst waiting for me, he had managed to post up two stories on Instagram and order a delivery curry online for his Saturday night in front of the telly.
Random thoughts ~ I hate cycling. I'm almost 50 years old. I'm sure 50 year olds didn't do stupid shit like this when I was a kid.
A few miles further along, after a fast descent helped me miss a turning, I slowed down to let a horse rider pass me and fell off for the fifth time of the day. Nettles again.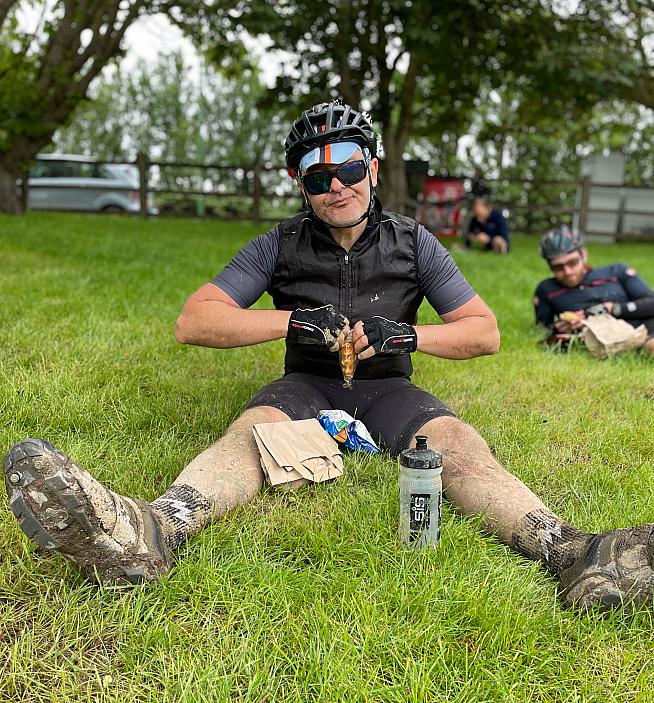 Mile 48: Home James?
A stunning section of The Downs that descended towards the sea, took us past an open valley of crops and into the outskirts of Lancing. We followed a sea-front path, shared with Saturday afternoon walkers, before skirting along the lagoon at Shoreham and back onto the main coast road. Here we stopped at the second feed station in a car park just along from Shoreham airport. We were a few miles along the coast from Brighton, where the River Adur meets the sea at Shoreham harbour, and just past the half-way point.
Random thoughts ~ I don't have the energy left to open this waffle wrapper. I feel sick. My house is about ten miles from here, but my car is parked in a field in Surrey. If I was winning at life I'd own a Tesla. I wonder if Teslas can drive themselves home?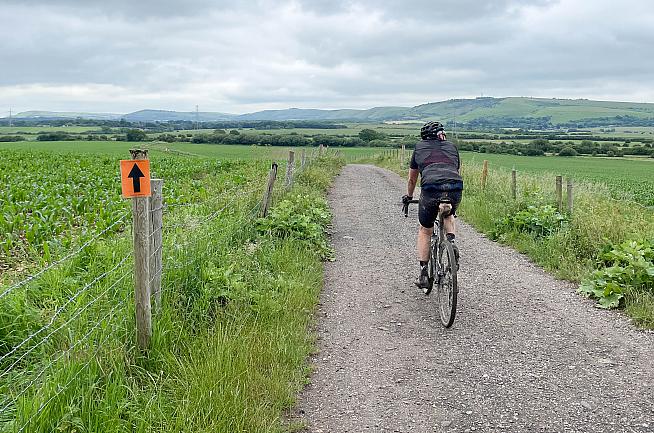 Mile 55: No roads lead to home
The start of the return leg on the Downs Link. A waffle, a sandwich, a bag of crisps, a coffee and a rest would lift the spirits of all but the weakest of souls. I am the weakest of souls.
Random thoughts ~ Is that my house I can see in the distance?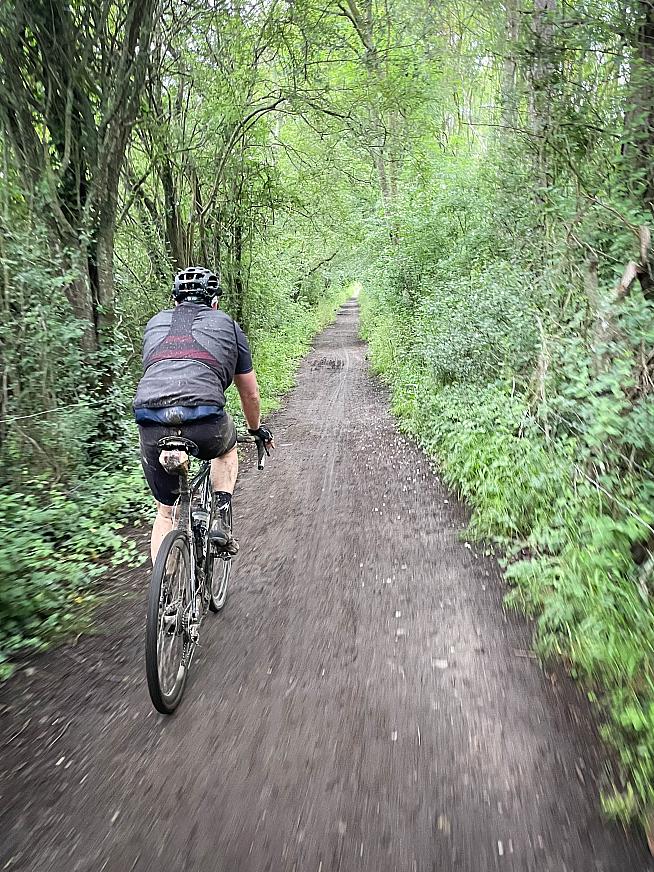 Mile 61: Easy Riding
We followed the Downs Link along a section I had never ridden before - through Bramber and past Steyning. Gorgeous countryside that was so near to roads I had ridden hundreds of times, but from new paths I saw its beauty with fresh eyes. My spirits rose.
After Partridge Green, the Downs Link seemed to sink down into the undergrowth where it followed an old railway line through West Grinstead. This section was straight, flat, fast and familiar to both of us. Whether it was the familiarity of the route, the shelter the tunnel of trees gave us from the wind, or the magnetic attraction of the third and final feed-stop at Buck's Green, we made fairly good time here. I started feeling sick though at this point, but couldn't face eating anything.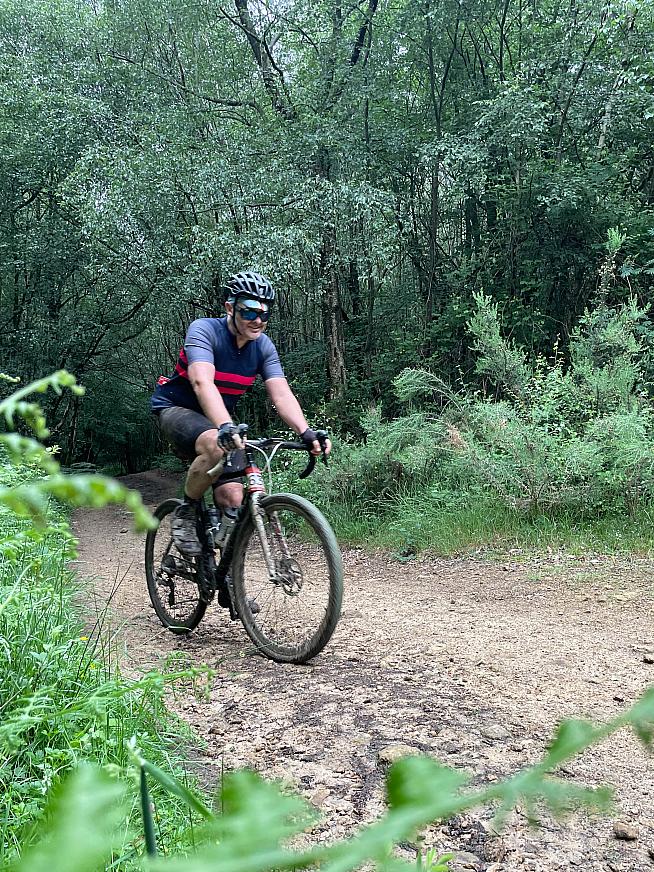 Mile 73: Coke is it
The geniuses at Glorious Gravel who stocked up the final feed-station know that when your body is running on fumes there is one thing that is guaranteed to hit the spot without making you puke - Coke-a-fricking-cockledoo-dah-doo-Cola!
Random thoughts ~ Ronaldo is a nobber. Water is for fish. Drinking full-fat Coke really is the schnizzle.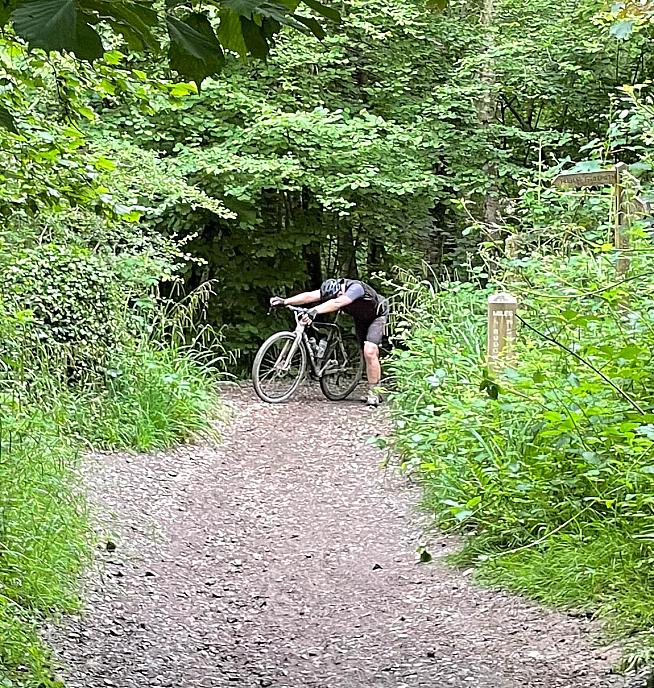 Mile 74: Coke is shit
A mile or so later we were back in the Surrey Hills, the trails headed upwards again, and my Coke-fuelled flight-of-fancy came crashing back to Earth. Things were getting painfully tantric at this point. I just wanted it all to end.
Random thoughts ~ I've got Coke burps. I can taste those cheese and onion crisps again. I hope James doesn't get a picture of me spewing.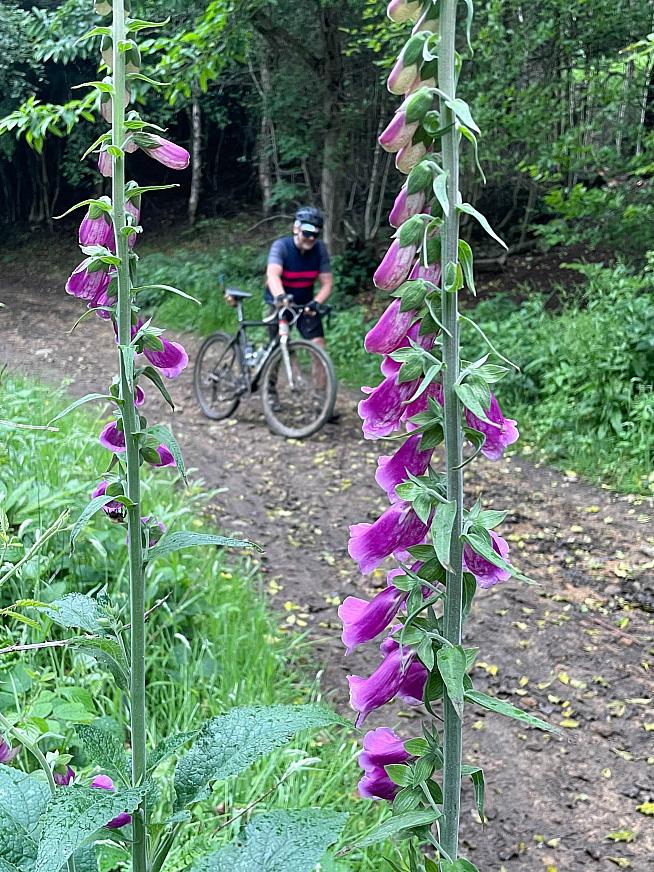 Mile 83: Pretty / Knackered
The woods in the Surrey Hills are truly beautiful. Really, they are. But it's hard to enjoy the scenery when you're empty and your legs are shot. It was at this point that I thought I'd zoom out of the detailed Wahoo map view I was using, to see if I could see how far there was left to ride. Beep- Zoom. Beep - Zoom. Beep - Zoom. Beep -Zoom. Four times I pressed the 'Zoom out' button on the Wahoo, but the little squiggly black line I'd been following all day still stretched from the bottom of the screen to the top.
Random thoughts ~ I think those flowers are laughing at me. I wonder if it's OK to have a quick nap in the undergrowth? At least the hilly bits aren't that muddy.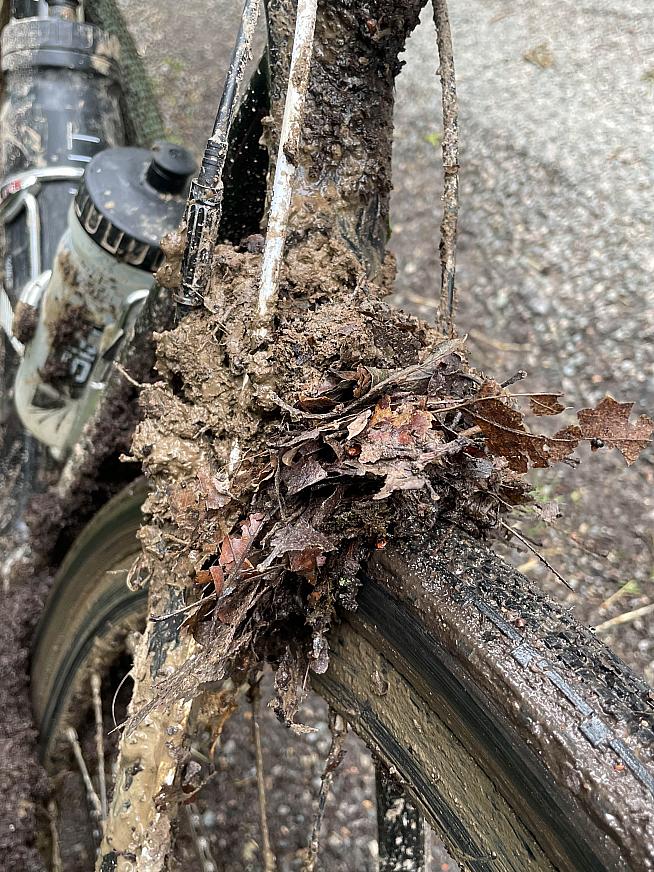 Mile 84: Leave me here James
The mud was back...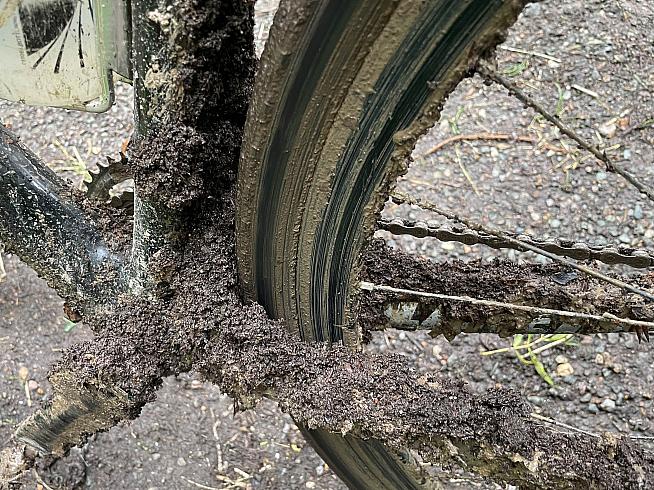 Mile 84: Loamward Bound
Not the gloopy, slippy, clay infused mud I'd struggled through earlier. This mud was sandy and loose, but still managed to mould itself around my tyres and bottom bracket. On the gentlest of inclines it made my tired legs feel as though I was mashing on the turbo on the maximum resistance setting. Except with a cheese and onion vom vibe in my mouth.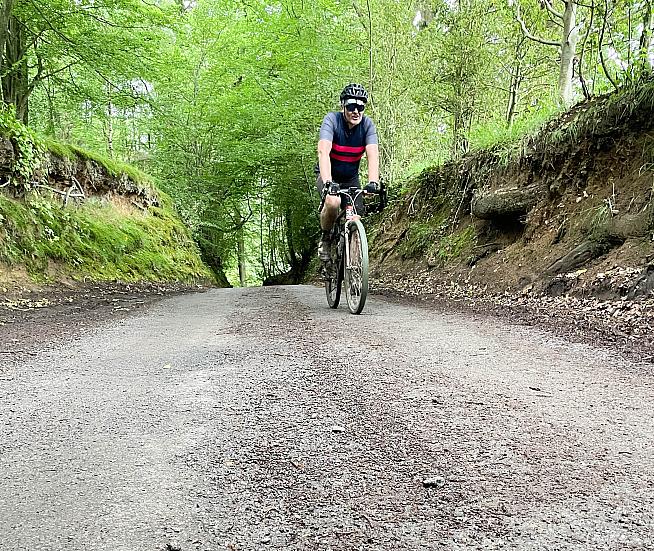 Mile 87.9: No? Yes!
And then something odd happened on my Wahoo. The little squiggly black line that I'd been faithfully following all day suddenly ended in the middle of the screen. The black cloud that had hung over me since my Coke-gasm had faded, finally lifted. That one final hill was "There! Just ahead!"; then "Here! Right here!"; and finally, "There! Just behind me!"
The black line on the Wahoo straigtened and shortened as we descended, before turning into a little chequered dot. We turned right. It ended.
Random thoughts ~ This gravel riding stuff is a piece of pee-pee. I'm incredibly awesome. That green tyre was a brilliant purchase.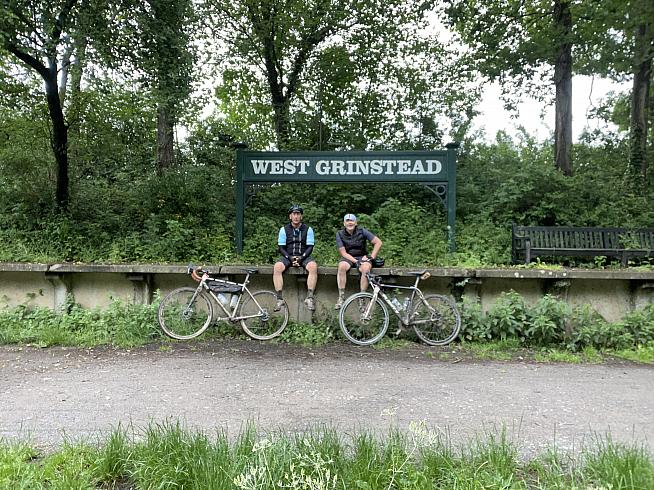 Postscript
In total we rode 88.34 miles and climbed 5,292 feet in a moving time of 7 hours 52 minutes. We spent 1 hour 40 minutes not moving, or moving so slowly that my Wahoo wasn't interested in recording it. I took one wrong turn on the drive home, but James got back in time for his curry.
I fell asleep on the sofa that evening watching a re-run of Count Arthur Strong.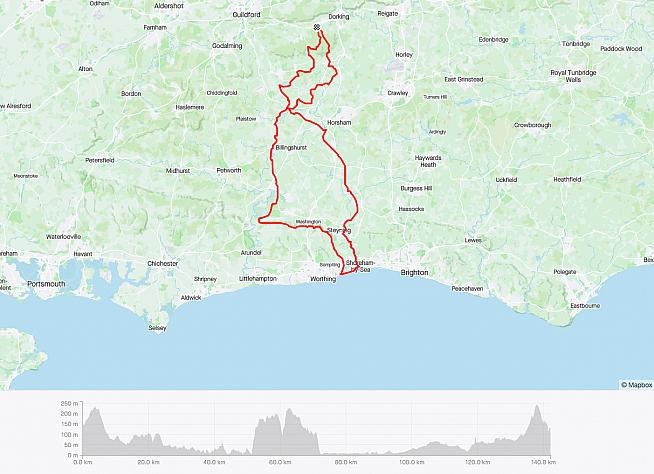 Thank you to the LBL organiser 'Glorious Gravel' for devising a wonderfully challenging event over an ever-changing range of off-road surfaces. Pre-ride emails were informative and clear, feed stations were well stocked and well located, and staff were friendly and supportive.
Kudos for the fact that the route had to be hastily adapted the day before the ride, after two days of torrential rain made certain sections impassable. Despite this last-minute change, the signposting throughout was faultless, as were the GPX files.
Chapeau to Phil and all the team at Glorious Gravel, I'll be back. I'll still be crap, but I'll be back.
Check out upcoming Glorious Gravel sportives at gloriousgravel.com.
0 Comments