As we brush the dust of 2020's smoking ruins from our collective shoulder, let's take one quick look back at the year's final challenge: the Rapha Festive 500.
I'm sure you've heard of the Festive 500, Rapha's annual challenge to ride 500km in the eight days between Christmas Eve and new year.
Think of it as Rapha's seasonal foray into BDSM cosplay, as the Walmart Santa strips off his Sportwool outfit to reveal a pleather skinsuit and orders you to ride - or feel the sting of his carbon-fibre handled flogger.
Oh yeah, Rapha. Totally dominating that pre-holiday retail window.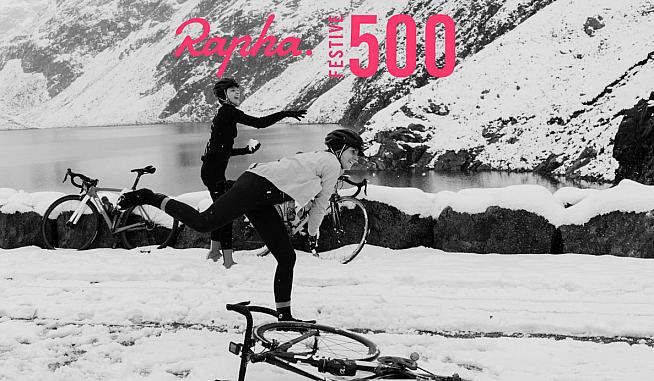 I find it impossible to hear Festive 500 without imagining sarcastic air quotes - because really, what's so festive about it?
Admittedly I've only skim-read A Christmas Carol and I might have missed the bit where Bob Cratchit heads out for a 20-hour solo ride in the snow and misses his family dinner. But for me, it's an oxymoron at best; the Strava equivalent of a passive-aggressive note on the fridge suggesting you maybe put down the turkey sandwich and f*ck off outside for some exercise, mmkay?
This Christmas, in a gracious nod to the times we're in, Rapha allowed indoor rides to count towards the challenge. To balance this act of cheer they did away with the roundel rewards of Christmases past; a genuine blow to suckers like me who'd risk life and limb on icy roads for a shot at a small woven badge.
Still though, the endorsement of indoor/virtual miles brought the challenge within reach/removed one more excuse depending on your point of view. In this new normal it's nice to know that even if we can't travel outside our local area, there's no law against guilt tripping.
Anyway, enough of the snark; I do actually enter the Festive 500 each year. I even managed to complete it once, albeit back in 2014 when my only dependants had whiskers and were happy with a bowl of tuna-flavoured biscuits for Christmas dinner.
I went into this year's edition with more optimism than usual. It's a lot easier to bash out a few hours on the turbo trainer with a plate of stollen and pot of coffee on hand, I figured - but to be on the safe side I also entered the Anti-Festive 500, in the shape of the Festive F*ck All.
As we reported back in December, the Festive F-A is a riposte to Rapha from PVS Events, who clearly resent being glut-shamed by lycra dealers even more than I do. That or they're a sock puppet for the powerful Stilton lobby (aka Big Cheese).
Either way, I hedged my bets attracted by the promise of a badge reward.
And, at risk of ruining your day with a spoiler: reader, I completed it - the Festive 500 that is.
Unlike most other reporters, I didn't casually bash it out in a single ride. Predictably the majority of the miles were accumulated on the indoor trainer, plugged into Zwift, often after midnight and a few glasses of festive cheer to the good.
I'm not proud.
But, in another way, I am proud. Yes, indoor miles are easier - especially in the sunlit uplands of Zwift, where the watts-to-speed exchange rate is artificially inflated. Think of Watopia as the cycling equivalent of a Brexiteer's post-EU fantasy land, where less effort magically brings in greater reward. (If you ride at midnight like I did, you'll even find plenty of "foreigners" from Canada and the US eager to dole out kudos, if not trade deals, as you creak past.)
The fact is, even on a turbo trainer, even in Watopia, 500km still takes effort and discipline, is still an achievement. And in 2020, we have to grab whatever scant solace we can.
So maybe I was wrong about the Festive 500. After all, no one's forcing you to join in. Maybe the internationalists at Rapha deserve credit for creating a sense of community and camaraderie among cyclists the world over?
In the spirit of the season, let's give them the benefit of the doubt. Merry Christmas Rapha, and thanks for the motivation.
The only snag of course is that I totally failed to complete the Festive F*ck All - the badge for which arrived in yesterday's post.
Still, there's always the rest of the year to earn it.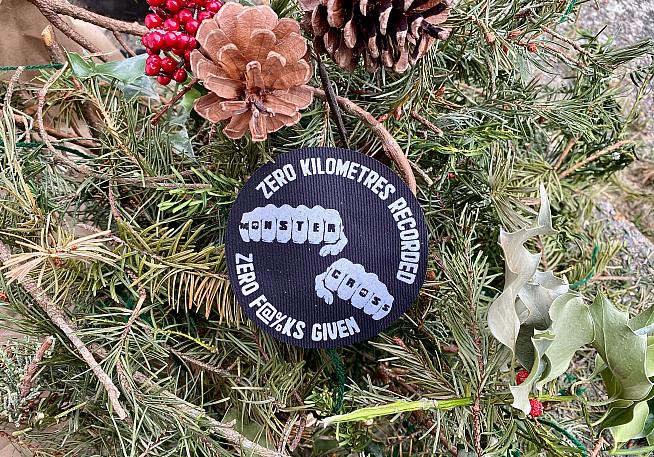 How to complete the Festive 500
(With minimal disruption to your hectic festive eating schedule)
Wondering how to complete 500km in 8 days? The Rapha Festive 500 is a tricky challenge, especially if you have to fit it in around seasonal stuff like seeing family and friends while not catching/spreading a dangerous virus.
But if you break it down into manageable daily rides, it's well within reach. Here's how our 2020 attempt went.
Day 1 - Putting down a deposit
The challenge starts on Christmas Eve, and I kick off with an outdoor ride.
I choose a relatively flat loop, half of it on a cycle lane running alongside a dual carriageway used for local time trials. The weather is pleasant - cold but bright and dry - and I keep the distance moderate to save me some legs for the rest of the week.
There is a slight ethical dilemma in that my route briefly crosses the border from Northern Ireland into the Republic, possibly stretching the spirit if not the letter of Covid restrictions. I pass the time working out a variety of justifications/excuses as I ride:
I've not actually stopped or set foot in Ireland, so am I technically here or merely passing through Irish airspace?
I've stayed local (within a 10-mile radius of home) at all times
I'm riding solo and haven't interacted with anyone for the duration of my visit
I have an Irish passport but no fixed abode in the state, so legally I am "at home" anywhere in Ireland?
Thankfully I don't meet any authorities on my fleeting incursion.
Day 2 - Rest Day
With 83km in the bank, I take Christmas day off. Following the science - or at least the mathematics - I work out I can complete the challenge with a further six rides of 70km.
Day 3 - Ticket to Zwift
Boxing Day arrives, and I hop onto the turbo trainer early to get my daily target ticked off. I've been using a Wahoo KICKR Core for the past year (highly recommended if you can find one), mostly with the Sufferfest training program (also excellent).
A typical Sufferfest session for me accrues about 25km in an hour, mixing different intensity levels to maximum effect. It's easily the best way I've found to rapidly improve fitness with minimal time investment.
For knocking out the big kms though, Zwift seems a better bet - so I reactivate my lapsed subscription, and head off to Watopia in search of the flattest virtual terrain known to humanity.
The Beach Island Loop seems to fit the bill, and sure enough a steady 2 hours and 2 minutes later another 70km are safely stashed in my Strava sack.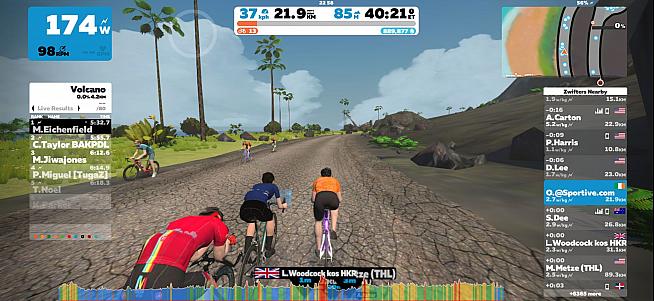 Here's the thing though; my average speed on this "ride" is 34.5 km/h, achieved with an average power of 166W.
While that's all very pleasing, it's pure fantasy. On my Christmas eve ride outdoors I averaged almost identical power - 168W - for an average speed of 27 km/h. In other words, Zwift is handing me a 25% speed gain over real-world cycling.
Some of this could be attributed to drafting in Zwift, but I wasn't riding in a group so any advantage would be negligible. A bit of googling turns up an interesting explanation from Zwift Insider. Essentially, it seems Zwift's in-game physics are tuned to provide the optimum conditions possible; it assumes perfectly smooth tarmac, no wind, and a near-perfect aero position for the rider.
This slightly eases my conscience. But efficient as Zwift is, it's still frickin' dull cranking out two hours on a turbo.
So the next day, 27 December, I'm back on the roads - this time in the company of a riding buddy, Lenny.
Day 4: Keeping it real
Ride 3 turns out to be a decent advert for indoor riding. 20 minutes in Lenny gets a flat, so we stop to replace the tube. It starts to rain. He's forgotten to bring a spare so I give him mine, but I've only a road tube which is not ideal on his wide gravel tyres.
Also not ideal: leaving the offending thorn in the tyre, albeit blunted with a pair of tweezers. Anyway, it's raining, we're cold: off we roll.
We pace it along the dual carriageway, then skirt through town and back along the shores of the lough for a brief loop into the Cooley mountains. Riding into the wind, with freezing rain in our faces, is bracing - I'm not missing Zwift.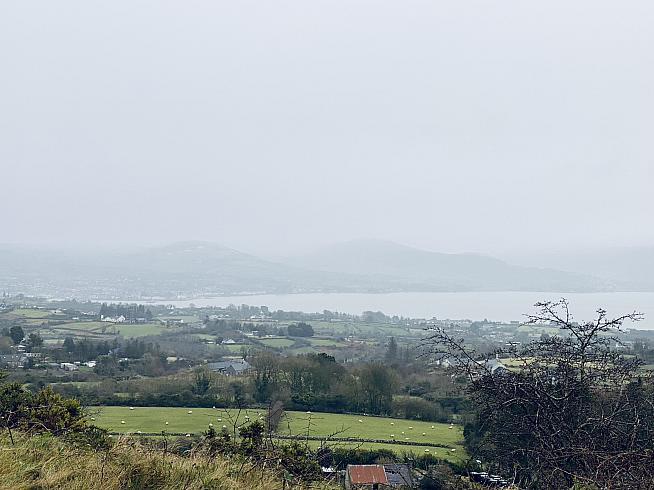 But, up in the mountains, as we turn for home at the 35km mark, I realise my EPS battery has gone flat. I'm stuck in one gear - luckily enough, a decent one for the mostly downhill and flat route home.
Two minutes later, the spare tube I've given Lenny fails.
With no means of repair, we call in a lift. Our location is a bit remote so we begin to make our way back to a bigger road, Lenny on foot while I soft-pedal beside him. Trudging along a misty mountain road in cold and wet gear, it's a grim half hour.
Lenny's rescue van appears. I'm tempted to hop in myself but I need those km. I tuck into a steady effort home, the wind behind me.
Final score: 70km in 3 hours, and a massive pile of soaking, filthy kit for the laundry basket.
Day 5: Return to Watopia
While my kit is drying and EPS battery recharging, I hop onto the turbo trainer. By this point my daily absences are starting to be commented on. I know better than to try to explain about the Festive 500 Challenge; discretion is required and I resign myself to 40km on the bike.
Thanks to Zwift's flattering physics (and an even flatter route, "Tempus Fugit") the distance is completed in an hour and five minutes - but it leaves me with 30km to make up later in the week.
Day 6: Playing catch-up
29 December. 280km to ride in three days. Daytime distractions - and my turn to put the kids to bed - mean it's gone 10pm before I'm able to get on the bike.
A couple of glasses of wine at dinner make for a lethargic start, but soon I'm spinning around the Beach Island Loop again with what seems to be a mostly Canadian cohort of riders for company.
Shortly after midnight a message pops up on my phone: it's a terse op-ed piece from my wife, focusing on that hottest of topics, "the state of our kitchen", so I pause and head downstairs.
It's the first time loading the dishwasher has come as a welcome relief from cycling, but highlights the drawback of using your phone while training. New year's resolution is to get Zwift hooked up to a TV in my study.
I get back on the bike and crank out another hour to bring up the 100km. Showering at 1:30am I'm pleased at progress, entirely oblivious to the insanity of it all.
Day 7: Video games
Another day goes by in a slo-mo blur of slobbing around the house, airing the kids in the park, and taking the edge off a day entirely without edges with a couple of drinks at dinner.
This time it's after 11pm by the time I fire up Zwift, but I know the drill. I head for the Watopian desert, and this time manage to fall in with one of Zwift's virtual pace setters. I'm not exactly sure what pace is being set, but there's a big group of us and we seem to be cracking along at 40km/h.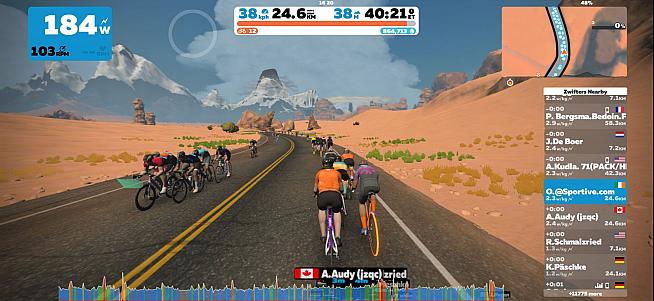 I guess a lot of my fellow riders are, like me, stacking kms for the Festive 500: conditions are ideal and the 70km is ticked off in well under 2hrs. My average power is just 158W.
Tumbling into bed, I muse if this is how dopers must feel. Fall into a deep satisfied sleep.
Day 8: Completion
It's new year's eve, the last day of the challenge. After consecutive late nights in a virtual universe, I'm ready to face reality again.
The weather's not great but I tog up and strike out to complete the challenge IRL. 10km in and my new resolution is to fit mudguards in 2021.
There's ice in the verges and as I head into the mountains I make mental note of a couple of frozen streams across the road I'll be descending on the return loop.
I take extra care on the way down - this really isn't the time to be visiting the local A&E - and it's a relief to be back on the salted and gritted main road home.
Back at the house the victory ceremony involves skulking in the front door, quickly hiding the filthy bike and showering as quickly as possible to resume family duties.
Ex Duris Gloria, says the Rapha motto: "Honour Through Suffering".
Well, sure... but here's hoping the next year brings a little less duris and a little more gloria to you all. Roll on 2021.
0 Comments