Here's the second part of our Cycle Show roundup, taking a look at some of the kit that caught our eye at September's show at the NEC in Birmgham.
Check out Part 1 featuring Cinelli, Ribble, Campagnolo, Bianchi, HED, Goldhawk, Knog and more, here: Cycle Show 2019: Part 1.
RPM90 Cycling Adventures
I finished Part 1 in search of coffee. I managed even better than that, scoring not just a latté but also a catch up with Sportive.com contributor Olly.
It's always a pleasure to meet Olly and hear what he's been up to, because he seems to be involved in about fifty different cycling projects at once. He was at the show to help out on the Cubania stand (they offer cycling tours in Cuba) but he's also a photographer, cycling guide, film maker, writer and more so his skills are in high demand.
As he was showing me his latest film - a trailer for cycling travel company RPM90 Cycling Adventures - who should wander over to the coffee stand but Nick, the man behind the RPM90. Uncanny.
Nick and a couple of his crew joined us for a chat, and it turned out I'd bumped into one of the guys before on a local ride.
RPM90 offer a range of bikepacking adventures, everything from the famous Tuscany Strade Bianchi to less frequented but equally stunning trails across Europe. They're just back from a recce trip to Slovakia which, based on their Insta feed, will be a cracker.
You can find out more about RPM90's tours here: rpm90.com.
Kinesis
Continuing the Sussex theme, my next stop was the sprawling ghetto of brands under the umbrella of distributors Upgrade Bikes.
The Kinesis Tripster is a proven long-distance adventurer, with design input from the late, great Mike Hall. I love this neon colourway: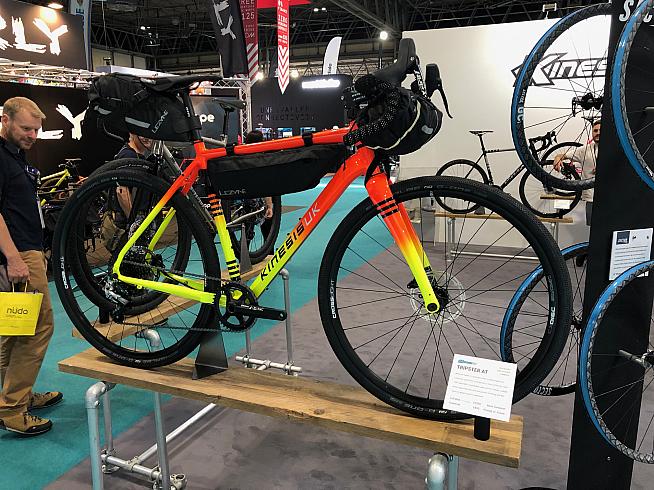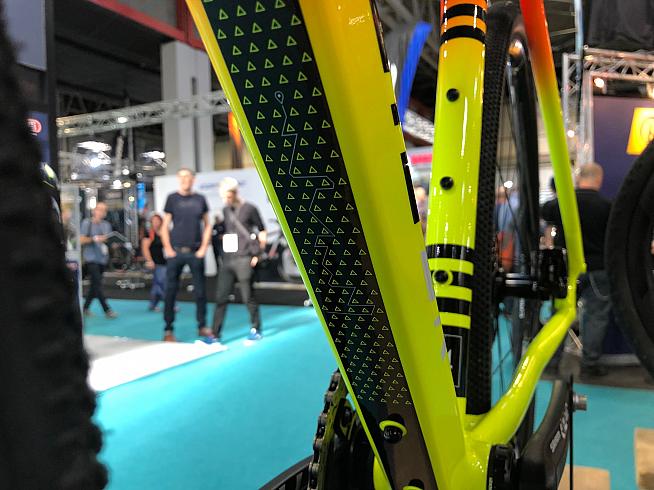 For winter, or in fact as a multipurpose, all-year ride, the 4S also looks to be a a contender. With internal cabling, thru-axles, disc brakes and a dazzling coat of gloss paint, the lightweight alloy frameset is priced £750 and allows for a range of builds.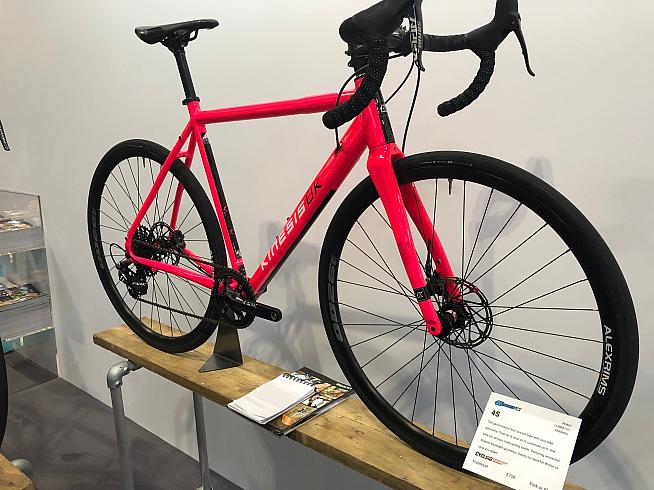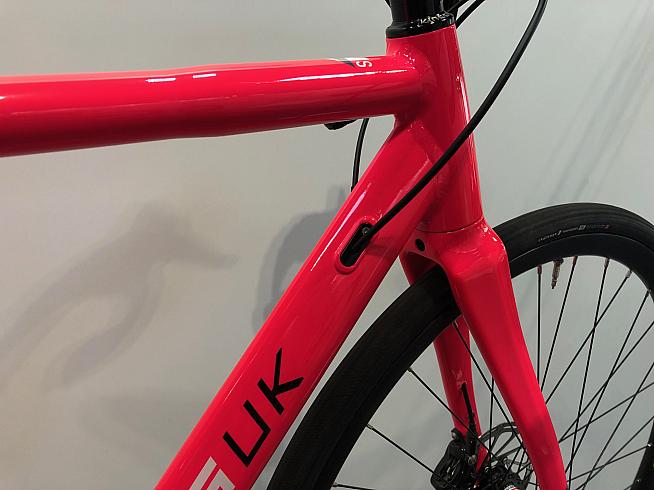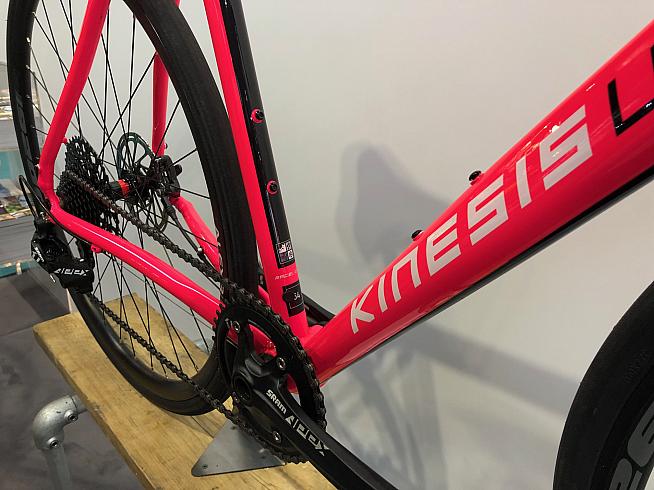 I also got a peek at Kinesis's brand-new electrified mountain bicycle, the Rise E-Trail Hardtail. It's hard to do justice to the sparklefest paint finish in a photo, but check out the removeable Fazua Evation drive system: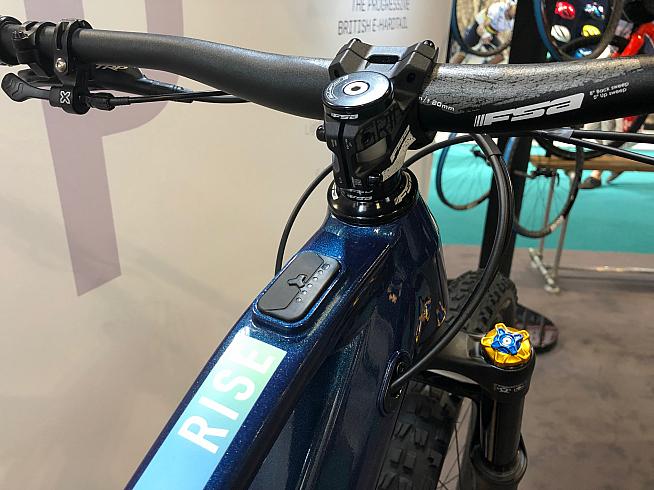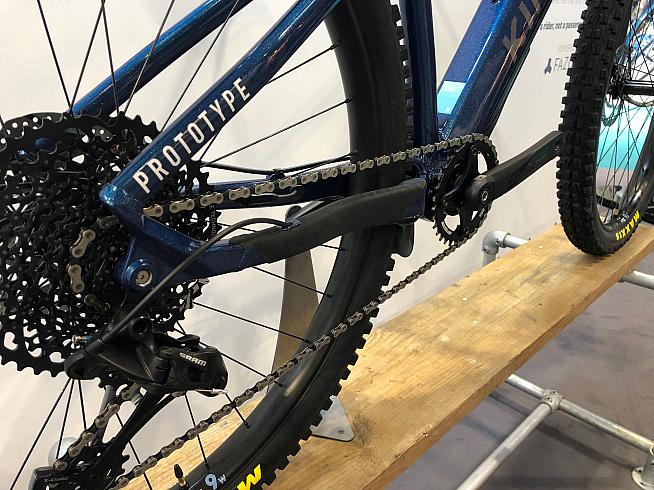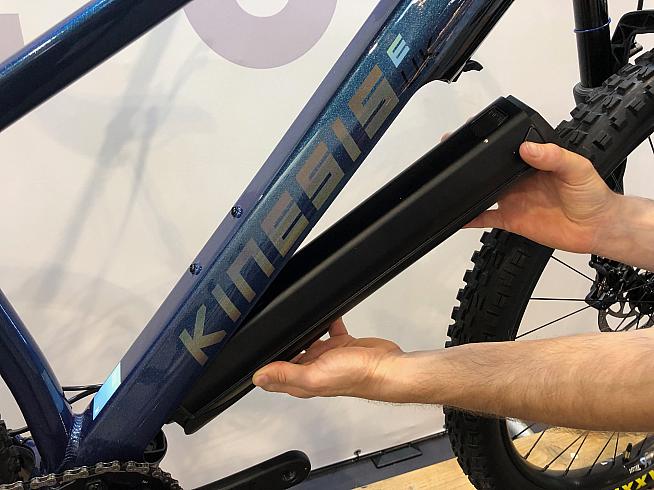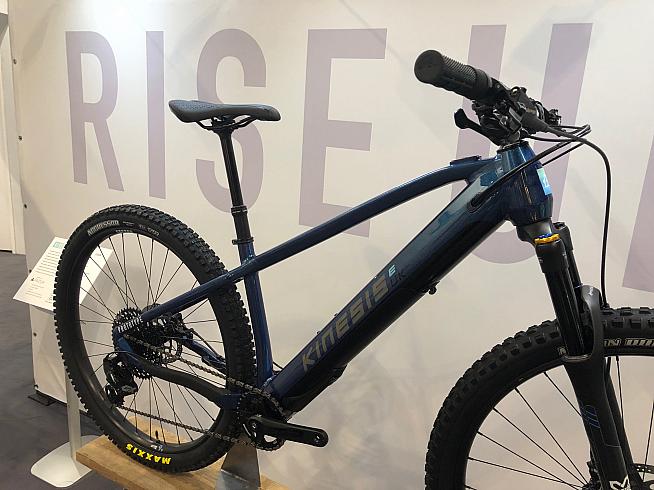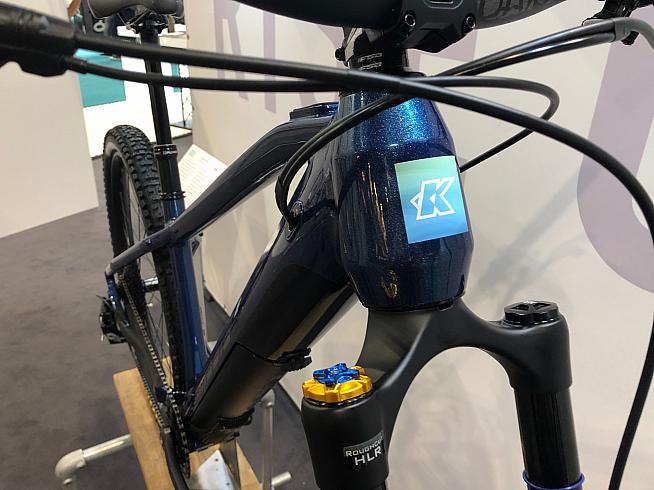 The battery slots into the downtube and can be easily removed if you want to ride without power. A blanking plate fits over the recess, turning your eMTB back into its human-powered form - and shaving 2.8kg off the weight in the process.
At 18.8kg it's a total monster by road bike standards, but pretty lightweight for an alloy e-bike with suspension fork. Not exactly the sort of thing you'd turn up to a sportive on, but pretty seductive for mud mavens in search of an extra kick.
Praxis Zayante Chainset with 4iiii Power Meter
Crank-based power meter anyone? £500 for this Praxis chainset with 4iiii power meter sounds competitive. It's got ANT+ and Bluetooth connectivity to relay data to your head unit.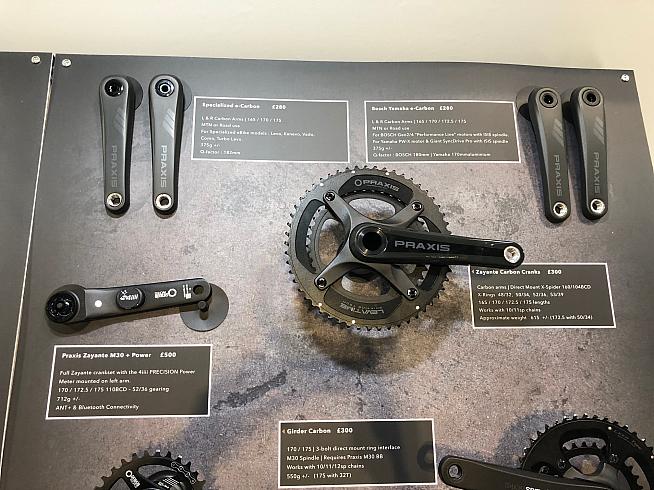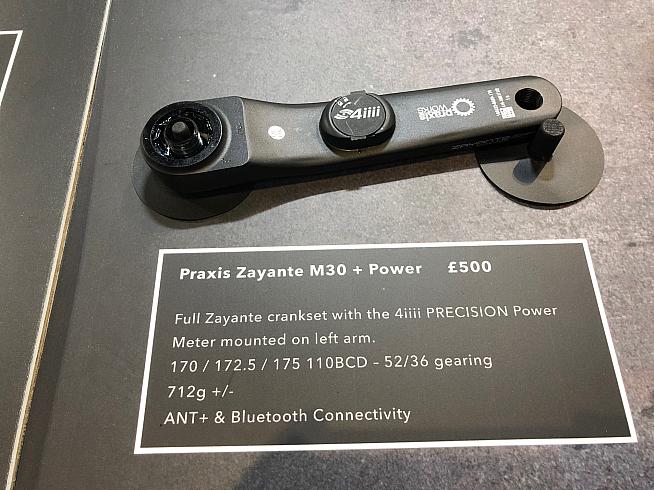 Sector GCi Carbon Wheels
New from Upgrade are these unusual looking carbon wheels. The wide weave includes a material called Innegra which is said to increase compliance and strength. The rims are 38mm deep, which provides some aero advantage, but they're also designed to cope with off-road riding.
RRP is £1100 for a wheelset, £450 for the rim.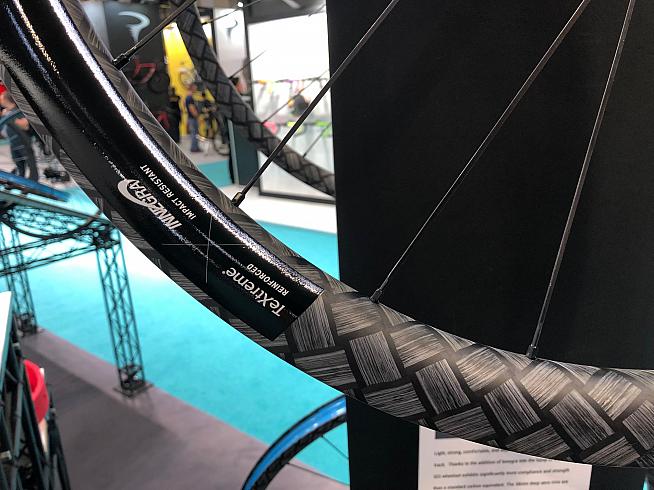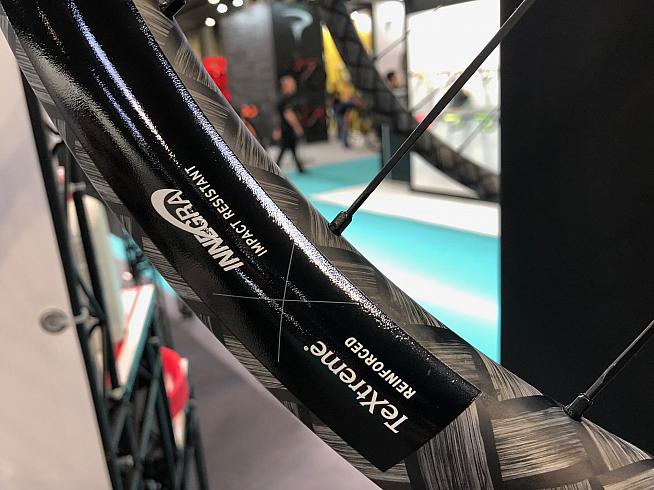 Challenge Tyres go tubeless
We're curently testing a set of Challenge's lovely handmade Paris Roubaix clinchers, but the Italian brand have somewhat stolen our thunder by launching a tubeless ready (TLR) version of the same tyre: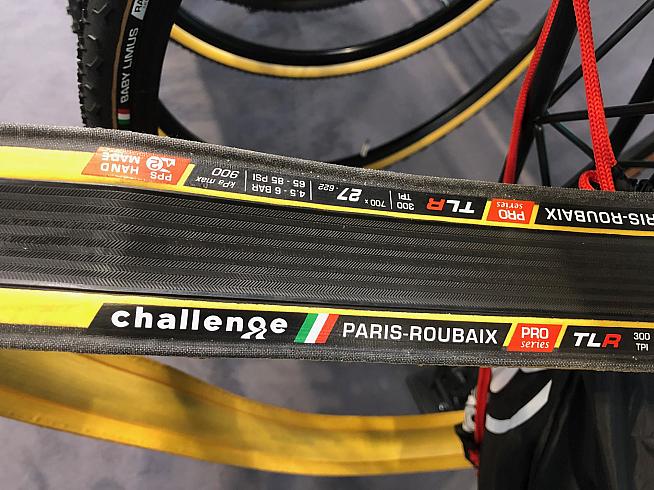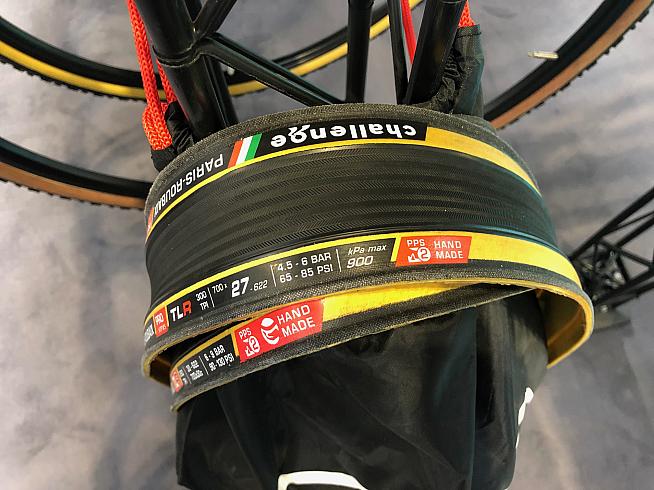 I'm a big fan of the clinchers, but they have suffered a few punctures over the test period. The option to run the same tyre, but tubeless would be tempting.
The jury may still be out on tubeless for road use, but it's cyclocross season now; Challenge's highly regarded Limus, Grifo and Chicane 'cross tyres are also available tubeless, although only in vulcanised 33mm form as far as I can tell.
While that may restrict appeal to the racing set, Challenge's new Gravel Grinder tyre is both handmade and available in a wider 36mm size. Even better, it comes with tan sidewalls: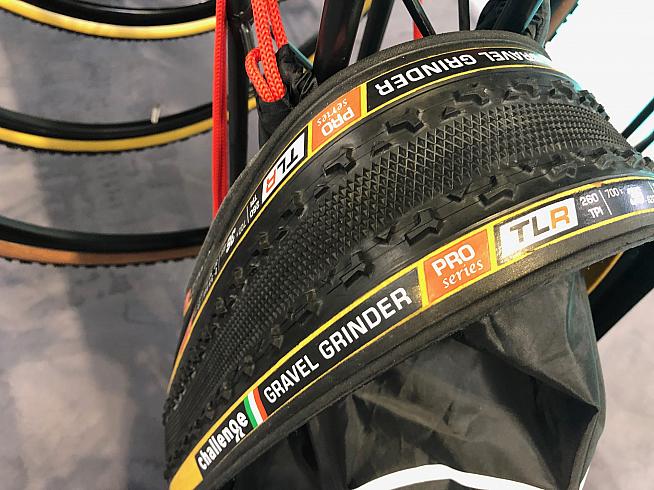 Challenge's gravel tyres now also come with a latex liner fused to the casing, a feature Challenge have catchily described as Handmade Tubeless Tubulars (HTLTU).
If "tubeless tubulars" and an overdose of acronyms are sending your brain into a tailspin, the key takeaway is that the new tyres offer the improved feel and low tyre pressures of a tubular, but with the added ability to plug punctures too big for sealant to repair.
Speaking of tyre plugs...
Effetto Mariposa
I had a brief spell running tubular tyres last summer, and initial setup was a piece of cake thanks to Effetto Mariposa's tubular tape. The niche they occupy may not be the sexiest in the world of cycling, but when it comes to sticking tyres to rims or filling tyres with sticky goop, they have it covered.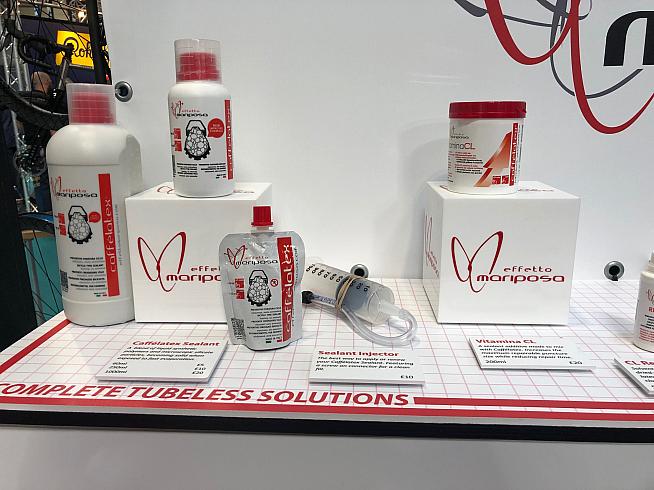 For holes that sealant can't handle, these tyre plugs look a nifty solution. They fit neatly into your bar ends, in place of standard plugs: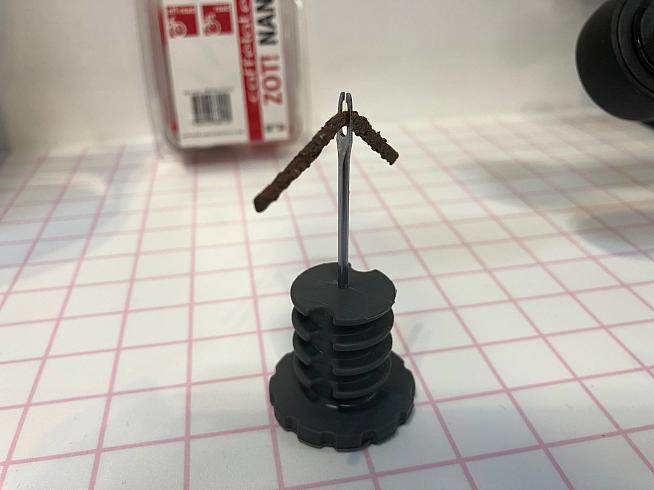 Of course, prevention is better than cure. And Effetto Mariposa have come up with the Tyre Invader, a foam insert designed to help minimise the risk of punctures in the first place: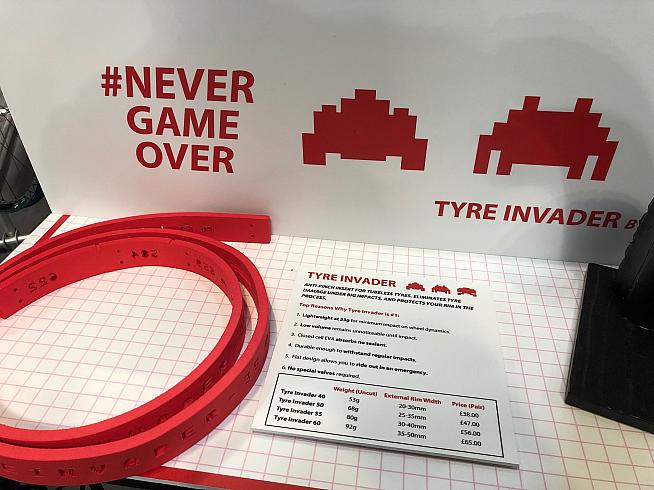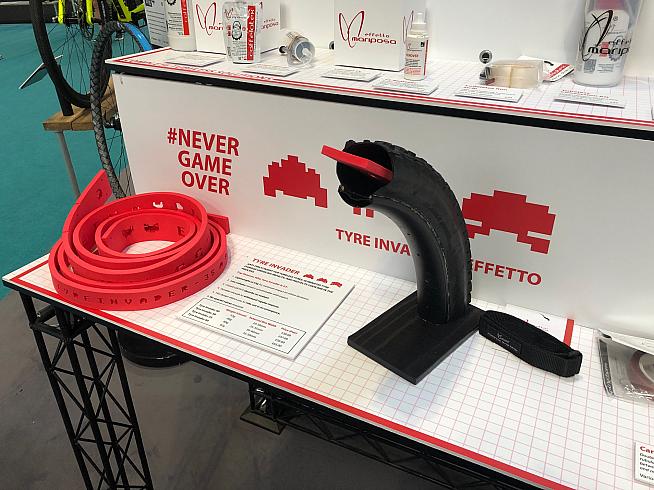 I'd be keen to know how this affects ride feel, but the ability to ride on a flat tyre might make any compromise worthwhile for racers.
Lezyne
Another brand with a fond place in my toolbox, Lezyne occupied a sizeable chunk of Upgrade's floorspace with a wide array of pumps, lights and sundry goodies.
The Flow Storage Cage (£55) is a neat idea, making use of the dead space under your bottle cage to store a multitool, CO2 head and patch kit and two CO2 cannisters.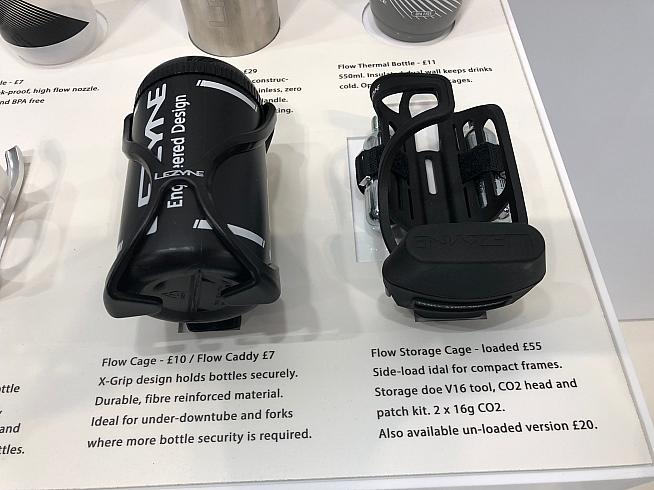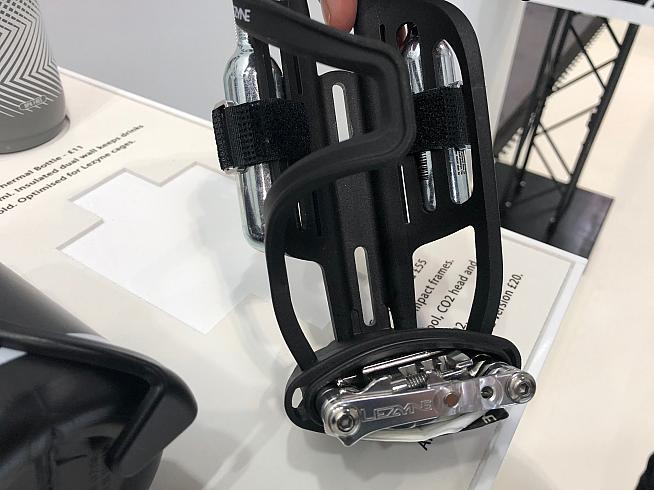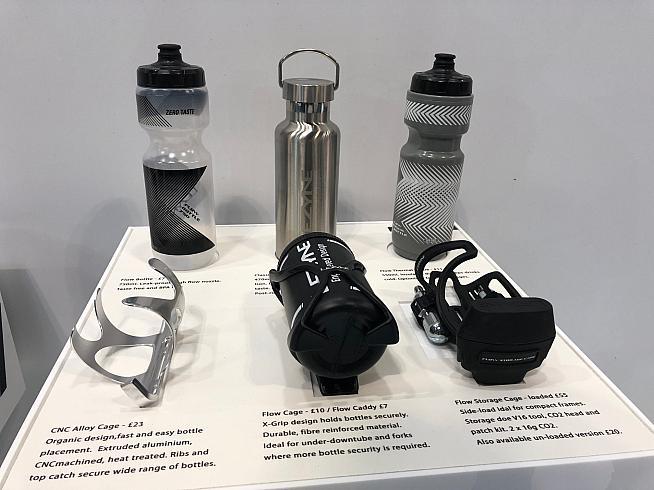 How about some winter lights? Packing enough lumens to cook an omelette at 50 paces, the Mega Drive 1800i (£150) is designed for serious night riding and adventures beyond reach of street lighting. An optional remote switch (£14) lets you dim the lights out of mercy towards oncoming traffic.
If 1800 lumens sounds like overkill (which it certainly is for most urban riding) you can run this headlight in lower modes - or, take a look at the Femto USB (15 lumens), the KTV Drive 200 or KTV Drive 10 which are as bright as their names imply.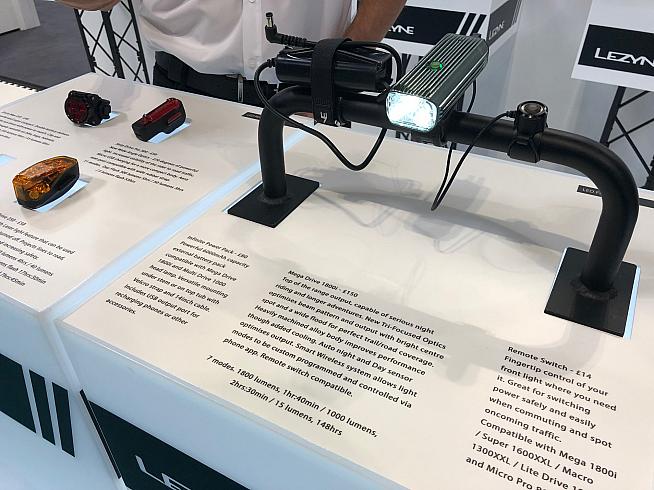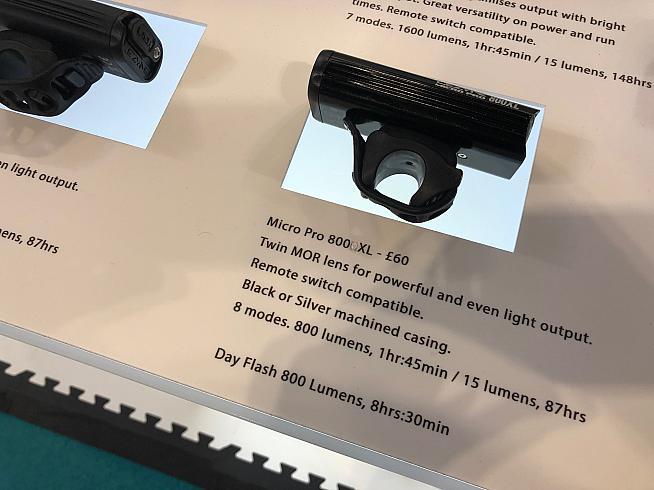 To summarise, Lezyne offer a wide range of lights to suit all needs and budgets...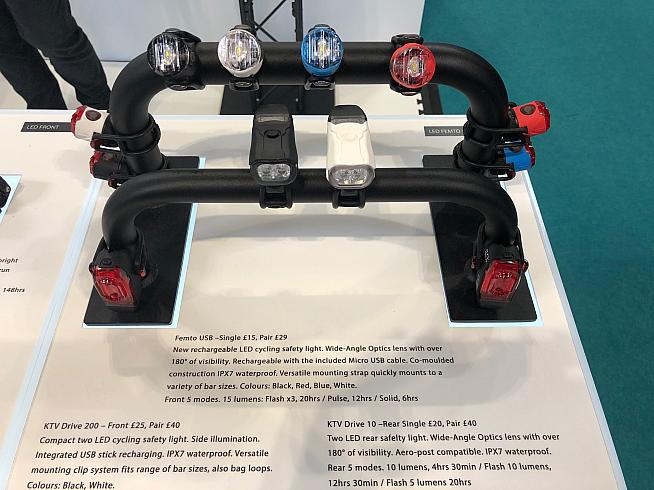 A dazzling array, indeed.
Pumps are another of Lezyne's strong suits, as many cyclists already know. What fewer people know is that some of the floor pump heads have a secret feature - a valve core remover is built into the reverse side: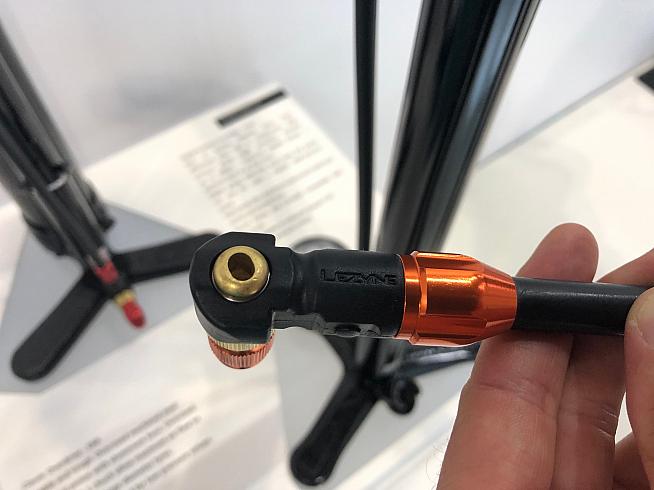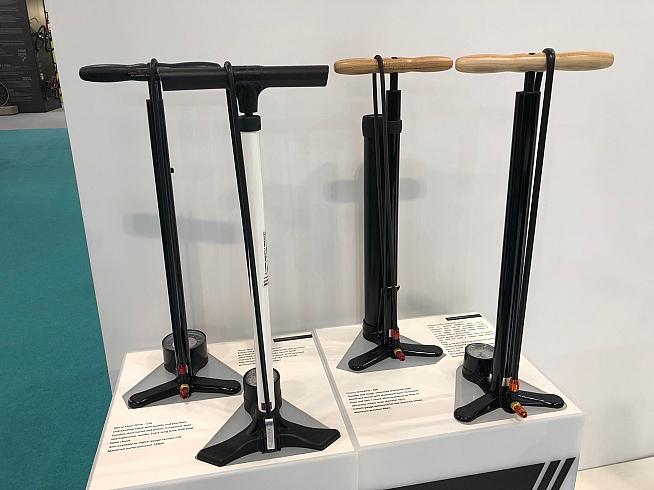 If you've ever inadvertently removed a valve core after repairing a puncture (as happened to me on the Trans Alba Race; an extremely deflating feeling at dusk on a remote Scottish roadside) you will appreciate what a stroke of genius this is.
Lezyne have ways of dealing with punctures, too. A genuinely impressive range.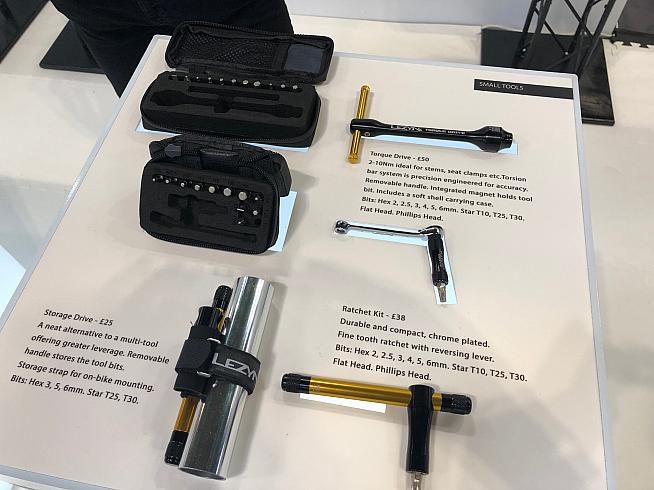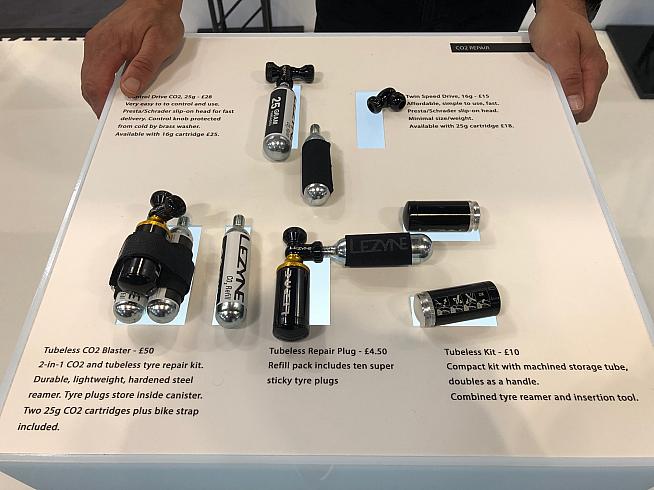 GT Grade, HEXR Helmets, Cannondale SuperSix Evo, Argon Gallium
With time running out to catch my train, I had to drag myself away from the Upgrade stand (with a parting glance at some Ritchey SuperLogic handlebar loveliness). Here's a quick sweep of random photos snapped on my dash to the exit.
Until next year, Cycle Show... bye!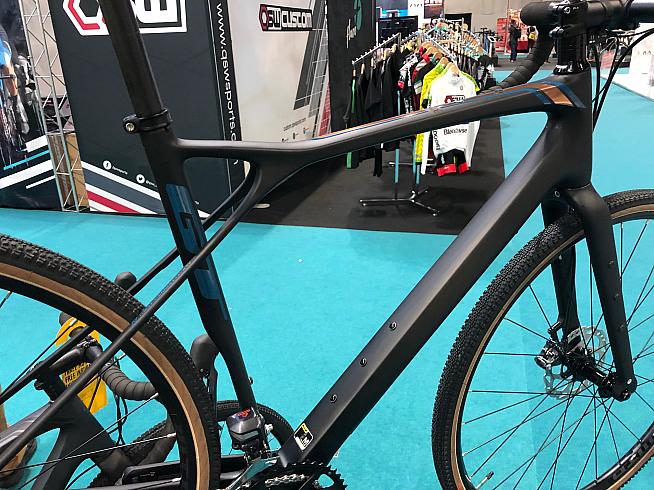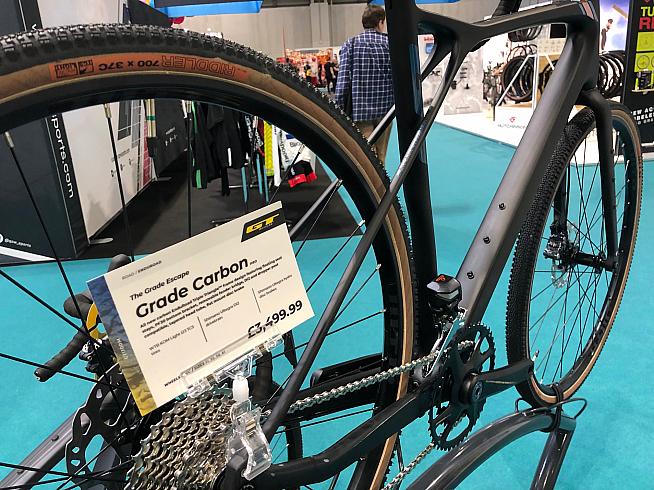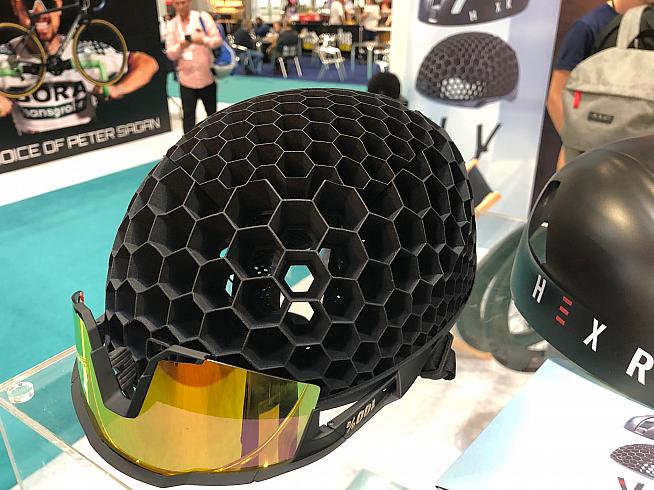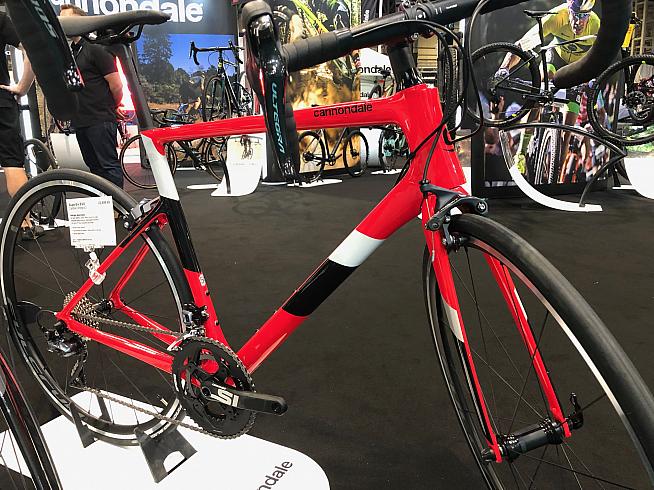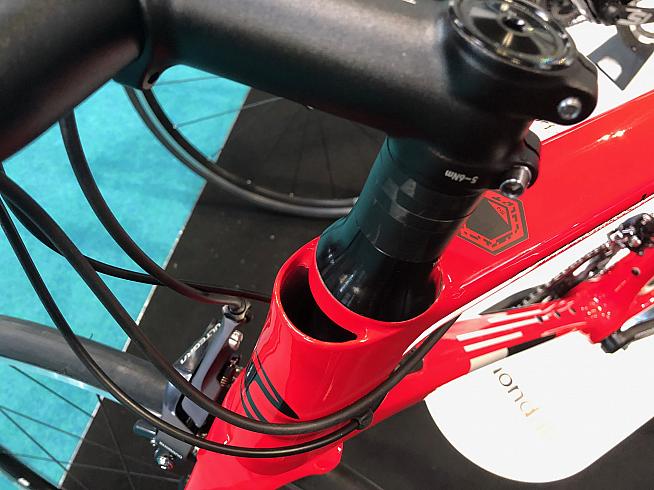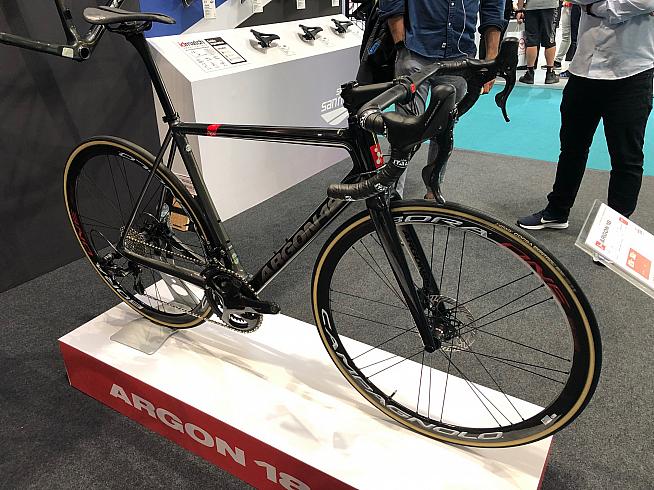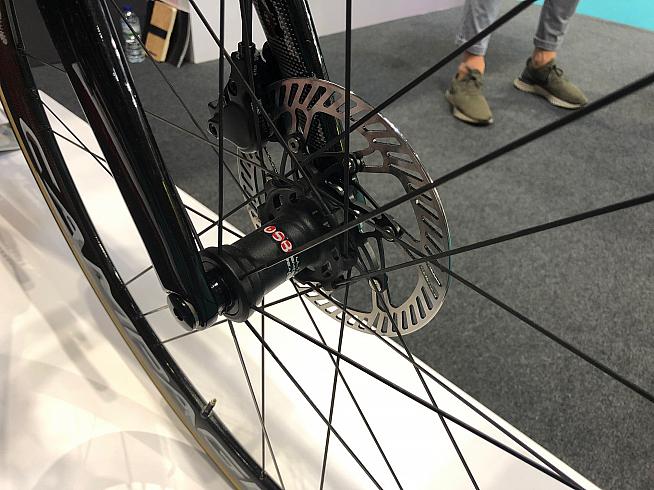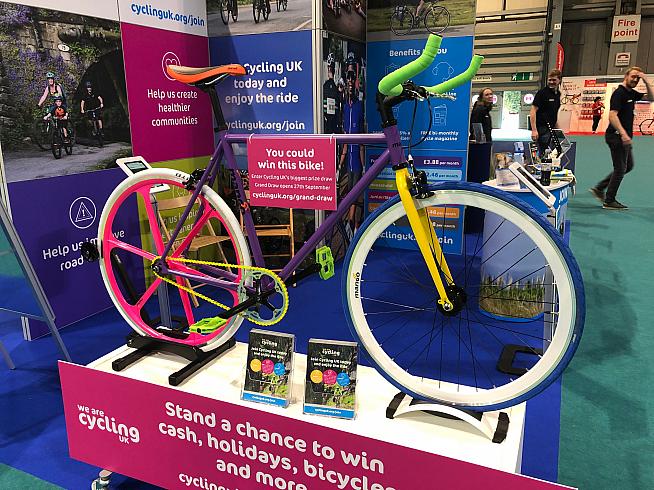 0 Comments