The Cycle Show was back at the Birmingham NEC last weekend, offering cycling fans a chance to get hands-on with some of the latest bikes and kit from the industry's leading brands.
We took a stroll around the stands at the trade and press day on Thursday. There's far too much bling to cover throroughly in a few hours, but here's a quick roundup of some shiny bikes and bits that caught our eye.
Goldhawk
Reynolds are celebrating their 120th birthday this year, and their stand featured a selection of classic and modern bikes built in Reynolds steel. This familiar looking Goldhawk Rodax leapt out: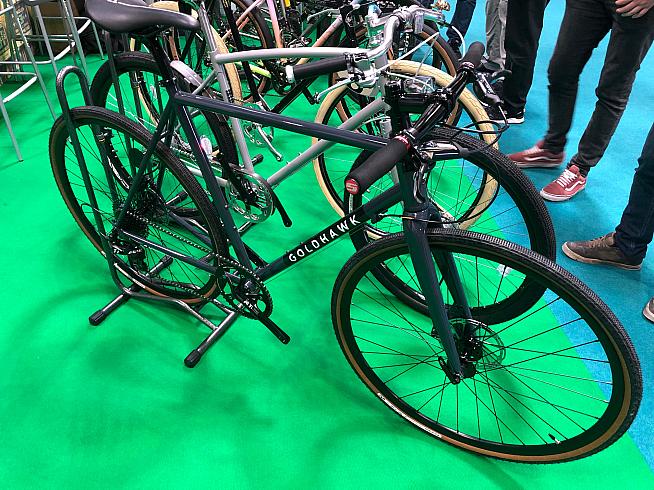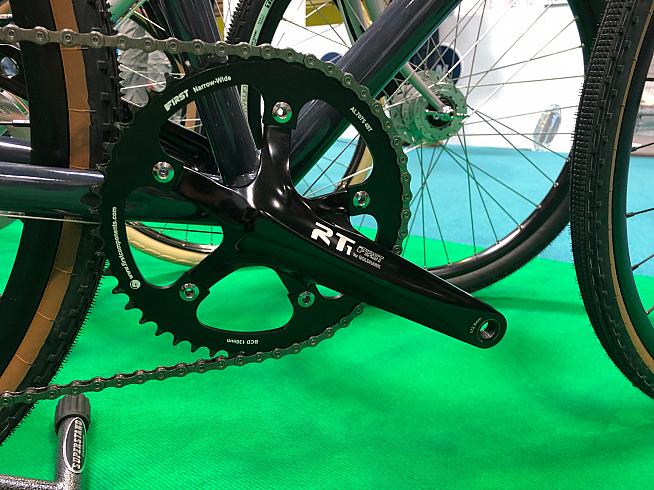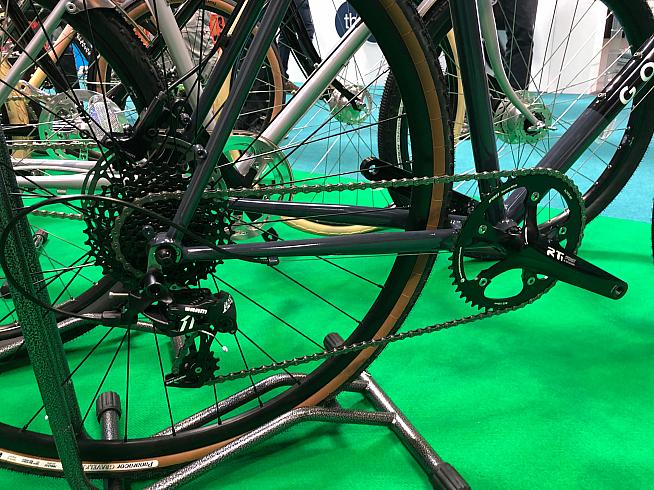 We chatted with Goldhawk founder Jeff earlier this year, and it was great to hear that the Rodax is proving popular on the back of some rave reviews.
The 1x gravel setup pictured here is a beauty. It's actually identical to the standard urban build, just with the slick tyres swapped out for some Schwalbe Gravel Kings.
You could of course reduce the gearing too, either with a different cassette - up to 42T is possible - or a smaller chainring for especially hilly rides or loaded tours.
>>> Fast, flat-bar fun: A first look at the Goldhawk Rodax >>>
A Goldhawk staffer recently rode a selection of London's toughest hill climbs back to back - including Swain's Lane - just because she was tired of answering questions about whether the bike was any good on hills! Point proven... if you have the legs.
We'll look to get a proper spin on it soon, hopefully on a gravel sportive where the flat bars might even be an advantage.
HED Wheels
I'm a sucker for a VW camper, so HED wheels had me at hello. They cunningly adopted a vintage bus as a prop, alongside a fairground-style dice game offering a free set of wheels if you can throw six sixes.
I asked the guys the odds, apparently it's 40-something thousand to one against. Still, worth a throw!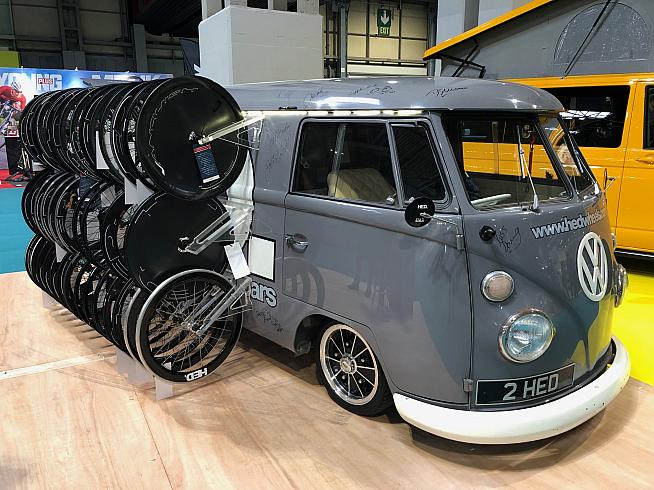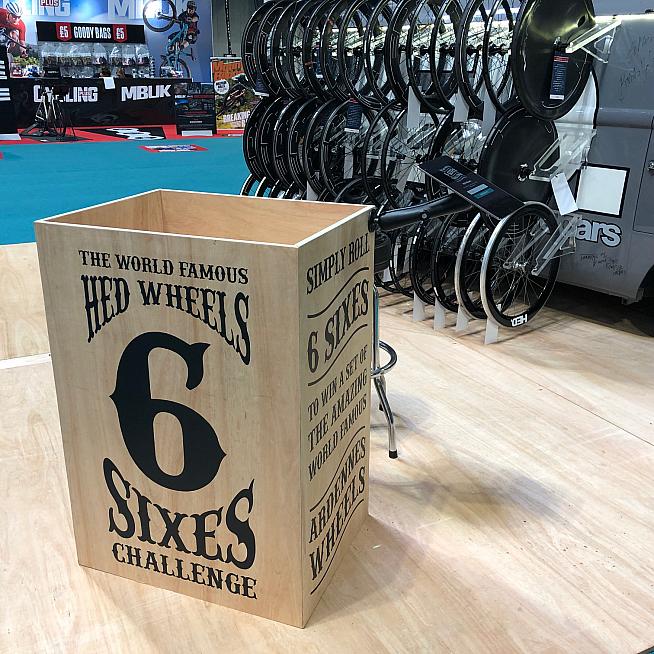 HED are phasing out rim brake wheels in favour of disc, and going wiiiiiiide - their Eroica disc wheelset has an external rim width of 30mm, 25mm internal.
You could nearly put a VW tyre on it, although they recommend sticking to 25-32mm rubber. It'll take clincher or tubeless.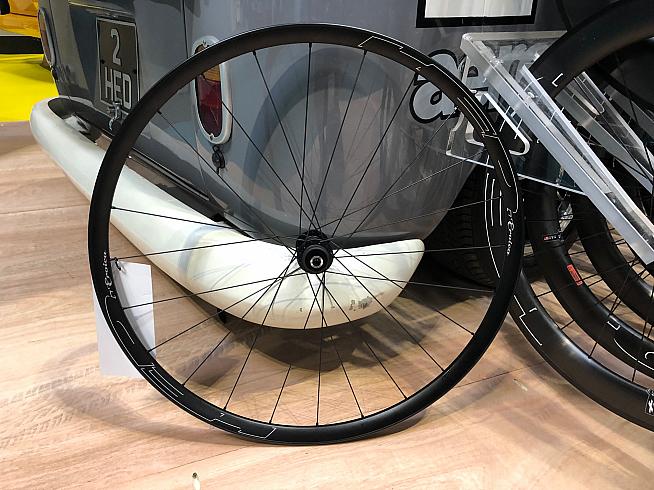 The Eroicas look just the job for the longer gravel/mixed terrain endurance events. Or, you know, just riding around on. Weight for a pair is 1612g, RRP is £800.
If you're looking to go deeper try the Vanquish 6 GP, which offers aero performance thanks to the 60mm deep section rims. Weight is 1740g - not bad for such deep and wide rims - and the set is priced £1599.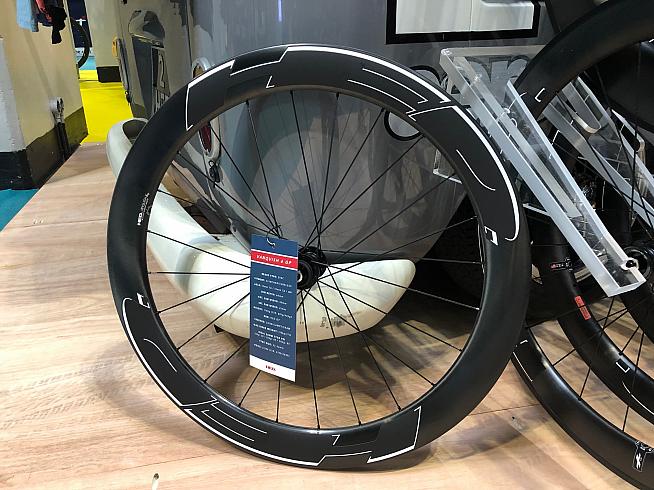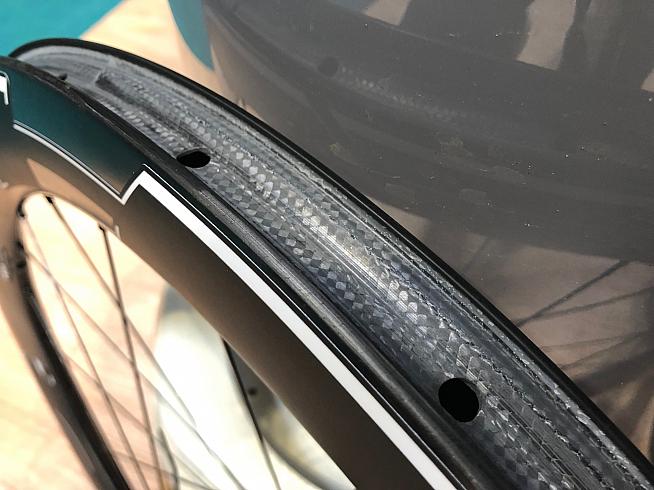 They wouldn't let me leave without also taking a pic of the Vanquish 8: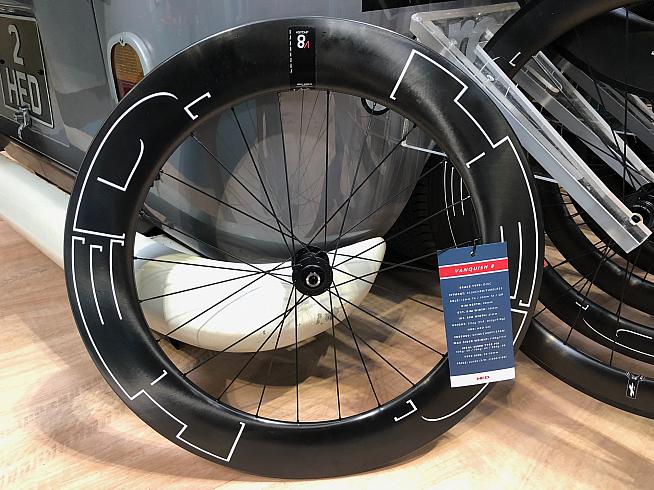 Wider, deeper, aero-er than anything HED have produced before, the Vanquish 8 boasts an 80mm rim yet at a weight penalty of just 11g over the Vanquish 6 GP.
Again, they're tubeless ready with a 30mm rim bed (21mm internal).
Speed comes at a price though: £2199 to be exact.
Cinelli
I'm in the middle of building up a Cinelli Vigorelli fixie (classic midlife crisis impulse buy), so popped by Cinelli's stall for inspiration.
I'm not sure they even had a Vigo on the stand, but in any case I only had eyes for this Zydeco, Cinelli's 'cross/gravel/you-name-it adventure machine: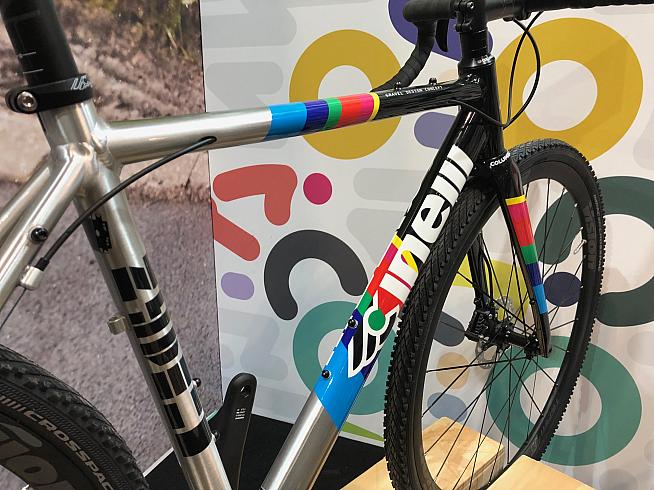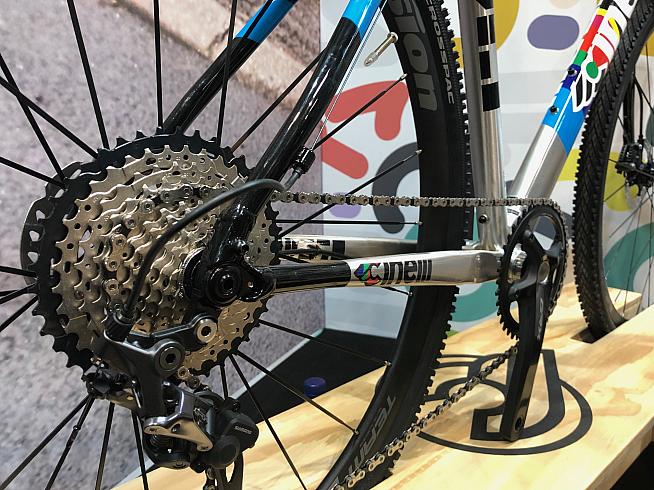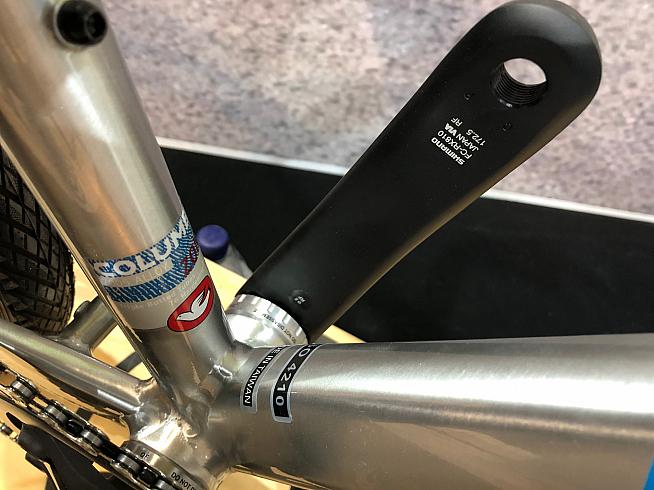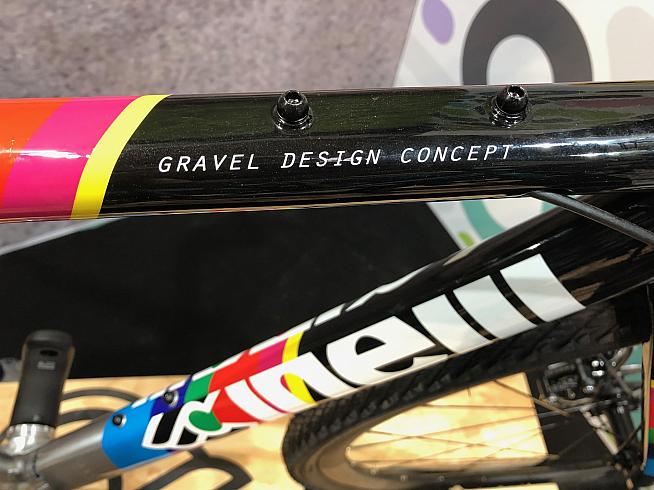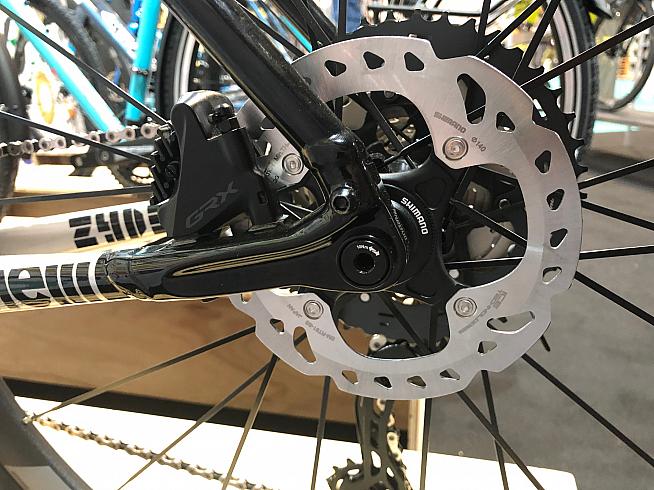 The Columbus Zona alloy frame isn't new, but it now has partial internal cable routing and is fitted with Shimano's new GRX gravel group.
Prices for the Zydeco start at £1350. Dangerously tempting.
Supacaz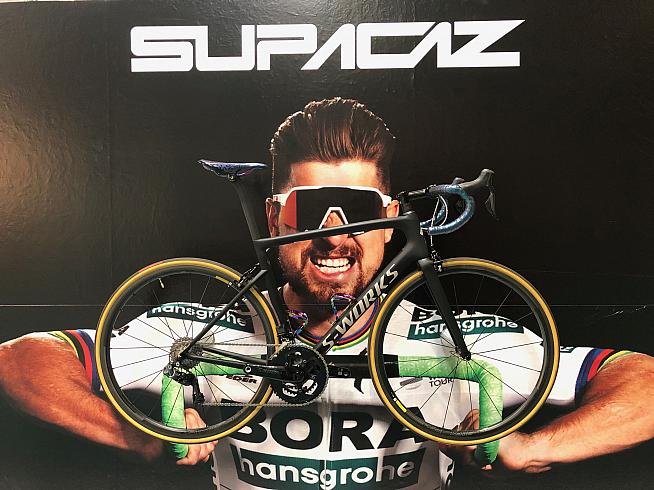 Who's this guy? Nice bike, anyway.
The saddle, bar tape and bottle cages are from California-based accessories brand Supacaz, and have a lovely Oil Slick finish.
The Fly Ano cage is available in a range of anodized colours for about £12, or £30 if you want the Oil Slick version. You can get bar plugs and headset caps to match too.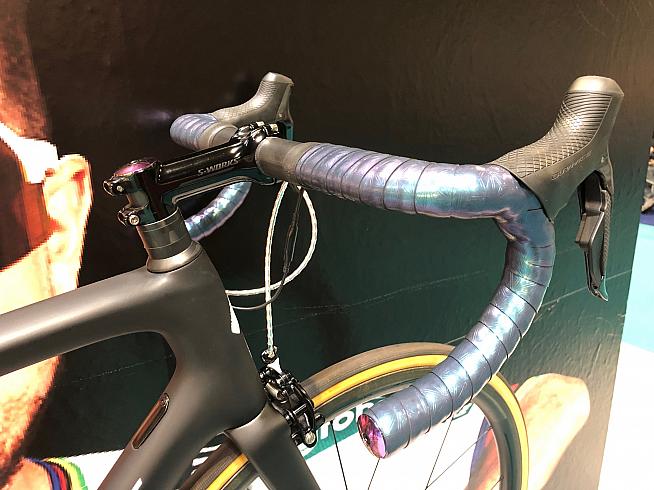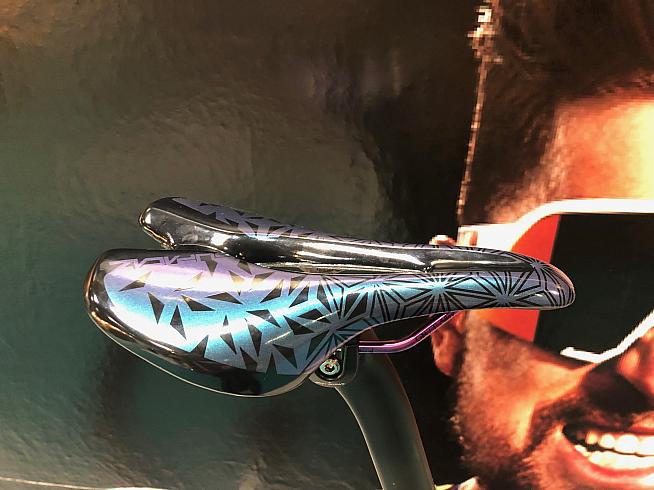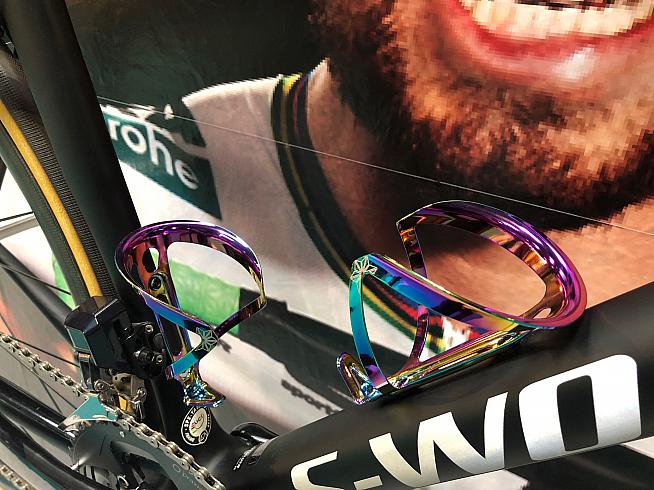 Ribble
I approached the Ribble stand with some fear - after all, we managed to lose the last bike they sent us for review.
More accurately, it was stolen - which maybe isn't surprising, when you consider how utterly covetable their current range is.
I had a quick chat with Ribble's designer, Head of Product Jamie Burrow, about the CGR Ti which I'm currently testing.
Jamie has a quite ridiculous CV. He barely looks 30 years of age, but is a former pro who raced for US Postal with Lance Armstrong; since "retiring" he went on to become a professional sportive racer (that's an actual job in Italy) and even won the Maratona dles Dolomites twice, most recently in 2012.
Off the bike, Jamie has worked as a designer for several UK bike brands (including Planet X and Vulpine) and is now Head of Product at Ribble, overseeing the brand's remarkable expansion and revamp in recent years.
Their best sellers this year, he tells me, are the adventure/gravel range and e-bikes.
Speaking of adventure, how about tying a bunch of helium balloons to your bike and seeing where you end up?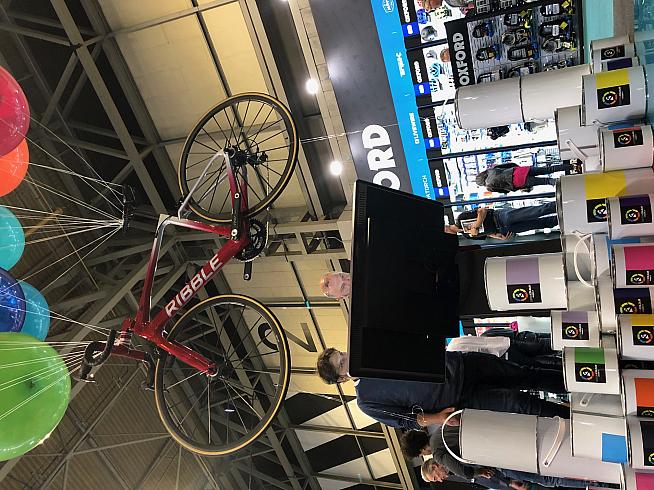 Gravel, road, endurance, TT, track: Ribble really do have a bike for every occasion these days, and in several models you can choose from alloy, steel, carbon or titanium versions of the same (or similar) frame. You can even design yourself a custom paint scheme using their online tool: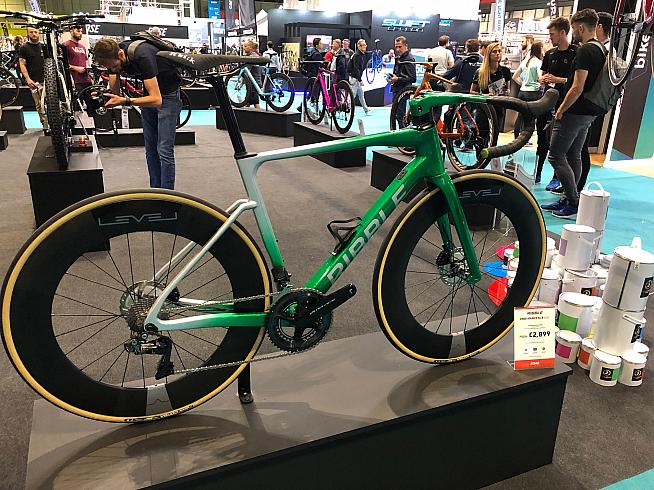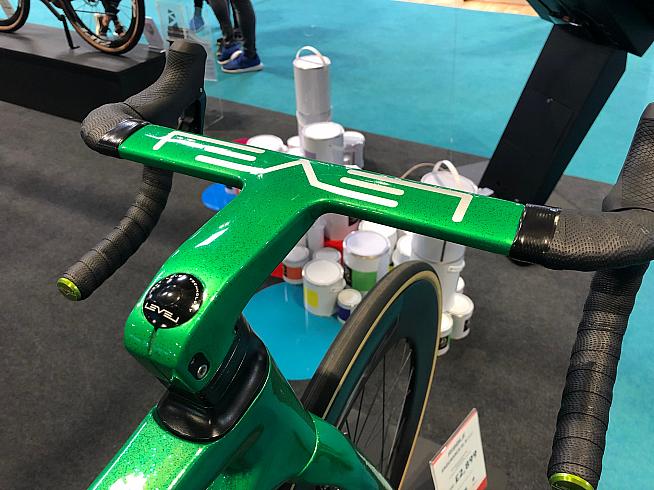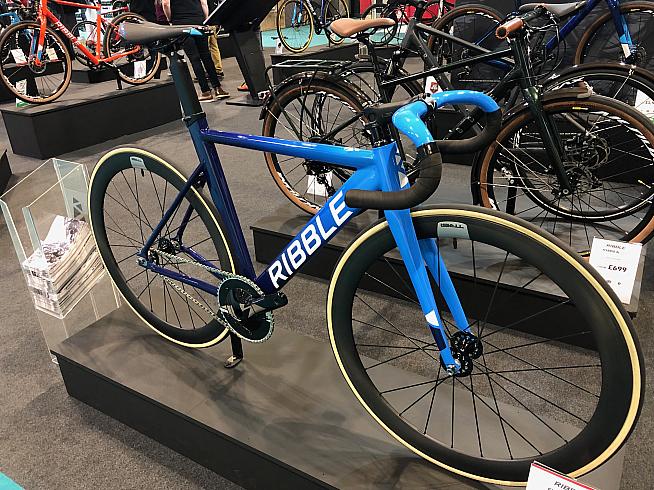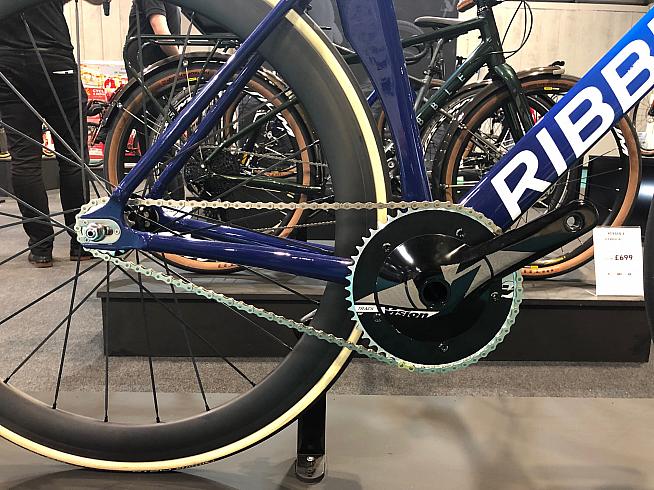 Mountain biking is a little outside our usual sportive-focused turf, but Ribble's new Ti hardtail could turn a few roadies: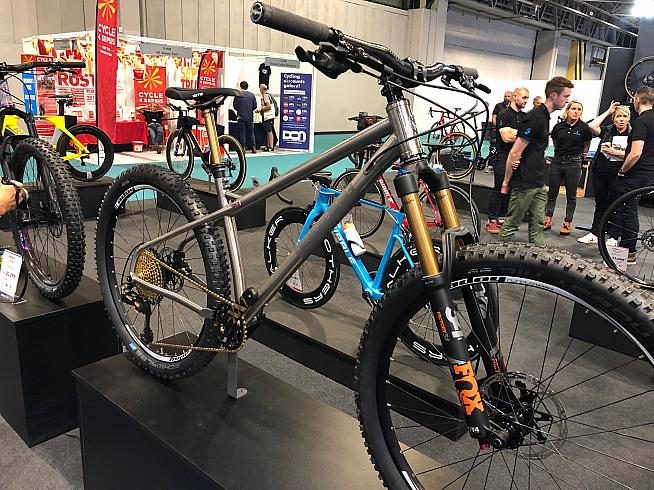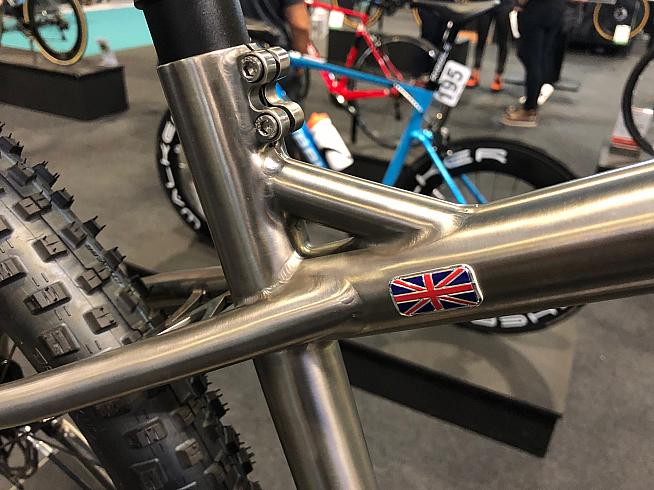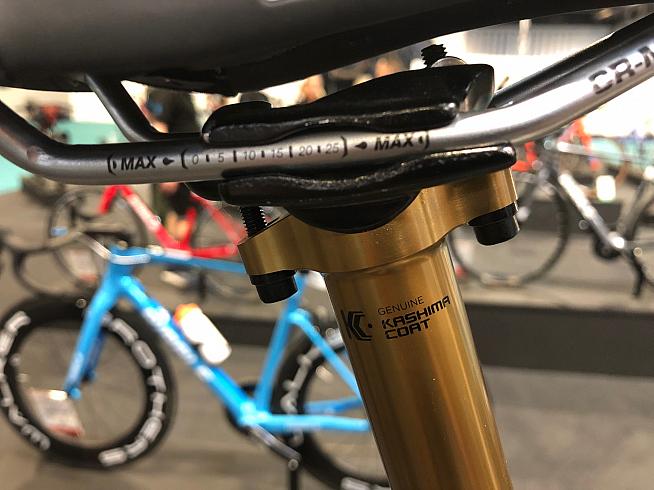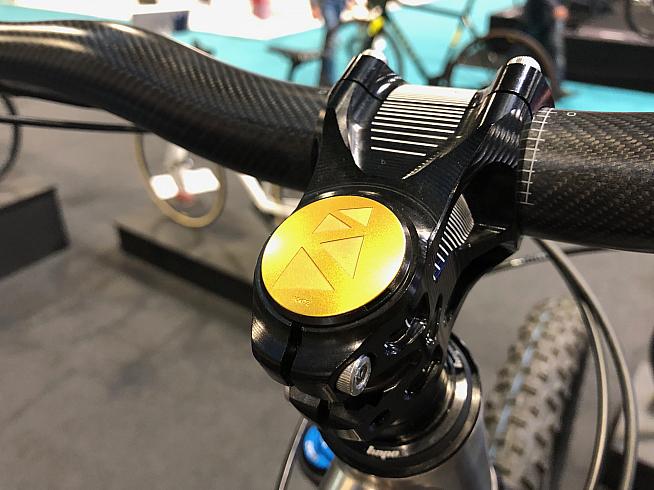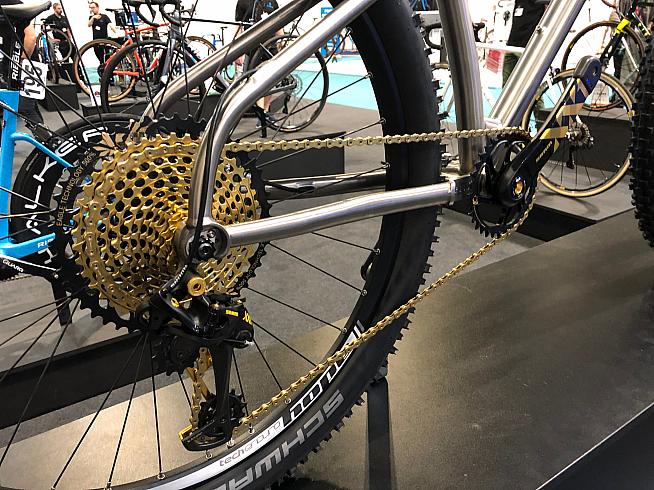 There's a more affordable alloy version too, which in fact won Best in Show this year.
Trends for next year? Electric versions of everything, to sit alongside Ribble's already impressive looking e-bike collection. We'll aim to give one of them a test ride and review soon - if Jamie and PR manager Sasha will let it out of their sight...
Knog
Autumn is coming: not just the tagline for the hotly anticipated Game of Thrones prequel, but a bland fact that means it's time to start thinking about lights.
Trend-setting Aussie illuminators Knog are masters of the field here, their latest wheeze is the Cobber. It's a wraparound, D-shaped unit that offers a massive 330-degree visibility angle.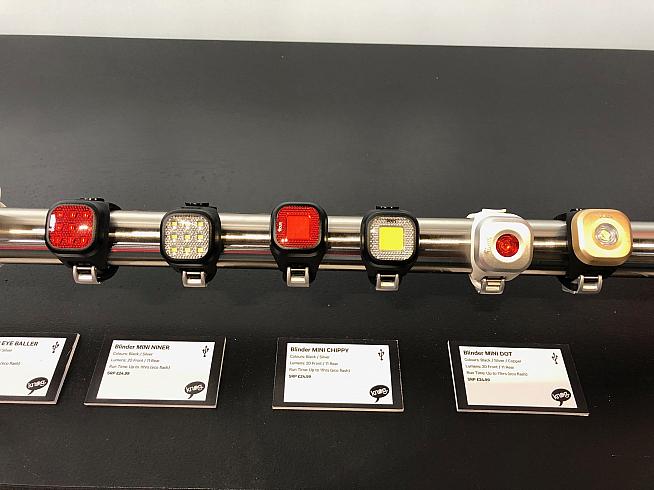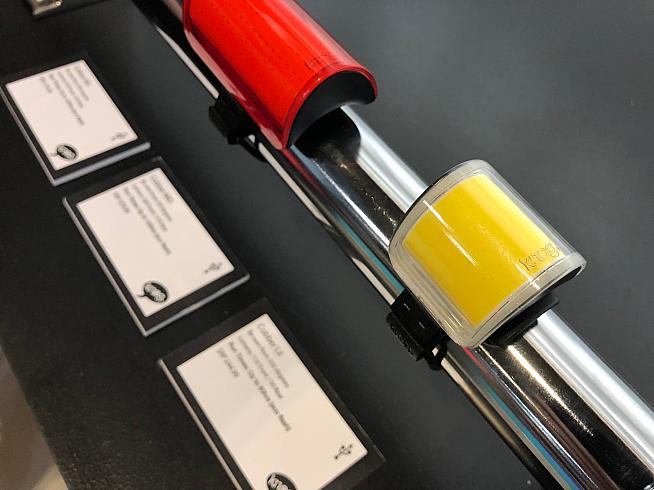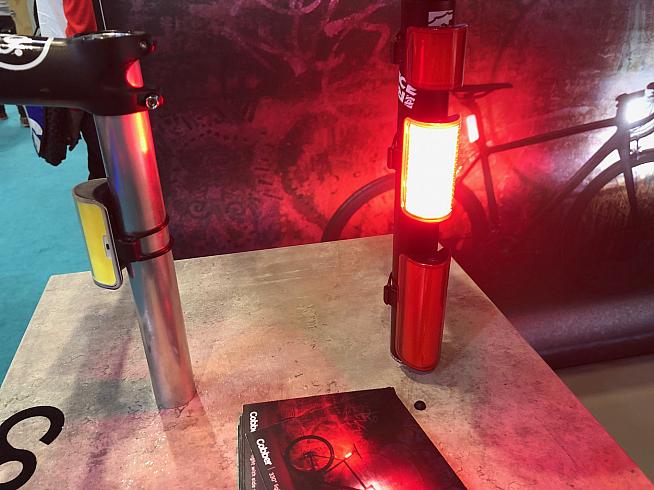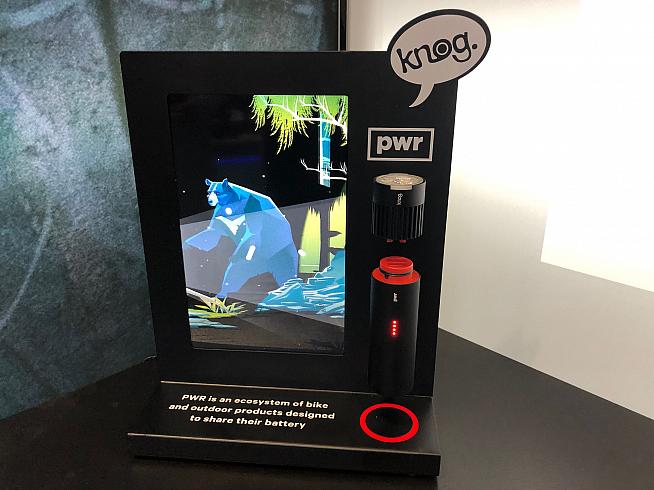 When you don't need full-beam you can dial it down by turning off a section of the display, and with a claimed 120 hour running time in eco flash mode it looks a strong contender for commuters and bikepackers, or really anyone cycling in low light conditions.
I also took a look at the PWR, which is described as an "ecosystem of bike and outdoor products". It's basically a stylish battery pack, that you can use to charge not just your lights but also your bike computer, phone, etc. Nice idea.
See.Sense
Around the corner from Knog are See.Sense, Nothern Irish rivals in the lighting game. Except this year, they're not just about the lights - they've added a rather excellent looking bar bag and phone pouch to the range.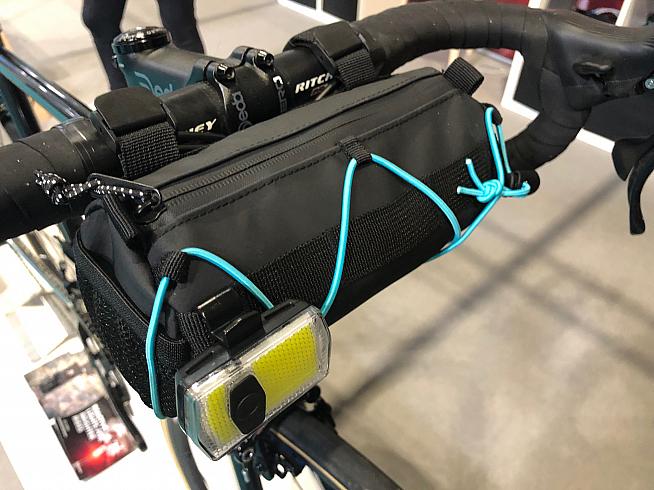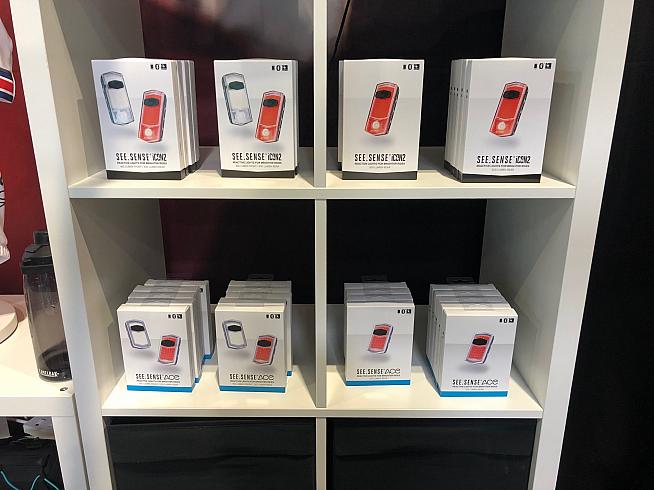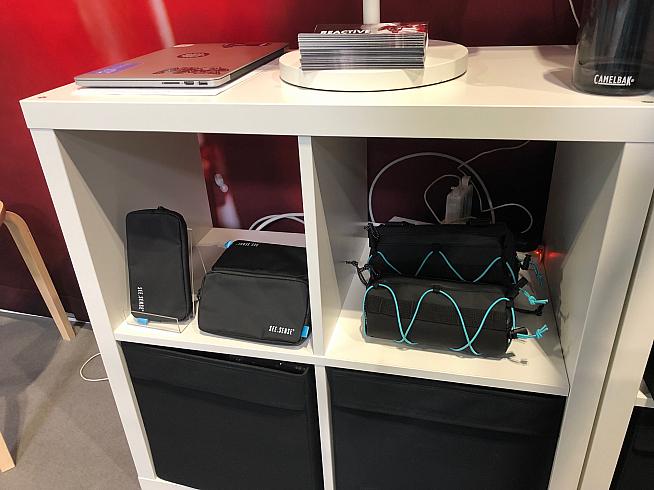 Of course, they still have smart lights too, and they're smaller and brighter and lighter than ever.
If you bought an original See.Sense light but haven't kept up to speed with developments, the good news is they've ditched the sensor-activated on/off switch in favour of a physical button on the unit.
I'll miss tangoing around the hallway with my bike after a night ride, trying to switch off the light - but maybe it's for the best.
Cytronex
"Convert any bike to an e-bike!" That's the promise from Cytronex. I didn't get a chance to speak to anyone at their stand (they were busy with customers) but it looks like the system comprises a battery disguised as a bidon, which occupies the space where a bottle cage would go.
It's connected to a hub motor in the front wheel, with a very discreet control unit mounted on the handlebars.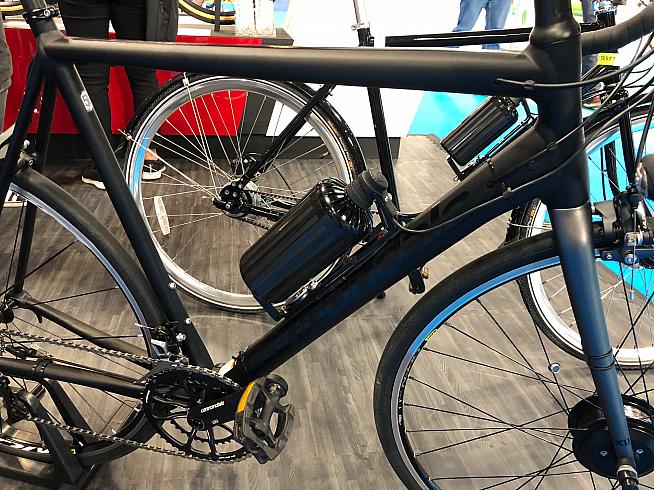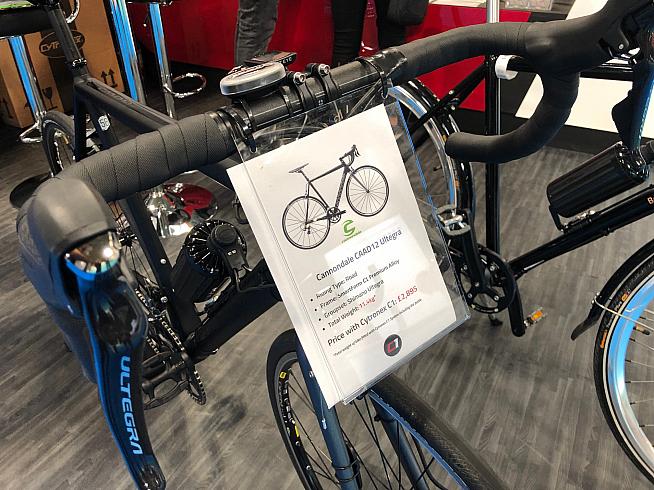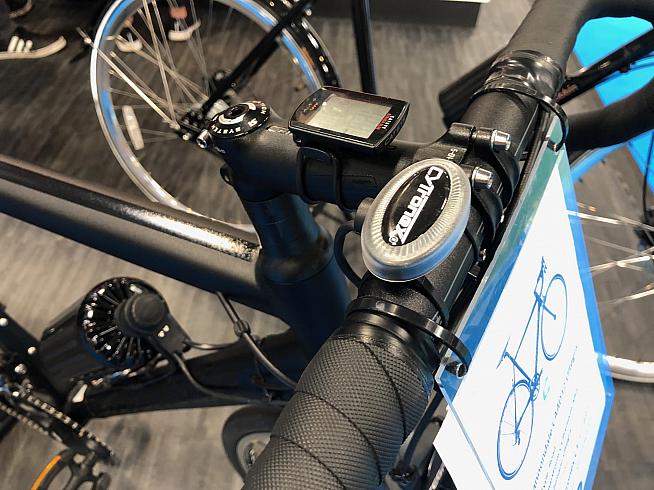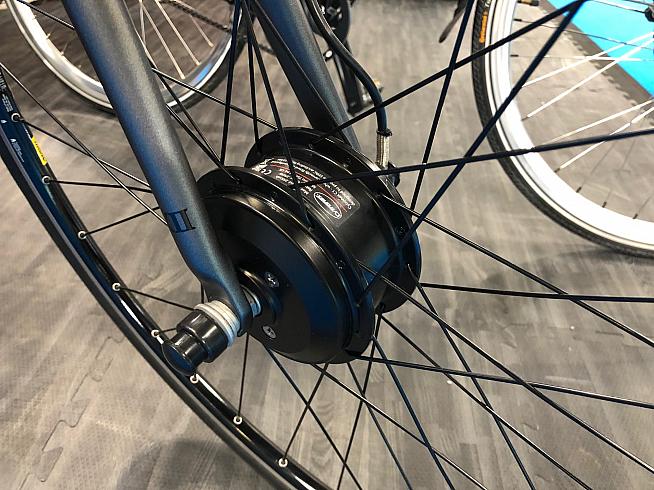 Looks like an interesting option, adding relatively little weight (around 4kg at a guess) to your bike; although one observer at the stand voiced scepticism over the safety of front wheel-drive systems.
Obviously there are now much improved, dedicated e-bikes being released by an increasing number of established brands. But if you like your existing bike, and would rather the option to add a temporary motor on occasion rather than invest in a new machine, something like Cytronex may be worth a look.
Bivi-Bikes
Bivi-Bikes are a new name to me, but owner Fraser Barsby had used the old "park a camper on your stand" ploy to hook the punters.
Fraser makes the bikes himself - actually it's just one steel frameset, the Graveller, which he has built into a selection of guises to showcase the versatility of the frame: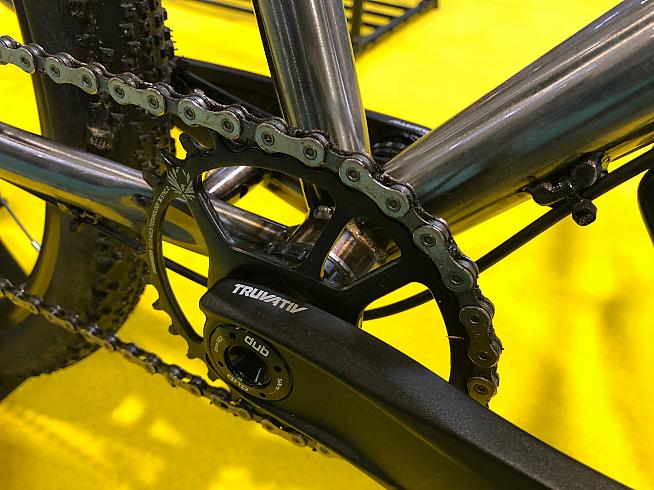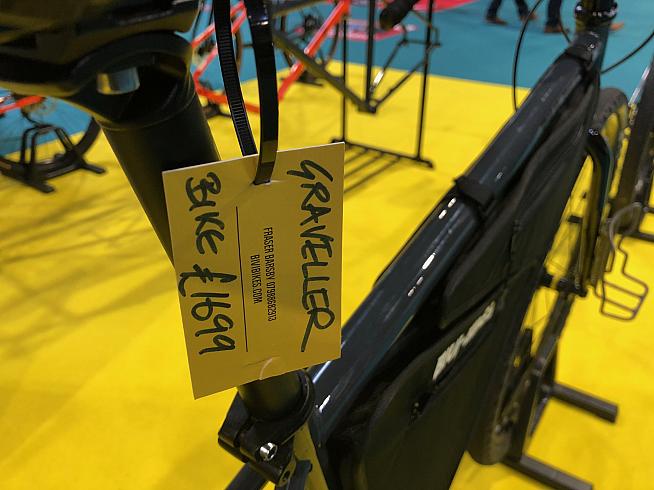 One model has an extra section of tubing welded into the front triangle. This, he explained, is to solve the problem of typical full frame bags sagging in the middle when fully loaded. The bag pictured is actually two bags, using the central tube as an extra mounting point to provide added stability.
Nice concept, and the bike certainly is versatile - as Fraser's own eBay and parts bin project build highlights: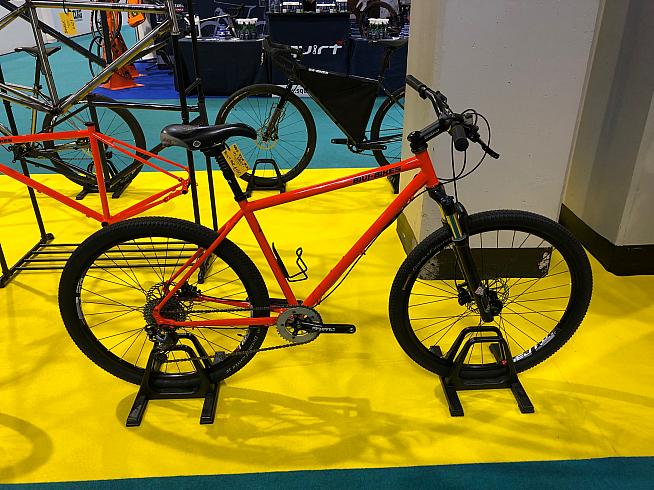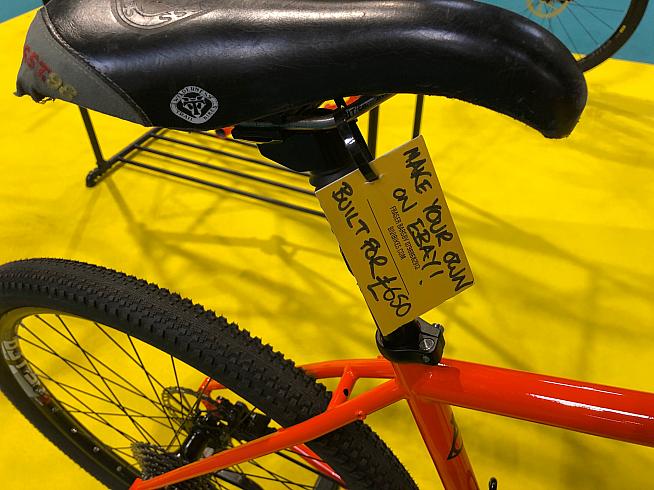 So what about the VW camper?
Turns out it's a separate business, Joble Design, run by a friend of Fraser's. They're based near Liverpool and do conversions of year-old vans. The one on show is top spec with a fitted kitchen, RIB fold-out bed, swivel seats at the front, basically a live-aboard sportivemobile.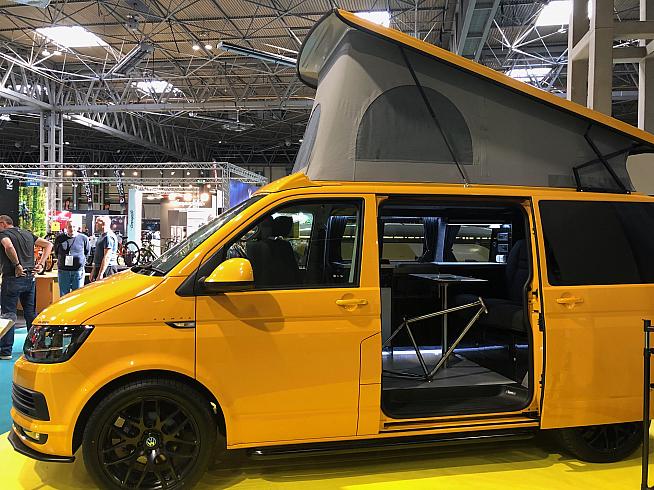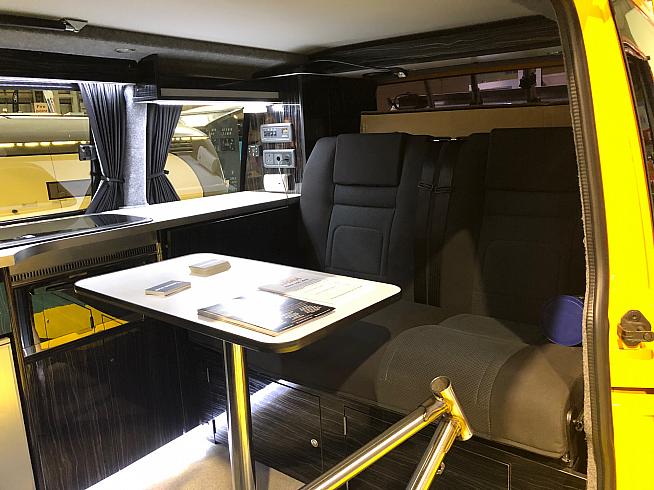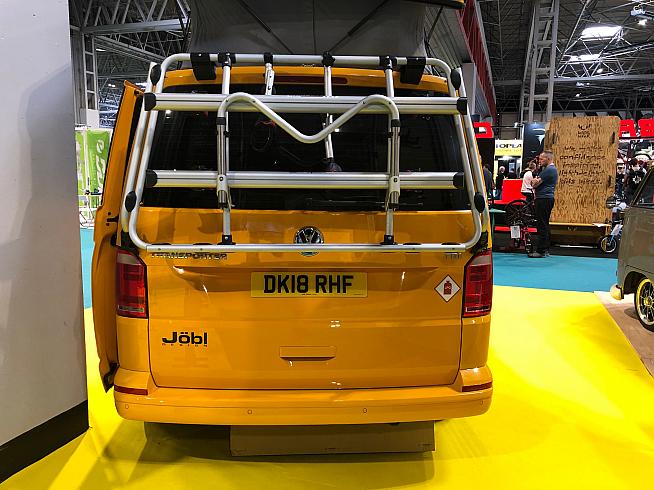 The converted van will set you back about £45k, but you can also hire the camper for £75 a day.
With a bike rack on the back, it could be just the ticket for your next sportive weekend.
Campagnolo & Bianchi
I was enticed into the Campagnolo stand by this tasty looking Bianchi Oltre XR4. It's Bianchi's top-of-the-range race bike, as used to decent effect by Primož Roglič and his Jumbo-Visma pals at the Vuelta - although Roglic is on rim brakes, whereas this is the disc model.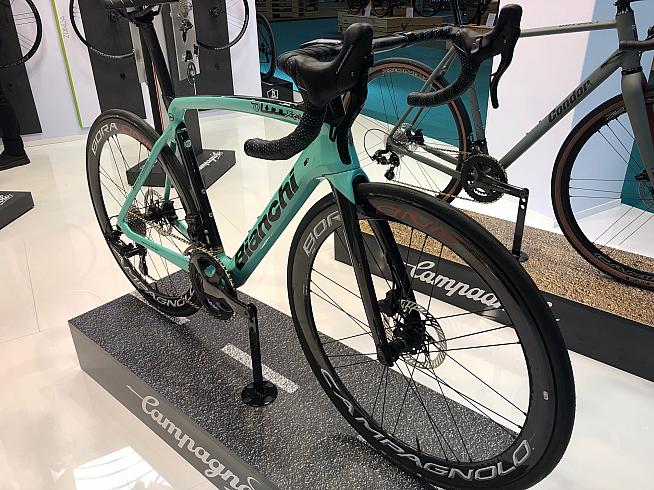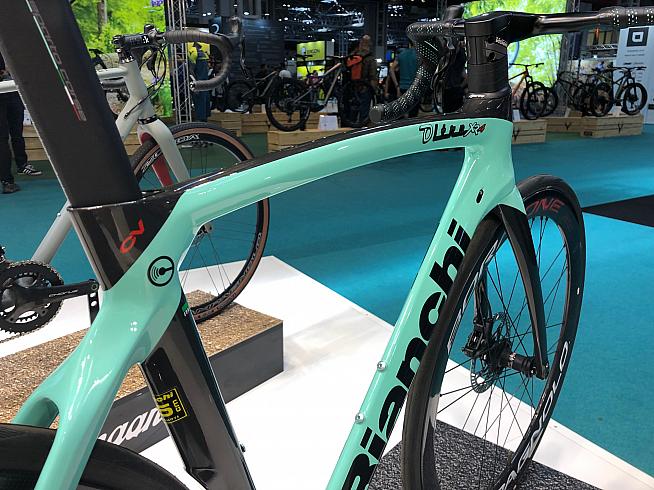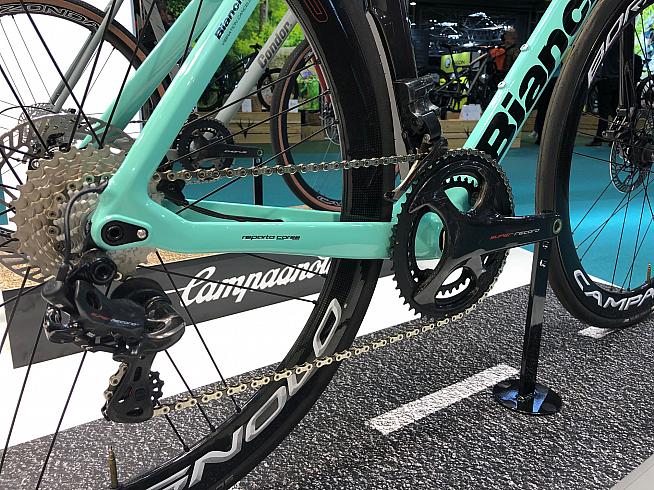 The Oltre XR4 is stunning, one of those bikes that looks much better in real life than photos. I hadn't realised how aero-shaped the frame is; the down tube looks chunky from the side, but is profiled like a knife blade.
Campagnolo have made the move to 12 speed this year, with Chorus kit starting to come through to shops now joining Super Record and Record. I've been using Record mechanical 12-speed on the Ribble CGR Ti we're currently testing, and it's an impressive groupset.
Aeshetically, the new 12-speed Super Record, Record and Chorus components may split opinion with their matt black finish and a fresh typeface for the branding.
It's kind of a raw, industrial, futuristic look that's quite a departure from the glossy finish of the previous top-end groups; I don't think we're going to see a polished alloy version for the purists, but on a modern bike it looks the part.
Bora WTO wheelset
Campagnolo have also refreshed their top-end Bora wheels with the Bora WTO. It comes in 45mm or 60mm deep rims (compared with the previous generation's 35mm or 50mm options), and like the new 12 speed groupsets the finish is matt UD carbon - no glossy weave on show here.
The key feature of the wheels though, is that the rims are tubeless ready - so you can run clinchers or tubeless tyres, but not tubulars.
It looks like tubular tyres may finally be on the way out, although if weight's your primary concern then Bora Ultra 35 tubular wheels will still be the lightest wheelset available from Campag - for now.
Graeme Freestone King - Campagnolo legend!
And now to one of the show highlights - for me at least. You know how sometimes you can "know" someone from the internet or social media, despite having never met them? Well, anyone who's ever searched the online forums for help relating to Campagnolo will likely be familiar with the name of Graeme from Velotech.
Certainly I've come across Graeme's advice countless times over the years: always clear, courteous, detailed, and with the unmistakeable authority of an expert. I've even emailed him once or twice, and been surprised but delighted to receive prompt replies resolving whatever Campag-related issue I may have had.
He'd always existed only "on the internet", but when I mentioned his name on the Campagnolo stand the young rep said, "Oh, Graeme's here" - and a second later I was standing chatting to the man himself.
A distinguished figure with silvering hair to match the Campagnolo belt buckle around his waist - he still has the trim figure of the bike racer he was some thirty years back - Graeme turned out to be an absolute gent.
He explained that he spends 3-4 hours a day replying to Campagnolo-related queries online (his secret? He has set up a Google alert for the term "Campagnolo", hence the magically fast response rate).
He's conscious that the advice he dispenses online remains "on record" - he's had people email him citing advice he posted a decade back, asking if it's still valid. Which, of course, it is - he double checks his replies before posting, knowing that if he were ever to get something wrong "they'll jump on me straight away" he smiles.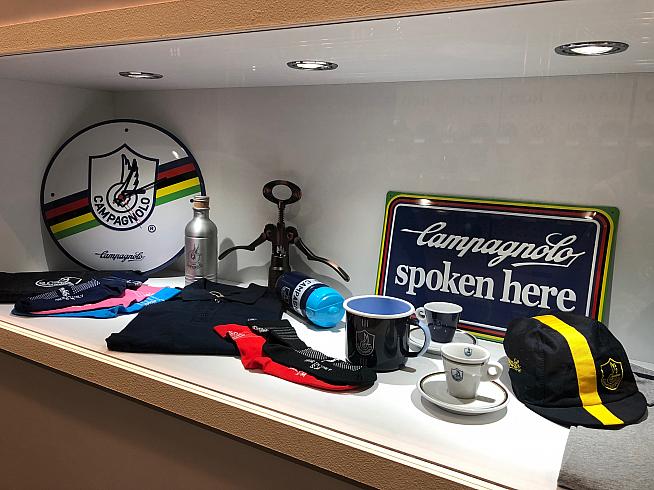 Not only did Graeme politely indulge my rambling Campagnolo queries, he happily answered at length, even sketching a diagram of a square taper bottom bracket on a napkin for me to explain why it was necessary to use the specific Campagnolo Record BB with a Pista track chainset. (Other ISO and even JIS bottom brackets may appear compatible, but have slightly different tapers on the axles, resulting in left hand cranks splitting over time. OK, I told you it was a niche query - but Graeme had the info on the tip of his tongue.)
His knowledge of all things Campagnolo is encyclopaedic, as you might expect given he's been working with them for decades. That much I knew from encountering his online presence, but there is much more to the man; for example, he revealed in passing that he had been Eddy Merckx's agent for a couple of years - Merckx used Campagnolo throughout his racing days.
He sounded wistful about the days when every cyclist knew the name Campagnolo, but hopeful that the tide could be turned again. Campagnolo in recent years are making a push to have more brands spec their bikes with Campag off the shelf, with Bianchi being one example.
I could have chatted to Graeme all day, but finally let him go - safe in the knowledge that if I ever need him, all I have to do is pop a Campagnolo query into a forum and, like a genie from a lamp, he'll be there.
Surly and Miss Grape
I stopped by the Surly stand, not so much for the bikes (although I do like a Surly) but drawn by the bikepacking kit from Italian brand Miss Grape.
I'm taking a special interest in bikepacking kit these days, ever since this summer's Trans Alba Race (report now long overdue). Miss Grape's stuff seems well regarded, but I hadn't had a chance to look at their bags at close quarters. Looks like quality kit.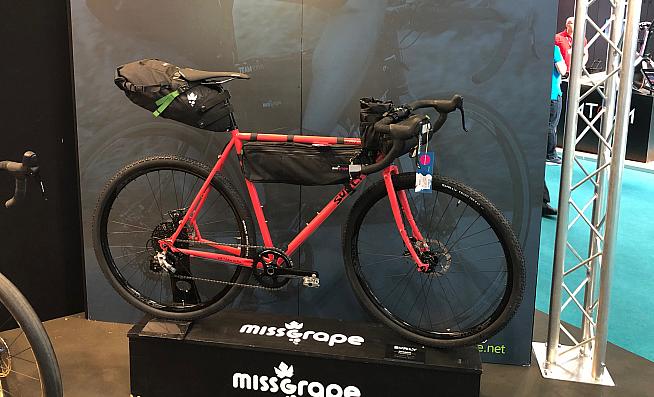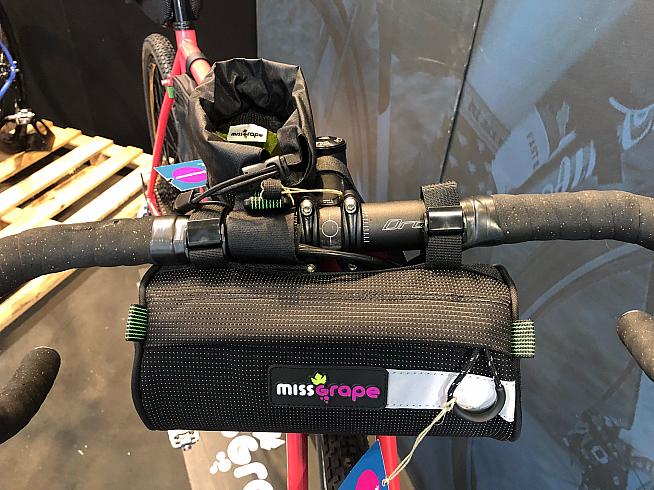 Right, that's enough for now. Where can I get a cup of coffee around here?
> Cycle Show Roundup Part 2: Kinesis, Challenge Tyres, Lezyne and more >

0 Comments